The First and Only Weekly Online Fanzine Devoted to the Life and Works of Edgar Rice Burroughs
Since 1996 ~ Over 15,000 Webpages in Archive
Volume 0776
and
ERB C.H.A.S.E.R ENCYCLOPEDIA
A Collector's Hypertexted and Annotated Storehouse of Encyclopedic Resources
Presents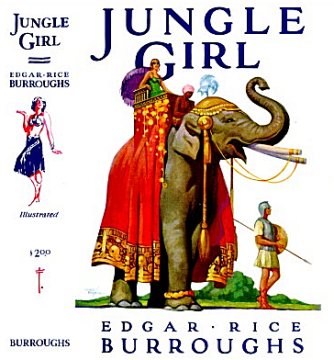 Large DJ Image
Large Cover Art Image _ Alt
JUNGLE GIRL
Burroughs started writing this novel on October 2, 1929
under the working title of The Dancing Girl of the Leper King.
It was released as a 5-part serial in Blue Book Magazine
under the title of The Land of Hidden Men.
READ THE E-TEXT EDITION
---
PUBLISHING HISTORY (USA)
---
PULP
Blue Book Magazine ~ May through September 1931 "The Dancing Girl of the Leper King."
Laurence Herndon: cover art on first issue ~ Frank Hoban: seven interiors in each issue.
FIRST EDITION
ERB, Inc. ~ April 15, 1932 ~ 318 pages ~ Print Run: 5,333 ~ Estimated word count: 67,000
Studley O. Burroughs: DJ art and six interior b/w plates
REPRINT EDITIONS
Grosset & Dunlap ~ 1933 ~ 318 pages
Studley O. Burroughs: DJ art and FOUR interiors
Grosset & Dunlap ~ 1940 ~ No interior b/w plates
Ace Paperback: The Land of the Hidden Men ~ October 1963 ~ 191 pages
Roy G. Krenkel, Jr.: Cover art
Ace Paperback: The Land of the Hidden Men ~ 1969 ~ 217 pages
Roy G. Kenkel, Jr.: Cover art
Ace Paperback: The Land of the Hidden Men ~ January 1973 - 1978 ~ 191 pages
Frank Frazetta: Cover art
Tandem UK ~ 1976 ~ 191 pages
Ballantine-Del Rey ~ November 1992 ~ 200 pages
Michael Herring cover art
For detailed information, see Robert B. Zeuschner's
Edgar Rice Burroughs: The Bibliography (ERB, Inc., 2016).
Click on www.erbbooks.com or call 214-405-6741 to order a copy.
Jungle Girl (The Land of Hidden Men)

Adventure in the lost city of a secret kingdom. Even today, Asia, vast continent of ancient civilizations and mysterious peoples, has many corners little known to the rest of the world. Gordon King, a daring young American explorer, stumbles upon the thousands year-old secret of THE LAND OF HIDDEN MEN. The dangers he has to face, his rescue of a jungle princess and his combat against the warriors of the lost city of Pnom Dhek are thrilling as told by the last exciting line. "There are other things deep in the jungle, my lord, that no man may look upon and live." Within the dark shadows of the jungle the ruins of their cities still stand, and down the dark aisles of the forest pass the ancient kings and warriors and little sad-faced queens on ghostly elephants. We might escape My Lord the Tiger and the wild elephants, but no man may look upon the ghost of the dead Khmers and live. But Gordon King, child of the twentieth century, was not to be frightened away by what seemed foolish superstition. The young American was soon to find what a courageous man might easily enter the treacherous depths of the jungle, but it was quite another matter as to weather he might ever come out again, alive.
---
ART GALLERY
---
SEE ALL THE PULP COVERS
www.erbzine.com/mag2/0227.html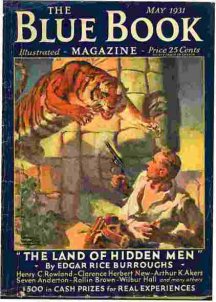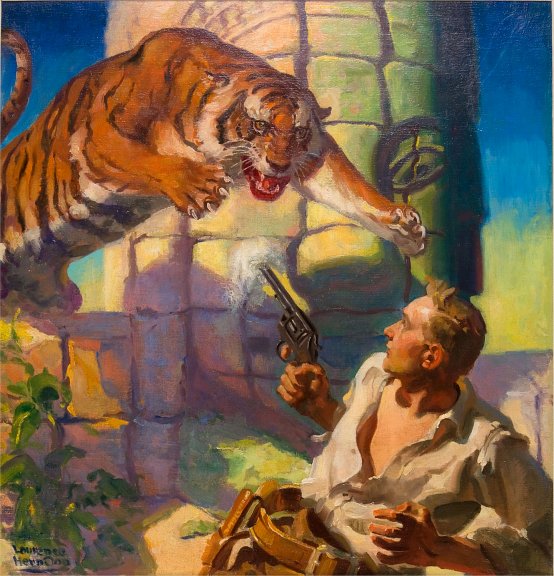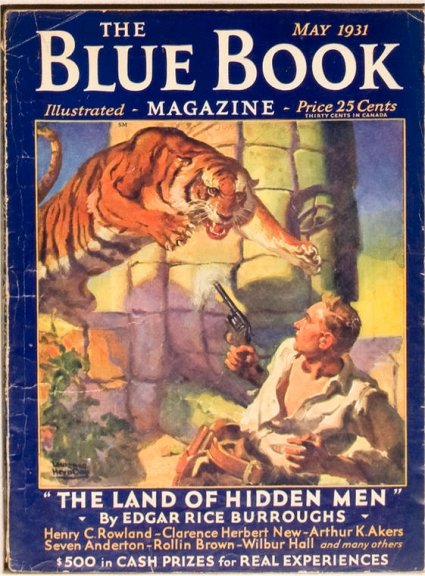 click
Original Herndon Oil and Finished Blue Book Cover


From the Dale Broadhurst Collection
Promos, Sample Pages and Rex Maxon Art
for the 1933 Newspaper/Magazine Serialization
ERBzine 3728
Read all the Maxon Tarzan Strips at:
ERBzine 2009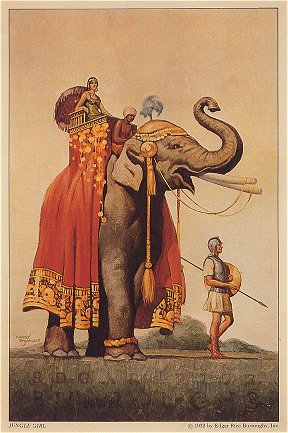 click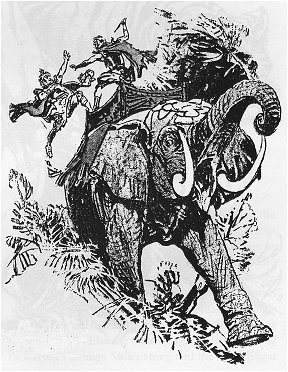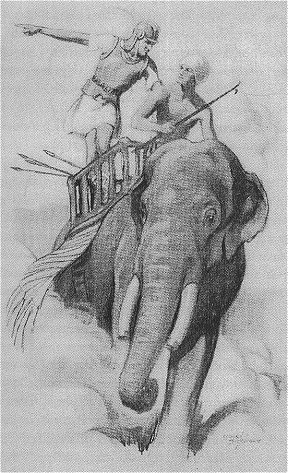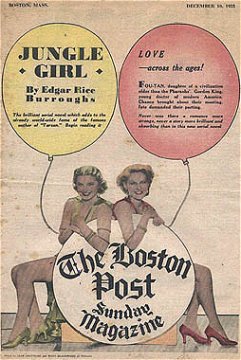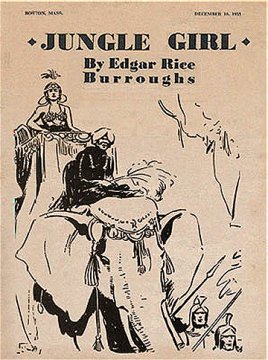 Boston Post Sunday Magazine ~ Dec. 10, 1933 with Rex Maxon illo (computer composite)

---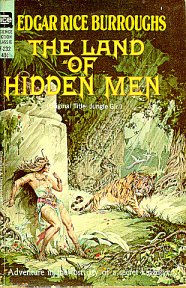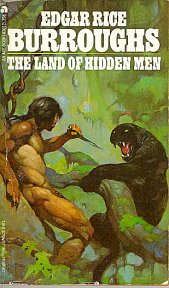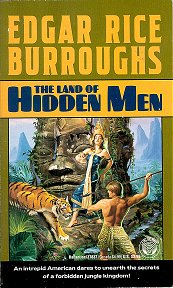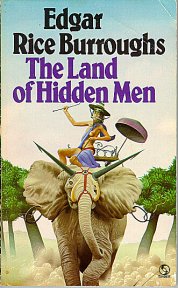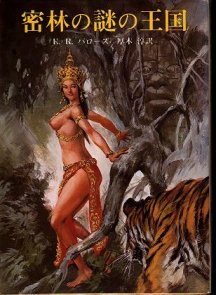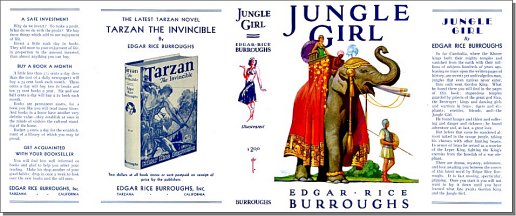 Click for full screen image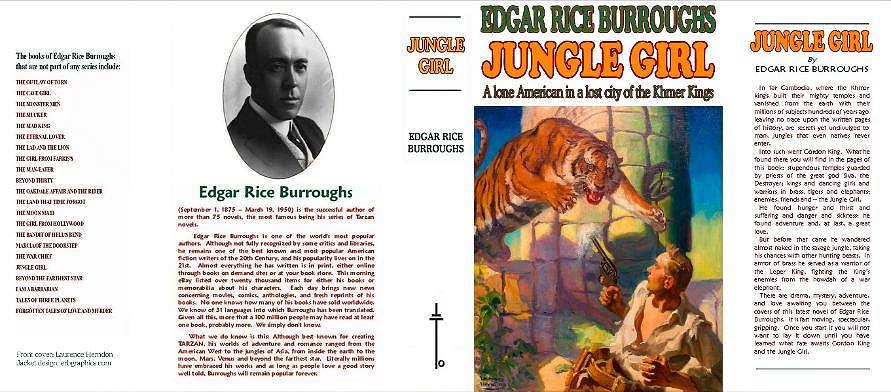 A variant DJ from Charlie Madison at erbgraphics who offers a whole line of DJ replicas and variants
---
ROY G. KRENKEL ACE ART GALLERY
---
| | | |
| --- | --- | --- |
| ACE F-232 | 1963 | Frontispiece | Original |
---
JUNGLE GIRL THE FILM SERIAL IN 15 CHAPTERS
---
Visit the ERB C.H.A.S.E.R SILVER SCREEN Feature at:
http://www.erbzine.com/mag5/0549.html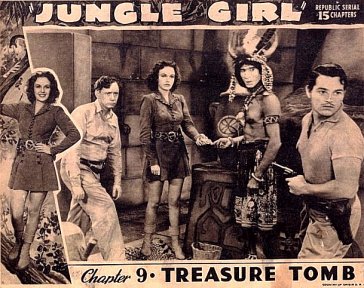 Also Known As:
Edgar Rice Burrough's Jungle Girl (1941)

Tagline: Mistress of an empire of savages and beasts!
Runtime: (15 episodes)
Directed by John English (I) ~ William Witney
Produced by Hiram S. Brown Jr.
Stunts: Yakima Canutt (Stunt Co-ordinator)
Writing credits: Edgar Rice Burroughs (novel)
Alfred Batson ~ Ronald Davidson ~ Norman S. Hall
William Lively ~ Joseph O'Donnell ~ Joseph F. Poland

CAST

Frances Gifford ~ Nyoka Meredith
Tom Neal ~ Jack Stanton
Trevor Bardette ~ Bradley Meredith/Dr. John Meredith
Gerald Mohr ~ Slick Latimer
Eddie Acuff ~ Curly Rogers
Frank Lackteen ~ Shamba
Tommy Cook ~ Kimbu
Robert Barron ~ Bombo
Al Kikume ~ Chief Lutembi
Bud Geary ~ Brock
Al Taylor ~ Claggett
Joe McGuinn ~ Ted Bone
Jerry Frank ~ The Lion Chief
Ken Terrell ~ Mananga (as Kenneth Terrell)
Jay Silverheels ~ Masamba Tribesman (as Harry Smith)
Plot Summary for Jungle Girl (1941)
Dr. John Meredith (Trevor Bardette) has been driven from civilization by the criminal activities of his twin brother Bradley Meredith (also Trevor Bardette). With his infant daughter, he settles in the African jungle, where his ability to cure the native ills has resulted in his virtual control of the Masamba tribes, who possess vast diamond mines coveted by a gang of crooks. They use Shamba (Frank Lackteen), a witch doctor jealous of Dr. Meredith's influence over the tribe, to further their schemes. They lure Dr. Meredith away from the jungle, and he is murdered by "Slick" Latimer (Gerald Mohr). The natives believe that a sacred amulet is the secret of Dr. Meredith's power, and Shamba attempts to kill Nyoka (Frances Gifford), Meredith's now-grown-up daughter, to obtain the amulet(which actually contains the secret to the entrance of the Caves of Nakros). Jack Stanton (Tom Neal) rescues her and assists her in her efforts to recover the amulet. Latimer works with Shamba, and with Bradley Meredith, who poses as his murdered-brother so successfully that even Nyoka does not realize the deception.
Summary written by Les Adams


Your Editor explored the Jungle Girl sites
mentioned in the book during his
Hillman S.E. Asia Adventure


HILLMANS IN SEARCH OF ANGKOR WAT
www.ERBzine.com/mag56/5699.html
Inspired by Edgar Rice Burroughs' Jungle Girl
27 Unique Modes of Travel across 2700 Kilometres for over 27 days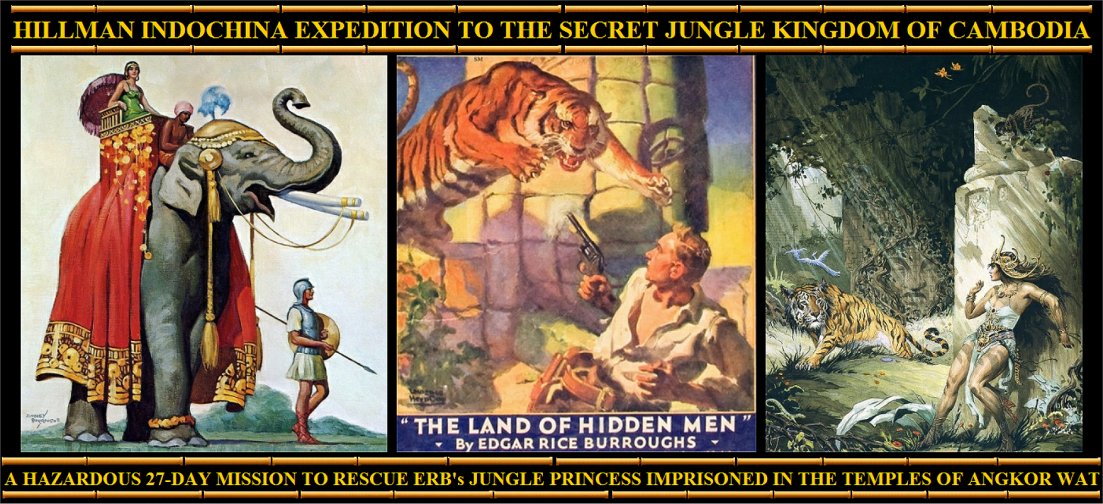 Click HERE to expand this Promo Splash Bar


See our hundreds of other Cambodia photos starting at: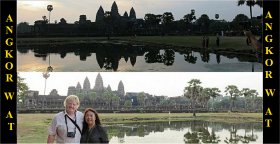 CAMBODIA
www.hillmanweb.com/indochina/cambodia



POSTER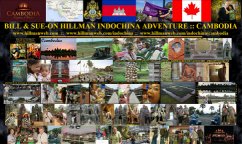 Click for full collage poster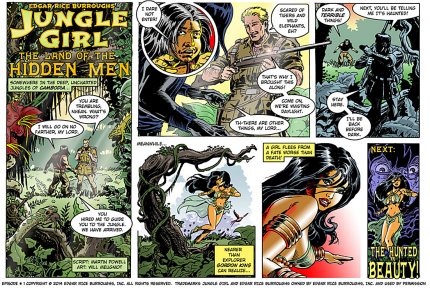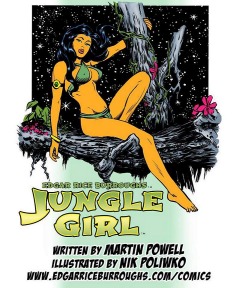 Read the full-colour serialization by
Martin Powell and Will Meugniot and Nik Poliwko
Subscribe at
www.edgarriceburroughs.com/comics
Read ALL the ERB, Inc. adaptations for
$1.99/month



Armada of ERB Web Sites
Over 15,000 Webpages
The Fantastic Worlds of Edgar Rice Burroughs
| | | | |
| --- | --- | --- | --- |
| Tarzan.com | ERBzine.com | DantonBurroughs.com | Tarzan.org |
| BurroughsBibliophiles.com | JohnColemanBurroughs.com | Tarzan.com/tarzine | JohnCarterOfMars.ca |
| www.erbzine.com/edgarriceburroughs | Weekly Webzine | Weekly Webzine | Pellucidar.org |
| John Carter Film | ERB, Inc. Corporate Site | ERB Centennial | tarzana.ca |