Official Edgar Rice Burroughs Tribute and Weekly Webzine Site for Over 25 Years
Since 1996 ~ Over 15,000 Webzines and Webpages In Archive

Master of Imaginative Fantasy Adventure
Creator of Tarzan® and "Grandfather of American Science Fiction"
A NEW EDITION EVERY FRIDAY
www.ERBzine.com/mag
August 25-31, 2023
Dum-Dum 2023 convention Sept. 22-23 in Rhinelander, Wisconsin
Full Information at:
www.ERBzine.com/dumdum
https://www.burroughsbibliophiles.com

www.ERBzine.com/mag/info
VIEW LAST WEEK'S ISSUE AT:
www.erbzine.com/mag/ez230811.html

FEATURE 1: ERBzine 7402
THE GHOSTLY SCRIPT
INTRODUCTION
A Rare Unfinished Script by Edgar Rice Burroughs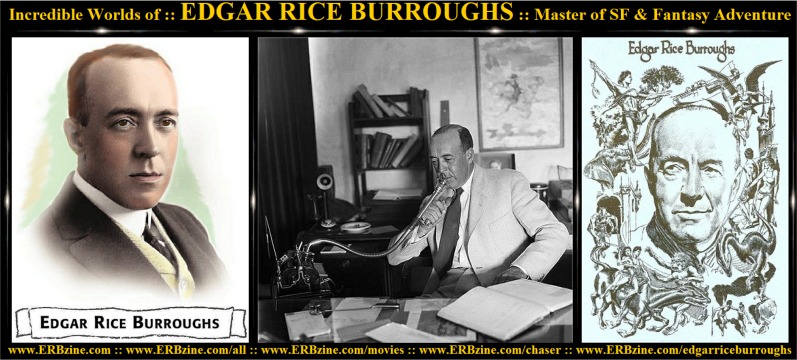 CLICK FOR FULL SIZE HERE
NOTE: ERB started this story in March 16, 1920 - he abandoned the project for over 10 years.
He resumed writing in October 1930 and stopped writing October 22, 1930
Except for its appearance in ERBzine this unfinished story remains unpublished.
(Translated by Bill Hillman from the handwritten manuscript shared by Danton Burroughs)
https://www.erbzine.com/mag74/7402.html









Feature 12: ERBzine 0819
REX MAXON'S SUNDAY TARZAN STRIPS
www.ERBzine.com/maxon
March 15, 1931 ~ September 20, 1931
NOTE:
This was Rex Maxon's final Tarzan Sunday Page.
Next week it was taken over by Harold Foster
and Maxon moved to creating the Tarzan Daily Strips
These dailies are ALL featured in ERBzine.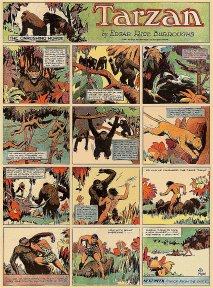 TODAY:
Page 28 ~ September 20, 1931
http://www.erbzine.com/mag8/mx0920.jpg

MAJOR ERBzine UPDATES
---
LAST WEEK'S FEATURES
August 11, 2023

1. HONOURING THE WEB LEGACY OF DANTON BURROUGHS
2. ERB MEETS HIS FILM TARZANS
3. BARSOOMIAN TIMES Fanzine: Issues 5 and 6
4. ERBANIA 08 Fanzine Reprint ~ January 1960 Part 1: Pages 1-14
4. ERBANIA 07 Fanzine Reprint ~ 1959 ~ Part 1: Pages 1-14
5. Hogarth Tarzan Sunday Page: PLAN FOR AMBUSH 1940.03.24 ~ #472
ERB EVENTS UPDATES
6/7 Nov Week 1: Days 1-7
EVENTS Photos
9. All The Hal Foster Tarzan Sunday Page Reprints: 1931-1937
1931 and 1932 ~ 1933 and 1934 ~ 1935 and 1936 ~ 1936 to 1937
10. HOGARTH TARZAN SUNDAY REPRINT STRIPS IN ERBzine
1937 ~ 1938 ~ 1939 ~ 1940 ~ 1947-1949 ~ 1949/1950
11. Foster Tarzan Sunday Page: A PRISON OF ARROWS: 1934.02.18
12. REX MAXON'S SUNDAY TARZAN STRIPS - TODAY: Page 27 ~ September 13, 1931
---
LAST WEEK'S UPDATES
FEATURES 12-21
---
Legal Notes on the Tarzan Yell
http://www.erbzine.com/mag19/1929.html
Evolution of the Tarzan Yell: Pt. I
http://www.erbzine.com/mag14/1482.html
Tarzan Yell Through the Years Collage
http://www.erbzine.com/cards/film/yellall.jpg
Danton's Yell in the Tarzan Filmation TV Series
https://www.erbzine.com/mag0/0014b.html
Tarzan Yell Contest: 2012 Centennial Celebration in Tarzana
https://www.erbzine.com/mag41/4110.html
https://www.ERBzine.com/cards/film6/weissmullertarzanyellall.jpg
Tarzan Escapes:
http://www.erbzine.com/mag6/0618.html
I Saw the Giant Vampire Bats! By Ron Hall
http://www.erbzine.com/mag21/2141.html
Escapes: Big Little Book Version
http://www.erbzine.com/mag6/0648.html
Escapes Chocolate Cards
http://www.erbzine.com/mag13/1375.html
Escapes Lobby Displays:
http://www.erbzine.com/mag6/0618a.html
Escapes Photos Galore:
http://www.erbzine.com/mag21/2141a.html

OUR WEEKLY SUPPLEMENTARY INFORMATION FEATURE
www.erbzine.com/mag/info
ERBzine Statistics for 2021: +18,614,055 Verified World Wide Hits



WEBJED: BILL HILLMAN


Visit our thousands of other sites at:
BILL AND SUE-ON HILLMAN ECLECTIC STUDIO
ERB Text, Images and Tarzan® are Copyright ERB, Inc.- All Rights Reserved.
All Original Work ©1996-2023 by Bill Hillman and/or Contributing Authors/Owners
No part of this web site may be reproduced without permission from the respective owners.
Opinions expressed in articles on this site do not necessarily represent the opinions
of Edgar Rice Burroughs, Inc. or the editors of ERBzine.
ERBzine Weekly Webzine was endorsed by Danton Burroughs of Tarzana, California
as the Official ERB, Inc. and Tarzan®Webzine Fan Tribute Site