Official Edgar Rice Burroughs Tribute and Weekly Webzine Site
Since 1996 ~ Over 15,000 Webpages in Archive
Volume 6351

ERB'S LIFE and LEGACY :: DAILY EVENTS
A COLLATION OF THE DAILY EVENTS IN ERB-WORLD
FROM THE PAGES OF ERBzine CREATED BY BILL HILLMAN
Collated by John Martin and Bill Hillman
With Web Design, Added Events, Links,
Illustrations and Photo Collages by Bill Hillman
GO TO OUR FULL YEAR'S CONTENTS
www.ERBzine.com/events

NOVEMBER CONTENTS: WEEK ONE
NOV 1 ~ NOV 2 ~ NOV 3
NOV 4 ~ NOV 5 ~ NOV 6 ~ NOV 7

VISIT NOVEMBER WEEK 1 PHOTO ALBUM
www.ERBzine.com/mag63/6351pics.html
BACK TO OCTOBER WEEK 4
www.ERBzine.com/mag63/6350.html



Click for full-size images
---
NOVEMBER 1
---
The Tarzan Yell by Denny Miller and the long series of film Tarzans ~ Tarzan Yell Action Figure
100 Year Tarzan Celebrations in 2012 ~ Stan Galloway's Teenage Tarzan with Thomas Yeates Art
---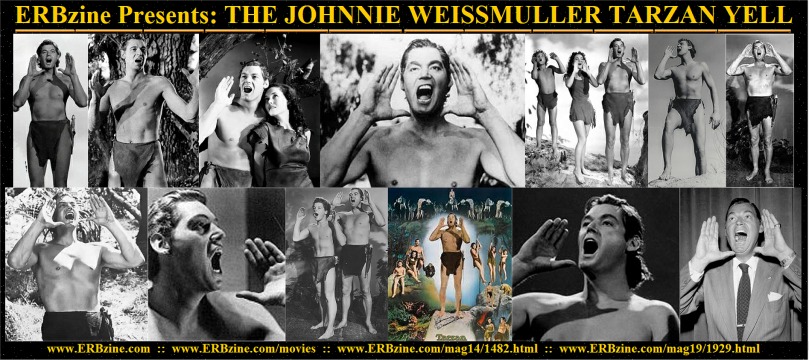 ---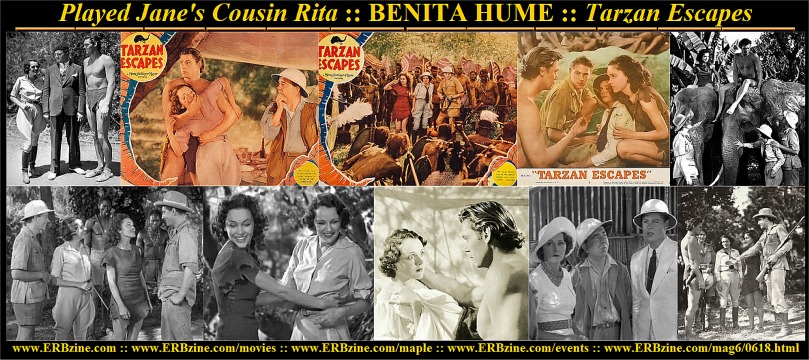 ---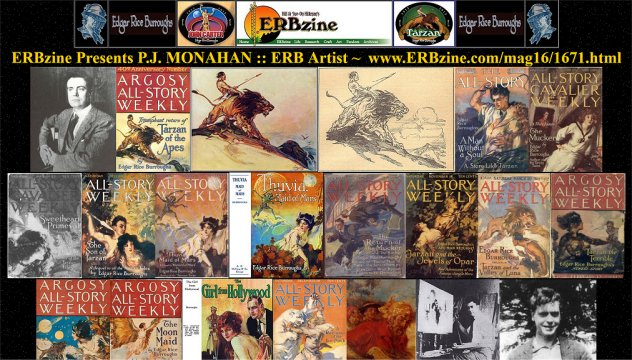 ---
*** On Nov. 1, 2007, the European Union ruled that the Tarzan yell does not have protected status over there. However, the same web page starts off saying that the yell did win protected status in the United States. So, unless you're in Europe, the next time you feel like filling your lungs with fresh jungle air and giving out with the victory cry of the bull ape...watch out! There might be a man with a briefcase nearby, ready to serve you legal papers! Just kidding about that last one. I know that people can get away with giving the Tarzan yell for fun, just like they can use the word Tarzan on their lips all they want, as long as they aren't making money off it. Or something like that. I'm not exactly a legal beagle. In an earlier installment, we reported on the James Bond people's use of the Tarzan yell in "Octopussy" and the yell was later used in the "Indiana Jones" series. This, I imagine, would be the type of thing that would require advance permission from, and royalties paid to, ERB Inc.
Kerchak apparently never had the pleasure of hearing Tarzan give out with the yell of the bull ape, because he was dead at the time Tarzan is first known to have voiced it. The young ape-man had just killed his hairy adversary, and if ever an occasion called for giving out with that wild and terrible cry, the victory over Kerchak was it. One has to wonder what exactly is copyrighted about the Tarzan yell and what isn't. Is it just the original recordings of the MGM and RKO yells? What about a movie that uses the Tarzan yell but varies it a bit? It's probably a difficult thing to litigate when versions are used which are recognizable, but different.
*** As seen in my ERBzine coverage, ERB, Inc. took a number of approaches to protect their ownership of the Tarzan Yell. One thing they did was to produce a Tarzan action figure with moving parts -- complete with a convincing Tarzan yell. Danton Burroughs sent us a prototype of this large, attractive action figure. When it was finally released for sale a few critics on the Internet discovered an earlier similar Disney action figure and had some fun with its moving hands and arms and nicknamed it "the masturbating Tarzan" :)
As noted in the ERBzine coverage, ERB fans were often treated to excellent Tarzan yells by George McWhorter and Danton Burroughs. In fact, Dan's yell was so good that it was used in the opening of the Filmation TV Tarzan Series.
Tarzan Yell Contests have been popular with many ERB conventions through the years. The one I hosted for the 2012 Centennial Celebration in Tarzana I remember well since Sue-On was a surprise entree in the contest and won first in the ladies' division :) . . . but the biggest surprise was when I introduced Jane Goodall and she treated us all with an authentic chimpanzee yell.
Legal Notes on the Tarzan Yell
http://www.erbzine.com/mag19/1929.html
Evolution of the Tarzan Yell: Pt. I
http://www.erbzine.com/mag14/1482.html
Tarzan Yell Through the Years Collage
http://www.erbzine.com/cards/film/yellall.jpg
Danton's Yell in the Tarzan Filmation TV Series
https://www.erbzine.com/mag0/0014b.html
Tarzan Yell Contest: 2012 Centennial Celebration in Tarzana
https://www.erbzine.com/mag41/4110.html
https://www.ERBzine.com/cards/film6/weissmullertarzanyellall.jpg

Off-Site Reference
Tarzan Yell Discussion
---
*** Benita Hume died on this date (1906.10.14-1967.11.01). Benita started in the theatre but quickly gravitated to films. . . and eventually to radio and television. She married writer/journalist Eric Siepman at age 19. She won a role in Ivor Novello's play Symphony in Two Flats and she accompanied Novello when he took the play to New York. From here she graduated to a number of contracts with RKO and MGM. In 1935 she was cast by MGM in Tarzan Escapes for $1250 per week, for a minimum of three weeks, but by the time the film was completed her wages from the film totalled $75 000. In the film she played Rita - cousin of Jane (Maureen O'Sullivan). She married Ronald Colman in 1938 and they had their only child, Juliet, in 1943. The Colmans did several radio shows with neighbour Jack Benny and starred in their own series, Halls of Ivy, in 1950, which evolved into a TV series in 1954.
My first exposure to Benita was through her many appearances on the Jack Benny radio show which was one of my favourite OTR shows. I've collected hundreds of Benny's shows from the '30s-'50s in my huge AV library on tape, CD and hard drive. She returned to England after Ronald died in 1958 and married George Sanders a year later. She died of bone cancer in 1967.
An interesting quote in the film from "Rita" to cousin "Jane":
"You see, we wanted to take you back to where we thought you belong. 'Civilization' I think they call it. But it's not for you. And even if your coming back meant that I'd inherit the world, I couldn't forget the look in Tarzan's eyes when he thought he was going to lose you. Stay here with your jungle flies, and your funny little Cheetah and all the trouble she gets into, and Tarzan. You've got the grandest possessions that any woman can have: peace and comradeship and perfect communion with a man whose whole strength is devoted to making your life beautiful. Don't you ever lose it."
Tarzan Escapes in ERBzine Silver Screen
https://www.erbzine.com/mag6/0618.html
Tarzan Escapes Lobby 1: Lobby Cards ~ Posters ~ Stills
https://www.erbzine.com/mag6/0618a.html
Tarzan Escapes Lobby 2: Featuring Benita Hume: 25 Photos
https://www.erbzine.com/mag6/0618b.html
https://www.ERBzine.com/cards/film10/benitahumetarzanescapesall.jpg
---
*** There were big doings at Bridgewater College in Virginia Nov. 1-4, 2012. It was the Tarzan Centennial Conference, put together by ERB fan and Bridgewater professor Dr. Stanley A. Galloway, who is well known in the ERB community. The conference included the East Coast premiere of the play Edgar Rice Burroughs wrote for his daugther, Joan, "You Lucky Girl!" It was performed daily from Nov. 1 to 4. Scott W. Cole, associate professor of theater, directed.
The play had its West Coast premiere in 1997 at the Palmdale Playhouse in Southern California. "You Lucky Girl!" was written in 1927. The play is a prescient look at the rise of the modern woman during the heyday of the Roaring 20s. "You Lucky Girl!" is a love story centered on the desire of Anne Mason and her friend Corrie West for a life on the stage. The play twists and turns through mistaken identity and frustrated love.
*** You'll see in my ERBzine pages that Ed Burroughs had written the play with his daughter Joan in mind. Joan was very interested in the theatre and performed in many stage productions. She even went on to star as Jane in the 1932 Tarzan radio series. ERB was his daughter's biggest fan and promoter. After he obtained his pilot's license he even flew across the country to attend her performances in more distant venues. We were treated with a performance of the play at the 1999 Tarzana Dum-Dum by the Palmdale Playhouse cast who had recently performed the World Premiere performance of the play.
Stan Galloway is also noted for his poetry and his research on ERB's works. His book, "The Teenage Tarzan" is found alongside Burroughs' works in the collections of many serious ERB fans. The book features a striking cover illustration by acclaimed artist Thomas Yeates.
Bridgewater Tarzan Centennial Conference
http://www.erbzine.com/mag39/3939.html
A history of "You Lucky Girl!"
http://www.erbzine.com/mag7/0774.html
"You Lucky Girl" performed at 1999 Dum-Dum
http://www.erbzine.com/mag1/0189.html
Teenage Tarzan by Stan Galloway
http://www.erbzine.com/mag29/2990.html
Off-Site Reference
Professor Galloway
---
1931: Patrick J. Monahan (1882.01.04-1931.11.01) born Patrick John Sullivan, died at the age of forty-nine in Woodcliff, Lake, New Jersey. He painted hundreds of illustrations for the pulps and slick magazines, His work included pulp magazine covers for "The Girl From Hollywood," "Thuvia, Maid of Mars," "The Man Without a Soul," "The Mucker," "Sweetheart Primeval," "The Son of Tarzan," "The Return of the Mucker," "Tarzan and the Jewels of Opar," "Tarzan and the Valley of Luna," "Tarzan the Terrible," "Chessmen of Mars," "The Moon Maid," and "Tarzan and the Golden Lion."
See more about this acclaimed ERB illustrator in his Birth Date Events entry.
I've had some wonderful correspondence with the Monahan descendants.
Our Tributes Pages feature correspondence with descendents of Mr. Monahan as well as their J. Allen St. John connection:
Correspondence with Jim Monahan:
I am the youngest son, James George Monahan, of P. J. Monahan. I am now 81 years of age. I am in possession of an original oil painting – The Pirate – painted by my dad. I also have several illustrations and original copies of Argosy and other pulp magazines that collectors may be interested in. ~ Jim Monahan
(Note: Jim sent me a huge colour reproduction of the Monahan painting: "The Pirate")
Correspondence with Gillaine St. John Monahan:
This whole thing gives me goose bumps! I am Gillaine St. John Monahan, Jim's second wife after the death of his 50-year marriage to first wife Barbara. They had seven children. Jim is the most amazing man I have known and probably the most like his dad as far as I can tell and even though his dad died tragically when he was only 7 years old. He is the youngest of eight and four siblings are still alive. We live in Ely, Minnesota.
I was intrigued when I saw so much about J. Allen St. John along with P.J. Monahan (on the ERBzine site). Upon reading his bio find that I am related! My grandfather is Samuel St. John whose brother was Levi, grandfather of J. Allen. My Dad would tell the story about being the first white baby born in Rock County WI and he was! I always thought he embellished on the real story. Gilbert St. John and hence my first name - Gillaine. I was first born. I have traced my family to Samuel who died in 1936 shortly before I was born and my Dad died tragically when I was 17 so I am very happy to be able to piece this story together. ~ Gill St. John Monahan
P.J. Monahan Tributes in ERBzine
http://www.erbzine.com/mag16/1671.html
http://www.erbzine.com/mag16/1672.html
Tarzan of the Apes All-Story Art
http://www.erbzine.com/mag16/monagl.jpg
P.J. Monahan Art Collage
http://www.ERBzine.com/cards/art/monahanall.jpg
---
*** 1940: ERB ran into astronomical problems in his creation of the new "Canapa" solar system in the Poloda series. He began correspondence with Professor J. S. Donaghho of Honolulu.
Poloda in Beyond the Farthest Star
http://www.erbzine.com/mag8/0862.html

---
NOVEMBER 2
---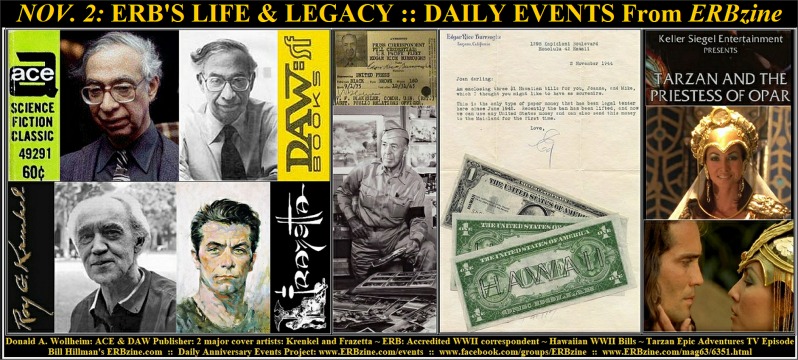 Donald A. Wollheim: ACE and DAW Publisher: Two major cover artists: Krenkel and Frazetta
ERB: Accredited WWII correspondent ~ Hawaiian WWII Bills ~ Tarzan Epic Adventures TV Episode
---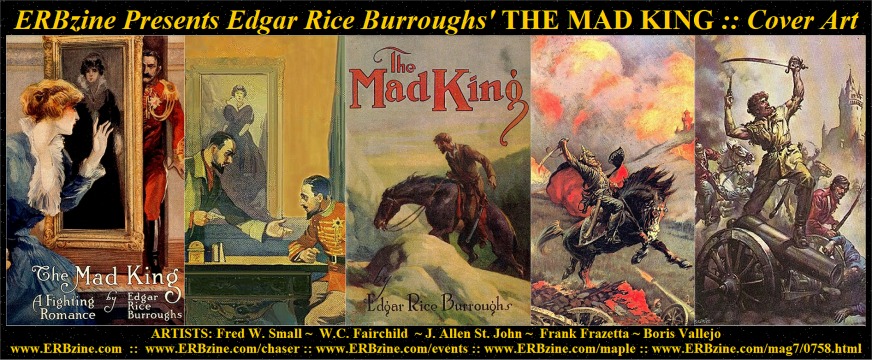 ---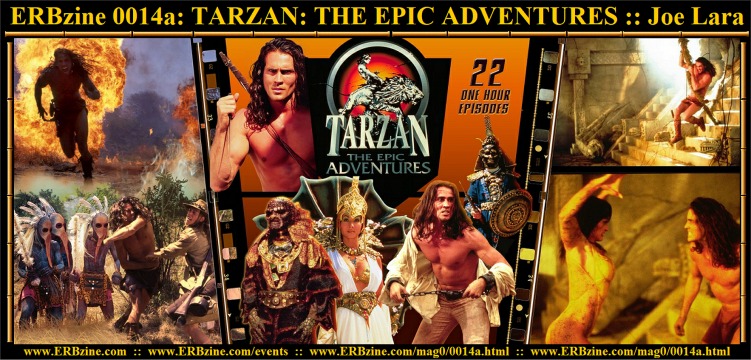 ---
*** 1990: Donald A. Wollheim (1914.10.01-1990.11.02) American science fiction editor, publisher, writer, and fan died on this date. As the editor of Ace Books was singly responsible for bringing us that great run of Krenkel and Frazetta paperback covers.
The Burroughs books weren't the only ones Wollheim helped to rescue from what otherwise might have been an "old book oblivion." Delighted with the great sales of the ERB titles, Mr. Wollheim, in 1964, got in touch with J.R.R. Tolkein and asked if he could publish the "Lord of the Rings" series as Ace paperbacks. Tolkien said he would never allow his great work to appear in "so degenerate a form" as the paperback book. But Wollheim was not easily discouraged, and did a little research and discovered a loophole in the copyright. Houghton Mifflin, Tolkien's American hardcover publisher, had neglected to protect the work in the United States (or so, at least, Wollheim thought at the time). So, incensed by Tolkien's response, he realized that he could legally publish the trilogy and did.
"This brash act (which ultimately benefited his primary competitors as well as Tolkien) was really the Big Bang that founded the modern fantasy field, and only someone like my father could have done that," said daughter Betsy Wollheim. "He did pay Tolkien, and he was responsible for making not only Tolkien but Ballantine Books extremely wealthy. And if he hadn't done it, who knows when — or if — those books would have been published in paperback."
Mr. Wollheim was a science fiction fan and pioneer, not only being a firebrand among fans but also writing several science fiction novels himself, and editing some compilations. As editor of Avon Books and, later, Ace books, he made the works of many science fiction greats readily accessible to fans. And even when Ace Books was eventually taken over by a larger company which didn't have the science fiction vision (and had administrative problems as well), Mr. Wollheim didn't let it stop him. He simply formed his own company, DAW books, and continued publishing science fiction to his heart's content.
Although Dover Books was the first '60s publisher to put an ERB book between soft covers, in the large trade paperback size, Wollheim was the one who put them in the smaller paperbacks that more people would be likely to see as they browsed racks in drug stores, bus stations and supermarkets. Just a guess, but I'd say we all have both Ace and DAW books sitting on our shelves.
ACE PBs Covers and Publishing Dates
http://www.ERBzine.com/chaser
Krenkel ACE Cover Art (4 pages)
http://www.erbzine.com/mag33/3330.html
Frazetta ACE Cover Art
http://www.ERBzine.com/ff
Bob Hyde wrote about DAW:
http://www.erbzine.com/mag7/0705.html
Dale Broadhurst: about Richard Lupoff and DAW
http://www.erbzine.com/mag11/1108.html
Phil Burger: about DAW and Richard Hescox:
http://www.erbzine.com/mag19/1972.html
Richard Lupoff 's Wollheim anecdote
http://www.erbzine.com/mag30/3048.html
DAW on Burroughs
http://www.erbzine.com/mag3/0399.html

Off-Site Reference:
Wollheim in Wikipedia
---

1942: ERB sent a thank-you letter to George Carlin who has sent United Press correspondent's credentials. His old friend had been a great help in Ed's quest for accreditation. Carlin responded, "Your example in always seeking fresh adventure at an age when most of your contemporaries are content to give up and just stay waiting is an inspiration to me and gives me a goal at which to aim."
Now an accredited war correspondent at the age of sixty-seven, Burroughs waited for his army approval and assignment to a plane. On November 6 he started his autograph album which he planned to carry with him. Fittingly, the first entries were by longtime friend, Captain Phil Bird and fellow United Press correspondent, William Tyree.
ERB's Wartime Autograph Book Series
http://www.erbzine.com/mag27/2776.html
ERB first assignment on New Caledonia and Cannibal Village
http://www.erbzine.com/mag41/4196.html
ERB: The War Years
http://www.ERBzine.com/war
---
*** 1914: Barney Custer of Beatrice (sequel to The Mad King) was sent to Davis.
Barney Custer in The Mad King
http://www.erbzine.com/mag7/0758.html
---
*** 1943: ERB wrote a letter home to Joan. Ed advises that the family should support Ralph in every way as he had been intensely loyal and dedicated to serving the Burroughs family and corporation for many years. He encouraged Joan to write to his friend Capt Phil Bird.
ERB's Letter from Wartime Hawaii to daughter Joan
http://www.erbzine.com/mag4/0440.html
http://www.erbzine.com/mag10/1025.html
---
*** 1944: ERB sent a letter home containing Hawaiian dollar bills for Joan, Joanne and Mike.
ERB Letter Home with Souvenir Hawaiian Bills
http://www.erbzine.com/mag4/0440.html
---
*** 1947: Ed, a staunch Republican, voted for Dewey - as does his entire family, other than Joan and Jim.
---

*** 1952: Bob Hyde visited the Egyptian landmarks and cruised the Nile during his African Odyssey
http://www.erbzine.com/mag40/4011.html
---
1996: Priestess La TV Episode: La appeared in a Tarzan TV Episode on this date: the Tarzan Epic Adventures "Priestess of Opar." The series ran for 22 episodes.
Voice Over Intro for the series:
"Tarzan! Orphaned at birth in darkest Africa. Raised by the great apes.
He grew up in the primitive world of the jungle until fate brought him face to face with his past.
Taking his rightful place as Earl of Greystoke, Tarzan soon became disenchanted with civilization.
He returned home to Africa. Tarzan, Lord of the Jungle!"
Credits for this episode: Joe Lara as Tarzan ~ Aaron Seville as Themba ~ Guest star: Angela Harry (La) ~ Writer: Dennis Kerner ~ Director: Gino Tanasescu
Tarzan Epic Adventures TV Series: Starring Joe Lara
http://www.erbzine.com/mag0/0014a.html
More ERB-Related TV Shows: ERB-TV
https://www.erbzine.com/mag0/0014.html
https://www.erbzine.com/cards/film3/joelaratarzanepic.jpg

Off-Site Reference
Tarzan Epic Adventures
---
*** You never can tell where the worlds of Edgar Rice Burroughs are going to show up. A Minnesota Vikings football game may seem an unlikely place, although ERB did feature football in "Pirate Blood" and Tarzan met Vikings in Hal Foster's Sunday comic pages. But the Vikings and ERB were mentioned in the same breath on Nov. 2, 2011, when a letter written by Hank Shore of Minneapolis appeared in the town's Star Tribune. The letter:
"If I might be so bold, I have a suggestion about a Minnesota Vikings stadium that perhaps hasn't been considered: Make it virtual.
"Find an abandoned warehouse somewhere in the middle of Minneapolis (there might be a few), gut it, plaster the inside with green screens and let the Vikings play their games there.
"There are probably scads of unemployed programmers and digital artists willing to participate, to build a virtual stadium around the players and broadcast it to the paying public. It wouldn't even have to be the same stadium with each game.
"The Vikings could play in one of the stadiums of Imperial Rome or under the eyes of the Aztecs. They could even play in some fantasy setting -- say, under the twin moons of an Edgar Rice Burroughs' Mars.
"A physical stadium is so 20th-century. A virtual stadium would not be subject to rain, snow or other physical problems, and it could showcase the technical prowess of Minnesota.
"Also, and this is a plus, if Zygi Wilf decided that he no longer wanted the Vikings to play in Minnesota, the city fathers could simply hand him a DVD with the stadium's bits and send him on his way. But we could always keep a copy."
Tarzan/Vikings: 1935: 06.02-12.29: 1st Episode
http://www.erbzine.com/mag65/6529.html
Tarzan Meets the Vikings: Text Summaries
http://www.erbzine.com/mag8/0818.html
Off-Site Reference:
Vikings Letter

---
NOVEMBER 3
---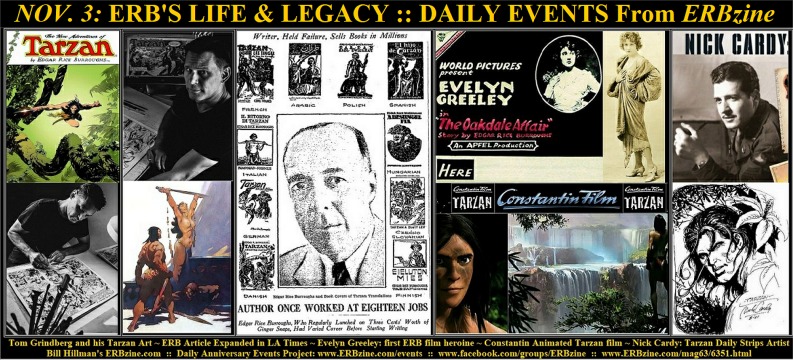 Tom Grindberg and his Tarzan Art ~ ERB Article Expanded in LA Times ~ Evelyn Greeley:
First ERB film heroine ~ Constantin Animated Tarzan film ~ Nick Cardy: Tarzan Daily Strips Artist
---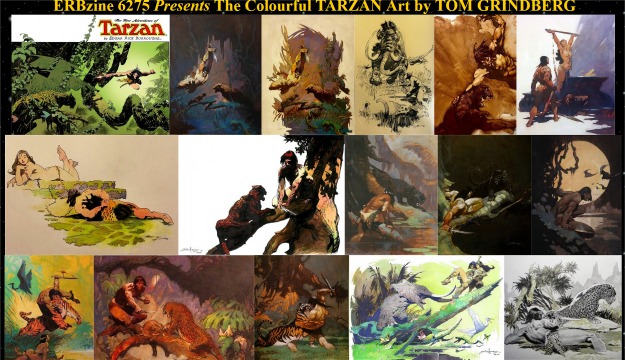 ---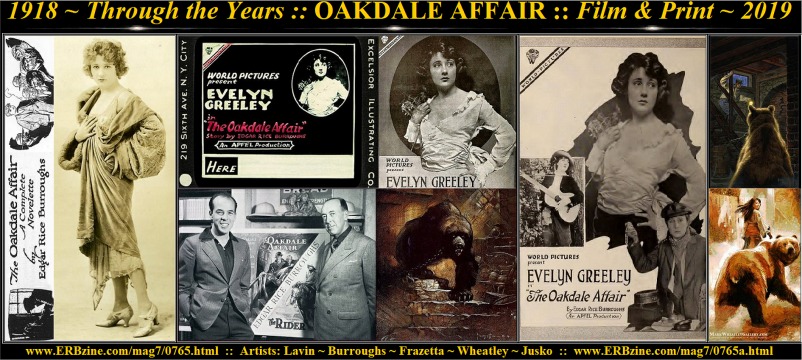 ---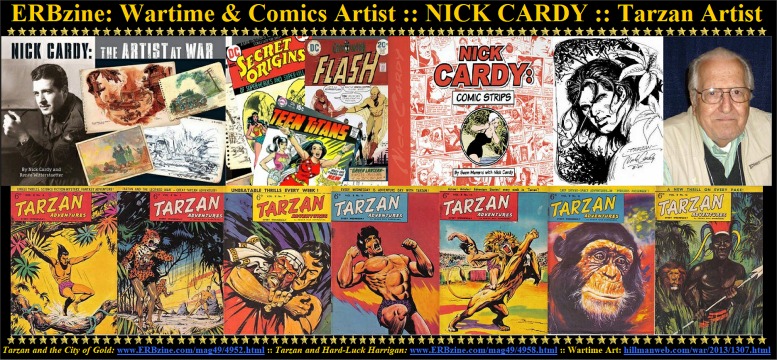 ---
*** 1929: Author Once Worked At Eighteen Jobs. After "How I Wrote the Tarzan Books" appeared in The New York Evening World on Oct. 27, 1929, it was no doubt picked up and printed by a few other newspapers in the nation. One of those was the L.A. Times, which published the article on Nov. 3, 1929. The Times wasn't content merely with reprinting the article, but expanded it and rewrote parts of it. That's standard newspaper practice, to make an article conform to the newspaper's style and also, perhaps, to add information and make their article a little bit different from the original.
So this article at ERBzine 1443 covers the same territory as the one in the New York paper, but also adds some information about Edgar Rice Burroughs. The Times also did a nice spread with a picture of ERB surrounded by covers of some of his books.
*** My scan of this old article is pretty hard to read since my copy is in pretty rough shape. To make for an easier read I laboriously typed out the whole thing . . . enjoy :) (BH)
AUTHOR ONCE WORKED AT EIGHTEEN JOBS
http://www.erbzine.com/mag14/1443.html
---
*** 1961: Artist Tom Grindberg was born on this date.Tom is an award winning illustrator in graphic design and advertising, who has done a massive amount of spectacular work for Marvel, DC, and independent comic publishers. Further credits include computer game design, commercial interior designing for leading manufacturing companies, and even motion film work. His ERB-related art drew the attention of Edgar Rice Burroughs, Inc., and Tom was the first artist chosen for their series of "Sunday" page adaptations of ERB novels - which debuted with his graphic interpretations of Tarzan of the Apes. Tom also has a massive following of his work featured across the Web in various social media sites. His Tarzan illustrations are well represented in a series of our ERBzine Webpages. (BH)
Tom Grindberg: Tarzan in Colour I
http://www.erbzine.com/mag62/6275.html
Tom Grindberg: Tarzan Art II
http://www.erbzine.com/mag62/6276.html
Tom Grindberg: Tarzan Art III
http://www.erbzine.com/mag62/6277.html
Tom Grindberg: ERB Art IV
http://www.erbzine.com/mag66/6668.html
Tom Grindberg: ERB Art V
http://www.erbzine.com/mag66/6667.html
Tom Grindberg: Beyond ERB Art VI
http://www.erbzine.com/mag66/6669.html
---
*** 2013: Nick Cardy (1920.10.20-2013.11.03), born Nicholas Viscardi and also known as Nick Cardi died on this date. He was an American comic book artist best known for his DC Comics work on Aquaman, the Teen Titans and other major characters, including TARZAN. Nick created an excellent 5-month series of Tarzan strips in the first half of 1950: Tarzan and the City of Gold: 3277-3360 (13 Feb. 1950-20 May 1950)(84 days): ERBzine 4952 and Tarzan and Hard-Luck Harrigan 3361-3414 (22 May 1950-22 July 1950)(54 days) ERBzine 4858: 3434 - 3446: ERBzine 4958. We have also featured Mr. Cardy's Wartime Art in our Monthly Military Webzine: AS YOU WERE. . .
Nick Cardy: Tarzan and the City of Gold Strips
http://www.erbzine.com/mag49/4952.html
Tarzan and Hard-Luck Harrigan daily strips
http://www.erbzine.com/mag49/4958.html
Nick Cardy Wartime Art
http://www.hillmanweb.com/war/2013/1307.html
---
*** 1888 Evelyn Greeley (1888.11.03-1975.03.25) was born as Evelyn Huber in Austria and died in West Palm Beach, Florida, USA. She is remembered by ERB fans as having starred in the 1917 film The Oakdale Affair. She is considered by some to be the first ERB film heroine.
Evelyn Greeley's life before becoming a film star is somewhat mysterious, but she appears to have been born in Austria as Evelyn Huber in 1888. She later attended the University School for Girls in Chicago and the Frances Shimer Academy (now known as Shimer College), which offered high-level training in music and art.
Greeley began her acting career on stage with the Poli Players stock company. She worked as an extra for Essanay Studios in Chicago for a year before getting her first credited role, in the 1915 Quality Pictures production The Second in Command (1915). Soon thereafter, she was signed by the World Film Corporation, appearing in about two dozen movies from 1917 to 1919, frequently starring opposite Carlyle Blackwell.
After losing her World Film contract in 1920, Greeley appeared less frequently. She gave her last on-screen performance in Bulldog Drummond (1922), and decided to take up the married life. Her first marriage, to fellow actor John Smiley, fell apart in a matter of months, but her second, to wealthy businessman James Rand, lasted for some 35 years. After Rand and Greeley divorced in 1960, she married Morgan Laity. She died in West Palm Beach, Florida, in 1975.
Evelyn Greeley in Oakdale Affair
http://www.erbzine.com/mag7/0765a.html
Screen Heroines
http://www.erbzine.com/mag6/0607.html
---
*** 1912: Ed submitted Tarzan of the Apes to The Bobbs-Merrill Co., Reilly & Britton, and Dodd, Mead and Co. (All declined)
*** 1927: You Lucky Girl! A love story in 3 acts. Was copyrighted on this date in 1927 under number D81617 by Edgar Rice Burroughs, Inc., Reseda, Calif.
You Lucky Girl!
http://www.erbzine.com/mag7/0774.html
---
*** 2011: Constantin acquired animation rights to the "Tarzan" novels from Edgar Rice Burroughs, Inc. in Tarzana, California. Ambient Entertainment, which did the animation for "Animals United," will work on "Tarzan."
Constantin Tarzan Preview
http://www.erbzine.com/mag41/4138.html

---
NOVEMBER 4
---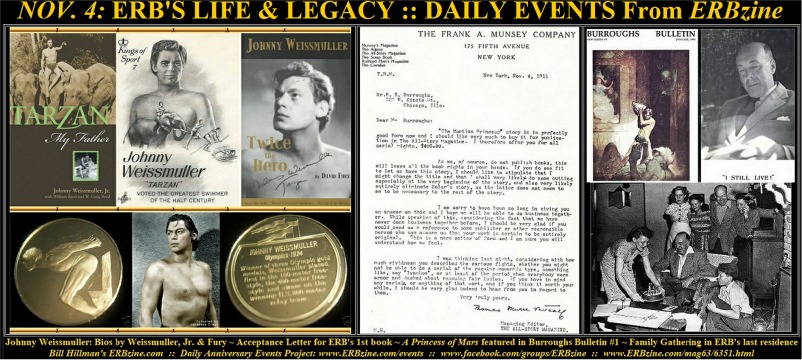 Johnny Weissmuller: Awards and Bios by Weissmuller, Jr. and Fury ~ Acceptance Letter for ERB's first book
A Princess of Mars featured in Burroughs Bulletin #1 ~ Family Gathering in ERB's last residence
---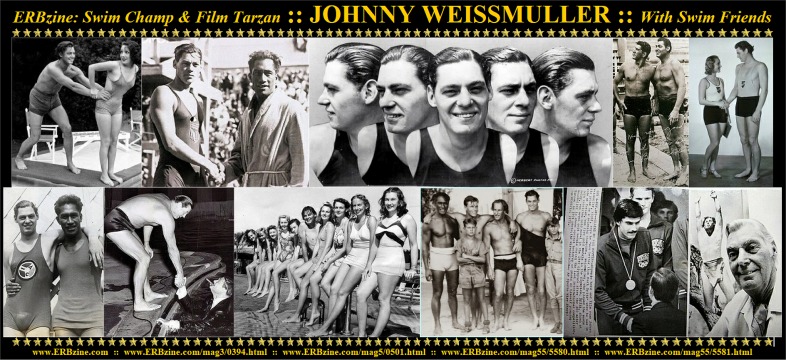 ---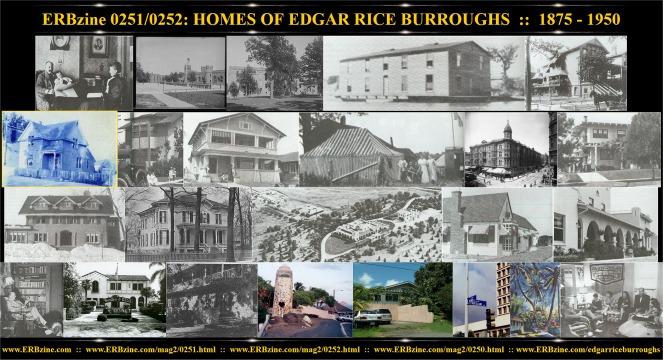 ---
*** 1911: Thomas Metcalf of All-Story offered $400 ERB for the serial rights of the finished manuscript to be published as "In the Moons of Mars".
When Ralph Brown hosted the Edgar Rice Burroughs Chain of Friendship gathering at Willows, Calif., in 1993, he set aside an evening at his home for "show and tell." Bill Ross probably had the most amazing item of all there to display, the actual $400 check that ERB cashed for publication of his first story.
ERB, in his article on "How I Wrote the Tarzan Books," said: "The check was the first big event in my life. No amount of money today could possibly give me the thrill that that first $400 check gave me."
Before the check arrived, though, there was the letter to ERB, written on Nov. 4, 1911 by Thomas Metcalf, editor of The All-Story, telling him that
"The Martian princess story was in perfectly good form now and I should like very much to buy it for publication in The All-Story Magazine. I therefore offer you for all serial rights, $400.00." As soon as ERB agreed, the letter stated, the check would be "in the mail."
That letter may have been the second biggest thrill in ERB's life, right behind receipt of the actual payment, which came a couple of weeks later in a check dated Nov. 15.
A Princess of Mars Acceptance Letter
http://www.erbzine.com/mag28/2832.html
ERB's reply to Metcalf's Letter:
http://www.erbzine.com/mag28/2833.html
Burroughs Bibliophiles #1: Princess of Mars Issue
http://www.erbzine.com/mag52/5201.html
Princess Acceptance letter in full size
http://www.erbzine.com/mag28/b111104.jpg
ERB's Response Letter in full size
http://www.erbzine.com/mag28/b111106.jpg
---
*** 1972: Who was the better swimmer, Johnny Weissmuller or Mark Spitz? There's no question about it in Johnny's mind. He was quoted by Dave Anderson, in an interview which appeared Nov. 4, 1972, in the New York Times, saying, "I was better than Mark Spitz is....I never lost a race. Never. Not even in the Y.M.C.A. The closest I ever came to losing was on the last lap of the 400 in 1924 when I got a snootful. But I knew enough not to cough. If you don't cough, you can swallow it." The occasion for the interview was Johnny's promotional tour of his swimming pool installation business.
Text in the AP News Story with Weissmuller and Spitz in accompanying collage: AP Sports Wire Story: "CLAIMS HE WAS BETTER -- Olympic hero and film star Johnny Weissmuller says he "was better than Mark Spitz" when he was in his prime as a swiming champion. Weissmuller, who played the movie role of Tarzan, won five gold medals in the Olympics, Spitz, shown at left receiving gold medal in the 1972 Olympics after the 400 meter relay, won seven gold medals during the last international competition. Weissmuller is shown against backdrop of photo of himself playing Tarzan in 1971 photo."
Johnny Weissmuller Career Scrapbook
http://www.erbzine.com/mag3/0394.html
Weissmuller and Friends I
http://www.erbzine.com/mag55/5580.html
Weissmuller and Friends II
http://www.erbzine.com/mag55/5581.html
Weissmuller on Location in Florida 1 & 2
http://www.erbzine.com/mag5/0501.html
Weissmuller: Twice the Hero by David Fury
http://www.erbzine.com/mag3/0393.html

Off-Site References:
Weissmuller Biography
Weissmuller My Father
Weissmuller NY Times Article
Weissmuller popularity
---

*** 1945: After his return to Tarzana after his years in WWII Hawaii Ed was house hunting. Houses are scarce and high priced. In his diary he wrote: "House-hunting. Finally found something that will do nicely until I can build. The prices are outrageous-$15,000 for a 2-bedroom house on ½ acre." Later: "Got it for $14,000. Hully bought a house." At the year's end, on December 26, Ed moved into his new home at 5465 Zelzah Avenue, Encino. This would be the last home that ERB would live in . . . following a long list of residences through his lifetime, starting with his birthplace in Chicago.
Family Gatherings in ERB's Zelzah Home
http://www.erbzine.com/mag11/1104.html
Homes of ERB: 3 illustrated pages starting at:
http://www.erbzine.com/mag2/0250.html
My Home by Edgar Rice Burroughs
http://www.erbzine.com/mag9/0932.html
Homes of ERB Collage
http://www.erbzine.com/cards/erb/erbhomesall.jpg

---
NOVEMBER 5
---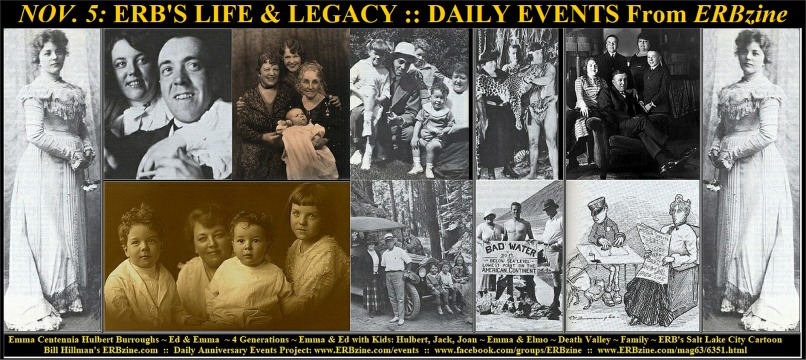 Emma Centennia Hulbert Burroughs ~ Ed and Emma ~ 4 Generations ~ Emma & Ed with Kids:
Hulbert, Jack, Joan ~ Emma & Elmo ~ Death Valley ~ Family ~ ERB's Salt Lake City Cartoon
---
---

Emma Centennia Burroughs (January 1, 1876 - November 5, 1944)

*** 1944: Emma Centennia Burroughs died of a stroke after a fall at 12:52 p.m., after her losing battle with depression and alcoholism.
Emma Burroughs had sacrificed the easy life as daughter of prosperous Chicago hotel owner, Alvin Hulbert, to follow Ed Burroughs in his pursuit of riches. From their wedding day, on January 21, 1900, until he gained fame as a writer eleven years later, Ed moved from place to place and through a multitude of occupations and failed enterprises. During this time Emma gave birth to three children, nursed Ed and the kids through a series of illnesses, stretched a very meagre household budget, and eventually had to sell her jewelry to keep the wolf from the door. When Ed eventually found his true calling as a writer of fall tales it was she who served as a sounding board, main critic and proofreader for his wildly imaginative stories.
---
After their 1919 move to Tarzana Ranch in California's San Fernando Valley the Burroughs lifestyle changed dramatically. They entered into the social whirl of Hollywood parties and Emma took on the added role of Lady of the Manor and Hostess for the Burroughs estate. Sadly, the new lifestyle took its toll. By the early '30s Ed and Emma started to drift apart. Emma started to feel that she was not needed by the family, and her loneliness, loss of purpose and dependence on alcohol grew. Finally, in February of 1934, Ed could take no more. He moved out and asked for a divorce. Around this time, former film actress Florence Gilbert's marriage to Ed's film company associate, Ashton Dearholt, was also unravelling and the two sought companionship in each other and were married in 1935. Ed and Florence moved to Hawaii and Emma was never to see him again even though Ed's second marriage broke up in 1941. Son Hulbert, who had moved to Hawaii to be with his dad received a telegram on November 5, 1944: "Mother died today. Cerebral Thrombosis." Hulbert in his grief stated: "Everyone knew it was from a broken heart."
---
Emma had experienced a bad fall, resulting in a skull injury and a brain hemmorrhage and died within a few days. Ed and Hulbert flew home from Hawaii to join the family in California. There, ERB saw grandsons Johnny and Danton for the first time and spent the first Christmas with his family in 11 years.
"Mother Died Today" by Hulbert Burroughs
http://www.ERBzine.com/mag67/6750.html
Emma Burroughs Photo Gallery I
http://www.ERBzine.com/mag67/6751.html
Emma Burroughs Photo Gallery II
http://www.ERBzine.com/mag67/6752.html
Joan's Memories of her Mom
http://www.erbzine.com/mag11/1104.html
Burroughs Family Tributes
http://www.erbzine.com/mag27/2754.html
---
*** Barney Custer had made an election bet that, ultimately, won for him a throne. He had lost the bet and, as a consequence, was honour-bound to go unshaven until Nov. 5. He revealed this fact to Emma von der Tann in Chapter 2 of "The Mad King," a story which reveals how his hirsuteness helped to cause a case of mistaken identity when he vacationed in Lutha, where many mistook him for Leopold, the loony local lord. When Nov. 5 actually arrived, Barney had his hands full, posing as the mad king while leading the forces of Lutha in battle against the armies gathered by Peter of Blentz.
ERB had included some personal references in The Mad King: Barney Custer was from Beatrice - the hometown of Ed's longtime friend, Bert Weston. They had first met when they played football together on the MMA team. Sue-On and I spent an afternoon exploring the Westons' roots in this Nebraskan town. The Emma of the story was named after Ed's wife Emma - who ironically died on November 5.
Mad King: ERB C.H.A.S.E.R. Full Bibliographic Info
http://www.erbzine.com/mag7/0758.html
Bert Weston of Beatrice
http://www.erbzine.com/mag51/5161.html
Mad King: Read the e-Text Edition
http://www.erbzine.com/craft/o5mk.html

Off-Site References:
Mad King Summary
Review by John Martin
---
*** On Nov. 5, 1969, Lloyd Corrigan died. Corrigan had played Sheik Abdul El Khim in "Tarzan's Desert Mystery" and was a character actor whose face also showed up on such shows as "Ozzie & Harriet" and "Perry Mason."
Tarzan's Desert Mystery with Lloyd Corrigan as Sheik
http://www.erbzine.com/mag6/0624.html
Desert Mystery: 3 Lobby Displays starting at:
http://www.erbzine.com/mag6/0624a.html

---
On Nov. 5, 2007, Paul Norris died. Norris was another of the family of artists who did some Tarzan adventures as well as some other features for both Dell and Gold Key.
Gridley Wave announced Paul Norris' death:
http://www.erbzine.com/gw/0802.html
Paul Norris in ERBzine Art Encyclopedia
http://www.erbzine.com/mag10/1014.html
Paul Norris Art in Tarzan Gold Key Comics
http://www.erbzine.com/mag25/2596.html

Off-Site Reference
Norris in sccs-online.org/archives
---
1931: Artist P.J. Monahan (January 4, 1882 - November 1931) died on this date.
PJ. Monahan: Two Tribute Art Pages
http://www.erbzine.com/mag16/1671.html

---

1930: ERB was given a medical examination in Hollywood Hospital and given morphine and a general anaesthetic. The drugs made him very sick but he is impressed with the professionalism of Nurse Emory. He stayed overnight but drove home in the morning in time for breakfast.
1935: Ed's political speech for Tarzan appeared as a large ad with Maxon illustrations under the heading "Down with Lion Politicians."
ERB Bio Timeline and Annotated Calendar
http://www.ERBzine.com/bio

---
NOVEMBER 6
---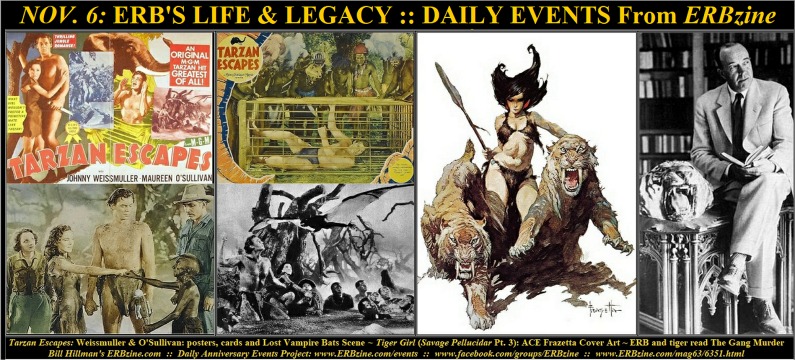 Tarzan Escapes: Weissmuller and O'Sullivan: posters, cards and Lost Vampire Bats Scene
Tiger Girl (Savage Pellucidar Pt. 3): ACE Frazetta Cover Art ~ ERB and tiger read The Gang Murder
---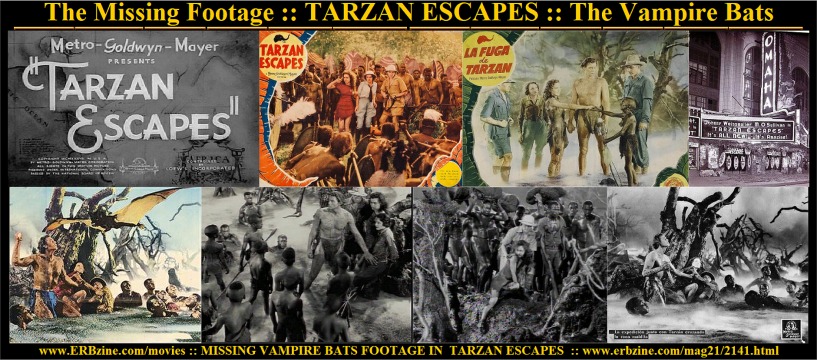 ---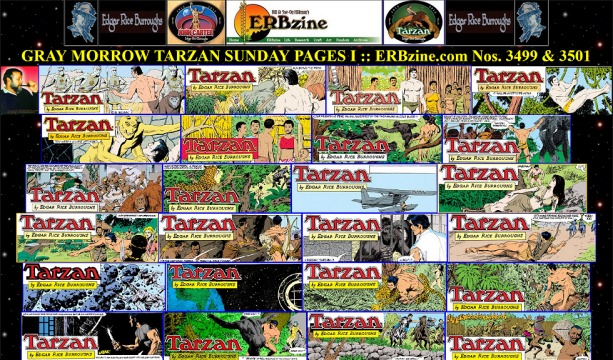 ---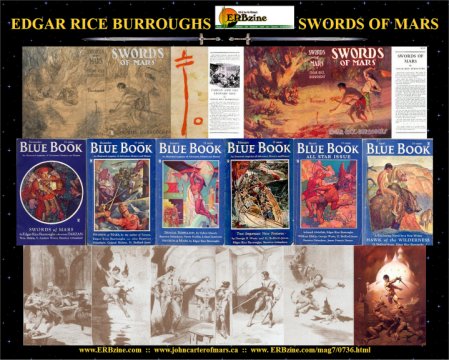 ---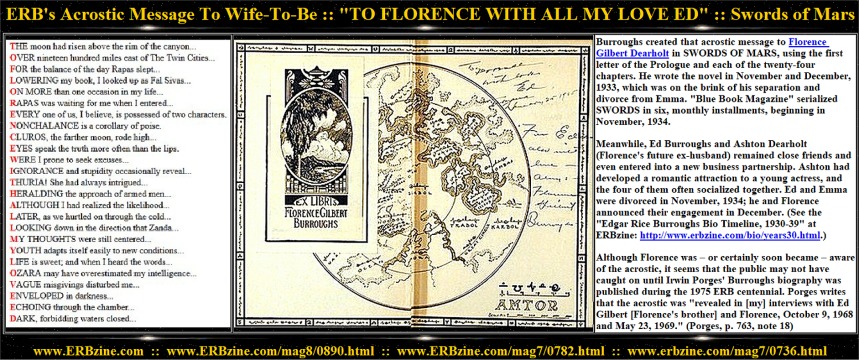 ---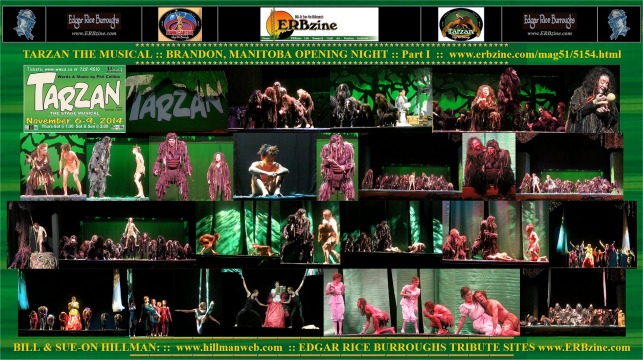 ---
"Tarzan Escapes," the third Tarzan film to star Johnny Weissmuller, saw MGM going bananas and packing just about everything possible into this movie, from the Tarzan tree house with all the modern (yet appropriately primitive) conveniences, to the ending horrors that would make the TV series, "1,000 Ways to Die," a kiddie matinee entry by comparison. "Tarzan Escapes" was released to the joy of many appreciative fans on Nov. 6, 1936.
In my ERBzine I wrote: "The original version of this film, titled "The Capture of Tarzan," was shown to preview audiences in 1935 and was heavily criticized for scenes of gruesome violence. The most notorious scene was one involving a giant bat attack in a swamp. Hollywood legend has it that, at the preview showing, the sight of these giant creatures carrying off panic-stricken porters sent kids screaming from the theatre. So strong was the negative reaction from parents, critics and media, that the studio ordered much of the film re-shot. MGM replaced the original director, James McKay, with a series of directors with the final credit given to Richard Thorpe. The alternate version had various working titles including: Tarzan Returns, Tarzan and the Vampires, and Tarzan. The original scenes were replaced, however, by equally gruesome scenes, such as the Gabonis shooting arrows into the heads of fleeing porters, victims tied spread-eagle on bent trees being split in half when the trees were freed, Ganeloni torture rites, and the lowering of captives into a pit to be slaughtered by a man-killing giant ape. A copy of the first version has never turned up but the story line was used in the Big Little Book version.
"A comedy relief scene is inserted during the safari sequence in which a 'gooney bird' is spotted. The actor in the weird bird suit was Johnny Eck, well-known for his role in the film "Freaks" and in countless circus side-show appearances. One of his memorable circus appearances involved Johnny and his twin brother, Rob. Rob appeared in the audience as a volunteer for a magician's sawing-in-half trick, and climbed in the box, but it was legless Johnny who emerged from it. The effect shocked the audience so much that the act was eventually shut down."
Tarzan Escapes:
http://www.erbzine.com/mag6/0618.html
I Saw the Giant Vampire Bats! By Ron Hall
http://www.erbzine.com/mag21/2141.html
Escapes: Big Little Book Version
http://www.erbzine.com/mag6/0648.html
Escapes Chocolate Cards
http://www.erbzine.com/mag13/1375.html
Escapes Lobby Displays:
http://www.erbzine.com/mag6/0618a.html
Escapes Photos Galore:
http://www.erbzine.com/mag21/2141a.html

Off-Site References:
Vampire Bats in IMDB
---
Gray Morrow (7/3/1934 - 6/11/2001) passed away on this date. He earned his living as an illustrator, winding up with the Sunday Tarzan strip, which he illustrated from 1983 until his death.
Throughout the 1970s and early 1980s he worked for numerous companies, including DC, Marvel and Archie Publications. He was also hired to assist on syndicated strips like Rip Kirby (by John Prentice), Prince Valiant (by Hal Foster), Big Ben Bolt (by John Cullen Murphy), Secret Agent X-9 (by Al Williamson) and Friday Foster (by Jorge Longaron). He took over the Buck Roger' strip in 1979 and illustrated the Tarzan Sunday comic strip from 1983 to 2001.
Gray Morrow: Short Bio and Portal to all his Tarzan Sunday Strips
http://www.erbzine.com/mag35/3501.html
Off-Site Reference
Gray Morrow; Wikipedia
---
1933: November 6 - December 15: Edgar Rice Burroughs wrote Swords of Mars:
"To Florence With All My Love Ed" Burroughs created that acrostic message to Florence Gilbert Dearholt in SWORDS OF MARS, using the first letter of the Prologue and each of the twenty-four chapters. He wrote the novel in November and December, 1933, which was on the brink of his separation and divorce from Emma. "Blue Book Magazine" serialized SWORDS in six, monthly installments, beginning in November, 1934.
Disguised as a mercenary warrior, John Carter sought to break the power of the Assassins of Zodanga. Spying on their councils, the Warlord discovered a plot to kidnap his beloved Dejah Thoris. But it was to late to save her. She was already in space, on the way to Thuria, Barsoom's nearer moon!
There was no reply to my call of "Koar! " Yet, though all was silent, and there were no faces at the many windows of the strange castle on Thuria, I could have sworn that eyes were all around, watching us. We had crossed half the distance from the spaceship to the castle door when the silence was shattered by a terror-ridden scream. "Escape from this horror place while you may!" It was the voice of Dejah Thoris. I halted, stunned-and then invisible hands seized Swords of Mars us, tearing our weapons from our grasp.
Swords of Mars:
http://www.erbzine.com/mag7/0736.html
Swords of Mars: Read the eText
http://www.erbzine.com/craft/m8swm.html
Swords of Mars Collage
http://www.erbzine.com/cards/promos/swordsall.jpg
https://www.erbzine.com/cards/erb5/erblovetofloall.jpg
---
1935: ERB started writing The Gang Murder. This was another in a series of ERB's Murder Mysteries published in Script Magazine. Ed played a ficitonal character who played a sort of Dr. Watson to Inspector Muldoon. The reader was encouraged to solve the mystery from the clews given. The solution of the case was given at the end of the story.
The Gang Murder: A Muldoon Murder Mystery by ERB
http://www.erbzine.com/mag57/5762.html
---
1940: November 6-10: "Tiger Girl," part 3 of the new Pellucidar series was written.
Tiger Girl: Pt. 3 of Savage Pellucidar
http://www.erbzine.com/mag7/0747.html
---
2014: Tarzan the Musical was presented in our hometown of Brandon, MB. We had fun with sharing memorabilia and offering technical advice.
Tarzan the Musical in Brandon, MB
7 Huge Webpages starting at:
http://www.erbzine.com/mag51/5154.html

---
NOVEMBER 7
---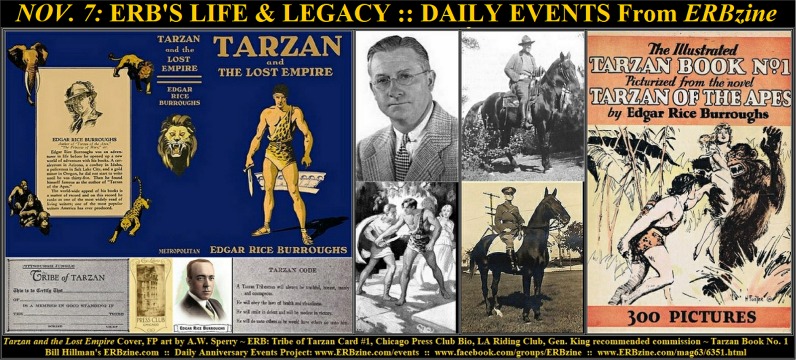 Tarzan and the Lost Empire: Cover and Frontispiece art by A.W. Sperry ~ ERB: Tribe of Tarzan Card #1,
Chicago Press Club Bio, LA Riding Club, Gen. King recommended commission ~ Tarzan Book No. 1 with Hal Foster Art
---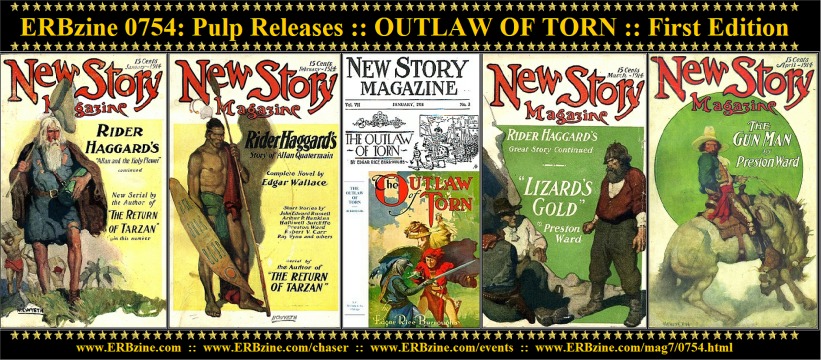 ---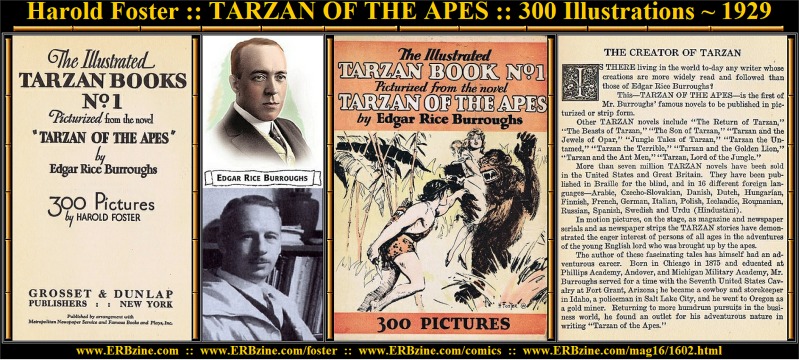 ---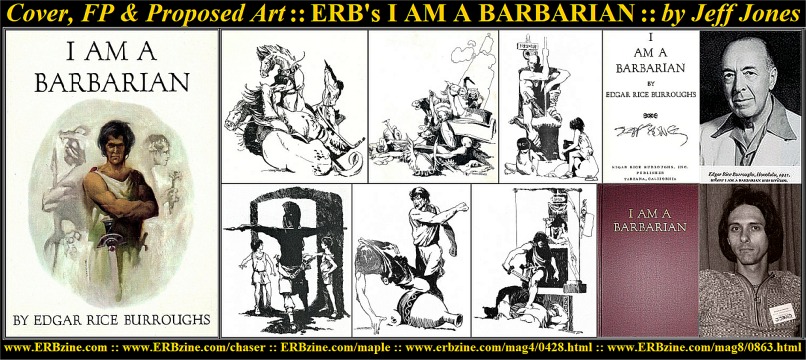 ---
*** When ERB switched from McClurg to Metropolitan to have his first edition books published, the artwork took on a dramatic difference as well.
The jacket for "Tarzan and the Lost Empire" had a solid blue background with a line drawing of Tarzan on the front, quite a bit different from the full-cover J. Allen St. John paintings of the past. Also, Tarzan was wearing an over-the-shoulder loin cloth instead of the traditional waist-only covering that St. John had always shown him wearing. To top it off, the ape-man had cinched around his waist what looked like a regular belt, with a buckle large enough to please any swashbuckling pirate. Inside was a frontispiece showing Tarzan with hair styled in the traditional way a civilized man might of that era might wear it.
The man who did this work was Armstrong Sperry (1897.11.07-1976.04.26). His artwork was well done -- but it was a lot different from what Tarzan fans were accustomed to seeing.
Others must have felt similarly, because when Metropolitan published its second (and last) Tarzan novel, "Tarzan at the Earth's Core," the jacket featured the return of J. Allen St. John with a great action scene of Tarzan -- as he's more apt to look in many fans' minds -- tossing a sagoth like a dwarf. Sperry's art continued to appear in many ERB books, however. His woodcut-style line drawings of an ape, a lion, a leopard and an elephant continued to appear on the back cover side of the jacket of many of the ERB Inc. reprints. Sperry was born in New Haven CT (1897.11.07-1976.04.26) ~ ERB art fan Bob Barrett wrote a tribute to the man and his work -- revealing that he became an author as well and won prestigious awards for his art.
Tarzan and the Lost Empire: Art - History - Reviews - Comics
http://www.erbzine.com/mag7/0720.html
A. W. Sperry Bio and Sample Art
http://www.erbzine.com/mag31/3147.html
A. W. Sperry in ERB Artists Encyclopedia
http://www.erbzine.com/mag10/1016.html
Burroughs Bulletin 11: Barrett/Sperry Article
http://www.erbzine.com/mag52/5211.html
---
*** 1911: ERB started writing the Outlaw of Torn. Following ERB's success with his first story, Under the Moons of Mars, Thomas Metcalf of "All-Story Magazine" suggested that Ed should consider creating his next story in a different setting. "I was thinking last night, considering with how much vividness you described the various fights, whether you might not be able to do a serial of the regular romantic type, something like, say Ivanhoe, or at least of the period when everybody wore armor and dashed about rescuing fair ladies. If you have in mind any serials, or anything of that sort, and if you think it worth your while, I should be very glad indeed to hear from you in regard to them.
So, somewhat reluctantly, Ed found himself returning to the thirteenth century to write a pseudo-historical romance about a gallant outlaw. Amazingly, he completed the story within three weeks. In his letter of November 29, 1911, Ed reported the dispatch, by United States Express, of The Outlaw of Torn. Metcalfe sent word that although he liked the plot, he could not use Torn in its present form. . .but he would be willing to buy the story for $100 and have one of his staff writers who was more experienced in medieval history do a re-write as a co-author. With the rejection of The Outlaw of Torn Ed had become dubious about his writing ability. As a result, he now had little faith that "Tarzan," the story that he had started writing after his first draft of Torn, would be accepted. Torn eventually was published in the January - May issues of the rival News Story Magazine. But did not see book release until the 1927 McClurg edition.
The Outlaw of Torn
https://www.erbzine.com/mag7/0754.html
Burroughs Bulletin: Outlaw of Torn Issue
https://www.erbzine.com/mag52/5202.html
The Outlaw Prince Project: 10 Pages ~ Hughes, Yeates, Kaluta
http://www.erbzine.com/mag36/3601.html
https://www.erbzine.com/cards/pulps/outlawoftorn.jpg
---
*** 1914: ERB's biography appeared in the Press Club's publication The Scoop. Ed was admitted to the Press Club.
ERB Bio Timeline
https://www.ERBzine.com/bio

---
*** 1916: In preparation for joining the war effort, Ed enrolled in the LA Riding Academy for a brush-up course in horsemanship. He later appealed to General King for advice on obtaining a commission in the army after which he acquired 13 letters of recommendation from his contacts. The article "Horse Talk With The King" features letters from General Charles King and Photos of Burroughs Family Horses. I've scanned the two-page letter and have also transcribed it for earier reading.
"Horse Talk With The King" Article
https://www.erbzine.com/mag21/2148.html
---
*** 1916: Ed was honoured with a membership card #1 in the Tribe of Tarzan. A club that has been formed by a fan in Virginia.
Tribe of Tarzan Formation Announced in All-Story
https://www.erbzine.com/mag3/0392.html
ERB/BoyScouts Connection
https://www.erbzine.com/mag17/1795.html
---
*** 1927: Ed suggested that the first cartoon compilation of the Tarzan strips by Harold Foster could be named Tarzan Book No. 1 with others to be titled consecutively.
Tarzan Book No. 1: Hal Foster Tarzan Daily Strips
https://www.erbzine.com/mag16/1602.html
https://www.erbzine.com/cards/comics2/fostertarzanbookall.jpg
---

*** 1927: Joan joined the Menard Players at the Glendale Playhouse for $40 a week. ERB later wrote: "She played one week as leading woman, but since the return of the regular leading woman she has been playing ingenues. She is accumulating a great deal of valuable experience inasmuch as they put on a new play each week, rehearse six days a week and give fifteen performances weekly of each play -- the rest of the time she has to herself."
---
*** 1941: I Am A Barbarian was completed. It was rejected by McCall's Red Book and Blue Book as being: "...too gruesome and downbeat a story for us to consider at this time, can't you give us something a little cheerier?"
The novel was eventually published in hardcover book form in 1967 by Edgar Rice Burroughs, Inc. with a cover and frontispiece by Jeff Jones and also in ACE pb with cover art by Boris. A Japanese edition came out years later. 50 years later it was adapted to graphic format in the ERB, Inc. comics series by Tom Simmons and Mike Dubisch and the page were later collated into book form..
I Am A Barbarian: ERBzine's Illustrated ERB Bibliography
https://www.erbzine.com/mag8/0863.html
I Am A Barbarian: Chapter Summary & Analysis by David Adams
https://www.erbzine.com/mag4/0428.html
https://www.erbzine.com/cards/biblio5/iamabarbarianall.jpg
---


VISIT NOVEMBER WEEK 1 PHOTO ALBUM
www.ERBzine.com/mag63/6351pics.html



BACK TO OCTOBER WEEK 4
www.ERBzine.com/mag63/6350.html



BACK TO MONTHLY EVENTS INTRO and CONTENTS
www.ERBzine.com/events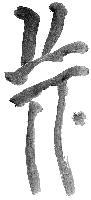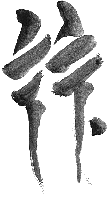 BILL HILLMAN
Visit our thousands of other sites at:
BILL AND SUE-ON HILLMAN ECLECTIC STUDIO
ERB Text, ERB Images and Tarzan® are ©Edgar Rice Burroughs, Inc.- All Rights Reserved.
All Original Work ©1996-2018/2022 by Bill Hillman and/or Contributing Authors/Owners
No part of this web site may be reproduced without permission from the respective owners.