As usual we start a new year with a revamping of our Weekly Webzine
This year. . . simplified a bit with info and reference material placed in a companion page:
www.ERBzine.com/mag/info


Official Edgar Rice Burroughs Tribute and Weekly Webzine Site for Over 25 Years
Since 1996 ~ Over 15,000 Webzines and Webpages In Archive

Master of Imaginative Fantasy Adventure
Creator of Tarzan® and "Grandfather of American Science Fiction"
A NEW EDITION EVERY FRIDAY
www.ERBzine.com/mag
April 1-7, 2022
VIEW LAST WEEK'S ISSUE AT:
www.erbzine.com/mag/ez220325.html











---
MAJOR ERBzine UPDATES
LAST WEEK'S FEATURES
March 25, 2022

1. MAN WITHOUT A WORLD by JCB and Hulbert Burroughs
Click for full size Promo Splash Bar HERE
2.Tarzan TV Series - Wolf Larson ~ 3 Reviews ~ Season 2 by Charles Mento
Click HERE for full-size Promo Collage
3. JOHN CARTER REQUIEM FOR A WARLORD!Marvel Comic 03 :: July1977
Click for full-size cover HERE
4. From UK Tarzan Weekly: THE NEMESIS TREE
Written by Mark Evanier :: Illustrated by Dan Spiegle
Click for full-size splash bar HERE
5: ERB Drabbles Catch-up MARCH 1-15, 2019 by Robert Allen Lupton
6. ERB Drabbles Catch-up MARCH 16-31, 2019 by Robert Allen Lupton
Click for full-size Promo Splash Bar HERE
7/8: ERB'S LIFE and LEGACY: DAILY EVENTS
JUNE Week 1: Days 1-7 EXPANDED
Photo Events
9. TARZAN OF THE APES: THE RENEGADES Comic #216 by Kubert
10. Foster Tribute with Links to ALL of his Sunday Tarzans and many Prince Valiants
11. Hogarth Tributes: Tarzan Sunday Pages
12. HOGARTH'S TARZAN: THE DEVIL-POWDER ARSENAL 1938.10.30 ~ #399
13. FOSTER'S TARZAN: THROUGH THE CAVERN'S MOUTH 1932.0925
Click for giant Sunday Page image HERE
14. GIL KANE'S TARZAN: Black Tigers of Malarang~ 12 Pages from 1983
---
LAST WEEK'S UPDATES
Features 15-25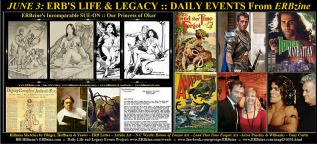 SUE-ON'S STORY
https://www.hillmanweb.com/mystory/
MY PRINCESS by Bill Hillman
https://www.hillmanweb.com/princess.html
JCB's Sabre-Tooth Tiger Honours Project
http://www.erbzine.com/mag11/1176.html
Sabre-Tooth Cats in Back to the Stone Age
http://www.erbzine.com/mag7/0745.html
Our John Coleman Burroughs Tribute Site
http://www.johncolemanburroughs.com
The Johnny Weissmuller Scrapbook
http://www.erbzine.com/mag3/0394.html
Weissmuller and Friends I
http://www.erbzine.com/mag55/5580.html
Weissmuller and Friends II
http://www.erbzine.com/mag55/5581.html
Weissmuller on Location in Florida 1 & 2
http://www.erbzine.com/mag5/0501.html
Weissmuller: Twice the Hero by David Fury
http://www.erbzine.com/mag3/0393.html
All the Weissmuller Films:
http://www.ERBzine.com/movies


OUR WEEKLY SUPPLEMENTARY INFORMATION FEATURE
www.erbzine.com/mag/info
ERBzine Statistics for 2021: +18,614,055 Verified World Wide Hits



WEBJED: BILL HILLMAN


Visit our thousands of other sites at:
BILL AND SUE-ON HILLMAN ECLECTIC STUDIO
ERB Text, Images and Tarzan® are Copyright ERB, Inc.- All Rights Reserved.
All Original Work ©1996-2022 by Bill Hillman and/or Contributing Authors/Owners
No part of this web site may be reproduced without permission from the respective owners.
Opinions expressed in articles on this site do not necessarily represent the opinions
of Edgar Rice Burroughs, Inc. or the editors of ERBzine.
ERBzine Weekly Webzine was endorsed by Danton Burroughs of Tarzana, California
as the Official ERB, Inc. and Tarzan®Webzine Fan Site