As usual we start a new year with a revamping of our Weekly Webzine
This year. . . simplified a bit with info and reference material placed in a companion page:
www.ERBzine.com/mag/info


Official Edgar Rice Burroughs Tribute and Weekly Webzine Site for Over 25 Years
Since 1996 ~ Over 15,000 Webzines and Webpages In Archive

Master of Imaginative Fantasy Adventure
Creator of Tarzan® and "Grandfather of American Science Fiction"
A NEW EDITION EVERY FRIDAY
www.ERBzine.com/mag
March 25 - 31, 2022
VIEW LAST WEEK'S ISSUE AT:
www.erbzine.com/mag/ez220318.html





Feature 5: ERBzine 6753
We have been featuring ALL of Robert Allen Lupton's 100-Word ERB Drabbles
since 2018 (over 15,000) and have never missed a day
. . . until back in 2019 when we were on
the trail of ERB's Tarzan and "The Foreign Legion" in Sumatra
and through the rest of Indonesia during March and April 2019.
We published our pre-planned weekly Webzines on time from very intresting WiFi locations,
but weren't able to keep up with Robert's dailies during those two months.
Now, between medical procedures, I've made time to go back and
compile those two "lost months" into four illustrated ERBzine Webpages.
Featured here is March in two parts -- April will follow, next week. Enjoy
---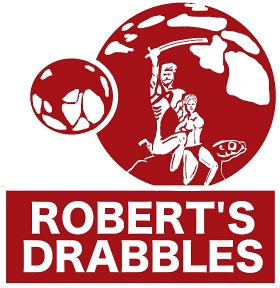 100-Word Illustrated ERB Drabbles
by Robert Allen Lupton
MARCH 1-15, 2019
https://www.erbzine.com/mag67/6753.html







---
MAJOR ERBzine UPDATES
LAST WEEK'S FEATURES
March 18, 2022

1. ERB IN COLOUR by CHRIS L. ADAMS
Click for full-size splash bar HERE
2.Tarzan TV Series - Wolf Larson ~ 3 Reviews ~ Season 2 Previews by Charles Mento
Click HERE for full-size Promo Collage
3. JOHN CARTER WARLORD OF MARS Marvel Comic 02 :: July1977
4. From UK Tarzan Weekly: JEWEL OF THOBOS
Written by Mark Evanier :: Illustrated by Dan Spiegle
Click for full-size splash bar HERE
5/6: ERB'S LIFE and LEGACY: DAILY EVENTS
MAY Week 4: Days 22-30 EXPANDED
Photo Events
7. TARZAN OF THE APES: THE MINE OF HELL Comic #215 by Kubert
Click for full-size cover HERE
8/9. Foster Tribute with Links to ALL of his Sunday Tarzans and many Prince Valiants
10. HOGARTH'S TARZAN: FANG'S POWER 1938.10.23 ~ #398
11. FOSTER'S TARZAN: THE KING OF THE APES 1932.09.18
Click for giant Sunday Page image HERE
12. GIL KANE'S TARZAN: The Treasure of Opar ~ 12 Pages from 1983
---
LAST WEEK'S UPDATES
Features 13-20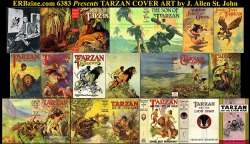 J. Allen St. John: Colour Gallery
http://www.erbzine.com/mag23/2314.html
J. Allen St. John: Bio and Line Art:
http://www.erbzine.com/mag6/0683.html
J. Allen St. John: Bio and Art
http://www.erbzine.com/mag6/0602.html
J. Allen St. John Illustrations for ERB Novels: The Links
http://www.erbzine.com/mag63/6383.html
Official Guide to the Tarzan Clans of America
http://www.erbzine.com/mag0/0032.html
http://www.erbzine.com/mag0/0033.html
http://www.erbzine.com/mag8/0864.html
The Tarzan Clubs and the Boy Scouts
http://www.erbzine.com/mag17/1795.html
---

OUR WEEKLY SUPPLEMENTARY INFORMATION FEATURE
www.erbzine.com/mag/info
ERBzine Statistics for 2021: +18,614,055 Verified World Wide Hits


WEBJED: BILL HILLMAN


Visit our thousands of other sites at:
BILL AND SUE-ON HILLMAN ECLECTIC STUDIO
ERB Text, Images and Tarzan® are Copyright ERB, Inc.- All Rights Reserved.
All Original Work ©1996-2022 by Bill Hillman and/or Contributing Authors/Owners
No part of this web site may be reproduced without permission from the respective owners.
Opinions expressed in articles on this site do not necessarily represent the opinions
of Edgar Rice Burroughs, Inc. or the editors of ERBzine.
ERBzine Weekly Webzine was endorsed by Danton Burroughs of Tarzana, California
as the Official ERB, Inc. and Tarzan®Webzine Site