First and Only Weekly Online Fanzine Devoted to the Life and Works of Edgar Rice Burroughs
Since 1996 ~ Over 15,000 Webpages and Webzines in Archive
Volume 0341a

THE MAN WITHOUT A WORLD
A Complete Novelet of the Ark of Space
By
John Coleman Burroughs
and
Hulbert Burroughs
Thrilling Wonder Stories, June 1939

Click for full-page sizes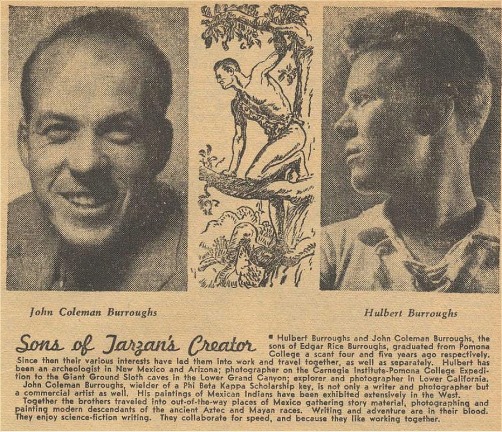 Edgar Rice Burroughs drew this sketch along with a note to son, Hulbert,
after the publication of "The Man Without A World,
"THRILLING WONDER STORIES, June 1939,
that was co-authored by John Coleman Burroughs.
""May 24, 1939
"Dear Hulbert --
"Congratulations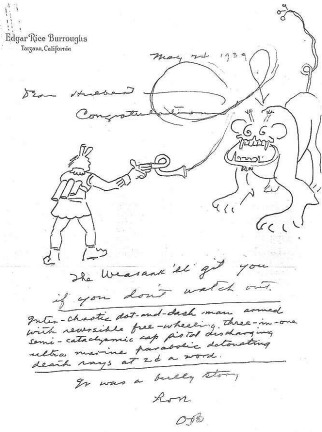 "The Weasank'll get you if you don't watch out.
---
Inter-chaotic dot and dash man armed with reversable free-wheeling three-in-one semi-cataclysmic cap pistol
discharging ultra marine parabolic detonating death rays at 2 cents a word."
---
"It was a bully story"
Love
OB



PULP GALLERY
In the pulp fantasy and science fiction field, John Coleman and Hulbert collaborated on two novelettes, The Man Without A World and The Lightning Men, which appeared in the June 1939 and February 1940 issues of Thrilling Wonder Stories. They then wrote a novel, The Bottom of the World, which appeared in the September 1941 issue of Startling Stories complete with seven illustrations by JCB. Hybrid of Horror, written in collaboration with Jane Ralston Burroughs, appeared as the feature novelette in the July 1940 issue of Thrilling Mystery. Whitman Books published a John Carter story in a Better Little Book in 1940 with story, cover and illustrations by JCB. An expanded re-working of this story would eventually appear in the January 1941 and April 1961 issues of Amazing Stories as John Carter and the Giant of Mars. It then appeared in the book, John Carter of Mars, published by Canaveral Press and Ballantine Books

---
SEE OTHER PULP MAGAZINES FEATURING STORIES BY
JOHN COLEMAN BURROUGHS & HULBERT BURROUGHS AT
https://www.erbzine.com/mag3/0341.html
---
To see cover art from hundreds of ERB pulp magazines
visit the
Illustrated ERB Pulp Bibliography
ERBzine 0220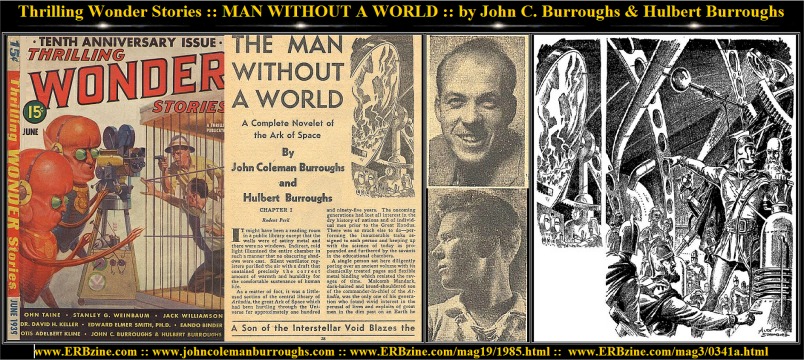 See the more JCB features in ERBzine
Visit the Official John Coleman Burroughs Website





Volume 0341a



BILL HILLMAN
Visit our thousands of other sites at:
BILL and SUE-ON HILLMAN ECLECTIC STUDIO
ERB Text, ERB Images and Tarzan® are ©Edgar Rice Burroughs, Inc.- All Rights Reserved.
All Original Work ©1996-2007/2017/2022 by Bill Hillman and/or Contributing Authors/Owners
No part of this web site may be reproduced without permission from the respective owners.