IT'S HERE: TARZAN WEEKLY "SUNDAY" COMICS ONLINE
Subscribe at the ERB, Inc. Corporate Site

Updates on the Galloway Bridgewater College Event
. HILLMAN WEEKLY and MONTHLY WEBZINES .

ERBzine | Danton's Den | Tarzine | As You Were . . . (military) |
Join us on FaceBook and Twitter and John Carter Film News: www.cartermovie.com

Official Edgar Rice Burroughs Tribute and Weekly Webzine Site
Since 1996 ~ Over 10,000 Webzines and Webpages In Archive

Master of Imaginative Fantasy Adventure
Creator of Tarzan® and "Grandfather of American Science Fiction"
A NEW EDITION EVERY FRIDAY
November 2 - 8, 2012
Thousands of Back Issue Features in Archive: HERE
---
JOIN US ON FACEBOOK:
---
Feature 1: ERBzine 3899
MORE TARZAN CENTENNIAL CELEBRATIONS
Louisville Exhibit Celebrates a Century of Tarzan
WHAS-TV Louisville Interviews
Denny Miller and Sandy in Charleston, W. Virginia
Articles ~ Interviews ~ Photos
http://www.erbzine.com/mag38/3899.html
---
---
---
---
---
---
---
---
---
---
TARZAN AND "THE STRONG ONE"
Art by John Celardo ~ Continuity by Dick Van Buren ~ Strips 5355-5420 ~ 66 days
---
Feature 15: ERBzine 2596
Tarzan Gold Key Comics Nos 132-198
Also 2595: Tarzan Dells 100-131 and John Carter
Also 2395: DELL TARZAN COMICS INTRO and CONTENTS: 1-100
---
---
---
18 -21 OUR CARD AND POSTER WALL ARCHIVE
www.ERBzine.com/cards
www.hillmanweb.com/cards
ERBzine Weekly : November 2, 2012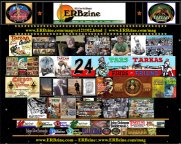 Poster | Wall | Card| Thumbnail

.

LAST WEEK'S FEATURE LOGOS (click to enter)

LAST WEEK:
See the Back Issues Archive at
www.ERBzine.com/all/refmap.html and 2012

ERBzine ERB Eclectica ~ Archive | Edition 2012.10
TARZANA 2012 CENTENNIAL DUM-DUM INTRO
Navigation Guide ~ Events Schedule - Guest List
P. 18: Farewell Breakfast
P. 19: Lee Chase: ERB Family Photos and Clippings
ADVENTURE OTR THEATRE: Wyndhams Day of the Triffids: Hour Three
CARSON OF VENUS: - Part VII - MW Kaluta - Princess of Venus
ERB'S EMBRYONIC JOURNEY: THE TRIMESTERS OF CASPAK Part 16 by Woodrow Edgar Nichols, Jr.
La's Plight Sunday Pages Episode 13: Story by Scott Tracy Griffin | Art by Gray Morrow (conclusion)
JOHN CELARDO TARZAN STRIPS: CONTENTS
THE COBALT CLAIM : Strips 5288-5354 ~ 67 days
Tarzan Gold Key Comics Nos 197+ Directory
Gold Key Tarzan Comic No.197 | TARZAN AND THE DEMON ELEPHANT
Pages 1-20
Pages 21-36
COLLAGE FEATURES
ERBzine 2012.10.26 Collage
Lee Chase : ERB Family Album

AWARDS

Three Awards
Tarzan.com
March 9, 2005
ERBzine:
July 11, 2002
ERBzine.com/mag:
January 12, 2005


Lifetime Achievement Award
Louisville Dum-Dum 2003
ECOF Recognition Award 2011


Bill & Sue-On Hillman
Entertainers of the Year Award
For stage/TV/recording performances
in USA, England and Canada
Archive
.
NEXT WEEK:
ERB's Embryonic Journey 18 by Woodrow Edgar Nichols
2012 Tarzana Centennial Dum-Dum Reports
Carson of Venus comic art by Michael Kaluta
John Celardo Tarzan strips
Tarzan Gold Key Comic 199

COMING SOON ~ IN THE WINGS
The ERBzine Silver Screen Series
Maxon Daily Strips
ERB Eclectica
More on Dum-Dums
Lost Words of ERB
ERB and the Press
Articles by R.E. Prindle
A Princess of Mars: A Graphic Novel Adapted and Illustrated by James Spratt
Articles by Den Valdron
ERB Letters
.

The Fantastic Worlds of Edgar Rice Burroughs
| | | | |
| --- | --- | --- | --- |
| Tarzan.com | ERBzine.com | DantonBurroughs.com | Tarzan.org |
| BurroughsBibliophiles.com | JohnColemanBurroughs.com | Tarzan.com/tarzine | JohnCarterOfMars.ca |
| erbzine.com/edgarriceburroughs | Weekly Webzine | Weekly Webzine | Pellucidar.org |
| John Carter Film News | ERB, Inc. Corporate Site | ERB Centennial | tarzana.ca |


Our FanFare section is always open as a showcase for ERB fan comments and creative work...
Send your submissions to Bill Hillman
Tarzan@wcgwave.ca



!!! READERS PLEASE NOTE !!!
Tarzan® is the property of Edgar Rice Burroughs, Inc., Tarzana CA

These e-Fanzines have been posted as a non-profit bibliographic and biographic reference for ERB scholars, fans and collectors. Material not created by myself has been collated largely from other sites on the web -- and I believe it to be in Public Domain or to fall under the category of "product promotion" or "fair use". Everything has been collated into this on-line repository to promote interest in the works of Mr. Burroughs. If there is any objection to the way in which any of this material has been displayed, or if I have infringed unlawfully on any copyright, I will implement its immediate removal. Bill Hillman

---

WEBJED: BILL HILLMAN


Visit our thousands of other sites at:
BILL AND SUE-ON HILLMAN ECLECTIC STUDIO
ERB Text, Images and Tarzan® are Copyright ERB, Inc.- All Rights Reserved.
All Original Work ©1996-2012 by Bill Hillman and/or Contributing Authors/Owners
No part of this web site may be reproduced without permission from the respective owners.
Opinions expressed in articles on this site do not necessarily represent the opinions
of Edgar Rice Burroughs, Inc. or the editors of ERBzine.
ERBzine Weekly Webzine was endorsed by Danton Burroughs of Tarzana, California
as the Official ERB, Inc. and Tarzan®Webzine Site