The First and Only Weekly Online Fanzine Devoted to the Life and Works of Edgar Rice Burroughs
Since 1996 ~ Over 10,000 Webpages in Archive
www.ERBzine.com/george
Alternates: Issue 0630 and www.ERBzine.com/mcwhorter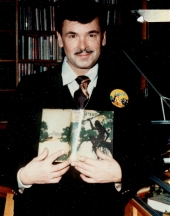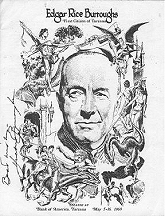 George T. McWhorter
A ROSTER OF REMINISCENCES
Wherein it shall be revealed a set of curious chances
by which the subject has arrived at this present
STATION IN LIFE
"Each One As Before Will Chase His Favorite Phantom"
CONTENTS
Ch. 14
Virtual Tour 3001
PART I
A CHRONOLOGICAL ROSTER OF REMINISCENCES
By George T. McWhorter
www.erbzine.com/mag6/0631.html
Click each of these photos to see full-screen enlargement







Wherein it shall be revealed a set of curious chances by which the subject has arrived at this present
STATION IN LIFE
By George T. McWhorter
Featured in
THE OWL:
The Official Newsletter of the University of Louisville Libraries
Vol. 6, No. 9 October, 1991
PART 2
Each One As Before
Will Chase His Favorite Phantom
www.erbzine.com/mag6/0632.html
By George T. McWhorter
Curator of the Edgar Rice Burroughs Collection at the University of Louisville
talks about his efforts to build the collection
BIBLIO
The Magazine for Collectors of Books, Manuscripts, and Ephemera
Volume 1 ~ Number 2 ~ September-October 1996
PART 3
PART 4
RADIO CITY MUSIC HALL:
A REMEMBRANCE
by
GEORGE McWHORTER
www.erbzine.com/mag6/0634.html
featured in
THE OWL
The Newsletter for Employees of the U of L Libraries ~ Vol. 6, No. 11 ~ December 1991
PART 5
THE SEAFARER
Poetry Across A Millennium
www.erbzine.com/mag6/0635.html
An Anglo-Saxon 1,000 years ago first set down the poem
newly translated by
George McWhorter
PART 6
PART 7
PART 8
PART 9
Collector finds movie renews interest in hero
Feature article on George T. McWhorter
by Maria Clark
www.erbzine.com/mag6/0639.html
Inside U of L
A newspaper for the faculty and staff of the University of Louisville
July 2, 1999 ~ Vol. 19 Number 1
PART 10
PART 11
.
PART 12
Gridley Wave Newsletter Archives
Over 20 Years of Monthly Newsletters
Edited by George McWhorter
Black and White Editions
plus Colour Webpages and PDF versions for later editions
http://www.erbzine.com/mag34/3450.html
.
PART 13
PART 14



Special Collections/Rare Books ~ Ekstrom Library ~ University of Louisville ~ Kentucky
ERBzine 3001:
George McWhorter's Virtual Tour of the
Nell Dismukes McWhorter
Edgar Rice Burroughs Memorial Collection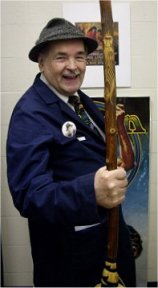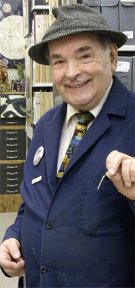 TAKE OUR LATEST TOUR OF THE COLLECTION
HERE
http://www.erbzine.com/mag30/3001.html


BILL HILLMAN
Visit our thousands of other sites at:
BILL AND SUE-ON HILLMAN ECLECTIC STUDIO
ERB Text, ERB Images and Tarzan® are ©Edgar Rice Burroughs, Inc.- All Rights Reserved.
All Original Work ©1996-2006/2011 by Bill Hillman and/or Contributing Authors/Owners
No part of this web site may be reproduced without permission from the respective owners.