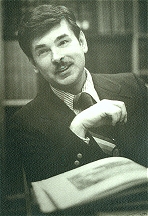 Appointed Curator,
Rare Books, at the U of L
July 1972 (age 41)
1972:
I started my employment at the University of Louisville in July of 1972. I have been extremely fortunate to have been offered my own curatorship here.
The high spots of my Louisville life include making my debut with the Kentucky Opera Association in Janacek's Jenufa in February, 1973, followed by six other leading roles in Tosca, La Boheme, Il Tabarro, Carmina Burana and Il Campanello. Also important to me were the publication of several books, the first being The Seafarer, a modern rhymed verse translation of an Anglo-Saxon Elegy from the Exeter Book, which was published by the King Library Press at the University of Kentucky under the direction of Carolyn Hammer, the Rare Book Librarian in 1975.