Official Edgar Rice Burroughs Tribute and Weekly Webzine Site
Since 1996 ~ Over 15,000 Webpages in Archive
Volume 1005
---
C
---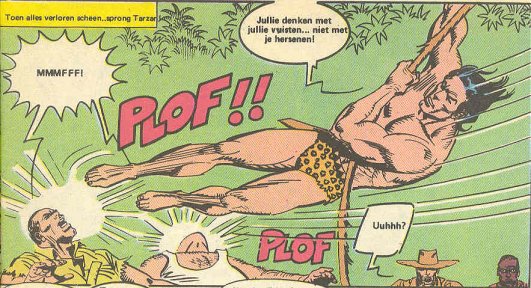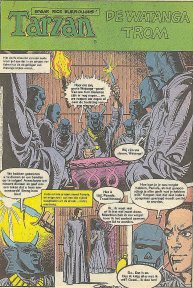 49 Cabrerizo, Tony
Tony Cabrerizo (Artist)
Horror Tarzan and Korak comics for Europe ~ Series 3 #10 seq 2 Korak Comics
---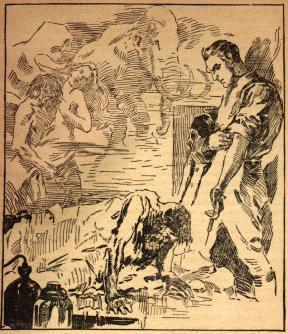 Cahan, Samuel George
Samuel Cahan (Artist)
1901 - 1974 New York City
Art Students' League of New York
Resurrection of Jimber Jaw: Argosy Weekly ~ February 20, 1937 ~ One interior b/w illustration
---
50 Cardoza, Guillermo (Bill)
Bill Cardoza (Artist, Inker)
Gold Key 64-65 Korak Comics (Inker)
---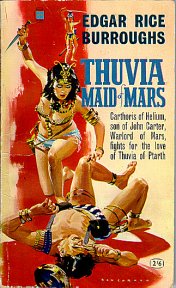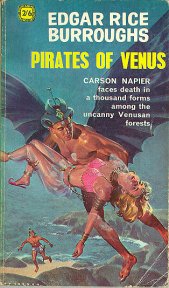 51 Carnon, Roy
Roy Carnon (Artist)
British artist for Four Square novels

---
52 Catan, Vicente
Vicente Doria Catan Jr. (Artist, Inker)
Phillipines
John Carter Comics for the Tarzan comics for DC ~ Mars Comics (Inker)
---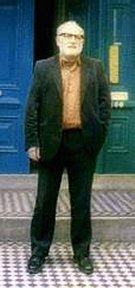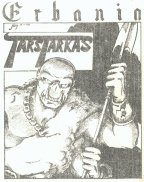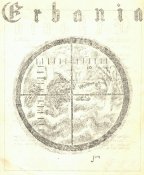 53 Cawthorn, James
Jim Cawthorn (Artist)
1929-2008 United Kingdom
Jim Cawthorn is best known to Burroughs fans for his early work on the British fanzine Burroughsiana, edited by Michael Moorcock from 1956-1958, and for Erbania, edited by Pete Ogden during the same period. He also illustrated for Tarzan Adventures, a series of Tarzan comics interspersed with other stories and articles, also edited by Michael Moorcock. The series was reprinted by Savoy in 1977.
TARZAN~ADVENTURES (w/a) late 1950s ~ Fanzines: ERBANIA BURROUGHSANIA AMRA
Interview
ERBzine 0902

---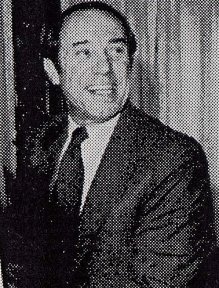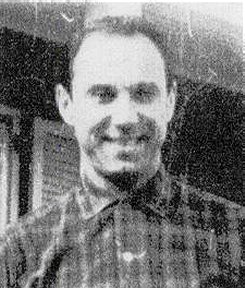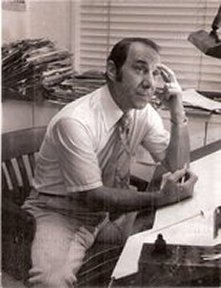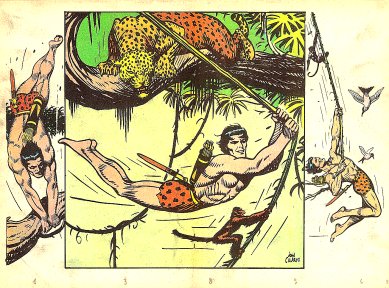 54 Celardo, John
(December 27, 1918 – January 6, 2012)
John Celardo (Artist, Writer, Editor)
27 December 1918 Staten Island, NY
John Celardo is remembered for his very long run on both the daily and Sunday TARZAN strips beginning in 1954 and ending in 1968, eventually drawing a total of 4350 daily strips and 724 Sunday strips.
Jungle, KA'ANGA, The Green Berets, Davy Jones Tarzan daily #4489-#8856; Tarzan Sunday #1199-#1922; Ghosted Hogarth's last year for about 8 months
Port Richmond High School
Ref: John Celardo ERBzine 3801
---
55 Champneys
Champneys (Artist )
UK Tarzan novels
Ref: Frank Westwood
---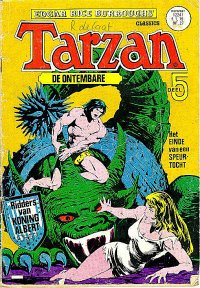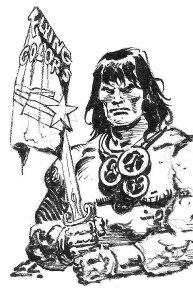 56 Chan, Ernesto
Ernie Chan ~ Ernie Chua (Artist)
1940 Phillipines
DC War, Conan, Hulk, Tarzan and Korak Comics

---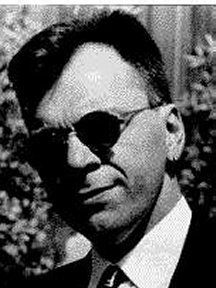 57 Chaykin, Howard
Howard Chaykin (Artist)
Beyond the Farthest Star stories in the Tarzan Family ~ Mutant X

---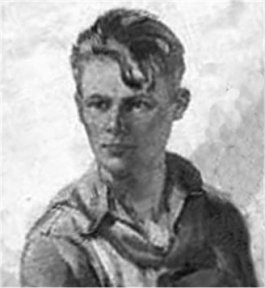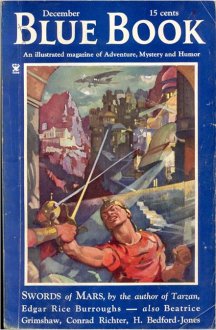 Chenoweth, Joseph (1890-1967)
Joseph Chenoweth (Artist)
Swords of Mars: Blue Book Magazine: 1934 December cover
Joseph Andrew Gayne Chenoweth was born March 25, 1890 in Shoals, Indiana. His father, John Andrew Chenoweth, was born 1850 in Indiana. His mother, Emilia Ann Bundy, was born 1857 in Missouri. His parents married in 1883 and had four children. His older sister Nettie was born in 1886. His older brother Albert was born in 1889. His younger brother Oscar was born in 1892. His father was a dry goods merchant. In 1898 his father died, after which his mother raised the four children.

He distinguished himself in school as a talented artist. In 1908 he joined the Indiana National Guard and served as a Corporal in the 2nd Infantry. On October 4, 1909 he began to study at the John Herron Art Institute in Indianapolis. The pulp artists William M. Allison (1880-1964) and James M. Wilcox (1895-1958) also attended this school. Two years later, on May 27, 1911, he completed his fourth semester at the school. In the fall of 1912 he attended the Cincinnati Art Institute, in Ohio, where he studied with Frank Duveneck (1848-1919). The pulp artists John Drew (1885-1953), Henry C. Kiefer (1890-1957), and Charles L. McCann (1905-1967) all attended this school. In 1914 he moved to Chicago to work as a staff artist at the Thomas Casslock Advertising Company, which was located on the corner of Harrison and Loomit Streets. He also took night classes at the Art Institute of Chicago. He joined the Palette & Chisel Club. Several other Chicago-area pulp artists also belonged to this club, such as C. C. Senf (1873-1949) and Frank Hoban (1870-1943).

On April 12, 1915 he married Helen Gillette Burton in Chicago. She was born May 1, 1889 in Chicago. They moved to 6221 Greenwood Avenue. Their firstborn child, John Andrew Chenoweth, Jr., was born July 12, 1916, but died two days later on July 14, 1916. On June 5, 1917, before the official U.S. entry in The Great War, he reported for draft registration. He was recorded at the time to be twenty-seven, medium build, medium height, blue eyes, light brown hair, with no distinguishing marks. His wife and mother-in-law were listed as dependents with the footnote, "wife in delicate condition." A few month later, on November 25, 1917, their son Maynard Burton Chenoweth was born. In 1919 the family moved to 7343 Luella Avenue, Chicago, IL, where their third child, Philip Andrew Chenoweth, was born on August 21, 1919. During the 1920s he worked in the lucrative world of Chicago advertising and also illustrated stories in Woman's World and The American Magazine.He also received several commissions to paint murals in opulent private homes, such as the Cheek Mansion on Nashville, Tennessee and the McKinney mansion in Titusville, Pennsylvania. In 1924 he taught painting at the American Academy of Art in Chicago. In 1927 he moved to the East Coast to pursue a career as a freelance magazine illustrator. He lived at 17 Wyoming Gulf Road in Wyoming, New York. The town of Wyoming, NY, is near Buffalo in the far northwest area of the state. The train from his home to NYC took twelve hours, so he also opened a separate art studio in New York City at 40 West 45th Street. He became a member of the New York Guild of Free Lance Artists, which evolved into the NY Society of Illustrators. In the fall of 1929 his wife was in a serious auto accident when her car was struck by a runaway truck hauling stone for a local roadway project. In 1931 he sold his home in Wyoming,NY, and moved to 35-64 80th Street in Jackson Heights, Queens, NY.

When the Great Depression came he had to find another source of income besides the moribund advertising industry. Although major nationwide magazines were facing hard times the pulp magazine industry had entered its most profitable period. He was soon a top cover artist for the pulp magazine Blue Book, along with Dean Cornwell (1892-1960) and Herbert Morton Stoops (1887-1948). Blue Book, Adventure, Argosy and Short Stories were the "Big Four" pulp magazines, with the best fiction, best sales, and best rates of pay. Blue Book was published by the Chicago-based McCall company, for which Chenoweth had previously worked. On December 2, 1937 his wife died at the age of forty-eight. In 1938 he married his second wife, Edwina Biddle, who was born October 5, 1891 in Chicago. She was a widow. Her full-grown married daughter, Mrs. Doris Stangor, was born 1920 in NYC. On June 10, 1942 his son Maynard received a doctoral degree in medicine from Cornell University. His other son Philip also received a doctoral degree. He graduated from Columbia University, where he was a member of the Rifle Club. During WWII Joseph Chenoweth reported for draft registration and was recorded at the time to be fifty-three, five-ten, 175 pounds, blue eyes, grayish brown hair, a light complexion and a mole on his left temple. After retiring from illustration he enjoyed leisurely vacations. During the summer of 1957 he and Edwina visited Bermuda on a cruise, and in the fall they visited England on the Queen Mary luxury liner. Joseph Chenoweth died in New York City at the age of seventy-seven on May 19, 1967.
---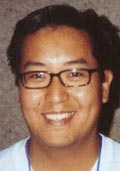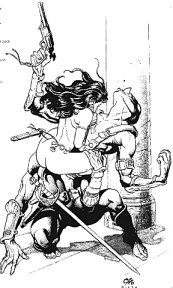 Cho, Frank
Frank Cho (Artist)
1971 Seoul, South Korea
Liberty Meadows with Schecky the Jungle King ~ Steady run of ERB-related art in fanzines, Cons and comic publications

---
59 Cirielo, Averardo
Averardo Cirielo

---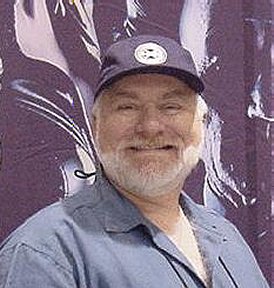 60 Claremont, Christopher
Christopher Claremont
England (Artist, Editor)

---
61 Cockrum, Dave
Dave Cockrum (Artist, Inker) ~ Died November 2006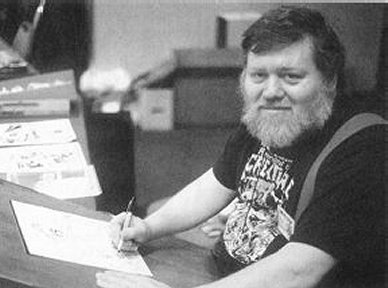 Photo ©1995 Anthony Taylor
Dave Cockrum at the Wonderfest in Louisville, KY in 1995.
Photo by Anthony Taylor for an interview published in Sci Fi & Fantasy Models #36
in which Dave discussed his work for the Aurora Model Plastics Company.

---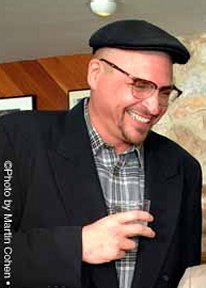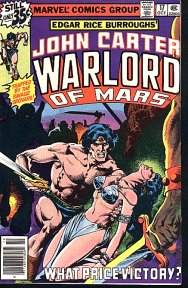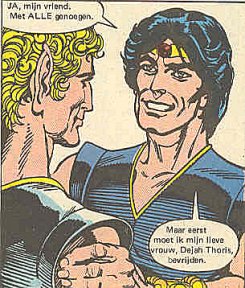 62 Colon, Ernesto Sierra de Cordobes Y Lopez
Ernie Colon (Artist)
1931 Puerto Rico
Mars Comics

---

63 Conway, Gerard Francis
Gerry Conway (Writer, Editor)
1952
Writer for DC comics
---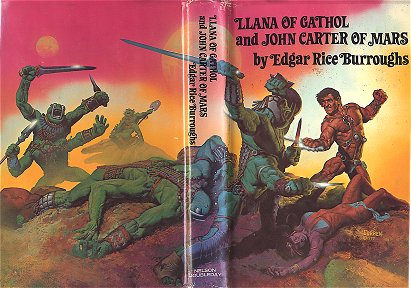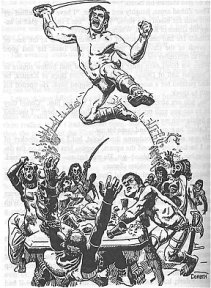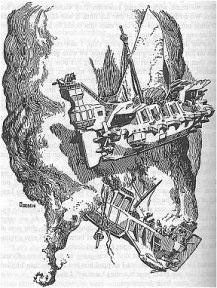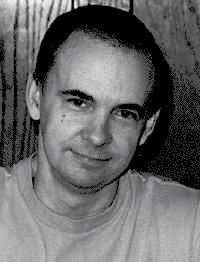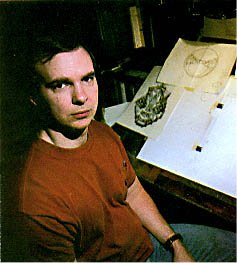 64 Corben, Richard Vance
Richard Corben (Writer, Artist, Colorist, Publisher)
01 October 1940 Anderson, MO
Kansas City Art Institute (MO)
Llana of Gathol and John Carter of Mars: Double Day Edition dust jacket ~ Comix ~ Eerie, Creepy & Vampirella Magazines

---

65 Craig, Chase
Chase Craig (Editor)
10 August 1910 Ennis, TX - 03 December 2001
Looney Tunes Comics, Donald Duck, Magnus Robot Fighter Editor Dell / Gold Key
---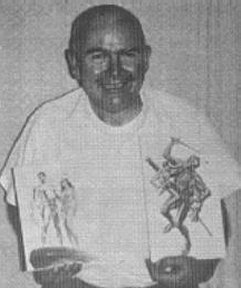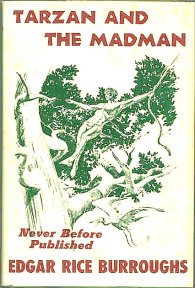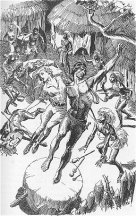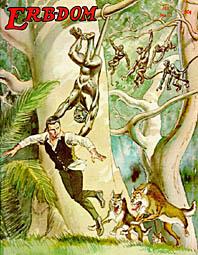 66 Crandall, Reed
Reed Crandall (Artist)
22 February 1917 Winslow, IN - 13 September 1982
Cleveland School of Art
Blackhawk ~ Many Comics ~ Warren Publications ~ ERB Canaveral Editions ~ Fanzines: ERBdom
ERBzine 0731: ERB C.H.A.S.E.R. Tarzan and the Madman: Crandall Interiors Gallery
Crandal ERB Gallery

---
67 Cras
Cras (Writer)
European Korak stories
---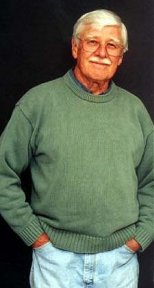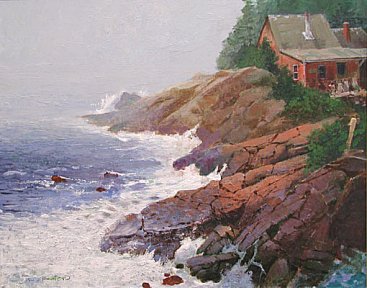 68 Crawford, Mel
Mel Crawford (Artist)
1925 Canada
Ref: Mel Crawford

---

. WEBJED: BILL HILLMAN .


Visit our thousands of other sites at:
BILL and SUE-ON HILLMAN ECLECTIC STUDIO
Some ERB Images and Tarzan© are Copyright ERB, Inc.- All Rights Reserved.
All Original Work ©1996-2013 by Bill Hillman and/or Contributing Authors/Owners
No part of this web site may be reproduced without permission from the respective owners.