Official Edgar Rice Burroughs Tribute and Weekly Webzine Site
Since 1996 ~ Over 10,000 Webpages in Archive
Volume 1008
---
G
---
101 Gafford, Karl
Douglas Carl Gafford (Writer)
1952

---
102 Galvez Badia, Jorge
Jorge Galvez Badia ~ Badia Galvez (Artist)
1980's European comics
comics\tarzan\Unknown23.jpg
---
103 Gan, Steve
Steve Gan (Artist, Inker)
Tarzan comics for Marvel

---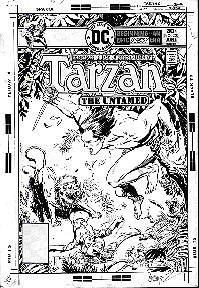 104 Garcia-Lopez, Jose Luis
Jose Garcia-Lopez (Artist)
1948 Spain
Tarzan comics for DC
comics\tarzan\Joselopez.JPG Tarzan Comics
---
105 Garden, Don
Don Garden (Writer)
Writer United Feature Syndicate Sunday strips 1937-1941
Tarzan Strips (Writer) United Feature Syndicate
---
106 Gershwin, Emil
Emil Gershwin (Artist)
Flash Gordon Tarzan daily asst/a 1948 ~ Daily Tarzan Strip in 1948-49 formerly attributed to Lehti.
---
107 Gerster, Heinz
Heinz Gerster (Artist)
German artist for Pegasus
---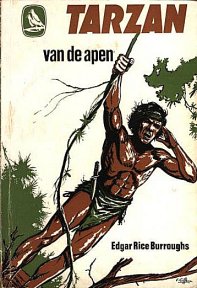 108 Giffen, Rudolf van
Rudy van Giffen ~ R. van Giffen (Artist)
29 November 1927 Bandung, Indonesia
Bob Evers, Tarzan novel covers ~ Introduced in the art world by Eppo Doeve (Elsevier magazine)
Military service (report illustrator), Haagse kunst acedemie
Ref: Rudy van Giffen
---

109 Gill, Joe
Joe Gill (Writer)
1919
Tarzan Charlton comics
---

110 Gillis, Peter B.
Peter Gillis (Writer)
1952
Marvel Mars Comics
---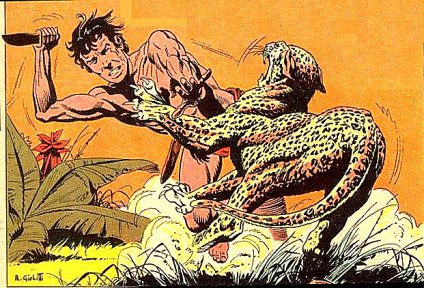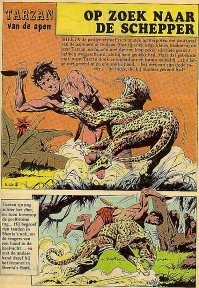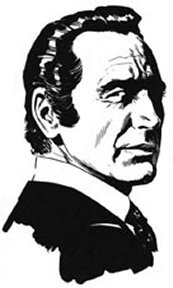 111 Giolitti, Alberto
Alberto Giolitti (Artist)
14 November 1923 Italy 1993 ?
Turok, Star Wars, Gunsmoke, Zorro Tarzan Gold Key artist
(architecture) Academy of Fine Arts & University (Rome)
comics\tarzan\giolitti.jpg comics\tarzan\ITgiolitti1.jpg Tarzan Comics Korak Comics
---

112 Giordano, Richard
Dick Giorano (Artist)
1932
Charlton, DC
N.Y. School of Industrial Arts
---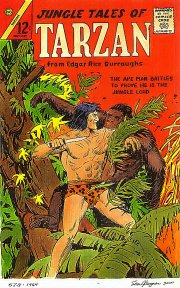 113 Glanzman, Samuel J.
Sam Glanzman (Artist)
1924
Charlton, Dell, DC DC:[Fillers]~(a) 1976

---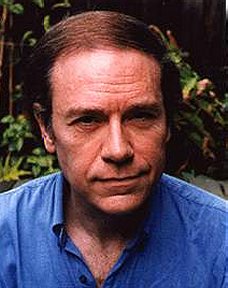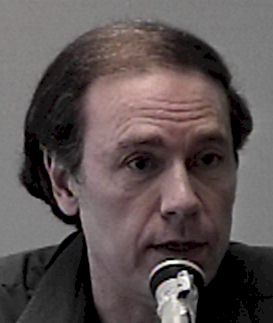 114 Glut, Donald F.
Don Glut (Writer)
1944 Pecos, Texas
Tarzan Comic scripts ~ K.K. Publications, Marvel Eur. comics 1977 ~ The Empire Strikes Back novelization ~ Dagar, Trag ~ Animated scripts
B.A. (cinema) U.C.L.A.
comics\tarzan\donglut.jpg comics\tarzan\ta7230a.jpg Tarzan Strips (Writer) United Feature Syndicate
---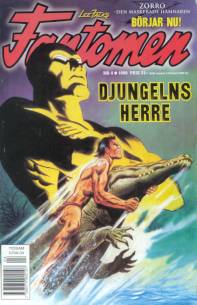 Gohs, Rolf
Rolf Gohs (artist)
Comic cover artist from Sweden
Painted the cover for Fantomen comic book, issue 4/1999 which contained the story "Lord of the Jungle" were a young Ed Burroughs is teamed up with The Phantom. The story was later reprinted in Australian and Indian Phantom publications.

---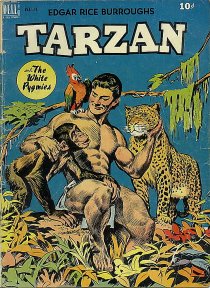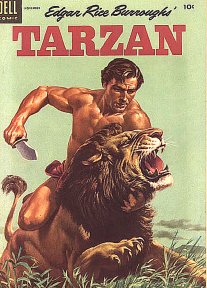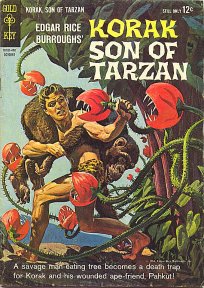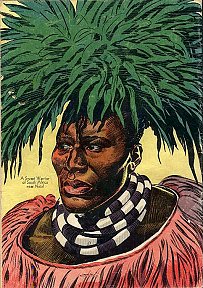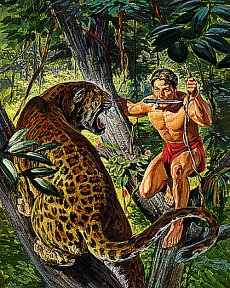 115 Gollub, Morris
Mo Gollub (Artist)
1910 - 1984
Cartoons (Scooby Doo) Dell Cover artist
Ref: Bob Barrett
---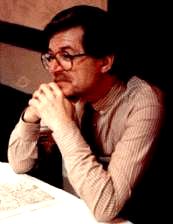 116 Goodwin, Archie
Archie Goodwin ~ Robert Franklin (Writer, Editor)
08 September 1937 Kansas City, MO - 1 March 1998
Warren Publications: Vampirella, Eerie, Creepy ~ DC, Marvel, Seaboard Tarzan United Feature Syndicate Sunday strip, Mars comics
School of Visual Arts (NYC); University of Oklahoma

---

117 Grant, Douglas
Douglas Grant (Artist)
1894

---

118 Green, Dan
Dan Green (Artist)
Beyond the Farthest Star stories in the Tarzan Family
---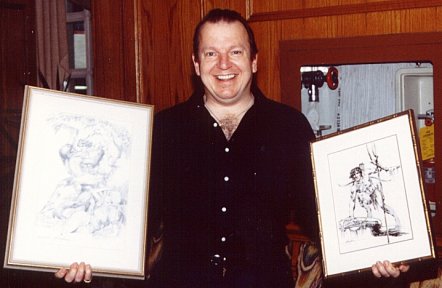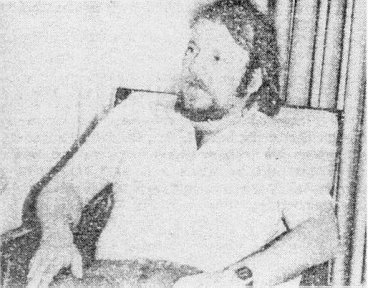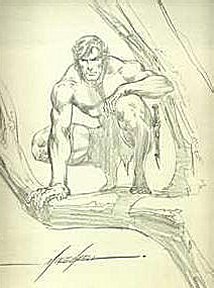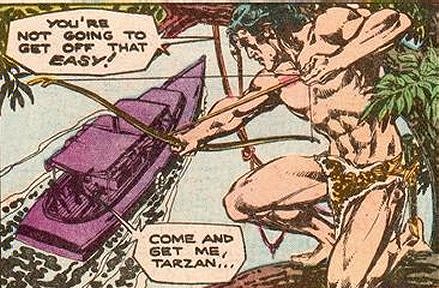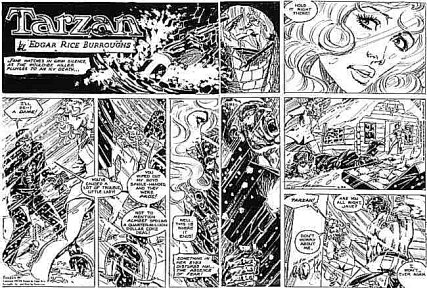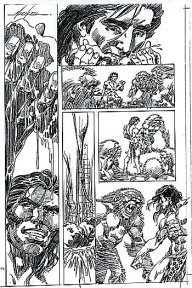 119 Grell, Michael Jon
Mike Grell (Artist)
1947 ?
Green Arrow, Green Lantern, Batman, X-Men, Warlord Tarzan Sunday #2628-#2686; Tarzan comics
Chicago Academy of Fine Arts; University of Wisconsin; Famous Artists School
Meet Mike Grell and Tarzan Sunday Strips

---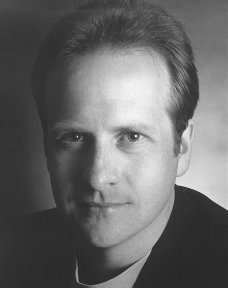 120 Griffin, Scott Tracy
Scott Tracy Griffin (Writer)
10 May 1965 Starkville, Mississippi
Tarzan Sunday Strips United Feature Syndicate writer:
13-week Tarzan Sunday strip story "La's Plight" for United Media summer, 1996, illustrated by Gray Morrow
Millsaps College, Jackson - Mississippi

---
Tom Grindberg
ERBzine 6275: Tarzan Art I:
ERBzine 6276: Tarzan Art II
ERBzine 6277: Tarzan Art III
---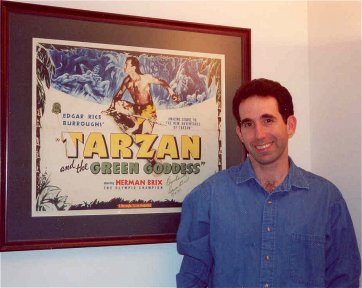 121 Gross, Allan Howard
Allan Gross (Writer)
Tarzan Sunday writer
Ref: Alan Gross
---

122 Gual Tutusaus, Joseph
Joseph Gual Tutusaus (Artist)
1936
TARZAN~(a) late 1970s-80s
---
UNIDENTIFIED
---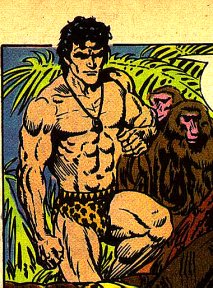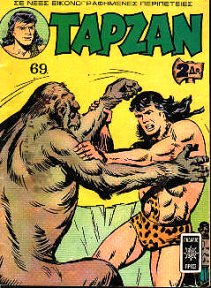 ---

. WEBJED: BILL HILLMAN .


Visit our thousands of other sites at:
BILL and SUE-ON HILLMAN ECLECTIC STUDIO
Some ERB Images and Tarzan© are Copyright ERB, Inc.- All Rights Reserved.
All Original Work ©1996-2006/2010/2015 by Bill Hillman and/or Contributing Authors/Owners
No part of this web site may be reproduced without permission from the respective owners.