TARZANA 2012 DUM-DUM UPDATES
. HILLMAN WEEKLY and MONTHLY WEBZINES .

ERBzine | Danton's Den | Tarzine | As You Were . . . (military) |
Join us on FaceBook and Twitter and John Carter Film News: www.cartermovie.com

Official Edgar Rice Burroughs Tribute and Weekly Webzine Site
Since 1996 ~ Over 10,000 Webzines and Webpages In Archive

Master of Imaginative Fantasy Adventure
Creator of Tarzan® and "Grandfather of American Science Fiction"
A NEW EDITION EVERY FRIDAY
May 18 - 24, 2012
Thousands of Back Issue Features in Archive: HERE
---
---
Feature 2: ERBzine 3733
HELIUM AND THE SURROUNDING REGIONS
By Rick Johnson
---
---
---
---
Feature 6: cartermovie.com
Updates to our John Carter Film News site
More Production Art
Now 23 Photo Galleries ~ More Posters ~ +250 Reviews
Art ~ Interviews ~ JC Through the Years ~ Books ~ DVDs ~ etc.
http://www.cartermovie.com
---
Feature 7: ERBzine 2596
Tarzan Gold Key Comics Nos 132+
Also 2595: Tarzan Dells 100-131 and John Carter
Also 2395: DELL TARZAN COMICS INTRO and CONTENTS: 1-100
---
---
---

THIS WEEK'S ARCHIVE FEATURES 10 and 11
FROM OUR CARD AND POSTER WALL ARCHIVE
www.ERBzine.com/cards
www.hillmanweb.com/cards
Click Images for Poster-Size | Click Link to View ERBzine Pages

.

.

LAST WEEK'S FEATURE LOGOS (click to enter)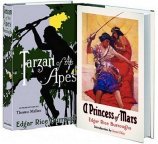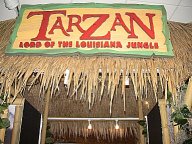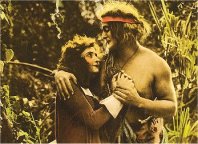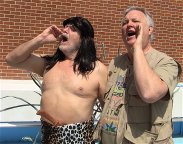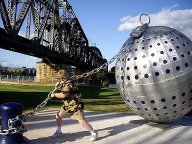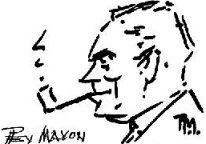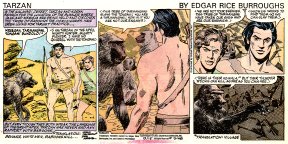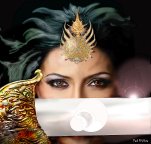 ARCHIVE WALL MURALS
www.ERBzine.com/cards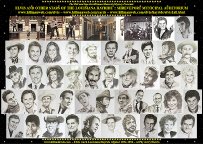 LAST WEEK:
See the Back Issues Archive at
www.ERBzine.com/all/refmap.html
Our ERBzine ERB Eclectica Series:
ERB Eclectica No. 2012.05
Tarzan Lord of the Louisiana Jungle :: 2012 Morgan LA Festival
INTRODUCTION AND CONTENTS
Part 8: TARZAN DISPLAY I
Part 9: TARZAN DISPLAY II
Part 10: FESTIVAL DAY: Attractions ~ Tarzan Yell ~ Band ~ Merch ~ Films
Part 11: ON THE ROAD
Part 12: CAJUN SONGBOOK: Doug Kershaw | Tony Joe White | Roy Orbison | Al Bohl | Hillmans
Tarzan and the Fire Gods (Contents) 1935 Daily Strips: Art by Rex Maxon ~ Continuity by Don Garden
Strips 61-72
TARZAN SUNDAY PAGES BY GRAY MORROW: THE KALAHARI
JOHN CARTER OF MARS FILM NEWS
Portal to Dell Tarzan Comics (See 1-100 in Part I)
Part II: Nos. 100+ Plus John Carter Issues ~ Annuals ~ Brothers of the Spear
DELL TARZAN and JC COMICS INTRO and CONTENTS
GOLD KEY TARZAN COMICS 132+
Gold Key Tarzan Comicl No. 174: Tarzan and the Ant Men
Pages 1-20
Pages 21-36

---
FROM OUR CARD AND POSTER ARCHIVE
www.ERBzine.com/cards
---
Hillman Recording Years
Louisiana Hayride

AWARDS

Three Awards
Tarzan.com
March 9, 2005
ERBzine:
July 11, 2002
ERBzine.com/mag:
January 12, 2005


Lifetime Achievement Award
Louisville Dum-Dum 2003
ECOF Recognition Award 2011


Bill & Sue-On Hillman
Entertainers of the Year Award
For stage/TV/recording performances
in USA, England and Canada
.
NEXT WEEK:
ERB I by RE Prindle
John Carter Reports
Maxon's Tarzan strips from the '30s
Tarzan Sunday Pages
Tarzan Gold Key Comic 175

COMING SOON ~ IN THE WINGS
The ERBzine Silver Screen Series
Maxon Daily Strips
ERB Eclectica
More on Dum-Dums
Lost Words of ERB
ERB and the Press
Articles by R.E. Prindle
A Princess of Mars: A Graphic Novel Adapted and Illustrated by James Spratt
Articles by Den Valdron
ERB Letters
.

The Fantastic Worlds of Edgar Rice Burroughs
| | | | |
| --- | --- | --- | --- |
| Tarzan.com | ERBzine.com | DantonBurroughs.com | Tarzan.org |
| BurroughsBibliophiles.com | JohnColemanBurroughs.com | Tarzan.com/tarzine | JohnCarterOfMars.ca |
| erbzine.com/edgarriceburroughs | Weekly Webzine | Weekly Webzine | Pellucidar.org |
| John Carter Film News | ERB, Inc. Corporate Site | ERB Centennial | tarzana.ca |


Our FanFare section is always open as a showcase for ERB fan comments and creative work...
Send your submissions to Bill Hillman
Tarzan@wcgwave.ca



!!! READERS PLEASE NOTE !!!
Tarzan® is the property of Edgar Rice Burroughs, Inc., Tarzana CA

These e-Fanzines have been posted as a non-profit bibliographic and biographic reference for ERB scholars, fans and collectors. Material not created by myself has been collated largely from other sites on the web -- and I believe it to be in Public Domain or to fall under the category of "product promotion" or "fair use". Everything has been collated into this on-line repository to promote interest in the works of Mr. Burroughs. If there is any objection to the way in which any of this material has been displayed, or if I have infringed unlawfully on any copyright, I will implement its immediate removal. Bill Hillman

---

WEBJED: BILL HILLMAN


Visit our thousands of other sites at:
BILL AND SUE-ON HILLMAN ECLECTIC STUDIO
ERB Text, Images and Tarzan® are Copyright ERB, Inc.- All Rights Reserved.
All Original Work ©1996-2012 by Bill Hillman and/or Contributing Authors/Owners
No part of this web site may be reproduced without permission from the respective owners.
Opinions expressed in articles on this site do not necessarily represent the opinions
of Edgar Rice Burroughs, Inc. or the editors of ERBzine.
ERBzine Weekly Webzine was endorsed by Danton Burroughs of Tarzana, California
as the Official ERB, Inc. and Tarzan®Webzine Site