See the Latest News on ECOF 2005: Toronto ~ June 24 - 26
ERBzine Dum-Dum Dossier or Tarzan.com Fandom

Official Edgar Rice Burroughs Tribute & Weekly Webzine Site
Since 1996 ~ Over 4,000 Web Pages In Archive

Master of Imaginative Fantasy Adventure
Creator of Tarzan® and "Grandfather of American Science Fiction"
March 18 - 24, 2005
A NEW EDITION EVERY FRIDAY
Thousands of Back Issue Features in Archive: HERE
| | | | | |
| --- | --- | --- | --- | --- |
| | | | | |
.

THIS WEEK'S ERBzine CONTENTS
---
---
---
---
FEATURE 4: ERBzine 1395
Tars Tarkas and Green Martian Gallery 6
Scores of interpretations of Thark appearances
by the best-known ERB artists
The 6th of a 7 Part Series
---
---
FEATURE 6: ERBzine 1263
More from the ERB Personal Library Project
Books Belonging to Emma, Joan, Hully and Jack
(Alphabetized by Author Last Name)
ERB dedications to daughter Joan
Many of the titles are offered in eText
Compiled and Designed by Bill Hillman
http://www.erbzine.com/mag12/1263.html
---
FEATURE 7: Update ERBzine 0220
From our ERB C.H.A.S.E.R. Online Encyclopedia
The ERB Illustrted Pulp Bibliography
All the Burroughs appearances in Pulp Magzines
Dates and Cover Illustrations
.

Feature Release from the John Coleman Burroughs Tribute Site

---
---
AWARDS

Three Awards
Tarzan.com
March 9, 2005
ERBzine:
July 11, 2002
ERBzine.com/mag:
January 12, 2005


Lifetime Achievement Award
Louisville Dum-Dum 2003


Bill & Sue-On Hillman
Entertainers of the Year Award
For stage/TV/recording performances
in USA, England and Canada
.


LAST WEEK'S FEATURES
March 11 - 17, 2005
(if you missed it go to Archive)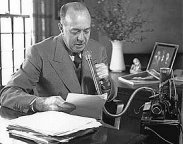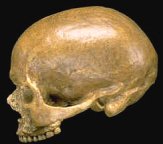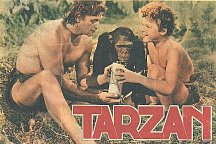 ERB's A Princess of Mars Ch. 16: Illustrated by James Killian Spratt will appear in a few weeks.
James is in the middle some major sculpting assignments and new orders for Jetan (Martian Chess) Sets.
The ERB / Jack London Connection: Pt. 4 of 8
ERB's The Warlord of Mars Pt. 2: Bill Hillman's Log Notes Series
Log Notes Visible Answers Version
Tars Tarkas and Green Martian Gallery 5 of 6
Colour MGM Cards: Pt. 6: Tarzan Triumphs
Something of Value II: Part 2 of 4 Parts ~ ERB Evolution and Religion by R. E. Prindle
The Martian Series from UK Sun: Episode 7
The Morphology of a Folktale by ERB: David Adams
A giant list of ERB Websites and Webpages
This week's featured site:
GATEWAY: Paul Edmund Norman's Monthly Story Magazine
Don't miss the ERBzine feature at:
http://www.gatewaymonthly.com/53erbzine.html
---
NEXT WEEK: March 25 - 31, 2005
The ERB/Zane Grey Connection: Pt. 1 of 4
ERB / Jack London Article by David Adams
MGM Colour Cards: Tarzan and the Amazons
"Something of Value II" Pt. 4 of a Series of ERB Articles by R. E. Prindle
The Thark and Martian Green Men Gallery: No. 7 of 7
Motes and Quotes Newzine for March
COMING SOON ~ IN THE WINGS
ERB Articles by Phil Burger
The ERB/Zane Grey Connection Series
General Charles King Illustrated Bio and Biblio
Bob Hyde's African Safari 1992
Bob Hyde's Gallery of Comics: Tarzan in Paris
ERB Newspaper Clippings
COOP Chocolat Trading Cards of the MGM Weissmuller Movies
Profile Tribute on Stan Vinson
A Princess of Mars: A Graphic Novel Adapted and Illustrated by James Spratt
Bomba the Jungle Boy: The Tarzan Connection Part II
Hal Foster: Mysterious Maiden II Comics Summary
ERB and Buffalo Bill at the Chicago 1893 Columbian Exposition
ERB Letters
Our FanFare section is always open as a showcase for ERB fan comments and creative work...
Send your submissions to
Bill Hillman
Tarzan@westman.wave.ca


!!! READERS PLEASE NOTE !!!
Tarzan® is the property of Edgar Rice Burroughs, Inc., Tarzana CA

These e-Fanzines have been posted as a non-profit bibliographic and biographic reference for ERB scholars, fans and collectors. Material not created by myself has been collated largely from other sites on the web -- and I believe it to be in Public Domain or to fall under the category of "product promotion" or "fair use". Everything has been collated into this on-line repository to promote interest in the works of Mr. Burroughs. If there is any objection to the way in which any of this material has been displayed, or if I have infringed unlawfully on any copyright, I will implement its immediate removal. Bill Hillman

---

WEBJED: BILL HILLMAN

Visit our thousands of other sites at:
BILL & SUE-ON HILLMAN ECLECTIC STUDIO
ERB Text, Images and Tarzan® are Copyright ERB, Inc.- All Rights Reserved.
All Original Work ©1996-2005 by Bill Hillman and/or Contributing Authors/Owners
No part of this web site may be reproduced without permission from the respective owners.
ERBzine Weekly Webzine is endorsed by Danton Burroughs of Tarzana, California
as the Official ERB, Inc. and Tarzan®Webzine Site