Official Edgar Rice Burroughs Tribute and Weekly Webzine Site
Since 1996 ~ Over 15,000 Webpages in Archive
Volume 6334

ANNIVERSARIES OF ERB'S LIFE & LEGACY
A COLLATION OF THE DAILY EVENTS IN ERB-WORLD
FROM THE PAGES OF THE HILLMANS' ERBzine
Compiled by John Martin
With Web Design, Added Events, Links,
Illustrations and Photo Collages by Bill Hillman

JUNE CONTENTS
WEEK FOUR
JUNE 22 ~ JUNE 23 ~ JUNE 24 ~ JUNE 25
JUNE 26 ~ JUNE 27 ~ JUNE 28 ~ JUNE 29 ~ JUNE 30

VISIT THE JUNE WEEK IV PHOTO ALBUM
www.ERBzine.com/mag63/6334pics.html
BACK TO JUNE WEEK 3
www.ERBzine.com/mag63/6333.html

Click for full-size images
---
JUNE 22
---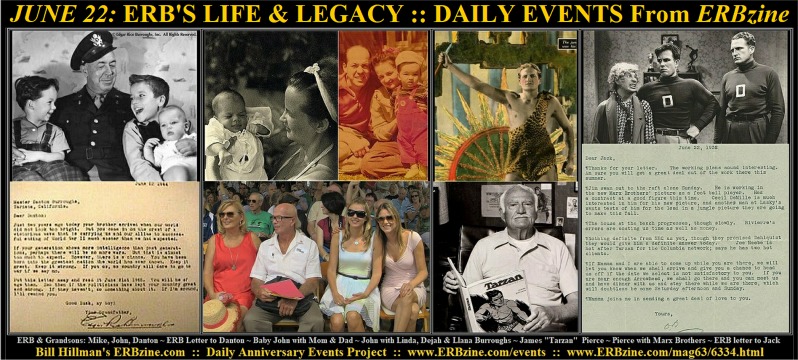 ERB and Grandsons: Mike, John, Danton ~ ERB Letter to Danton ~ Baby John Ralston with Mom and and Dad John Coleman
John with Linda, Dejah & Llana Burroughs ~ James "Tarzan" Pierce ~ Pierce with Marx Brothers ~ ERB letter to Jack
---
*** 1942: Jack (John Coleman) and Jane's first son, John, was born on this date. Ed shared a "military secret" in a letter to Jack. He wrote how pleased he was that his grandson has been named John as it is his favorite "he-name." He explains, for the first time, his fascination with the name John. A 12-year-old tough guy used to bully the younger Eddie during his walks to Brown School in Chicago. Eddie was scared stiff and wanted to grow up to be just as tough and to be named John... rather than Edgar. ". . . at the age of eight or nine, I used to meet a tough guy by the name of John on my way to Brown school. He was about twelve, and I was scared as hell of him. Up to now it has been a military secret."
Baby John Burroughs and Family
http://www.erbzine.com/mag9/0906.html
ERB Bio Timeline
http://www.erbzine.com/bio
---
*** ERB was the type of person who saved things and kept track of things, and he raised a family who pretty much did the same.
For instance, ERB had reason to be optimistic about the future of the world when his grandson Danton was born, and he stated his reasons for that belief in a letter to his new grandson, which he suggested be saved for Danton to read when he was fully grown. And saved it was. At his luncheon on the day he wrote the letter to Danton, Ed dined with a French colonel (the Governor of Tahiti), Colonel Frank Capra, Captain Phil Bird, and Captain Lawrence. They all drank a toast to Ed's new grandson, Danton. In the evening at Fort Shafter, a colonel, a lieutenant colonel, two majors, and four wahinis stand and toast the newborn. Ed admits to constantly bragging about his grandchildren.
The letter, written June 22, 1944, a day after Danton was born, has even been saved in cyberspace on Bill Hillman's ERBzine:
ERB's Letter to Baby Grandson Danton
http://www.erbzine.com/mag10/1026.html#June22
http://www.erbzine.com/danton

---

*** In an age without email and other forms of instant-messaging, mail was the most effective way to communicate. On June 22, 1932, ERB wrote to his son, John, and mentioned a couple of things of interest:
First, he updated John on the latest from his son-in-law, James H. Pierce, who had played the ape man in 1927's "Tarzan and the Golden Lion" and who would soon be playing him again, on radio, that fall. In the letter, ERB noted, "He is working in the new Marx Brothers' picture as a foot ball player. Has a contract at a good figure this time. Cecil DeMille is much interested in him for his new picture, and another man at Lasky's wants tests of him for the lead in a jungle picture they are going to make this fall."
The Marx Brothers film was "Horsefeathers," released that August, and Pierce was well cast since he had played college football in Indiana. The IMDB plot summary notes that Groucho, president of Huxley University, hires bumblers Baravelli (Chico) and Pinky (Harpo) to help his school win the big football again against rival Darwin U. Pierce had an uncredited role as Mullen, a Darwin player.
Another reference in the letter is to the pending Tarzan radio program and other broadcast opportunities as well. ERB noted in passing: "Nothing definite from NBC as yet, though they promised Dahlquist they would give him a definite answer today, Joe Neebe is hot after Tarzan for the Columbia network; says he has two hot clients."
Frederick C. Dahlquist, producer for American Gold Seal Productions, was successful in getting the Tarzan radio program going in September of 1932, although it was syndicated rather than being a network program of NBC or CBS. In addition to Pierce, his wife Joan was cast as Jane.
ERB Letter to John re: Pierce
http://www.erbzine.com/mag62/erblet08.jpg
James Pierce Autobiography and Photo Album
http://www.erbzine.com/mag27/2729.html

Off-Site Reference
Horse Feathers in IMDB
---
*** "Tarzan and the Mayan Goddess," by William Juhre and Don Garden, started June 22, 1936, and ran for 150 days.
Tarzan and the Mayan Goddess: Read all 150 strips
http://www.erbzine.com/mag40/4018.html
---
*** "The Sad Gorilla," written and illustrated by Rex Maxon, started June 22, 1945, and ran for 56 days.
The Sad Gorilla: Read all 56 Tarzan strips
http://www.erbzine.com/mag54/5478.html
---
NOTES FROM OUR ERB BIO TIMELINE:
1865: Major George Burroughs was discharged from the Union Army. George & Mary Evaline settled in Portland, Maine, where George went into the furniture business with two partners
1918: Ed and Family were having trouble with Tarzan the dog and have to muzzle and chain him while he is out. They are reluctant to do away with him as the animal is loved by the kids and provides security for Emma while Ed is away at nights.
1947: Rothmund expressed doubts to Western Printing that ERB was ready to write the planned 25-cent pocket book, My Life with Tarzan.
1989 First day of the ECOF in Tarzana, CA ~ hosted by Mike Shaw and Ralph Brown ~ Guests: Irwin Porges ~ Eve Brent ~ Danton Burroughs ~ Gordon Scott ~ Denny Miller ~ Gabe Essoe ~ Burne Hogarth ~ Jack Iverson ~ Forrest J. Ackerman
ERB Bio Timeline
http://www.ERBzine.com/bio

---
JUNE 23
---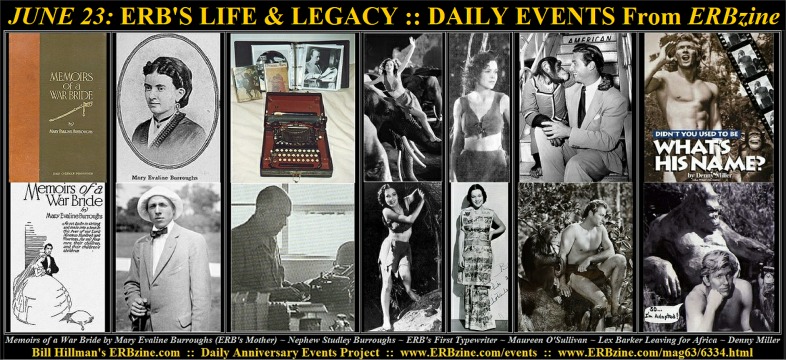 Memoirs of a War Bride by Mary Evaline Burroughs (ERB's Mother) ~ Nephew Studley Burroughs
ERB's First Typewriter ~ Maureen O'Sullivan ~ Lex Barker Leaving for Africa ~ Denny Miller
---
*** 1914: June 23: Mary Evaline addresses her "Memoirs of a War Bride" to "My dear son Edgar" but this dedication is scratched out and replaced with "My dear sons" in someone else's handwriting.
* Ed writes the foreword, "To Posterity" for his mother's reminiscences.
* Ed's nephew Studley Burroughs did the Memoirs title page illustration.
* The manuscript possibly went to press at the end of the year at The Alderbrink Press, Chicago, in a possible run of 50 copies at a cost of $225.00.
Memoirs of a War Bride: All pages reprinted
http://www.erbzine.com/mag9/0920.html
---

Maureen O'Sullivan, who was the No. 1 movie Jane for more reasons than one, and who did the female version of the famous Tarzan yell, lived to be 87 years old before dying of a heart attack on June 23, in 1998, in Scottsdale, Arizona.
Maureen O'Sullivan 10-page Tribute in ERBzine:
http://www.erbzine.com/mag45/4569.html

Off-Site Reference
Farrow-O'Sullivan Site
O'Sullivan in IMDB
---

"Tarzan's Peril" was released in 1951, but the work began before that. On June 23, 1950, Lex Barker and movie crews boarded planes to fly to Africa to put movie scenes before the cameras.
Tarzan's Peril: ERBzine Silver Screen
http://www.erbzine.com/mag19/1951.html

Off-Site Reference
Barker/Peril in CBS News
---
*** When Denny Miller wrote his biography -- "Didn't You Used to Be What's His Name?" -- he went on a tour to promote the book. One of his stops was on June 23, 2005, in Louisville, Kentucky, at Carmichael's Bookstore. The Courier-Journal, in an article earlier in the day, recalled his role in 1959's Tarzan the Ape-Man and also wrote: "Miller, who portrayed Duke Shannon on the TV series Wagon Train, will sign copies of his book at 7 tonight at Carmichael's Bookstore, 2720 Frankfort Ave. Miller, by the way, played basketball at UCLA under coach John Wooden. One of his teammates and a lifelong friend just happens to be Denny Crum. His book features anecdotes about his work with such actors as Katharine Hepburn, Bette Davis, Peter Sellers, Charles Bronson, Bob Hope, Sidney Poitier and Lucille Ball."
Denny Miller Flashbacks
http://www.erbzine.com/mag45/4550.html
Denny Miller Tribute Site
http://www.ERBzine.com/denny
---
*** Disney's "Tarzan" comes to Netflix today, June 23, 2018.
"Tarzan and Jane," the sequel, was a direct-to-video release the same date, in 2002, three years after June 18, 1999, when the first Disney effort made its theaterical debut.
Tarzan Log of TV Episodes
http://www.erbzine.com/mag0/0014.html
Off-Site Reference:
Tarzan on Netflix
Tarzan and Jane in Wikipedia
---

*** It wasn't easy to invent the first typewriter, and it went through many models and concepts. But one version was patented June 23, 1869, which proved to be the forerunner of the modern typewriter...or should we say the modern "keyboard?" Christopher Latham Sholes was one of the inventors who shared in that first patent, but he went on, in 1873, to develop a new key arrangement known as the QWERTY keyboard. It proved so practical that that it has survived the age of typewriters and is what we find on our computer keyboards. We have more books available to us -- as well as all those ERB books -- thanks in large part to the development of that keyboard.
ERB's Original Typewriter
http://www.erbzine.com/mag5/ld8905h4.jpg
Off-Site Reference
Sholes in Wikipedia
---
*** "Tarzan and the Return of Dagga Ramba," by Russ Manning, began June 23, 1968, and ran for 29 Sundays. It can be read at:
Tarzan and the Return of Dagga Ramba: All 29 Sunday Pages
http://www.erbzine.com/mag17/1761.html
---
"Tarzan and the Panther-Man," by John Celardo and Dick Van Buren, began June 23, 1957, and ran for 11 Sundays.
Tarzan and the Panther-Man
http://www.ERBzine.com/comics
---
*** 1944: Ed meets with Robert H. Davis (his editor after Thomas Metcalfe) of Munsey's in New York. He quotes him as saying: "For God's sake send The World another picture of yourself -- that thing they are running makes you look like ____."
1944: LETTER home to Joan. He described the souvenirs he had sent previouslly to Joan and Jane's kids. "The Jap bill and photo were for Mike. The soldier who found them in a Jap barracks bag when we took Kwajalein gave them to me." The cowrie shell necklace was given him by the soldier who made it on Kwajalein. "I tried to get the silver or gold chains that the boys use in stringing these, but there were none left in Honolulu. Our servicemen had bought them all. The loose shells I got on Apamama. . . . Tell Mike that the knife was given me by a 7th AAF Bomber Command Flight Surgeon on Kwajalein."
1945: LETTER home to Joan ~ "At anchor in a harbor in the East China Sea" while aboard the USS Cahaba.
ERB Bio Timeline
http://www.ERBzine.com/bio

---
JUNE 24
---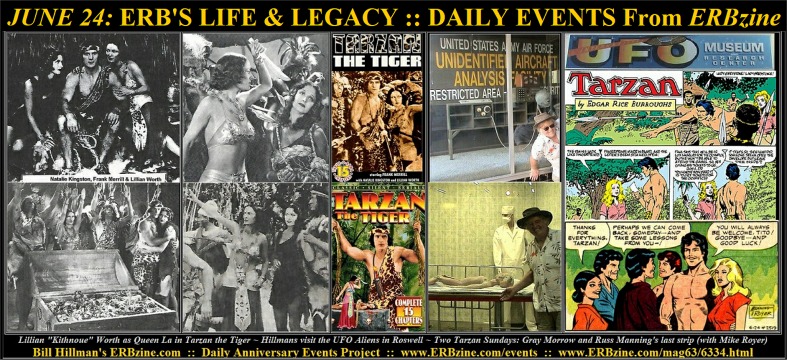 *** Lillian Worth was menacing two different Tarzans. In 1921's "The Adventures of Tarzan" she used her feminine wiles against Elmo Lincoln to no avail and in 1929's "Tarzan the Tiger" she tried similar tactics against Frank Merrill, again without success. In the first film, she was cast under her own name. In the second, she was identified in the credits as Madamoiselle Kithnoue.
Lillian Worth was born June 24, 1884, in Brooklyn. There was some controversy surrounding this as many sources claim that Kithnou (aka Mlle. Kithnou) was actually a Hindu actress, and not Lillian Worth
Tarzan the Tiger with a La Gallery
http://www.erbzine.com/mag5/0593.html
Adventures of Tarzan with Lillian Worth as La
http://www.erbzine.com/mag5/0590.html
ERB Heroines of Hearth ~ Stage ~ Screen
http://www.erbzine.com/mag6/0607.html

Off-Site Reference:
Worth in IMDB
Worth in Wikipedia
---
*** Sci-fi buffs got a shot in the arm this date, June 24, in 1947, when Ken Arnold, a pilot from Chehalis, Washington, was flying around Mount Rainier and reported seeing a bunch of flying objects that resembles saucers. The name stuck. Sci-fi buffs got a shot in the butt this date, June 24, 50 years later, when the U.S. Air Force released a report suggesting that the alien bodies that witnesses reported seeing in 1947 in Roswell, N.M., were actually life-sized dummies. (We all know, of course, that the USAF was just engaging in a coverup!!!)
Hillmans Visit the UFO Museum in Roswell
http://www.hillmanweb.com/ufo
Off-Site Reference
UFO in Wikipedia.
Roswell History
---
*** Fingerprints prove something to Greystoke: See "A Matter of Fate," by Gray Morrow and Don Kraar, which began June 24 in George Orwell's signature year and ran for 12 Sundays.
A Matter of Fate: Read all 12 Tarzan Sunday Strips
http://www.erbzine.com/mag35/3508.html
---
1914: Ed received a letter from General Charles King at his 6415 Augusta Street, Oak Park, address: "I have always kept in touch with him, and as I love him just as I did as a kid I sent him a copy of Tarzan."
General Chartles King Tribute
http://www.ERBzine.com/king
---
1942: ERB sent a letter home to Jack and Jane. He liked the name John Ralston they have chosen for baby. Ed had read a recent article that attributed ERB's success to his name. He tried to attend first morning showing of the new Tarzan picture "Tarzan Find a Treasure or somein" but the lines were too long.
ERB Letter to Jack and Jane
http://www.erbzine.com/mag9/0914.html
---
*** Popular ERB artist, Sanjulián, was born in Barcelona on this date in 1941.
The ERB Art of Sanjulian
http://www.erbzine.com/mag62/6274.html
---
*** 1979: The last Russ Manning Tarzan Sunday page Tarzan and the Games of Ibizzia ran Feb. 04, 1979 - June 24, 1979 ~ Story and Art by Russ Manning ~ Inks by Mike Royer.
Tarzan and the Games of Ibizzia: Manning's Last Tarzan Sunday
http://www.erbzine.com/mag21/2139.html

---
JUNE 25
---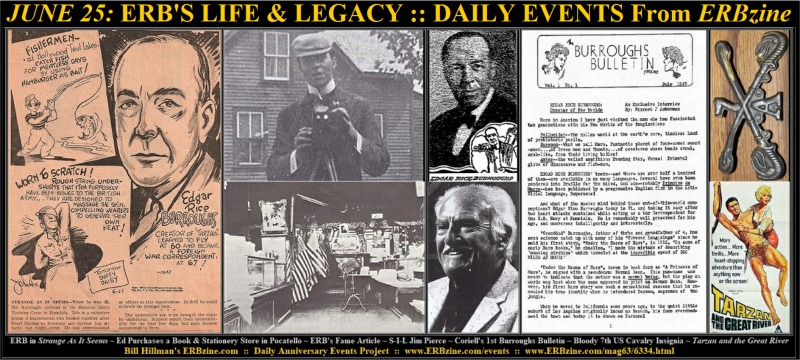 *** Edgar Rice Burroughs was featured in a newspaper cartoon similar in format to Ripley's Believe It Or Not, on June 25, 1955. The caption below his picture celebrated his active participation in U.S. World War II efforts, despite his older age. In addition, a copy block beneath the cartoon added some details. It reads:
"STRANGE AS IT SEEMS--When he was 66, Mr. Burroughs enlisted in the Business Men's Training Corps in Honolulu. This is a volunteer group of businessmen who banded together after Pearl Harbor to frustrate any further Jap attacks that might occur. He was commissioned an officer in this organization. In drill he could outwalk the younger men."
And for those concerned about the British forcing soliders to wear itchy shirts, the copy block added: "The undershirts are worn beneath the regular underwear. Soldiers report them uncomfortable for the first few days, but soon become accustomed to them."
ERB in Strange As It Seems
The Image:
http://www.dantonburroughs.com/pics/dbeb04.jpg
An ERBzine Page of ERB Memorabilia
http://www.erbzine.com/mag19/1944.html
---

*** ERB's move to Hawaii and subsequent service with the press corps put him in a position to get to know many important people, one of whom was H.H. (Hap) Arnold.
In 1938, when Arnold became chief of the U.S. Air Corps, his command consisted of 22,000 men. At the end of World War II, his force had grown to 2.5 million men. The German Luftwaffe no longer existed, and with the help of the U.S. Naval Air Arm, there was no Japanese air power. In 1943, Arnold was promoted to five-star general, the first in the Air Force.
ERB's son-in-law, Tarzan actor James Pierce, wrote: "When I was trying to become a flying instructor in 1941 Mr. Burroughs wrote me. saying, 'I am on good terms with Hap Arnold, top general in the Army Air Force. I think Arnold can help you if your age is held against you.' "
Arnold, who was born June 25, 1886, had another thing in common with ERB besides being on good terms during the war effort: Both would eventually be featured on U.S. postage stamps. Arnold's came first, a 65-cent stamp issued Nov. 5, 1988, as part of the Great Americans Series, which featured stamps in varous denominations designed to meet existing postal rates for items that required more postage than the current first-class rate. Such stamps are known as definitives, as distinguished from commemoratives, which are usually the stamps issued for first-class letters. ERB's stamp was a commemorative, issued Aug. 17, 2017, in Tarzana, Calif., and was also rated as a Forever stamp, meaning it will always be good for a first-class letter no matter what the current first-class rate happens to be.
Pierce's reminiscenes about his "Famous Father-In-Law"
http://www.erbzine.com/mag9/0940.html

Off-Site Reference:
Hap Arnold's inWikipedia
---
*** If you buy some old glassware that is wrapped in the Los Angeles Times, check to see if it's the June 25, 1922 edition, before throwing it away. That issue has a story about ERB and a lot of photos of the Tarzana ranch. The article was headlined: "Just Made a Living in Business; Now He's Rich -- Creator of Tarzan Describes His Amazing Rise to Fame and Fortunes as Author."
But in the event you don't run across the old newspaper, you can read it and other old news stories here:
ERB Describes His Rise to Fame Article
http://www.erbzine.com/mag13/1358.html
---
*** When ERB was almost one year old, Lt. Col. George Armstrong Custer and 210 men of the 7th Cavalry were killed by Sioux and Cheyenne Indians at Little Big Horn. That was June 25, 1876. About twenty years later, ERB began his own stint with the "Bloody Seventh." And Ft. Grant, of course, was where the movie John Carter ran from after the Civil War on his way to Barsoom by way of an Arizona cave.
ERB in the Bloody 7th US Cavalry
http://www.erbzine.com/mag34/3469.html
Custer's Last Battle by Captain Charles King
http://www.erbzine.com/craft/king1.html
---
*** And some of you may not have thought about ERB at all on June 25, 1966, when Dark Shadows premiered on ABC television. Those fans who missed the premiere had to wait several years for the invention of video players. One of the guest stars who showed up on Dark Shadows was Diana Millay, who played sinister Laura Collins. Her first appearance in Dark Shadows was on Dec. 14, 1966, and she was in 62 of the soap opera's 1,225 episodes. A year later, she was on the big screen as Dr. Ann Philips, one who was more interested in the good health of people, in 1967's "Tarzan and the Great River" opposite Mike Henry.
Tarzan and the Great River with Diana Millay
http://www.erbzine.com/mag19/1962.html
Off-Site Reference
Millay in IMDB
---
*** 1925: Clarence B. Hyde was born to Mr. and Mrs. Ed Hyde of Warren, Ohio on this date. Bob became one of ERB's greatest fans and was a staunch supporter of all things Burroughs. President and Co-Founder of the Burroughs Bibliophiles. Bob Hyde's ODYSSEY OF A TARZAN FANatic is featured in ERBzine. . . as well as his African Safari Journals which were shared with us by George McWhorter from the Bob Hyde Collection which is stored at the University of Louisville. Bob passed away on April 7, 2006.
The Bob Hyde Tribute Site:
http://www.ERBzine.com/hyde
---

*** 1898: Pocatello Tribune: "Local Brevities" column reported: "-- Mr. V.C. Roeder has sold his book and stationery store to Mr. E.R. Burroughs who is now in charge. Mr. Roeder has not yet decided upon what he will do, but if he does not go to war with the volunteer engineers now being recruited by Mr. F.F.J. Mills at Salt Lake, will probably locate some place in California. Mr. Roeder's departure from Pocatello is a matter of genuine regret to all. He is one of the old timers in Pocatello and will be missed by everybody. Mr. Roeder's successor, Mr. Burroughs, is a recent arrival in Pocatello but a young gentleman of due x abilities, and we have no doubt "Roeder's", as it has always been known, will continue as popular as ever under his management."
ERB in Pocatello
http://www.erbzine.com/mag16/1647.html
---
*** 1947: Vernell Coriell produced the first Burroughs fan publication: The Burroughs Bulletin -- to be released with a July cover date.
Burroughs Bulletins (Old Series) Nos. 1-25
http://www.erbzine.com/mag15/1530.html
---
*** 1940: ERB Wrote Bert Weston that Florence was discouraged with cost-saving measures and condition of the house in Hawaii -- rats and scorpions.
1940: Ed relayed a chain letter with list of famous names: Sen. Heflin, Bernard Shaw, Henry Ford, Col. Lindberg, Dorothy Dix, John Barrymore
ERB Bio Timeline
http://www.ERBzine.com/bio

---
JUNE 26
---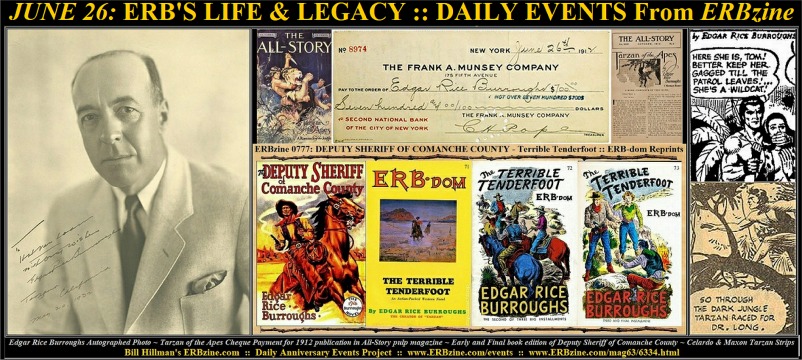 Edgar Rice Burroughs Autographed Photo ~ Tarzan of the Apes Cheque Payment for 1912 publication in All-Story pulp magazine
Early Pulp Reprints and Final book edition of Deputy Sheriff of Comanche County ~ Celardo & Maxon Tarzan Strips
---
*** On June 26, 1930, ERB wrote a letter to Blue Book, telling them: "I am writing a Western which is in an entirely different vein from anything that I have done before. ... I am trying to make it more lady-like in the hope of getting it into some hermaphrodite publication like Red Book...."
The story ERB was writing at the time eventually became a book titled "The Deputy Sheriff of Comanche County." But at the time he was writing it he was toying with titles like "That Damn Dude" and "The Brass Heart." When the yarn first saw print it was as "The Terrible Tenderfoot," and it first appeared not in Red Book but in Thrilling Adventures. The pulp version -- which was also reprinted as a three-parter in ERBdom numbers 71, 72 and 73 -- contains more words than the book version.
The Deputy Sheriff of Comanche County
http://www.erbzine.com/mag7/0777.html
ERB's quote recorded in ERB Bio Timeline:
http://www.erbzine.com/bio/years30.html
---

*** The Frank A. Munsey Company on June 26, 1912, cut a $700 cheque made out to Edgar Rice Burroughs in payment for first publication rights to "Tarzan of the Apes." ERB, who had received $400 for "Under the Moons of Mars," the first story he had sold to The All Story, now knew for sure what he would be doing the rest of his life. He was so certain that he would have quit his day job -- if he had had one at the time!
ERB's Tarzan of the Apes cheque
http://www.erbzine.com/mag41/4168.html
Tarzan of the Apes: C.H.A.S.E.R. Biblio
http://www.erbzine.com/mag4/0483.html
---
*** "The End of the Sorcerer," written and illustrated by Rex Maxon, started June 26, 1944, and ran for 24 days.
The End of the Sorcerer: All 24 Maxon Tarzan Strips
http://www.erbzine.com/mag54/5451.html
---
*** "Boss Lady," written and illustrated by John Celardo, began June 26, 1967, and ran for 73 days.
Boss Lady: all 73 Celardo Tarzan Strips
http://www.erbzine.com/mag46/4688.html
---
More ERB Bio Timeline Entries
*** 1939: ERB Authorized a Canadian branch of the Tarzan Clan in Toronto
*** 1928: Ed ordered a home movie camera and projector ($287.00 less a 30% discount through Owl Pharmacy) from Bert Weston (a few months later Weston gave a similar deal to Ed's friends the Rosenbergers). He wanted it in time to experiment with it so he could get some good pictures of Joan's outdoor wedding on August 8. They planned to use the area between the chicken yard and the corral for the ceremony. He built a cabinet similar to a small smoking stand that held everything pertaining to the photo outfit.
*** 1992 June 26-28: ECOF at Denver, CO ~ Life Achievement Award was presented to Bob Hyde ~ Guest: Danton Burroughs,
ERB Bio Timeline
http://www.ERBzine.com/bio

---
JUNE 27
---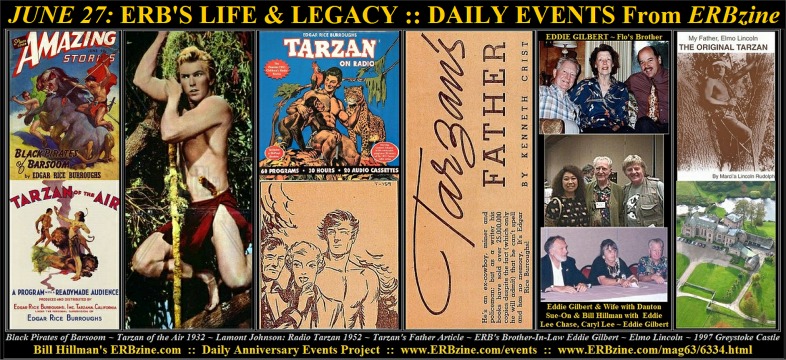 Black Pirates of Barsoom ~ Tarzan of the Air 1932 ~ Lamont Johnson: Radio Tarzan 1952 ~ Tarzan's Father Article
ERB's Brother-In-Law Eddie Gilbert ~ Elmo Lincoln ~ 1997 Greystoke Castle / London Dum-Dum
---
*** "I don't think it's 'literature'," he admits without shame. "I'm not fooling myself about that. I don't care whether it's filled full of dangling participles or not... or split infinitives or anything else. It sells. That's the first consideration. It amuses. That's the second. There are no more as far as I'm concerned.
"You see, Tarzan has sort of got me into a rut. I'd like to write heavier stuff... just to satisfy myself. However, why should a man do that when he appears to be satisfying a world of other people?"
The quotes above are from an article in the Los Angeles Times June 27, 1937, titled "Tarzan's Father." For more of ERB's thoughts on his major creation, read:
Tarzan's Father: LA Times Article 1937
http://www.erbzine.com/mag11/1106.html
---
*** It's well known that ERB' son-in-law, James Pierce, and his daughter, Joan, played Tarzan and Jane in the Tarzan radio series of the 1930s. But there was another radio Tarzan, this one played by Lamont Johnson, in the early '50s. The Commodore radio series, "Tarzan, Lord of the Jungle," began in 1951 and ended June 27 in 1953. Read more about it and listen to shows at:
Tarzan, Lord of the Jungle Radio Series
http://www.erbzine.com/mag23/2337.html
Lamont Johnson: Radio Tarzan
http://www.erbzine.com/mag58/5866.html
Tarzan On Radio: Radio's Golden Age
http://www.erbzine.com/mag0/0011.html

Off-Site References
Adkins about the Radio Series
Johnson in Radio Spirits
---
Two people well known to ERB fans died this date. Elmo Lincoln, the first Tarzan, passed away in 1952, and Eddie Gilbert, ERB's brother-in- law, died in 2000 at age 83.
My Father, Elmo Lincoln
http://www.erbzine.com/mag2/0283.html
Start of tributes to Eddie Gilbert:
http://www.erbzine.com/mag7/0780.html
Off-Site Reference:
Elmo in IMDB
---
*** 1997 The British ERB Society hosted a London Greystoke ERB convention ~ Guests were: Marcia Lincoln and Burne Hogarth (In Memorium)
Greystoke 97 Dum-Dum
http://www.erbzine.com/mag16/1689.html
---
*** 1941: Black Pirates of Barsoom and article: An Autobiographical Sketch appeared in Amazing Stories
Black Pirates of Barsoom: Segment of Llana of Gathol
http://www.erbzine.com/mag7/0738.html
---
ERB Bio Timeline Notes:
*** 1946: In a LETTER to Thelma Terry ERB commented on the ongoing shortages of food and building supplies and how ironic it was that America feeds the world but cannot supply its own needs. He was proud of his garden: blackberries, Golden Bantam corn, cucumbers, peaches, pears, figs, grapes, oranges, and lemons. Much of his produce he planned to freeze in his new deep-freeze unit. Ed mentioned that he had never met Clark Gable, but admired the man and his work. He also liked Greer Garson. Ed is saddened by the suicide of actor friend, Charlie Butterworth. "He was unquestionably soused when he ran his car into a light pole, for he was usually soused. It was too bad, for he gave so much pleasure to so many people." Ed's marriage advice to Thelma was "I certainly hope that you marry a Yank. I think we make pretty good husbands - we are such suckers."
---
*** 1922: Tarzan Sunday Pages artist: Ruben Moreira (Rubimor) (27 June 1922 - 21 May 1984, Puerto Rico). He took over the Tarzan Sunday page from Burne Hogarth in December 2, 1945. He was the sole artist and writer of it until August 3, 1947, using the pen name "Rubimor." His style was less spectaculair than Hogarth's, yet his storytelling had a resemblance to the writing of Edgar Rice Burroughs.
Rubimor: Tarzan Artist
http://www.ERBzine.com/cards/comics/rubimortarzan.jpg

---
JUNE 28
---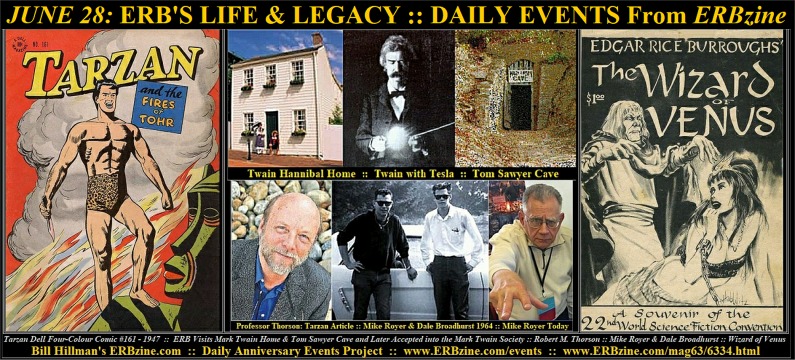 Tarzan Dell Four-Colour Comic #161 - 1947 :: ERB Visits Mark Twain Home & Tom Sawyer Cave and
Later Accepted into the Mark Twain Society :: Robert M. Thorson :: Mike Royer & Dale Broadhurst :: Wizard of Venus
---
*** 1947: ERB received reports that Dell's new 52-page Tarzan comic is a great success: Fires of Tohr ~ Art: cover and interior by Jesse Marsh ~ Writer: Robert P. Thompson for the feature story.
Tarzan Dell 4-Colour Comic #161
http://www.erbzine.com/mag23/2398.html
---
*** Tarzan was recommended reading in an article published this date, June 28, in 2007 in The Hartford Courant.
The article "Tarzan, A Great Jumping Off Point" stated: "I recommend the pulp fiction Tarzan books by Edgar Rice Burroughs for reading across the curriculum in middle and high schools. These juicy adventure novels would agitate bored students to learn more about human evolution, colonial racism, gender relations, plot technique, and body movement than their dumbed-down, politically correct, spiritually bland and dated textbooks.
"Sadly, textbooks designed for public schools are the result of a mass-market economy where publishing corporations defer to cautious administrators, who defer to school boards, who defer to the voters. Anything remotely provocative will send the buyer elsewhere. Texts are to publishers as fast food is to franchises. With a guaranteed market, the goal is the delivery of palatable nutrition or information to the broadest possible audience, not a memorable meal or learning experience, respectively.
"To see how vetted and dated texts are, I ask you to monitor how long (if ever) it will take for the publishers to respond to a great idea that Tarzan, a.k.a. Lord Greystoke, would have loved. In this month's Science, three British authors combined field observations about orangutans with vertebrate anatomy, paleontology and paleoecology to re-interpret the conventional wisdom about human walking...."
Who said all this? The answer is Robert M. Thorson, a columnist at the Courant who is also a Professor of Geology at the University of Connecticut and does a lot of other things as well, such as juggling. He's been writing his column for 14 years.
ERBzine News 21: Tarzan, A Great Jumping Off Point
http://www.erbzine.com/news/news21.html
---
*** Mike Royer, who most recently was at the ECOF in Folsom, California, in May of 2018, was born today, June 28, 1941, in Lebanon, Oregon.
When Mike was young, he teamed up with writer Dale Broadhurst to put together a comic book version of ERB's "The Wizard of Venus." Since then, he has worked with some of the greats while becoming great himself with work at Disney and on comics such as Superman's Pal Jimmy Olsen, Kamandi, and others. He has worked with Russ Manning on Tarzan comics.
Royer and Broadhurst's Wizard of Venus:
http://www.erbzine.com/mag45/4565.html
http://www.erbzine.com/mag45/4566.html
http://www.erbzine.com/mag45/4567.html

Off-Site Reference:
Royer in Wikipedia
---

1933: ERB was accepted into the International Mark Twain Society, Webster Groves, Missouri. ERB was a fan of Mark Twain and had many of his books in his personal library. During his cross-country automobile trek, Ed and the family even visited Twain's home in Hannibal, Missouri and later went on a tour of Tom Sawyer's cave.
Twain books on ERB's T2 Library Shelf
http://www.erbzine.com/dan/t2.html
Auto Trek in Joan's Tribute
http://www.erbzine.com/mag11/1102.html

---
ERB Bio Timeline Notes
1985 ECOF was held at the University of Louisville, hosted by George McWhorter ~ Burne Hogarth and Danton Burroughs
1991 ECOF at Williamston, Michigan ~ Host: Mike Conran
ERB Bio Timeline
http://www.ERBzine.com/bio

---
JUNE 29
---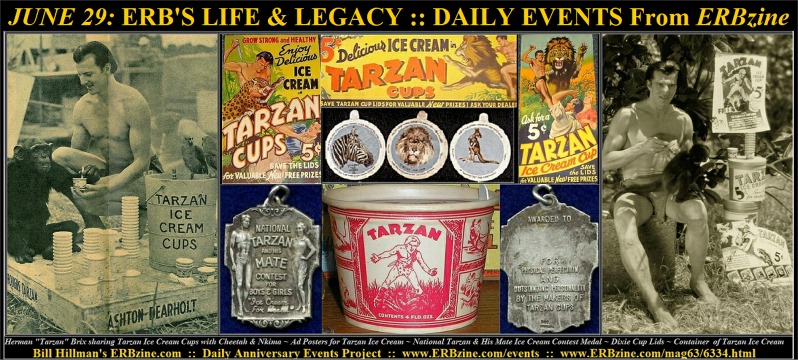 Herman "Tarzan" Brix sharing Tarzan Ice Cream Cups with Cheetah & Nkima ~ Ad Posters for Tarzan Ice Cream ~
National Tarzan & His Mate Ice Cream Contest Medal ~ Dixie Cup Lids ~ Container of Tarzan Ice Cream
---
*** In June of 2008 hopes were running high for Andrew Stanton's "John Carter." Its debut was still four years away but the project had the green light. Stanton's "Wall-E" had been released and folks were taking note of what Stanton had done with CGI and visions of Tharks, Thoats and things unrealized on the screen were dancing in the heads of fans. On June 29, Jeff Vice of the Deseret News had an article about the project, and others were writing about it as well.
Article on the progress of Stanton's John Carter Project
http://www.erbzine.com/news/news25.html
Our John Carter Film Site
http://www.cartermovie.com

---
*** Tarzan, or at least someone with that name, made an appearance in the June 29, 1935, issue of The New Yorker, in Harold Ross's The Talk of the Town column. He wrote:
"The Lily tulip-Corporation's latest product is the Tarzan Ice Cream Cup (for serving ice cream to kiddies). In order to popularize the product, a Mr. Bergman, planned to rig up a Tarzan Ice Cream Truck, full of animals, with a real Tarzan in leopard skin to tour the country and make speeches about Tarzan cups. It was quite a problem to locate a real Tarzan, Mr. Bergman found one by getting a sturdy giant six feet four, and weighed two hundred-and thirty-five pounds. Everything was set for the tour when Tarzan called Mr. Bergman and told him it was all off. 'Mother won't let me go,' he said."
Tarzan Like Ice Cream (and Other Treats)
http://www.erbzine.com/mag60/6097.html

Off-Site Reference:
Grandoldtoys
---
*** "Tarzan and the Ghost Lion," by Bob Lubbers and Dick Van Buren, began June 29, 1952, in the comics section and ran for 12 Sundays.
Directory to Lubber Sunday and Daily Strips
http://www.erbzine.com/mag48/4855.html
Featured at the ERBzine Comics Section
http://www.ERBzine.com/comics
---
NOTES FROM ERB's BIO TIMELINE
*** 1921: ERB wrote to Mr. Bosley of Universal Film Distributing requesting that at the end of the The Moon Riders serial that serials be replaced with two reel Century Comedies starting July 12. Films shown up to this time accompanying the serial included Reputation with Priscilla Dean ~ The Gilded Dream starring Carmel Myers ~ Rich Girl, Poor Girl ~ A Shocking Night ~ Under Northern Lights? ~ The Secret Gift ~ Frank Mayo films ~ Two Kinds of Love ~ White Youth ~ Fixed By George ~ Puppy Love? ~ The kids set up the chairs for the viewings.
---

*** 1928: June 29 (circa): Ed, the boys and Mr. Rosenberger went on a camping trip into Shasta County taking two roadsters and a trailer. They travelled up the west side of the Sierras, crossed over to Reno and came down on the east side. They were impressed by the scenery and Mt. Shasta, Mt. Whitney and the recently-active volcano Mt. Lassen.
---

*** 1931: Rothmund wrote to United Features again attacking the childish atmosphere of the Sunday pages
*** 1940: John Carter & Giant of Mars by son John Coleman Burroughs sent to Ziff-Davis (Amazing)
*** 1990 June 29 - July 1: ECOF at Binghamton, NY ~ Henry H. Heins (absent) and Bill Ross
ERB Bio Timeline
http://www.ERBzine.com/bio

---
JUNE 30
---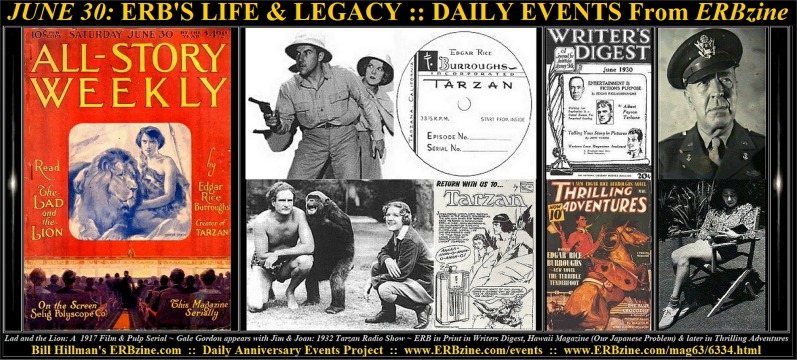 The Lad and the Lion: A 1917 Film & Pulp Serial ~ Gale Gordon appears with Jim and Joan: 1932 Tarzan Radio Show
ERB in Print in Writers Digest, Hawaii Magazine (Our Japanese Problem) and later in Thrilling Adventures.
---
*** It was 1917 and, with the June 30 edition of All-Story Weekly, readers began following the story of "The Lad and the Lion." It was originally novelette-length and was serialized over three weekly issues. The serial appeared in connection with the release of the Selig Polyscope movie of that title, and Modest Stein's cover for the pulp showed the lad and lion on the screen above a theater audience painted by someone else.
If a reader missed the story in 1917, they would have had to wait until 1938 for the first hardback. Readers who did not miss the 1917 serial would still have had to read the 1938 book, because, as Robert B. Zeuschner reports in "Edgar Rice Burroughs: The Bibliography," ERB revised the text and added 21,000 words to the story in the process!
The words he added had mostly to do with a European intrigue thread and increased the number of chapters from 12 to 24. Zeuschner notes that "The end of chapter 12 of the magazine version is the same as the end of chapter 24 in the book." However, for the book, ERB added a 25th chapter, which is very brief.
The Lad and the Lion
http://www.erbzine.com/mag7/0760.html
---
*** ERB continued to write other types of articles for various magazines over the years. The June, 1930, edition of Writer's Digest featured: Entertainment is Fiction's Purpose.
Entertainment is Fiction's Purpose
http://www.erbzine.com/mag0/0057.html
---
*** And, on June 30, 1944, ERB gave his thoughts on what should happen, or not happen, to Japanese living under the jurisdiction of the United States after the war. The article, "Our Japanese Problem," in which ERB took a look at both sides of the issue, appeared in Hawaii Magazine. ERB offered an opinion on both sides of the post-war issue of what, if anything, to do with the Japanese residents of Hawaii and elsewhere. He was quite sympathetic to the Japanese loyalty to the Islands ERB was certain enough of the loyalty of the Japanese Americans to employ a Japanese woman as a housekeeper. In the article, ERB twice mentions "the Tule Lake affair." No more information is given about what exactly he was referring to, but it is assumed it was something ERB thought would be familiar to his readers on Hawaii. Tule Lake was a Northern California internment came for Japanese Americans during World War II. John Martin wrote an article on Tule Lake's connection to Lewis County, Washington, close to where he lives.
Our Japanese Problem article by ERB
http://www.erbzine.com/mag9/0941.html

Off-Site References:
Tule Lake in Wikipedia
John Martin article on Tule Lake
---
*** Actor Gale Gordon passed away June 30, 1995. He played Cecil Clayton in the "Tarzan of the Apes" radio serial and was one of two actors who voiced the character of O'Rourke in "Tarzan and the Fire of Tohr." He went on to have a career as a character actor in numerous radio and television shows, mostly comedies such as "Our Miss Brooks," where he played school principal Osgood Conklin, and some of the many incarnations of Lucille Ball comedies. On radio, he was the first to voice Flash Gordon. Gale Gordon appears often in my Hillman Library of OT Radio Shows. Interestingly, some of the first shows obtained in that library back in the '60s was the Tarzan series that I used to parlay via trading into a collection of about 30,000 shows on tape, ETs, disc and computer hard drive.
Tarzan of the Apes 1932 Radio Show: 77 episodes
http://www.erbzine.com/mag27/2728.html
Tarzan and the Fires of Tohr: All 39 Radio Episodes
http://www.erbzine.com/mag31/3141.html
Off-Site Reference:
Gale Gordon in IMDB
Gale Gordon in OTRcat
---
*** 1919: Ed, owner of Packard Touring Car 1-35 #80524 becomes a member of the Auto Club
*** 1930: Jack enrolled in Pomona College in Claremont.
*** 1930: Correspondence to sell That Damned Dude includes this anecdote found in a letter to Collier's Weekly: "Your telegram of (January 9, 1930) has been lying in the mountains near Cedar City, Utah, for over five months, in the wrecked mail plane of Captain Maurice Graham, who was lost in a heavy blizzard on January 10th. His plane was found a few days ago, but no trace of Graham has been discovered. I have kept the envelope to add to a number of mementos that I have preserved of Captain Graham, with whom I flew to Salt Lake City in February, 1927. It is rather a coincidence that I was about to write you relative to a story on which I am now working. It is a modern Western, located on a dude ranch in Arizona. While it will be finished in a few weeks, it will not be required for book publication necessarily for some time, as I am two years or more ahead of my book publishers. . . . There are a couple of reasons why this story may have value in addition to whatever entertainment qualities are inherent in it. In the first place, my early experience and inclinations were such that I should have written Westerns exclusively. For some time during my youth I worked as a cow puncher; afterward I soldiered in the 7th United States Cavalry in Arizona, and later still I ran a store in a cattle country in Idaho. Further, just at present, my stories and my name are receivng unusually wide publication through the Tarzan illustrated strips that are running in some hundred and ten newspapers in all of the larger cities of the United States; nor ever since I started to write have my books enjoyed a greater sale, which seems to be increasing rather than diminishing." Collier's rejected the story. The story was also rejected by Saturday Evening Post, Liberty, Ladies Home Journal, Blue Book, Argosy (twice), College Humor, Short Stories. Five years later he re-submitted the manuscript to Liberty under the title "The Brass Heart" using the pseudonym John Mann. Liberty rejected it again. The story eventually saw print in Thrilling Adventures in 1940.
Deputy Sheriff of Commanche County (Terrible Tenderfoot)
http://www.erbzine.com/mag7/0777.html
Notes From ERB's Bio Timeline
http://www.erbzine.com/bio


VISIT JUNE WEEK 4 PHOTO ALBUM
www.ERBzine.com/mag63/6334pics.html



BACK TO JUNE WEEK III
www.ERBzine.com/mag63/6333.html



BACK TO MONTHLY EVENTS INTRO and CONTENTS
www.ERBzine.com/events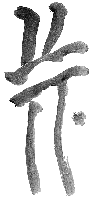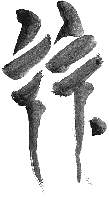 BILL HILLMAN
Visit our thousands of other sites at:
BILL AND SUE-ON HILLMAN ECLECTIC STUDIO
ERB Text, ERB Images and Tarzan® are ©Edgar Rice Burroughs, Inc.- All Rights Reserved.
All Original Work ©1996-2018 by Bill Hillman and/or Contributing Authors/Owners
No part of this web site may be reproduced without permission from the respective owners.