Official Edgar Rice Burroughs Tribute and Weekly Webzine Site
Since 1996 ~ Over 15,000 Webpages in Archive
Volume 6329

ERB'S LIFE and LEGACY :: DAILY EVENTS
A COLLATION OF THE DAILY EVENTS IN ERB-WORLD
FROM THE PAGES OF ERBzine CREATED BY BILL HILLMAN
Collated by John Martin and Bill Hillman
With Web Design, Added Events, Links,
Illustrations and Photo Collages by Bill Hillman
BACK TO DAILY EVENTS INTRO

MAY CONTENTS WEEK THREE
May 15 ~ May 16 ~ May 17 ~ May 18
May 19 ~ May 20 ~ May 21

VISIT THE MAY WEEK III PHOTO ALBUM
http://www.ERBzine.com/mag63/6329pics.html
BACK TO MAY WEEK II
www.ERBzine.com/mag63/6328.html

Click for full-size images
---
MAY 15
---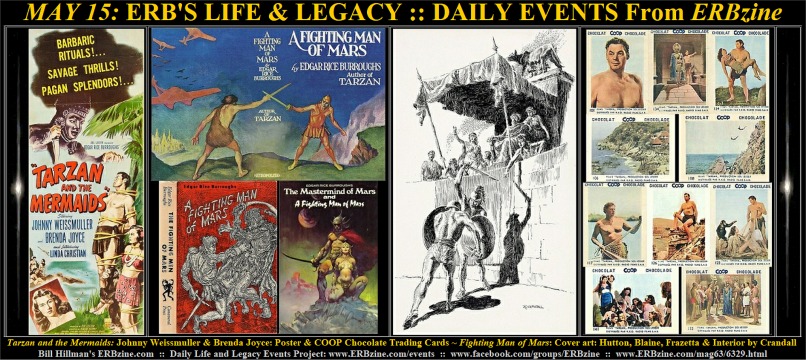 Tarzan and the Mermaids: Johnny Weissmuller & Brenda Joyce: Poster AND COOP Chocolate Trading Cards
Fighting Man of Mars: Cover art: Hutton, Blaine, Frazetta AND Interior by Crandall
---
*** "A Fighting Man of Mars," published this date, May 15, in 1931, ended ERB's brief, four-book association with Metropolitan as publisher of his first editions. The next books would bear ERB's own imprint at the bottom of the spine.
Perhaps it was Hugh Hutton's sub-par wraparound cover for the book that was the last straw. More interesting cover art has been featured in editions from later years: Canaveral ~ Doubleday ~ Charlie Madison's ERBgraphics alternate ~ and a host of paperback releases.
A Fighting Man of Mars: Full ERB C.H.A.S.E.R. coverage
http://www.erbzine.com/mag7/0735.html
A Fighting Man of Mars: Read the entire book in e-Text
http://www.erbzine.com/craft/m7fmm.html

Off-Site Reference
ERBlist Book Summary
---
*** Boy was away at school in England, so it was Johnny "Tarzan" Weissmuller and Brenda "Jane" Joyce dealing with the people of the water in "Tarzan and the Mermaids," released May 15 in 1948.
Tragedy struck during this film, as Weissmuller's stunt double Angel Garcia was killed. After diving from a cliff at Acapulco, he survived the dive but was swept by the surf into the rocks of the cliffs.
Linda Christian played Mara in this film. She also played James Bond's love interest in the Climax TV series early rendition of "Casino Royale."
Tarzan and the Mermaids: ERBzine Silver Screen
http://www.erbzine.com/mag6/0628.html
Tarzan and the Mermaids: Lobby Display
http://www.erbzine.com/mag6/0628a.html
COOP chocolate card set
http://www.erbzine.com/mag31/3143.html
Off-Site Reference:
Mermaids at IMDB
---
*** "The Prisoner of the Cadi" was a short story, running for only 18 days starting May 15 in 1944. Rex Maxon did the drawing and the writing. The title reads "Cadi" but the strip itself has Tarzan battling the "Caid." Tarzan gets bonked on his head a couple of times in this short story.
The Prisoner of the Cadi: 18 Maxon Tarzan Strips
http://www.erbzine.com/mag54/5447.html
---
*** 1921: "Angel's Serenade" a story outline, was sent to the Century Film Corporation in Hollywood. It was rejected. Ed reworked the story in 1936 and three years later expanded it into a 24,000-word story. Its main character, Dick Crode, grows up in the tenement streets of a large city and progresses through early years of petty thievery to become head of a crime syndicate. The title "Angel's Serenade" refers to the song his mother had played on a violin ó a song Crode could never forget. Burroughs had originally conceived the story, in outline form, as the basis for a motion picture with the main role assigned to Lon Chaney. On May 15, 1921, he sent two copies of "Angel's Serenade," described as a "rough draft," to Lewis Jacobs of the Century Film Corporation in Hollywood. A month before, Burroughs had contracted with Jacobs for the production of ten stories, five Tarzan and five non-Tarzan, to be filmed within six years. In offering "Angel's Serenade," Burroughs explained the title:
"If you do not happen to recall Angel's Serenade, I may say that it is one of the beautiful old compositions that has survived the ravages of time and the onslaught of many years of popular songs and modern jazz. It was suggested by Mrs. Burroughs, who says that it makes an especially beautiful violin solo." The story was rejected by Jacobs.
*** 1939: Ed sent a warning letter to a wrestler who was making unauthorized use of the name, Tarzan. Ed later expressed his concern to MGM over the bad publicity surrounding a Wyoming murderer called "Tarzan."
*** 1943: In a letter home to Joan ERB wrote of going to battery dances and problems in getting his stories run in mainland papers -- they were too often bumped by the flood of war news.
ERB Bio Timeline
http://www.ERBzine.com/bio

---
MAY 16
---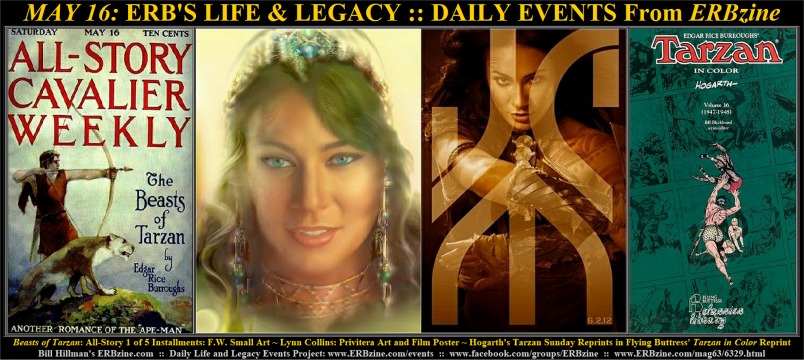 Beasts of Tarzan: All-Story 1 of 5 Installments: F.W. Small Art ~ Lynn Collins: Privitera Art and Film Poster
Hogarth's Tarzan Sunday Reprints in Flying Buttress' Tarzan in Color Reprint

*** If you want pure jungle adventure with good guys, bad guys, and lots of animal action, "The Beasts of Tarzan" has it all. It even has Tarzan fighting a crocodile, something which was in just about every Tarzan movie, but not something that ERB normally dealt with in his books.
The first of five parts of "Beasts" appeared in the All-Story Cavalier Weekly dated May 16, 1914. F. W. Small did the cover with a b/w copy of the cover used as a headpiece for each issue. A. C. McClurg published the first edition on March 4, 1916. It had 336 pages ~ 1st Ed. Print Run: 19,500 ~ Total: 502,200 ~ Heins word count: 70,000. J. Allen St. John did the wrap-around dust jacket.
The Beasts of Tarzan: ERBzine C.H.A.S.E.R. Coverage
http://www.erbzine.com/mag4/0485.html
http://www.erbzine.com/mag4/0486.html
---
*** Viola Lynn Collins reached the 41st year of her life on May 16, having been born that date in 1977 in Houston, Texas. Lynn has had a successful film career and played many fantasy roles, including Dejah Thoris in "John Carter" and Kayla Silverfox in X-Men movies.
" The most extraordinary thing about this film to me is that it is such a milestone in science fiction. The books, and even the script, work with ideas that are so far reaching and the visual is so huge. The book itís based on was published in 1917. Edgar Rice Burroughs wrote the series of books and my grandfatherís generation grew up with these stories. Many films have taken themes from them and even visual ideas. Itís been sort of the backbone of a very archetypal story that I think we really want to see in films. Itís so amazing to be part of a project that is so broad and that is creating a world that no one has ever seen before." ~ Lynn Collins
Conversation with Lynn Collins about "John Carter"
http://www.cartermovie.com/news/collins.html
ERBzine's John Carter (of Mars) film site:
http://www.cartermovie.com
Lynn Collins as Dejah (art by Paul Privitera)

Off-Site References:
Collins in Wikipedia
---
*** "Tarzan on the Island of Mua-Ao," by Burne Hogarth and Rob Thompson, began May 16, 1948, and ran for almost a year, concluding May 1, 1949. The story has also been reprinted in "Tarzan in Color" Vols. 16-17 "Tarzan and the Lost Tribes."
Hogarth in the Tarzan in Color Series
http://www.erbzine.com/mag45/4564.html
Off-Site Reference
Lost Tribes: Amazon Purchase
---

*** "The High Priestess of Zimba" ran for 74 days, starting in daily newspapers May 16, 1952. It was the work of Bob Lubbers and Dick Van Buren.
High Priestess of Zimba: 74 Tarzan strips by Lubbers
http://www.erbzine.com/mag53/5306.html
Bob Lubbers Strips in ERBzine
http://www.erbzine.com/mag48/4855.html
The ERB Comics Files
http://www.ERBzine.com/comics
---
*** 1927: Ed became a member of the Association Against the Prohibition Amendment, Inc., Washington, D.C. Ed had numerous problems and experienced many different attitudes toward alcohol over the years.
ERB Bio Timeline
http://www.ERBzine.com/bio

Off-Site Reference
Prohibition Amendment in Wikipedia

---
MAY 17
---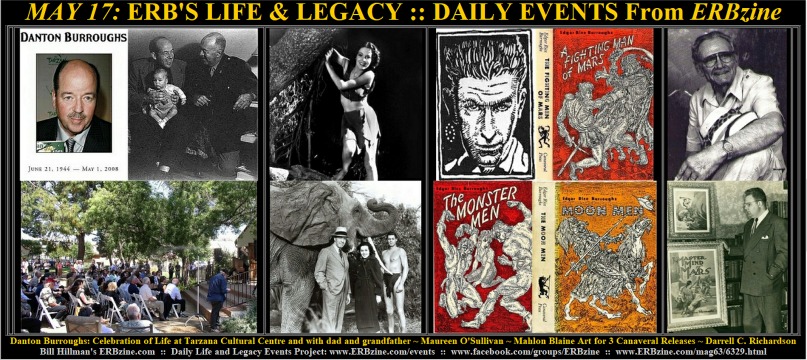 Danton Burroughs: Celebration of Life at Tarzana Cultural Centre and with dad and grandfather
Maureen O'Sullivan ~ Mahlon Blaine Art for three Canaveral Releases ~ Darrell C. Richardson
---
*** Danton Burroughs' memorial service was on May 17, 2008. The Burroughs Family and ERB, Inc. requested that I fly down from Canada to give the Eulogy at The Celebration of Danton's Life held at the Tarzana Cultural Centre on Ventura Boulevard. My tribute to Dan started with:
"I've worked closely with Danton for many years to promote and preserve the Burroughs Family legacy. I flew from Canada to be with you to remember and to celebrate the life of this remarkable man. Dantonís world was full of wonder Ė he found such joy in living . . . and giving. His excitement, enthusiasm . . . his kindness . . . And his dream touched so many people. . . . . . look around you.
"The times I spent with Dan have given me a sense of how multi-faceted this man was. I'd like to share some memories of events that showed these many sides of Danton Burroughs:" The remainder of my tribute is featured at ERBzine 2189.
The following links begin a series of several pages of remembrance of Danton, along with articles on the service.
Danton Burroughs Memorial in Tarzana
http://www.erbzine.com/dantonburroughs
Hillman Eulogy given at the Memorial Service
http://www.ERBzine.com/mag21/2189.html
My Friend Dan
http://www.erbzine.com/mag21/2180.html
---
*** Canaveral put three ERB stories back into circulation in hardback form this date, May 17, in 1962, and tinkered with the titles of two of them in the process. For "The Moon Maid," they retitled it "The Moon Men." That was a lot better than titling it "The Men in the Moon." For "A Fighting Man of Mars," Canaveral worded the title correctly on the DJ front, but referred to it as "The Fighting Men of Mars" on the spine. The Moon title change was no doubt intentional; the Fighting Man/Men alteration was a goof.
The actual Fighting Man book uses a unique typeface on the DJ spine. The same typeface is used on the spine of the book itself, only there it is rendered correctly. One can imagine the typesetter taking a quick glance at the book's spine before setting the type for the dj. He (or she) obviously had a faulty memory and didn't doublecheck the spelling!
"The Monster Men" was the third book and its title made it through the Canaveral process just fine.
It was a big day for Mahlon Blaine as all three of the books were illustrated by him.
---

Mahlon Blaine (1894-1969).The artist's best work walked the razor's edge between the grotesque and beautiful. Though few facts of his life are verifiable, insomuch as anyone can gather, he lived in that no manís land as well. A childhood accident left the artist blind in his left eye, an accident that contributes to the flattened perspective that marks his work. A well-documented chronic injury to his left arm possibly was the result of a WWI war wound. The plate in his head of which he boasted was probably fictional. Few photographs of the artist survive, but there are numerous self-portraits.
In 2,000 drawings published between 1917 and 1967, illustrator Mahlon Blaine revealed his subjects Ė from Demons to Deities, Maylasians to Martians, Biology to Biography, Lasciviousness to Literature. He painted, but he is best known for pen and ink Ė an uncanny artistic master of Erotica and Exotica who lived for decades in cheap hotels and borrowed rooms, acutely observing humanity while wielding pens and brushes dipped in wit and wry.
With everything from children's classic tales to cookbooks to treatises on witchcraft to mainstream fiction to literature (including Steinbeck, Hemingway and Voltaire), the publishing industry relied on Mahlon Blaine often. His best book productions feature twenty to a hundred illustrations each, and he garnered several awards for design and illustration. His personal life is obfuscated by a combination of time's grime and his own desire for privacy and outlandish cover stories.
His last significant contract would come in 1962, when the early fantasy and science fiction publishing house Canaveral Press hired Blaine to illustrate their reprints of the works of Edgar Rice Burroughs. By the '60s, Blaine was in fact elderly and hough Blaine's illustrations for the Burroughs's line are far from his most technically proficient, the series represented a turning away from the heroic, literal-minded approach to book illustration. The images were widely disparaged at the time but they introduced a generation of artists and cartoonists to Blaineís genius. His influence on the underground cartoonists of the 1970s is powerful, with visionaries like Robert Crumb and Art Spiegelman referencing his work. Mahlon Blaine died in poverty and obscurity in 1969.
Canaveral covers and dates at:
http://www.erbzine.com/mag28/2805.html
Mahlon Blaine art for Canaveral
http://www.erbzine.com/blaine/
Blaine Bio and Bibliographic Info
http://www.erbzine.com/mag8/0880.html
---
*** 1911: Maureen Paula "Jane" O'Sullivan was born this date in Boyle, County Roscommon, Ireland.
As a child, O'Sullivan attended the Convent of the Sacred Heart at Roehampton, in London, where future screen legend Vivien Leigh was a classmate. At age 18, O'Sullivan was discovered at a horse show in Dublin by Hollywood director Frank Borzage. She moved to Hollywood and started her film career dubiously with the 1930 musical flop Song O' My Heart co-starring John McCormack. Her first real success came in 1931 with Will Rogers in A Connecticut Yankee.
Legendary producer Irving Thalberg tapped her for what became her most famous role, as Jane in the Tarzan series, opposite Olympic swimmer-turned-actor Johnny Weissmuller.
Her career, spanning 64 years and over 60 films, included Francis Ford Coppola's Peggy Sue Got Married (1986) and Hannah and her Sisters (1986) with her daughter Mia, and directed by Mia's then-boyfriend Woody Allen. O'Sullivan died in 1998 at the age of 87.
Maureen O'Sullivan Tribute: 12 ERBzine pages
http://www.erbzine.com/mag45/4569.html

Off-Site Reference:
O'Sullivan in IMDB
---
*** 1918: Well-known and longtime ERB fan Darrell C. Richardson, "The Old Tiger," was born May 17, 1918. He was a Baptist minister and author of 40-plus books and had a collection of ERB which was legendary. All the major science fiction and fantasy writers are represented, mostly in first editions. The collection contained over 30,000 books, 20,000 pulp magazines and hundreds of related items, in over twenty languages. Almost every major artist in the history of science fiction is represented in the author's collection of original art. One of his special interests over the years was the artist J. Allen St. John.
He wrote and edited books, magazine stories, articles, and newspaper columns. His travels and expeditions, archaeological digs, research and adventures carried him into over forty countries of the globe.
"The Old Tiger" died in Memphis, Tennessee on September 19, 2006.
Darrell Richardson
http://www.erbzine.com/darrell/
---
*** "Tarzan in the City of Gold," began May 17, 1936, and continued for 51 Sundays. Hal Foster and Don Garden did the artistry and writing. also reprinted in "Tarzan in Color," Vols. 5-7, and House of Greystoke's "Tarzan Folio #6."
Hal Foster Tarzan Contents:
1931 and 1932 1933 and 1934 and 1935
---
"Tarzan and the Lion Emperor" 1957, 68 days. By John Celardo and Dick Van Buren.
Tarzan and the Lion Emperor: Read all 68 Strips
http://www.erbzine.com/mag43/4302.html
---
*** 1888: A news story in Chicago papers reports how the Burroughs family took in James M. Johnson, an ailing Confederate negro after the war. He was given an education, made practically one of the family and eventually became a prosperous businessman in Chicago.
ERB Bio Timeline
http://www.ERBzine.com/bio

---
MAY 18
---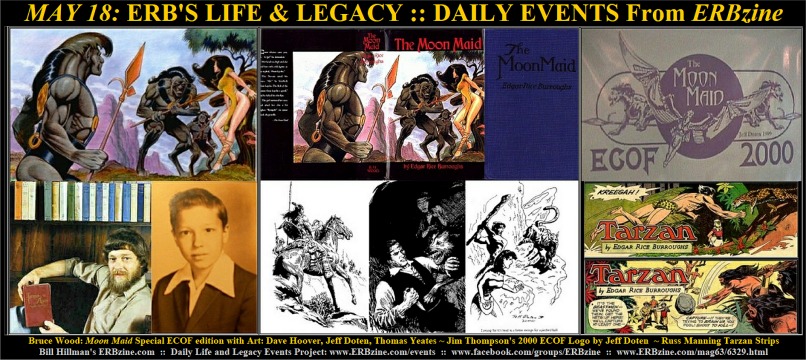 Bruce Wood: Moon Maid Special ECOF edition with Art: Dave Hoover, Jeff Doten, Thomas Yeates
Jim Thompson's 2000 ECOF Logo by Jeff Doten ~ Russ Manning Tarzan Strips
---
*** 2000: An ultra-limited edition of ERB's "The Moon Maid" was distributed at the 2000 ECOF, which began on May 18 of that year. Jim Thompson hosted the event in Clarksville, Tennessee, and the highlight for those in attendance was the acquisition of a copy of this rarity, a project headed up by Bruce Wood, with assistance from people whose names read like a Who's Who of ERB fandom. Featured Artists: Dave Hoover: Dust Jacket ~ Jeff Doten: frontispiece for Moon Maid ~Tom Yeates: frontispiece for Moon Men and Red Hawk.
Biographical information on the late Mr. Wood plus a picture of and information about his Moon Maid book project are featured in ERBzine.:
Bruce Wood or "Abner Perry" (1947.09.21-2009.11.10) touched many people through his Internet presence as well as during the many ERB conventions -- Dum-Dums and ECOFs -- which he attended over the years. Bruce was an excellent conversationalist and displayed a wide-ranging knowledge which made him a very popular figure. His interest in ERB collecting and fandom dated back almost 50 years. He shared some of the memories of this life-long passion with us in my ERBzine feature: ERB Fans on the Web,
I was honoured to receive his special edition of The Moon Maid a few years back. This rare book exemplifies so many of his talents: bookbinding, bibliographic knowledge, collating and computer skills. Another of his skills was the creation of repro dust jackets, which he lovingly and meticulously constructed. Most have been featured at ERBzine over the years. Many ERB collections around the world have been enhanced with this handiwork, as well as from his talents in book repair.
Another of his major interests and skills was cartography. "Abner" had designed ERB-related maps for fanzines going back to the '60s. In recent years he put this knowledge to good use in the creation of his online ERB Atlas. Unfortunately this Website went black following Bruce's death. Luckily Bruce had sent me a back-up disc of the project and I've been able to reformat and upload most of the maps from that defunct site in tribute. Bruce's passing was a great loss -- he is sadly missed.
Bruce Wood and his Moon Maid Edition
http://www.erbzine.com/mag30/3039.html
The Moon Maid: Art ~ History ~ e-Text ~ Lost Text ~ Etc.
http://www.erbzine.com/mag7/0767.html
---
*** ECOF 2000 Clarksville, TN hosted by Jim Thompson; "The aim of ECOF ~ The ERB Chain of Friendship ~ is to bring into contact with each other all the devotees of EDGAR RICE BURROUGHS so that each one of us is known to all others. ... to bond ourselves together with the one common denominator, EDGAR RICE BURROUGHS, who holds us all, link by golden link, within the ERB CHAIN OF FRIENDSHIP." ~ Frank Paul Shonfeld ~ 1980
ERBzine coverage in 20 illustrated Webpages starting at:
http://www.erbzine.com/mag3/0371.html
ECOF 2000: Sue-On Hillman's Dejah's Diary ~ 4 pages
http://www.erbzine.com/mag3/0385.html
---
*** 1969: Russ Manning's Tarzan and the Safari To Opar ran from May 18 to Nov. 30 in 1969 and is presented by Bill Hillman beginning at this ERBzine link:
Tarzan and the Safari To Opar series of Manning strips
http://www.erbzine.com/mag17/1763.html
---
*** 1932: "The golf course (El Caballero) is open and we are losing only about three grand per month. But everyone is having a good time." ~ ERB
*** 1937: Ed suffers angina pains after the over-exertion of rowing and playing tennis with his young family.
ERB Bio Timeline
http://www.ERBzine.com/bio

---
MAY 19
---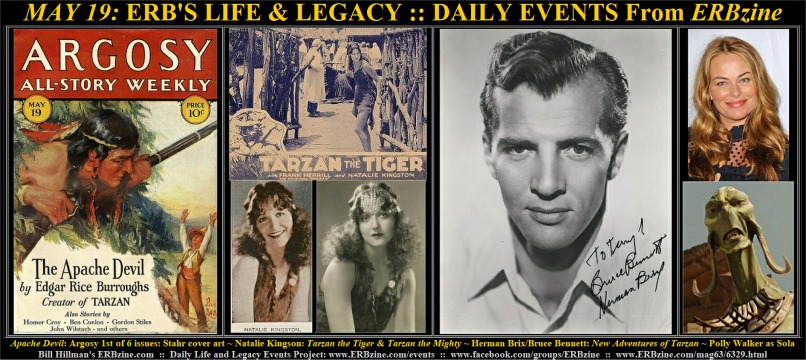 Apache Devil: Argosy 1st of 6 issues: Stahr cover art ~ Natalie Kingson: Tarzan the Tiger and Tarzan the Mighty
Herman Brix/Bruce Bennett: New Adventures of Tarzan ~ Polly Walker as Sola in John Carter of Mars
---
*** 1928: "Apache Devil," the serial, began in the issue of Argosy All-Story Weekly dated May 19, 1928. It ran for six installments, with a first-issue cover by Paul Stahr and illustrations for each interior by Morrison: Burroughs drew upon his personal experiences with the U.S. 7th Cavalry for inspiration and background when writing his Apache novels. He also cited many reference books and periodicals.
Apache Devil: ERBzine C.H.A.S.E.R. Biblio
http://www.erbzine.com/mag7/0775.html
Apache Devil: ERB Pulp Bibliography
http://www.erbzine.com/mag2/0226.html
Apache Devil: Read the e-Text Edition
http://www.erbzine.com/craft/apache.html
---
*** 1905: Jane was exactly one year older than Tarzan, both having been born on the same day -- May 19.
The Jane to whom we refer was the one played by Natalie Kingston in "Tarzan the Tiger." She also played a gal named Mary Trevor opposite Frank Merrill in "Tarzan the Mighty." She was born in 1905. She died in West Hills, California, aged 85, in 1991.
Natalie Kingston: Bio and Photo Gallery
http://www.erbzine.com/mag41/4174.html
Tarzan the Mighty: Film and Novelization
http://www.erbzine.com/mag5/0592.html
Tarzan the Tiger: Film and Photo Galleries
http://www.erbzine.com/mag5/0593.html
---

*** 1906:The Tarzan born on this date was Herman Brix, Herman starred as Tarzan in "The New Adventures of Tarzan" serial and its shorter movie version, "Tarzan and the Green Goddess." He didn't play two different Tarzan movie characters as Natalie did, but he did act in other films under two different names, later changing his moniker to Bruce Bennett.
According to Wikipedia, Natalie was the granddaughter of Gen. Mariano Vallejo. for whom the California city of her birth is named. Wikipedia says: "The Washington Post quoted Gabe Essoe's passage from his book Tarzan of the Movies: 'Brix's portrayal was the only time between the silents and the 1960s that Tarzan was accurately depicted in films...'"
Herman Brix in The New Adventures of Tarzan
Tarzan and the Green Goddess
http://www.erbzine.com/mag5/0584.html

Off-Site References:
Kingston in Wikipedia
Bennet in Wikipedia
---

*** 1966: Polly Walker, who played the mean Thark woman Sarkoja in Disney's "John Carter," was born May 19, 1966, in Warrington, Cheshire, England. She previously had roles in movies such as "Clash of the Titans," when she played Cassiopeia and, since "John Carter," has had on-going roles in several television mini series.
John Carter 2012 Film
http://www.cartermovie.com

Off-Site References
Walker in IMDB

---

*** 1898: Teddy Roosevelt rejected Ed's offer for enlistment in the Rough Riders preparing to drive the Spanish out of Cuba. "I wish I could take you in, but I am afraid that the chances of our bing over enlisted forbid my bringing a man from such a distance." It is rumoured that Ed received a commission in the Nicaraguan army but his family would not let him go.
*** 1942: Oahu: Singapore or Wake? Ed's article was printed in Honolulu Adviser. Ed expresses his impatience with the limited participation of the BMTC and civilian apathy.
*** 1939: ERB wrote a letter to Joan at 5714 Bantage, Studio City on this date, California. Joan had enquired about some missing Tarzan Clan music by Schermer. Ed thought it might be in a cabinet at Emma's Bel-Air place along with some photos he would like back.
*** 1944: May 19-24: A 1,787-word horror story, "Uncle Bill," was written. George Luther? of Hawaii Magazine dropped by to invite Ed to friends' home.
ERB Bio Timeline
http://www.ERBzine.com/bio

---
MAY 20
---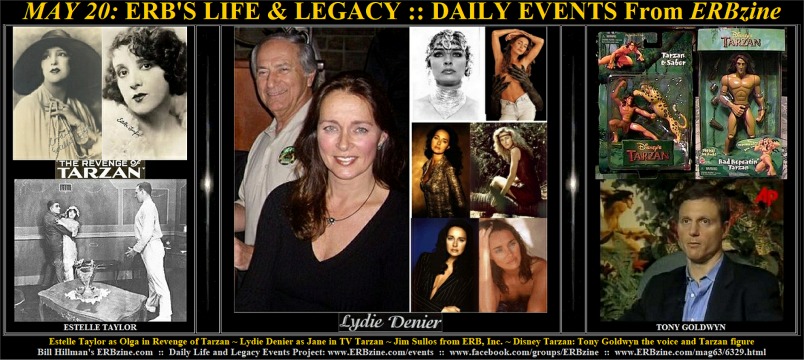 Estelle Taylor as Olga in Revenge of Tarzan ~ Lydie Denier as Jane in TV Tarzan
Jim Sullos from ERB, Inc. ~ Disney Tarzan: Tony Goldwyn the voice and Tarzan figure
---
*** 1960: Hollywood has gone a long way from Africa to cast Tarzan, and a long way from Paris to cast Olga de Coude.
Tony Goldwyn, who was the voice of Disney's Tarzan, was born May 20, 1960, in Los Angeles, back when some of us were in high school!
Estelle Taylor, who played Olga in "The Revenge of Tarzan," was born in 1894 in Wilmington, Delaware. She died two years before Goldwyn was born.
But, in case you're wondering, the movie makers did once cast the role of Olga with a genuine French native, Lydie Denier, who was born April 15, 1964, in Saint-Nazaire, Loire-Atlantique, France. She, of course, also played Tarzan's true love, Jane, in the 1991-1995 syndicated series opposite Wolf Larson's Tarzan.
Walt Disney Tarzan Review
http://www.erbzine.com/mag0/0099.html
Special Tarzan Screening on the Disney Lot
http://www.erbzine.com/mag1/0181.html
Revenge of Tarzan: Estelle Taylor Bio and Photos
http://www.erbzine.com/mag5/0588.html
Lydie Denier Autobiography and Photos in ERBzine
http://www.erbzine.com/mag33/3338.html

Off-Site References:
Goldwyn at IMDB
Taylor at IMDB
Denier at IMDB
---
*** 1924: In a letter to the LA Times Ed registered a protest against the "ruthless and inconsiderate methods of the government Biological Department in placing of poison in the hills without proper posting or other notification." As a result of this procedure the Burroughs family's beloved Airedale, "Tarzan," had died.
"Tarzan" Died!: LA Times Letter from ERB
http://www.erbzine.com/mag13/1365.html#Tarzan
---
*** 1942: In a home to Joan Ed sent photos of his friends taken by Hully: Cecile Burnside is the wife of a submarine commander, Jean Armor's husband is a lieutenant on a cruiser, "Duke" Willey, a BMTC major, is manager of the Remington-Rand branch on the island.
Hully's photos of Ed from Hawaii
http://www.erbzine.com/mag41/4139.html
ERB's Letter to Joan
http://www.erbzine.com/mag4/0440.html
ERB Bio Timeline
http://www.ERBzine.com/bio

---
MAY 21
---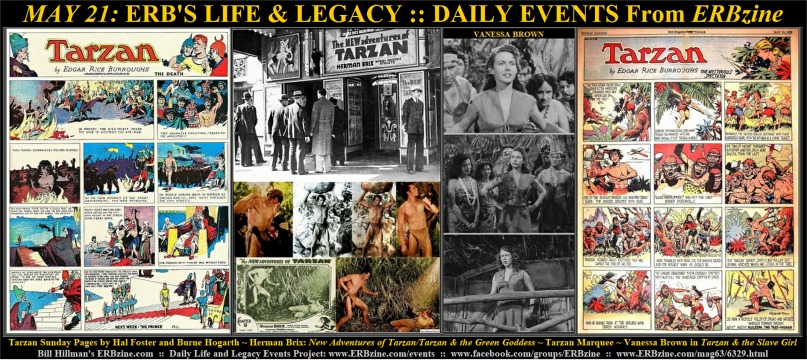 Tarzan Sunday Pages by Hal Foster and Burne Hogarth ~ Herman Brix: New Adventures of Tarzan/
Tarzan and the Green Goddess ~ Tarzan Marquee ~ Vanessa Brown in Tarzan and the Slave Girl
---
*** 1935: The release date for "The New Adventures of Tarzan" serial is listed as May 21, 1935, but an early poster near the top of an ERBzine page shows an earlier release date of April 29. There were a number of release dates for this film which was released as a serial and then edited into a feature film and released later as: Tarzan and the Green Goddess. Tarzan films were major money earners in the world market in the thirties, with as much as 75 per cent of the total gross from foreign box office. In fact, in many African and Asian countries their premiers were black-tie affairs. In 1934, to cash in on this popularity and the considerable profits to be made in production and distribution, Burroughs teamed with George W. Stout, Ben S. Cohen and Lee Ashton Dearholt to form a film company to promote ERB's works.
Their first Tarzan film was based on an original story outlined by Burroughs called Tarzan and the Green Goddess. For the first time ERB had some control over how his hero would be portrayed on the screen. The actor he selected to play Tarzan was American Olympic athlete Herman Brix who had been MGM's second choice for Tarzan the Apeman. Brix, as well as being a silver medal winner in the 1928 Olympics, was a former University of Washington football and track star. Looking to achieve authenticity, Dearholt suggested that the film be done on location in Guatemala.
The New Adventures of Tarzan: 9 Pages
http://www.erbzine.com/mag5/0584.html

Off-Site Reference:
New Adventures in IMDB
---

*** 1999: Elsewhere on the Hollywood scene, Jane of "Tarzan and the Slave Girl," Vanessa Brown, died this date in 1999 in Woodland Hills, Calif.
Tarzan and the Slave Girl: ERBzine Silver Screen
http://www.erbzine.com/mag19/1950.html
Tarzan and the Slave Girl: Lobby Display
http://www.erbzine.com/mag19/1950a.html
ERB Heroines of Hearth ~ Stage ~ Screen ~ Radio
http://www.erbzine.com/mag6/0608.html

Off-Site Reference:
Brown in IMD
---
*** "The Egyptian Saga III" by Hal Foster and George Carlin, began May 21 in 1933 and ran for 12 Sundays. The May 21 episode was called:
The Death: Episode #1 of Egyptian Saga III
http://www.erbzine.com/mag59/5922.html
Story Summarized by Bill Hillman starts at:
http://www.erbzine.com/mag8/0811.html
The Egyptian Saga reprinted in a 64-page comic
http://www.erbzine.com/mag43/4396.html
---
*** "Tarzan and the Amazons" started May 21 in 1939, with Strip #1: The Mysterious Spectator by Burne Hogarth and Don Garden doing the honors, and ran for 10 Sundays.
The Mysterious Spectator
http://www.erbzine.com/mag66/tzbh19390521.jpg
ERB Comics Archive
http://www.erbzine.com/comics
---
*** 1919: Ed Burroughs wrote to the Jewish Congress stating that he was glad to lend his approval to their cause and wished them all the success in their battle against persecution. The discrimination they face had always aroused his disgust. In fact, he had always been perplexed by the intolerance and inhumanity that all religions -- Jews, Christians, Muslims, Pagans, etc. exhibit toward each other. He finds Clause 6 unclear, however, as he always believed that every alien should be expected to read and write in the language of the country to which they are migrating.
ERB Bio Timeline
http://www.ERBzine.com/bio
ERB and Religion
http://www.erbzine.com/mag14/1434.html

BACK TO MAY WEEK II
www.ERBzine.com/mag63/6328.html

VISIT MAY WEEK 3 PHOTO ALBUM
www.ERBzine.com/mag63/6329pics.html
BACK TO DAILY EVENTS INTRO and CONTENTS
www.ERBzine.com/events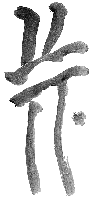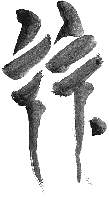 BILL HILLMAN
Visit our thousands of other sites at:
BILL AND SUE-ON HILLMAN ECLECTIC STUDIO
ERB Text, ERB Images and Tarzan® are ©Edgar Rice Burroughs, Inc.- All Rights Reserved.
All Original Work ©1996-2018 by Bill Hillman and/or Contributing Authors/Owners
No part of this web site may be reproduced without permission from the respective owners.