Official Edgar Rice Burroughs Tribute and Weekly Webzine Site
Since 1996 ~ Over 15,000 Web Pages
Issue 0584
Presents
An ERB C.H.A.S.E.R. Online Encyclopedia Feature
and another in the
ERBzine of the Silver Screen Series
THE NEW ADVENTURES OF TARZAN (1935)
TARZAN and THE GREEN GODDESS
VIEW THE WHOLE MOVIE HERE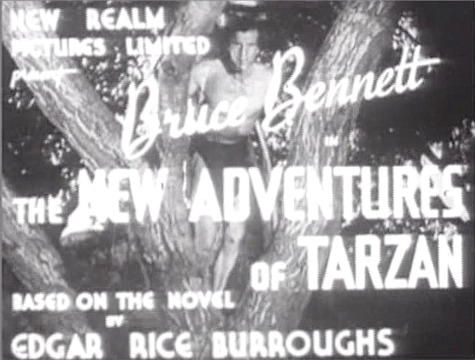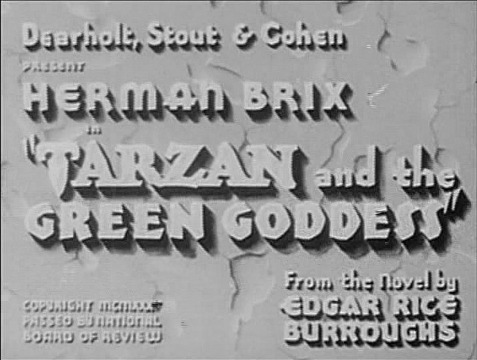 NEW ADVENTURES OF TARZAN
PRODUCTION NOTES

Tarzan films were major money earners in the world market in the thirties, with as much as 75 per cent of the total gross from foreign boxoffice. In fact, in many African and Asian countries their premiers were black-tie affairs. In 1934, to cash in on this popularity and the considerable profits to be made in production and distribution, Burroughs teamed with George W. Stout, Ben S. Cohen and Lee Ashton Dearholt to form a film company to promote ERB's works. Their first Tarzan film was based on an original story outlined by Burroughs called Tarzan and the Green Goddess. For the first time ERB had some control over how his hero would be portrayed on the screen. The actor he selected to play Tarzan was American Olympic athlete Herman Brix who had been MGM's second choice for Tarzan the Apeman. Brix, as well as being a silver medal winner in the 1928 Olympics, was a former University of Washington football and track star.

Looking to achieve authenticity, Dearholt suggested that the film be done on location in Guatemala. The venture ran into many problems, before, during and after production: financing, storms, accidents, diseases, rugged remote locations, technical difficulties, poor reviews, the Dearholt and Burroughs divorces, and MGM's campaign to keep the film from getting good bookings. Despite all the difficulties, Dearholt brought back a considerable amount of footage which was later released in a variety of serials and features, and, thanks to foreign markets, the venture eventually made money.
Production

Burroughs-Tarzan Enterprises
In 1929, a would-be movie entrepreneur, Ashton Dearholt, arranged an introduction to Edgar Rice Burroughs, using his wife's friendship with Burroughs' daughter. Dearholt had held several jobs within the film industry during the 1920s, and had even produced, directed and starred in a brief series of western films. As of 1929, he was familiar with Burroughs' work and wanted to get the rights to one of Burroughs' several singleton novels and film it in conjunction with RKO-Pathé. Burroughs, long dissatisfied with Hollywood's treatment of his Tarzan character, refused but took a liking to Dearholt personally and they became friends.

MGM's contract with Burroughs was for just two pictures and this had run out with Tarzan and His Mate. In the Summer of 1934, Dearholt and two business associates, George W, Stout, Bennett S. Cohen approached Burroughs to make an independent film company, Burroughs-Tarzan Enterprises, through which to promote Burroughs' works. Burroughs agreed as he would be allowed to select the actor playing Tarzan and receive a much larger amount of money than in his previous contracts (MGM had made several million with their two Tarzan films despite only paying Burroughs about $75,000). Burroughs quickly outlined a new story, Tarzan and the Green Goddess, based on which Charles Royal and Edwin Blum then wrote the screenplay, renaming it Tarzan in Guatemala in the process. Guatemala had been selected based on a suggestion by Dearholt. He had visited the country in 1933 as a trouble-shooter for RKO-Radio Pictures. He felt that he knew enough about the country, had the contacts there including within the government, and could make the film far more economically than in Hollywood. The company had no studio and so decided to film on location instead. Therefore, on November 28, 1934, Dearholt "led an expedition" of 29 cast and crew, with several tons of freight, aboard the liner Seattle to begin filming in highland ruins in Guatemala. The expedition almost never got started, however, as Dearholt's personal credit would not support the loan he estimated as needed to make the picture. Burroughs had to reluctantly involve himself as co-signatory and the loan was approved the day before the party was due to sail.


S.S. Seattle

Ashton Dearholt Expedition
Far from being the low-cost, exotically-located, adventurous film-making experience Dearholt anticipated, this decision caused unusual production problems. When the cast and crew arrived in Guatemala there was no harbour so they had to be shuttled ashore by boats across three miles of sea during a storm. Once there, they were held up by customs and security officers of President Ubico, whose assistance Dearholt had counted on and even had him written into the serial's final episode as a character (whether he intended to ask the Presidente to play himself is not known). Once ashore, the party was housed in a hotel with no in-room plumbing, having to use outhouses "stacked" alongside each story of the structure.

It then took 18 hours to travel the 100 miles to Chichicastenango, on a plateau 8000 miles above sea level. The production then moved on to Lake Atitlan, Tical, and to Guatemala City. Guatemala had no motion picture industry of its own, so everywhere they went, the company had to carry tons of equipment brought with them from the States, including an enormous sound truck which was not designed for the winding, dirt mountain highways which made up most of the country's transit infrastructure. Tropical diseases abounded and apparently every cast member was stricken at least once and laid up, unable to work, for weeks. The local wildlife was also a problem. According to an interview with Herman Brix in the Christian Science Monitor (1999), "there was only a single sharpshooter up in the trees to keep the croc away from me." The local climate became another problem when the production was affected by tropical storms and some film was damaged by the humid environment of the very real jungle. The sound quality of the finished film was so poor that an apology was actually included in the credits.

The loan obtained in California was used up before the picture was finished, and the expedition evidently had to waste additional time hiding from local creditors and the police in the jungles before returning to California, where the picture was finished. Nevertheless, the film was finished in four months, with the title changed again to The New Adventures of Tarzan.

Problems and the rivalry with MGM
Whilst in Guatemala in 1933 troubleshooting for RKO, Ashton Dearholt met and fell in love with the young swimmer who would become the serial's lead actress, Ula Holt. He brought her back to Los Angeles with him and installed her in the Dearholt household. Dearholt's wife, Florence Gilbert, left with their two children, and eventually filed for divorce shortly before the expedition's departure. Whilst filming, Edgar Rice Burroughs divorced his wife Emma Hulbert and married Florence Gilbert, 30-years his junior, on 4 April 1935, after which they escaped to Hawaii for their honeymoon. He would write in his personal diary that he had fallen in love with Florence when she accompanied Dearholt to his first meeting with Burroughs in 1929. Burroughs decided that he needed immediate money and that Burroughs-Tarzan Enterprises was not going to make it for him after all. He re-optioned MGM's contract for a third Weissmuller film and approved the sale of three of Sol Lesser's remaining four options to MGM, who agreed to make a large "authorisation payment" to Burroughs. (Sol Lesser had acquired options for five Tarzan productions from a defunct company, the first of which he used to make Tarzan the Fearless in direct competition with MGM's films.) MGM paid Lesser $500,000 for his options and paid Burroughs $25–50,000 per film.

The serial was preparing for release at this time and MGM campaigned to undermine their rival. They threatened that theaters showing the serial would not be allowed to show the third MGM film when it was released. Almost every big theater chose to wait for the MGM film and did not show the New Adventures of Tarzan serial. Burroughs-Tarzan Enterprises tried to make its serial more attractive by releasing it in several different formats. The first was as a 75-minute (seven-reel) feature film, the second was as a shorter feature film followed by seven individual serial chapters, and the third option was as a complete twelve-chapter serial. This plan was not successful. New Adventures of Tarzan was the last Tarzan serial ever produced.

Content
This serial features an alternate version of the famous Tarzan yell. This version is variously described as a rising pitch "Man-gan-i" or "Tar-man-gan-i" sound. The "Tar-man-gan-i" version originally comes from the 1932 Tarzan radio serial starring James Pierce. In the ape language used in the Burroughs' Tarzan novels, "Tarmangani" means "Great White Ape". MGM's Johnny Weismuller films, featuring the now standard yell, had been in production for some time when this serial was created, starting with Tarzan the Ape Man (1932).The original version of the plot involved munitions runners and government agents, focussing more on the super-explosive formula hidden in the idol. This was re-written during production but some elements remain, such as the otherwise nonsensical final chapter name "Operator No. 17? (Ula Vale was originally written as a government agent using "Operator No. 17? as her codename but this entire plot line was dropped from the final script).

Stunts & Effects
Brix performed his own stunts in the serial, including swinging from real jungle vines, but this presented further problems. Despite testing a vine for safety beforehand with a 200 lb weight, when Brix tried himself, with a run up, he over shot the pool of water he was meant to land in. "I still have the scars from that fall," he told the Monitor. The scene where Brix bursts the ropes binding him is real.

Critical reception
Reviews in the United States were poor and there were suspicions that this was due to MGM's influence over the trade media. Variety, for example, said that "limpid direction makes it fall way short of even the limited possibilities of an independent production." The Motion Picture Herald, however, described is as "spectacular and authentic." The film was more of a success outside the United States, possibly due to MGM's lack of control in those markets. According to Gabe Essoe, "on the strength of the one picture alone, Brix became twentieth in popularity in France and Britain." Despite its problems, the film was successful enough that a second feature film, Tarzan and the Green Goddess, was released in 1938. It was based on footage from the last ten chapters of the serial, with some minor additions, and follows much the same plot. William C. Cline believes The New Adventures of Tarzan to be the best of the Tarzan serials.
ASHTON DEARHOLT

---

Born April 4, 1894 in Milwaukee, Wisconsin, USA
Died April 27, 1942 in Los Angeles, California, USA
Birth Name Lee Ashton Dearholt Jr.

Ashton Dearholt worked with Universal on a number of melodramas during the 1910s but usually worked outside the studio system, producing a series of "Pinto Pete" westerns during the 1920s in which he starred himself. He occasionally acted under the name Richard Holt.

Dearholt is best known to contemporary popular culture, however, through his association with author Edgar Rice Burroughs, whom he met and befriended in 1929. At that time Dearholt was married to Florence Gilbert, a former stand-in for Mary Pickford and occasional heroine of some of his own pictures before their marriage. Burroughs, who was having marital difficulties and self-doubts at the time, found himself attracted to Mrs. Dearholt at their first meeting, when Dearholt, accompanied by Florence, visited Burroughs at his home to discuss making films of some of Burroughs non-Tarzan novels and stories. Burroughs refused, being already thoroughly discouraged with Hollywood's treatment of his "ape-man" character, but developed a social relationship with Ashton and Florence.

Then in 1934, while on a business trip for RKO to Guatemala, Dearholt met and fell in love with a young American competitive swimmer, returned home with her to California and installed her in the Dearholt household. Florence Dearholt soon left and sought support from Burroughs, whom she eventually married after divorcing Dearholt. Florence took custody of her and Ashton's two children.

In 1935 Dearholt finally convinced Burroughs to allow him to make a Tarzan film. The trick was turned by Dearholt's offering, with two partners, to set up a single corporation under which Burroughs could subsume and personally manage his various Tarzan franchises, in exchange for allowing Dearholt to make a Tarzan serial, set in Guatemala, with his new love appearing in the lead female role under the screen name of Ula Holt (it's unclear if this was her real name, or a name contrived by Dearholt--who, as already noted, used the name Holt for himself at times and, additionally, adopted another screen name for himself, Don Costello, for use in his role as chief villain in the planned Tarzan film). It is unclear when (or if) he ever actually married Ms. Holt and, if so, how long the marriage lasted.

Contrary to popular legend, Burroughs had little actual involvement in the making of the new Tarzan picture, which he viewed as Dearholt's project. Dearholt selected Bruce Bennett--then known as Herman Brix--to play Tarzan: Burroughs only briefly met Bennett after his contract was signed, to pose for some publicity pictures. Dearholt commissioned a script, hired a crew and arranged transit to Guatemala. Burroughs entered the picture only briefly to co-sign a bank loan for production costs when the necessary credit was denied Dearholt on the basis of some of his rather unfavorable past bank experiences. The party eventually set sail for Guatemala in November of 1934 and returned in March of 1935 with the film only partly completed, due to cost overruns and numerous physical mishaps in the Guatemalan jungles under Dearholt's leadership. The script was almost entirely rewritten at least once: the pressbook, printed by Dearholt's partners back in California from the original screen treatment, barely resembles the finished film in its descriptions of the plot line. The serial was completed within two months of the party's return to California and faced release under threat from MGM to deny rentals on any of their future Tarzan pictures with Johnny Weissmuller to any theaters that played the Dearholt film. Although the film was fairly popular abroad, it was unable to recoup its costs and none of the cast--including the star--or crew were ever paid their salaries. Within a year, Burroughs-Tarzan Enterprises went bankrupt and Dearholt never made or appeared in another motion picture. However, he and Burroughs remained close friends until his (Dearholt's) sudden death in 1942.

---


Spouses
Ula Holt (July 1935 - ?)
Florence Gilbert (1926 - 29 March 1935) ( divorced) ( 2 children)
Helene Rosson (14 June 1916 - 11 May 1925) ( divorced)
Trivia
Founded Ashton Dearholt Productions, formed in 1924.
Co-founder (w/Edgar Rice Burroughs) of Burroughs-Tarzan Enterprises, a film production company, in 1934.
Salary
Gone with the Wind (1939)

~ Ref: IMDB
NEW ADVENTURES OF TARZAN
TRIVIA


TRIVIA: Brix won a silver medal in the 1928 Olympics for the shot put.
TRIVIA: Brix's Tarzan was one of the few times that ERB's apeman was accurately depicted in films: a mannered, cultured, soft-spoken, well-educated English lord who spoke several languages.
TRIVIA: Tarzan's chimp companion was called Nkima -- not Cheetah, the name used in the MGM films. Nikima was the name of the apeman's monkey sidekick in ERB's later Tarzan novels.
TRIVIA: The chimpanzee, Jiggs, was paid $2000 for the role of Nkima.
TRIVIA: "Adventures" was offered to distributors in a variety of formats: a complete seven-reel, 75-minute feature ~ a seven-reel feature followed by 11 episodes ~ a 12-chapter serial ~ and later, as Tarzan and the Green Goddess, a 72-minute feature film edited from the last 10 chapters of the serial with added new footage.
TRIVIA: This is Holt's only known film role. She was discovered by, and soon married, director Dearholt. In the original version, the character was to be revealed as government agent Operator 17, but this was changed during production.
TRIVIA: During the film's production, Dearholt married the film's lead lady, Ula Holt and ERB divorced his first wife to marry Dearholt's ex, Florence.
TRIVIA: The unique Brix jungle yell was "Mmmmmmmm-annnn-gannnn-eeeeee."
TRIVIA: Brix did his own stunts, resulting in mulitple injuries and tropical fever and chronic exhaustion.
TRIVIA: Haile Selassie, Emperor of Ethiopia, personally requested prints of many of the Tarzan movies for private showings.
TRIVIA: Brix/Bennett's wife was: Jeanette Cannon (January 1933 - ?). They had two children.
TRIVIA: D'Arnot's plane is a two-seater, but both Bouchart and David Brent are supposed to have been with him in it on the flight when it crashed.
TRIVIA: This film supposedly takes place in Guatemala, Central America, yet footage of African animals such as rhinos and giraffes is shown.
TRIVIA: Douglas Fairbanks, Jr. had suggested Herman Brix to MGM to play Tarzan, but Brix broke his shoulder filming Touchdown for Paramount. Because his recovery period was uncertain, MGM cast Johnny Weissmuller in Tarzan the Ape Man instead.
TRIVIA: Sources disagree about Burroughs' involvement with Brix's casting. Some stated that Brix was hand picked for this serial by Burroughs, while others state that it was Dearholt who cast Brix and he only briefly met Burroughs afterwards for a handshake and some photographs.
TRIVIA: Brix was never paid for his work on this film.
TRIVIA: According to the pressbook, Dearholt had to take the role of P.B. Raglan, a mercenary villain sent to steal the valuable Green Goddess, at the last minute after the original actor, Don Castello, became ill. In reality, "Don Costello" was merely a pseudonym chosen by Dearholt, who had previously starred himself in several silent films of his own making, and planned all along to do so here.
TRIVIA: Joan Lowell (1902-1967), film actress, author, and film director starred in Adventure Girl (1934), a film loosely based on her fictionalized autobiography, Cradle of the Deep. Lowell, a self-styled adventuress, retold her "true" adventures in the jungles of Guatemala. The native, Princess Maya, in the film was played by Ula Holt. An interesting scene in the film was a very long wrestling match between the two women. A year later Ula co-starred with Herman Brix in The New Adventures of Tarzan (1935). Some of the film's jungle footage was actually edited into the Tarzan film. Read the Film Synopsis in ERBzine 0585

IMDB TRIVIA: The original story for this serial featured munitions runners, Alice and Gordon mistaken for spies and pursued by the Guatemalan police, and Ula Vale as a mysterious figure revealed in the final episode to be an undercover government operative. The script was rewritten during production and these elements dropped. However, the original treatment was used for the pressbook synopsis and the original chapter titles were retained despite lacking relevance any longer (e.g. "Operative 17" as the final chapter). Virtually all Tarzan/serial film "historians" continue to refer to the pressbook synopsis, also, instead of watching the serial, and thus fail to accurately present the story that was finally filmed. Caveat emptor.

IMDB TRIVIA: When this movie was released, Ashton Dearholt claimed he had to take the place of an actor named Don Costello, who had been hired to play the evil Raglan, after he had come down with a tropical illness. Not true - Don Costello did not exist, he was just a name Dearholt invented.

IMDB TRIVIA: Urban legend has it that the sound quality was so poor that the actors had to be re-dubbed for theatrical release or TV. In fact, the only re-dubbing done was on the 59-minute British reissue print of the feature version, for reasons unknown. A disclaimer was inserted into the credits of this version claiming that the soundtrack had been affected by "variable atmospheric conditions" in 1935 Guatemala, where parts of the serial were shot. In fact, the bad soundtrack was the result of the cheap equipment used on the British re-dub - (see The New Adventures of Tarzan (1935/II)). No such disclaimer ever appeared on the serial release prints' original titles, and the originally-recorded 1935 soundtrack is being heard there as well as in the second feature version Tarzan and the Green Goddess (1938).

BURROUGHS-TARZAN ENTERPRISES
Excerpts from ERBzine 0287: ERB FILM PRODUCER
and
The ERB Online Biography
1934
ERB, Dearholt and two other investors, formed Burroughs-Tarzan Enterprises to produce Tarzan pictures. Their office was located at 8476 Sunset Boulevard. Plans were made to film a Tarzan movie in Guatemala. In October, Olympic athlete Herman Brix was chosen to play Tarzan in Guatemala. Ed refused to write a movie tie-in novel, preferring to leave the promotion to a special Whitman Big Little Book, a Tarzan Clan campaign, and Signal Oil. Dearholt ran into casting problems but the Tarzan film expedition sailed for Guatemala in November. In December, the Dearholt expedition, aboard the liner Seattle, landed on the Guatemala coast in a storm which caused incredible difficulties. The December 11 issue of Variety reported that the Guatemala Tarzan film would be called Tarzan and the Green Goddess. Titles later considered included The New Adventures of Tarzan and Tarzan's 1935 Adventures.

1935
On January 7 ERB was reported to be enthusiastic over the early Guatemala rushes, on what was to be a 12-part Tarzan serial but on March 5 he was disappointed over the uncut film from Guatemala.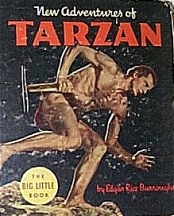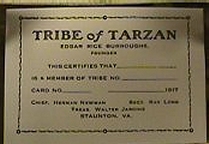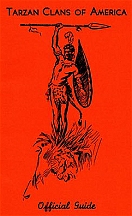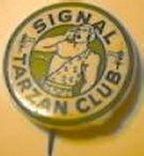 MOVIE REVIEWS AND SYNOPSES

Much of the following informationon this page has been adapted from the Internet Movie Data Base Site

1. New Adventures of Tarzan (I) (1935 - 265m (12 episodes) - b/w)
...aka Tarzan and the Lost Goddess (1935)
...aka Tarzan in Guatemala (1935)

PLOT: The Green Goddess is a totem worshiped by the primitive natives of a lost city deep in the
jungles of Guatemala. It contains both a fortune in jewels and an ancient formula for a super-explosive
which could threaten world safety in the wrong hands. From Africa, Major Martling and Ula Vale
launch separate expeditions to find the Goddess and place its secrets in safe hands. Ula's fiance died in
an earlier attempt at the same goal and she has taken up the trail in his memory against the advice of
her lawyer, Hiram Powers, who covets the Goddess for himself and sends Raglan, a mercenary, to get
it for him. Aboard their ship to Guatemala is Lord Greystoke - aka Tarzan - on a mission to find his old
friend, d'Arnot, whose plane crashed in the vicinity of the same lost city. Tarzan joins forces with
Martling, and they reach the lost city in time to save d'Arnot, but lose the Goddess to Raglan. Ula joins
Tarzan and Martling in pursuit of Raglan, whence they must contend with the perils of the jungle,
Raglan's henchmen, and a party of primitives from the lost city sent to retrieve the Goddess...

Summary written by Rich Wannen

TRIVIA: The original story for this serial featured munitions runners, Alice and Gordon mistaken for
spies and pursued by the Guatemalan police, and Ula Vale as a mysterious figure revealed in the final
episode to be an undercover government operative. The script was rewritten during production and
these elements dropped. However, the original treatment was used for the pressbook synopsis and the
original chapter titles were retained despite lacking relevance any longer (e.g. "Operative 17" as the
final chapter). Virtually all Tarzan/serial film "historians" continue to refer to the pressbook synopsis,
also, instead of watching the serial, and thus fail to accurately present the story that was finally filmed.
Caveat emptor. Tarzan's chimpanzee is called "Nkima" (not "Cheetah"), true to the Edgar Rice
Burroughs books. D'Arnot's plane is a two-seater, but both Bouchart and David Brent are supposed to
have been with him in it on the flight when it crashed. While the primary release version had a
65-minute first episode, there has also been cut a version with only a 43-minute chapter one, which is
quite commonly the print being sold on video today.

by Rich Wannen

2. New Adventures of Tarzan (II) (1935 - 70M - B/W)
...aka Tarzan's New Adventure (1935) (USA: TV title)

PLOT: Most prior screen incarnations of Edgar Rice Burroughs' legendary jungle hero were not even
close to Burroughs' character. The Tarzan of the books grew up in the jungle, yes, but returned to
England and was educated at Oxford before returning again to his jungle home. He was nobility even,
the son of Lord and Lady Greystoke, and inherited his father's title. He was an intelligent, literate,
culturally-aware man. Yet the cinematic version of Tarzan, up to that time, was an illiterate animal-like
hermit whose first contact with civilization was his soon-to-be-girlfriend Jane. Burroughs was incensed
at this portrayal, and that motivated him to produce his own Tarzan production more in line with his
original vision of the character, namely a serial entitled The New Adventures of Tarzan. The serial
was later edited into two (short) feature films released in the following years. The first film bore the
same title, and the second was called Tarzan and the Green Goddess.

This first half of the 1935 serial relates several characters' efforts to find the green goddess, a valuable
artifact in the possession of a tribe of natives in Guatemala. Burroughs and the filmmakers that worked
with him on this weren't quite successful in bringing the real Tarzan to cinematic life. It's easy to see
how The New Adventures of Tarzan's story could be a gripping, rip-roaring novel -- but it's
somehow unengaging as a film. The plot is solid, but it's hard to tell, so thoroughly is it camouflaged by
deplorable acting and poor quality sound. (The opening credits even contain an apology for the bad
soundtrack.) It's partially redeemed by some gripping suspense scenes and intriguing visuals. But as a
whole, it's uninvolving and forgettable.

The Green Goddess is a totem worshiped by the primitive natives of a lost city deep in the
jungles of Guatemala, which contains both a fortune in jewels and an ancient formula for a
super-explosive which could threaten the world in the wrong hands. From Africa, Major Martling
launches an expedition to find the Goddess and place its secret in safe hands. So does Ula Vale, whose
fiance died attempting a similar expe- dition, despite the warnings of her lawyer Hiram Powers, who
recretly wants the Goddess' contents for himself and has dispatched Raglan, a mercenary, to get it for
him. Aboard ship to Guatemala, they meet Lord Greystoke - aka Tarzan - on his way to the same
locale to find his old friend d'Arnot, whose plane reportedly crashed near the lost city. On reaching
Guatemala, Tarzan, the Martling party and Ula learn of Raglan's devilish mission and that he has a
good head start on them...

Summary written by Rich Wannen

ALTERNATE VERSION: At some unknown point this feature was edited of about 10 minutes,
apparently in the UK by New Realm Pictures, which reissued it. Especially removed was an extended
action sequence on board ship to Guatemala in which Tarzan foils an attempt by a Raglan thug to pick
Martling's pocket for an important telegram. Inserted in the revised print were closeups of a hand
successfully making the pick, then dissolve to the hand passing the document to another, with the next
cut being to Raglan reading the paper (he eventually gets it in the original. At some point the feature
was redubbed in spots. The most notable change is that d'Arnot calls the native white queen Kia-kia
instead of Queen Maya, which she is distinctly called in the serial. This print also carries a disclaimer
that "variable atmospheric conditions" in Guatemala, where much of the footage was shot, loused up
the sound-track. It is unknown if this disclaimer also appeared on earlier prints of the feature, but it
does not occur in the serial print itself where the same material is used.

At-A-Glance Film Review by Rich Wannen

3. Tarzan and the Green Goddess (1938 - 72m - b/w)

REVIEW: This is the second of two films edited from the 1935 serial, The New Adventures of
Tarzan, the first bearing the same name. Herman Brix (also known as Bruce Bennett) plays the lead
role, portraying him as the intelligent, literate English Lord he was in the books. Not surprisingly, this is
very much like the first film -- a decent if confusing plot, terrible acting, rousing action, and an
unbearable soundtrack. It's less innovative than the first film, however, and the sped-up fight scenes
aren't as thrilling as they were at the time. Brix's Tarzan yell remains the most disconcerting of them
all.

At-A-Glance Film Review

PLOT: At his English manor, Lord Greystoke - aka Tarzan - recounts his recent adventures in
Guatemala. He had been there assisting Major Martling and Ula Vale in their quest for the Green
Goddess, a totem worshipped by a primitive jungle tribe inside of which was hidden a formula for a
super-explosive. They had successfully wrestled this totem from the natives and were heading back to
Livingston when they were attacked by Raglan, a thug sent to steal the Green Goddess and its formula
for Hiram Powers' personal use, and the Goddess is seized from them. On the trail of Raglan, they had
to deal with his henchmen and also a party of the primitives, sent by the High Priest to retrieve the
Goddess. With the Goddess still in Raglan's hands, they were seized by the natives and Tarzan locked
in a small cell with a loosely-tethered lion, Ula in an adjacent cell under guard from a hideous jungle
hag, and Martling being forced to watch his bumbling valet, George, being tortured by the natives with
the assistance of a nameless expatriate white scientist who had joined forces with the primitives...

Summary written by Rich Wannen

REVIEW: This was a truly dreadful film. Although it was allegedly set in Guatemala, one of the first
shots was of a rhino, followed by lions, and giraffes at a watering hole. Bruce Bennett did not have the
physique to carry off the role of Tarzan, which did make it more believable when he kept getting
knocked unconscious. His yell reminded me more of a fire siren going off. The plot set up the
obligatory crocodile wrestling match, and then did not follow through. About the only redeeming feature
was Ula, the Jane substitute. She was a strong, independent character who participated and didn't just
faint at the first sign of danger. At several points, she was the one who rescued Tarzan, rather than the
other way around.

A viewer's critique





HERMAN BRIX aka BRUCE BENNETT
Herman Brix aka Bruce Bennett Mini Bio from IMDB by Ed Stephan

Birth name: Herman Brix
Birth: 19 May 1906, Tacoma, Washington, USA
Herman Brix was a star shot-putter in the 1928 Olympics. After nearly getting the lead in MGM's Tarzan the Ape Man (1932), he was picked by Edgar Rice Burroughs for his own production of New Adventures of Tarzan, The (1935/I), the only one between the silents and the 1960s to present the character accurately, as a sophisticated, polyglot English nobleman. Metro blocked "Adventures" out of most theaters, but it was very popular in the foreign markets, resulting in the Tarzan and the Green Goddess (1938) sequel made essentially of reworked footage from the earlier movie. After "Adventures" he made a number of serials for Republic, including a Tarzan-like Kioga in Hawk of the Wilderness (1938). After this he dropped out for a few years, took acting lessons, and changed his name to Bruce Bennett, dropping his Tarzan and athlete connections. He made many movies after that, gaining fame as a leading man in many Warners products. In 1960 he retired from movie making and went into business, becoming sales manager of a multimillion dollar vending machine company. In 1967 he returned to acting in TV guest appearances.


---


Bruce Bennett Bio Excerpt from Leonard Maltin's Movie Encyclopedia:

Actor. (b. May 19, 1906, Tacoma, Wash., as Herman Brix.) Was there an athlete in the 1932 Olympics who didn't play Tarzan? Champion shot-putter Herman Brix, a tall, superbly muscled youth with ruggedly handsome features and a low growl of a voice, was handpicked by the Ape Man's creator, Edgar Rice Burroughs, to star in the 1935 Burroughs-financed serial, The New Adventures of Tarzan following in the footsteps of fellow Olympic stars Johnny Weissmuller and Buster Crabbe. (He'd previously played bits in such films as 1934's Riptide and Student Tour. The Brix vehicle, shot on location in the wilds of Guatemala, was more faithful to Burroughs' character than the Weissmuller films, but its chances were sabotaged by MGM-dashing Brix's hopes for stardom. He toiled in other serials-including Shadow of Chinatown (1936), Hawk of the Wilderness, The Lone Ranger, The Fighting Devil Dogs (all 1938), and Daredevils of the Red Circle (1939)-and a series of cheap adventure flicks for producer Sam Katzman before signing with Columbia in 1940. Trying to leave his athletic reputation behind, he changed his name to Bruce Bennett, and learned his chosen craft from the ground up, apprenticing in bit parts in Three Stooges shorts, B Westerns, and low-budget crime films, even starring in some, such as The Secret Seven (1940) and Underground Agent (1942). As the years passed, Bennett got better and so did the pictures: The Man With Nine Lives, Before I Hang (both 1940), The More the Merrier and Sahara (both 1943). Bennett got his best breaks at Warner Bros. (though mainly in meaty supporting roles) in such films as Mildred Pierce (1945), A Stolen Life (1946), The Man I Love (1947, a decent leading role), Nora Prentiss, Dark Passage (both 1947), Treasure of the Sierra Madre (1948, playing the ill-fated American who attempts to join Humphrey Bogart's expedition for gold), Silver River (1948), and Task Force (1949), among others. Angels in the Outfield (1951), Sudden Fear (1952), Dream Wife (1953), Strategic Air Command (1955), and Love Me Tender (1956) showed an aging Bennett in a variety of character parts. By the time he made the ultra-cheap genre films The Alligator People (1959) and The Fiend of Dope Island (1961), though, he recognized that he'd come full circle and, except for an occasional TV appearance (and a role in the legendary, unreleased Deadhead Miles made in 1972), retired from acting.

---

CURIOUS MERCHANDISING DEPARTMENT
THE NEW ADVENTURES OF TARZAN with Herman Brix as Tarzan
12 INDIVIDUAL VIDEOS FROM VIDEOZONE INC. NY. USA ©2000
Each chapter on a separate tape with a different Tarzan actor photo on each cover.
TZ-01 THE NEW ADVENTURE Lex Barker
TZ-O2 CROSSED TRAILS Jock Mahoney
TZ-03 DEVIL'S NOOSE Herman Brix
TZ-04 RIVER PERILS Denny Miller
TZ-05 UNSEEN HANDS Herman Brix
TZ-06 FATAL FANGS Gordon Scott
TZ-07 FLAMING WATERS Buster Crabbe
TZ-08 ANGRY GODS Lex Barker
TZ-09 DOOM'S BRINK Denny Miller
TZ-10 SECRET SIGNALS Buster Crabbe
TZ-11 DEATH'S FIREWORKS Herman Brix
TZ-12 OPERATOR 17 Denny Miller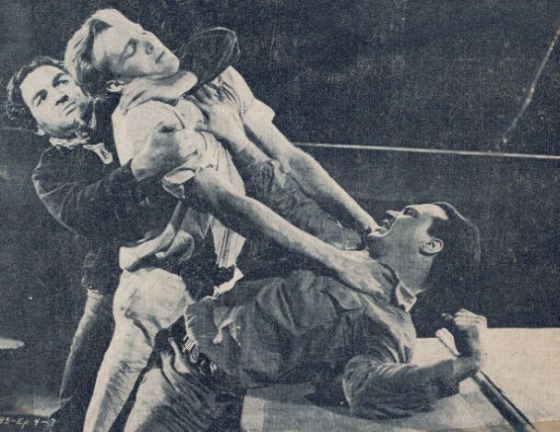 Herman Brix (Bruce Bennett) with Ashton Dearholt and Lewis Sargent in The New Adventures of Tarzan (1935)

---
HERMAN BRIX IN COLOUR
Thanks to Rob Donkers for the Excellent Colourizations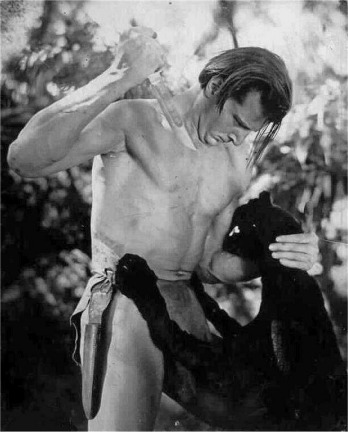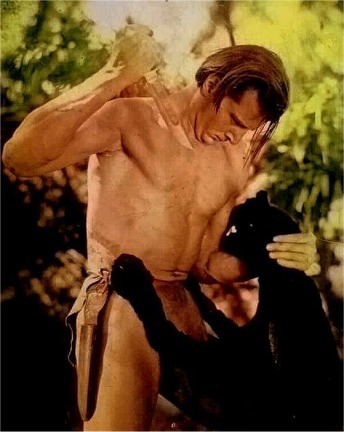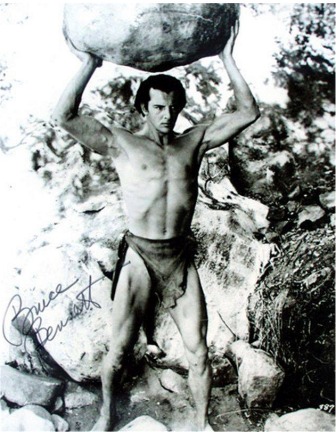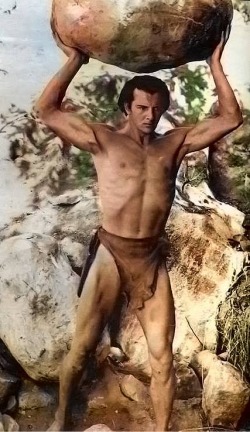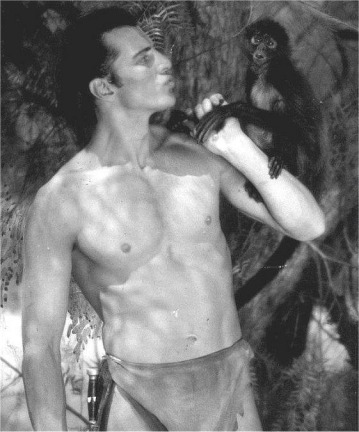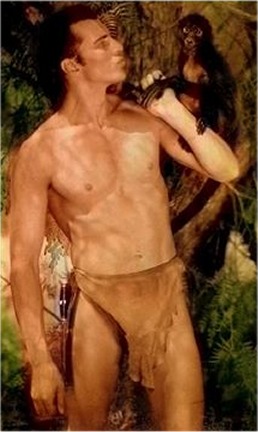 Click for full sizes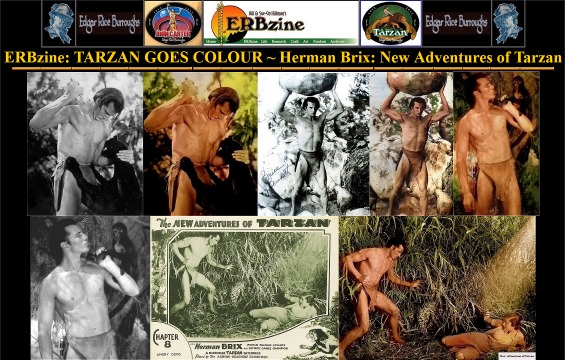 Thanks to Rob Donkers for the Excellent Colourizations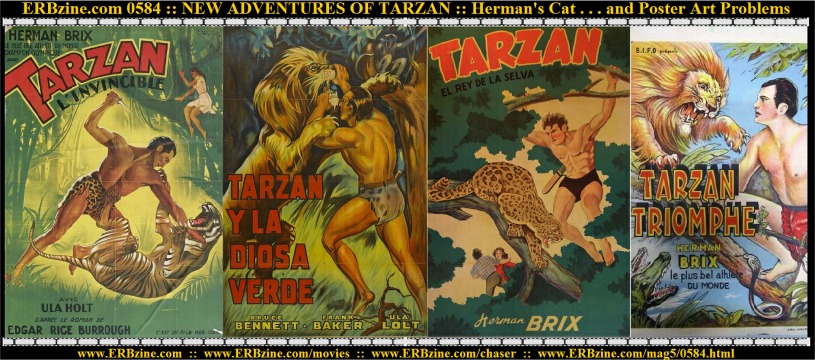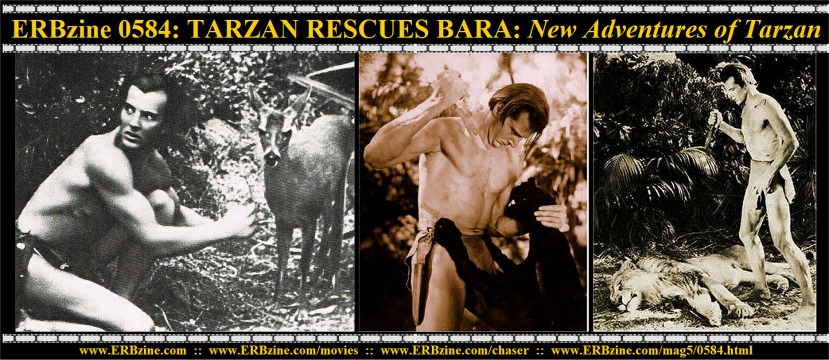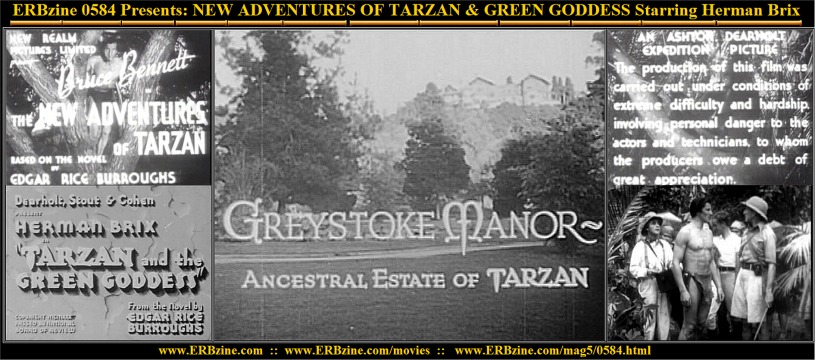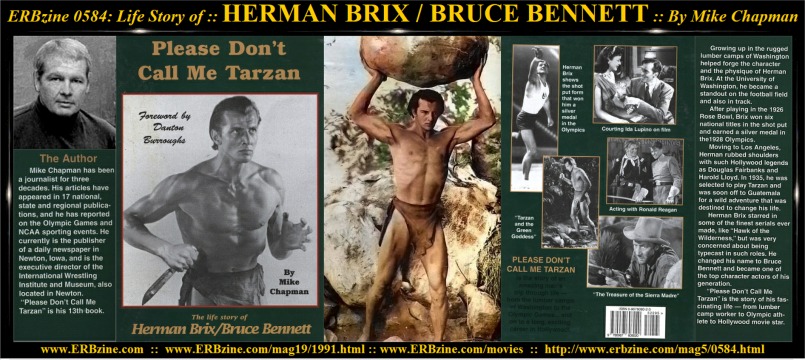 THE NEW ADVENTURES OF TARZAN

MOVIE COMPENDIUM
ERBzine SILVER SCREEN SERIES

Part 1: ERBzine 0584
Posters, Production Notes, Reviews, Bios, Photos

Part 2: ERBzine 0585
Ads, Stills, Press Book, Summary, Credits, Links

Part 3: ERBzine 0586
Lobby Cards, Ads & Synopses Episodes 1-6

Part 4: ERBzine 0587
Lobby Cards, Ads & Synopses Episodes 6-12

Part 5: ERBzine 0587a
Lobby Card Display I

Part 6: ERBzine 0587b
Lobby Card Display II

Part 7: ERBzine 0587c
Merchandise

Part 8: ERBzine 0587d
Lobby Card Display III

Part 9: ERBzine 5042
Trading Cards

Part 10: ERBzine 7472
Lobby Card Display IV




Volume 0584
The Fantastic Worlds of Edgar Rice Burroughs
Companion Sites Created by Bill Hillman
| | | | |
| --- | --- | --- | --- |
| Tarzan.com | ERBzine.com | DantonBurroughs.com | Tarzan.org |
| BurroughsBibliophiles.com | JohnColemanBurroughs.com | Tarzan.com/tarzine | JohnCarterOfMars.ca |
| www.ERBzine.com/edgarriceburroughs | Weekly Webzine | Weekly Webzine | Pellucidar.org |
| John Carter Film | ERB, Inc. Corporate Site | ERB Centennial | tarzana.ca |


BILL HILLMAN
Visit our thousands of other sites at:
BILL AND SUE-ON HILLMAN ECLECTIC STUDIO
ERB Text, ERB Images and Tarzan® are ©Edgar Rice Burroughs, Inc.- All Rights Reserved.
All Original Work ©1996-2023 by Bill Hillman and/or Contributing Authors/Owners
No part of this web site may be reproduced without permission from the respective owners.