Official Edgar Rice Burroughs Tribute and Weekly Webzine Site
Since 1996 ~ Over 15,000 Webpages in Archive
Volume 6325

JOHN MARTIN'S
ANNIVERSARIES OF ERB'S LIFE & LEGACY
A COLLATION OF THE DAILY EVENTS IN ERB-WORLD
FROM THE PAGES OF THE HILLMANS' ERBzine
Web Design with added links, illustrations and photo collages by Bill Hillman

APRIL CONTENTS
WEEK 3
Apr 15 ~ Apr 16 ~ Apr 17 ~ Apr 18 ~ Apr 19 ~ Apr 20 ~ Apr 21

VISIT APRIL WEEK 3 PHOTO ALBUM
www.ERBzine.com/mag63/6325pics.html
BACK TO APRIL WEEK II
www.ERBzine.com/mag63/6324.html

Click for full-size images
---
APRIL 15
---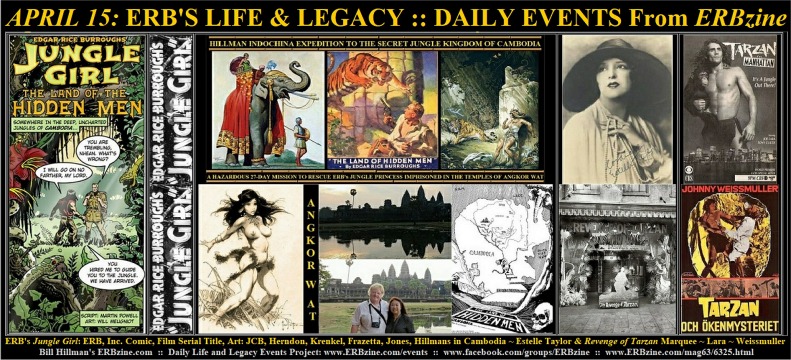 *** The first edition of "Jungle Girl" was published by ERB inc. on this date, April 15, 1932. The pulp version, published by Blue Book magazine, had been titled "The Land of Hidden Men" and that title was used for the Ace paperback edition published in 1963. ERB's original title for the work, however, was "The Dancing Girl of the Leper King," and some regret the fact that title has never been used!
Jungle Girl: C.H.A.S.E.R. Online Bibliography
Covers, Interior art, Pulps, Publishing history, Comics, Features, Links
http://www.erbzine.com/mag7/0776.html
Jungle Girl: Read the full book in eText
http://www.erbzine.com/craft/jg.html
Jungle Girl: Maxon's art in newspaper serializations
http://www.erbzine.com/mag37/3728.html
Hillmans in search of Angkor Wat and Jungle Girl
http://www.ERBzine.com/mag56/5699.html
Jungle Girl: ERB, Inc. comic version by Powell, Meugniot and Poliwko
http://www.edgarriceburroughs.com/comics
Jungle Girl: Film Serial in 15 Chapters
http://www.erbzine.com/mag5/0549.html

Off-Site References:
Jungle Girl summary
Madison Jungle Girl variant DJ

---

*** "Jungle Girl" was published by ERB inc. on this date, April 15, 1932. A memorable character was Lodivarmin, the mushroom-gobbling king, and we all know about the magic trick that hero Gordon King managed to pull off with those mushrooms! The story was titled "The Land of Hidden Men" when it was reprinted in 1963 with an exotic Krenkel cover that far surpassed the original of Fou-tan riding a decorated elephant. ERB's working title was "The Dancing Girl of the Leper King." Maybe some day someone will reprint it with that title.
Those who didn't want to watch a Tarzan movie that night could have chosen "A Man Called Hawk" on ABC or "Golden Girls" on NBC. "Cops" was on the independent channel. The TV Guide descriptive paragraph said, "Johnny Weissmuller enjoyed 'Tarzan's New York Adventure' (1942), and now Joe Lara is 'Tarzan in Manhattan,' where the Lord of the Jungle uncovers a plot to monkey with simian intelligence."
Tarzan's New York Adventure
http://www.erbzine.com/mag6/0622.html
Tarzan in Manhattan and other ERB movies:
http://www.erbzine.com/mag28/2873.html

Off-Site References:
IMDB
Short TV Promo on Youtube

---

*** Income Tax Day was a day for Tarzan movies. The Swedish debut of "Tarzan's Desert Mystery" was April 15, 1944, about three and a half months after it had been released in the U.S.
Tarzan's Desert Mystery: ERBzine coverage:
http://www.erbzine.com/mag6/0624.html

Off-Site Reference
IMDB

---

*** Estelle Taylor died April 15 in 1958. She had been Olga de Coude in "The Revenge of Tarzan."
The Revenge of Tarzan
http://www.erbzine.com/mag5/0588.html

Off-Site Reference
Estelle Taylor films: IMDB

---
APRIL 16
---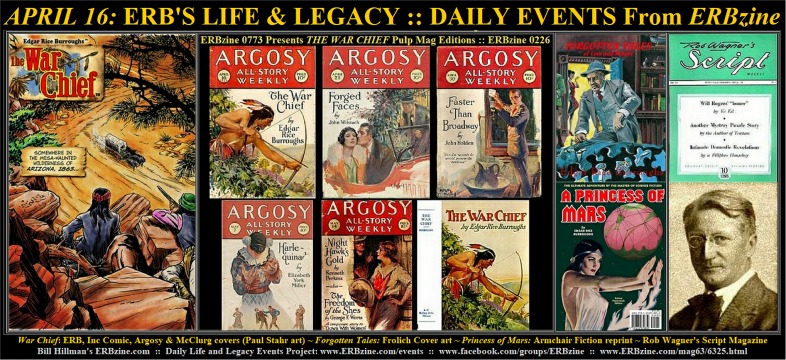 Click for full-size

*** "The War Chief" rode out of the imagination and the experience of ERB in the April 16, 1927, edition of Argosy All-Story Weekly when the magazine with the first installment hit the newsstands. The cover art for the first part was by Paul Stahr, and the same cover art appeared later on the dust jacket of the hardback book. Each of the five serial installments had a black and white illustration by Roger Morrison.
ERB's time in the 7th Cavalry in Arizona put him in the very spot where the Apaches roamed and provided him with a familiarity with the region that enabled him to write descriptively of it in the story took place.
The War Chief: Covers, Pulps, Background, Publishing History
http://www.erbzine.com/mag7/0773.html
The War Chief: Read the complete e-Text edition
http://www.erbzine.com/craft/warchief.html
The War Chief: ERB, Inc. Comics: Martin Powell and Nik Poliwko
http://www.edgarriceburroughs.com/comics
The War Chief: ERB / US Cavalry / Apaches Connection
http://www.erbzine.com/mag34/3469.html

---

*** On April 16, 2012, Armchair Fiction & Music published an extra large edition of a stories about a couple of sirens of our solar system. The first story was "Captive of the Centaurianess" by Poul Anderson and the companion story was "A Princess of Mars" by Edgar Rice Burroughs. The "Princess" cover is pictured. This cover, as well as many other PM reprint covers are featured on our C.H.A.S.E.R. Bibliography series.
A Princess of Mars
http://www.erbzine.com/mag4/0421.html

---

*** One of ERB's short reader-challenging mystery stories -- "Who Murdered Mr. Thomas?" -- appeared in the edition of "Rob Wagner's Script" dated April 16, 1932. Use the back-forward button at the bottom of the page to navigate to other stories in the series:
Who Murdered Mr. Thomas? mystery The Script
http://www.erbzine.com/mag0/0047.html
ERB's Script Mysteries were also reprinted in
Forgotten Tales of Love and Murder
http://www.erbzine.com/mag7/0734.html

Off-Site Reference:
Rob Wagner in Wikipedia

---
APRIL 17
---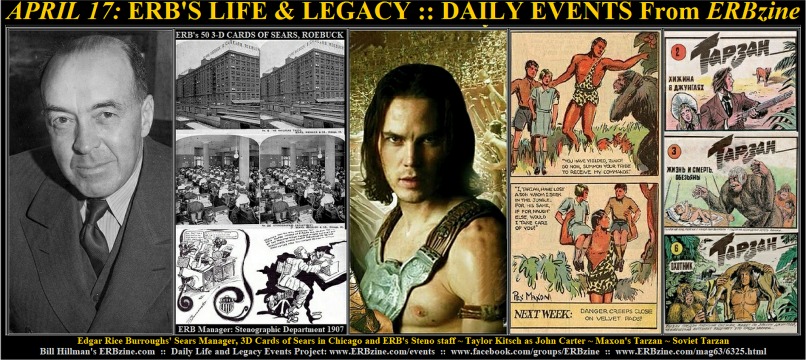 *** It's common to hear how ERB failed at "everything" until he started writing. ERB himself made jokes about his previous endeavors that have helped to create that impression. And, it's true that not everything he did worked out, but that is probably typical of many in the work force.
However, he also had his pre-author successes. On April 17, 1907, ERB was promoted to manager of the Stenographic Department at Sears, where he exceled!! Read that tidbit and other key events from
The ERB / Sears Connection
http://www.erbzine.com/mag12/1288.html
ERB's life in the Sears era
http://www.erbzine.com/bio/years00.html

---

*** Speaking of books about ERB, John Taliaferro's "Tarzan Forever" quoted an April 17, 1924, New York Times article by correspondent Walter Duranty who, in turn, quoted a Moscow newspaper that Russians preferred reading Edgar Rice Burroughs over Karl Marx. Find out what authors besides ERB that the Russians liked. If you don't have the book itself, read that page of Taliaferro's book
ERB's Words: "Having been pirated in Soviet Russia, he gained such popularity among the proletariat that the Soviet government was forced to take official cognizance of him. Whether they murdered him in a cellar or knouted him to Siberia, I do not know; but they got all het up because groups of illiterate peasants gathered in the streets while a more educated fellow, oftentimes a soldier, read Tarzan out loud to them instead of Soviet propaganda or the intriguing dream books of Mr. Marx."
Collier's 1953: "The Reds got their Tarzan pictures in 1945, when the Russians stormed into Berlin and grabbed some German-dubbed versions. Since Tarzan was raised in the jungle by apes uncontaminated by the democracies, the Russians took the pictures back to Moscow and released them in the Soviet Union. Fragmentary reports indicate the movies are extremely successful there, too."
In Paul Mandel's Life Magazine article, "Tarzan of the Paperbacks," the Russians were also mentioned: the "Soviets felt that although Tarzan was a peer, he had been brought up by proletarian apes so it was all right for young Communists to like him."
ERB speaks of Tarzan in Russia in "Story of Tarzan"
http://www.erbzine.com/mag15/1599.html
Tarzan in Russia: The Burroughs Boom
http://www.erbzine.com/mag14/1433.html
He Tarzan - You Fan: Collier's 1953
http://www.erbzine.com/mag16/1656.html

Off-Site Reference
Taliaferro Page
Russian Tarzan Comics

---

*** Would you like small fries with that? ERB replied: No!
On April 17, 1931, ERB advised George Carlin of United Features against the use of children in the Sunday color page. He wished to impress upon people that his stories were primarily for adults. ERB's secretary, Ralph Rothmund, later met with Carlin in New York to emphasize these concerns. Nonetheless, the syndicate didn't get rid of the kids in the Maxon-Carlin strip until Hal Foster took over.
Maxon's Tarzan Sunday Pages featuring children
http://www.erbzine.com/mag17/1758.html
ERB Comments on the Maxon strip
http://www.erbzine.com/mag1/0140.html

---

*** Though he was playing John Carter on Mars, Taylor Kitsch was actually "over the moon" with excitement about the coming film. What were they saying a year before the premiere of Disney's "John Carter." Read some of Kitsch's comments from April 17, 2011, as well as several other articles from that time period: Kitsch is in great company and he knows it. "I wake up, I'm working with [Willem] Dafoe, [Mark] Strong, I've got Lynn Collins as Dejah Thoris." Before wrapping up, Kitsch humbly added, "I'm a lucky man to go to work with these guys. It's awesome."
And while we're on the subject of Mars, don't miss these thoughts on ERB's Mars. Not only was ERB the author of Barsoom, but he was also the "Arthur"! From April 17, natch, in 2013:
Taylor Kitsch John Carter Comments
http://www.erbzine.com/news/news31.html
Interviews/Trailers with Taylor Kitsch, et al
http://www.cartermovie.com/
John Carter Film Reviews in the Press
http://www.cartermovie.com/reviews/

Off-Site References
Unexplained Mysteries

---
APRIL 18
---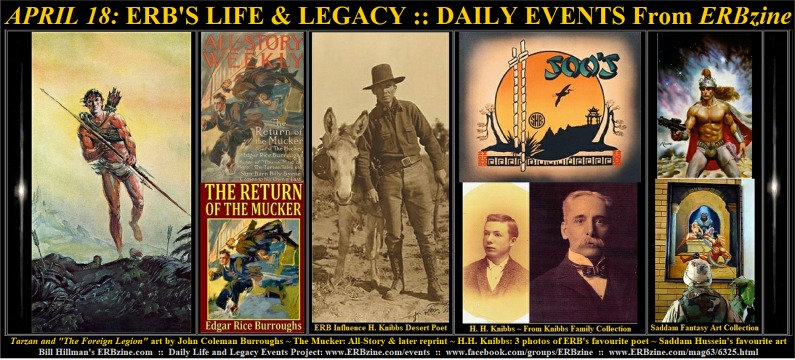 April 18 is a day for some rather strange ERB connections.
*** First, it is the date in 1931 that Otis Adelbert Kline's "Jan of the Jungle" began as a serial in Argosy All-Story Weekly. The reason that has anything to do with ERB is that it is included on what Bill Hillman calls a web page on ERB that is in an "archaic state as a curiosity reference." To find out more, take a look at the page at:
Remnants of the first ERBzine page created in 1996
http://www.erbzine.com/bib/stuff.html

*** Another strange one is that Saddam Hussein apparently loved the same type of art as many of us ERB fans do! On April 18, 2003, an article, "Rogue's Gallery of Blonde Bombshells," reports on some of the Iraqi dictators specialized taste. Also, see another article, "Don't laugh at Saddam's art collection," by Franklin Harris on this page. It comes to the defense of the ERB fans' taste in art.
Read about the type of art Hussein collected for his hideaway:
The ERB / Saddam Connection: Personal Fantasy Art
http://www.erbzine.com/mag8/0869.html

---

*** And finally, Paul Revere made his famous ride this date, as immortalized by William Wadsworth Longfellow when he wrote:
Listen my children and you shall hear ~ Of the midnight ride of Paul Revere, ~ On the eighteenth of April, in Seventy-five; ~ Hardly a man is now alive ~ Who remembers that famous day and year.
What was the ERB-Longfellow connection? Pretty darn wispy, apparently. We could say that H.H. Knibbs was encouraged, as a youth, to read the works of Longfellow and others, and he grew up to write his own poems, including "Out There Somewhere," which served as a literary device in the second half of ERB's "The Mucker." Or, we could say that ERB is said to have been influenced by Longfellow's "The Wreck of the Hesperus."
Or, we could mention that ERB placed the poet's name as an Easter egg into "Tarzan and 'The Foreign Legion' " when he wrote:
"Well, so long, fellow." "So long, Bum." A couple of soldiers entered the room. They cut away the bonds, and dragged the two men to their feet....
Henry Herbert Knibbs Tributes in ERBzine:
http://www.erbzine.com/mag9/0950.html
http://www.erbzine.com/mag9/0951.html
Knibbs' Poem that inspired The Mucker
http://www.erbzine.com/mag9/0950.html#THE POEM THAT INSPIRED THE
Knibbs' Out There Somewhere
http://www.erbzine.com/mag9/0950.html#OUT THERE SOMEWHERE
Knibbs and a little Longfellow in ERB's Library
http://www.erbzine.com/dan/k2.html
Longfellow's Hesperus mentioned in Prindle's Article:
http://www.erbzine.com/mag13/1340.html
Tarzan and 'The Foreign Legion': ERBzine ERB Bibliography
http://www.erbzine.com/mag7/0732.html
The Return of the Mucker
http://www.erbzine.com/mag7/0757.html


---
APRIL 19
---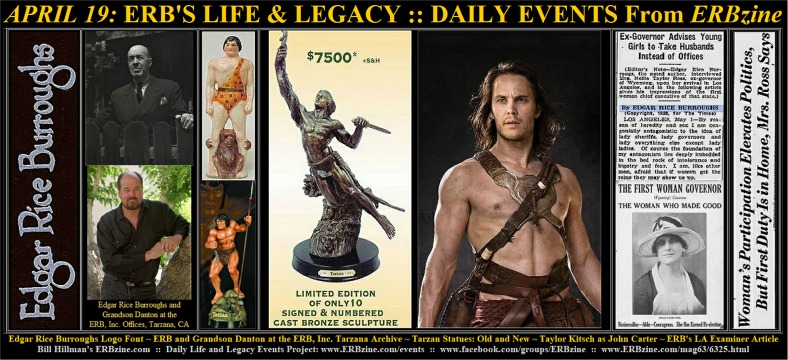 *** When William Bradford Ross, governor of Wyoming in 1922, passed away, his loyal supporters did not tell his wife, "Whoa, Nellie!" To the contrary, they hitched their hopes to Nellie and urged her to run for governor in the special election to fill the sudden vacancy. Nellie obliged, but did not campaign. Nonetheless, she won easily, thus demonstrating that most people appreciate it when politicians keep their mouths shut! Nellie eventually paid a visit to Los Angeles and there she encountered ERB, who interviewed her for an April 19, 1928, article in the L.A. Examiner. The Examiner also syndicated the article to other newspapers and so it also appeared April 19 in The Cincinati Enquirer. A couple of weeks later, on May 1, it showed up in the St. Petersburg Times, and the Florida newspaper's display of the article can be enjoyed in ERBzine.
With his tongue, typically, in cheek, ERB wrote: "By reason of heredity and sex I am congenially antagonistic to the idea of lady sheriffs, lady governors and lady everything else except lady ladies. Of course the foundation of my antagonism lies deeply imbedded in the bed rock of intolerance and bigotry and fear. I am, like other men, afraid that if women get the reins they may show us up."
Check the link above to find out what else ERB had to say about ladies in politics and this lady in particular.
ERB and the Press: '20s/'30s Decades: Nellie Ross Interview
http://www.erbzine.com/mag17/1788.html#rossinterview

Off-Site References
St. Petersburg Times
Nellie's Bio in Wikipedia
More history on Nellie

---

*** On another April 19, this one in 1990, Patrice Apodaca of the L.A. Times had an article about ERB's foresight in incorporating himself. Burroughs was the first American author to have incorporated, she wrote. "All his works are property of the corporation."
The article quoted Don Mastrangelo, an independent agent for ERB Inc. at the time. He noted that "...the Burroughs corporation wields veto power over how the character will be used." One company, for instance, wanted to make a plastic Tarzan figurine, said Mastrangelo. "He was squatty, the arms were out of proportion and the face was wrong," he said. "So we just walked away."
Danton Burroughs was quoted in the article as saying he also has high hopes for a motion picture then in development at Disney that was to be based on his grandfather's first adventure novel, "Princess of Mars." Variety reported that Disney hoped to land Mel Gibson, Tom Selleck or Kevin Costner for the lead. Disney, however, wouldn't confirm or deny that the project was in the works.
It's interesting to look back and see that this Disney project would not come to pass until 22 years after this article appeared, when the three stars suggested were getting a bit long in the tooth. And when the article appeared in print, somewhere in Canada a boy named Taylor Kitsch had just celebrated his ninth birthday a few days earlier, on April 8.
John Carter recalled no childhood, but Taylor Kitsch did. His life goal was to be an actor and he made it to the big screen, playing ERB's interstellar traveller, Captain Carter, CSA, among other roles.
Taylor Kitsch Interviews and Bio in our JC Film Site
http://www.cartermovie.com/news/taylor.html
Our Danton Burroughs Tribute Site
http://www.dantonburroughs.com
ERB Incorporates Himself: ERB, Inc.
http://www.tarzan.org/about_erb_inc.html

Off-Site References
Taylor Kitsch's biography and filmography
LA Times: ERB, Inc.

---
APRIL 20
---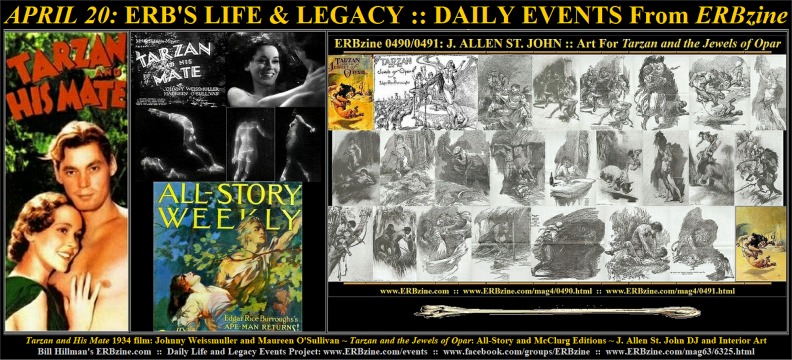 Click for full-size image bar

*** "Tarzan and His Mate" was released this date -- April 20 -- in 1934. Jane's nude swimming scene stayed on the cutting room floor for several decades before being picked up, dusted off and spliced back in. But while movie-goers were denied a view of that, watchers from every era have always been treated to another scene which gets the adrenalin going: The climactic convergence of beasts and men when a few dozen lions, summoned by fierce natives, ganged up on the safari to kill and eat as many people as they could cram into their cavernous maws.
Fortunately, Tarzan and the elephants showed up in time to rescue Jane and they lived happily ever after, including long enough to go broke so that Tarzan would have to make a trip to a lost African city to restock his safe. That account was actually delivered to the public some years earlier, also on April 20, in 1918, when that adventure was published in book form under the title of "Tarzan and the Jewels of Opar."
Tarzan and His Mate: Full Coverage in ERBzine Silver Screen
http://www.erbzine.com/mag6/0615.html
Tarzan and His Mate: Lobby Displays starting at:
http://www.erbzine.com/mag6/0615a.html
Tarzan and His Mate: Big Little Book Adaptation
Summary and Stills :: Weissmuller Story

---
Tarzan and the Jewels of Opar: ERBzine Biblio: Art, History, Links
http://www.erbzine.com/mag4/0490.html
Tarzan and the Jewels of Opar: Complete e-Text Edition
http://www.erbzine.com/mag4/0490.html
Tarzan and the Jewels of Opar: Part II plus St. John Art
Page II :: St. John Art Collage
---

Off-Site References
Tarzan and His Mate in IMDB
Jewels of Opar Summary

---
APRIL 21
---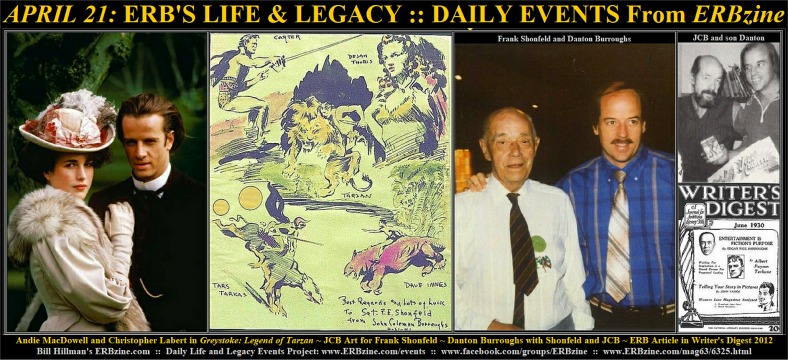 Rosalie MacDowell was born this date,
April 21 in 1958,
And one fine evening at Greystoke Estate,
She chose Mr. Clayton to be her mate.

Rosalie's middle name was Anderson,
Shortened to Andie for her movie run;
It may be true that blondes have more fun,
But Greystoke thought she was No. 1.

Yes Andie was born, a' way back when,
Down in the state of the Carolina wren,
When she said "can" it came out "ken,"
So all of her lines were dubbed by Glenn.

Yes, Andie played Jane and she did just fine,
Even though Close spoke her every line.
But voice lessons soon made her speech divine,
And she snagged a role in "Jane by Design!"
~ John "Bridge" Martin
Greystoke: The Legend of Tarzan: ERBzine Silver Screen
http://www.erbzine.com/mag21/2152.html
Andie MacDowell: Then and Now
http://www.erbzine.com/mag49/4977.html
Off-Site Reference:
Andie MacDowell: IMDB
http://www.imdb.com/name/nm0000510/

---

*** On April 21, 1930, at the request of Writer's Digest, ERB sent the magazine an article titled "Entertainment is Fiction's Purpose." The article was published in the June issue and can be read here:
ERB's "Entertainment is Fiction's Purpose"
http://www.erbzine.com/mag0/0057.html

---

*** John Coleman Burroughs created a special piece of art and sent it to longtime ERB fan Sgt. Frank E. Shonfeld of the British Army on April 21, 1941. This was done at the request of ERB, then living in Hawaii, to show his appreciation for Shonfeld's support over the years. The artwork features some of the major ERB characters that John Coleman Burroughs had illustrated: Tarzan, John Carter, Dejah Thoris, Tars Tarkas and David Innes.
The dedication on the artwork reads: "Best Regards and Lots of Luck"
JCB's Art created for Sgt. Frank E. Shonfeld
http://www.erbzine.com/mag11/1159.html
Our JCB Tribute Site
http://www.johncolemanburroughs.com

---

*** On April 21, 1998, astronomers announced in Washington that they had discovered possible signs of a new family of planets orbiting a star 220 light-years away. It's not quite beyond the farthest star (which would be in a galaxy at least 13.3 billion light years from Earth), but it's a good start.

---

*** "The Life and Times of Edgar Rice Burroughs," a 28-page tome written by who-knows and bearing the imprint of Golgotha Press, was published April 21, 2012.
Edgar Rice Burroughs in ERBzine
http://www.ERBzine.com/edgarriceburroughs

Off-Site Reference:
Life and Times: Amazon.ca


BACK TO APRIL WEEK II
http://www.ERBzine.com/mag63/6324.html



VISIT APRIL WEEK 3 PHOTO ALBUM
www.ERBzine.com/mag63/6325pics.html
BACK TO MONTHLY EVENTS INRO and CONTENTS
www.ERBzine.com/events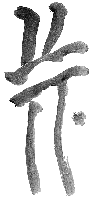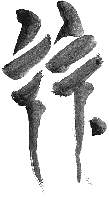 BILL HILLMAN
Visit our thousands of other sites at:
BILL AND SUE-ON HILLMAN ECLECTIC STUDIO
ERB Text, ERB Images and Tarzan® are ©Edgar Rice Burroughs, Inc.- All Rights Reserved.
All Original Work ©1996-2018 by Bill Hillman and/or Contributing Authors/Owners
No part of this web site may be reproduced without permission from the respective owners.