---
PUBLISHING HISTORY (USA)
---
PULP
Argosy Weekly: 1939 January 7, 14, 21, 28 ~ February 4, 11
Rudolph Belarski: first installment cover ~ Samuel Cahan: one b/w interior per issue
FIRST EDITION
ERB, Inc. Tarzana: March 15, 1940 ~ 315 pages ~ Print Run: 3,500 ~ Heins word count: 70,000
John Coleman Burroughs: DJ, spine drawing and five interiors
REPRINT EDITIONS
ERB, Inc. Tarzana: March 26, 1948 ~ Burroughs DJ and frontispiece
Ballantine paperback: June 1963 ~ 160 pages
Robert Abbett cover
Ballantine paperback: October 1973
Gino D'Achille cover
Doubleday Science-Fiction Book Club: January 1975 ~ with Swords of Mars ~ 345 pages
Frank Frazetta: DJ and six b/w interiors
Ballantine - Del Rey: October 1979
Michael Whelan cover
For detailed information, see Robert B. Zeuschner's
Edgar Rice Burroughs: The Bibliography (ERB, Inc., 2016).
Click on www.erbbooks.com or call 214-405-6741 to order a copy.
---
Synthetic Men of Mars

John Carter desperately needed the aid of Barsoom's greatest scientist. But Ras Thavas was the prisoner of a nightmare army of his own creation, half-humans who lived only for conquest. And in their hidden laboratory seethed a horror that could engulf all Mars.

The sight that met my eyes was one of the most horrible I have ever looked upon. Something had evidently gone wrong with the culture medium, and instead of individual synthetic men being formed, there was a single huge mass of animal tissue emerging from the vat and rolling out over the floor. Human parts and organs grew out of it, a leg here, a hand there, a head somewhere else: and the heads were mouthing and screaming. It could go on growing until it engulfed the building, the city... and perhaps all of Barsoom .... unless it were destroyed. And I knew of no way to Synthetic Men of Mars destroy it.
.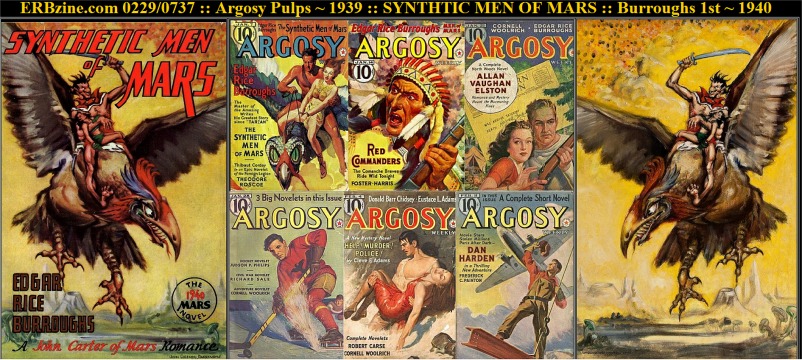 Click for full-size Splash Bar
From the ERB Pulp Biblio ~ 1930s: Part 3
www.erbzine.com/mag2/0229.html


Scans of original art ~ Pencil on board ~ 17 x 12 in.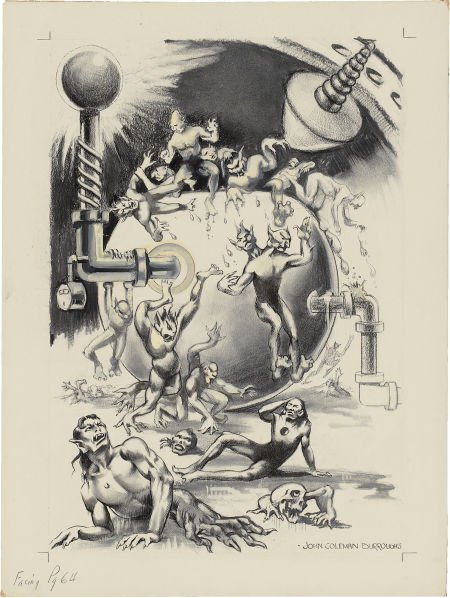 Click for full image
"The culture tank swarmed with writhing life like an enormous witch's pot."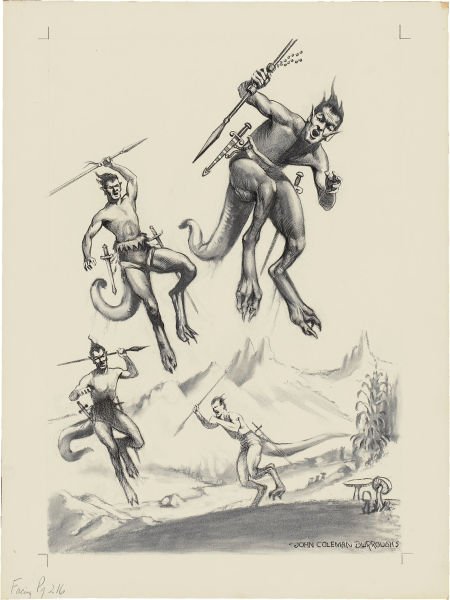 Click for full image
"Strange creatures were coming toward us in prodigious leaps and bounds."
Synthetic Men of Mars, frontispiece
"Directly before me, on a table, lay my body."
(Charcoal pencil on paper laid on board 16.75 x 11.75 in.)
(Restoration of piece damaged in Burroughs fire)
This artwork has been extensively restored, in particular the upper left and right quadrants;
most notable, the monster in the upper right quadrant has been re-created
from his belt and forearm up; burnt area visible on the bottom center edge.
INTERIOR ART GALLERY
See ERBzine 0352: JCB Tribute for larger images of this art
Scans courtesy the Robert Zeuschner Library
---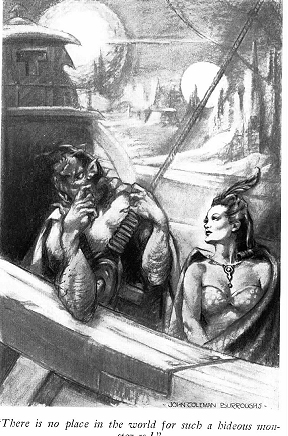 ---
FRANK FRAZETTA GALLERY: Doubleday Edition Art
click for larger images
---
---
GALLERY OF COVER ART
---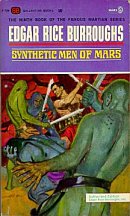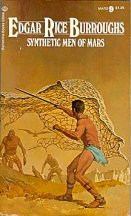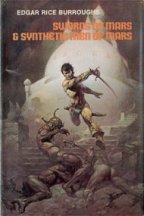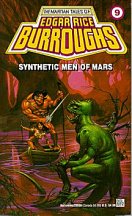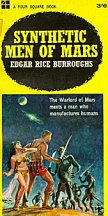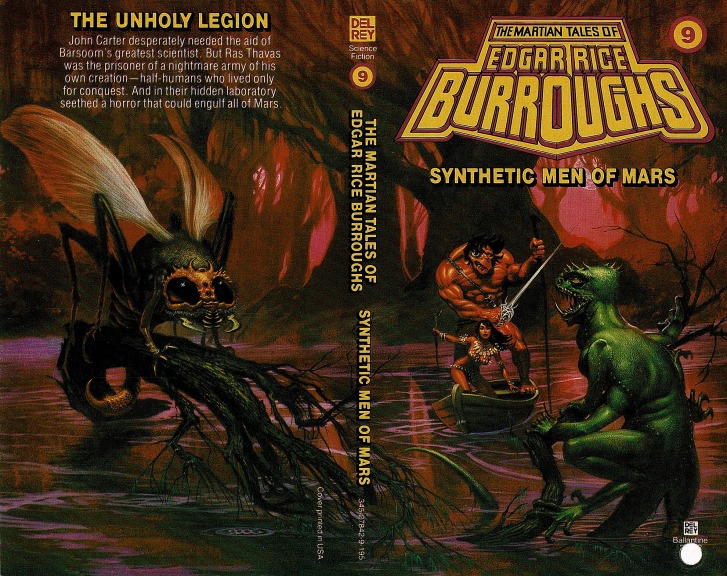 Michael Whelan Del Rey Cover from the Laurence Dunn collection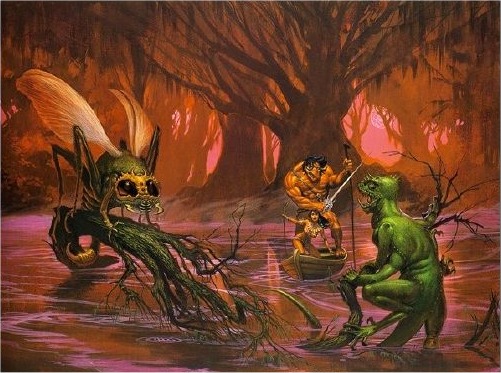 Michael Whelan Art
Cover art by Gino D'Achille plus rough preliminary from Catspaw
.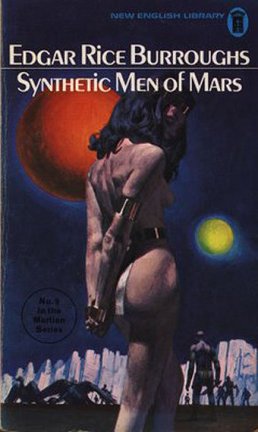 .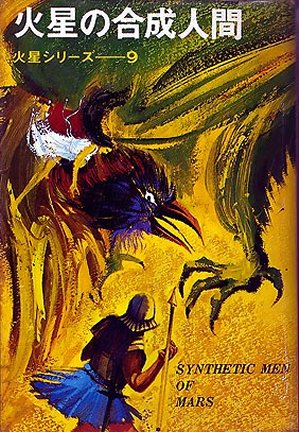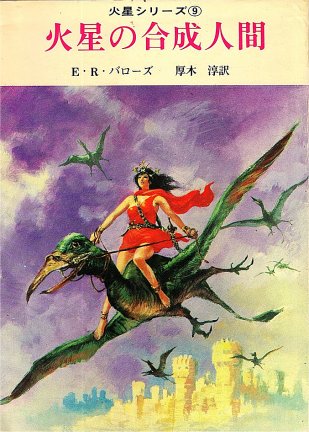 | | |
| --- | --- |
| Belarski pulp cover art sans text from Charles Madison | Alternate scan of Belarski's actual original |
---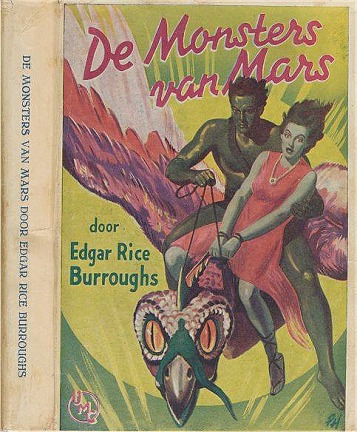 1939 Dutch rip-off of the Belarski cover
---
The ERB Art of Robert Abbett
---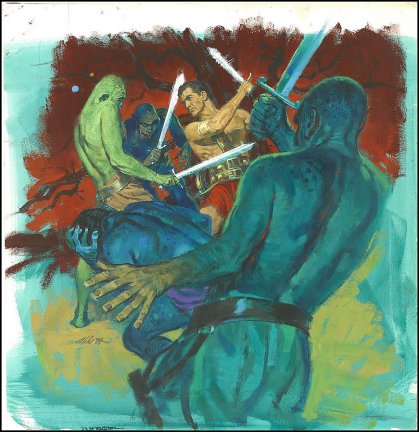 Cover art for Synthetic Men of Mars, 1963
---
Click for full-size images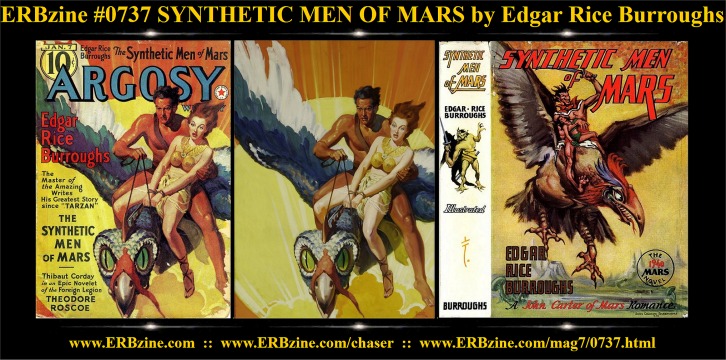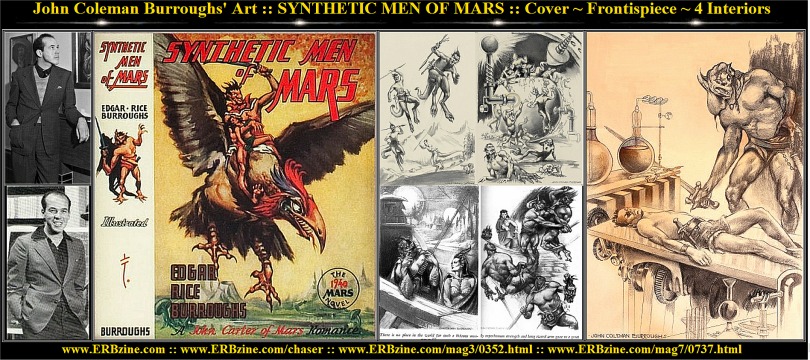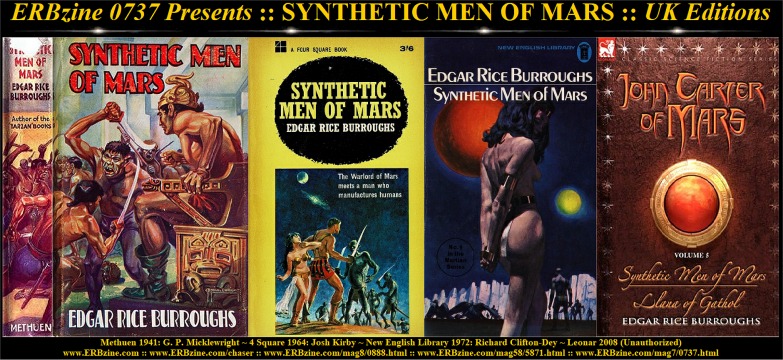 ERBzine References:
UK Checklist of ERB Editions
https://www.erbzine.com/mag8/0888.html
https://www.erbzine.com/mag63/6362.html
UK Leonar Publishing - Laurence Dunn Checklist
https://www.erbzine.com/mag58/5871.html
---
---
Armada of ERB Web Sites
Over 15,000 Webpages

The Fantastic Worlds of Edgar Rice Burroughs
ERB Companion Sites Created by Bill Hillman
| | | | |
| --- | --- | --- | --- |
| Tarzan.com | ERBzine.com | DantonBurroughs.com | Tarzan.org |
| BurroughsBibliophiles.com | JohnColemanBurroughs.com | Tarzan.com/tarzine | JohnCarterOfMars.ca |
| ERBzine.com/edgarriceburroughs | Weekly Webzine | Weekly Webzine | Pellucidar.org |
| John Carter Film | ERB, Inc. Corporate Site | ERB Centennial | tarzana.ca |