Official Edgar Rice Burroughs Tribute and Weekly Webzine Site
Since 1996 ~ Over 15,000 Webpages in Archive
Volume 6337

ERB'S LIFE and LEGACY :: DAILY EVENTS
A COLLATION OF THE DAILY EVENTS IN ERB-WORLD
FROM THE PAGES OF ERBzine CREATED BY BILL HILLMAN
Collated by John Martin and Bill Hillman
With Web Design, Added Events, Links,
Illustrations and Photo Collages by Bill Hillman
FULL YEAR'S CONTENTS

JULY CONTENTS: WEEK THREE
JULY 15 ~ JULY 16 ~ JULY 17 ~ JULY 18
JULY 19 ~ JULY 20 ~ JULY 21

VISIT THE JULY WEEK III PHOTO ALBUM
www.ERBzine.com/mag63/6337pics.html
BACK TO JULY WEEK 2
www.ERBzine.com/mag63/6336.html

Click for full-size images
---
JULY 15
---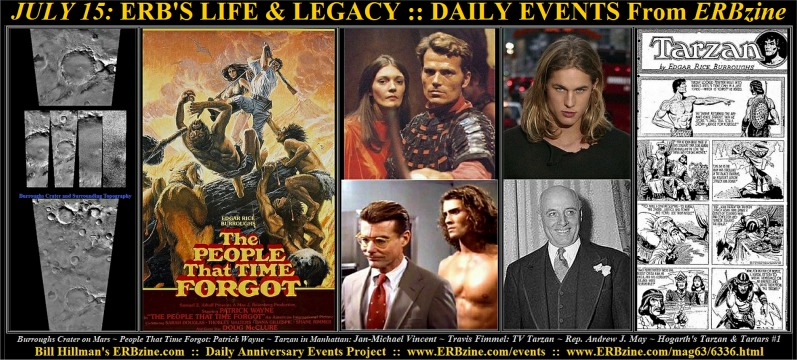 Burroughs Crater on Mars ~ People That Time Forgot: Patrick Wayne ~ Tarzan in Manhattan: Jan-Michael Vincent
Travis Fimmel: TV Tarzan ~ Rep. Andrew J. May ~ Hogarth's Tarzan and the Tartars Sunday Page #1
---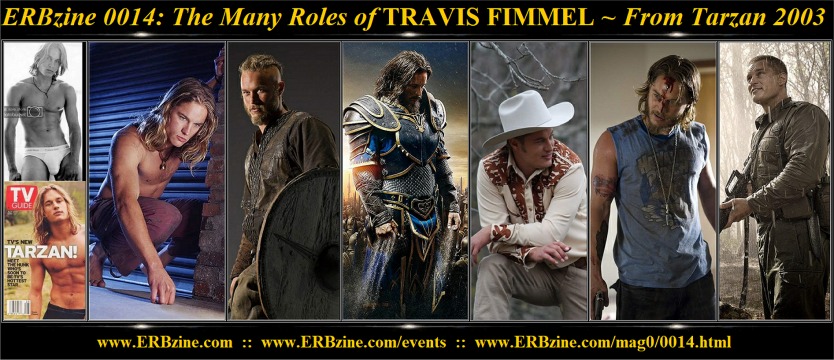 ---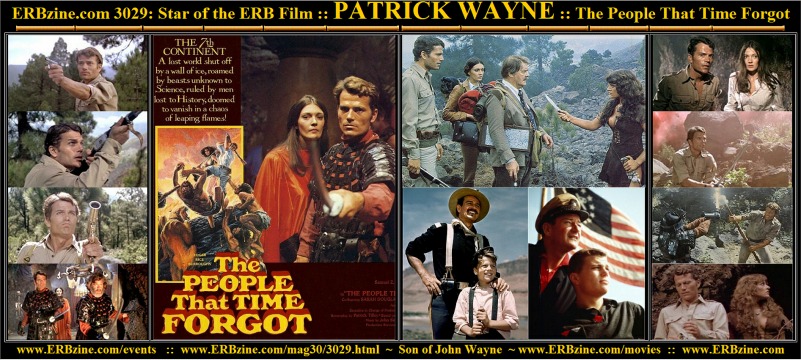 ---
*** NASA got its first closeup look at Barsoom July 18 in 1965, when Mariner IV sent back close-up pictures of the Red Planet. Many ERB fans got a closeup of Barsoom much earlier, through reading ERB's Mars series. ERB's notes include map sketches of the Barsoom places he created. These sketches and his descriptions in the 11 Mars book have led many fans and researchers to create their own Barsoom maps - many of which we've featured in our ERBzine Atlas pages. I've also included links to our many Barsoom map-related articles on these Atlas pages.
ERB has been recognized by having a Martian crater named after him. It is located at 72.5S 243.1W Latitude / Longitude. It is 104.0 km in diameter and is included in PDS Planetary Image Atlas for Mars.
Photographs of Burroughs Crater on Mars
http://www.erbzine.com/mag2/0246.html
A Cartographic Study of Barsoom
http://www.erbzine.com/mag28/2807.html
Barsoom Atlas
http://www.erbzine.com/mag30/3041.html

Off-Site Reference
Mariner 4 in Wikipedia
---
*** ERB didn't mince words when he sounded off in a short article headlined "Don't Let 'Em Kid You Joe!" It was 1942, and Rep. Andrew J. May, chairman of the House Military Affairs Committee, had been quoted as saying that the United Nations could win the war that very year. ERB had a different opinion (proven by subsequent events to be the correct one) and he was direct and to the point in responding to what May said. His reply was dated July 15, 70 years ago.
Don't Let 'Em Kid You Joe! article by ERB
http://www.erbzine.com/mag0/0001.html#kidyou
Off-Site Reference:
Rep. May in Wikipedia
---
*** 1979: Travis Fimmel, who played Tarzan on TV series in 2003 was born on this date in Echuca, Victoria, Australia. This series placed Tarzan in New York City. "Strong-willed NYPD detective Jane Porter's perfectly ordered life turns upside down when a routine case unexpectedly leads her to primal and passionate Tarzan, now loose in the urban jungles of New York City. After plucking the mysterious feral man from his wild home, Tarzan's billionaire uncle, the CEO of powerful Greystoke Industries, stops at nothing to 'civilize' Tarzan in his own image. And, inexorably attracted to Tarzan's dangerous yet profoundly innocent nature, Jane wrestles with reason and instinct, civilization and savagery, her heart and her head."
After the short-lived TV series, Travis acted in a number of films but he is best probably best known for his roles as Ragnar Lothbrok in Vikings (2013), and Anduin Lothar in Warcraft: The Beginning (2016).
Travis Fimmel: TV Tarzan
http://www.erbzine.com/mag0/0014.html#Warner
Off-Site References
Fimmel in IMDB
Fimmel's Tarzan in IMDB
---
*** 1944: Jan-Michael Vincent was born o this date in Denver. He starred as Nanu, a jungle man brought to the U.S. to compete in track and field, in 1973's "The World's Greatest Athlete." Later, in 1989, he was a villain named Brightmore in "Tarzan in Manhattan."
ERB in the Silver Screen
http://www.ERBzine.com/movies
Vincent in IMDB 1
Vincent in IMDB 2
Vincent in IMDB 3
---
*** 1939: *** 1939: Patrick Wayne (Patrick John Morrison) was born on this date. He is the second son of movie star John Wayne and his first wife, Josephine Alicia Saenz. He made over 40 films, including eleven with his father and made countless appearances on television. Patrick is best know by ERB fans for his appearance in "The People That Time Forgot" -- sequel to "The Land That Time Forgot." Instead of playing ERB's lead character Tom Billings, he played the script writer's lead character, Ben McBride.
The People That Time Forgot: 1977 Film
http://www.erbzine.com/mag30/3029.html
http://www.erbzine.com/mag30/3029a.html
http://www.erbzine.com/mag30/3030.html
http://www.erbzine.com/mag30/3029b.html
http://www.erbzine.com/mag30/3029c.html
Off-Site References:
Wayne in IMDB
People Time Forgot
---
*** COMIC STRIP REPRINTS IN ERBzine:
"Tikar the Lion," written and illustrated by Rex Maxon, 64 days, 1946.
Tikar the Lion: 64 Tarzan Strips
http://www.erbzine.com/mag61/6131.html
"Tarzan and the Tartars," written and illustrated by Burne Hogarth, 20 Sundays, 1945. It has also been reprinted in Tarzan in Color, spread over Vols. 14 and 15.
"Tarzan and the Lion Emperor," by Bob Lubbers and Dick Van Buren, 13 Sundays, 1951.
Bob Lubbers Sunday Page Directory
http://www.erbzine.com/mag48/4855.html
Guide to all the ERBzine Comics Reprints
http://www.ERBzine.com/comics
---
*** 1945: ERB returns to Honolulu, having travelled 5,000 miles by air and 11,000 miles by ship.
ERB Bio Timeline
http://www.ERBzine.com/bio

---
JULY 16
---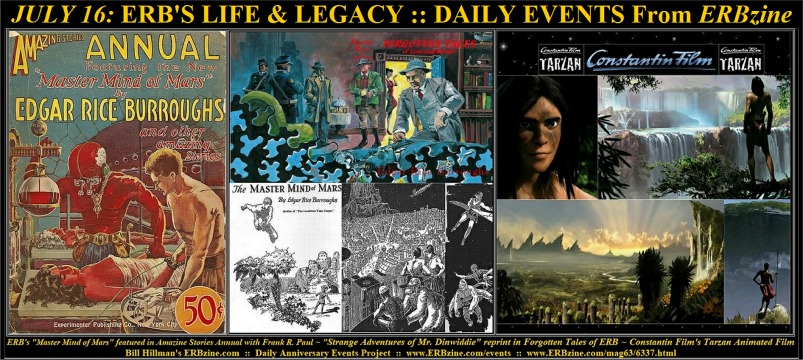 ERB's "Master Mind of Mars" featured in Amazing Stories Annual with Frank R. Paul art
"Strange Adventures of Mr. Dinnwiddie" reprint in Forgotten Tales of ERB ~ Constantin Film's Tarzan Animated Film
---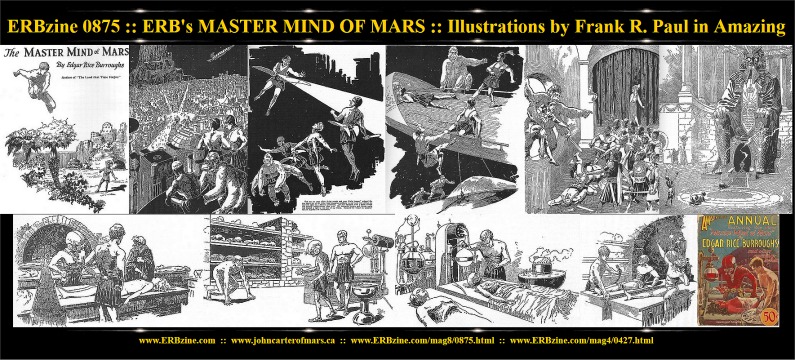 ---

*** 1927: Master Mind of Mars appears in Hugo Gernsback's Amazing Stories Annual
"Edgar Rice Burroughs has written many interesting stories, but we believe, for downright originality and exciting interest, "The Master Mind of Mars" is hard to equal. There is hardly a page that does not hold your interest. Once the story gets under way, hair-raising episodes seem to tumble right over each other -- they come so quickly.
Besides this, the science is excellent and no matter how strangely the tale reads, it always, somehow or other, seems to have an element of truth in it."
"If you are a Burroughs fan -- and you probably are -- this new story by the well-known author will not fail to impress and stir you to the roots. Here is another of his Martian stories, entirely new, packed chockful of adventure and excellent science. In this theme, Burroughs has hit upon a new idea, which he exploits throughout the story in a truly masterful and expert manner. Nor is your interest allowed to lag for a single paragraph, for Edgar Rice Burroughs knows how to keep you guessing. You will not rest easy until you have finished reading the story. It is one of this favorite author's best."
~ Hugo Gernsback - 1927
Amazing Annual: Master Mind Art by Paul Art
http://www.erbzine.com/mag8/0875.html
Read the Entire Amazing Stories Annual in ERBzine
http://www.erbzine.com/mag8/amazingannual.pdf
Master Mind of Mars: ERBzine C.H.A.S.E.R. Biblio
http://www.erbzine.com/mag4/0427.html
The ERB/Hugo Gernsback Connection (8 Webpages)
http://www.erbzine.com/mag14/1462.html

---
*** Jonathan Morgan Heit was the voice of young Tarzan in the Constantin motion-capture picture, "Tarzan," released in 1973. He was born in 2000. He began his career as an actor in 2006 and continues it unto this day.
Constantin Tarzan: Previews and Trailers
http://www.erbzine.com/mag41/4138.html
Constantin Tarzan Promo Collage:
http://www.erbzine.com/cards/film/tarzmov.jpg

Off-Site Reference
Heit in IMDB
---
*** "The Strange Adventures of Mr. Dinwiddie" was written by ERB over two days, July 16 and 17 in 1940. He submitted the story for publication under the pen name of John Tyler McCulloch, but it came back with a rejection slip, just like everything else he ever submitted under that ficticious name. Mr. Dinwiddie had something in common with ERB fans: He liked to collect things. He even took his collection along in a $7.50 briefcase when he boarded a Hawaii-bound ship to attend a Shriners Convention. That briefcase was to play a key role in his "strange adventures."
Speaking of strange, you can purchase a brand new first edition of "Forgotten Tales of Love and Murder," the book which contains that story along with several other short stories by EB.
Forgotten Tales of Love and Murder
http://www.erbzine.com/mag7/0734.html
Lost Words of ERB
http://www.erbzine.com/mag2/0219.html
Off-Site Reference
Forgotten Tales purchase
---
*** 1917: July 16: LETTER Ed wrote to vacationing little Joan from Oak Park on California Limited/Santa Fe Stationery.
Ed's Letter to daughter Joan
http://www.erbzine.com/mag10/1049.html
---

*** ERB BIO TIMELINE NOTES
1899: Ed, now in New York, wrote to Colonel Rogers again requesting help in obtaining a commission. Again no success
1925: A reply was sent to John M. Stahl, president of the Allied Arts Association, Chicago: "I shall be delighted to have you use my letter . . . as a basis for a radio talk. I appreciate your invitation to be guest of honor at the Allied Arts dinner."
1930: Ed and Jack went riding on the Tarzana Ranch trails ~ Ed got the living room tile estimate.
1934: Upset over his sons' attitudes toward his marriage split Ed phoned Hulbert in Chicago, asking him to take the first plane home.
ERB Bio Timeline
http://www.ERBzine.com/bio

---
JULY 17
---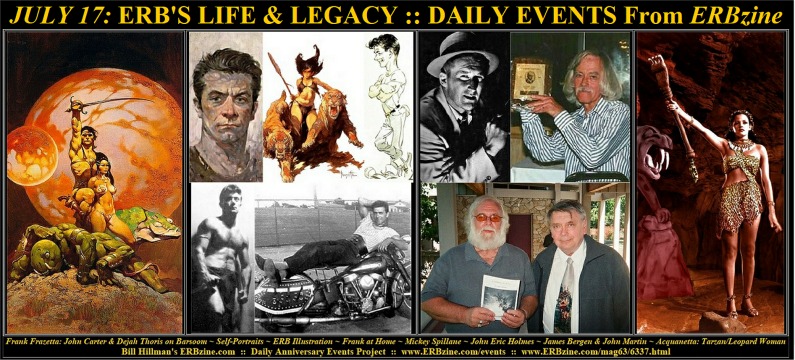 Frank Frazetta: John Carter and Dejah Thoris on Barsoom ~ Self-Portraits ~ ERB Illustration ~ Frank at Home
Mickey Spillane ~ John Eric Holmes ~ James Bergen & John Martin ~ Acquanetta in Tarzan and the Leopard Woman
---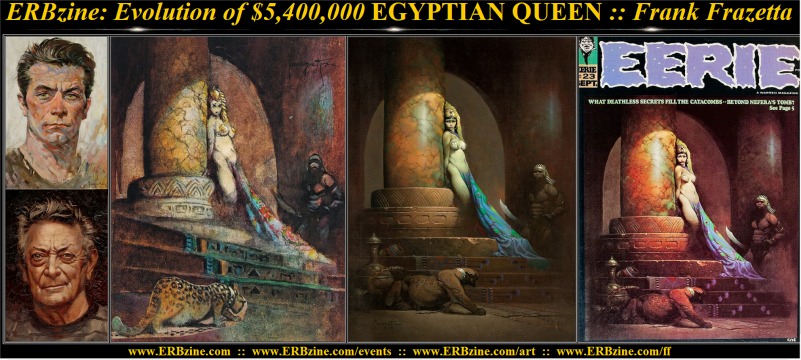 ---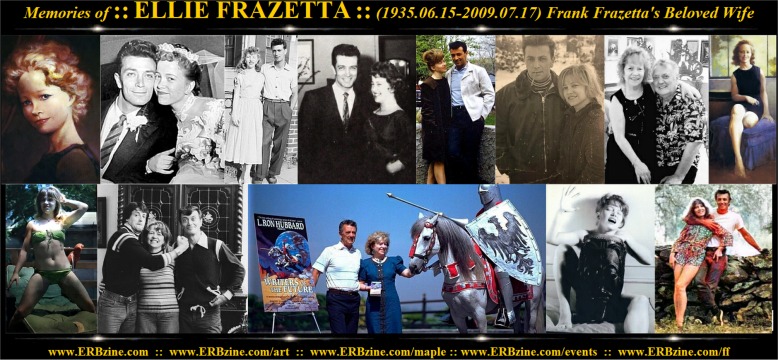 ---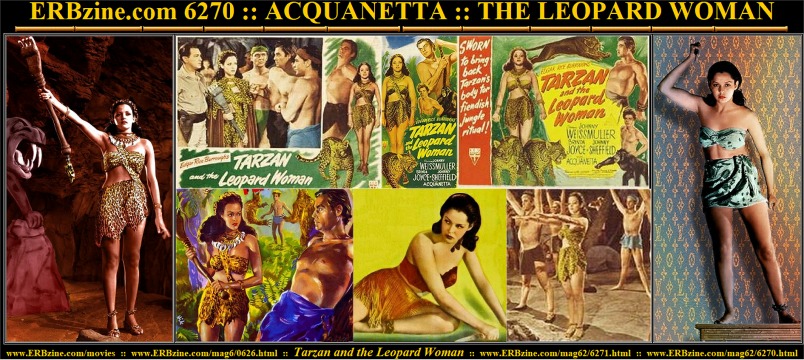 ---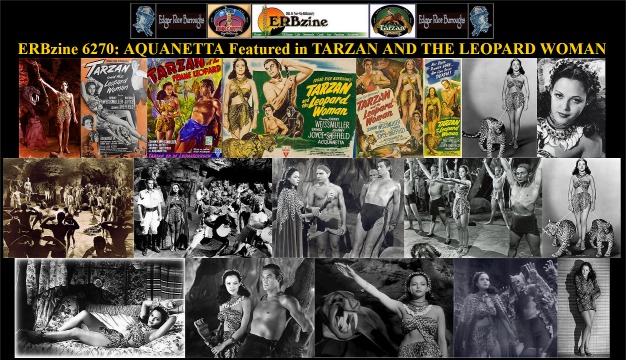 ---
*** ERB illustrator extraordinaire Frank Frazetta died a few months earlier, but on July 17, 2010, his children held a public memorial service for him.
Frank Frazetta (1928.02.09-2010.05.10) was an American fantasy and science fiction artist, noted for comic books, paperback book covers, paintings, posters, LP record album covers and other media. Frank was inducted into the comic book industry's Will Eisner Comic Book Hall of Fame in 1995 and the Jack Kirby Hall of Fame in 1999.
As of 2013, Daughter Holly Frazetta's collection was travelling throughout the U.S. with public showings at comics conventions. She also co-founded Frazetta Girls LLC alongside daughter Sara Frazetta in 2014. The Frazetta Girls company operates as a web store for official Frank Frazetta merchandise, and has a large social media presence for daily postings of Frazetta's work.
The 1969 fantasy painting Egyptian Queen, one of the most legendary artworks by famed artist Frank Frazetta, sold for a world record $5.4 million in 2019. "This result elevates Frank Frazetta's art into the stratosphere of visual narrative art on a par with the likes of Norman Rockwell, Maxfield Parrish and other luminaries," ~ Heritage Auctions Vice President Todd Hignite said.
Frank Frazetta: 25 Tribute Pages - 100s of Illustrations
http://www.ERBzine.com/ff
Frank Frazetta in the Gridley Wave
http://www.erbzine.com/gw/GridleyWave333.pdf
Frank Frazetta: Portrait Collage
http://www.erbzine.com/cards/art/frazetta1all.jpg

Off-Site Reference
Frank Frazetta Biography
https://www.frazettagirls.com/pages/about-1
---
*** 2009: Ellie Frazetta (June 15 1935 - July 17 2009), wife of legendary artist Frank Frazetta, died on this date. William Frazetta remembered his grandmother in this 2023 letter:
It's been 14 years since Eleanor "Ellie" Frazetta (née Eleanore Doris Kelley), my grandmother, passed away from lung cancer.
She was the invisible backbone of the Frazetta legacy, always keeping her husband and his art at the forefront-- it was never about her. Seeing her husband be successful and living out his dream was a dream of her own, and she was one of the few people to ever get an artist proper recognition for their work: my grandfather lacked the business mind to avoid being taken advantage of, so my grandmother stepped in and made sure he was respected by those who may have tried to take advantage of his kindness.
She started a print business in the 1970s with only a handful of images, eventually evolving it into the museum and the museum storefront that exists today. Though making sure her family was financially comfortable was important to her, the most important thing was to keep in mind that "art should not be for just the rich!" In other words, the artwork was to stay housed in the Frazetta Art Museum next to their house in East Stroudsburg, Pennsylvania, so that everyone could come visit. The paintings weren't her golden ticket to financial riches-- they were for people to enjoy and study.
She absolutely loved meeting fans and spending all day with them at the museum. Some were even lucky enough to be invited back to the house for dinner! But that, to me, just shows the kind of person she really was. Growing up I had heard business-types call her a "bulldog" for how she made sure all loose ends were tied up and that people couldn't take advantage of her (normal business etiquette, in my opinion); but she had to be, both because the art world can be vicious and because she was a woman running a business in the 1970s. Underneath all that she was a sweet woman who just wanted everyone to be happy, and she knew she had the fans to thank for her husband's success. Every decision she made she always had the fans in mind: "Would this make them happy?" She made sure to remain humble.
So 14 years have now passed. She worked roughly up until the last week or so of her life. I never even understood what retirement was until I got older, as she was in her mid-70s and still taking phone calls, doing business deals, and running the museum-- retirement wasn't a word that Ellie Frazetta knew, and slowing down was never something she was seen doing. She brought me into the business when I was 12 and started teaching me the ropes, understanding that one day another Frazetta would have to take over for her. She taught me a lot, but she always made it fun and engaging. Before she died, she asked me to promise her that I'd take care of the artwork and the museum; her dying wish was that the artwork would remain viewable to the public that made her and her husband so happy. So thank you all for helping us continue her dream, and keeping both her and my grandfather's legacy alive.....William Frazetta www.frazettamuseum.com
Ellie was a woman of many talents. She even dabbled in art during her school days. I have featured 1956 sample of young Ellie's work below: "MOWGLI"
"I received a few art prizes in school, but once I met Frank-wow! I realized the difference between Art and what I could do-forget it! So I put my paints away for good." ~ Ellie Frazetta
---
"MOWGLI" by Eleanor Kelly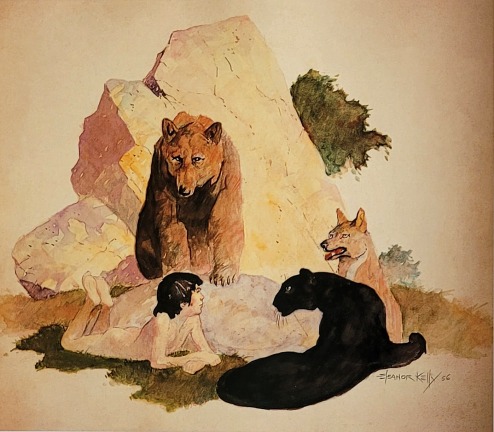 Click for full size
---
*** And then John Eric Holmes, who wrote two books about other people having adventures in ERB's Pellucidar, was remembered at a memorial service this date, in 2010, and John Martin, along with James Bergen, showed up to attend the service in the Portland, Oregon, area:
John Eric Holmes Memorial Service
http://www.erbzine.com/mag31/3149.html
---
*** 1921: Acquanetta (Mildred Davenport) was born on this date in Cheyenne, Wyoming. She grew up to put on an exotic costume and appeared in Tarzan and the Leopard Woman under the Hollywood stage name: Acquanetta.
Acquanetta was part Arapaho Indian and part British nobility (her great-grandfather was an illegitimate son of the King of England). She grew up in Norristown, Pennsylvania, and began her professional career as a top- salaried Manhattan model before signing with Universal in 1942. She was on her way to Brazil, via Los Angeles, where she was spotted by Universal, who were impressed with her exotic looks. As Acquanetta (or Burnu Acquanetta, meaning "Burning Fire"), the darkly handsome starlet did a number of exotic films for Universal. She was asked by President Roosevelt to be a goodwill ambassador to Mexico. While there, she met her first husband.and they had a son who died of cancer before he was five. Later she married Jack Ross and had four sons with him.
After leaving Universal she appeared in Tarzan and the Leopard Woman. Her film career tapered off in the late '40s. She later hosted a local television show in Arizona, authored a book on her personal philosophy, and returned to acting in the straight-to-video Grizzly Adams.
Acquanetta: Bio and Photos
http://www.erbzine.com/mag62/6270.html
Acquanetta: Filmography and Photo Gallery
http://www.erbzine.com/mag62/6271.html
Acquanetta in Tarzan and the Leopard Woman Collage:
http://www.erbzine.com/cards/film/aquanettaall.jpg
Tarzan and the Leopard Woman
http://www.erbzine.com/mag6/0626.html
---
*** Tarzan fan Mickey Spillane died on July 17, 2006. July 17 was a day for some to die, but -- in ERB land -- it was also a day for memorial services for those who had died earlier.
Mickey Spillane could write a hard-boiled novel that would warm the heart of any Mucker, and sure enough, Mucker Kenneth Manson wrote a tribute to the guy who liked Tarzan.
Mickey Spillane Tribute by Ken Manson
http://www.erbzine.com/mag16/1688.html
---
*** The Cobalt Claim, by John Celardo and Dick Van Buren, started in newspapers this date in 1956 and ran for 67 days.
The Cobalt Claim: Celardo's 67 Tarzan Strips:
http://www.erbzine.com/mag38/3876.html
---
ERB BIO TIMELINE NOTES
1929: ERB telegrammed Elser for assistance in finding a job as a war correspondent in the Russo-Chinese conflict. An incredulous Elser replies that he can offer no assistance.
1930: Ed and Jack rode the Tarzana Ranch trails in the morning ~ The El Cab pipes were laid
1939: July 17 - mid-August: Tarzan and the Champion of the "New Tarzan Series" was written. (10,000 words)
ERB Bio Timeline
http://www.ERBzine.com/bio

---
JULY 18
---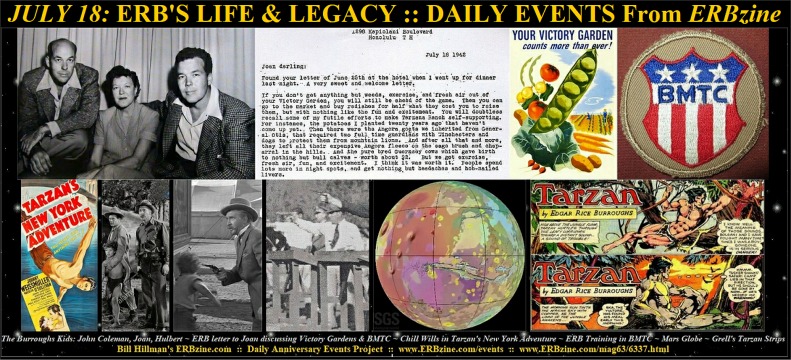 The Burroughs Kids: John Coleman, Joan, Hulbert ~ ERB letter to Joan discussing Victory Gardens and BMTC
Chill Wills in Tarzan's New York Adventure ~ ERB Training in BMTC ~ Mars Globe ~ Grell's Tarzan Strips
---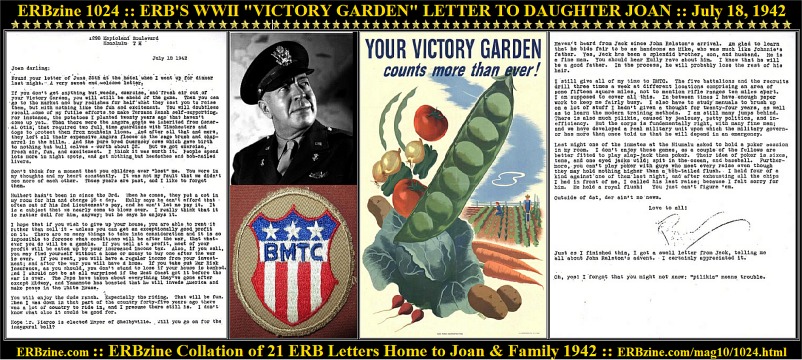 ---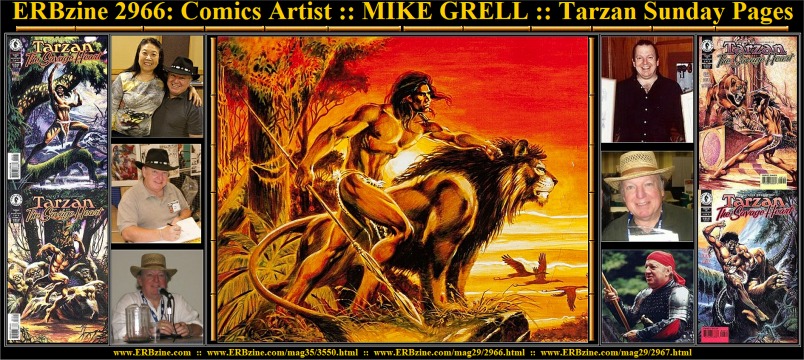 ---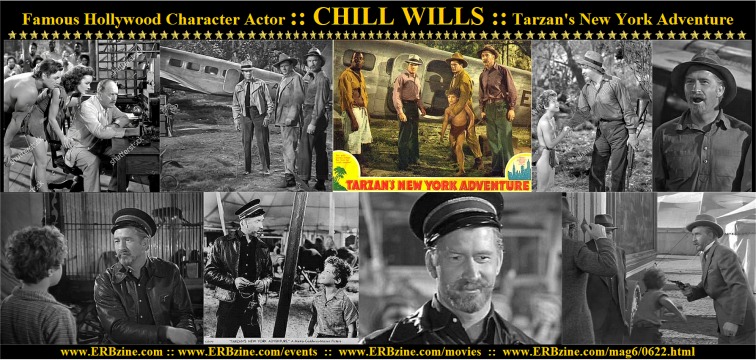 ---
*** ERB wrote, in a letter to daughter Joan, that "There is also much pilikia, caused by jealousy, petty politics, and inefficiency." He was speaking of incidents in the Business Men's Training Corps, with which he was involved right after the Japanese bombed Pearl Harbor. At the end of the letter, written July 18, 1942, ERB did add a footnote giving the definition of "pilikia," just in case Joan couldn't figure it out from the context. Perhaps we get our phrase "in a pickle" from the Hawaiian word, pilikia which, as ERB explained to Joan, means trouble.
Many people in the US and Canada planted Victory Gardens in support of the war effort:
"If you don't get anything but weeds, exercise, and fresh air out of your Victory Garden, you will still be ahead of the game. Then you can go to the market and buy radishes for half what they cost you to raise them, but with nothing like the fun and excitement. You will doubtless recall some of my futile efforts to make Tarzana Ranch self-supporting. For instance, the potatoes I planted twenty years ago that haven't come up yet."
ERB also reminds Joan of the measures they had to take to protect the Angora goats from mountain lions on the Tarzana ranch, and in this letter you can find out how much it cost Hulbert to sleep on a cot.
ERB Letter to Joan from WWII Hawaii
From our collation of 21 ERB letters from 1942 Hawaii
http://www.erbzine.com/mag10/1024.html
ERB Articles on the Business Men's Training Corps
http://www.erbzine.com/mag17/1756.html

---
***1981: Mike Grell's "Return to Opar," written and illustrated by Mike, began on the Sunday pages July 19, 1981, and ran for 10 weeks.
Mike Grell (born September 13, 1947) studied at the University of Wisconsin–Green Bay, the Chicago Academy of Fine Art, and took the Famous Artists School correspondence course in cartooning. His entry into the comics industry was in 1972, as an assistant to Dale Messick on the Brenda Starr comic strip. In 1973 Grell moved to New York, and began his long relationship with DC Comics. Grell is an avid big-game hunter, which serves as an influence on his artwork and story lines, particularly in the Jon Sable Freelance series. Grell currently lives in Washington state with his wife, Lauri.
Grell wrote and drew the Tarzan Sunday strip from July 19, 1981 to February 27, 1983 (except for one strip, February 13, 1983, by Thomas Yeates).
Return to Opar: All 10 Tarzan Sunday Pages
http://www.erbzine.com/mag29/2968.html
More on Mike Grell
http://www.erbzine.com/mag29/2966.html
Mike Grell Presented with Recognition Award at Dum-Dum 2011
https://www.erbzine.com/mag35/3550.html
---
*** Theodore Childress "Chill" Wills (1902.07.18-1978.12.15): Chill Wills had a name that rhymed (almost) but in the movies the man with the rhyming name played some characters with alliterative names. There was Gentleman George in "The Over the Hill Gang"; Monty Musgrave on two "Route 66" episodes, Sam Shelby in "Young Guns of Texas" and Tobias Taylor in "Kentucky Rifle." One of his more memorable roles was that of the distinctive voice of Francis the Talking Mule in a series of popular films. Wills' deep, rough voice, with its Western twang, was matched to the personality of the cynical, sardonic mule. As was customary at the time, Wills was given no billing for his vocal work, though he was featured prominently on-screen as blustery General Ben Kaye in the fourth entry, Francis Joins the WACS.
And then, of course, he was Montford Manchester in "Tarzan's New York Adventure." Wills was a memorable character actor in many films He also had a role in another Tarzan production, the "End of a Challenge" episode of Ron Ely's "Tarzan," in which he played Richard Montrose, alas, with no alliteration!
TRIVIA:
Had two children: Jill Wills (born 1939) and Will Wills (born 1942).
Endorsed George Wallace in the 1968 presidential election.
He was awarded a Star on the Hollywood Walk of Fame at 6923 Hollywood Boulevard in Hollywood, California on February 8, 1960.
Chill Wills composed the song "The Blue-Eyed Sailor Man" that he performed in the 1942 MGM Feature "Stand By for Action".
Chill Wills claimed to have won a degree from the "Minsky College of Burlesque".
According to 1942 MGM publicity, it was a sweltering hot day when Chill Wills was born, so his parents were inspired to name him "Chill". However, "Chill" is simply a truncated version of his actual middle name, Childress.
Was in three Oscar Best Picture nominees: The Yearling (1946), Giant (1956) and The Alamo (1960).
He was the most prominent member of The Avalon Boys and broke away to start a new career as a solo performer. RKO put him in B Weterns as a sidekick to George O'Brien. In 1940 he was signed up by MGM for whom he played comical cowpokes.
In his later years he appeared in commercials for Wolf brand chili.
The song "The Trail of the Lonesome Pine" while seemingly being a duet with Stan and Ollie is actually a quintet as Walter Trask of The Avalon Boys sings the first two lines, Chill Wills dubs Stan's bass voice and Rosina Lawrence dubs Stan's falsetto voice.
Although he survived the experience of working with Otto Preminger on "The Cardinal", he was fired from the director's next film, "In Harm's Way" during his first morning's work. He was replaced by Henry Fonda.

Wills was born this date in Seagoville, Texas. He died of cancer in Encino, California, aged 76. He was cremated and interred at Grand View Memorial Park Cemetery in Glendale, California.
Tarzan's New York Adventure - 1942 Film
https://www.erbzine.com/mag6/0622.html
https://www.erbzine.com/mag6/0622a.html
https://www.erbzine.com/mag6/0622b.html

Off-Site Reference:
Chill Wills in IMDB
---
*** Edgar Rice Burroughs, Inc., on July 18, 2014, posted a USGS rotating globe of Mars on its website. Watch the globe go 'round and 'round:
Rotating Mars Globe at ERB, Inc.
https://www.edgarriceburroughs.com/?p=1361
---
*** "Tarzan and the Vultures," written and illustrated by John Celardo, began July 19, 1964, and ran for 14 Sundays.
Directory of Celardo Sunday pages and link to Bio
http://www.erbzine.com/mag46/4601.html
---
ERB BIO TIMELINE NOTES
1929: Jack reached New Mexico on his way back from Michigan. He was driving his grandmother, aunt and a cousin.
1934: Anxious to restore closeness with his son and to present his side in the marriage split, Ed met with the boys to bring about a reconciliation.
ERB Bio Timeline
http://www.ERBzine.com/bio

---
JULY 19
---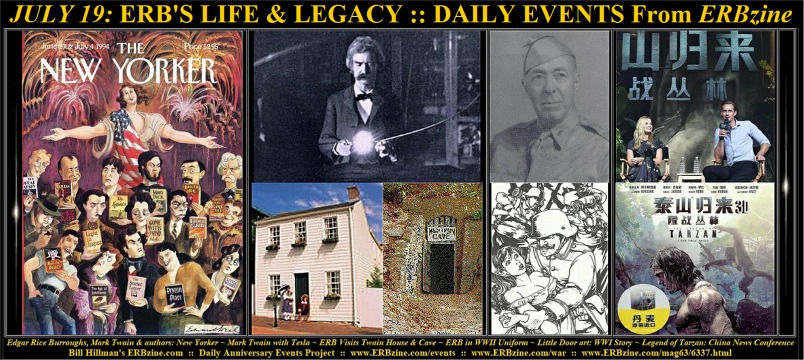 Edgar Rice Burroughs, Mark Twain and authors: New Yorker ~ Mark Twain with Tesla ~ ERB Visits Twain House and Cave
ERB in WWII Uniform ~ Little Door art: WWI Story ~ Legend of Tarzan: China News Conference and Blu-Ray Release
---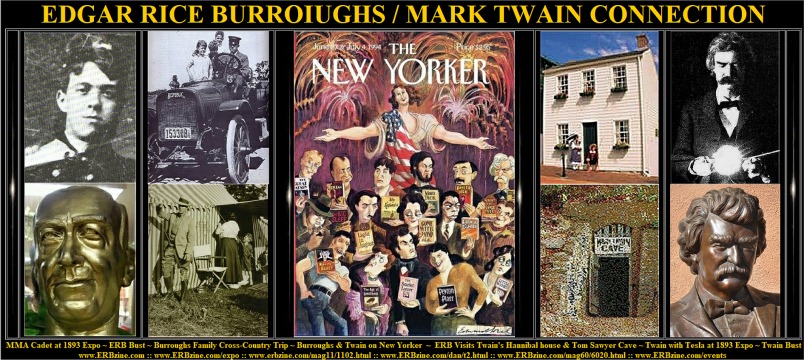 ---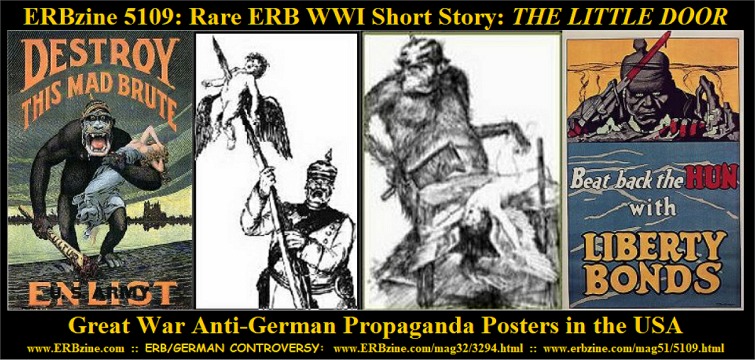 ---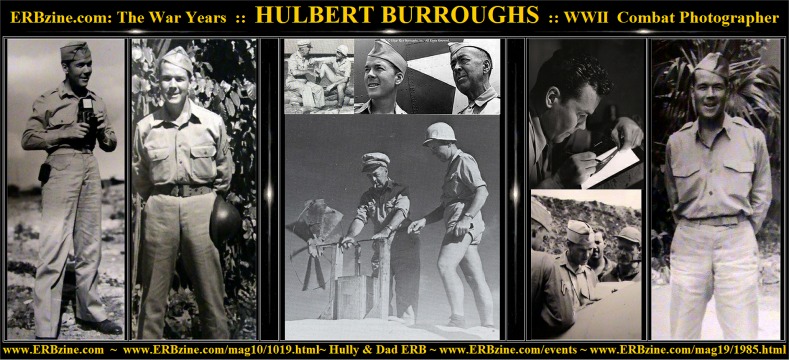 ---
---
*** Mark Twain and Edgar Rice Burroughs saw the same sun in the sky for 35 years of their lives, until Twain died in 1910. It is unknown if he and ERB ever met. But they did meet in 1994 on the cover of "The New Yorker" edition of June 27-July 4, where they cast glances toward each other as they and more than a dozen other well-known authors displayed a book they had written.
ERB was a fan of Twain's work since Twain helped Tesla in a demonstration in the 1893 Columbian Exposition Electricity Building. Tesla's exhibit was set up near the Burroughs Battery Exhibit (ERB spent a summer there and even drove an electric car around the midway). While on their Cross-Country Auto Adventure, they were forced to stop over in Hannibal, Missouri, while the vehicles were being repaired after hitting the ditch in a rain storm. The truck tipped against an abutment of a bridge. During this stay, the family visited the home of one of Ed's favourite authors, Mark Twain. Later Joan and Hully went with their dad on a tour of Tom Sawyer's cave.
Ed possessed a shelf full of 16 Twain books in his personal library purchased in Utah and Chicago. His edition of Life on the Mississippi featured a flyleaf inscription: "Ed Burroughs, Salt Lake City, Utah, October 1904." and he wrote on the flyleaf of The Stolen White Elephant: "Edgar Rice Burroughs, 646 Washington Blvd., Chicago, Il."
A number of Twain books suggest an influence in ERB's writing ideas: Roughing It ~ The Prince and the Pauper ~ Stolen White Elephant ~ The Bible According to Mark Twain, etc.
In response to ERB's being awarded an honourary membership in the Mark Twain Society and later to its Fiction Committee on June 28, 1933, Ed wrote, "From boyhood I have been an admirer of Mark Twain,his works being among the first that I recall having read as a child. ..."
In 1948 Burroughs was notified that because of his "outstanding contribution to American literature," he had been unanimously elected a Knight of Mark Twain.
ERB and Twain and Tesla: 1893 Columbian Exposition
http://www.erbzine.com/mag12/1281.html
Mark Twain Books in ERB's Personal Library
http://www.erbzine.com/dan/t2.html
ERB Visits the Twain Home in Hannibal
http://www.erbzine.com/mag11/1102.html
https://www.erbzine.com/cards/erb5/erbmarktwainall.jpg

Off-Site References
Adams' Twain in Afterlife in ERBmania
---
The U.S. entered World War I against Germany on April 6, 1917, and ERB was ready to serve in some way, although "age and family opposition prevented him from enlisting in the regular Army." His backup plan was to join the reserves and on July 19 of that year he received an appointment as a captain in Company A, Second Infantry, Illinois Militia. Later he attained the rank of major.
It was during this period of his life that he wrote some of his war-themed stories, "The Land that Time Forgot," "Tarzan the Untamed," and "The Little Door." The latter remained unpublished for many years until Danton Burroughs shared it with us for publication in ERBzine.
The Little Door was written during the Great War from November 17-23, 1917 but rejected by publishers who considered it a ". . . tidal-wave of bloodshed, horror, and suggestion. . . " It is featured as part of our ERB: The War Years Series
ERB and The Great War: German Controversy
http://www.erbzine.com/mag32/3294.html
The Little Door by ERB in ERBzine
http://www.ERBzine.com/mag51/5109.html
http://www.erbzine.com/mag0/0034.html
More ERB Great War Articles
http://www.erbzine.com/mag11/1169.html
ERB Wartime and Military Experiences:
http://www.ERBzine.com/war
Off-Site Reference:
Forgotten Tales
---
*** 1945: ERB's WWII Correspondence: When the second World War rolled around, ERB once again sought to serve, first in the Business Men's Training Corps on Oahu and later as a war reporter. He was way too old to join the service, but not too elderly to become the oldest combat correspondent in the Pacific Theatre.
In late July, 1945, ERB had just returned from Okinawa to receive a letter from a female acquaintance named Terry, from Australia. He wrote back in a letter dated July 19, commenting on meat rationing in Australia and the U.S., and noted that most of it was due to "government bungling."
He also made the observation that Americans and Australians have more in common with each other than Englishmen and Australians.
*** Hulbert Burroughs Promoted to Major: The thing ERB was most pleased to write was the last line: "My son, an AAF officer, was made a major while I was away." It was quite an accomplishment, since Hulbert had entered the service as a buck private. But the military blood ran in his son's veins as well, and it did the old man proud to see his son attain the same rank that he once held.
Hully had some exciting and often very dangerous wartime experiences while serving as a combat photography. Danton had numerous photos and film footage taken by his uncle. During one of many visits to his Tarzana home I was thrilled one night when he screened some of Hully's wartime film footage. There were scenes from bombing missions and of the death and carnage on some of the Pacific islands -- including images of enemy corpses. I have described some of Hully's near death experiences elsewhere in ERBzine.
In our visits with Hully in Tarzana he spoke very little about his wartime experiences. . . he was more interested in sharing current photos and stories about his passion for photographing California and desert wildlife -- he had beautiful shots of cactus plants and flowers. Fortunately for ERB fans he had taken many photos of his dad through the years. He had shared many of these photos with Porges for his ERB Bio book and they were invaluable in documenting ERB's lifetime achievements. These photos, as well as those not used in the book, were shared along with the Porges manuscripts in the McWhorter ERB collection at the University of Louisville.
See:
ERB's Wartime Letter to Thelma Terry
http://www.erbzine.com/mag10/1027.html#terry
ERB's 1945 Wartime Letters
https://www.erbzine.com/mag10/1027.html
ERB The War Years
https://www.erbzine.com/war
https://www.erbzine.com/cards/erb2/hullywaryearsall.jpg

---
*** 2016: China doesn't normally allow foreign films to be released there in the month of July, preferring to give locally produced films a good chance to succeed. But the regulators made an exception for "The Legend of Tarzan," which had been released in the U.S. on July 1, 2016. The new Tarzan movie opened in China on July 19 and made $7 million on opening day and went on to deliver a six-day opening of around $27 million and a three-day opening weekend of $12 million. Even then, it came in second place behind "Skiptrace," which had a market share of 56 per cent compared to 16 per cent for "Legend." "Skiptrace" is a Hong Kong-Chinese-American action comedy film written by and starring Jackie Chan. It was released in China on July 21, 2016, two days after "Legend." John Carter was also very popular in China.
Sue-On and I bought bought a number of Chinese DVDs of the film during our visits there and in other Asian countries. The 2012 John Carter of Mars film actually scored the second-best opening weekend for a Disney film in China at $14.0 million. Our ERBzine.com Website has been very popular in Asia since it was launched in 1996. I was able to update it almost daily in every one of the 15 Asian countries we've visited -- even in those area that shut out Facebook. In fact, we've had millions of visits to the ERBzine.com site from Asians -- over a million in 2019. I was a bit disappointed when Disney decided to use locations in the American SW for the John Carter film when there are so many unworldly, alien-like landscapes in China.
How Legend of Tarzan Got Modernized
https://www.erbzine.com/mag58/5813.html
Hillman Travel Adventures
http://www.hillmanweb.com/book/travel
https://www.erbzine.com/cards/film3/tarzanandjohncarterinchina.jpg

Off-Site References:
Legend of Tarzan in Wikipedia
Skiptrace in Wikipedia
---
ERB BIO TIMELINE NOTES
1917: Ed received an appointment in the reserves: Captain, Company A, Second Infantry.
1917: LETTER to "My dear little daughter" Joan. Letterhead reads "Young Men's Christian Association of Campy Steever Lake Geneva, Wisconsin ~ Military Training Camp for Boys"
1927: Ed's receipt of Weston's Detroit Free Press clipping about the Oak Park (MMA) Academy prompted him to consider forming an association of Orchard Lakers that could bring pressure to bear upon the state of Michigan to re-establish a new Michigan Military Academy, preferably located at Orchard Lake. He turned down Weston's offer for wholesale priced home movie equipment, saying: "I have purchased so many things that the family was hectic about only to find that they were nine day wonders. I now have three projecting machines and seven hundred and twenty eight thousand miles of film which are never used."
1945: LETTER to Thelma Terry: Comments on wartime shortages and government bungling: "The Germans, the Italians, and the Japs evolved a scientific method of government - and look at the damn things now. I guess that we are happy to have our own, bungling and all." Mid-summer weather has been hot on the islands . . . "But I was in hotter places while I was away - Ulithi was one of them. The Micronesians and the Melanesians can have all those coral atolls as far as I am concerned. I was sure glad to get back here, although I really had a wonderful trip. Was out with the Navy this time. Survived air raids in a harbor and got shot at by a Jap sniper on shore. My son, an AAF officer, was made a major while I was away. I think that I was more thrilled than he. He has come up from buck private."
ERB Bio Timeline
http://www.ERBzine.com/bio

---
JULY 20
---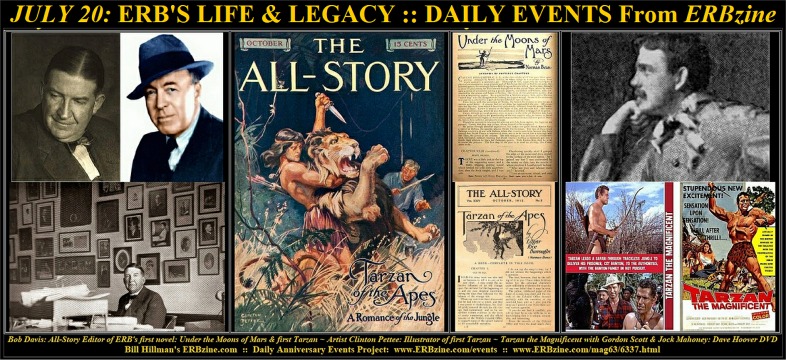 Bob Davis: All-Story Editor of ERB's first novel: Under the Moons of Mars and the first novel Tarzan of the Apes
Artist Clinton Pettee: Illustrator of the first Tarzan ~ Tarzan the Magnificent with Gordon Scott and Jock Mahoney: Artist Dave Hoover's DVD cover
---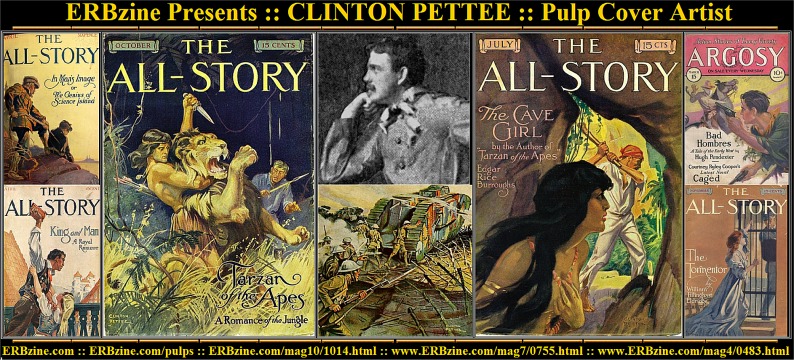 ---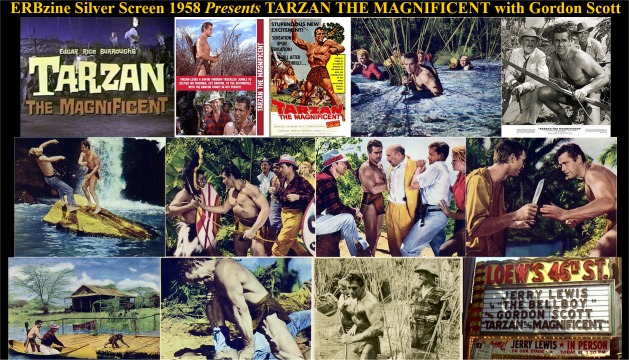 ---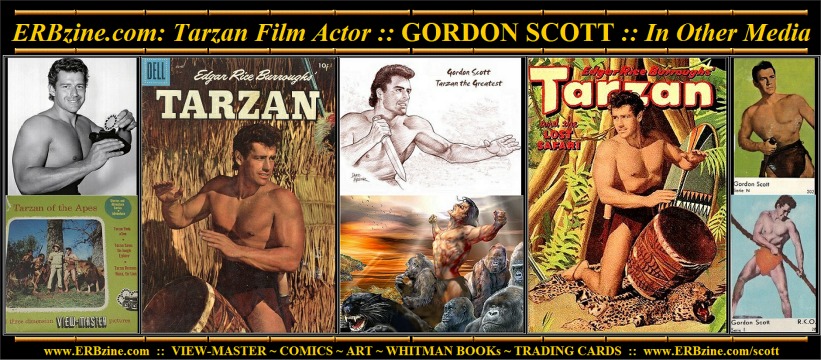 ---
*** 1940: A short biography of ERB appeared in Bob Davis' New York Sun column on this date. Davis, retired from Munsey's and now living at Kailua, Hawaii, had interviewed Ed after a chance meeting on the island. Davis was an early editor of pulps who appreciated and acquired ERB stories for the pulp magazines he edited. So, he interviewed him and the result was published in The New York Sun. Davis was the Munsey's editor responsible for the publication of ERB's first story: Under the Moons of Mars (A Princess of Mars) and ERB first Tarzan: Tarzan of the Apes in his All-Story pulp magazine.
Bob Davis Interview with ERB
http://www.erbzine.com/mag33/3365.html
Under the Moons of Mars: All the All-Story Covers
http://www.erbzine.com/mag2/0221.html
A Princess of Mars: ERB C.H.A.S.E.R Biblio
http://www.erbzine.com/mag4/0421.html

Off-Site Reference
Bob Davis Profile in Pulpflakes
---

*** 1872: Clinton Pettee (1872.07.20-1937.12.12) was born on this date in Birmingham, Connecticut - the home state of David Innes. At the age of 14 Clinton Pettee started a semester of study at the Art Students League of New York, where he made drawings of plaster casts of ancient Roman statues. At the age of 25 he joined the National Guard and served as a private in the Spanish-American War with the Second Brigade, Troop "C," Cavalry New York Volunteers. After six weeks of basic training in Virginia they sailed for Puerto Rico where they engaged the Spanish Army defending Coamo. On Halloween 1899 he played the starring role in Alexander Black's Photo-Play The Girl and The Guardsman. In 1902 he was awarded a patent for a fountain pen that was designed for correspondence, mechanical drafting, and artistic sketching. He went on to draw interior story illustrations for Munsey's Magazine. He also painted covers for pulp magazines, such as The Argosy, The All-Story, Cavalier, All-Story Cavalier, and Short Stories. His cover for the October 1912 issue of The All-Story for editor Bob Davis featured the world's first published image of Tarzan. Collectors have long considered this issue the most valuable of all pulp magazines. His illustrations were also published in slick magazines, such as The Literary Digest, Judge, Scientific American, and Motor Age and he also illustrated several novels. Walter Clinton Pettee died of a heart attack in his Manhattan apartment at the age of sixty-five on December 12, 1937.
David Saunders researched the life of Pettee and wrote about his interesting life, which included service in the Spanish-American War. That article is on his website, dedicated to pulp artists and shared in 2012 in our ERBzine ERB Art Encyclopedia. Saunders grew up with an appreciation of pulp art. He is the son of Norman Blaine Saunders, a productive pulp artist himself; the father passed on to his son a love for art in that genre. David put together a book celebrating his father's art. The book's title is, simply, "Norman Saunders," and a review of the book at amazon.com notes that he "was the illustrator of Mars Attacks, Wacky Packages, pre-code horror comic book covers, hundreds of pulp magazines, and much more. This definitive reference book includes over 880 illustrations and photos from every phase of his career." Also, is an interiew in which David Saunders talks about pulp art and his father:
Clinton Pettee Bio and Art in ERB Art Encyclopedia
http://www.erbzine.com/mag10/1014.html
Tarzan of the Apes: All-Story cover by Pettee
http://www.erbzine.com/mag4/0483.html

Off-Site Reference
Pettee in Pulpartists
Saunders Interview in Aiga
---

*** 1960: "Tarzan the Magnificent," starring Gordon Scott as Tarzan, along with future Tarzan Jock Mahoney as bad guy Coy Banton, was released this date, July 20, 1960.
This movie and its immediate predecessor, "Tarzan's Greatest Adventure," have often been considered by fans as two of the best Tarzan movies. But this was Scott's fifth and l last for as Tarzan. He left the role to do non-Tarzan roles and played such characters as Goliath, Samson, Zorro, and Buffalo Bill.
Neither Jane nor son Boy appear in the film. Magnificent didn't feature the ape-call. Despite protests from fans, the producers decided it had been ridiculed too often to remain effective.
The Plot: Tarzan is hired to escort a hardened criminal, Coy Banton (Jock Mahoney), through the jungle so that he can be turned over to the police. Also in the party are a group of British visitors including Ames (Lionel Jeffries), whose wife Fay (Betta St. John) falls in love with the prisoner Banton. Tarzan must stop the jungle party from fighting amongst themselves. Their boat is blown up by Coy's father and brothers. In addition to Coy Tarzan must now lead five more of the boat's passengers through the jungle, pursued by hostile natives.
After this film, Mahoney replaced Scott as Tarzan in subsequent movies, while Scott made several Italian movies playing the role of Hercules. Our illustration features a DVD cover by artist Dave Hoover that I had published in the ERBzine Silver Screen series. During the '50s Gordon Scott's Tarzan image appeared everywhere: View-Master 3-D reels ~ Bubble Gum Trading Cards ~ Dell Comic Book covers ~ Whitman hardcover book adaptations ~ Posters ~ Original Art ~ Magazines ~ Newspaper Articles, etc. Much of this is represented in our Gordon Scott Tribute.
Tarzan the Magnificent
http://www.erbzine.com/mag19/1958.html
ERBzine Silver Screen: All the ERB Films
http://www.erbzine.com/mag5/0502.html
Gordon Scott Tribute
http://www.ERBzine.com/scott
---
1928: The San Fernando Valley community officially approved the name Tarzana. Tarzana, which measures 22.8 square kilometres, is bounded on the south by Topanga State Park, on the east by Encino, on the north by Reseda and on the west by Woodland Hills.
Our Tarzana Tribute Site
http://www.tarzana.ca
ERB Bio Timeline
http://www.ERBzine.com/bio
---
*** 1969: CELEBRATING THE 50th ANNIVERSARY OF THE MOON LANDING
We have made a number of visits to Cape Canaveral. The first was in the '60s. We wandered over the abandoned launch pad and then into the now unused control room of their first launch of a manned rocket into space. We then visited their more modern control room from which they had built to control the first moon mission. On another visit our bus was stopped while a huge rocket was being taken past us to the launch pad. When we saw this "huge" rocket later, it turned out to be the "tiny" escape rocket at the top of the huge main 3-stage unit.
On a much later visit we viewed the assembly of some of the space station modules from a viewing area high above the main floor of the assembly room. We were surprised and delighted that we were allowed down into the giant "hangar" and were able to enter and walk through two of the modules under construction. This must have been a very limited, short-lived event as I can find no evidence on the Web of this ever having been allowed. But it's something to brag about to our grandkids - we were in the Space Station :)
Another thrill was being able to enter a module and later explore one of the grounded space shuttles. The Cape was very tourist friendly at that time. Unfortunately we couldn't accept a later invitation to view a launch of the shuttle commanded by Terry Wilcutt -- the brother of Dennis, a friend of ours.
http://www.erbzine.com/mag4/0435.html
http://www.erbzine.com/mag4/0435a.html

*** Where Were You When? . . . The First Men On The Moon
Excerpt from the Hillman Music Odyssey Bio Book
*** The July 21 afternoon of our 1969 summer tour saw us glued to our little Sony portable TV. NASA's Apollo 11 space mission had touched down on the moon the day before and now the world was about to witness man's first steps on Earth's only natural satellite.
*** Since we weren't scheduled to do a show till that evening we were looking forward to the television coverage of the historic event. Unfortunately, our coach was parked on the North Battleford, Saskatchewan fairgrounds where TV reception was dismal. We moved the set to every part of the vehicle and impatiently adjusted the rabbit ears antenna
*** Finally, we picked up images of a ghost in a snowstorm, but the audio came in loud and clear. We settled back to watch this world-shattering event unfold. Seeing US astronaut Neil Armstrong finally utter the words: "That's one small step for [a] man, one giant leap for mankind" as he stepped onto this alien world was incredibly exciting. Considering the hazards of space travel and the state of technology and computers in the '60s, this was a major achievement.
*** We put on a well-received show that night, but the wonder of the scientific achievement of safely rocketing through space from the earth to the moon, to make a successful landing on the lunar surface, really eclipsed whatever success we had on stage.
Remembering the First Moon Landing
http://www.hillmanweb.com/book/gigs/04.html#moon
http://www.ERBzine.com/book

---
JULY 21
---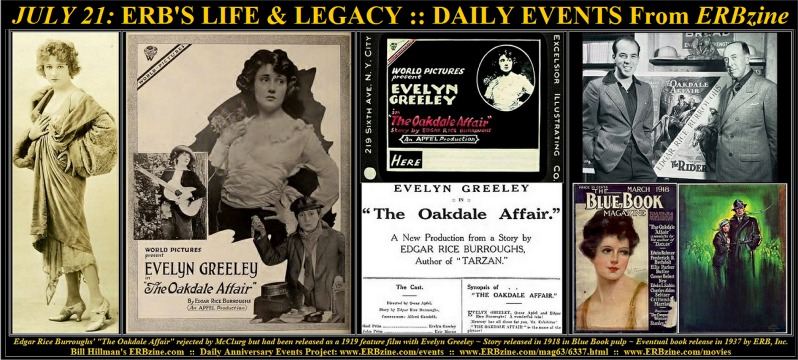 Edgar Rice Burroughs' "The Oakdale Affair" rejected by McClurg but had been released as a 1919 feature film with Evelyn Greeley
The story had been released in 1918 in Blue Book pulp magazine ~ The eventual book release would be in 1937 by ERB, Inc.
---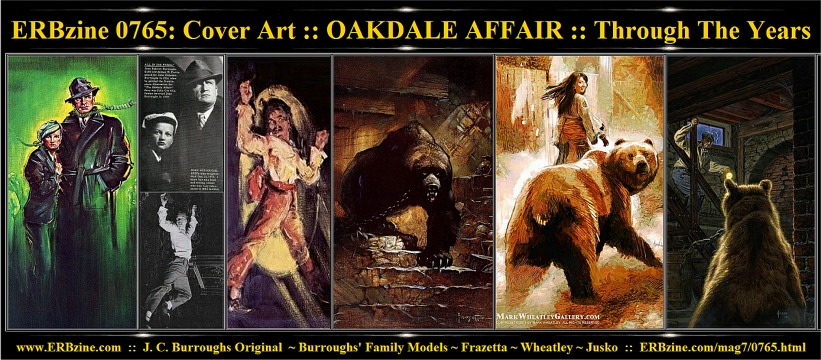 ---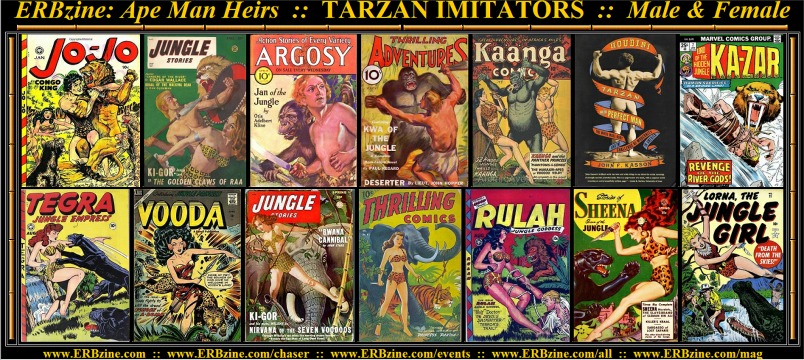 ---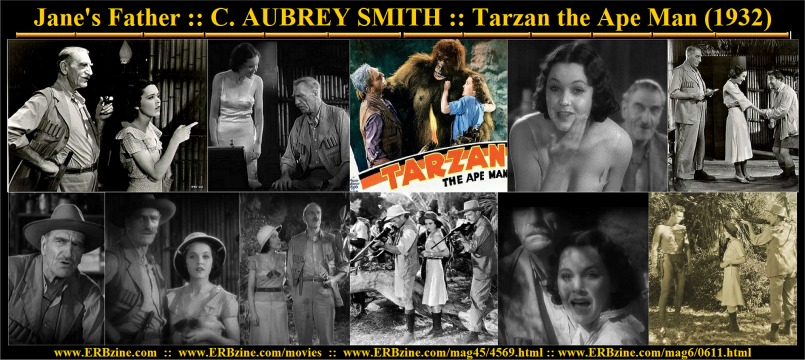 ---
*** July 21, 1921: McClurg rejected The Oakdale Affair, despite the fact that it had been accepted previously by Blue Book Magazine and also made into a feature movie, alternately titled: "Bringing Up Baby" and "The Warning." The story did not appear in book form until 1937 when it was published along with The Rider by Edgar Rice Burroughs, Inc. with cover and interior art by John Coleman Burroughs.
This sequel to The Mucker, written between January 10 and June 12, 1917, was first rejected by All-Story magazine, but later published in the March 1918 edition of Blue Book. The story, along with H.R.H. The Rider, was eventually published in hardcover by ERB, Inc. on February 15, 1937. This was the first ERB novel illustrated by ERB's younger son John Coleman Burroughs. He did the dust jacket painting and two interiors using family members as models for the illustrations -- his wife Jane Ralston Burroughs and brother-in-law James Pierce for the front cover and brother Hulbert for the back. JCB went on to illustrate all future ERB books published during the author's lifetime - creating a total of over 125 illustrations. More recent Oakdale illustrations were done by famed ERB artists Frank Frazetta, Mark Wheatley and Joe Jusko.
---
The Oakdale Affair: 1919 Film: Credits and Reviews
http://www.erbzine.com/mag7/0765a.html
Oakdale Affair: Book Biblio info plus missing Pulp Ending
http://www.erbzine.com/mag7/0765.html
---
*** 1941: LETTER ~ ALTERNATE Ed wrote a letter home to Joan from 1298 Kapiolani Boulevard, HonoluluT H. ERB was back at the office after long hospital and recovery period. He suggested that Jim Pierce apply for a job on the islands flying for the inter-island Navigation Company.
Inter-Island Steam Navigation Company was headquartered in Honolulu and ran steamship passenger and cargo service between the Hawaiian Islands from 1883 until 1947. Inter-Island constructed the Kona Inn in 1928, the first hotel in Kona on the Big Island of Hawaii. In 1929, Inter-Island created an airline subsidiary, Inter-Island Airways, which is still operating as Hawaiian Airlines. Originally, the company only operated seaplanes. In 1941, the executive VP of Inter-Island Airways was Kit Carson (No, not that Kit Carson.)
Letter keyed in for easier reading
http://www.erbzine.com/mag10/1022.html
Scan of the letter
http://www.erbzine.com/mag10/j410721.jpg
ERB Bio Timeline
http://www.ERBzine.com/bio
---

*** The name of "Tarzan" has been so popular through the decades that many have used the word in conversation, print and in other ways. Here are a few examples, and these are only the ones that are tied somehow to the date of July 21:
* The name of Tarzan didn't help Gaylord Theodor Woltzen, who had a time in the sun in both college and professional basketball. Nicknamed Tarzan, the 6-3 forward played in eight professional games for the Kankakee Gallagher Trojans but scored not a single point in his eight career contests. He did live a long time, though, passing away July 21, 1995, at the age of 90.
* One of the witnesses in O.J. Simpson's murder trial was Dr. Robert Huizenga, who had given the defendant a medical exam in June, 1994. Thirteen months later, on July 21, 1995, the Chicago tribune quoted Huizenga as having said of Simpson, "To look at him, he really has the physique of Tarzan. Although he looked like, Tarzan, he was walking more like Tarzan's grandfather." The murders of Ron Goldman and Nicole Brown Simpson took place June 12, 1994. Shapiro ordered a physical exam of O.J. by Huizenga a couple of days later, after O.J. was in custody. Huzienga's testimony came during Simpson's murder trial, a year later, on July 14, 1995 The second sentence of that quote is found in several places on the web, but the first sentence is apparently nowhere on the web except in The Chicago Tribune quote. The second sentence came up in the trial when Deputy District Attorney Brian Kelberg cross-examined Huzienga." In reporting on the trial, The Washington Post reported the next day that Kelberg's question referred to this statement by Huzienga: "Although he looked like Tarzan, he was walking more like Tarzan's grandfather." Not only did Kelberg ask Huzienga about his Tarzan statement, but Kelberg himself did a courtroom demonstration of Tarzan tactics. The L.A. Times reported "...he scrambled atop the prosecutors' table, scattering pencils, and urged Dr. Robert Huzienga to re-create the mobility tests he gave Simpson several days after the murders." He had also "grabbed Simpson's physician to demonstrate the strength needed for a murderous attack. and he directed the county coroner to stab and slash at his neck with a ruler to show jurors how Nicole Brown Simpson and Ronald Lyle Goldman may have been killed."
* And if you want to be as physically fit as Kelberg, O.J., or Tarzan, there's a Tarzan exercise, posted July 21, 2016, that anyone can do.
* Finally, what happens when someone, on July 21, 2003, decides to write a financial story that makes use of Tarzan, oranguatuans, and the Tarzan yell? See Fortune:
*** Tarzan Imitators: Since Tarzan's first appearance in 2012, there have been countless imitators in all media, but the character's impact was particularly notable in comic strips and books. The imitators are often exotically abandoned orphans who grow up to run wild and near naked in imaginary jungles. Many of these imitators became unique and noteworthy characters in their own right, adding more depth and color to the "jungle adventure". Tarzan, the forefather, spawned many wild jungle men. . . and women . . . through the years: Korak ~ Sandor ~ Ka-Zar ~ Ki-Gor, Jungle Lord ~ Jan of the Jungle ~ Wambi ~ Kwa ~ Jo-Jo ~ Kaanga ~ Bomba ~ Fantomah ~ George of the Jungle ~ Bunduki ~ Rima ~ Camilla the Jungle Queen ~ Nyoka ~ Tegra, Jungle Empress ~ Luana ~ Vooda ~ Princess Pantha ~ Helene ~ Rulah ~ Sheena, Queen of the Jungle ~ Lorna, Jungle Goddess ~ The Jungle Girl ~ Zegra ~ Tiger Girl ~ Tygra of the Flame People . . . and many more.
ERBzine Archive
http://www.ERBzine.com/all

Off-Site References:
Woltzen in Wikipedia
Woltzen in Peach Basket Society
Kelberg's tactics: Chicago Tribune
Kelberg: Washington Post
OJ Simpson in LA Times
Tarzan Excercises
Tarzan Finance in Fortune

---
Sir Charles Aubrey Smith, CBE (1863.07.21-1948.12.20) was born on this date in London, England. was an English Test cricketer who became a stage and film actor, acquiring a niche as the officer-and-gentleman type. Smith was educated at Charterhouse School and St John's College, Cambridge. He settled in South Africa to prospect for gold in 1888–89. While there he developed pneumonia and was wrongly pronounced dead by doctors. He married Isabella Wood in 1896.
In the first Weissmuller Tarzan film -- Tarzan the Ape Man 1932) -- Smith played James Porter (Parker) father of Jane played by Maureen O'Sullivan.
Movie roles are sometimes based upon what the audience expects to see. If the role called for the tall stereotypical Englishmen with the stiff upper lip and stern determination, that man would be C. Aubrey Smith, graduate of Cambridge University, a leading Freemason and a test cricketer for England. Smith was 30 by the time he embarked upon a career on the stage. It was in 1930, with the advent of sound, that Smith found his position in the movies and that position would be distinguished roles. He played military officers, successful business men, ministers of the cloth and ministers of government. Smith received the Order of the British Empire in 1938 and was knighted in 1944. Smith has a star on the Hollywood Walk of Fame, was an officer in the Legion of Frontiersmen and in 1933 was on the first board of the Screen Actors Guild. He continued to work up to the time of his death om 1948, when he died of pneumonia in Beverly Hills, CA. His ashes were returned to England and interred in his mother's grave at St Leonard's churchyard in Hove, Sussex.
Tarzan the Ape Man (1932)
https://www.erbzine.com/mag6/0611.html


VISIT JULY WEEK 3 PHOTO ALBUM
www.ERBzine.com/mag63/6337pics.html



BACK TO JULY WEEK II
www.ERBzine.com/mag63/6336.html



BACK TO DAILY EVENTS INTRO and CONTENTS
www.ERBzine.com/events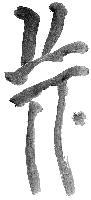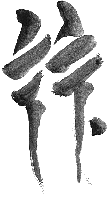 BILL HILLMAN
Visit our thousands of other sites at:
BILL AND SUE-ON HILLMAN ECLECTIC STUDIO
ERB Text, ERB Images and Tarzan® are ©Edgar Rice Burroughs, Inc.- All Rights Reserved.
All Original Work ©1996-2018/2022 by Bill Hillman and/or Contributing Authors/Owners
No part of this web site may be reproduced without permission from the respective owners.