Official Edgar Rice Burroughs Tribute and Weekly Webzine Site
Since 1996 ~ Over 15,000 Webpages in Archive
Volume 6313

ERB'S LIFE and LEGACY :: DAILY EVENTS
A COLLATION OF THE DAILY EVENTS IN ERB-WORLD
FROM THE PAGES OF ERBzine CREATED BY BILL HILLMAN
Collated by Bill Hillman and John Martin
With Web Design, Added Events, Links,
Illustrations and Photo Collages by Bill Hillman
DAILY EVENTS CONTENTS

CONTENTS
JANUARY Part III
January 15 :: January 16 :: January 17
January 18 :: January 19 :: January 20 :: January 21
---
JANUARY 15
---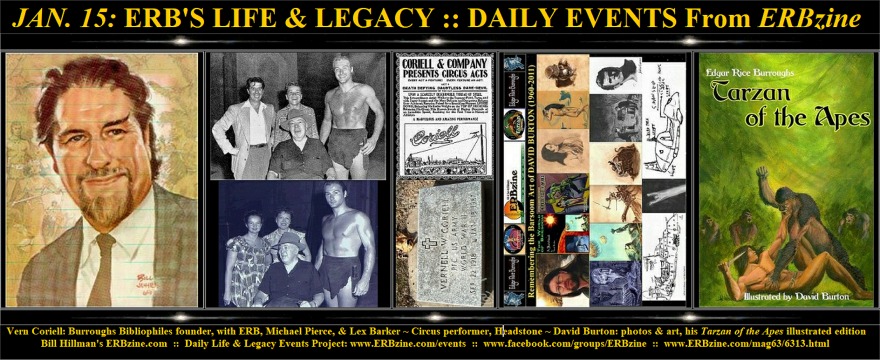 Vern Coriell: Burroughs Bibliophiles founder, with ERB, Michael Pierce, Lex Barker - circus performer, headstone
David Burton: photos and art, his Tarzan of the Apes illustrated edition
---
*** 1987: Vern Coriell died on this date. He was founder of The Burroughs Bibliophiles and publisher of "The Burroughs Bulletin" and "The Gridley Wave" along with many other pamphlets and publications, as well as full-scale ERB books reprinting some of the scarcer stories.
Perhaps one of the most desirable back issues of ERBapa is No. 13, which came out after Vern's death and included a Vern cover as well as a number of fan articles with recollections of Vern.
The group picture in my photo splash bar shows a younger Vern at left, Mike Pierce (son of James and Joan Burroughs Pierce) in the middle, Lex Barker, and Edgar Rice Burroughs, sitting.This was ERB's final appearance on a film set. This photo was shared with me by Danton Burroughs.
I joined Vern's Burroughs Bibliophiles back in the '60s. During our correspondence I mentioned that I collected classic radio shows from 1920s-1960s and that I had 77 episodes of the 1932 Tarzan radio show he was very interested. I sent him tape reels containing the shows and in appreciation he sent me a box of House of Greystoke publications. Many years later in 2003 Sue-On and I were able to visit the House of Greystoke in Kansas City. Rita Coriell -- Vern's ex-wife, now in poor health, lived alone in the house -- Vern had packed up all the ERB-related material and had left a few years before -- luckily the house was in her name. Rita was a very gracious host and we had a great afternoon visit. She passed away not long after this visit.
Vern tells his own story at:
http://www.erbzine.com/mag6/0655.html
http://www.erbzine.com/mag6/0656.html
Hillmans Visit Rita Coriell at the House of Greystoke
http://www.erbzine.com/dumdum/1rita.html
Rita Coriell Tribute
http://www.erbzine.com/mag15/1543.html
Vern Coriell Book Collection
http://www.erbzine.com/mag16/1685.html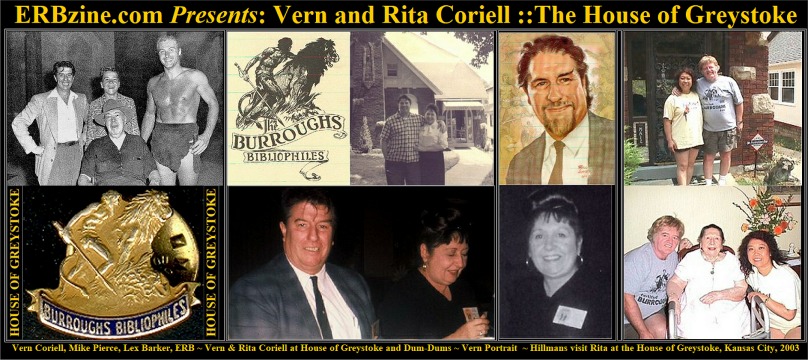 Vern Coriell, Mike Pierce, Lex Barker, ERB ~ Vern and Rita Coriell at House of Greystoke and Dum-Dums
Vern Portrait ~ Hillmans visit Rita at the House of Greystoke, Kansas City, 2003
---
*** Jan. 15, 2007, was the deadline for ordering the Leanta Books edition of "Tarzan of the Apes," illustrated by David Burton. Earlier, David had illustrated an edition of "A Princess of Mars."
David wrote to his fellow fans on the web that this book contained a map of Tarzan's Africa and the Ape Language dictionary that ERB himself wrote. "It is also the most heavily illustrated edition that's ever been published," he said. David had sent me a copy which I featured in numerous pages across ERBzine.
The book sold out. However, like all things, it shows up for sale on various sites on the internet from time to time. David had severe heart problems and was awaiting a transplant when he passed away suddenly on Dec. 3, 2011. He was 51.
ERBzine's Artist profile on DAVID BURTON
http://www.erbzine.com/mag5/0535.html
http://www.ERBzine.com/cards/art/burtonall.jpg
David's Artist's Journal for "Princess" and "Tarzan":
http://www.erbzine.com/mag16/1698.html
http://www.erbzine.com/mag17/1708.html
http://www.erbzine.com/mag17/1714.html
http://www.erbzine.com/mag17/1715.html
ERBzine Swag Promo for David's Leanta Books
www.erbzine.com/swag

Off-Site Reference
David Burton Remembered
---
*** 1941: ERB composed the poem "Skunk in Defeat," expressing how revolting he believed the Nazis to be.
Patriotic Poems by ERB
http://www.erbzine.com/mag62/6259.html
---
*** 1923: Burroughs' hopes for success in farming had long since dissipated. Soon to become a reality was his planned incorporation and the end of farming. At a well-advertised auction sale on January 15, 1923, most of the livestock and all of the farm tools and equipment were disposed of. Seven saddle mares bred to the famous pedigreed Arabian stallions Letan and Harara were sold, but Ed still retained a number of other horses, including Colonel, his favorite saddle gelding, and Brigadier Rex, a registered saddle stallion. Other livestock at the auction were the dairy cattle and the herd of Berkshire swine, totaling more than one hundred, all registered or subject to registry. Two days later Ed commented to Bert Weston, ". . . it is over and I am through with farming, which is worth the loss, and I believe I could write a book on Gentlemanly Agriculture that would more than compensate me for all that I have dropped in this line of endeavor...."
---
*** 1944: Ed's eagerness to have Caryl use his name was evident. He wrote in letter to her on this date: "You seem to have a bad time trying to remember to sign your letters to me, Caryl Lee Burroughs. You don't have to use my name if you don't want to. You said that you did. My feelings won't be hurt either way. Just keep on loving me, as I do you." The following month he chided her, "I am glad that you want to keep my name, but I think you should learn how to spell it. It is not Bourroughs. You should know that."
---
*** 1930: ERB received a letter from Colonel Laurence C. Brown, Ninth Coast Artillery District, Presidio of San Francisco. He replied four days later writing that he recalled Brown as being one of the enlisted men at Fort Grant when he was there and congratulated Brown upon having achieved his goal of a commission: "I still have a bunch of cancelled canteen checks that recalls the wild debauchery of `The May Have Seen Better Days Club.' As I recall it if we got one square meal and a bottle of red wine a month we were going some."
ERB Bio Timeline, ERB Journals and Porges
http://www.ERBzine.com/bio

---
JANUARY 16
---

Stellan Windrow: First film Tarzan choice ~ Caroline Munro: Photos as Dian in At The Earth's Core ~ ERB and his dictaphone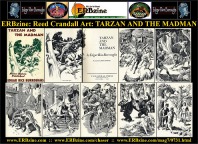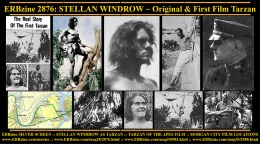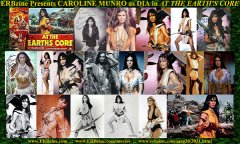 ---
*** 1940: Burroughs wrote "Tarzan and the Madman," January 16 to March 22, 1940, producing a loose collection of incidents and devices that were too stale for further repetition. ERB dictated the story onto a Dictaphone wax cylinder. On the only remaining cylinder saved by son Jack, Ed's voice can be heard dictating a brief section of the novel, about 1,500 words. At the start, after announcing "Cylinder Sixteen," he proceeded to dictate at a fairly fast rate. Although he was improvising the story, he had sources, brief notes or references, prepared in advance. In his notebook, for example, the story appears in a condensed form of about fifty handwritten pages.
This served to fix the structure and characters in Burroughs' mind. The notes were intended mainly as reminders, especially to provide the continuity, to make certain he was following the incidents he had already planned. Evidently, in most of his dictation, he had the story elements well arranged in his mind and he could dictate or improvise for long periods without glancing at any notes. On occasion he glanced down at the papers on his desk, which might be mere glossaries of characters and their roles.
The notebook reveals that from a summary of one or two sentences he might improvise a long section as he dictated. For example, in the notebook Burroughs wrote, "Next morning Gantry, Crump and Minsky discuss the voice in the night. Gantry is afraid. He decides to turn back." From this short statement Burroughs created and dictated more than a page, some 350 words, mainly dialogue between the men.
The story was submitted to many magazines but was rejected by all. It was finally published as a hardcover book by Canaveral Press in 1964.
Tarzan and the Madman: History, Photos, Review, Articles
http://www.erbzine.com/mag7/0731.html
ERB Bio Timeline
http://www.erbzine.com/bio/years40.html#1940
---

*** 1919: National Film Company wrote a letter to ERB, inviting him to the premiere of "Tarzan of the Apes," starring Elmo Lincoln. See the letter in the C.H.A.S.E.R. page. A month before, ERB was so irked at the film industry that he sold off his shares of stock in National Film. He spurned the invitation to the Tarzan premiere, but Stellan Windrow didn't. Windrow was the one originally cast to play Tarzan and, indeed, appears in the movie, uncredited, in several tree-travel scenes.
Elmo Lincoln is generally thought to be the first movie Tarzan because he starred in the first Tarzan movie, Tarzan of the Apes, released in 1918. It is not generally known that the man first contracted to play the movie role of Tarzan, and the first to actually be filmed in the part, was Stellan Sven Windrow of Chicago.
When Stellan Windrow met producer "Smiling Bill" Parsons, his six-foot, four-inch, 200-pound frame led Parsons to exclaim "If we had met you three months ago we could have saved some money searching for the right man [to play Tarzan]." He was signed, with filming to wait until graduation that June.
After five weeks of shooting, the treetop work nearly completed, his country called Stellan Windrow to World War I, in which he served as an ensign in the Navy. National Film paid him $1000 for his film rights, meaning he would not be credited in the film. A frantic search began for his replacement, ending a few weeks later when D.W. Griffith discovery Elmo Lincoln arrived from Los Angeles.
The ERBzine Stellan Windrow page:
http://www.erbzine.com/mag28/2876.html
Tarzan of the Apes: ERB C.H.A.S.E.R. Bibliography
http://www.erbzine.com/mag5/0503.html
---
*** 1950: Born on this date was Caroline Munro played Dia, the movie name for Dian the Beautiful, in "At the Earth's Core." She was born in Windsor, Berkshire, England. Besides starring in "At The Earth's Core," she appeared in several other films, including "The Abominable Dr. Phibes," "Dracula A.D. 1972," "The Golden Voyage of Sinbad," and two James Bond films, "Casino Royale" and "The Spy Who Loved Me." She made several Hammer Films and has the distinction of being the only actor ever signed to a long-term contract by Hammer Films. She turned down the lead female roles in Hammer's Dr. Jekyll and Sister Hyde (1971), Frankenstein and the Monster from Hell (1974), and the unmade Vampirella because they required nudity.
In later years her film roles were confined to performing cameos as herself in Night Owl (1993), as Mrs. Pignon in To Die For (1994), as the counsellor in her friend Jeffrey Arsenault's film Domestic Strangers (1996), and as Carla the Gypsy in Flesh for the Beast (2003). In 2018, Munro re-teamed with her Dracula A.D. 1972 co-star Christopher Neame to appear in the horror film: House of the Gorgon.
Today Caroline is a Trustee of the Ray and Diana Harryhausen Foundation.
Caroline Munro Gallery
http://www.erbzine.com/mag40/4001.html
At The Earth's Core - the movie
http://www.erbzine.com/mag30/3031.html
The screen shots:
http://www.erbzine.com/mag30/3031a.html

Off-Site References
Munro Wikipedia Bio
Munro website
---
*** 1944: ERB wrote an interesting two-page letter home to Mike Pierce. I've scanned it and also typed it out for easier read. A few excerpts:
". . . I visited a jungle training unit. The colonel commanding took two public relations captains and myself in a jeep and drove us around for about six hours. . . . The training is certainly rugged. The men engage in personal combat without weapons, learning all the dirty fighting tricks that gangsters, muckers, Apaches (the French kind), and hoodlums ever devised, to which have been added some super-duper atrocities heretofore unknown, plus judo. . . . Another unit was learning jungle infiltration tactics. Two men at a time would sneak down a steep, muddy jungle trail with fixed bay-onets ready for any emergency. From behind a tree, a Jap would leap out and swing a mean haymaker at the leading man. . . . At the bottom of the ravine, a Jap sniper hid behind a tree. As a soldier bayoneted him, another Jap swung, down from a tree on the side of the ravine and knocked him sprawling into the mud. While I was watching, I saw a captain get it - and how."
ERB Wartime Letter Home to Mike Pierce
http://www.erbzine.com/mag10/1026.html

---
JANUARY 17
---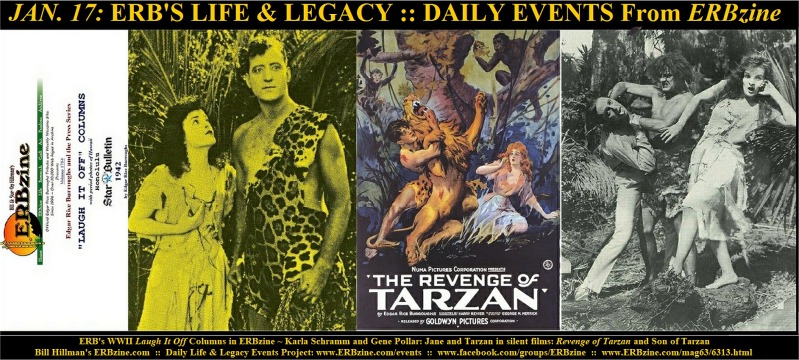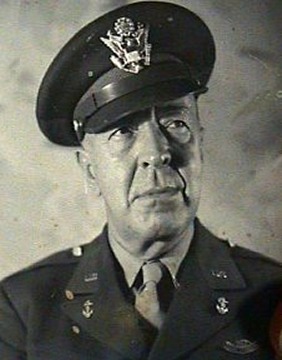 ERB's WWII Laugh It Off Columns in ERBzine ~ Karla Schramm and Gene Pollar:
Jane and Tarzan in silent films: Revenge of Tarzan and Son of Tarzan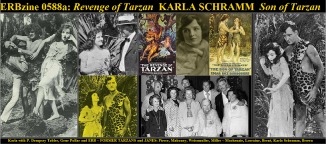 .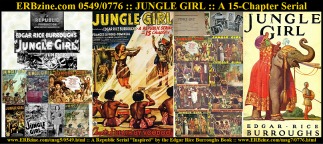 ---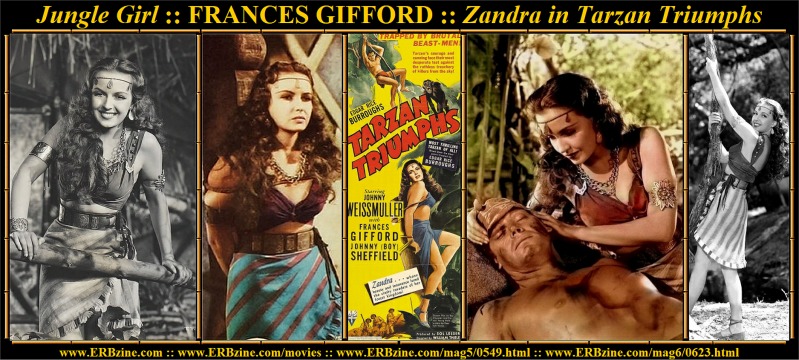 ---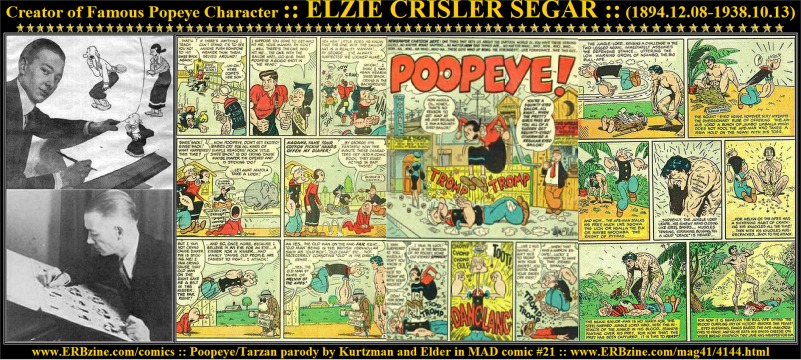 ---
*** 1980: The second actress to play Jane on the screen, Karla Schramm, (1891.02.01-1980.01.17) died on this date in Los Angeles.
She had that role in "The Revenge of Tarzan" with Gene Pollar and then played Tarzan's mate in "The Son of Tarzan" with P. Dempsey Tabler. Karla was only one of two women to play Jane opposite two different Tarzans.
Though a child prodigy on the piano, Karla Schramm is remembered today for being the second 'Jane' in the two Tarzan movies of 1920. She travelled as a child pianist and composer through US, Canada, Mexico and Europe. She made her debut as a matured artist in Chicago at Music Hall. She was an accomplished swimmer and dancer. After retiring from the film business she taught piano.
Even before filming began, the producers were under pressure to conform to new industry moral standards regarding nudity. At issue was not Miss Schramm's apparel, but rather Pollar's. To satisfy the moral guardians, Pollar had to wear an over-the-shoulder animal skin to hide most of his torso, and leggings that covered his thighs.
Karla Schramm
http://www.erbzine.com/mag5/0588a.html
The Revenge of Tarzan
http://www.erbzine.com/mag5/0588.html
Gene Pollar
http://www.erbzine.com/mag29/2986.html
The Son of Tarzan: Silver Screen Series
http://www.erbzine.com/mag5/0589.html
https://www.erbzine.com/cards/film2/karlaall.jpg
---

*** During World War II, many citizens might have been surprised to learn that one day Americans would be driving the German Volkswagen and signing Japanese players to their baseball teams, but such is the way it goes when wars are over and enemies become friends again. ERB took his shots at the enemies of the U.S., not only in some of his stories, but also in his daily column, "Laugh It Off," in the "Honolulu Star Bulletin." On Jan. 17, 1942, ERB put together a couple of column items which tarred the foe in both the Pacific and the Atlantic.
His first target was the Germans: "What could better insure the post war peace and prosperity of Europe and the world than the replacing of the German state by a Jewish republic under a new name? It might conceivably settle the Jewish question for all time, and it would most assuredly settle the nazi question."
Then, he went after the Japanese: "Olga Streeter says that she understands that the United States and Japan have decided to divide the Pacific ocean between them. Japan is to get the bottom half."
He was much easier on US citizens of Japanese Heritage in the article he wrote two years later: The Japanese Problem
"I cannot forget that there are thousands of [Japanese] in Italy, fighting and dying at the side of other Americans; and I cannot conceive of America repaying them by disenfranchisement and deportation. There must be found a better way, a more American way."
ERB wasn't correct about the location, but he did see the establishment of a Jewish state, which happened when Israel was born in 1948.
ERB's Laugh It Off columns of 1942:
http://www.erbzine.com/mag17/1754.html
ERB Article: The Japanese Problem
http://www.erbzine.com/mag9/0941.html
---
*** 1919: On this date Ed commented in a letter to Bert Weston about the problem of moving to Los Angeles and leaving parents behind: "Every time we go away, and we have gone a great many times, there is always that same suggestion that we shall never see our surviving parents again but we always do." Bert had been concerned about leaving his in-laws, the Collinses, in case he decided to come to California. Ed pointed out that, as an example, Mrs. Hulbert, living in Coldwater, Michigan, only 150 miles away from Chicago, was still isolated and could become ill and die before any members of her family could reach her. Before departing for Los Angeles, Ed placed both of his homes for sale; these, in Oak Park, were at 700 Linden Avenue and 414 Augusta Street. A vacant lot on Ridgeland Avenue north of Augusta was also listed for sale.
ERB Bio Timeline, Journals and Porges
http://www.ERBzine.com/bio

---
*** 1929: Popeye the Sailor is a cartoon fictional character created by Elzie Crisler Segar. This long-lived cartoon character appeared on this date -- 10 days after Tarzan was introduced to the comic strips with Hal Foster art. Like Tarzan, Popeye has appeared across all media ever since: comic strips and books, animated cartoons, real life movies and television, radio and stage, arcade and video games, merchandise and ads, retail foods and beverages, franchises, etc. Many consider Popeye a precursor to the superheroes who would eventually come to dominate US comic books. There have been some unlikely cross-overs through the years, such as the Poopeye parody by Kurtzman and Elder in MAD comic #21.
Tarzan Meets Poopeye: Mad Comic 21
http://www.erbzine.com/mag41/4144.html
https://www.erbzine.com/cards/comics3/segarpopeyeall.jpg
---
*** 1994 Frances Gifford (1920.12.07-1994.01.22), American actress died on this date. Gifford played several minor roles for RKO before she was, in 1941, lent to Republic Pictures and cast in the role which would arguably produce her most enduring fame: as the semiclad Nyoka in Jungle Girl, a 15-chapter movie serial, based very loosely on the novel by Edgar Rice Burroughs. In 1943, she made another jungle movie, costarring as Zandra, with Johnny Weissmuller in Tarzan Triumphs. This is the first Weissmuller film with Jane not appearing at Tarzan's side. Maureen O'Sullivan had left the series to pursue her career in more "legitimate" films. Jane's absence in the film is explained in a letter which states she is visiting relatives in England. There was no attempt to "kill her off" as they had tried so unsuccessfully previously.
Following this she moved to MGM, where she made her most successful films. Gifford suffered serious head injuries in an auto accident in 1948. After continued repercussions, she was admitted to Camarillo State Hospital in 1958. She was released in 1978 and went on to do volunteer work for charitable organizations in Southern California, including the Pasadena city library. She died of emphysema in Pasadena in 1994.
Tarzan Triumphs
https://www.erbzine.com/mag6/0623.html
https://www.erbzine.com/mag6/0623a.html
https://www.erbzine.com/mag6/0623b.html
https://www.erbzine.com/mag6/0623c.html
ERB's Nyoka the Jungle Girl Serial
https://www.erbzine.com/mag5/0549.html
https://www.ERBzine.com/cards/film7/francesgiffordtarzantriumphsall.jpg
---
*** In other ERB news of Jan. 17, Rex Maxon's art for "Tarzan the Fearless" began appearing in newspapers this date in 1938.
The strips were later reprinted in a magazine-size paperback:
Maxon's Tarzan the Fearless: 96 Strips
http://www.erbzine.com/mag40/4064.html

---
JANUARY 18
---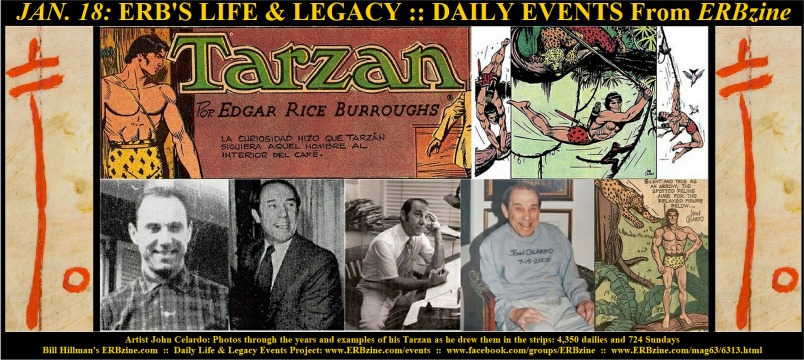 Artist John Celardo: Photos through the years and examples of his
Tarzan as he drew them in the strips: 4,350 dailies and 724 Sundays
.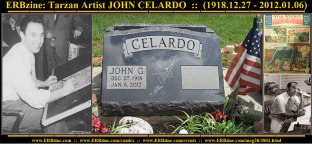 .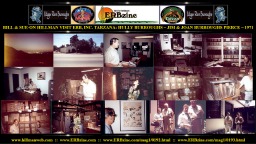 ---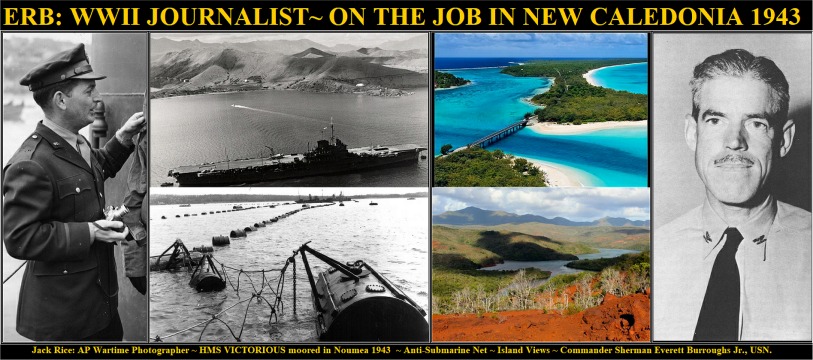 ---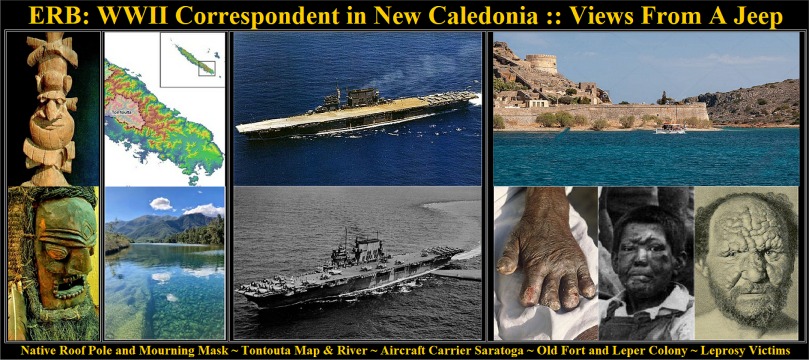 ---
*** 1943: War Correspondent ERB On Assignment in New Caledonia: Ed was awarded a new rank, "Assimilated 2nd Lieutenant". He met Commander Sherman Everett Burroughs, Jr. USN, after which he drove to the top of a promontory at the north entrance to Noumea harbour. This location offered a beautiful view of the area and an opportunity to explore an old abandoned French fort with its battery of guns made in 1850. Gazing around the countryside below he marvelled at the buildings, hospitals, air fields and road network that the US military had built on this French colonial island. In the inner harbour, protected by a submarine net, lay battleships, flat tops, cruisers, destroyers and merchantmen. On the way back to the hotel he passed a well-kept leper colony for natives with its barracks, hospital buildings and elaborate church. Beside the road he was shocked to see a young patient partially rotted away.

Note: After Danton Burroughs shared ERB's 50-page Wartime Journals with me back in 2003 I went to work summarizing each day's entry and added photos that I thought were related to the events. I think that the results make for interesting reading for my ERBzine readers and researchers interested in ERB's War Years.

This summary was very popular with fans and researchers -- so popular that, 16 years later,
I typed ERB's entire 50-page War Journal into 50 ERBzine Webpages.
Wartime Journals of Correspondent Edgar Rice Burroughs :: December 1942-April 1943
THE DIARY OF A CONFUSED OLD MAN
or Buck Burroughs Rides Again

*Through many more hours of research I found relative photos and links for each of the 50 pages which I added to the series.
ERB's entire 50-page 1942-43 Wartime Journal is starts at:
www.erbzine.com/mag68/6800.html
Journal Entry for January 17/18 1943
https://www.erbzine.com/mag68/6826.html
https://www.erbzine.com/mag68/6827.html
ERB: Wartime Journals - 2003 Summarized Illustrated Timeline of Events
http://www.erbzine.com/mag10/1036.html
https://www.erbzine.com/mag68/waryearsbar.jpg

---
*** Artist John Celardo's first Tarzan daily strip appeared in newspapers on Jan. 18, 1954. This was followed by his first Sunday strip, Feb. 28 of that year.
According to ERBzine, "He probably had been inking Bob Lubber's Tarzan strips for quite some time before these dates. This early work was very similar to Lubbers' but he gradually developed a more simple, less complicated and perhaps 'lazier' style. He produced a total of 4,350 daily strips (#4507-#8856) and 724 Sunday strips (#1199-#1922) - an output second only to Rex Maxon."
He first illustrated, then took over the "Tarzan" comic strip, a task he worked at for 15 years, keeping the material fresh by adding relevant social themes like race relations and modern living. He also inserted current events affecting Africa, where the comic strip was set, such as socialism, Peace Corps efforts on the continent and the spread of new religions. President Eisenhower once wrote him, saying "I find your work.... almost too perceptive," in regard of Mr. Celardo's themes.
In the 1950s Mr. Celardo produced the Tarzan comic strip for United Features Syndicate, and it appeared in 225 daily and Sunday newspapers in 12 different countries at the height of its popularity. Before and after World War II, he also worked as an assistant art director for Fiction House, and from 1973 to the mid-1990s he was a comics editor for King Features Syndicate, a division of the Hearst Corporation. He also illustrated comics on packages of Topps Chewing Gum. January is significant in the life of Mr. Celardo for another reason. He passed away on Jan. 6, 2012.
As a Canadian prairies farm kid I faithfully followed the Tarzan Sunday pages featured on the front of every Star Weekly colour comics section -- starting with the Hogarth strips in the late '40s and all the way through the Lubbers period and then into the Celardos. I enjoyed them all and clipped out and collected many of the Celardo Sunday pages. This early influence has inspired me to collect and share thousands of strips in ERBzine.
JOHN CELARDO TARZAN CONTENTS
All the Daily Strips in ERBzine.com
PART 1
http://www.erbzine.com/mag38/3801.html
PART 2
http://www.erbzine.com/mag43/4301.html
PART 3
http://www.erbzine.com/mag44/4401.html
PART 4
http://www.erbzine.com/mag46/4601.html

Off-Site Reference:
A Celardo Off-sites Page
---
*** 1924: Early in the year, Ed committed himself to the most ambitious of his business projects, the sale of 120 acres of the Tarzana Ranch, including the large house and other buildings, for a country club. To his brother Harry, on January 18, he confided the details:
"It is to be called El Caballero Country Club, and the aim of the promoters is to make it the finest and most exclusive country club on the Pacific coast. There will be two golf courses and a polo field. Our residence will be used as the nucleus of a larger club house... ."
He explained that the club promoters were also purchasing one hundred acres from the adjacent Woodrough property on the west, and at the end, commented, "We do not feel so badly about giving up the place . . . since we will have the use of it, without any of the responsibility, and really can enjoy it just as much, if not more than before." Ed informed his brother George, now living in Burley, Idaho, that if the sale were completed, the family would have to leave Tarzana by June 1. He provided a vivid account of the changes taking place in the Tarzana area:
"Formerly we were way out in the country, while now everything is rapidly moving in our direction. . . . With the exception of one or two tracts, everything between us and Los Angeles has been subdivided. . . . It is nothing unusual for lots to jump in two or three resales from six thousand and eight thousand to fifteen and twenty thousand dollars."
When I was in Tarzana to give the eulogy at Danton's Memorial, Dan's old friend Ralph Herman spent a day showing me around the valley and Hollywood. We dined in the luxurious El Caballero Dining Room and then rode a golf car all around the club course and off to many of the places that had all been part of ERB's Tarzana Ranch. The main Tarzana mansion was taken down in the '30s but Ralph, who owned much of the property, had bought and renovated what used to be ERB's large theatre and garage building near the location of the main house and pool.
El Caballero Country Club Booklet
http://www.erbzine.com/mag10/1091.html
ERB Bio Timeline and Porges
http://www.ERBzine.com/bio
---
*** 1919: The Oak Parker reported on this date that Burroughs would leave on January 31 for a ranch near Los Angeles and remarked that it was "a far cry from stories to swine." In the same issue there was a story of a farewell party for Joan Burroughs, with the "hosts assisting" listed as Hulbert and Jack Burroughs, and with story-telling contributed by Ella Burroughs. Joan, age eleven, was shown in the photo of a group of children.
---

*** 1927: In a letter written on this date, Ed explained that his beloved stallion Brigadier Rex had been sold to the Mexican government: "I hated to part with him . . . but as I ride a great deal in company with Mrs. Burroughs, our daughter and our two sons, I found it undesirable to ride a stallion."
The letter contained much of Ed's philosophy about animals and his desire to protect them: "The coyotes come down every night close to the house, and on many mornings during the summer I could shoot them from my bedroom window, but I would much rather see them than kill them." He described the situation at Tarzana where the wildlife had been protected for many years: ". . . hundreds of quail live the year round on the property and are quite tame. We have counted as many as forty on our lawn just before sundown feeding with cotton-tail rabbits and occasionally a jack-rabbit. By putting in lily ponds on my property, I have been able to attract a great deal of beautiful bird life. The birds seem to quickly learn that they will not be molested."
His most perceptive statement, like a confession, revealed the understanding that comes to many individuals only through maturity: "When I was a boy and young man, I wanted to kill things as I think most boys and young men do, but as we grow older we take more pleasure in life than death."

---
*** 1930: In a letter to Elser about Tanar, Ed requested: "He should have a shock of black hair, long but without any suggestion of effeminacy. If permissable, he should wear only a G-string of dark fur, the end hanging down almost to his knees in front. . . ."
---
*** 1942: ERB's son Hulbert enlisted on this date as a photographer in the Army Air Corps. While visiting Danton we viewed many of his Uncle Hully's photos and films taken during the war. Hulbert had a love for photography for the rest of his life. When Sue-On and I first met him in the ERB, Inc. office in 1971 we compared cameras - I had a new Pentax. I wasn't aware of his military background at the time but he mentioned that his current hobby was taking photos of cactus plants around the old Burroughs ranch area and through the valley.
Years later, Danton sent me one of Hully's documents from his Burroughs family archive. Hully had requested that his dad share some of his wartime experiences in the Pacific. ERB forwarded a 50-page typed manuscript to him. I transcribed these pages for display in ERBzine and added a multitude of related photos that I had tracked down. Ed had called these Wartime Journals that relate events from December 1942 through April 1943: THE DIARY OF A CONFUSED OLD MAN or Buck Burroughs Rides Again. The series starts at ERBzine 6801.
Hillmans' Tarzana Quest I
http://www.erbzine.com/mag1/0192.html
Hillmans' Tarzana Quest II
http://www.erbzine.com/mag1/0193.html
ERB: The War Years
http://www.ERBzine.com/war
ERB Bio Timeline and Porges
http://www.ERBzine.com/bio
ERB's Wartime Journals from Dec 1942-April 1943
https://www.erbzine.com/mag68/6801.html

---
JANUARY 19
---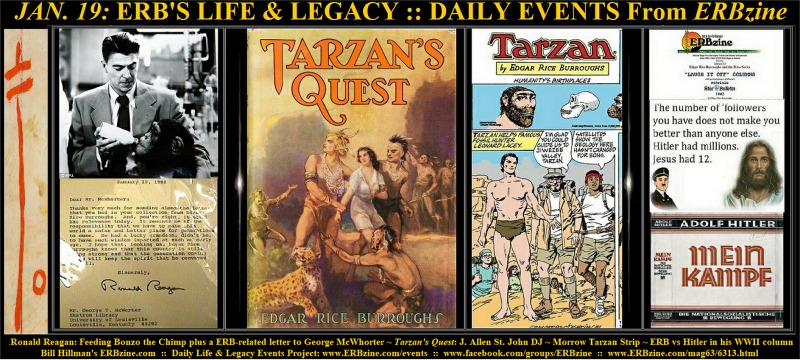 Ronald Reagan: Feeding Bonzo the Chimp plus a ERB-related letter to George McWhorter
Tarzan's Quest: J. Allen St. John DJ ~ Morrow Tarzan Strip ~ ERB vs Hitler in his WWII column
---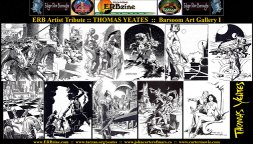 .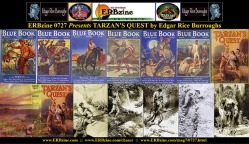 ---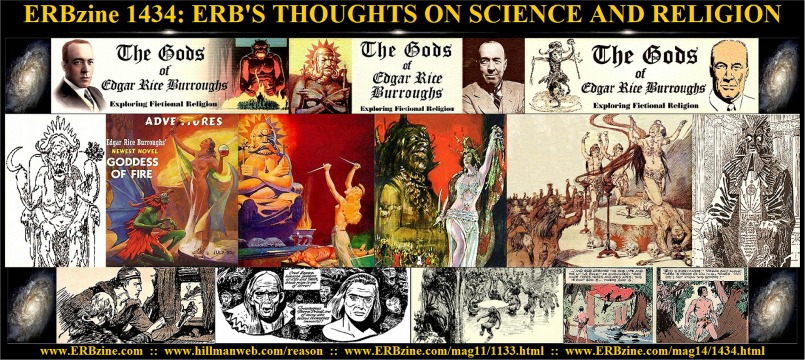 ---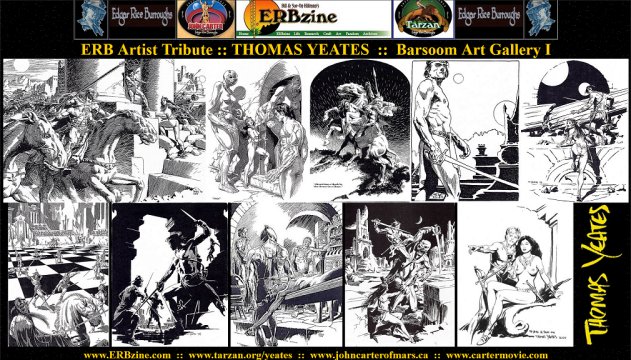 ---
*** 1988: From at least a year after he took office, to about a year before he left office, President Ronald Reagan found time to remember one of his boyhood heroes, Tarzan of the Apes, and other ERB protagonists as well. Among the documents presented at ERBzine is a letter Reagan wrote this date, Jan. 19, 1988, a year and a day before his term expired. The letter was addressed to our own George T. McWhorter and thanked George for sending him a copy of yet another letter.
Reagan's letter said: "Dear Mr. McWhorter: Thanks very much for sending along the letter that you had in your collection from Edgar Rice Burroughs. And, you're right, it still has relevance today. It reminds me of the responsibility that we have to make this world a safer and better place for generations to come. He had a lucky grandson, didn't he, to have much wisdom imparted at such an early age. I hope that, looking on, Edgar Rice Burroughs knows that this country is still keeping strong and that the generation coming...will keep the spirit that he conveyed....
During the visits that Sue-On and I had with George at his huge Memorial ERB Collection in the Ekstrom Library at the University of Louiville this was one of the items he was very proud of. I took a photo and displayed it on one of my ERB McWhorter pages. Unfortunately this was at the turn of the century and my early version digital camera was of fairly low resolution and Internet storage and speeds were low, but the letter is still readable at ERBzine 0440 and in the splash bar above.
Reagan's ERB-related letter to George McWhorter
http://www.erbzine.com/mag4/0440.html
George McWhorter Tributes
http://www.ERBzine.com/george
---
*** 1942: ERB and Religion: The "Laugh It Off" columns were nearing their end, but ERB was still taking potshots at America's enemies while he could. On Jan. 19, 1942, he quoted "The Bible" to Hitler with: "Adolph, in Mein Kampf and elsewhere, has often bragged of being a 'have not.' It won't be long before Adolph will have to admit that Saint Luke was right when he wrote, 'and whosovever hath not, from him shall be taken even that which he seemeth to have.' "
It was interesting to read this quote from ERB since he was not in the habit of quoting the Bible. He was not a church goer and in discussions with his sons Hulbert and Jack, Burroughs stated his religious attitude clearly: he did not believe in the Bible, Christ, the Immaculate Conception, or God. He called himself an atheist. To his sons, Burroughs, who did not attend church, had often expressed his dislike for any form of organized or sectarian religion.
Readers and fans of the works of Edgar Rice Burroughs have been of every age and occupation, nationality and culture, faith and belief. It is quite amazing how each one so uniquely interprets ERB's themes and beliefs. He has been labelled as being ahead of his time in his progressive ideas on conservation, feminism, animal rights, free-thinking, reason vs. superstition, humanitarianism, championing of all races, writing trends (science fiction, adventure, fantasy), mechandising, artists' rights, fatherhood, creativity and imaginative thinking.
On the other hand, there are those who see in him characteristics contrary to all of the forelisted: placing of women in subservient roles, butcher of wildlife, intensely religious and spiritual, shallow thinker, racist, hack, plagiarizer, business failure, homewrecker, opportunist, and a dreamer of wild and worthless fantasies.
I have noticed in my contacts with so many fellow-ERB fans that a great many of them like to cloak ERB in religious values and belief systems which are a reflection of their own. I believe that this popular writer, born in 1875, has done a quite remarkable job of presenting himself in a way that straddles his own free-thinking attitudes and the strict religious and traditional mores of his audience during the first half of the twentieth century.

"With the acquisition of wisdom, man is more inclined to be skeptical in matters of religion." ~ ERB, TGL

"Laugh It Off," 1942:
http://www.erbzine.com/mag17/1754.html
Burroughs' Thoughts on Science and Religion
http://www.erbzine.com/mag14/1434.html
---
*** 1943: War Correspondent ERB On Assignment in New Caledonia: On his way to Tontoura for a story from Commander Burroughs at the Carrier camp, he picked up a filthy Fighting French courier with mail sack, two CBs and two coloured men from an Engineer Corps unit. He messed with Burroughs and several officers of his command, Air Group 3 of Aircraft Carrier Saratoga which was docked at Noumea (pronounced Numa).
On the way back to the hotel he picked up a Javanese woman with baby and a boy with dog. Back in his room he discovered cause of an itch that had annoyed him all day: spider bite welts across his back. He believed that his health started to decline from this point on and that he was affected by this poison for the rest of his life. He later learned the island tap water he had been drinking had not been chlorinated, but he suffered no apparent affects from this.
DIARY OF A CONFUSED OLD MAN :: ERB's ILLUSTRATED WAR JOURNALS 1942-43
INTRO and CONTENTS for 50 Illustrated ERB WWII Journal Pages
http://www.erbzine.com/mag68/6800.html
ERB: Wartime Journals - Illustrated Timeline of Events Summarized
http://www.erbzine.com/mag10/1036.html

---
*** 1935: Tarzan's Quest: Nineteen on nineteen: ERB began writing Tarzan and Jane (which became "Tarzan's Quest") on May 13, 1934, and finished it -- his 19th Tarzan novel -- on Jan. 19, 1935.
See May 1934 entry at: ERBzine 0140.
In the early days of my collecting back in the '50s ERB books were very hard to find. I searched all the local bookstores in my Western Manitoba area and then went farther afield and sent letters to booksellers in other parts of Canada, USA and England. A dealer in the UK replied that he had a copy of Tarzan's Quest so I immediately sent for it. What arrived on February 15, 1958 was a strange hardcover edition that I later learned was a library bound edition. I was thrilled to see that it contained J. Allen St. John art.
Tarzan's Quest: Our ERB C.H.A.S.E.R Biblio Info
http://www.erbzine.com/mag7/0727.html
ERB's May 1934 Journal Entry
http://www.erbzine.com/mag1/0140.html
Promo Collage for Tarzan's Quest
http://www.erbzine.com/cards/biblio/tarzansquestall.jpg
---
*** 1955: Thomas Yeates was born on this date. Thomas is an American comic strip and comic book artist best known for his many years of illustrating the works of Edgar Rice Burroughs.
Award-winning illustrator Thomas Yeates was among the first graduates of the prestigious Joe Kubert School in 1978. He has worked for almost every major publisher, but his favorite subjects are the great adventure characters like Tarzan, Zorro and Prince Valiant. On April 1, 2012, Yeates began drawing the Prince Valiant comic strip -- carrying on the long tradition of the amazing strip created by Hal Foster . . . previous to this he had done the Zorro strips.
Thomas is also a respected guitarist and singer and we've enjoyed many jam sessions with him during or after ERB Conventions around the country.
Our opening ERBzine Webpage proudly displays the the sketch that Thomas did of Sue-On and I . . .as the Jeddak and his Princess on Barsoom :)
Our Thomas Yeates Tribute Pages
11 Pages of Thomas' Amazing Art, Bios, Interviews, Photos
http://www.tarzan.org/yeates
Thomas Yeates visit Chicago Blues Clubs
with the ERB, Inc. Staff and Hillmans
http://www.erbzine.com/mag33/3324.html
Yeates At Work: Hillmans as Jeddak and Princess
http://www.erbzine.com/mag3/0378.html
http://www.erbzine.com/mag3/0379.html
Yeates Promo Collage
http://www.erbzine.com/cards/art/yeatesall.jpg
https://www.erbzine.com/cards/comics2/yeatestarzanreturnall.jpg
---
***"The Fossil Hunters and the Terrorists," by Gray Morrow and Desaro & McKay, began Jan. 19, 1997, and ran for 16 weeks.
Fossil Hunters and the Terrorists: 16 Gray Morrow Tarzan strips
http://www.erbzine.com/mag58/5803.html

---
JANUARY 20
---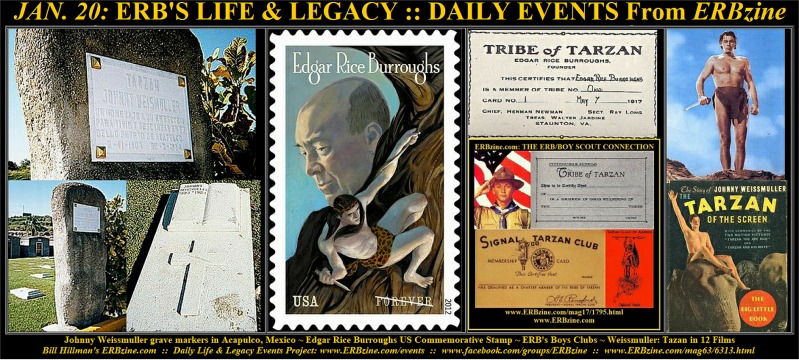 Johnny Weissmuller grave markers in Acapulco, Mexico ~ Edgar Rice Burroughs
US Commemorative Stamp ~ ERB's Boys Clubs ~ Weissmuller: Tazan in 12 Films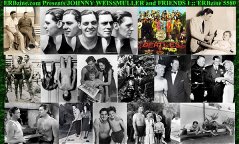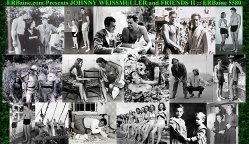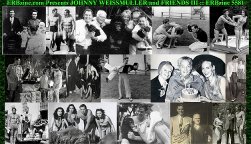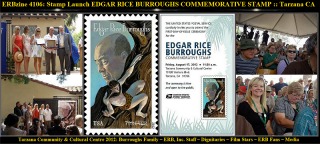 ---
*** 1984: An era ended on this date in 1984. Johnny Weissmuller, the most well-known Tarzan actor, in fact -- the man who owned the role -- passed away.
Johnny was living in Acapulco, Mexico, at the time, and he selected that area as his final resting place.
It's often been noted that Johnny's name is spelled incorrectly on his marker. Actually, it is spelled properly on his actual gravestone, which is a marble slab with a book with his name on it. Very close by is a tall "marker," with the word "Tarzan" and his name spelled with only one "S." Photos show the gravestone to the left of the tall marker-plaque (also called a "stela" or "stele," a closeup of the plaque, and the gravestone slab itself. Although Johnny played Tarzan in 12 movies, it is fitting that the marker shows Johnny's name on a book, the medium in which Tarzan first appeared!
---
*** 1984: Johnny Weissmuller died: (1904.06.02-1984.01.20) Here's some facts about Johnny's passing and other "Trivia" from Bill Hillman's ERBzine page on "Tarzan and the Mermaids":
* In 1973, in the final ravages of fame that also befell actor George Raft and boxing great Joe Lewis, Weissmuller worked as a greeter at Caesar's Palace in Las Vegas. A broken hip led to a series of illnesses and he went back to Acapulco to retire at his round-house in the Hotel Los Flamingos. He died in his sleep on January 20, 1984, five months before his 80th birthday.
* Weissmuller died of pulmonary edema (water in the lungs).
* Johnny is buried in the Jardines del Tiempo (Gardens of Time) cemetery just outside of Acapulco
* Co-star Linda Christian was the only person from Johnny's Hollywood days to attend his 1984 funeral in Acapulco. Linda Christian was also the first Bond girl, playing the love interest in the 1954 television production of "Casino Royale" opposite Barry Nelson.
* Former actor John Gavin attended the funeral in his official capacity as U.S. Ambassador to Mexico
* In accordance with his wishes, a recording of Weissmuller's famous Tarzan cry was played as his coffin was lowered into the ground.
Tarzan and the Mermaids: The ERBzine Film Page
http://www.erbzine.com/mag6/0628.html
The Johnny Weissmuller story:
http://www.erbzine.com/mag6/0617.html
Weissmuller On Location in Florida
http://www.erbzine.com/mag5/0501.html
Johnny Weissmuller and Friends
http://www.erbzine.com/mag55/5580.html
Johnny and Lupe Photo Collage
http://www.erbzine.com/cards/film/lupeall.jpg
---
*** 2012: An Edgar Rice Burroughs commemorative stamp was issued in August of 2012, and many had written letters over the years urging there be such a stamp. One such person was Mel Sofian, writing for the Historical and Museum Committee of the Tarzana Community and Cultural Center, who wrote a letter dated this date, Jan. 20, in 2004. His letter said, in part:
"Although it is impossible to determine how many copies of Burroughs' books have been published worldwide, with translations into thirty-two languages. Burroughs' works have engrossed legions of fans throughout the world through the Tarzan newspaper features, radio programs, comic magazines, motion pictures and television series. The motion picture version of "Tarzan and His Mate" was recently selected for the Library of Congress' National Film Registry. His popularity continues to the present day with a current version of a Tarzan animated feature to be released this year. " Sofian was active in community causes up until his death in 2016 at the age of 94.
Many indeed wrote letters, but the thing that finally accomplished the goal was an evening of friendship and sharing when Denny Miller, star of 1959's "Tarzan the Ape Man," made the suggestion in person to the chairman of the Citizens Stamp Advisory Committee.
---
Back in January 2011, my ERBzine office received a very large, advance illustration by Sterling Hundley of the proposed 2012 ERB stamp, questions, etc., with a request to serve as a consultant to the USPS. This I gladly did since the release of this special stamp was of great interest to all ERB fans. I helped with the text, admired the layout, but provided a rather scathing one-page critique of the artwork - especially of the Tarzan image, suggesting artwork more in line ERB's description of the Ape Man and with the depictions created by the master ERB artists from the past and present. USPS decided, however, to go with what they had already commissioned. Actually, in small image it looks a bit more acceptable.
In any case, the release of this special 2012 stamp recognizing the Master of Fantasy Adventure and the Grandfather of SF is of special significance during the ERB Centennial Year . . . USPS should be commended.
Sue-On and I attended the special release celebration of the stamp in Tarzana and we were glad that the ERB community showed their appreciation . . . and lined up to buy these stamps.
ERB Stamp: Hillman Reflections
http://www.erbzine.com/mag36/3611.html
Hillman First Impressions of the Stamp
http://www.erbzine.com/mag37/3718.html
ERB Stamp: Sofian's letter
http://www.erbzine.com/mag19/1946.html
Denny Miller Suggestion to the Stamp Committee
http://www.erbzine.com/mag43/4395.html
Official ERB Stamp Presentation at Tarzana: 3 Pages
http://www.erbzine.com/mag41/4106.html
---
*** "All-Story Weekly" of Jan. 20, 1917, reported "The boys of Staunton, Virginia, have organized the first Tribe of Tarzan. They would like to hear from boys in other cities and towns who are interested in forming tribes in their own jungles. The men of Staunton are helping the boys of Stuanton. The latter have a Tribe Room where they hold their meetings; they have grass ropes, bows and arrows, hunting knives, and the author of "Tarzan of the Apes" is having medallions struck for them symbolic of Tarzan's diamond-studded golden locket. Boys who are interested are invited to write to HERMAN NEWMAN, Acting Chief of THE FIRST TRIBE OF TARZAN, 113 North Jefferson Street, Staunton, Virginia.

"The editors of the All-Story extend their heartiest congratulations and best wishes to Herman Newman and the Tribe, and assure them that they will do all in their power to help make the organization such a brilliant success that, in a short time, it shall rival, in membership and popularity even, the Boy Scouts. It is the earnest hope and belief that in a few years Tribes of Tarzan will exist in every city and town in the United States, and will have become, not only a source of keen joy and amusement to the youth of the country, but also a powerful influence for good."

Some believe the Tribes of Tarzan was a passing fad, and some other efforts, such as the Tarzan Signal Club and ERB's own "Tarzan Clans of America" were not lasting, but one could also say that the tribes continue today under such names as The Burroughs Bibliophiles, the Edgar Rice Burroughs Chain of Friendship, the Edgar Rice Burroughs Amateur Press Association, Tribue Websites, Fanzines and Facebook groups.
The ERB / Boy Scouts Connection
http://www.erbzine.com/mag17/1795.html

---
JANUARY 21
---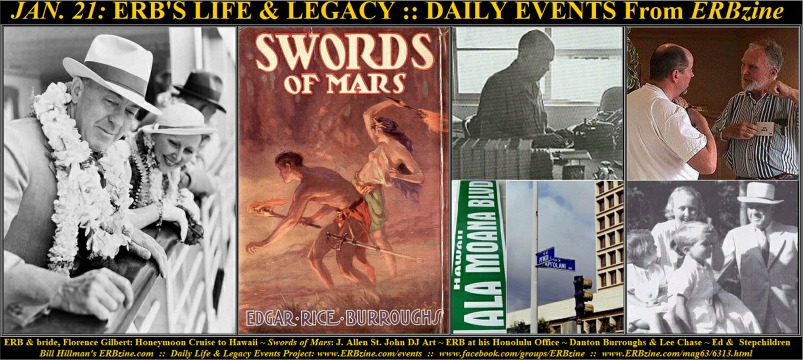 ERB and his bride, Florence Gilbert: Honeymoon Cruise to Hawaii ~ Swords of Mars: J. Allen St. John DJ Art
ERB at his Honolulu Office ~ Danton Burroughs and Lee Chase ~ Ed with Flo and his Stepchildren: Lee and Caryl Lee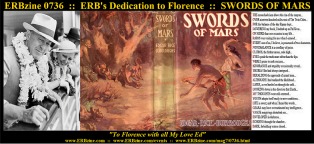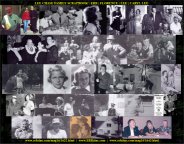 ---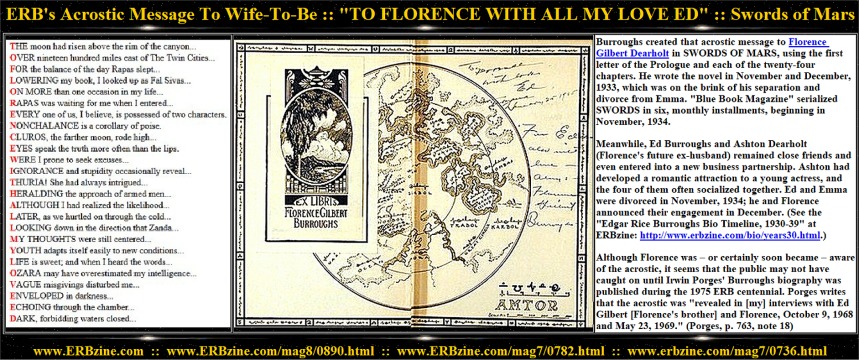 ---
*** 1936: Lee Chase was a stepson of Edgar Rice Burroughs, acquired in his marriage to Florence Gilbert. After Florence passed away, Lee found himself with some of her books, and of particular interest were ones ERB had personally signed to her.
The most "particular" was probably "Swords of Mars," with an inscription that read: "To Florence, all my love, Ed, Tarzana, Jan. 21, 1936." The inscription is found twice in the book, once on the flyleaf, where ERB wrote it, and again as a code, with the first letter of the Prologue and of each following chapter spelling out the inscription.
Frank Puncer interviewed Lee Chase, and those books were discussed
Lee Chase: ERB's Stepson
http://www.erbzine.com/mag16/1632.html
Swords of Mars: Full Biblio Info
http://www.erbzine.com/mag7/0736.html
Lee Chase Shares Family Photos in Tarzana
http://www.erbzine.com/mag41/4119.html
The Frank Puncer / Lee Chase Interview
http://www.erbzine.com/mag16/1643.html
Florence Gilbert
http://www.erbzine.com/mag8/0890.html
Lee Chase Family Scrapbook Collage
http://www.erbzine.com/cards/leeall.jpg
https://www.erbzine.com/cards/erb2/erbswordsflo.jpg
https://www.erbzine.com/cards/erb5/erblovetofloall.jpg
---
*** 1942: LAUGH IT OFF: ERB was famous for having fun with a lot of things, including counting cars, as noted in this "Laugh It Off" column from Jan. 21, 1942
"It is amazing how amenable to suggestion we motorists are. Take for example Colonel Green's suggestion that we pick up pedestrians going our way.. I had a demonstration of the cooperative spirit of motorists when I had to walk to my office Sunday morning. I was the sole pedestrian on Ala Moana, sticking out like a sore thumb -- or a couple of sore feet; yet thirty two cars going in my direction passed me; and gosh! how I hate to walk. Anyway, I had fun counting 'em."
In the same column, ERB added: "A lot of us are going to be able to sympathize with the sufferings of W.C. Fields, who once had to stay three days in a dry town where he had "nothing to eat but food and nothing to drink but water."
Back in 1936 the first edition of ERB's "Swords of Mars," was released. It contained a secret message: "To Florence with all my love always, Ed," spelled out by stringing together the first letter of the first word in each chapter.ERB probably had fun concocting that code with which to surprise Florence.
Swords of Mars: Full Biblio Info
http://www.erbzine.com/mag7/0736.html
More from Laugh It Off at:
http://www.erbzine.com/mag17/1754.html
---
*** 1943: War Correspondent ERB On Assignment in New Caledonia: Yesterday Ed had reported the "Bouncing Baby" jeep stolen -- "one of the major outdoor sports on the island." He hitched a ride to the post office to mail off a story and then over to the hospital for spider bite treatment. While there he got stories from some of the 521 Guadalcanal casualties who had just been brought in by ship.
Today he walked to the Signal Corps Photo Lab to get the Pack Artillery blow-ups and returned to find that Bouncing Baby had been returned. He went to see Lt. Col. Harris, USMC, at COMSOPAC who promised to set up an interview for him with Jap war prisoners. Ed had been told that Harris was a tough and irascible Marine, who would probably jump down his throat and tear him to pieces. But he found him extremely cordial, pleasant, and co-operative. Harris even promised to give Ed an interpreter in a few days. While he was there he visited with Gene Markey for a few minutes.
INTRO and CONTENTS for 50 Illustrated ERB WWII Journal Pages
http://www.erbzine.com/mag68/6800.html
January 21, 1944 Entry: Ed sets up interviews with Jap war prisoners
https://www.erbzine.com/mag68/6829.html
https://www.erbzine.com/mag68/29logo.jpg
ERB: Wartime Journals - Illustrated Timeline of Events
http://www.erbzine.com/mag10/1036.html


VISIT THE PHOTO ALBUM FOR JANUARY WEEK THREE
http://www.ERBzine.com/mag63/6313pics.html



NEXT WE WILL FEATURE EVENTS FROM JANUARY WEEK IV
http://www.ERBzine.com/mag63/6314.html



DAILY EVENTS CONTENTS
www.ERBzine.com/events


BILL HILLMAN
Visit our thousands of other sites at:
BILL AND SUE-ON HILLMAN ECLECTIC STUDIO
ERB Text, ERB Images and Tarzan® are ©Edgar Rice Burroughs, Inc.- All Rights Reserved.
All Original Work ©1996-2018/2022 by Bill Hillman and/or Contributing Authors/Owners
No part of this web site may be reproduced without permission from the respective owners.