Official Edgar Rice Burroughs Tribute and Weekly Webzine Site
Since 1996 ~ Over 10,000 Web Pages in Archive
Presents
Volume 3742

"I have discovered that the world over, unusual weather prevails at all times of the year." ~ Edgar Rice Burroughs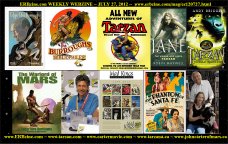 Intro Collage (click)
JIM MORRIS
TO BE SPECIAL GUEST OF HONOR
AT THE
TARZAN / JOHN CARTER
CENTENNIAL CELEBRATION
AUGUST 18, 2012
WARNER CENTER MARRIOTT HOTEL
Read the News Release
PDF Version
Tarzana Dum-Dum 2012: August 16-18
NEW:
OFFICIAL SCHEDULE ANNOUNCED

EVENTS

DUM-DUM UPDATE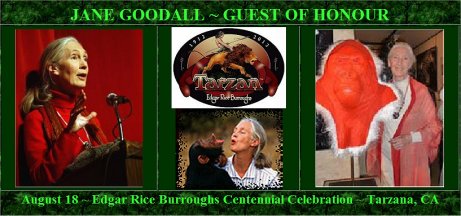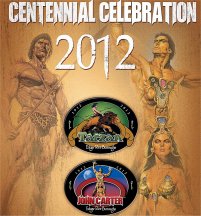 No press sheet for Burroughs

There is yet another twist in the United States Postal Service's plans to issue uncut press sheets.

In July, USPS spokesman Mark Saunders replied to Linn's questions about press sheet details for the upcoming Edgar Rice Burroughs (Aug. 17) and War of 1812 (Aug. 18) stamps. Saunders stated that there will not be a press sheet for the Burroughs stamp, contrary to information recently published in the Postal Service's USA Philatelic catalog dated Quarter 3, 2012.

It is unknown if the Burroughs stamps were already printed prior to the USPS announcement in June that all commemoratives moving forward would be sold as a press sheet.

~ John Martin

More on the Commemorative ERB stamp at:
ERBzine 3611
and Concerns at
ERBzine 3718




Watch for these collectibles at the Burroughs Bibliophile table
at Tarzana 2012 Dum-Dum

Burroughs Bibliophiles Souvenir Cup
available at Dum-Dum 2012
Designed by Laurence Dunn


ManyDum-Dum Souvenir Items with the
Official Burroughs Bibliophile St. John Logo
Items in preparation from BB president Henry Franke


Burroughs Bibliophiles Centennial Sticker by Dick Spargur

PulpFest Blog Articles in advance of this year's event
Tarzan: A Hero for the Ages
July 19, 2012 ~ by Mike Chomko

In October of 1912, not long after introducing John Carter of Mars, Edgar Rice Burroughs created Tarzan of the Apes, the original twentieth century superhero. The singular creation of a then-fledgling author, Tarzan was a savage yet principled character that went on to strike a chord in generations of readers of every age, race, and nationality. He wasn't an alien from another world, nor did he acquire any special powers or magic in his relentless fight to protect the African jungle and its inhabitants. But he was indeed a superhero.

Almost immediately after his introduction, Tarzan became a cultural phenomenon, spawning a trademark that spread throughout multiple media and business outlets: on film by 1918, as a comic by 1929, on radio by 1932, and as the century progressed, in television, gaming, merchandising, animation, the Internet, and soon after the century turned, a Broadway musical. Burroughs' character somehow possesses a strange plasticity that allows him to be put into countless, even contradictory, kinds of stories. In short, way back in 1912 when he first came into the public eye through The All-Story, Tarzan became the first of a generation of multimedia superstars. One hundred years later, the name "Tarzan" still conjures instant recognition for millions of people across the globe.

On Thursday, August 9th, please join PulpFest in welcoming Henry G. Franke, III, editor of The Burroughs Bulletin and treasurer of The Burroughs Bibliophiles as he presents Tarzan: Hero for the Ages, a look at the multimedia character created by the wonderfully imaginative Edgar Rice Burroughs.

Many thanks to Bill Hillman, the editor and webmaster for the official Edgar Rice Burroughs websites and webzines ERBzine, Tarzan.com, and Tarzan.org for his help with this post.
Tarzan on Mars
July 22, 2012 by Mike Chomko

In late 1955, Ray Palmer initiated a campaign to get Stuart J. Byrne's Tarzan on Mars approved for publication. Palmer issued his plea in the November 1955 issue of Other Worlds Science Stories. Although the Burroughs estate would never authorize the novel, Byrne's manuscript would become legendary in science-fiction fandom, appearing in limited editions over the years.

Now PulpFest is not planning another edition of the Byrne yarn–after all, we're already giving you The Pulpster–but we are planning a film program for the wee hours of Friday evening, August 10th. It will combine the two Burroughs series that we're celebrating at this year's convention–Tarzan and Mars.

Starting things off will be animator Bob Clampett's footage for a cartoon adaptation of Burroughs' Mars books. The creator of Beany and Cecil, Clampett approached Edgar Rice Burroughs in 1936 with an idea for a series of short animated films based on the author's John Carter novels. Burroughs loved the idea and Clampett, with the help of Chuck Jones and Bobe Cannon, created six minutes of test footage for MGM. Unfortunately, the film studio nixed Clampett's proposal and John Carter of Mars died aborning. Now we'll see what we missed.

Following the Clampett footage, PulpFest will show Damon Keen's short film, Last Flight. Filmed amidst the volcanic mountains of New Zealand, Keen's movie concerns a lone astronaut on a perilous trek across the windswept deserts of Mars. Her oxygen supply running out, and her only company sporadic transmissions from Earth counting down the minutes to global war, the astronaut is forced to search for a way to come to terms with her circumstances–for herself and for the future of life in the universe.

Produced with the support of Creative New Zealand and the New Zealand Film Commission, Last Flight has appeared at a number of international film festivals. PulpFest 2012 will mark the United States premier of Damon Keen's motion picture.

A French documentary about the origin and history of Tarzan will conclude the evening. I, Tarzan first appeared on French television in 1996. Set in an English castle, the film features George McWhorter, editor emeritus of The Burroughs Bulletin, science-fiction author Philip José Farmer, and popular culture expert Francis Lacassin in a discussion about Edgar Rice Burroughs' most famous creation. An exploration of the fabulous jungle lord, I, Tarzan is full of fun, fancy and mystery.

Tarzan never quite made it to Mars, but PulpFest attendees will be able to sample some rare treats with these three fine films.

Appearing above is the November 1955 issue of Other Worlds Science Stories featuring "Tarzan Never Dies! A Challenge," by Ray Palmer. The front cover art is by J. Allen St. John.

Northern California Mangani Newsletter: July 2012
THOMAS YEATES
WINS PRESTIGIOUS AND COVETED INKPOT AWARD
AT THE 2012 SAN DIEGO COMIC CON INTERNATIONAL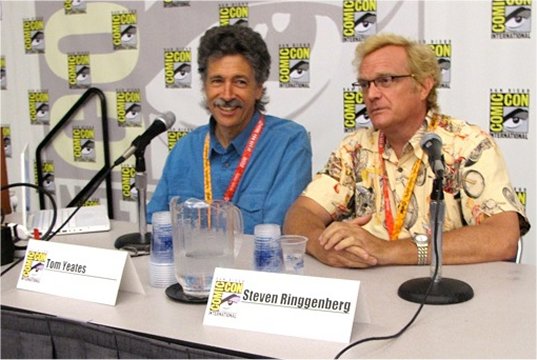 A Sunday, July 17 Comic Con Program had its Spotlight on Thomas Yeates
which was moderated by his writer, editor friend Steven Ringgenberg.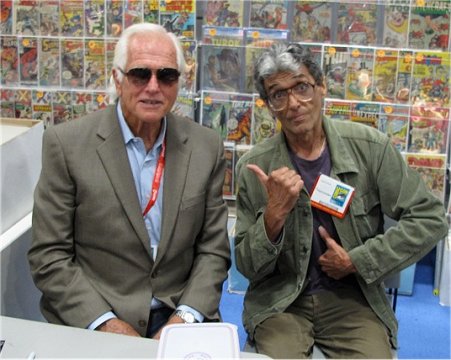 Ex-Tarzan Ron Ely and Museum curator and NCM member David Lemmo at the A1 Comics booth, July 14, 2012.
Both Mr. Ely and David had been participants in a Tarzan and John Carter Program earlier in the day,
which included panelists Joe Jusko, Thomas Yeates and Mark Evanier.
David provided a slideshow on Tarzan (which he narrated), John Carter (narrated by Thomas Yeates),
and Ron Ely, who answered questions from panelists and the audience.
Read the NCM Newsletter for more
More ERBzine features on the 2012 Comic-Con at



ERBzine 3918 | ERBzine 3919 | ERBzine 3920
Sacramento Public Library celebrates one hundred years of Tarzan

Sacramento Press ~ July 25, 2012
The Sacramento Public Library and the Northern California Mangani will celebrate the centennial of Edgar Rice Burroughs' classic story, Tarzan of the Apes, at a free two-day conference on Saturday, August 25 and Sunday, August 26. The programs run from 12 noon to 5 p.m. both days at the Central Library, 828 I Street, Sacramento, and will feature discussion panels, presentations, film screenings, and memorabilia relating to the Tarzan stories and images.

Guest speakers include Richard and Pat Lupoff, authors and Edgar Rice Burroughs historians; Tom Yeates, Tarzan comic book artist who is currently drawing the Prince Valiant newspaper comic strip; David Lemmo, author of a new history of Tarzan; and several other local collectors, fans and historians who will share their collections and knowledge.

A centennial display of Tarzan books, comics and memorabilia will be on view in the Central Library's first-floor lobby and second-floor Sacramento Room during open hours from mid-August through September 30, 2012.

For more information, please telephone the Sacramento Public Library at (916) 264-2920 or visit www.saclibrary.org.


NEW PUBLICATIONS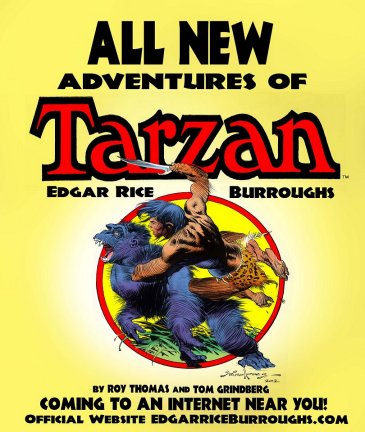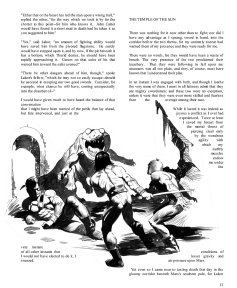 .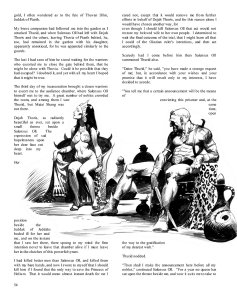 Artist Mike Hoffman has just released the third illustrated book in the "Mars" series,
The Warlord of Mars.
It is oversized at 8.5x11 and has 31 B&W ink illustrations.
The book is available in the hardcopy and e-text formats at:
http://www.mikehoffman.com/warlord.html
.



.
MEET THE AUTHORS
Robin Maxwell and Andy Briggs
at
Tarzana Dum-Dum 2012
More more at:
ERBzine 3584 and ERBzine 3918 and ERBzine 3919

100 YEARS OF TARZAN
Centenary celebration for Tarzan played by Johnny Weissmuller with Maureen O'Sullivan as Jane
Express.co.uk ~ June 29, 2012

When Edgar Rice Burroughs, a pencil sharpener salesman from Chicago, was in need of extra cash to support his family he decided to turn his hand to pulp fiction, reasoning that he had read so much "rot" in numerous magazines that he could write something "just as rotten" himself. He duly thought up a new hero character for the weekly publication, All-Story Magazine, and decided on the name Zantar. Then he crossed it out. Tublat-Zan was his next effort but something didn't quite feel right until he came up with his third option – Tarzan.

Fast forward 100 years and Burroughs' king of the jungle swingers is a film, comic book and literary icon. Put on a loincloth and utter the immortal cry, "ahh ahahahahh ahahahah" (or similar) and you're instantly recognised, without even the need for wrestling a rhino or dangling from a jungle creeper. And now Tarzan is back. A new novel comes out next month and a full-length animated film is due for release next year.

In fact, over the past century, the swinging star has hardly been away. After Tarzan Of The Apes first appeared in All-Story Magazine in 1912, it was an instant hit and Burroughs went on to write a further 26 Tarzan adventure novels. Meanwhile, the Ape Man cracked the movies, appearing first in 1918 in a silent film starring the rather portly Elmo Lincoln, who accidentally killed a lion during filming.


There have now been 89 films, not to mention two Disney animations, 20,000 comic strips and six TV series, the longest running starring Ron Ely who did his own stunts, often getting injured in the process. It was five-times Olympic swimming champion Johnny Weissmuller however, who first uttered Tarzan's distinctive yell in the 1932 film Tarzan The Ape Man. He replicated the cry in all 12 of his films and dreamt up the line: "Me Tarzan, you Jane" although he never said it on screen but delivered it with immaculate timing in a car park. His Jane, Maureen O'Sullivan, mother of Mia Farrow, was struggling with an oversized suitcase. Weissmuller stepped in to help and as he tossed the luggage into her car with the ease of a champion athlete, he uttered the words, beating his chest for added impact. The line went down in history.

While Tarzan has been a success from the moment he appeared, it could also be said that now, in the 21st century, the character is more relevant than ever. Or so says author Andy Briggs who idolised Tarzan as a child and has been officially authorised by the Edgar Rice Burroughs estate to write the "new adventures". His book, ­ Tarzan: The Jungle Warrior, is ­ published on July 12.

"In many ways Tarzan was the world's first eco-warrior," argues Briggs. "When Burroughs created him 100 years ago, people weren't aware of environmental or eco-issues but all the time Tarzan was defending his home, the jungle, and his friends the wild animals. Now people are aware and do care and so Tarzan resonates more than ever." Briggs' new book deals with the destruction of the jungle forest (Jane is now the daughter of an illegal logger) and takes on the illegal pet trade of wild animals. "I liken my book to the Liam Neeson film, Taken," he says. "Essentially, Jungle Warrior is my Tarzan meets Taken. One of the baby apes is abducted to order and Tarzan is forced out of the jungle to get him back."

As to why Tarzan was such a big hit from the off, Briggs believes it is down to a number of factors. "Being raised by wild animals is not a particularly original idea," he says. "The mythical founders of Rome, Romulus and Remus, were raised by a wolf and then you had the likes of Mowgli from The Jungle Book. But Tarzan appealed to people because he was this iconic masculine man, this perfect Adonis who could do no wrong. Africa was then the Dark Continent, a wonderful, mysterious place while Mountain Gorillas as we know them were still considered a ­cryptozoological species, like the Yeti or Big Foot. Tarzan tapped into all this exoticism and into the classic desire for adventure."

Another reason for his widespread popularity, perhaps, is that Tarzan was everywhere. "Burroughs realised people wanted more Tarzan than he could ever write so he licensed him off in films, TV shows, radio series, you name it," says Briggs. "It changed his life and meant he was wealthy enough to afford his own ranch." The ranch, called Tarzana, was sold after the writer's death and is now a Los Angeles suburb complete with Tarzan-inspired road names such as Safari Avenue.

Briggs' Tarzan, however, is not quite the same as of old. "In Burroughs' first book Tarzan went from a grunting character to an English noble, Lord Greystoke, who accepted his rightful title. At the end of the book he was driving a Rolls-Royce through forest fires to save Jane. I wanted to look at the earlier time, when he's about 18 and more feral, more animalistic." Briggs was influenced by how the director Christopher Nolan re­invented Batman for the 2005 film starring Christian Bale, making a "camp figure in tights" darker and edgier. "My Jane is also much feistier," explains Briggs. "She's no longer the damsel in distress but Tarzan's dynamo."

If Briggs has modernised Tarzan this is partly because Burroughs' books were products of their time. He had never even been to Africa and presented black natives as savage tribesmen with bones through their noses. "The books have also been criticised for not being literary enough," says Briggs, "but Burroughs was essentially a pulp fiction writer and great at what he did. He did rely a lot on coincidence, though, on people continually getting shipwrecked on the same beach.

When the first magazine story came out, Tarzan had a friend, Numa the tiger, and only when the story was bound into a book did anyone tell him that there are no tigers in Africa, then Numa became a lion." What's clear is that Tarzan led to worthwhile repercussions and those inspired by his tales include Dame Jane Goodall, a leading primatologist who was jealous of "that silly Jane". Conservationist Ian Redmond, who worked with Dian "Gorillas In The Mist" Fossey also acknowledged a debt to Tarzan and believed Fossey too was influenced by Burroughs' books.

"I would challenge people to tell me of another character from literature that leapt off the page and affected the world so much," says Briggs. "What I'm hoping to do is not replace Burroughs' Tarzan but simply to add to the canon, creating a Tarzan for the 21st century."
.
TARZAN THE JUNGLE WARRIOR
by Andy Briggs is available from
Amazon.ca | Amazon.co.uk
Watch for the third volume in this
ERB, Inc. authorized Tarzan series by Andy Briggs:
TARZAN: THE SAVAGE LANDS
February 2013 Release
..



Promo Video

The Andromeda Incident
. . .an Intense Adult Sci-Fi Fantasy Novel
by R.J. DeNardo

This sci-fi fantasy gives a whole new meaning to the word "Galacti-sexual." Emrys Myrddin Calyx was born aboard the Starship Americus to a weak-willed and somewhat frail Earthling father and a black panther-like humanoid, Myrrddissian mother. Emrys was created experimentally to be double-sexed, and can change sexes at will, via a telepathic command.
The Andromeda Incident (or Out of Chaos Comes Hope!) tells all about the mixed-up life Emrys lives, and his adventures and misadventures in the 12th. and 21st. centuries.
Wander the universe with Emrys as he uses a time/space continuum device to journey to the devastated planets of Mars and Earth, just before both human and alien-caused cataclysmic events occur. This startling adventure was 900 years in the making!
This is R.J. DeNardo's first novel and is the culmination of a nearly one-year effort to develop it from a short story to a full-length novel. He is currently writing his second novel, a sequel to The Andromeda Incident, titled: The Captain's Propensity. The author is a professional wholistic therapist who lives and practices in Palm Springs, California. The Author can be contacted via email only at: daotaoist@yahoo.com


MOVIES
For coverage of all the ERB films see
www.ERBzine.com/movies


THE RETURN OF TARZAN/THE REVENGE OF TARZAN
Silent Film Subtitles

Chapter Info
1. "Tarzan's Return." First Act.
2. "Summary. After suffering a shipwreck, John Clayton and his wife, Lady Alice, died shortly after the birth of their son Tarzan on the eastcoast of Africa. The child grew up in the jungle and was raised by chimpanzees and orang utans. "
3. "William Clayton, an uncle of Tarzan, disputed this and said he will make every effort to eliminate Tarzan and render the possession of the inheritance. Tarzan loved Jane Porter sincerely, but because he thought that love was unanswered by the civilized girl, he undertook long journeys in the hope to forget her."
4. "At the beginning of this movie, the hero of our story, is on board of the "Baltic", which is on its way to England. In Liverpool, the inheritance rights of his parents will be asserted."
5. "Count the Valroy, a renowned diplomat, who perfectly fulfilled his dangerous mission."
6. "Nicolas Rockof, a passionate player, has completely watsed his capital and leads a very adventurous life. Tarzan's cousin, William Clayton, has promised him a large sum of money if he would succeed in eliminating Tarzan."
7. "Countes Olga, the wife of Count de valroy and sister of Nicolas Rockof."
8. "Adolphe Perussi, the Secretary of the unscrupulous Nicolas Rockof."
9. "You play false, impostor."
10. "I knew you were a villain, but that you are capable of doing such low things ......"
11. "The Lord has hidden cards in his pockets."
12. "I ask you politely to convince yourself that this man is lying."
13. "The cards are in the pocket of the Earl, sir .... but he has done it."
14. "That's a lie!"
15. "I will inform the captain about what happened."
16. "Can I give you a good advice? Then do not interfere with other mans business because that would make you pay dearly."
17. "Call the intercession of your sister Olga in. She has substantial interests in, if nobody on board learns that you are her brother! She must persuade her husband that he may not tell the captain anything."
18. "It will be fruitless effort, I am convinced that she will never help."
19. "One can never know!"
20. "Open up, I need you here talk seriously! Your husband has asked me ..."
21. "Who gives you the right to invade my cabin?"
22. "You must prevent your husband that the captain told anything ... when refuse. I am not for the consequences."
23. "You dare to threaten me ... oh, what else can I expect from a villain as you?"
24. "Stop it!"
25. "I would be grateful to you for all my life, if you promised me that you never speak about this outlandish adventure with someone!"
26. "END OF FIRST CHAPTER."

This and much more at Ron de Laat's Holland Meets ERB site
http://www.hollandmeetserb.nl/
.
.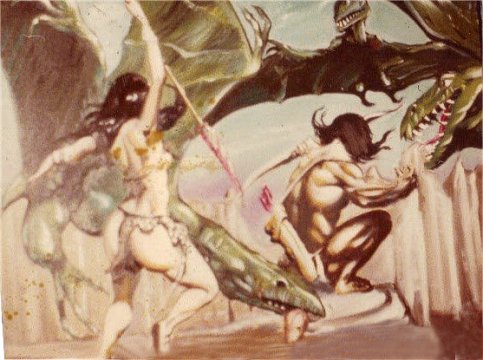 Frazetta tribute art by Jim Collins

ERB C.H.A.S.E.R.'s VENUS (AMTOR) SERIES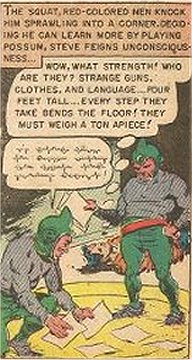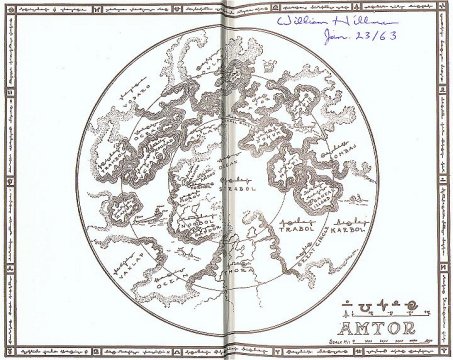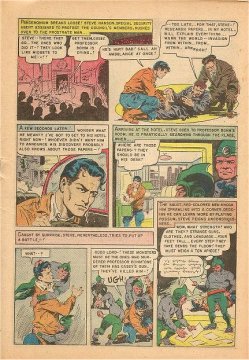 ERB TRIVIA FROM BOB BARRETT

---

ABOVE: Back in 1932 when Edgar Rice Burroughs wrote PIRATES OF VENUS, he created a language and alphabet for his Venusians. Almost 20 years later Al Williamson, Frank Frazetta, and Roy Krenkel (with changes by Wally Wood) drew a comic book story, "The Invasion from the Abyss," for STRANGE WORLDS #3, June 1951. The inhabitants of the Abyss spoke, using Burroughs' Venusian language. In page 2, panel 7, Burroughs Venusian alphabet was spoken and, when translated said, "I'd rather jump the silly meathead who wrote this damned script!" I've always though that Roy Krenkel came up with this, since he was probably more familiar with Burroughs than any of the other artists at the time.
BELOW: Here is page 4 of "The Invasion from the Abyss," panel 2. The inhabitants of the Abyss are saying, "Down with High Tax Harry! Piss on that bum!" "High Tax Harry" would have been Harry S. Truman, President of the U.S.A.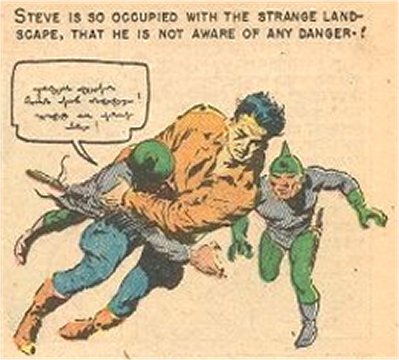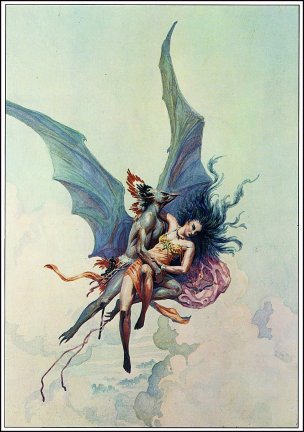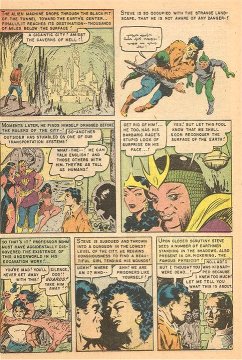 Renowned artists Boris Vallejo and Julie Bell are grounded in fantasy
They paint maidens, monsters and macho men,
but have an ordinary, settled life in the Lehigh Valley

(HARRY FISHER, THE MORNING CALL / June 30, 2012)
Boris Vallejo and wife Julie Bell in their Lehigh Valley studio/home with Stella, their 2-year-old Border Collie, Eskimo.
By Tim Higgins, Special to The Morning Call ~ July 8, 2012
Featured here are excerpts of the Morning Call article.

---

Whether it's Tarzan, Conan the Barbarian, Doc Savage or John Carter of Mars, odds are some of the images you've seen of these legends of fantasy and science fiction were painted by either Boris Vallejo or his wife, Julie Bell.

The "Vallejo" style — visions of fit, perfectly proportioned and muscular figures depicted with such amazing hyper-realism you'd swear you could reach out and touch them — is known around the world. It can also be seen in posters for movies such as 1983's "National Lampoon's Vacation" and its sequel "European Vacation," and the 1978 reissue poster for Jane Fonda's "Barbarella." Younger folks may be familiar with Vallejo and Bell if they've seen the 2007 film "Aqua Teen Hunger Force." Vallejo and Bell drew the poster.

Over the past several decades, this dynamic duo's work (either solo or collaborative) has been published and reproduced in books, calendars, illustrations and prints. Their jobs are out-of-this-world, for sure, but they do it all quietly from the suburbs of Allentown. "We really enjoy being rather anonymous," says Vallejo in a recent interview at their home/studio.

How Vallejo, from Peru, and Bell, from Texas, ended up in the Lehigh Valley begins when Bell was living in Chambersburg, Franklin County. She met Vallejo, who was living in New Jersey, through a friend at a body-building contest, another joint passion. The friend thought Bell would make a perfect model for one of Vallejo's calendar paintings. They were married in 1994 and have lived and worked together in the region since. That the Vallejo style always features a well-muscled male and/or female figure is no accident: both Vallejo and Bell are body-building enthusiasts. In fact, some of the early male figures in Vallejo's paintings were modeled on Vallejo himself, and many of his later female characters were modeled on Bell, a former nationally ranked competitive bodybuilder.

Bell, born in Beaumont, Texas, has painted the covers of some 100 fantasy/science fiction books and magazines. She was the first woman ever to paint Conan for Marvel Comics, a milestone that led to commissions from Marvel, DC and Image Comics to illustrate superheroes in fully rendered paintings. Since the early 1990s, Bell's fantasy figures have found their way onto painted covers for video games and trading cards and more mainstream advertising illustrations for Nike, Coca-Colaand Ford Motor Co.She has painted book covers for some of the major publishing houses in New York City as well as an album cover for rock singer Meat Loaf.

Vallejo was born and raised on the outskirts of Lima, Peru. His parents were teachers. At age 16, while still attending art school in the evenings, Vallejo was offered a freelance job doing paintings for a local merchant. His art instructor told him his career as an artist would be limited in Peru and the place for his talent was the United States. When he emigrated to the United States seven years later, he had a job within two months doing illustrations for a department store chain. Vallejo put together a portfolio of the kind of work he actually wanted to pursue — fantasy art. He shopped it around and found work with Warren Publishing, creators of such titles as "Eerie," "Creepy," "Vampirella" and "Famous Monsters of Filmland." "The reason I went to Warren was because they were publishing Frank Frazetta's work," says Vallejo, whose work is often compared to the late, great illustrator.

Read the entire article at HERE

'AT THE EDGE: ART OF THE FANTASTIC'
•What: More than 160 works of fantasy art from the 19th to 21st century, including book illustrations,
poster art, album covers and more by some of the biggest names in the genre.
•When: Through Sept. 9
•Where: Allentown Art Museum, 31 N. Fifth St.
•Hours: 11 a.m. to 5 p.m. Tuesday through Saturday; noon-5 p.m. Sunday
•How much: $12; $10, students and seniors; free, ages 5 and under,
military personnel, members and everyone on Sundays
•Talk by Boris Vallejo and Julie Bell: "The World of Boris Vallejo and Julie Bell,"
2-4 p.m. Sunday, July 8 ($15; $5, members)
•Info: http://www.allentownartmuseum.org, 610-432-4333


CARTOONS


---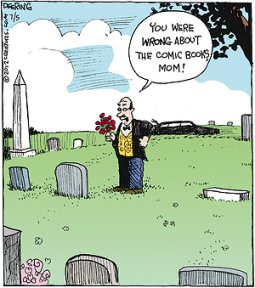 Thanks to James O'Bien and John Martin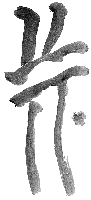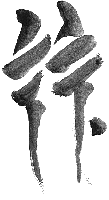 BILL HILLMAN
Visit our thousands of other sites at:
BILL and SUE-ON HILLMAN ECLECTIC STUDIO
ERB Text, ERB Images and Tarzan® are ©Edgar Rice Burroughs, Inc.- All Rights Reserved.
All Original Work ©1996-2012 by Bill Hillman and/or Contributing Authors/Owners
No part of this web site may be reproduced without permission from the respective owners.