HAPPY NEW YEAR 2022
As usual we start a new year with a revamping of our Weekly Webzine
This year. . . simplified a bit with info and reference material placed in a companion page:
www.ERBzine.com/mag/info


Official Edgar Rice Burroughs Tribute and Weekly Webzine Site for Over 25 Years
Since 1996 ~ Over 15,000 Webzines and Webpages In Archive

Master of Imaginative Fantasy Adventure
Creator of Tarzan® and "Grandfather of American Science Fiction"
A NEW EDITION EVERY FRIDAY
www.ERBzine.com/mag
Feb 4 - 10, 2022
VIEW LAST WEEK'S ISSUE AT:
www.erbzine.com/mag/ez220128.html




Carrying on with the British Edgar Rice Burroughs Society Fanzines







---
MAJOR ERBzine UPDATES
LAST WEEK'S FEATURES
January 28, 2022

1. EXCITING ART FROM THE FANTASTICE WORLDS OF ERB by William Stout
2. KORAK in UK TARZAN WEEKLY: WORLD OUTSIDE I and II
3. ERBíS BIBLE BLUES: Commentary Ch. 11-15 by By Woodrow Edgar Nichols, Jr.
92 ERB GRAPHIC WALLS
4-6: ERB WRITERS 1, 1a, 1b:
https://www.ERBzine.com/cards/writers/
https://www.erbzine.com/cards/writers/a.html
https://www.erbzine.com/cards/writers/b.html
7/8: EVENTS April Week 1: Days 1-7 EXPANDED
ERB'S LIFE and LEGACY: DAILY EVENTS
April Week 1~ Photo Events
Click for Promo Collage
9. TARZAN OF THE APES DC COMICS #208 ~ 1972
10/11. Foster Tribute with Links to ALL of his Sunday Tarzans and many Prince Valiants
12. HOGARTH'S TARZAN: DEVIL POWDER ~ 1938.0904 ~ #391
13. FOSTER'S TARZAN: RETURN OF THE YOUNG BWANA 1932.07.31
14. GIL KANE'S TARZAN: The Runaway ~ 11 Pages from 1979
---
LAST WEEK'S UPDATES
---
Features 15-20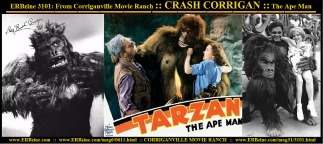 Tarzan the Ape Man: ERBzine Silver Screen
https://www.erbzine.com/mag6/0611.html
Tarzan the Ape Man: 5 Lobby Displays starting at:
https://www.erbzine.com/mag6/0611a.html
BLB Summary of Tarzan the Ape Man
http://www.erbzine.com/mag6/0612.html
Colour Trading Cards Adaptation of Tarzan the Ape Man
http://www.erbzine.com/mag13/1373.html
Tarzan the Ape Man Log Notes and Study Guide by Bill Hillman
100 Q and A Questions
https://www.erbzine.com/mag6/0642.html
Crash Corrigan's Corriganville Movie Ranch
https://www.erbzine.com/mag31/3101.html


OUR WEEKLY SUPPLEMENTARY INFORMATION FEATURE
www.erbzine.com/mag/info
ERBzine Statistics for 2021: +18,614,055 Verified World Wide Hits



WEBJED: BILL HILLMAN


Visit our thousands of other sites at:
BILL AND SUE-ON HILLMAN ECLECTIC STUDIO
ERB Text, Images and Tarzan® are Copyright ERB, Inc.- All Rights Reserved.
All Original Work ©1996-2022 by Bill Hillman and/or Contributing Authors/Owners
No part of this web site may be reproduced without permission from the respective owners.
Opinions expressed in articles on this site do not necessarily represent the opinions
of Edgar Rice Burroughs, Inc. or the editors of ERBzine.
ERBzine Weekly Webzine was endorsed by Danton Burroughs of Tarzana, California
as the Official ERB, Inc. and Tarzan®Webzine Site