Official Edgar Rice Burroughs Tribute & Weekly Webzine Site
Since 1996 ~ Over 5,000 Webzines and Webpages In Archive

Master of Imaginative Fantasy Adventure
Creator of Tarzan® and "Grandfather of American Science Fiction"
A NEW EDITION EVERY FRIDAY
August 24 - 30, 2007
Thousands of Back Issue Features in Archive: HERE

The Worlds of Edgar Rice Burroughs


IN PREPARATION
Photo Journals of our recent Tarzana expedition and the Dum-Dum 07 in Louisville.
We are processing over 1,000 stills and video clips.
Photos submissions and anecdotes from the Dum-Dum are invited.
---
---
---
---
---
---
FEATURE 7 Archive: ERBzine 1328
Waiting For A Train: ERB's Practice Run At His Career:
Minidoka 937th Earl of One Mile Series M
by R. E. Prindle
The question is why did Edgar Rice Burroughs delay his writing career
until he was thirty-five and what prompted him to begin?
The basis of ERB's character was formed on a street corner in
Chicago in 1885 when he was in the fourth grade.
http://www.erbzine.com/mag13/1328.html
---
---
FEATURE 9 Archive: ERBzine 1177
ERB Attacked in Toronto ~ Hospitalized with Head Injuries
From the ERB Tributes & Condolences File
After the death of his father in 1950, Jack Burroughs received a flood of letters of condolence.
This letter from an old friend of Ed Burroughs -- R. M. Patchin -- is especially interesting, as it brings to light
a remarkably significant event that took place in 1899.
Ed received a severe blow to the head, from which he suffered from periods of amnesia, headaches
and even nightmares and possibly an altered mental state, for much of the rest of his life.
http://www.erbzine.com/mag11/1177.html
---
.

LAST WEEK
(if you missed it go to Archive)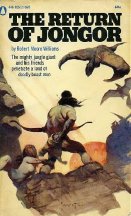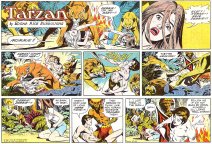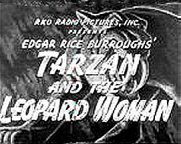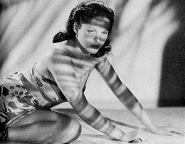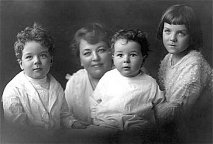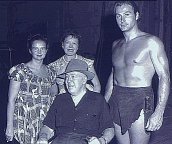 ERB and the Press: THE 1930s DECADE
Dum-Dum 2007: Bob Hyde Photo Collection
THE SAGA OF Robert Moore Williams' JONGOR by Den Valdron
R. E. Prindle's Springtime for ERB ~ Part 4: How Waldo Became a Man
ERB's Tarzan® Korak and the City of Xujaz: conclusion
ERBzine Silver Screen: Tarzan and the Leopard Woman
ERB diaries plus "Mother died today" Emma Centennia Burroughs
ERB Timeline Bio: The '40s Decade
From the Danton Burroughs Archive: Rare Photos I: ERB & Family
EARLY AFRICA INFLUENCE ON EDGAR RICE BURROUGHS?

AWARDS

Three Awards
Tarzan.com
March 9, 2005
ERBzine:
July 11, 2002
ERBzine.com/mag:
January 12, 2005

Lifetime Achievement Award
Louisville Dum-Dum 2003


Bill & Sue-On Hillman
Entertainers of the Year Award
For stage/TV/recording performances
in USA, England and Canada
.
NEXT WEEK:
The New Danton Burroughs Weekly Webzine Feature
Dum-Dum 2007: Bob Hyde's ERB Art
ERB and the Local Press
Den Valdron's Review of Tarzan on Mars and Tarzan at Mars Core
R.E. Prindle's Springtime for ERB - Part 5
Manning's Return to Castra Sanguinarius
ERBapa No. 94 Index

COMING SOON ~ IN THE WINGS
Lost Words of ERB
Russ Manning Sunday Pages
ERB/Press Connection: Chicago Tribune Articles
ERB/Press Connection: ERB in the LA Times
Hal Foster: Mysterious Maiden II Comics Summary
Motes & Quotes Newzine
Articles by R.E. Prindle
Articles by Den Valdron
A Princess of Mars: A Graphic Novel Adapted and Illustrated by James Spratt
ERB Letters
.
Our FanFare section is always open as a showcase for ERB fan comments and creative work...
Send your submissions to Bill Hillman
Tarzan@westman.wave.ca



!!! READERS PLEASE NOTE !!!
Tarzan® is the property of Edgar Rice Burroughs, Inc., Tarzana CA

These e-Fanzines have been posted as a non-profit bibliographic and biographic reference for ERB scholars, fans and collectors. Material not created by myself has been collated largely from other sites on the web -- and I believe it to be in Public Domain or to fall under the category of "product promotion" or "fair use". Everything has been collated into this on-line repository to promote interest in the works of Mr. Burroughs. If there is any objection to the way in which any of this material has been displayed, or if I have infringed unlawfully on any copyright, I will implement its immediate removal. Bill Hillman

---

WEBJED: BILL HILLMAN


Visit our thousands of other sites at:
BILL & SUE-ON HILLMAN ECLECTIC STUDIO
ERB Text, Images and Tarzan® are Copyright ERB, Inc.- All Rights Reserved.
All Original Work ©1996-2007 by Bill Hillman and/or Contributing Authors/Owners
No part of this web site may be reproduced without permission from the respective owners.
Opinions expressed in articles on this site do not necessarily represent the opinions
of Edgar Rice Burroughs, Inc. or the editors of ERBzine.
ERBzine Weekly Webzine is endorsed by Danton Burroughs of Tarzana, California
as the Official ERB, Inc. and Tarzan®Webzine Site