The First and Only Weekly Online Fanzine Devoted to the Life and Works of Edgar Rice Burroughs
Since 1996

Master of Imaginative Fantasy Adventure
Creator of Tarzan®
and
"Grandfather of American Science Fiction"
March 12 - 18, 2004
A NEW EDITION EVERY FRIDAY
Thousands of Back Issue Features in Archive
THIS WEEK'S ERBzine CONTENTS
NEWS & NOTICES: Click Here
---
---
---
---
---
FEATURE 5: Chattering with Nkima ~ ERBzine 0396
"Nkima scolded and chattered from the safety of his master's shoulder ..." (Invincible)
Origins: How This Acclaimed ERBzine Series
By David Adams Came About
Plus
Links to all of David's appearances in ERBzine (Over 75 Features).
http://www.erbzine.com/mag3/0396.html
---
FEATURE 6: JOHN CARTER OF MARS
Paramount Film Project: Pre-Production Info
A first look at some of the people involved in the project
Robert Rodriguez ~ Troublemaker Studios ~ Elizabeth Avellan ~ Mark Protosevich ~ Jim Jacks and Sean Daniels ~ Alphaville Productions ~ Acoustic Spaces, Austin, Texas ~ Josh Duhamel as John Carter???
http://www.erbzine.com/film/rodriguez.html
---
---
ARCHIVE UPDATE

Almost 3,000 of our ERB Web pages have been transferred to the new ERBzine.com location.
Conversion is progressing nicely
Check the Master Index for the ERBzine Back Issues at:
http://www.erbzine.com/all/
Has anyone noticed?
---

July 11, 2002
PLEASE NOTE:
Our stable of writers thrive on feedback. . . let them know that you are reading their work.
Our hit counters indicate thousands of weekly visitors to our sites
so let them know that you are out there.
---
Remember: we always welcome submissions ~ contact:
Bill Hillman at hillmans@westman.wave.ca
---

LAST WEEK'S FEATURES
March 5 - 11, 2004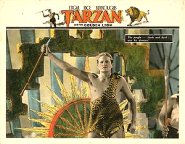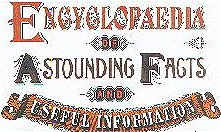 From the Danton Burroughs Family Archive
TARZAN'S FATHER ~ Los Angeles Times Sunday Magazine ~ June 27, 1937
The ERBzine Silver Screen Series: Tarzan and the Golden Lion ~ A 1927 Silent Film
The Wartime Files of ERB v.3: Laugh It Off! Columns from 1941
MOTES & QUOTES NEWZINE ~ 2004.03.05: Over 20 Features from the ERB Cosmos
Gulliver of Mars: A Mars fantasy written before the appearance of ERB's Barsoom series.
A Feature of our ERB Online PD eTexts at: ERBzine 0889
ERBzine Archive: J. Allen St. John Tribute
A Burroughs Biblio-Pro-Phile: DARRELL C. RICHARDSON
ERB C.H.A.S.E.R. Encyclopedia: Recommended Biographies ~ Bibliographies ~ References
THE COMPLETE BURROUHS BULLETIN INDEX for All 57 Issues (New Series)
History of the Burroughs Bibliophiles
Bulletin Cover Gallery
UPDATE: "TARZAN" by J. D. VAN DER MERWE ~ WIDE WORLD - July, 1946
Updated ERBzine Master Index ~ Thousands of Webpages now on new server

---

NEXT WEEK: March 19 - 25, 2004
More Danton Burroughs Family Archive Features
ERBzine Silver Screen: Tarzan The Mighty
Swimmers Become Hollywood Tarzans 311
ERBapa Reprints
COMING SOON ~ IN THE WINGS
The Burroughs Brothers Go To Camp
The Burroughs Brothers Go To Yale
Bomba the Jungle Boy: The Tarzan Connection
Zdenek Burian: Tarzan Artist
Hal Foster: Mysterious Maiden II Comics Summary
ERBzine Silver Screen: Tarzan The Tiger
Tarzan on View Master
NOTICES
Tarzan star's Berlin-born wife died March 9, 2004
HAMBURG - Maria Weissmuller, widow of athlete-turned-Tarzan star Johnny Weissmuller, died at a hospital in Acapulco, Mexico, following a long illness, their former agent said. She was 83
http://www.expatica.com/source/site_article.asp?subchannel_id=52&story_id=5414
June Release
Completely Remastered for DVD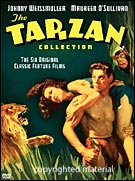 The Tarzan Collection ~ LIST: $59.92
Tarzan Boxed Set of 6 Films Starring Johnny Weissmuller
Tarzan, The Ape Man (1932) ~ Tarzan And His Mate (1934) ~ Tarzan Finds A Son! (1939) ~
Tarzan's Secret Treasure ~ Tarzan's New York Adventure ~ Tarzan Escapes ~ Tarzan Documentary
Also Being Remastered for DVD Release in June
Greystoke and Tarzan, The Ape Man (Bo)
Check out the latest releases from ERBville Press
The Man-Eater is now available
ECOF GATHERING, SACRAMENTO, CA ~ August 12-14, 2004 ~ Guests: Lupoff ~ J.E. Holmes ~ Yeates
DUM-DUM 2004: The date of the 2004 Dum-Dum at Fort Collins has been moved to June 25-27

Our FanFare section is always open as a showcase for ERB fan comments and creative work...
Send your submissions to
Bill Hillman
hillmans@westman.wave.ca

!!! READERS PLEASE NOTE !!!
Tarzan® is the property of Edgar Rice Burroughs, Inc., Tarzana CA

These e-Fanzines have been posted as a non-profit bibliographic and biographic reference for ERB scholars, fans and collectors. Material not created by myself has been collated largely from other sites on the web -- and I believe it to be in Public Domain or to fall under the category of "product promotion" or "fair use". Everything has been collated into this on-line repository to promote interest in the works of Mr. Burroughs. If there is any objection to the way in which any of this material has been displayed, or if I have infringed unlawfully on any copyright, I will implement its immediate removal. Bill Hillman

---

WEBJED: BILL HILLMAN

Visit our thousands of other sites at:
BILL & SUE-ON HILLMAN ECLECTIC STUDIO
ERB Text, Images and Tarzan® are Copyright ERB, Inc.- All Rights Reserved.
All Original Work ©1996-2004/2010 by Bill Hillman and/or Contributing Authors/Owners
No part of this web site may be reproduced without permission from the respective owners.
Visitors: >