Official Edgar Rice Burroughs Tribute and Weekly Webzine Site
Since 1996 ~ Over 15,000 Webpages in Archive
Volume 6313

ANNIVERSARIES OF ERB'S LIFE & LEGACY
A COLLATION OF THE DAILY EVENTS IN ERB-WORLD
FROM THE PAGES OF THE HILLMANS' ERBzine
Collated by John Martin
With Web Design, Added Events, Links,
Illustrations and Photo Collages by Bill Hillman

CONTENTS
JANUARY Part III
January 15 :: January 16 :: January 17 :: January 18 :: January 19 :: January 20 :: January 21
---
JANUARY 15
---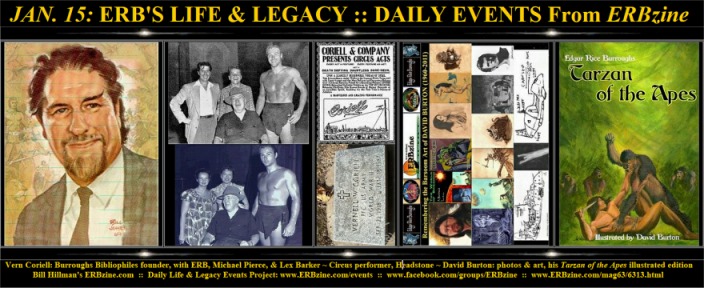 It was goodbye to Vern Coriell this date, Jan. 15, in 1987. He was founder of The Burroughs Bibliophiles and publisher of "The Burroughs Bulletin" and "The Gridley Wave" along with many other occasional pamphlets and publications, as well as full-scale ERB books reprinting some of the scarcer stories.
Perhaps one of the most desirable back issues of ERBapa is No. 13, which came out after Vern's death and included a Vern cover as well as a number of fan articles with recollections of Vern.
Vern tells his own story at:
http://www.erbzine.com/mag6/0655.html
http://www.erbzine.com/mag6/0656.html
The group picture has a younger Vern at left, Mike Pierce (son of James and Joan Burroughs Pierce) in the middle, Lex Barker, and Edgar Rice Burroughs, sitting.This was ERB's final appearance on a film set.
---
Jan. 15, 2007, was the deadline for ordering the Leanta Books edition of "Tarzan of the Apes," illustrated by David Burton. Earlier, David had illustrated an edition of "A Princess of Mars."
David wrote to his fellow fans on the erblist.com email discussion list that this book contained a map of Tarzan's Africa and the Ape Language dictionary that ERB himself wrote. "It is also the most heavily illustrated edition that's ever been published," he said.
The book sold out. However, like all things, it shows up for sale on various sites on the internet from time to time.
David had severe heart problems and was awaiting a transplant when he passed away suddenly on Dec. 3, 2011. He was 51.
Memories shared by his fellow members of erblist:
http://www.erblist.com/erblist/hallofmemories.shtml
ERBzine's Artist profile on DAVID BURTON
http://www.erbzine.com/mag5/0535.html
http://www.ERBzine.com/cards/art/burtonall.jpg
David's Artist's Journal for "Princess" and "Tarzan":
http://www.erbzine.com/mag16/1698.html
http://www.erbzine.com/mag17/1708.html
http://www.erbzine.com/mag17/1714.html
http://www.erbzine.com/mag17/1715.html
ERBzine Swag Promo for David's Leanta Books
www.erbzine.com/swag

---
JANUARY 16
---

Caroline Munro played Dia, the movie name for Dian the Beautiful, in "At the Earth's Core." ERB fans wouldn't have minded at all if she had also played Dejah Thoris or Duare. She was born in 1950 on Jan. 16 in Windsor, Berkshire, England.
Caroline Munro Gallery
http://www.erbzine.com/mag40/4001.html
At The Earth's Core - the movie
http://www.erbzine.com/mag30/3031.html
The screen shots:
http://www.erbzine.com/mag30/3031a.html
The Wikipedia Bio ~ Her website

---

Ten years before Caroline Munro was born, on Jan. 16, 1940, Edgar Rice Burroughs sat down at his dictaphone and began revealing the story of "Tarzan and the Madman." It wouldn't be published until after his 1950 death, though, finally seeing print in 1964, about 12 years before Caroline starred as Dia.
A dictaphone cylinder with 1,500 words of ERB's "Madman" dictation still survives.
http://www.erbzine.com/bio/years40.html#1940

---

ERB himself became a mad man in early December of 1918. He was irked at the movie industry and sold off his shares of stock in National Film. Nonetheless, the company, on Jan. 16, 1919, wrote a letter to ERB, inviting him to the premiere of "Tarzan of the Apes," starring Elmo Lincoln. See the letter in the C.H.A.S.E.R. page.
ERB spurned the invitation, but Stellan Windrow didn't. The latter was the one originally cast to play Tarzan and, indeed, appears in the movie, uncredited, in several tree-travel scenes.
The Stellan Windrow page:
http://www.erbzine.com/mag28/2876.html
---
JANUARY 17
---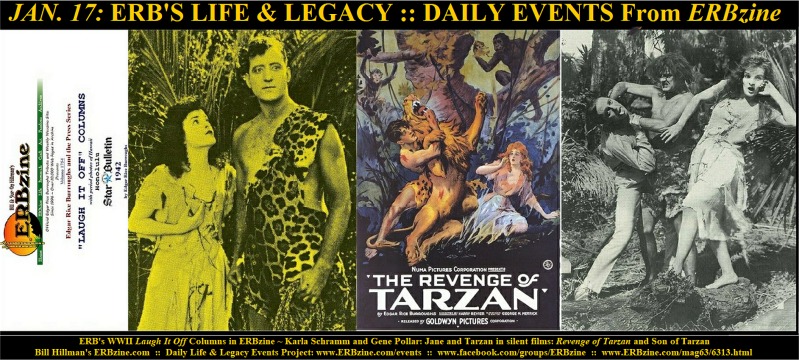 During World War II, many citizens might have been surprised to learn that one day Americans would be driving the German Volkswagen and signing Japanese players to their baseball teams, but such is the way it goes when wars are over and enemies become friends again.
ERB took his shots at the enemies of the U.S., not only in some of his stories, but also in his daily column, "Laugh It Off," in the "Honolulu Star Bulletin." On Jan. 17, 1942, ERB put together a couple of column items which tarred the foe in both the Pacific and the Atlantic.

His first target was the Germans: "What could better insure the post war peace and prosperity of Europe and the world than the replacing of the German state by a Jewish republic under a new name? It might conceivably settle the Jewish question for all time, and it would most assuredly settle the nazi question."

Then, he went after the Japanese: "Olga Streeter says that she understands that the United States and Japan have decided to divide the Pacific ocean between them. Japan is to get the bottom half."
He was much easier on US citizens of Japanese Heritage in his article: The Japanese Problem

Somehow, the Italians seen to have gotten off scot-free!
ERB wasn't correct about the location, but he did see the establishment of a Jewish state, which happened when Israel was born in 1948.

Laugh It Off columns of 1942:
http://www.erbzine.com/mag17/1754.html

---

Speaking of Germans, Karla Schramm had a German name but lived all of her life in the U.S. She passed away this date, Jan. 17, 1980, in Los Angeles.
Karla was the second actress to play Jane. She had that role in "The Revenge of Tarzan" with Gene Pollar and then played Tarzan's mate in "The Son of Tarzan" with P. Dempsey Tabler. Karla was only one of two women to play Jane opposite two different Tarzans.

Who was the other one?

---

In other ERB news of Jan. 17, Rex Maxon's art for "Tarzan the Fearless" began appearing in newspapers this date in 1938.
The strips were reprinted in a magazine-size paperback:
http://www.erbzine.com/mag40/4064.html

---
JANUARY 18
---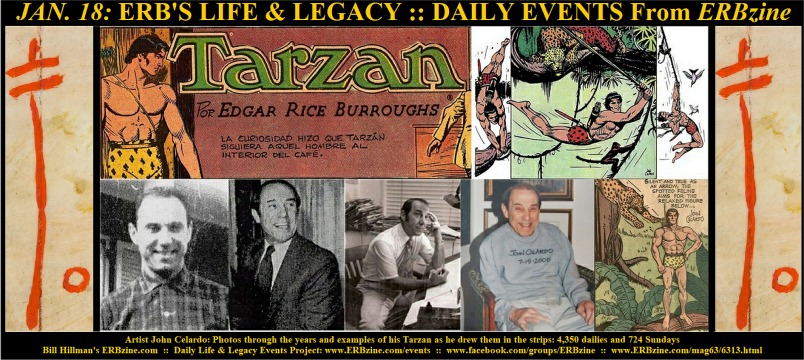 Artist John Celardo's first Tarzan daily strip appeared in newspapers on Jan. 18, 1954. This was followed by his first Sunday strip, Feb. 28 of that year.
According to erbzine, "He probably had been inking Bob Lubber's Tarzan strips for quite some time before these dates. This early work was very similar to Lubbers' but he gradually developed a more simple, less complicated and perhaps 'lazier' style. He produced a total of 4,350 daily strips (#4507-#8856) and 724 Sunday strips (#1199-#1922) - an output second only to Rex Maxon."
January is significant in the life of Mr. Celardo for another reason. He passed away on Jan. 6, 2012.

JOHN CELARDO TARZAN CONTENTS
All the Daily Strips in ERBzine.com
PART 1
http://www.erbzine.com/mag38/3801.html
PART 2
http://www.erbzine.com/mag43/4301.html
PART 3
http://www.erbzine.com/mag44/4401.html
PART 4
http://www.erbzine.com/mag46/4601.html

---
JANUARY 19
---
From at least a year after he took office, to about a year before he left office, President Ronald Reagan found time to remember one of his boyhood heroes, Tarzan of the Apes, and other ERB protagonists as well.

Among the documents presented at erbzine is a letter Reagan wrote this date, Jan. 19, 1988, a year and a day before his term expired. The letter was addressed to our own George T. McWhorter and thanked George for sending him a copy of yet another letter.

Reagan's letter said: "Dear Mr. McWhorter: Thanks very much for sending along the letter that you had in your collection from Edgar Rice Burroughs. And, you're right, it still has relevance today. It reminds me of the responsibility that we have to make this world a safer and better place for generations to come. He had a lucky grandson, didn't he, to have much wisdom imparted at such an early age. I hope that, looking on, Edgar Rice Burroughs knows that this country is still keeping strong and that the generation coming...will keep the spirit that he conveyed....
See the letter at:
http://www.erbzine.com/mag4/0440.html

---

Nineteen on nineteen: ERB began writing Tarzan and Jane (which became "Tarzan's Quest") on May 13, 1934, and finished it -- his 19th Tarzan novel -- on Jan. 19, 1935.
See May 1934 entry at: http://www.erbzine.com/mag1/0140.html
Read and learn more about the book at:
http://www.erbzine.com/mag7/0727.html

---

The "Laugh It Off" columns were nearing their end, but ERB was still taking potshots at America's enemies while he could. On Jan. 19, 1942, he quoted "The Bible" to Hitler with: "Adolph, in Mein Kampf and elsewhere, has often bragged of being a 'have not.' It won't be long before Adolph will have to admit that Saint Luke was right when he wrote, 'and whosovever hath not, from him shall be taken even that which he seemeth to have.' "
"Laugh It Off," 1942:
http://www.erbzine.com/mag17/1754.html

---

"The Fossil Hunters and the Terrorists," by Gray Morrow and Desaro & McKay, began Jan. 19, 1997, and ran for 16 weeks.
Read it at: http://www.erbzine.com/mag58/5803.html

---
JANUARY 20
---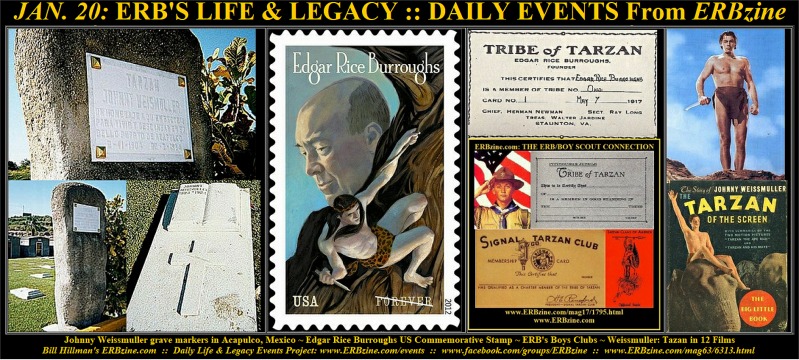 An era ended on this date in 1984. Johnny Weissmuller, the most well-known Tarzan actor, in fact -- the man who owned the role -- passed away.

Johnny was living in Acapulco, Mexico, at the time, and he selected that area as his final resting place.
It's often been noted that Johnny's name is spelled incorrectly on his marker. Actually, it is spelled properly on his actual gravestone, which is a marble slab with a book with his name on it. Very close by is a tall "marker," with the word "Tarzan" and his name spelled with only one "S." Photos show the gravestone to the left of the tall marker-plaque (also called a "stela" or "stele," a closeup of the plaque, and the gravestone slab itself. Although Johnny played Tarzan in 12 movies, it is fitting that the marker shows Johnny's name on a book, the medium in which Tarzan first appeared!



Here's some facts about Johnny's passing and other "Trivia" from Bill Hillman's erbzine page on "Tarzan and the Mermaids":
* In 1973, in the final ravages of fame that also befell actor George Raft and boxing great Joe Lewis, Weissmuller worked as a greeter at Caesar's Palace in Las Vegas. A broken hip led to a series of illnesses and he went back to Acapulco to retire at his round-house in the Hotel Los Flamingos. He died in his sleep on January 20, 1984, five months before his 80th birthday.
* Weissmuller died of pulmonary edema (water in the lungs).
* Johnny is buried in the Jardines del Tiempo (Gardens of Time) cemetery just outside of Acapulco
* Co-star Linda Christian was the only person from Johnny's Hollywood days to attend his 1984 funeral in Acapulco.
* Former actor John Gavin attended the funeral in his official capacity as U.S. Ambassador to Mexico
* In accordance with his wishes, a recording of Weissmuller's famous Tarzan cry was played as his coffin was lowered into the ground.
See:
http://www.erbzine.com/mag6/0628.html
The Johnny Weissmuller story:
http://www.erbzine.com/mag6/0617.html
Linda Christian was also the first Bond girl, playing the love interest in the 1954 television production of "Casino Royale" opposite Barry Nelson.
https://www.timesofmalta.com/…/…/First-Bond-girl-dies.378461

---

An Edgar Rice Burroughs commemorative stamp was issued in August of 2012, and many had written letters over the years urging there be such a stamp. One such person was Mel Sofian, writing for the Historical and Museum Committee of the Tarzana Community & Cultural Center, who wrote a letter dated this date, Jan. 20, in 2004.

His letter said, in part:
"Although it is impossible to determine how many copies of Burroughs' books have been published worldwide, with translations into thirty-two languages. Burroughs' works have engrossed legions of fans throughout the world through the Tarzan newspaper features, radio programs, comic magazines, motion pictures and television series. The motion picture version of "Tarzan and His Mate" was recently selected for the Library of Congress' National Film Registry. His popularity continues to the present day with a current version of a Tarzan animated feature to be released this year. "
Sofian, pictured below, was active in community causes up until his death in 2016 at the age of 94.

See the rest of Sofian's letter at:
http://www.erbzine.com/mag19/1946.html

Many indeed wrote letters, but the thing that finally accomplished the goal was an evening of friendship and sharing when Denny Miller, star of 1959's "Tarzan the Ape Man," made the suggestion in person to the chairman of the Citizens Stamp Advisory Committee.
Read about it here:
http://www.erbzine.com/mag43/4395.html
More about the stamp drawn by Sterling Hundley
http://www.erbzine.com/mag36/3611.html
and
http://www.erbzine.com/mag37/3718.html

---

"All-Story Weekly" of Jan. 20, 1917, reported "The boys of Staunton, Virginia, have organized the first Tribe of Tarzan. They would like to hear from boys in other cities and towns who are interested in forming tribes in their own jungles. The men of Staunton are helping the boys of Stuanton. The latter have a Tribe Room where they hold their meetings; they have grass ropes, bows and arrows, hunting knives, and the author of "Tarzan of the Apes" is having medallions struck for them symbolic of Tarzan's diamond-studded golden locket. Boys who are interested are invited to write to HERMAN NEWMAN, Acting Chief of THE FIRST TRIBE OF TARZAN, 113 North Jefferson Street, Staunton, Virginia.

"The editors of the All-Story extend their heartiest congratulations and best wishes to Herman Newman and the Tribe, and assure them that they will do all in their power to help make the organization such a brilliant success that, in a short time, it shall rival, in membership and popularity even, the Boy Scouts. It is the earnest hope and belief that in a few years Tribes of Tarzan will exist in every city and town in the United States, and will have become, not only a source of keen joy and amusement to the youth of the country, but also a powerful influence for good."

Some believe the Tribes of Tarzan was a passing fad, and some other efforts, such as the Tarzan Signal Club and ERB's own "Tarzan Clans of America" were not lasting, but one could also say that the tribes continue today under such names as The Burroughs Bibliophiles, the Edgar Rice Burroughs Chain of Friendship, the Edgar Rice Burroughs Amateur Press Association, and Facebook groups.
See: http://www.erbzine.com/mag17/1795.html

---
JANUARY 21
---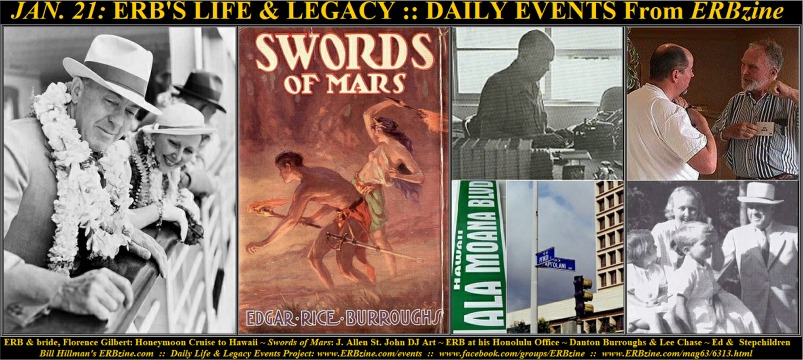 Lee Chasewas a stepson of Edgar Rice Burroughs, acquired in his marriage to Florence Gilbert. After Florence passed away, Lee found himself with some of her books, and of particular interest were ones ERB had personally signed to her.
The most "particular" was probably "Swords of Mars," with an inscription that read: "To Florence, all my love, Ed, Tarzana, Jan. 21, 1936." The inscription is found twice in the book, once on the flyleaf, where ERB wrote it, and again as a code, with the first letter of the Prologue and of each following chapter spelling out the inscription.
Frank Puncer interviewed Lee Chase, and those books were discussed
FRANK: Irwin Porges asked your mother whether ERB ever discussed any of his stories with her, and I assume he meant while he was writing them. The response was negative. Yet Ed gave Florence many copies of his books. Here is a first edition of "Swords of Mars," an intriguing title in that it contains a secret message: "To Florence with all my love always, Ed," spelled out by stringing together the first letter of the first word in each chapter.
LEE: Mother was very fond of that book. She found the hidden message to be an extremely romantic gesture. There was even a specially bound, light-tan pigskin covered copy that Ebbie gave to her. It was the first bound copy that came from the printer which Ebbie must have had re-covered. It's not around anymore and I don't know what became of it. It wasn't with my sister's things, and I don't believe Uncle Eddie had it either.
The inscription actually begins with the Prologue and then continues on through the numbered chapters. It ends after "Ed," and does not include "Tarzana" and the date.
The interview itself contains an error, when Frank mentions that the inscription has the word "always" in it. A look at the first letters of each word shows that word is not there.

Read the interview at:
http://www.erbzine.com/mag16/1643.html

---

ERB probably had fun concocting that code with which to surprise Florence. He had fun with a lot of things, including counting cars, as noted in this "Laugh It Off" column from Jan. 21, 1942

"It is amazing how amenable to suggestion we motorists are. Take for example Colonel Green's suggestion that we pick up pedestrians going our way.. I had a demonstration of the cooperative spirit of motorists when I had to walk to my office Sunday morning. I was the sole pedestrian on Ala Moana, sticking out like a sore thumb -- or a couple of sore feet; yet thirty two cars going in my direction passed me; and gosh! how I hate to walk. Anyway, I had fun counting 'em."

In the same column, ERB added: "A lot of us are going to be able to sympathize with the sufferings of W.C. Fields, who once had to stay three days in a dry town where he had "nothing to eat but food and nothing to drink but water."

More from Laugh It Off at:
http://www.erbzine.com/mag17/1754.html


VISIT THE PHOTO ALBUM FOR JANUARY WEEK THREE
http://www.ERBzine.com/mag63/6313pics.html



NEXT WE WILL FEATURE EVENTS FROM JANUARY WEEK IV
http://www.ERBzine.com/mag63/6314.html



BACK TO MONTHLY EVENTS CONTENTS
www.ERBzine.com/mag63/6310.html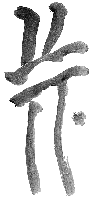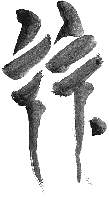 BILL HILLMAN
Visit our thousands of other sites at:
BILL AND SUE-ON HILLMAN ECLECTIC STUDIO
ERB Text, ERB Images and Tarzan® are ©Edgar Rice Burroughs, Inc.- All Rights Reserved.
All Original Work ©1996-2018 by Bill Hillman and/or Contributing Authors/Owners
No part of this web site may be reproduced without permission from the respective owners.