DUM-DUM 2021 DIGEST
Overview II by John Martin
Continued from ERBzine 7460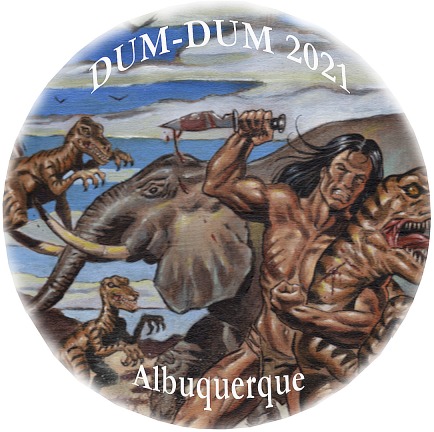 DUM-DUM 2021
Albuquerque, NM, USA :: November 6 and 7
Organizer: Gary Buckingham
Artist Dan Parsons created the convention logo

Jim Goodwin and wife Rita brought plenty of ERB material to the Albuquerque Dum Dum,
including copies of his recent bibliography of ERB paperbacks.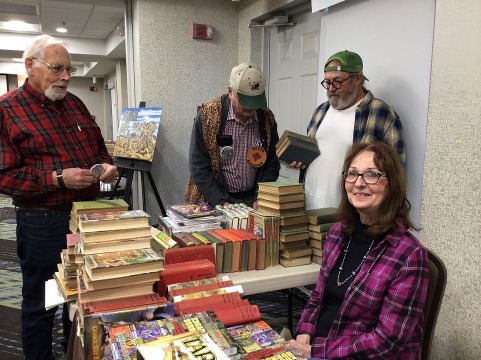 From left are Bill Briggs, Jim, and a happy customer, Carl Petersen, a local man.
Briggs and the Goodwins came to the event from The Lone Star State.
On easel in background is Dan Parsons Art for the cover of Gary Buckingham's novel,
"Tarzan and the Lion of Judah," which was introduced at the Dum Dum.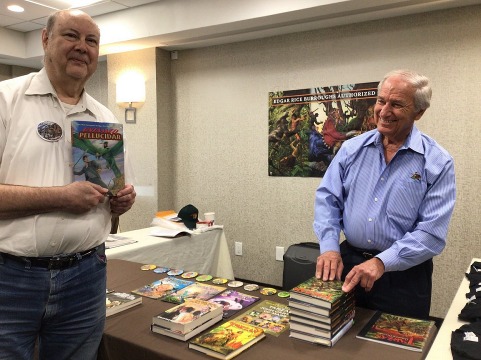 Lee Strong wrote two novels (so far) in The Wild Adventures of Edgar Rice Burroughs series.
He displays one, "Untamed Pellucidar," at the table of Jim Sullos, president of ERB, Inc.
His other novel is "A Soldier of Poloda."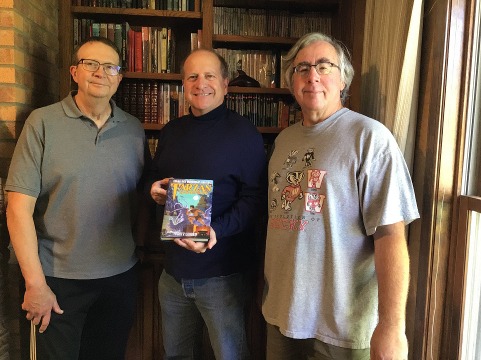 Alan Hanson, Scott Tracy Griffin, Gary Buckingham


DUM DUM DIGEST: FANS FAN OUT
Edgar Rice Burroughs fans spread out at the 2021 Dum-Dum
to various places in the Huckster Room as the Albuquerque event got under way Saturday morning.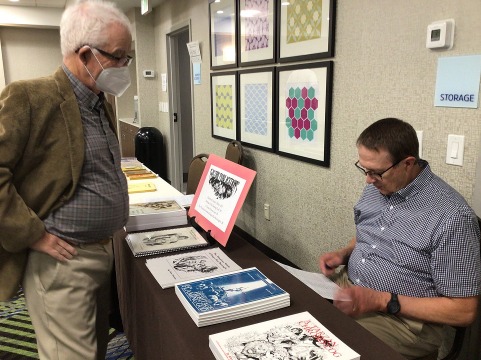 Jon Stott, a local resident, called on Alan Hanson about
Alan's new book, "Exploring Tarzan's Africa,"
and an additional booklet on the hunting knife of Tarzan's father.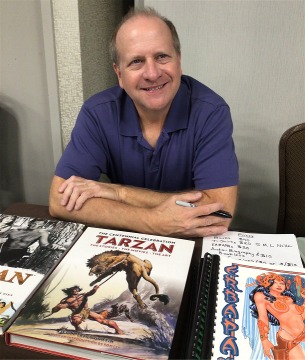 Scott Tracy Griffin had a smile as well as a ready pen to autograph one of his books,
"Tarzan on Film" or "Tarzan: The Centennial Celebration."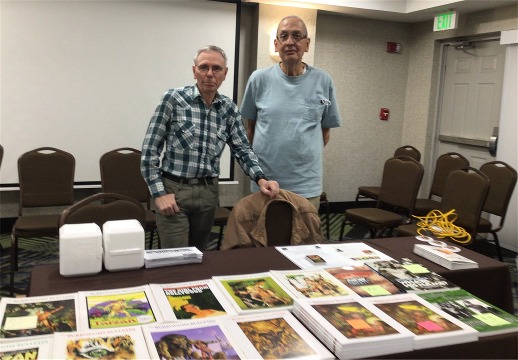 David L Brueske visited The Burroughs Bulletin editor, Henry Franke.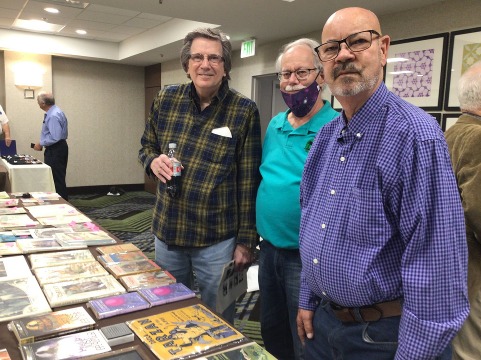 Bill Ross, ERB and Diet Coke fan, visited with Mike Conran, publisher of
Edgar Rice Burroughs News Dateline, and Ralph Brown.
All three have hosted fan gatherings in the past.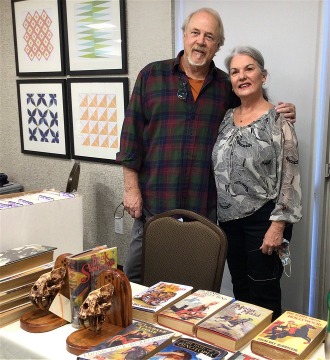 Dan Stephens, Orange, California, and wife Diana came early to Albuquerque to enjoy the Dum Dum.
They smile for the camera behind their table of good-looking books.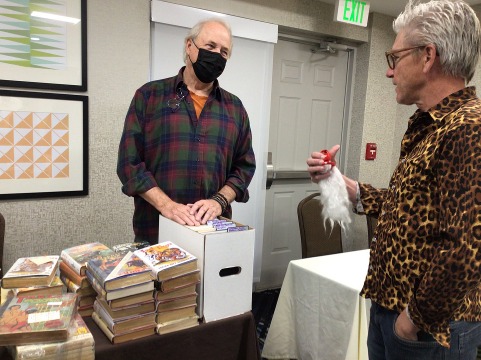 Dan Stephens, whose business card identifies him as Tarzanfanman,
visits with Rob Olsen, who arrived on his open cockpit flier on Friday.
Dan tells Rob he won't accept Foghorn Leghorn's head in payment for an ERB book.


JAMIE CHASE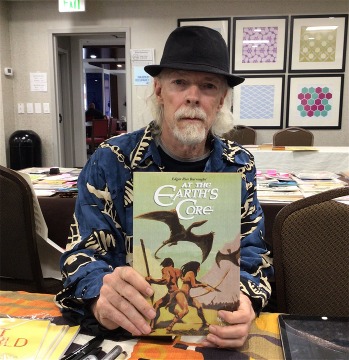 When Jamie Chase put together a fully illustrated version of Edgar Rice Burroughs's "At tne Earth's Core"
many fans were quick to show their appreciation by buying the soft- or hardcover- edition,
and some probably bought both, since each has its own stunning cover.
Illustratinng a book like this was a labor of love for Jamie, since he loves dinosaurs, the whole idea of dinosaurs,
and loves to create his own renditions of the beasts through his artwork.
In fact, after finishing "Earth's Core," Jamie wanted to create more dinosaurs
so he wrote and illustrated his own 44-page comic, "First World,"
which begins 65 million years ago and has aliens, humans, dinosaurs and,
to make it even more interesting, giant carnivorous insects.
But that doesn't necessarily mean that "Earth's Core" was a one-shot.
He's been diligently turning out pages of art for "Pellucidar," ERB's sequel to AEC.
But he needs to find a publisher. His long-term dream is to do the whole seven-book series.
He brought along a binder with about 40 pages of illustrations for the sequel.
He also brought along some copies of his own comic book opus,
writing both the story and doing the art for "First World,"
a 44-pager, as well as a page-turner, all about aliens coming to Earth to help out.
Jamie traveled from his home in Santa Fe to Albuquerque this weekend to participate in the 2021 Dum Dum.
Sunday of Dum Dum weekend, he'll be giving a talk on his art projects — and dinosaurs —
at the event location, the Holiday Inn Express.


WILL MURRAY ~ HONOURED GUEST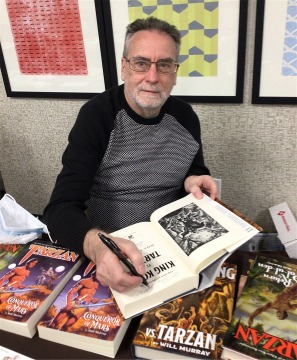 William Patrick Murray
whose author name shows as Will Murray on his books,
is guest of honor at the 2021 Dum Dum in Albuquerque.
Here he signs "King Kong vs. Tarzan" for me.
He also wrote the ERB, Inc.-authorized novels,
"Tarzan: Return to Pal-ul-don" and "Tarzan, Conqueror of Mars."
Murray plans to return the apeman to the red planet in a sequel,
where he and John Carter, after finally coming to a meeting of the minds in "Conqueror,"
will join forces to take on a mutual enemy.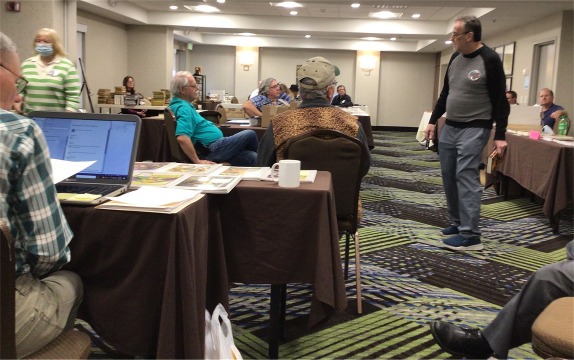 Will Murray, standing, shares the background of his authorized Tarzan stories with fans at the Dum Dum.
From left are Henry Franke, Debbie Manson, Rita Goodwin (background),
Mike Conran, Gary Buckingham, Jim Goodwin, and, at far right, Scott Tracy Griffin.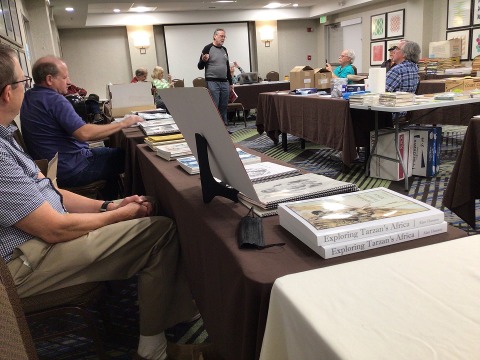 Some of the fans visible in this photo, where William Patrick Murray, standing, speaking,
are, from left, Alan Hanson, Scott Tracy Griffin, Kenneth and Debbie Manson, Mike Conran, and Gary Buckingham,


DUM DUM DIGEST: DAN PARSONS



Dan Parsons of San Luis Obispo started as a comic illustrator with his own independent characters
and eventually began doing the Star Wars comics for Dark Horse, following in the footsteps of one of his artistic heroes, Al Williamson.
In 2004 he met longtime Edgar Rice Burroughs fan Ralph Brown, who invited him to an ERB gathering in Sacramento.
Since then, ERB has been added to his active interests.
He illustrated a special limited edition, "The Caspak Trilogy," for attendees of the 2018 ECOF in Folsom,
California, and most recently has been working with Gary Buckingham to illustrate the two-novelette Buckingham effort,
"Untamed Frontiers," and the full-length novel, "Tarzan and the Lion of Judah,"
which was released this weekend at the 2021 Dum Dum in Albuquerque.
Parsons gave a presentation Saturday to fans, describing how he worked with Buckingham to get the art for "Lion ofJudah" just right.
The finished product includes a color wraparound dust jacket as well as black and white interior illustrations.
The jacket image was painted on Masonite then gessoed and sanded before the oil paint was applied.
Parsons said he hadn't worked with oils in awhile but was pleased with the results.
Parsons will speak to fans again Sunday at the Dum Dum at 10 a.m. at the Holiday Inn Express.
This time his topic will be his art for the two Tarzan short stories in "Untamed Frontiers."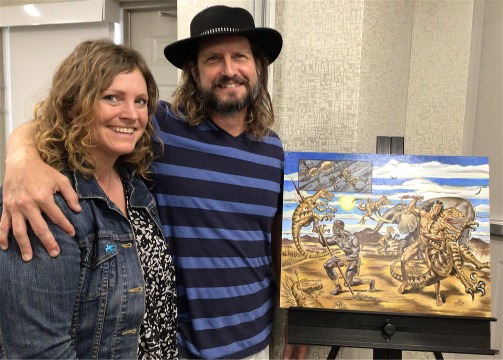 Dan Parsons and his wife, Robin, show his oil painting
for the wraparound dust jacket of the just-released "Tarzan and the Lion of Judah."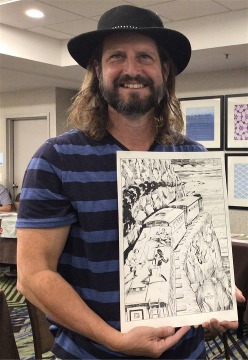 A fight on a train top is one thing but when the train is chugging along beside a mountain cliff, it's quite another.
This is one of the action scenes Dan Parsons illustrated for "Tarzan and the Lion of Judah."


DUM-DUM DIGEST: LICENSE TO THRILL



Mike Conran shows one of three Illinois license plates that once signaled to other drivers that Jerry Spannraft is a Tarzan fan.
While I was taking this photo, someone bought one of them at the Dum-Dum. And then there were two…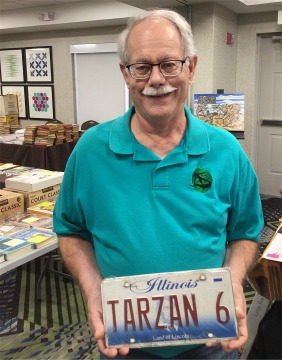 Mike Conran


DUM DUM DIGEST: ANOTHER HONOR FOR HONOREE



William Patrick Murray was invited to be the guest of honor at the 2021 Dum Dum in Albuquerque
but to his surprise he was also presented with a second honor at the event —
he was named the 2021 winner of The Golden Lion Award.
The honoree is decided each year by the board of directors of The Burroughs Bibliophiles and
goes to a professional creator — usually a writer or an artist —
"In appreciation for your contribution to keeping alive the memory of Edgar Rice Burroughs and his works."
Mr. Murray has written three novels about the ape man —
"Tarzan: Return to Pal-ul-don," "King Kong vs. Tarzan" and "Tarzan, Conqueror of Mars."
A sequel to the Mars novel is currently in the works.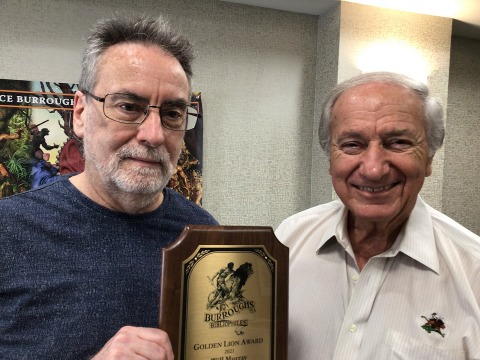 Will Murray with his award plaque alongside Jim Sullos, president, Edgar Rice Burroughs, Inc.


DUM DUM DIGEST: HAVING A. GREAT TIME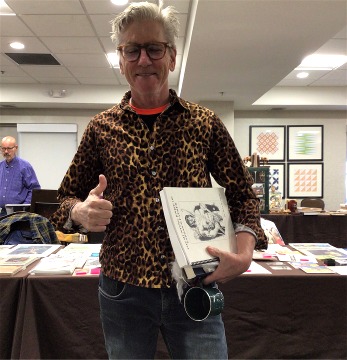 Rob Olsen gives a "thumbs up" for the 2021 Dum-Dum.


DUM DUM DISPATCH: FRIENDLY BOOK MAVENS



Lee Strong noted that Dum-Dums are about friendship.
He said the first time he went to one he saw 50 people he didn't know but realized he was also looking at 50 new friends.
These friendly folks also enjoy books, particularly the ones by Edgar Rice Burroughs.
Here are photos of just a few who enjoyed meeting each other
and talking about their love of ERB books this weekend at the 2021 Dum-Dum in Albuquerque: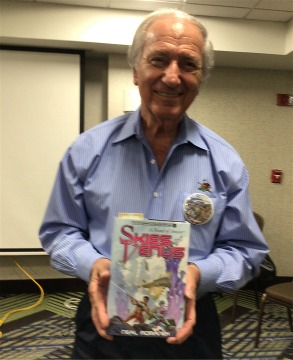 Jim Sullos, president of Edgar Rice Burroughs, Inc.,
shows one of three printer proofs the company has received for
the soon-to-be-released "Skies of Venus" by Neal Romanek.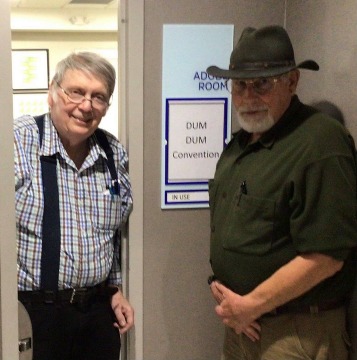 John Martin and Bill Briggs
wondered what passers-by might think goes on at a "Dum-Dum" convention.


Lee Strong wrote "Untamed Pellucidar" in the ERB inc. Wild Adventures series.
He was visiting with Jim Sullos.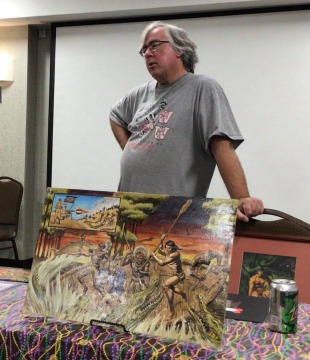 Gary Buckingham, Dum Dum host, talked about
the cover art by Dan Parsons, foreground, for his "Tarzan: Untamed Frontiers."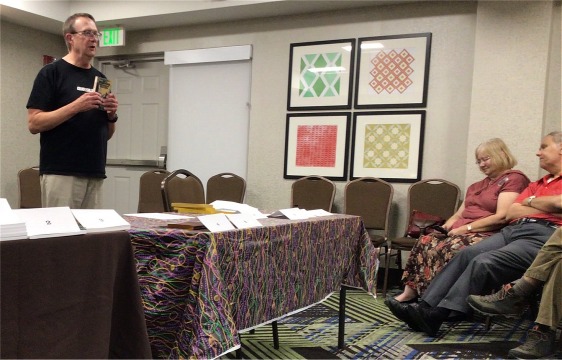 Alan Hanson tells why "Bandit of Hell's Bend" is in his top ten; Debbie and Ken Manson listen, at right.
Kenneth and Debbie Manson were married May 15 of this year and enjoyed the Dum Dum,
with presentations by fans like Alan Hanson on his "top ten" favorite ERB books.


MEMBERS OF ERBapa WHO ATTENDED THE DUM-DUM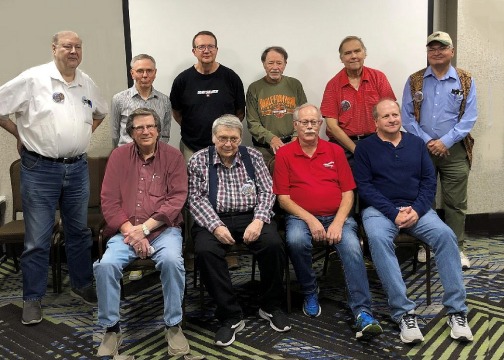 Seated from left, Bill Ross, John Martin, Mike Conran, Scott Tracy Griffin.
Standing: Lee Strong, Henry Franke, Alan Hanson, Robert Lupton, Kenneth Manson, Jimmie Goodwin.
Not shown is Ralph Brown.



ERBzine REFERENCES
John Martin
Jim Sullos
Alan Hanson
Robert Allen Lupton
Kenneth Manson
Scott Tracy Griffin
Mike Conran
Bill Ross
Jim Goodwin
Henry Franke
Lee Strong
Gary Buckingham
Dan Parsons
ERBapa
Dum-Dum Archive
Dum-Dum Dossier
Many More In Preparation
Looking forward to hearing from everyone
. . . please send in your latest info



READ ALL OUR JOHN MARTIN FEATURES IN ERBzine
www.ERBzine.com/martin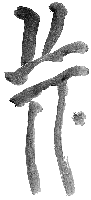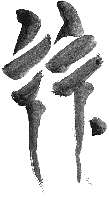 BILL HILLMAN
Visit our thousands of other sites at:
BILL AND SUE-ON HILLMAN ECLECTIC STUDIO
ERB Text, ERB Images and Tarzan® are ©Edgar Rice Burroughs, Inc.- All Rights Reserved.
All Original Work ©1996-2021 by Bill Hillman and/or Contributing Authors/Owners
No part of this web site may be reproduced without permission from the respective owners.