Official Edgar Rice Burroughs Tribute and Weekly Webzine Site
Since 1996 ~ Over 15,000 Webpages in Archive
Volume 6318

ERB'S LIFE and LEGACY :: DAILY EVENTS
A COLLATION OF THE DAILY EVENTS IN ERB-WORLD
FROM THE PAGES OF ERBzine CREATED BY BILL HILLMAN
Collated by John Martin and Bill Hillman
With Web Design, Added Events, Links,
Illustrations and Photo Collages by Bill Hillman
BACK TO DAILY EVENTS CONTENTS

FEBRUARY CONTENTS WEEK 4

FEB 22 ~ FEB 23 ~ FEB 24 ~ FEB 25
FEB 26 ~ FEB 27 ~ FEB 28 ~ FEB 29

BACK TO FEBRUARY WEEK I
http://www.ERBzine.com/mag63/6315.html
BACK TO FEBRUARY WEEK II
http://www.ERBzine.com/mag63/6316.html
BACK TO FEBRUARY WEEK III
http://www.ERBzine.com/mag63/6317.html
Click for full-size images
---
FEBRUARY 22
---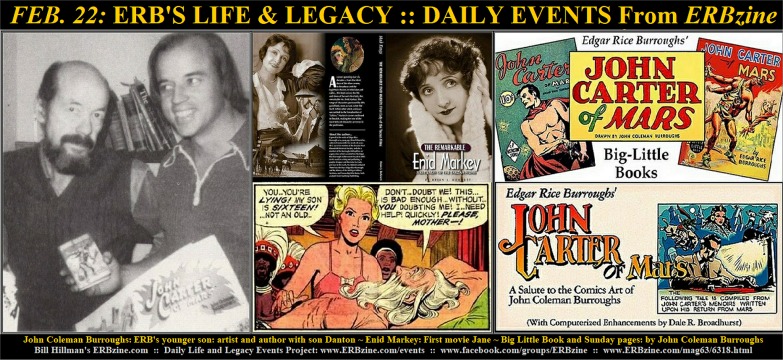 John Coleman Burroughs: Edgar Rice Burroughs' younger son: artist and author with son Danton
Enid Markey: First movie Jane ~ Big Little Book and Sunday pages: by John Coleman Burroughs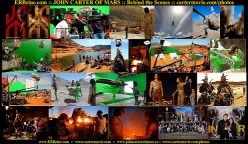 .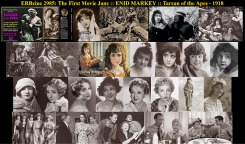 .
.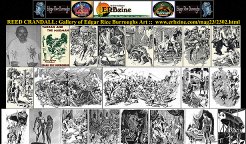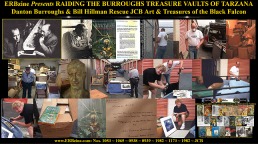 ---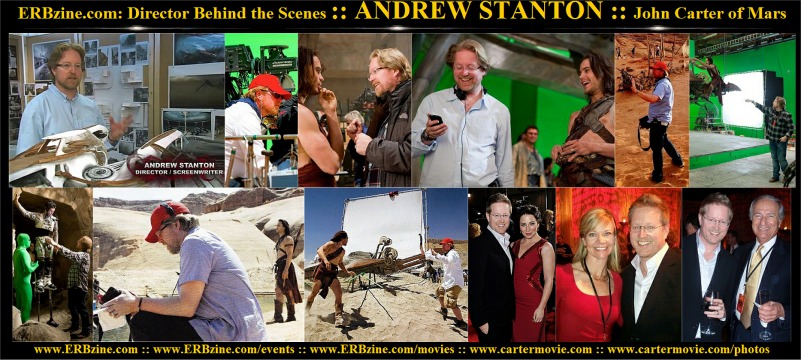 ---
*** 2012: Anniversary of JOHN CARTER's gala World Premiere at the Regal Cinema L.A. world premiere in Hollywood. See ERBzine's photo spread on the event, which includes many members of the Burroughs family and the management of Edgar Rice Burroughs, Inc.:
*** A few days before, Sue-On and I were invited to a pre-showing on the Disney lot. A thrill to see a film I had hoped for since reading my first John Carter comic 70 years before. Exciting to see the hundreds of millions of dollars put into the production -- it even starred a good ole Canadian boy in the title role. Refreshing after sitting through a lifetime of often hokey Tarzan flicks.
John Carter Premiere Photos
http://www.cartermovie.com/photos/jcm17.html
ERBzine's John Carter of Mars Film site
http://www.cartermovie.com
https://www.ERBzine.com/cards/film4/andrewstantonjohncarter.jpg
https://www.ERBzine.com/cards/film8/johncarterfilmlocationsall.jpg

---
*** 1894: Enid Markey (1894.02.22-1981.11.15), the first gal to play Jane, was born on today's date in Dillon, Colorado. She kept making movies and television show appearances until 1968.
Enid Markey was a star on the silent screen, a decade before Al Jolson broke the sound barrier, and every star was a do-it-yourself stunt man or woman. Miss Markey returned to Hollywood after 43 successful years on Broadway to star in a series of films for television. Things have changed a great deal, she said since Elmo Lincoln was the first Tarzan of the movies and she was his very first Jane - in a tan Annette Kellerman bathing suit with a leopard skin sewed on top. "We shot them out at Selig's Wild Animal Farm," Miss Markey recalled. "Elmo would swing and sort of gather me up in the trees. They were really ropes, with vines wrapped around them.
"I was the only Jane who ever wore clothes," Miss Markey has said. "I remember Mother had that dress made. It was very expensive -- $150. It had a plaid skirt and a green jersey top with white flannel collar and cuffs and a patent leather belt around the hips with big pockets over it and a plain green band at the bottom and, of course, low heeled white buck shoes and white stockings." As time passed in the treetops, the dress gave way, sleeve by sleeve, so to speak, and the leopard skin took over.
Miss Markey turned down a contract for five more years of Jane to come to New York in 1918, because "I had no interest in pictures at all. I was studying for the stage."
Miss Markey's early deeds of derring-do have been preserved for history in the Museum of Modern Art film library and she even ran across herself in an old-fashioned nickelodeon at Disneyland. "I think it's rather nice," Miss Markey said. "Except when some old toothless creature comes up and tells me, 'I used to see you when I was a little girl.'"
Brian Bohnett's biography of the first Jane, "The Remarkable Enid Markey," is available from amazon.com
All about Enid Markey:
http://www.erbzine.com/mag29/2985.html
Enid Markey photo gallery:
http://www.erbzine.com/mag29/2985a.html
Enid Markey in the Press
http://www.erbzine.com/mag29/2985.html
Tarzan of the Apes
http://www.erbzine.com/mag5/0503.html
The Romance of Tarzan
http://www.erbzine.com/mag5/0504.html
https://www.ERBzine.com/cards/film/enidmarkeyall.jpg

Off-Site Reference: Enid's career:
http://www.imdb.com/name/nm0548402/
---
*** John Coleman Burroughs, ERB's younger son, died on Feb. 22 in 1979, just six days short of his 66th birthday. a photo on today's EVENTS page shows JCB and son, Danton, with a couple of JCB's creations, the "John Carter of Mars" Better Little Book, which he wrote with an assist from father Edgar, and the "John Carter of Mars" Sunday newspaper comic strip, which he scripted and illustrated.
Danton shared a tremendous amount of information on his dad's bio: letters, art, memorabilia, photos, etc. which I used to create a John Coleman Burroughs Memorial Website. JCB was the only one of ERB's children that I never met. By the time we made contact with the Burroughs family and started our visits to Tarzana, Jack Burroughs was in very poor health. We did have many visits with his second wife Mary and step-daughter Stacy. They shared wonderful memories of the years they had spent with him.
With Danton's permission and later that of Linda, we opened a number of JCB's storage lockers in the valley and photographed and indexed the contents -- treasure troves of art and memorabilia.
John Coleman Burroughs Memorial Site
http://www.johncolemanburroughs.com
John Coleman Burroughs
http://www.erbzine.com/mag3/0335.html
and ERBzine's companion site
http://www.johncolemanburroughs.com
...as well as here
http://www.erbzine.com/jcb/
"John Carter of Mars" Better Little Book
http://www.erbzine.com/mag28/2841.html
John Carter of Mars" Sunday newspaper comic strip
http://www.erbzine.com/mag28/2840.html
https://www.erbzine.com/cards/art3/jcbatworkall.jpg
https://www.erbzine.com/cards/art3/jcbtharksandthoatsall.jpg
---
*** 1917: Reed Crandall (1917.02.22-1982.09.13) created spectacular ERB-related art, notably in the Canaveral Press editions. He is also known for his work for EC -- horror, crime, war, and adventure comics and he also contributed to Flash Gordon in the 1960s. His art was featured in the Classics Illustrated and Treasure Chest series; he drew the Buster Brown comics for Buster Brown shoe stores for many years. Later he created b/w comic art for Warren's Blazing Combat, Creepy, Eerie, etc.
Reed attended the Cleveland School of Art in Ohio, graduating in 1939, and served briefly in the Air Force during WWII -- in the major work he did for Blackhawk comics. Reed Crandall was inducted into the Jack Kirby Hall of Fame in 1998 and the Will Eisner Hall of Fame in 2009.
The art that he and Al Williamson created for the cover of Richard Lupoff's book: Master of Adventure: The Worlds of ERB is proudly displayed in the offices of ERB, Inc., Tarzana.
ERBzine Gallery of Reed Crandall Art
http://www.erbzine.com/mag23/2302.html
"Master of Adventure" Art and Coloured Version
http://www.tarzan.org/docs/citizen1.jpg
http://www.erbzine.com/mag30/lup10.jpg

---

*** On Feb. 22, 1970, "Korak and the River of Time" began as a Sunday strip and ran for 15 weeks: Feb. 22, 1970 - May 31, 1970
Korak and the River of Time: Tarzan Sunday pages by Manning
http://www.erbzine.com/mag21/2138.html
Huck's List of Sunday Tarzan Comic Strips: Start/Stop Dates
http://www.erbzine.com/mag22/2292.html

---
FEBRUARY 23
---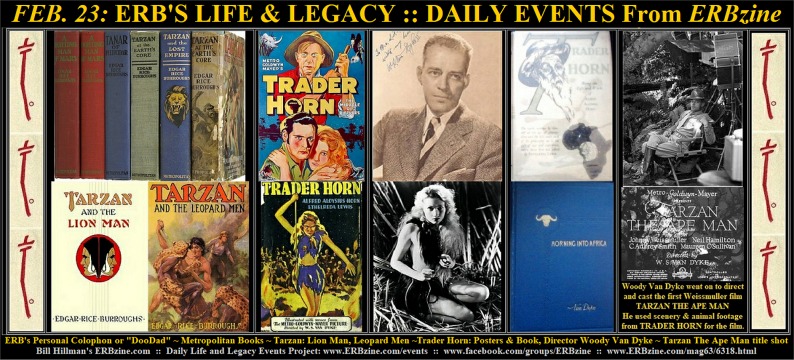 ERB's Personal Colophon or "DooDad" ~ Metropolitan Books ~ Tarzan: Lion Man, Leopard Men
Trader Horn: Posters and Book, Director Woody Van Dyke ~ Tarzan The Ape Man title shot
---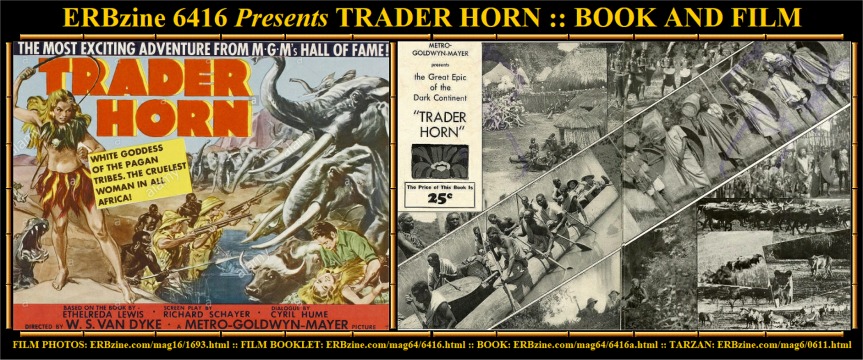 ---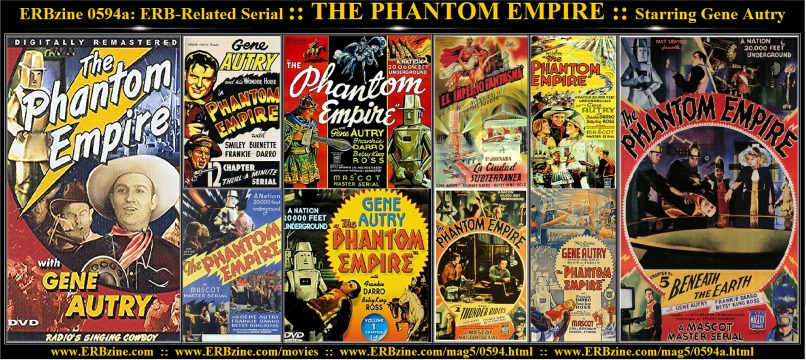 ---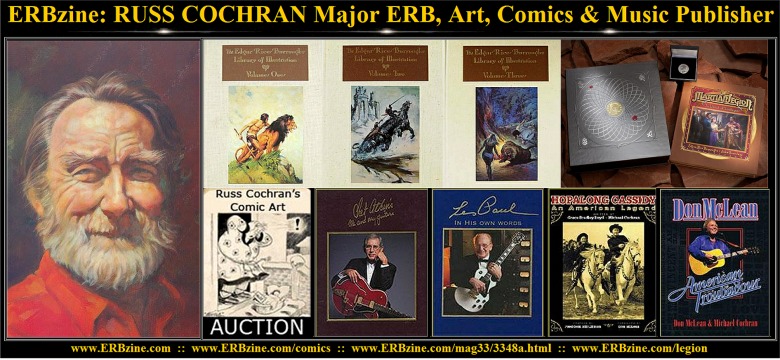 ---
*** 1931: ERB and Emma were off to the theater to see the new African epic, "Trader Horn" film on this date. Newspaper ads for this 1931 "Trader Horn" movie showed you could get in before 1:30 for just 25 cents. If ERB was enjoying the movie, his full enjoyment was to go unfulfilled, at least that night. At intermission, Emma said they had to leave because she had suddenly remembered that they had promised to babysit for daughter Joan that night!
R.E. Prindle, notes that ERB must have seen the whole movie at some point and also read "Trader Horn" and "Horning into Africa," although only the latter volume survived among the books in his personal library. "Horning into Africa" is the story of the movie crew that went to Africa to film the book "Trader Horn" which relates the African adventures of Alfred Aloysius 'Wish' Smith, who went by the name of Trader Horn. Van Dyke was hired to direct and cast the first Weissmuller film - Tarzan The Ape Man - and used the Trader Horn footage to good effect through rear projection and inserts and Van Dyke used an adept mix of scenery, animal shots, humour, action and cinema tricks to make a film that would please critics and audiences of all ages. The picture was filmed in five months.
Prindle makes the case for how Burroughs was influenced by the books and movie in writing "Tarzan and the Lion Man" and "Tarzan and the Leopard Men."
Ron lent me "Horning into Africa" which I read and photocopied. A fascinating read which contained many good photos which I shared with my ERBzine readers.
R.E. Prindle's Articles on the Trader Horn influence on ERB:
http://www.erbzine.com/mag16/1662.html
View the photos from Horning into Africa from book that Ron Prindle lent me to scan.
http://www.erbzine.com/mag16/1693.html
ERB's Personal Library Shelf Containing Horning Into Africa by Woody Van Dyke
http://www.erbzine.com/dan/uv1.html
Tarzan The Ape Man
http://www.erbzine.com/mag6/0611.html
Trader Horn Film Booklet
http://www.ERBzine.com/mag64/6416.html
Trader Horn Book Text I
http://www.ERBzine.com/mag64/6416a.html
Trader Horn Book Text II
http://www.ERBzine.com/mag64/6416b.html
---
*** On the same day he went to see the Trader Horn movie, ERB sent a letter to Metropolitan telling them that he planned to take over the publication of his own books, something some may have regarded as a reckless move in the middle of the Great Depression. Metropolitan had published only four ERB first editions: "Tanar of Pellucidar," "A Fighting Man of Mars," and two Tarzan novels: "Tarzan and the Lost Empire" and "Tarzan at the Earth's Core."
ERB Bio Timeline 1931 for info on the Metropolitan decision and Trader Horn
http://www.erbzine.com/bio/years30.html
Tanar of Pellucidar
http://www.erbzine.com/mag7/0743.html
A Fighting Man of Mars
http://www.erbzine.com/mag7/0735.html
Tarzan and the Lost Empire
http://www.erbzine.com/mag7/0720.html
Tarzan at the Earth's Core
http://www.erbzine.com/mag7/0721.html
---
1935: The first episode of the movie serial, The Phantom Empire, was released on this date. This 12-chapter Mascot Pictures serial combined the western, musical, and science fiction genres. The film is about a singing cowboy who stumbles upon an ancient subterranean civilization living beneath his own ranch that becomes corrupted by unscrupulous greedy speculators from the surface. This was Gene Autry's first starring role, playing himself as a singing cowboy. This was also one of the first films featuring Smiley Burnette who went on to play Autry's sidekick in 62 feature-length musical Westerns.
Phantom Empire was the first pre-recorded VHS tape I purchased in 1979. I made good use of my newly-purchased VHS recorder by eventually taping thousands of movies, shows, documentaries, music, etc. on my collection of over 4,500 video tapes. . . . most of them off a series of satellite dishes we owned through the years. The Nashville Network broadcast nearly all the Gene Autry (and Roy Rogers) films in the '80s with Gene on hand in the studio to discuss the films during breaks -- I taped 'em all :)
The Phantom Empire
http://www.erbzine.com/mag5/0594a.html
ERB-Related Movie Serials
http://www.erbzine.com/mag5/0594.html
---
2020: Russ Cochran (1937.07.03 - 2020.02.23) died on this date. Russ was a long-time supporter of all things Burroughs and had published spectacular volumes of interest to all ERB fans. Of special note is his 3-volume set -- ERB: Library of Illustration and more recently Buddy Saunders' "Martian Legion"
After earning his doctorate in physics and mathematics at the University of Missouri and teaching for ten years, Russ made a sudden and impulsive right turn, resigning his tenured university position to devote himself to publishing books for collectors. Russ's first publishing venture was The Complete EC Library, consisting of 65 hardcover collections, in 16 slipcased sets, the only complete reprinting of a whole line of comic books from the 1940s and 1950s.
Following his visit to Edgar Rice Burroughs, Inc., in Tarzana where Danton Burroughs showed him the many ERB-related paintings and drawings, his first thought was that all Burroughs fans should be able to see this artwork. This led to his publishing the three-volume Edgar Rice Burroughs Library of Illustration. Following this were books on guitarists Chet Atkins and Les Paul. His next projects included collections of Sunday comic pages: Gasoline Alley and Alley Oop. His most recent project is publishing of the gigantic and lavishly illustrated ERB-related book by Buddy Saunders: The Martian Legion.
Russ had given Danton a copy of the book he wrote on Chet Atkins -- now a very rare book that sells for over $300. I had a great time leafing through and reading Dan's copy which he treasured. In fact, he treasured it so much that I couldn't talk him out of it -- but I plan to get a copy somehow, someday :). I've been a longtime fan of Chet's -- a Chet Atkins Gretsch model guitar was the first expensive guitar I bought back in the 1962. I later met with Chet in his RCA Nashville office. I've corresponded with Russ and we were Facebook friends, but sadly never had a chance to meet with him. ERB fans owe him a lot.
*** I still don't have Russ's Library of Illustration in my library. But I'm well acquainted with Volume 2 that is devoted to the art and writing of John Coleman Burroughs. I had a long visit during the Tarzana 2002 ECOF with Nanette Mark, JCB's personal care provider, who assisted him during his battle with Parkinson's disease. She had helped JCB with many projects in his last years when he had been so disabled. One of her duties was to help Jack collate the artwork and accompanying descriptions for Russ Cochran's ERB Library of Illustration. During our visit we went through Volume 2 page by page and she shared some wonderful back stories behind the JCB treasures presented in the book. A memorable experience. Through the years Nanette has been a very staunch JCB supporter and has led an ongoing campaign to achieve more recognition for his art and contributions.
Library of Illustration
http://www.erbzine.com/mag33/3348a.html
Tarzana ECOF 2002 ~ Nanette Mark's Memories of JCB
https://www.erbzine.com/mag9/0962.html
https://www.erbzine.com/mag9/e06n20h3.jpg
The Martian Legion
http://www.ERBzine.com/legion
Russ Cochran: Major ERB Music Publisher - with Frazetta Portrait
http://www.ERBzine.com/cards/writers/russcochran.jpg

---
FEBRUARY 24
---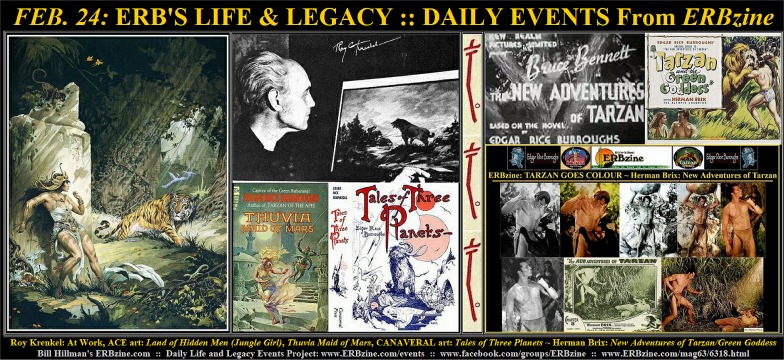 Roy Krenkel: At Work, ACE art: Land of Hidden Men (Jungle Girl), Thuvia Maid of Mars,
CANAVERAL art: Tales of Three Planets ~ Herman Brix: New Adventures of Tarzan/Green Goddess
---
---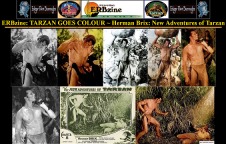 .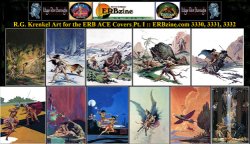 ---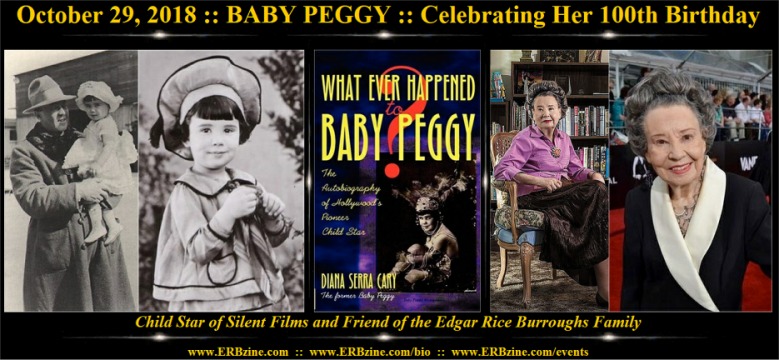 ---
*** 1983/2007: Krenkel and Brix: Two men who brought Edgar Rice Burroughs worlds and characters to life passed away in different years on Feb. 24.
Roy G. Krenkel (1918.07.11-1983.02.24) helped sell ERB books off the paperback newsstands in the 1960s when his work, along with that of Frank Frazetta, brought a weird and wonderful mystique to the fiction of ERB.
Herman Brix (1906.05.19-2007.02.24),who later changed his name to Bruce Bennett, became one of the many faces of Tarzan when Edgar Rice Burroughs himself tried his hand at movie-making. Brix played the ape-man the way ERB wrote him, not as a pidgin-speaking wild man but as an intelligent being who could be comfortable in a suit and tie as easily as in a loin cloth.
Roy G. Krenkel illustrated for Ace Books and did sci-fi covers for other authors as well as ERB. Fans came to appreciate his style of art so much that the mere presence of it on a cover was often enough to sell a book. Krenkel also illustrated some of the hardback Burroughs novels published by Canaveral Press.
Brix was born in Tacoma in 1906 and was a star shot-putter in the Olympics. He lost out to Johnny Weissmuller for his first chance at playing Tarzan but got the role for ERB's production in 1935. He then played in a Lone Ranger serial and was also a Tarzan-like character in "Kioga of the Wilderness." After that, he dropped out of films long enough to study acting in more depth and returned under the name Bruce Bennett and made many more films.
The serial, "The New Adventures of Tarzan," was also made into a film titled "Tarzan and the Green Goddess."
Bennett passed away Feb. 24, 2007, in Santa Monica, Calif.
ROY G. KRENKEL TRIBUTE
http://www.ERBzine.com/krenkel
Roy Krenkel Background Info and Ace Art I: Earth's Moon and Core
http://www.erbzine.com/mag33/3330.html
Krenkel Bio and Ace Art II: The Planets
http://www.erbzine.com/mag33/3331.html
Krenkel Ace Art III: Savage Earth
http://www.erbzine.com/mag33/3332.html
Canaveral Press ERB Covers:
http://www.erbzine.com/mag28/2805.html
https://www.erbzine.com/krenkel/krenkelerbgreat.jpg

THE NEW ADVENTURES OF TARZAN:
9-Page coverage starting at:
http://www.erbzine.com/mag5/0584.html
"Kioga (Hawk) of the Wilderness."
http://www.erbzine.com/mag5/0594.html

Off-Site References
New York Times obituary
Bruce Bennett filmography
Roy G. Krenkel biography
---
2020: Baby Peggy died on this date: Diana Serra Cary (born Peggy-Jean Montgomery, 1918.10.29-2020.02.24)), known as Baby Peggy -- American former child actress of the Silent Film Era. She went on to become a noted author and historian. She is the Last Living Silent Star. She made the Equivalent of $14M a Movie and Lost It All. Baby Peggy's family bought a plot out in the San Fernando Valley at ERB's urging (she doesn't say if it was one of ERB's Tarzana Ranch properties), and they were regulars at his prohibition-era parties. Baby Peggy's father later decided a move to Beverly Hills was in order to promote her image by allowing magazine photo layouts of their lavish home. Baby Peggy's parents were friends with Ed and Emma Burroughs, and there are several anecdotes in her biography (along with a fascinating first-person account of Hollywood from the silent era foreword). At the age of 4 1/2 she was signed to a remarkable $1,500,000 contract. ( Her co-stars included the likes of Clara Bow, Irene Rich, Edward Everett Horton, Hobart Bosworth, and other major names. However, by the age of 6 it was all over. The film career of Baby Peggy abruptly ended in 1925 when her father had a falling out with studio executives over her contract. They retained their friendship with Emma Burroughs after the Burroughs divorce.
ERB Family Friend: Baby Peggy - Child Star
http://www.erbzine.com/mag22/2289.html
http://www.erbzine.com/mag56/5649.html
http://www.erbzine.com/mag45/4523.html
Appeal to Help 98-year-old Baby Peggy
http://www.erbzine.com/mag58/5814.html
https://www.erbzine.com/cards/erb2/babypeggy.jpg

---
FEBRUARY 25
---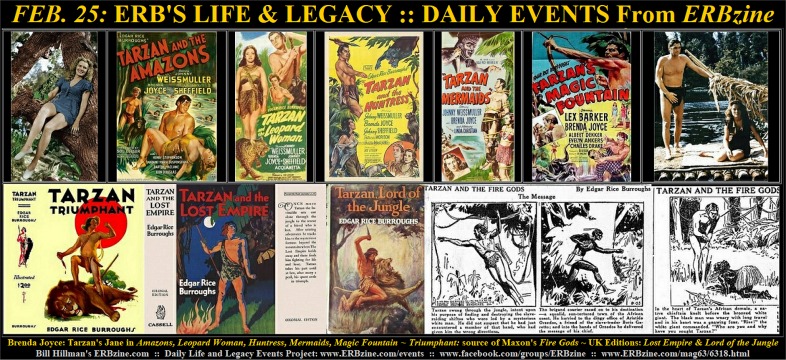 Brenda Joyce: Tarzan's Jane in Amazons, Leopard Woman, Huntress, Mermaids, Magic Fountain
Triumphant: source of Maxon's Fire Gods ~ UK Editions: Lost Empire & Lord of the Jungle
---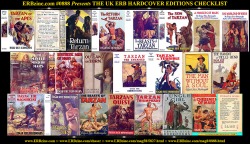 .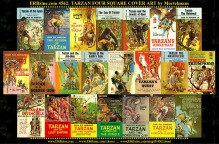 ---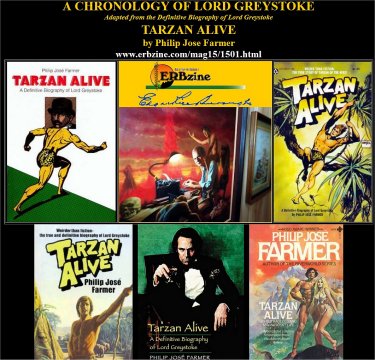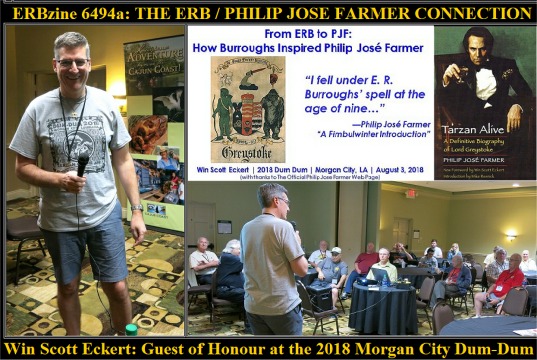 ---
*** 1912: Brenda Joyce (1917.02.25-2009.07.04) was born on this date in Excelsior Springs, Missouri. as Betty Leabo. She was known to family and friends as Graftina. When Betty grew up, she became an actress and eventually made it to the top of the heap in Hollywood by winning the coveted role of Jane. She changed her name to Brenda Joyce and first played Jane in "Tarzan and the Amazons" in 1945 and followed that up by repeating the role in "Tarzan and the Leopard Woman," 1946; "Tarzan and the Huntress," 1947; "Tarzan and the Mermaids," 1948, and "Tarzan's Magic Fountain," 1949.
In the first four, she played opposite Johnny Weissmuller, and in the last with Lex Barker. Thus, she was one of two actresses who was Jane to more than one Tarzan. The other was Karla Schramm, who played Jane in "The Revenge of Tarzan," which starred Gene Pollar as the ape-man, and in the serial "The Son of Tarzan," which had P. Dempsey Tabler as Tarzan. "Magic Fountain" was her last film as she retired after that. She had appeared in films for 11 years.
She married old school friend, Owen Ward in 1941 with whom she had three children before their divorce in 1960. As Betty Ward, she became director of the Catholic Resettlement Office in Monterey, California, and helped hundreds of refugees find new lives in America. Joyce died of pneumonia at age 92 on American Independence Day 2009, in a nursing home in Santa Monica, California. Her remains rest in the elephant burial ground in Santa Monica, the city where former Tarzan movie stars go to die.
BRENDA JOYCE FILM APPEARANCES AS JANE
Tarzan and the Amazons
http://www.erbzine.com/mag6/0625.html
Tarzan and the Leopard Woman
http://www.erbzine.com/mag6/0626.html
Tarzan and the Huntress
http://www.erbzine.com/mag6/0627.html
Tarzan and the Mermaids
http://www.erbzine.com/mag6/0628.html
Tarzan's Magic Fountain
http://www.erbzine.com/mag6/0629.html

Off-Site References
Brenda Joyce in Wikipedia
Brenda Joyce in IMDB
---
*** 1931: Cassell and Co. published two Tarzan editions in Great Britain. "Tarzan, Lord of the Jungle," was published in 1928. The other, which was published Feb. 25 in 1931, was "Tarzan and the Lost Empire." It is interesting to note that the Cassell "Lost Empire" edition came out several months before the book of "Tarzan the Invincible" was published (November, 1931); and before "Tarzan Triumphant" (1932) and "Tarzan's Quest" (1936). Yet, the inside front jacket blurb uses terms which are reminiscent of all of those titles as well: "Once more Tarzan the Invincible sets out . . . his quest ends in triumph.
An advantage of living in Canada is that we have ready access to books published in the UK, USA and Canada. Back in 1962 -- before the invasion of the ACE and Ballantine ERB paperbacks -- I was thrilled to find paperbacks published by Four Square from England. My favourite local bookstore, Smart's Booksellers in Brandon, displayed a whole shelf of these gems -- for only 60 cents each. Throughout the '50s I had spent most of my allowance money on the available Grosset and Dunlap and Whitman editions, after which I scoured catalogues from book dealers across Canada, UK and USA to find the elusive out-of-print ERB titles. The Tarzan art that adorned the Four Square covers was very appealing and added to my excitement of having found these new treasures. I bought all the titles the bookstore had -- and they are still a valued part of my Burroughs collection. They are scattered across by ERB Bibliography series, but I thought that our readers would appreciate seeing them all in one place at ERBzine 4562
The history of ERB books and comics published in Britain is a long and complex one. The first British publication of an ERB novel was on September 13, 1917 when Methuen and Co.debuted Tarzan of the Apes -- the first of a long line of ERB novels that would be published in Great Britain. The Methuen editions usually appeared a year or two after the American releases. Throughout the years they occasionally reprinted US dust jackets but very often drew upon their own stable of artists which included: Champneys, Leist, G. W. Goss and G. P. Micklewright. From 1929 to 1937 Methuen published no new ERB titles, preferring to reprint titles they had originally debuted between 1917 and 1929. They would resume their publishing of new titles in 1937.
UK EDITIONS OF ERB BOOKS
Tarzan, Lord of the Jungle
http://www.erbzine.com/mag4/0499.html
Tarzan and the Lost Empire
http://www.erbzine.com/mag7/0720.html
"ERBzine checklist of British titles and publishers
http://www.erbzine.com/mag8/0888.html
Four Square Editions from the UK
http://www.erbzine.com/mag45/4562.html
---
*** "Tarzan and the Fire Gods," a revised comic strip version of "Tarzan Triumphant," began in newspapers Feb. 25, 1935, with art by Rex Maxon and story by R.W. Palmer. It ran for 162 days. The newspaper syndicate thought the plot of "Tarzan Triumphant" would offend too many people, so enough changes were made in the names of characters and the plot for Rex Maxon's comic strip version that ERB remarked, "Personally, I think you've spoiled the story. But what's the use?" ERBzine has reprinted all the Maxon strips at ERBzine.com/maxon
"Tarzan and the Fire Gods" - 162 Maxon Daily Strips
http://erbzine.com/mag37/3784.html
ERB's Tarzan Triumphant
http://www.erbzine.com/mag7/0723.html
---
*** 1943: The USS Shaw and McKean entered dangerous waters and were joined by two PBYs and the destroyer Boggs from Palmyra for protection. The McKean was fueled at cruising speed from the Mississippi. A fifty foot boom from the battleship held the fuel pipe over the destroyer. Pearl ETA: March 2.
ERB and the USS Shaw
http://www.erbzine.com/mag5/0508.html
ERB: The War Years
http://www.ERBzine.com/war
---
2009: Philip José Farmer (1918.01.26-2009.02.25) died on this date. He was an American author known for his science fiction and fantasy novels and short stories.
Farmer is best known for his sequences of novels, especially the World of Tiers (1965–93) and Riverworld (1971–83) series. He is noted for the pioneering use of sexual and religious themes in his work, his fascination for, and reworking of, the lore of celebrated pulp heroes, and occasional tongue-in-cheek pseudonymous works written as if by fictional characters. Farmer often mixed real and classic fictional characters and worlds and real and fake authors as epitomized by his Wold Newton family group of books. These tie all classic fictional characters together as real people and blood relatives resulting from an alien conspiracy.
He has often written about the pulp heroes Tarzan and Doc Savage, or pastiches thereof: In his novel The Adventure of the Peerless Peer, Tarzan and Sherlock Holmes team up. Farmer's Lord Grandrith and Doc Caliban series portray analogues of Tarzan and Doc Savage. It consists of A Feast Unknown (1969), Lord of the Trees (1970) and The Mad Goblin (1970). Farmer has also written two mock biographies of both characters, Tarzan Alive (1972) and Doc Savage: His Apocalyptic Life (1973), which adopt the premise that the two were based on real people fictionalized by their original chroniclers, and connect them genealogically with a large number of other well-known fictional characters in a schema now known as the "Wold Newton family." Further, Farmer wrote both an authorized Doc Savage novel, Escape from Loki (1991) and an authorized Tarzan novel, The Dark Heart of Time (1999). In his 1972 novel Time's Last Gift, Farmer also explored the Tarzan theme combined with time travel, using the transparently reverse-syllabled name of "Sahhindar" for his hero (and the book's initials, TLG, as code for "Tarzan, Lord Greystoke"). A short story on this theme is "The Jungle Rot Kid on the Nod" (1968): "if William S. rather than Edgar Rice [Burroughs] had written Tarzan," Farmer also wrote Lord Tyger (1970) about a ruthless millionaire who tries to create a real Tarzan by having a child kidnapped and then brought up subject to the same tragic events which shaped Tarzan in the original books.
In his incomplete historical Khokarsa cycle — Hadon of Ancient Opar (1974) and Flight to Opar (1976) — Farmer portrayed the "lost city" of Opar, which plays an important part in the Tarzan saga, in the time of its glory as a colony city of the empire of Khokarsa. One of the books mentions a mysterious grey-eyed traveller, clearly "Sahhindar"/Tarzan.
How ERB Inspired PJF: by Win Scott Eckert
http://www.erbzine.com/mag64/6494a.html
The Philip José Farmer / Edgar Rice Burroughs Connection:
http://www.erbzine.com/mag0/0065.html
http://www.erbzine.com/mag0/0065a.html
http://www.erbzine.com/mag0/0065b.html
http://www.erbzine.com/mag15/1501.html
http://www.erbzine.com/mag9/0981.html
Philip José Farmer Remembered and covers of his Tarzan-related books:
http://www.erbzine.com/mag23/2349.html

---
FEBRUARY 26
---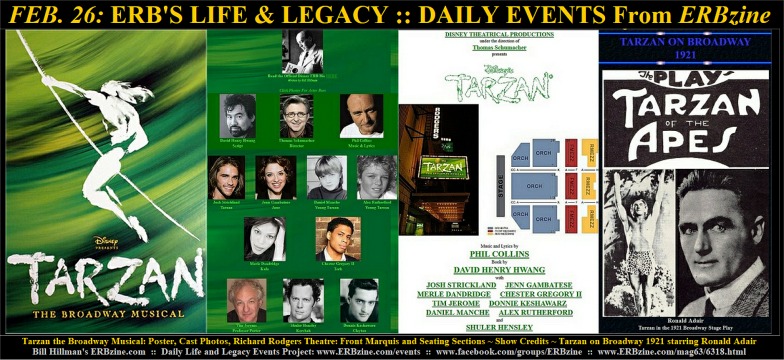 Tarzan the Broadway Musical: Poster, Cast Photos, Richard Rodgers Theatre: Front Marquis and
Seating Sections ~ Show Credits ~ Tarzan on Broadway 1921 starring Ronald Adair
---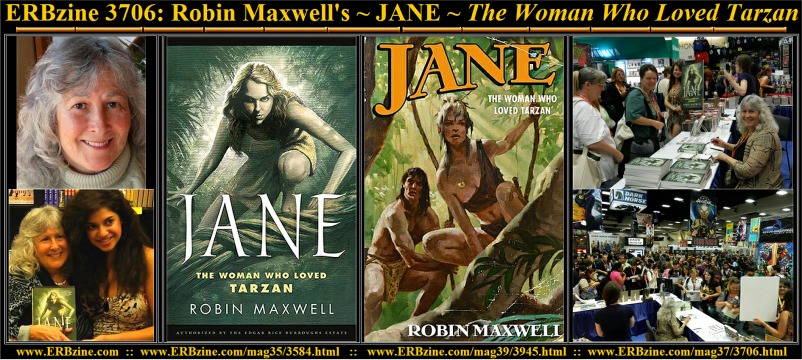 ---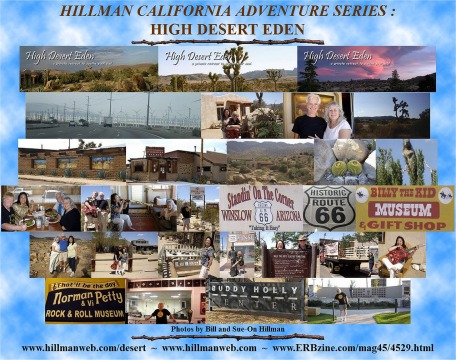 ---
*** 2006: This article, published on this, in the Journal News, tells of some differences between the screen version of Disney's "Tarzan" and the on-stage version.
THE APE MAN COMETH -- TO BROADWAY
Journal News ~ Feb. 26, 2006:
When Tarzan learned the ropes for the 1999 Disney movie, principal animator Glen Keane had him glide across vine-covered limbs like Tony Hawk: Tarzan the Skate Man. But when he takes to the stage at the Richard Rodgers Theatre this spring, Tarzan will be more of a rock-climber, says Thomas Schumacher "Everybody wears a visible harness," Schumacher says. "There are visible ropes all over the stage, both for gorillas and for Tarzan — and you see them literally clip in and harness up. It's part of the language of the piece. There's no naturalism in this show, nothing is created to look like the natural world."
Director Bob Crowley has come up with a set described as a green box lined with vines and rope-climbing apparatus. "We've created a universe on stage, a flexible environment in which the show is staged both on the ground and above the ground. . . . and the characters all sing." Phil Collins has added eight new songs — and has fleshed out a Broadway score, his first.
There have been changes in the script, from screen to stage. The villain Clayton, "a middle-aged big, British blowhard" in the film, gets a bit of a makeover, Schumacher says. "In our version, he's an American and a potential love interest of Jane's."
The show premiered on Broadway on May 10th. Fortunately, this was between terms at my university and I had a break before starting to teach the summer classes. Sue-On and I flew down and joined Danton and family and ERB, Inc staff from Tarzana for the premiere. The show at the Richard Rodgers Theatre was spectacular and the after-show party at the Marriott ballroom was packed with the cast, Broadway personalities, invited guests and media. The live band was loud and there were food and drink bars scattered everywhere in the huge room -- a gala event. The production was a success and it later opened for long runs in Hamburg and Holland -- we were also fortunate to attend these European premieres and took many photos that we shared in ERBzine.
THE APE MAN COMETH -- TO BROADWAY reprinted on the ERBzine News Site:
http://www.erbzine.com/news/news13.html
The more extensive Hillman Preview Notes for the Tarzan Musical
http://www.erbzine.com/mag16/1675.html
Tarzan's First Appearance on Broadway was in 1921
http://www.erbzine.com/mag15/1568.html
The later Opening Night (May 10, 2006)
Tarzan Broadway Musical Coverage
http://www.ERBzine.com/disney
http://www.erbzine.com/cards/film/tarzanbroadwayall.jpg
Other ERBzine Premiere Reports for Tarzan the Musical in
Holland ~ Hamburg ~ Utah ~ and Local Productions
will be shared in this EVENTS series on the dates that they opened.
---

1948: Robin Maxwell was born on this date. Robin is an American historical novelist who specializes in the Tudor period. She is also a screenwriter and political blogger.
Maxwell was raised in Plainfield, New Jersey, and graduated from Tufts University. She and her husband Max live in Pioneertown, California.
Robin is best known to ERB fans for having written JANE: THE WOMAN WHO LOVED TARZAN. JANE is the first version of the Tarzan story written by a woman and authorized by the Edgar Rice Burroughs estate. Its publication marked the centennial of the original Tarzan of the Apes.
After the 2012 Edgar Rice Burroughs Centennial Celebrations in Tarzana, Sue-On and I drove south to HIGH DESERT EDEN. This is a fantastic California Desert Retreat hosted by Robin Maxwell and Max Thomas. During our stay with Robin and Max we took hundreds of photos documenting this unforgettable experience. We've shared many of these photos in a series of Webpages starting at ERBzine 4529.
JANE: The Woman Who Loved Tarzan
http://www.erbzine.com/mag37/3706.html
JANE Excerpts
https://www.erbzine.com/mag37/3706a.html
JANE: Reviews ~ Photos ~ Video
https://www.erbzine.com/mag39/3945.html
Tarzan Never Dies by Robin Maxwell
https://www.erbzine.com/mag39/3941.html
HIGH DESERT EDEN: 100s of Photos
A Fantastic California Desert Retreat
Hosted by Robin Maxwell and Max Thomas
https://www.erbzine.com/mag45/4529.html

---
FEBRUARY 27
---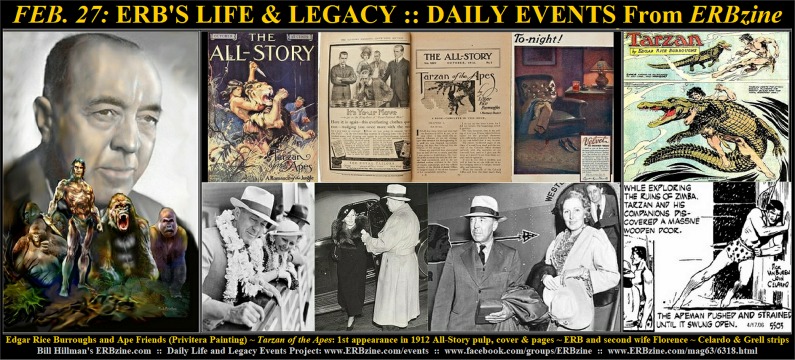 Edgar Rice Burroughs and Ape Friends (Privitera Painting) ~ Tarzan of the Apes: First appearance in
1912 All-Story pulp, cover and pages ~ ERB and second wife Florence ~ Celardo and Grell Tarzan strips

.
---
*** Feb. 27, 1913 -- "A Day That Shall Live in Fame.": The daring Edgar Rice Burroughs made a life-changing decision on Feb. 27 of 1913: He quit his day job.
He had gained so much confidence from the success of "Under the Moons of Mars" and "Tarzan of the Apes" that he decided he could make a living by writing full time.
He was right. He not only was able to support his family, but became a multi-millionaire.
And, he not only changed his life, and the lives of his family, but he changed the lives of millions of people worldwide who purchased, borrowed or stole his books. Some of them had a lot of fun just reading the stories, and their lives were made more enjoyable; others made money of their own publishing and illustrating his stories, making movies about them, or creating and selling licensed materials from Big Little Books to computer games. And every business related to ERB characters did lots of hiring -- actors, typesetters, technicians of various kinds.
Still others, inspired by his writing and the worlds he created, came up with characters and scenarios of their own which, in turn, sparked other prosperous lines of comics, books, movies and related things, all of which helped untold others make good livings.
ERB's prosperity not only trickled down to others, but it became a gushing torrent. All because a pencil sharpener salesman read storiers in pulp magazines and decided that he could write ones that were just as rotten.
ERB's early days at Oak Park
http://www.erbzine.com/mag11/1194.html
ERB Biographical Sketches I
http://www.erbzine.com/mag13/1371.html
ERB Biographical Sketches II
http://www.erbzine.com/mag13/1372.html
---

*** 1991: ERB's second wife, later known as Florence Gilbert Smith Dearholt Burroughs Chase (1904.02.20-1991.02.27), died on this date. Read our bio info on Florence in Events Feb. 20 and in the links below.
Florence Gilbert - Mrs. Edgar Rice Burroughs
http://www.erbzine.com/mag8/0890.html
http://www.erbzine.com/mag8/0891.html
http://www.erbzinecom/mag16/1644.html
---
*** 1943: While sailing the Pacific aboard the USS Shaw: Following a morning sub alert the convoy took defensive maneuvers. Depth charges from the destroyers killed hundreds of flying fish and shook the Shaw violently. Sub alerts and Shaw depth charge drops continued through the day.
1943 ERB's Wartime Journals
http://www.erbzine.com/mag10/1021.html
ERB / USS Shaw Connection
http://www.erbzine.com/mag5/0508.html
---

*** Feb. 27 in ERB comics:
-- 1955, "Tarzan and the Diamond Thieves," drawn by John Celardo and scripted by Dick Van Buren, started a 12-Sunday run.
-- 1957, "Tarzan Returns to Zimba" the Celardo-Van Buren team again, started a 68-day run.
-- 1983, Mike Grell wrote and drew his last Tarzan Strip: Tarzan and the Crocodile
Tarzan Returns to Zimba: 68 daily strips by Celardo and Van Buren
http://www.erbzine.com/mag38/3895.html
Tarzan and the Crocodile: Last strip by Mike Grell
http://www.erbzine.com/mag29/tz2689.jpg

---
FEBRUARY 28
---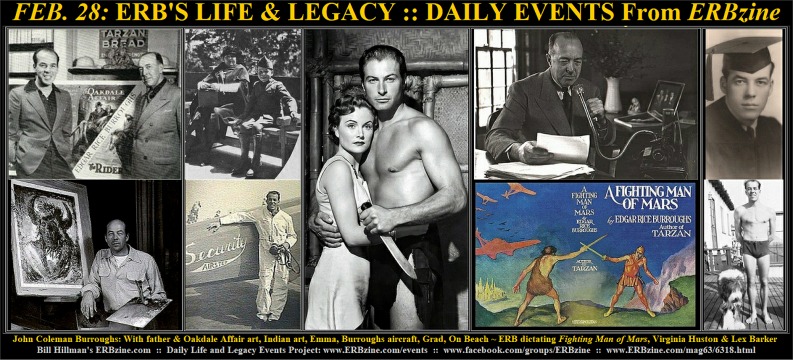 John Coleman Burroughs: With father and Oakdale Affair art, Indian art, Emma, Burroughs aircraft,
Grad photo, On the beach with Tarzan, the dog ~ ERB dictating Fighting Man of Mars, Virginia Huston and Lex Barker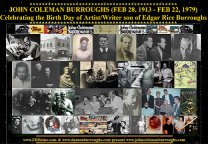 .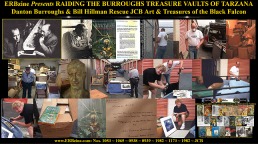 .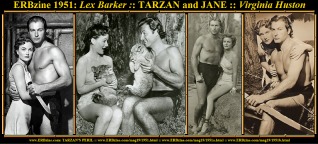 ---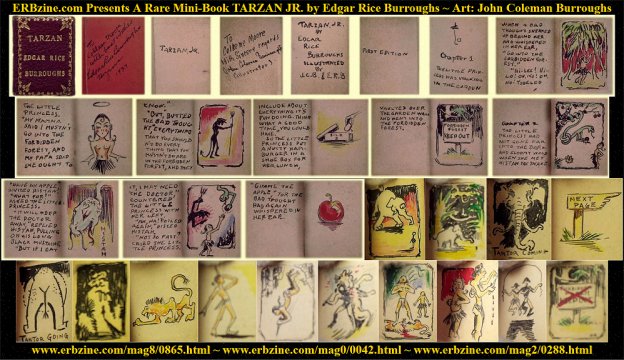 ---
*** 1913: John Coleman Burroughs (1913.02.28-1979.02.22), Ed and Emma's third child, was born in Chicago, Illinois on this date-- just at the time that his father's famous creation, Tarzan, was beginning to catch on. February was same month in which his father, Edgar Rice Burroughs, decided to make a full-time career of writing. In fact, ERB dedicated the first novel he wrote, A Princess of Mars, to young John. "John" was obviously a favourite name of ERB's -- as well as giving the name to his youngest son, he also christened his two best-known heroes with the name, and even used it once as a pseudonym: John Tyler McCulloch. The ancestor of whom Ed was most proud was Virginia settler, John Coleman. Coleman was also Ed's brother's name. JCB (Jack) and his older sister and brother – Joan (pronounced Jo-Anne) and Hulbert (Hully) – were all brought up on Tarzan stories and were encouraged to develop a great appreciation for the outdoors and nature. By all accounts ERB was an excellent father and his most prolific and artistic writing period coincided with the period of time when his three children were probably most demanding. He had said, "Were I literary and afflicted with temperament I should have a devil of a time writing stories..."
JCB went on to illustrate many of ERB's books as well as comics and Sunday pages. He and wife Jane Ralston worked together on art and also co-wrote SF-based stories. They gave birth to three children: John, Danton, and Dian. Later in life JCB was afflicted with Parkinson's, the same disease that struck his father ERB and his brother Danton. Another thing he shared in common with ERB and Dan was his passion for creating, collecting and storing a lifetime of memorabilia and artistic creations.
Following his death in 1979 most of these treasures were preserved at son Danton's home and in storage units in the valley. It was a thrill to help Dan break into these dusty units -- the keys were long lost -- and to itemize the contents and to transport stacks of art work, books, photos and family memorabilia back to Tarzana. I photographed and indexed most of the contents and much of it I've shared in ERBzine.
It was a major thrill when I was able to handle and view what has to be ERB's one-of-a-kind, rarest book: TARZAN, JR. in The Museum of Science and Industry in Chicago.
John Coleman Burroughs Tribute Website
http://www.johncolemanburroughs
Tribute pages to Jane Ralston Burroughs
http://www.erbzine.com/jcb/
JCB Biography
http://www.erbzine.com/mag3/0335.html
Danton Burroughs Tribute Site
http://www.dantonburroughs.com
Raid on the JCB Treasure Vaults
https://www.erbzine.com/mag10/1053.html
Exploring the Tarzana JCB Treasure Vaults
https://www.erbzine.com/mag10/1065.html
ERB's Rarest Book - TARZAN JR. - Illustrated by JCB
https://www.erbzine.com/mag0/0042.html
https://www.erbzine.com/mag8/0865.html
---
EVENTS FROM ERBzine's ERB BIO TIMELINE SERIES
*** 1913: Ed decides to give up his job with Shaw's Systems to devote full time to writing.
http://www.erbzine.com/bio/years10.html
*** 1928: Starts dictating Fighting Man of Mars on his Ediphone
http://www.erbzine.com/bio/years20.html
http://www.erbzine.com/mag7/0735.html
*** 1931: The day is spent planting trees -- Japanese Plum Plant, etc., playing golf and celebrating Jack's 18th birthday.
Ed is worried that his medical condition is not improving fast enough. He sits for a magazine interview.
http://www.erbzine.com/bio/years30.html
*** 1934 Ed and both boys each take a half-hour flying lesson. Ed's 34th
http://www.erbzine.com/bio/years30.html

---
*** 1981:Virginia Huston (1925.04.24-1981.02.28) died in Santa Monica, CA on Feb. 28, 1981, of cancer at the young age of 55. Although she had appeared in many stage and radio productions, Virginia struck career gold by playing Jane in Lex Barker's 1951 Tarzan movie: Tarzan's Peril. The film was well made and decently acted. As a plus, actresses who played Jane are something akin to James Bond actresses, no matter what they did for the rest of their career, at least they will be featured on every "Actresses who acted in Tarzan movies" list, and, to some degree, remembered.
In interviews she made it pretty clear how ill suited she was for the highly hectic Hollywood life. She said how her stomach was often in knots during filming, and she could not eat properly as a result. In order to maintain her strength, she drank a strong beef concentrate with an egg thrown in it. Sometimes, her anxiety would get so intense she would feel she was about to faint. She could reverse the process and not faint by doing a form of self hypnosis, where she would imagine nice things and tell herself calming words.
Tarzan's Peril with Lex Barker and Virginia Huston:
http://www.erbzine.com/mag19/1951.html
ERBzine's Virginia Huston Gallery
http://www.ERBzine.com/mag19/1951b.html

Off-Site Huston References
A Biographic comic Tarzan-Jane tribute:
Virginia's IMDB page
Huston went to Mars in a movie
"Flight to Mars" in Wikipedia

---
FEBRUARY 29 (Leap Day For Leap Years)
---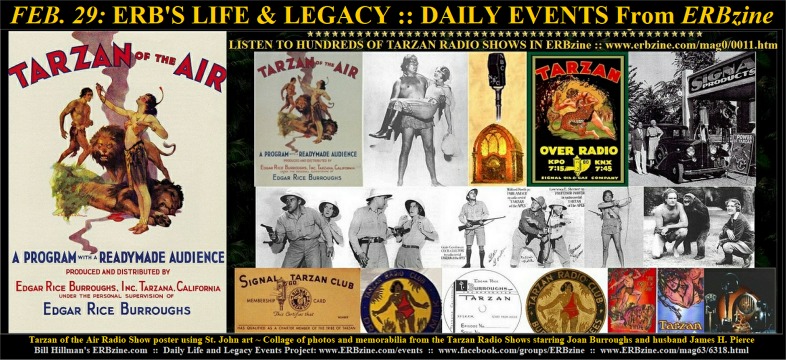 Tarzan of the Air Radio Show poster using St. John art ~ Collage of photos and memorabilia
from the Tarzan Radio Shows starring Joan Burroughs and husband James H. Pierce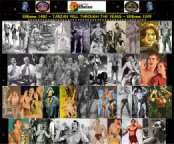 .

---
*** In a Feb. 29, 1932, letter to his niece, Mrs. Carleton (Evelyn) McKenzie, ERB wrote that he was impressed with the sound effects created for the first two preview episodes of the new Tarzan radio show. There is no truth to the rumor, however, that those sound effects included the howl of a hyena, the bleat of a camel, the growl of a dog, and the plucked sound of a violin G-string. That rumour legend belongs to the Tarzan yell from film Tarzan, Johnny Weissmuller.
Quote from an interview at ERBzine 0003: "Mrs. McKenzie has proof that ERB's writing career started much earlly than with Under the Moons of Mars. She has three small handmade books composed, lettered and illustrated by the man whose Tarzan of the Apes would beocme one of the most popular and profitable characters of all time. Her Uncle Ed made them to entertain his little niece around the turn of the century, when he was gold-dredging with his brother Harry, her father, in the rugged Northwest. The books show the same imagination and liveliness their creator would display later in his published work. He was about 25 at the time, an impractical dreamer with a droll sense of humor.
"I adored him," (she) said...as she leafed through a neat collection of yellowed photographs from the time. "He was my favorite uncle. He was always full of jokes and nonsense. And he had a twinkle in his eye that was...well, it was just different."
When her uncle was producing his first books for her personal pleasure, she was a curly-haired child spending summers on the Snake River in southwest Idaho. Her mother would take the two children -- Evvie and her brother Studley -- from Chicago, their winter home, by train. Her first book is called Snake River Cotton-Tail Tales, the cover embellished with two cotton-tail bunnies who continue through the book.
Another book her uncle put together is Grandma Burroughs' Cook book, also illustrated in color and hand-lettered, inscribed (with old-fashioned long Ss like Fs), for Miftrefs Evelyn, Christmas 1901. The recipes are subdivided for a child, some of the measurements so small they are given in gills, drops and pinches. They seem quite accurate. "They must have been, for I remember making biscuits when I was 5 or 6 and getting praised for it." There are recipes for cookies, fried chicken, angel-food cake, and other goodies...all illustrated with performing angels, one of them startled by a star bouncing off her halo.
A third little book by the unknown author is a kind of family book, rhymed stories with jokes referring to the various personages of the household. It also gives advice to Mistress Evelyn on the kind of a man a girl should seek to marry -- not a Dude or a Ward Heeler or a "Hahvaahd Boy," but a real Yale Man. (Harry was Yale '89). The book shows the same playful wit as the others, and the pen-and-ink sketches exaggerate the costumes the times, including the women's big leg-o-mutton sleeves. Ed liked women of generous proportions, she said, and the illustrations bear her out. They are highly expressive of character. "He never had a drawing lesson," his niece said, "and he never studied writing.
Mrs. Evelyn Burroughs McKenzie Interview
http://www.erbzine.com/mag0/0003.html
Tarzan of the Radio: Hear 200 Tarzan Radio Shows: 1932-1953
Plus the Hillman summaries of the first 77 shows
http://www.erbzine.com/mag0/0011.html
The First Tarzan Radio Episode
http://www.tarzan.com/radio/TA01.mp3
Much later Tarzan radio episodes: February 1951 and 1952
Tarzan and Simba Hudari
http://www.tarzan.com/radio/60SIMBA.mp3
Tarzan The Killer
http://www.tarzan.com/radio/11KILLER.mp3
A special ERB Bio Timeline page designed to show
ERB's total involvement with the media:
http://www.erbzine.com/mag1/0140.html

The Tarzan Yell - Weissmuller style
http://www.erbzine.com/mag14/1482.html
http://www.erbzine.com/mag19/1929.html
---
*** February 29, 1929: Son Jack (John Coleman Burroughs) was given a Kodak enlarger and diffuser equipment for his birthday.
Photography had become a major interest and became a vital part of his career as an artist.
http://www.erbzine.com/mag11/jb0416c5.jpg
Jane Ralston Burroughs' poses for husband Jack's Dejah Thoris illustrations
http://www.erbzine.com/mag9/0935.html


BACK TO FEBRUARY WEEK I
https://www.ERBzine.com/mag63/6315.html
BACK TO FEBRUARY WEEK II
https://www.ERBzine.com/mag63/6316.html
BACK TO FEBRUARY WEEK III
https://www.ERBzine.com/mag63/6317.html
NEXT: MARCH WEEK I
http://www.ERBzine.com/mag63/6319.html



FEBRUARY WEEK FOUR PHOTO ALBUM
http://www.ERBzine.com/mag63/6318pics.html



BACK TO DAILY EVENTS CONTENTS
www.ERBzine.com/events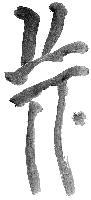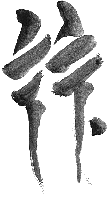 BILL HILLMAN
Visit our thousands of other sites at:
BILL AND SUE-ON HILLMAN ECLECTIC STUDIO
ERB Text, ERB Images and Tarzan® are ©Edgar Rice Burroughs, Inc.- All Rights Reserved.
All Original Work ©1996-2018/2022
by Bill Hillman and/or Contributing Authors/Owners
No part of this web site may be reproduced without permission from the respective owners.