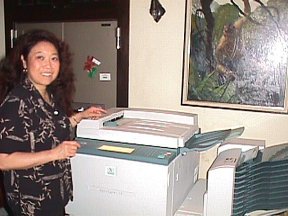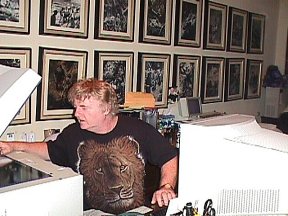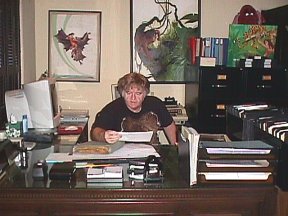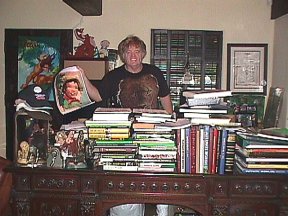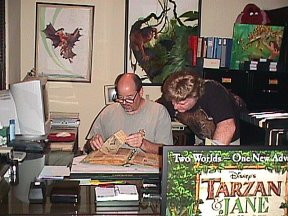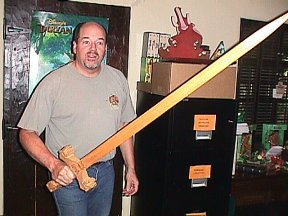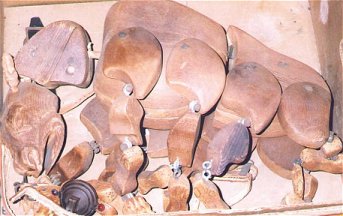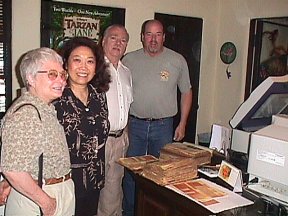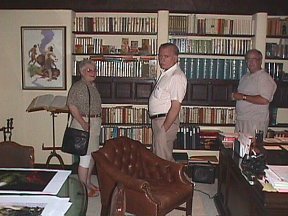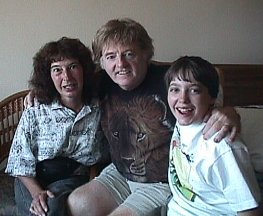 For more photos
see the photo mosaics at:
ERBzine 0958 and ERBzine 0959
Friday morning's breakfast put us in touch with more friends and fans: Steve "Ghak" Wadding, Pete ERBANIA Ogden, Bob "BB Prez" Hyde, Brian "MMA" Bohnett, Laurence "Bloody British Hooligan" Dunn and John "Quaestor" Tyner. The arrival of Dick "Joog" and Ginnie Spargur caused a flurry of excitement as Sue-On had been in plotting, via e-mail, with Ginnie and Edie James to set up an "ECOF Ladies Auxiliary" shopping expedition for Saturday afternoon.

Immediately following breakfast we contacted Danton who had been expecting us days earlier. He invited us to come over as soon as possible to the ERB Inc. offices which were actually closed for the day as this was Labor Day weekend. We had asked earlier at the desk about reserving the hotel shuttle, but were told that it was tied up for the morning. Thinking that the office couldn't be too far away I was about to venture onto Ventura on foot when the hotel shuttle happened to show up. This was a great bit of luck as the hike would have been much longer than I had estimated. The shuttle driver, confused by the well-camouflaged and tree-hidden ERB, Inc. office front, delivered us to the office parking lot across the street. This was a good learning experience for him as he would be making many such trips throughout the rest of the day.

Danton was in the process of unearthing treasures from the warehouse to put on display for the office tour he was to host in a few hours. Over the last year he had given his office secretary Cathy Wilbanks some incredible archive material to scan and to send to us on CD-ROMs. Much of this material we have published in ERBzin-e, our weekly online fanzine, and have collated into tribute Websites for his dad and mom: John Coleman Burroughs www.erbzine.com/jcb and Jane Ralston Burroughs www.erbzine.com/jrb . But this being a long weekend meant that Cathy was not in the office and we would have to look forward to meeting her on some later visit. It was a great thrill to see and hold the actual documents and photos that Danton kept piling in front of us and before long Sue-On and I were frantically snapping photos and running the office photocopier, scanner and computer in an attempt to archive as much material as possible. Three memorable treasures that were unearthed for us, and that were later displayed for the ECOF tour, were a set of ERB scrapbooks, a Martian sword with scabbard, and a moveable-parts model thoat.

The scrapbooks were a compilation of mainly Tarzan-related newspaper clippings. Sue-On did a game job of photocopying these yellowed, crumbling pages that ERB had so meticulously collated, but we just had too little time. Hopefully we can arrange another time to complete the job. The large wooden John Carter sword and scabbard, as well as the multi-limbed Barsoomian thoat had been hand-carved by John Coleman Burroughs to serve as artist's models for the series of John Carter comics, Sunday pages and novel illustrations he had worked on in the '30s and '40s (see the JCB Tribute Website). His wife -- Danton's mother -- Jane Ralston Burroughs had worked closely with him on these projects, doing backgrounds and lettering, and even posing for his artistic renderings of Dejah Thoris (see the JRB Tribute Website).

One of the items in my collection that I am particularly fond of is a water colour portrait of a young boy by JCB. Danton had seen this painting on our Website and had identified the young boy as his brother Johnny. It seems that not only had his dad enlisted Jane Ralston as a Dejah model, but he had often used his kids, John, Danton and Dian as subjects for his artwork. Knowing the significance of the painting I pulled it out of the frame in which it had been mounted for 60 years and made three prints, one of which I presented to Danton and the others to Mary Burroughs and Nanette Mark when I saw them later in the day.

The Burroughs offices contain an eclectic mix of new merchandise, projects and art juxtaposed with rarities which are the envy of every ERB fan and collector. Seeing Ed's ornately carved desk in the inner office brought back memories of when I first saw it -- a flashback to the time I startled Hully and Sue-On... and myself, by opening my camera case and dumping a pile of sand and gravel all over the desktop. (See ERBzines 192 & 193: http://www.erbzine.com/mag1/0192.html ). Scattered about on this historic piece of furniture, and the other desks throughout the building, are ever-changing piles of manuscripts, art, and proposals for projects from companies all over the world who are interested in the ERB creations -- most of which are almost 100 years old. All of this serves as precursor to the real treasures that line the walls of the inner office: rows of mint Burroughs first editions in dust jackets.

The large safe in the front office holds much significance for older fans. This was the safe where so many of Ed's unfinished manuscripts were found and were eventually published for the first time during the "60s boom." The walls are festooned with collections of St. John and Frazetta originals, a large framed aerial photo of Tarzana ranch in its glory days of the '20s, N.C. Wyeth's dust jacket painting for The Return of Tarzan, a wall of Burian Tarzan art, a portrait of the Master of Fantasy Adventure, statuettes of Dejah and the ape man, alongside numerous posters of the new Disney animated Tarzan and assorted memorabilia..

Panic time had set in for me, however, just around the time that D.J. Howell and Bill Morse arrived for a late-morning meeting with Danton. I had forgotten my carton of extra computer diskettes for my Sony Mavica camera... all this ERB history was laid out before me but, in my rush to catch the shuttle, I had stupidly forgotten to bring enough "ammo." "Usha" very graciously gave me a ride back to the hotel to pick up my disks, while Bill and Danton conferred and Sue-On carried on with her photocopying. Soon after our return, however, Danton had to close shop and we had a chance to get to know fellow ERBapa members, DJ and Bill, a little better over a Denny's lunch.

Following lunch we returned to the hotel to prepare for the rest of the day's activities. We had just returned to our room when we received a message that Nanette Mark and her son Cory were waiting to meet us in the lobby. A few years ago, through the wonders of the Internet and e-mail, we had struck up a friendship with Nanette. She had helped JCB with many projects in his last years when he had been so disabled with Parkinson's Disease. One of her duties was to help Jack collate the artwork and accompanying descriptions for Russ Cochran's ERB Library of Illustration. Over the years she has been a very staunch JCB supporter and has led an ongoing campaign to achieve more recognition for his art and contributions. She had mentioned a few weeks back that Danton had invited her to attend ECOF and participate in the tours of ERB, Inc. and Tarzana Ranch, so we were anticipating her arrival. After hugs and chats in the lobby we had the pleasure of introducing Nanette to organizer Bob Zeuschner and other fans who were preparing to leave for the ERB, Inc. office tour.