Official Edgar Rice Burroughs Tribute and Weekly Webzine Site
Since 1996 ~ Over 10,000 Web Pages in Archive
Presents
Volume 4969


The literary Tarzan was born in October, 1912 when he appeared in a special issue of The All-Story, a popular magazine which usually serialized its stories in several issues, but the editors were so impressed with "Tarzan of tthe Apes" that they published the entire story in one issue. The author was, of course, Edgar Rice Burroughs, who was born in Chicago in 1875 and was virtually unknown to the reading public before Tarzan leaped into print in All-Story. Actually, it was the second story of Mr. Burroughs to be published in All-Story. His first story was a Martian romance which ran as a six-part serial from February to July, 1912, published under the pseudonym of "Norman Bean." The story had been retitled by the editor as "Under the Moons of Mars." (A Princess of Mars) Burroughs had used the pseudonym of "Normal Bean" to convince readers that he was not off his rocker by writing a fantasy of little green men from Mars. But the editors thought it was a typo and changed the name to "Norman Bean" when they published it. This ruined Burroughs' little joke, so he dropped the alias and submitted all future stories under his own name. When Tarzan was first published in 1912, the title page read:
"Tarzan of the Apes by Edgar Rice Burroughs (Norman Bean)" to identify the real name of the author of "Under the Moons of Mars" for the reading public.

Actually, "Tarzan of the Apes" was not even the second Burroughs story published by All-Story. It was the author's third story. His second story was an Ivanhoe-type romance which All-Story rejected, so the author sent it to New Story Magazine which published it as a six-month's serial in 1914 (The Outlaw of Torn). Meanwhile, All-Story was anxious to get Burroughs back on its payroll, so it published "Tarzan of the Apes" in a special 1912 issue. Today, we are celebrating the 100th birthday of this issue of Tarzan.

The response from readers was overwhelming. The publishers realized they had a winner on their hands. So Burroughs set out to find a book publisher for Tarzan. No luck. Major book publishers he contacted included Rand-McNally, A.C. McClurg, and Reilly & Britton, all of whom rejected it. However, an agent for Burroughs suggested running the story in the newspapers to get national recognition. It worked. After appearing in such newspapers as the New York Evening World and the Los Angeles Record, the book company of A.C. McClurg which had previously rejected it, now offered to publish it, which the company did on June 17, 1914.

There were three states of the first edition which collectors could distinguish by the typeface and the name of the printers. It became the most famous book ever published by McClurg, and also the most profitable in its publishing history.

The University of Louisville Ekstrom Library is home to the world's largest institutional collection of Tarzan and Edgar Rice Burroughs, donated by the current curator, George McWhorter, in 1976 as a memorial to his mother who taught him how to read at the age of five with the Tarzan books. Starting with six thousand books and magazines in 1976, the collection contains over 200,000 items in this centennial year of 2012. Our collectible categories of Tarzan are many and varied. The books and pulp magazines, of course, are the primary goal of collectors, because they represent true first editions. The Tarzan books, of which there are 30 first editions, represent only a fraction of the Burroughs collection. Burroughs wrote a series of books on Mars, Venus, Pellucidar, Westerns, and 27 miscellaneous non-series books. The Ekstrom Library collection contains all of them in excellent condition, with dust jackets. Twenty-eight of the first Tarzan editions were first published in pulp magazines. We have all of them. The first five Tarzan titles were reprinted by the A.L. Burt Company continuously from 1915 to 1929. We have all of them, too, including 51 variants in color and design.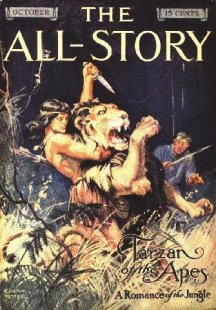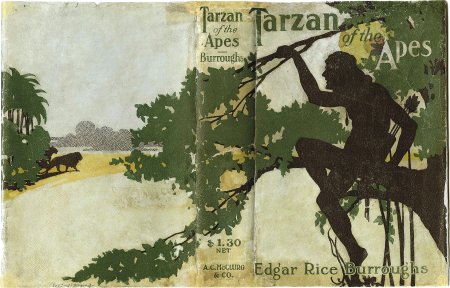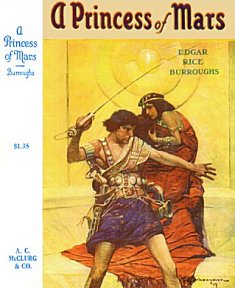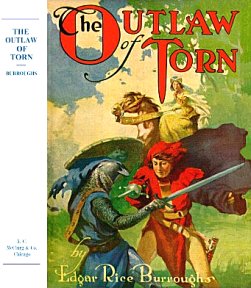 Reference:
http://www.erbzine.com/mag49/tz100gtm.pdf
See the full ERBzine George McWhorter Tribute
www.ERBzine.com/george
Photos ~ Bio ~ Publications ~ Gridley Wave ~ Burroughs Bulletin
Tarzan 2016 Release Date, Updates and News:
Tarzan to be released the same date as some heavy titles
www.crossmap.com ~ February 18, 2015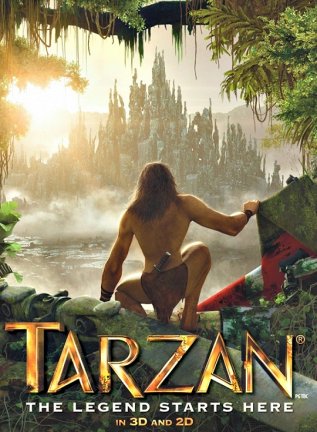 The author made a strange choice of illustrations for this article :)
There is an odd addition to the gigantic movies of 2016, a Reboot of "Tarzan" with an estimated budget of $90,000,000. Warner Bros official announced that Tarzan will have a release date of July 1, 2016 which will go against movies like; BFG (Fantasy), the thriller The Purge 3, action-filled Independence II, the awaited, X-Men: Apocalypse, Batman v Superman, and of course Angry Birds. As you can see, there's a bunch of big names and big movies that this jungle classic will face with. How will it fair in the box office?

Stars set to join the casting are Margot Robbie to play Jane Porter, Samuel L. Jackson to play George Washington Williams and of course Alexander Skarsgard to play Tarzan. Other characters are; Christoph Waltz as Captain Rom, Ella Purnell as Young Jane (looks like this movie will have some flashbacks), and Djimon Hounsou as Chief Mbonga.

The movie is said to be set in 3D so that'll be interesting and will be directed by David Yates (known for his work in the infamous "Harry Potter"). Screenplay will be from Stuart Beattie, Craig Brewer, John Collee, and Adam Cozad. According to anonymous contributor in IMDB, the synopsis will be, "Tarzan, having acclimated to life in London, is called back to his former home in the jungle to investigate the activities at a mining encampment."

Seems like Tarzan is already living in the "civilized" world and is already married to Jane, there are some saying that he'll be invited to move back to the congo to be a trade emissary for Parliament. However, it seems like he has been used as a pawn instead as part of a revenge by Captain Rom. Tarzan will team up with a mercenary and again rescue a damsel in distress.
Explore the full ERBzine coverage of
All the ERB Films back to 1917
ERBzine SILVER SCREEN SERIES
www.ERBzine.com/movies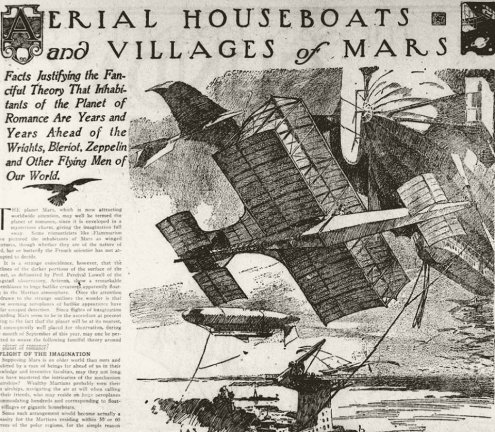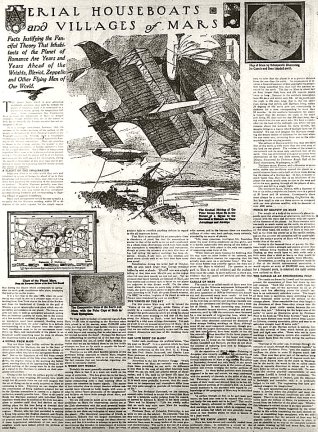 Aerial Houseboats and Villages of Mars - (The San Francisco Call, 3 October 1909)
from the Georges T. Dodds Collection
Read the thousands of pages in ERBzine Feature:
The Ape-Man his Kith and Kin
www.ERBzine.com/feral
A collection of texts which prepared the advent of
Tarzan of the Apes by Edgar Rice Burroughs
Collated by Georges Dodds Ph.D.

EDGAR RICE BURROUGHS LIFE AND TIMES
ERB's Arrival in California

Following his first success as a writer (A Princess of Mars, Tarzan of the Apes), in 1913 Edgar Rice Burroughs drove his family across country from Chicago to California. They spent the winter in Coronado, across the bay from San Diego, where they rented a house at 550 A Ave. Later in the winter they moved to 4036-3rd St., San Diego. During this time he worked on writing The Return of Tarzan, Cave Girl, Mucker, Mad King, Eternal Lover, Beasts of Tarzan, The Lad and the Lion, Girl from Farris's, Thuvia-Maid of Mars, and Pellucidar.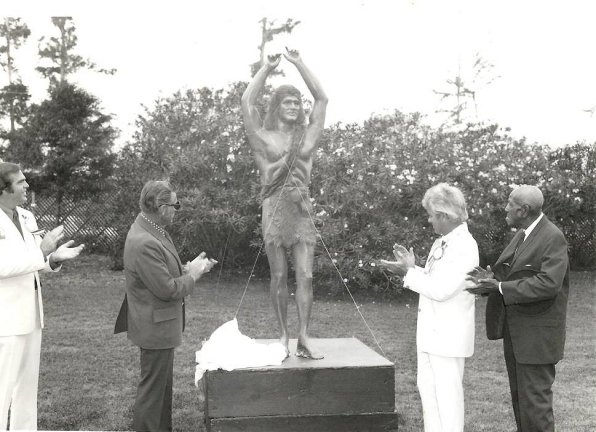 The dedication of the Tarzan statue to the Morgan City Swamp Garden in 1975.
On the far right of the statue is the last person living at the time from the making of the film "Tarzan of the Apes" in 1918.
Next to him in white is our former governor Edwin Edwards. To find out more go to www.tarzanlordlajungle.com
The statue and the swamp garden are no longer there.
Al Bohl wanted to film the statue for his Tarzan documentary but couldn't get anyone from the city to look for it.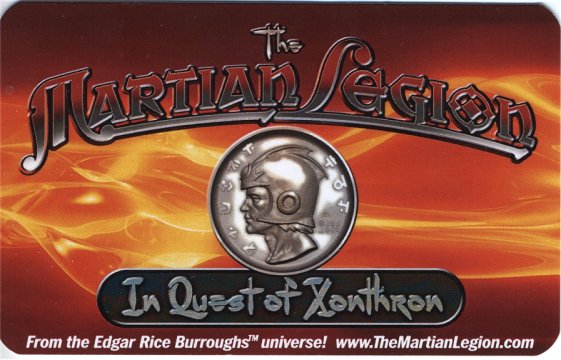 The Martian Legion: In Quest of Xonthron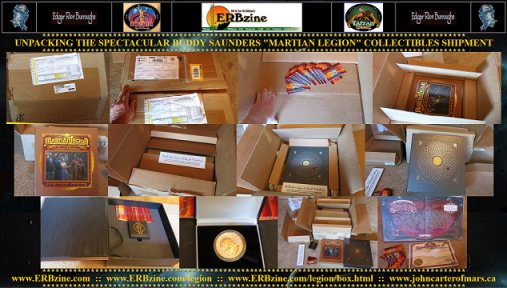 Click for full collage
UNPACKING THE SPECTACULAR
BUDDY SAUNDERS "MARTIAN LEGION"
COLLECTIBLES PACKAGE
www.ERBzine.com/mag53/5354.html
BACK TO THE STONE AGE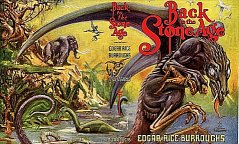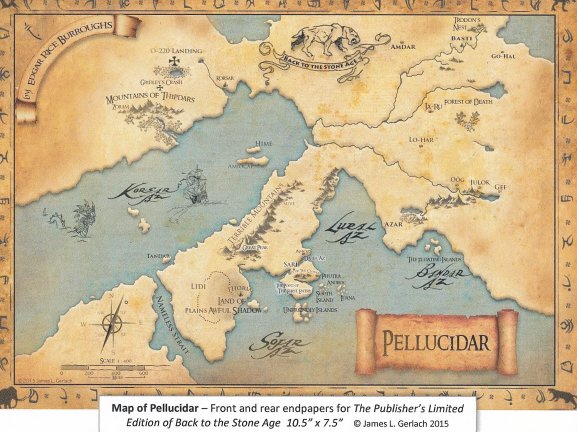 Click for full-page map
Watch the video, showing the printing of the new publisher's edition of
BACK TO THE STONE AGE using the original printing plates!
VIDEO
These plates are thought to be the only surviving plates of any Burroughs book,
and you get one when you order the book, both plate and book housed in a custom clamshell presentation box.
See ERBzine for full description and ordering information
Back to the Stone Age
ERB, Inc. Ed.
www.ERBzine.com/bsa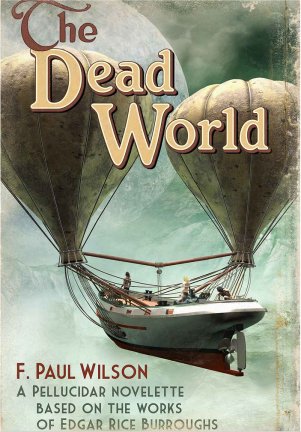 The Dead World: A Pellucidar novelette written with the approval of the Edgar Rice Burroughs estate.
F. Paul Wilson (Author)
A Pellucidar novelette based on the works of Edgar Rice Burroughs
A plague is spewing forth from the Dead World, the stationary moon that hovers over the Land of Awful Shadow in the land within the Earth. David Innes, Emperor of Pellucidar, and the eccentric inventor, Abner Perry, rig a balloon to carry them to the Dead World. But Pellucidar's mysterious moon is not what it seems, and far more bizarre than they ever dreamed. It holds the answer as to how Pellucidar was formed - and how it will be destroyed. Can they stop the plague before it wipes out all life in the Inner World?
[52 pages ~ Kindle Edition Price: $1.98]
Available at AMAZON

Lone Star Comics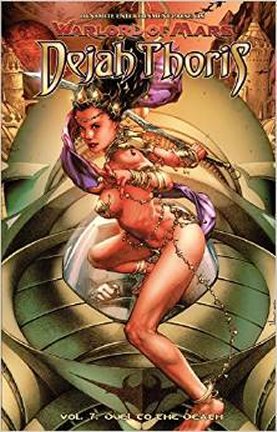 The latest Dynamite compilation coming in March 2015
PREVIOUS DEJAH THORIS
COMPILATIONS FROM DYNAMITE COMICS
Visit Amazon and other online sellers for complete contents, credits and purchase information.
Click for larger images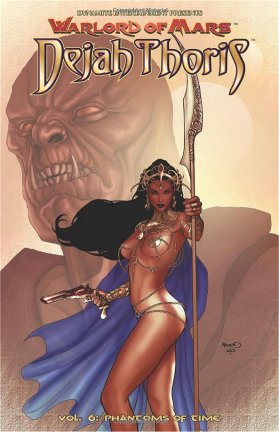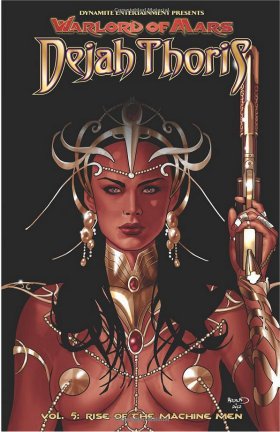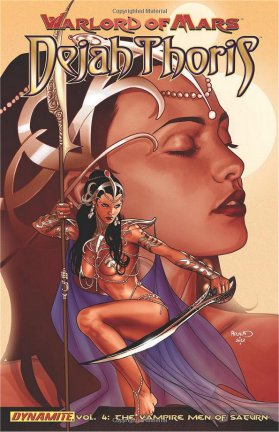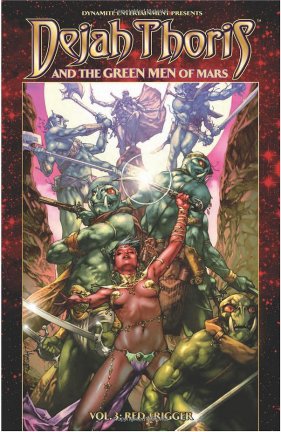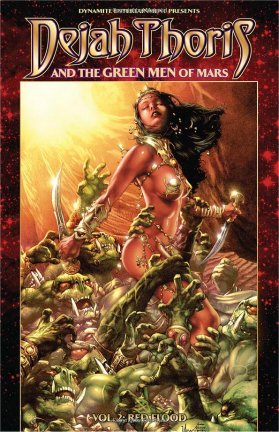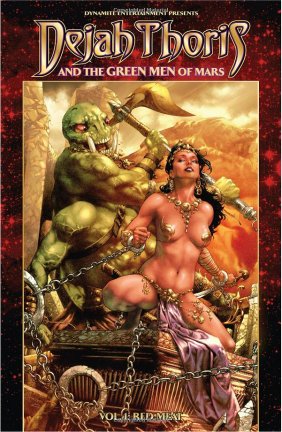 Check out the Warlord of Mars compilations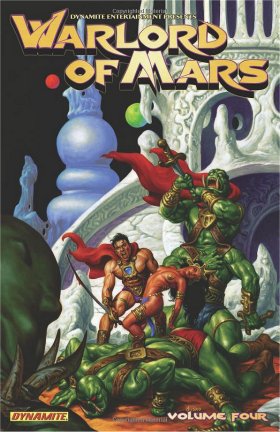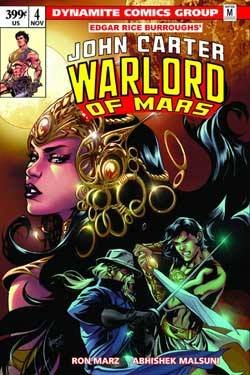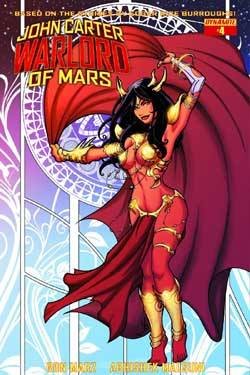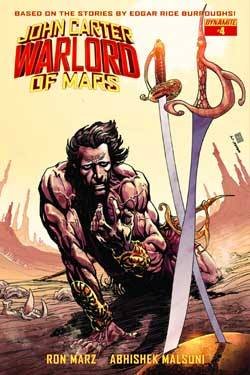 New from Edgar Rice Burroughs, Inc.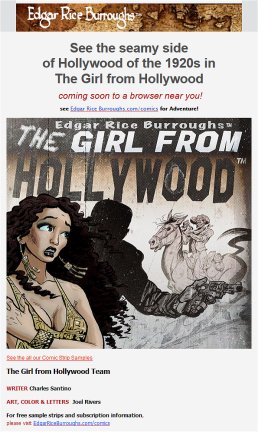 Now almost 20 regular feature colour strips
based on the works of Edgar Rice Burroughs
All for only $1.99/month.
www.edgarriceburroughs.com/comics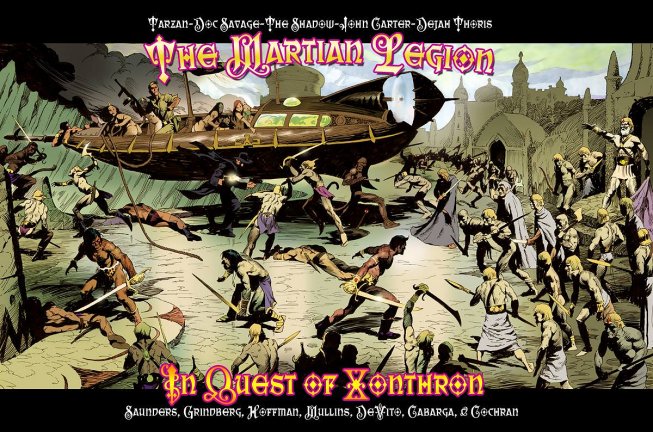 A Martian Legion Illustration
Giant Poster-Size Art by Mike Hoffman
Free with eBay Print Order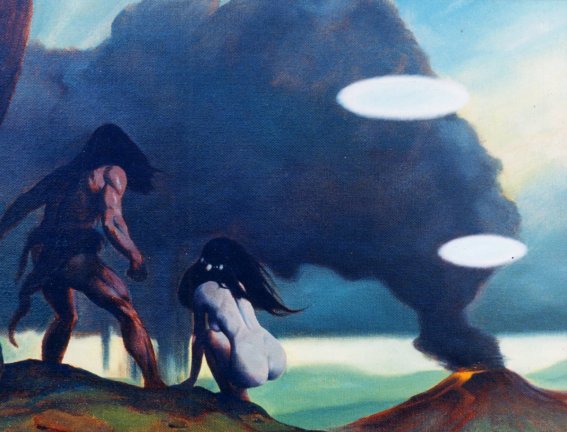 "Stone Age Visitation"- Cavemen and UFOs! rare art by Mike Hoffman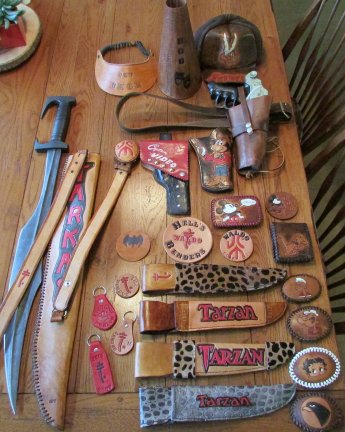 Leathercrafter Extraordinaire - Bob Hibbard Comments:
"Our librarian Delene has invited me to place a leathercrafting display in the lobby of our local library,
which I am pleased to do.
Upon casting about for appropriate items to show,
I find that, not unlike the cobbler's children who have no shoes,
I haven't retained very much of my own work.
Here are a few examples, many of which will be donated to
the two Edgar Rice Burroughs auctions in CT and MD this summer."
The Two Major 2015 Events
that ERB Fans Will Not Want to Miss: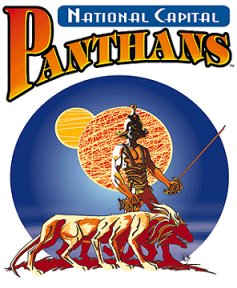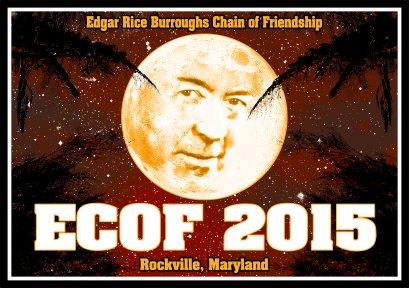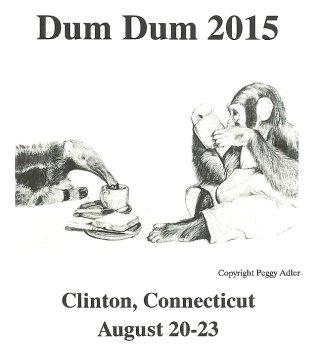 2015 ECOF :: Rockville, MD :: June 4-7, 2015
2015 DUM-DUM :: Clinton, CT :: August 20-23, 2015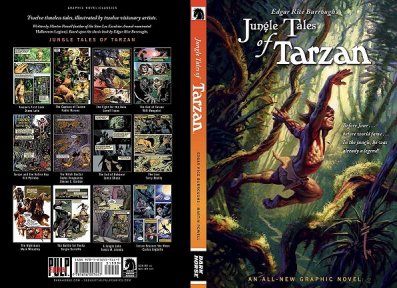 Jungle Tales of Tarzan will be launched at ECOF.
50 special commissioned hardcover copies are being set aside
for purchase ($49.95) by attendees.
From the ERBzine.com Archive:
How was your day, Bolgani?
Can you identify this ape?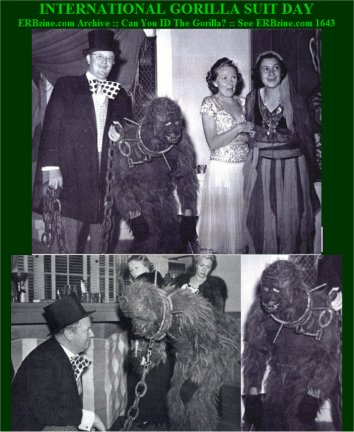 Don Martin's National Gorilla Suit Day on January 31 National Gorilla Suit Day, which mysteriously falls on January 31 of each year, is perhaps the important holiday of the year. Every National Gorilla Suit Day, people of all shapes and colors around the world get their gorilla suits out of the closet, put them on and go door-to-door. That's really all there is to it. You don't have to buy gifts. You don't have to fast, although some Orthodox Gorilla Suiters do. If you want to have a parade, fine. Just make sure all the marchers are wearing gorilla suits and that all the balloons are giant, inflatable gorillas. National Gorilla Suit Day was invented by "Mad's Maddest Artist" (i.e., the weirdest of all the cartoonists in Mad Magazine), Don Martin...and maybe also by E. Solomon Rosenblum, a writer who collaborated with him on the 1964 paperback book, Don Martin Bounces Back! The book was reissued several times and was among the best-selling of the Mad paperback series.
.


Annual Convention
ZGWS 33rd Annual Convention
Mormon Lake, Arizona ~ June 22 - 25, 2015
Come to the pines of Northern Arizona, just 30 minutes southeast of Flagstaff, to Mormon Lake Lodge. Mormon Lake was a jumping off point for Zane Grey for his Arizona adventures. His party would congregate at Mormon Lake, then head off to the Rim country. Mormon Lake Lodge is a historic lodge located at Mormon Lake and will be our host for the convention. We will be staying in their cabins and having our business meetings in their authentic western town.

https://www.facebook.com/ZaneGreysWestSociety

FEATURED ERBzine CONTRIBUTORS
ERBzine.com Archive
THE BURROUGHS BIBLIO-PRO-PHILE SERIES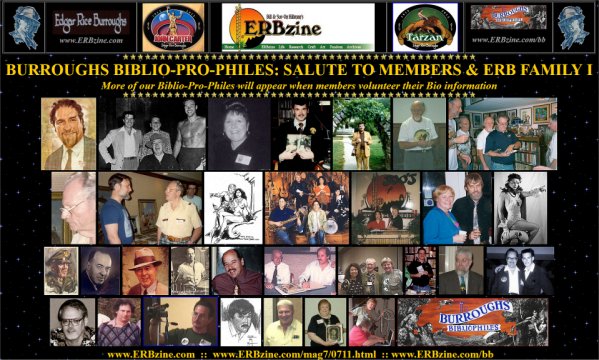 Click for full collage
Volume 0711
Our tribute to outstanding members of the Burroughs Bibliophiles whose contributions to ERB fandom
have been instrumental in immortalizing the life and works of the Master of Adventure: Edgar Rice Burroughs
More of our Biblio-Pro-Philes will appear when members volunteer their Bio information.
THE BURROUGHS / GERNSBACK CONNECTION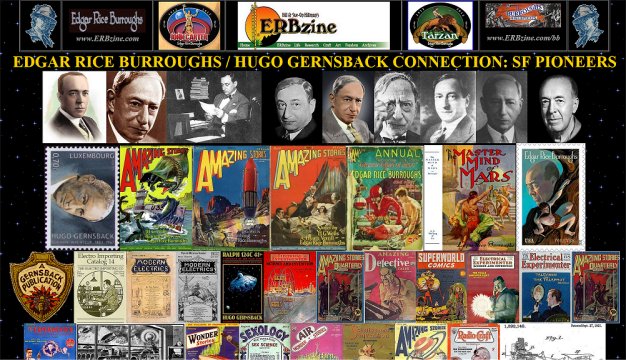 Two Great Pioneers in American Science Fiction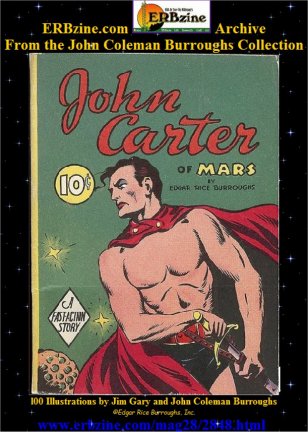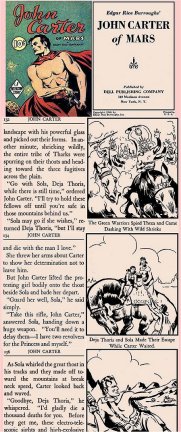 ERBzine.com Archive presents
From the Danton Burroughs/John Coleman Burroughs Tribute Sites
JOHN CARTER OF MARS
A Dell FastAction Story with
l00 Illustrations by John Coleman Burroughs and Jim Gary
©Edgar Rice Burroughs, Inc.
www.erbzine.com/mag28/2848.html

ARH: Tarzan Cry Polystone Statue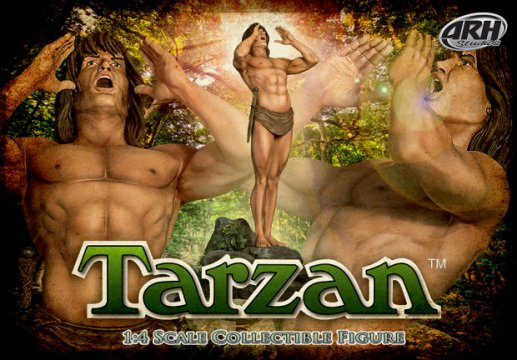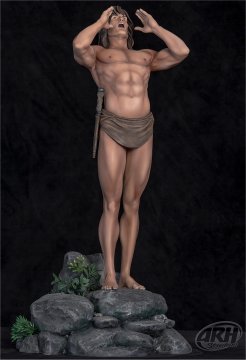 Price: $295 ~ Limited Edition: 100
Scale: 1/4th Polystone Statue ~ Sculpted by: John Cleary ~ Painted by: Arahom Radjah
Product Size: 23"H x 12"W x 11"D



Visit our Cartoon Archive
11 Galleries of Cartoons from previous ERB Eclectica pages
www.ERBzine.com/cartoons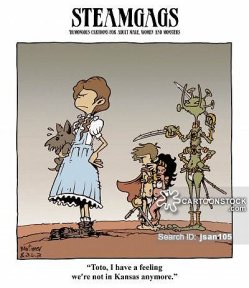 BILL HILLMAN
Visit our thousands of other sites at:
BILL AND SUE-ON HILLMAN ECLECTIC STUDIO
All ERB Images© and Tarzan® are Copyright ERB, Inc.- All Rights Reserved.
All Original Work © 1996-2015 by Bill Hillman and/or Contributing Authors/Owners
No part of this web site may be reproduced without permission from the respective owners.