SWIMMERS BECOME "TARZANS"
Johnny Weissmuller Has A New Rival -- Buster Crabbe
by John K. Newnham
Film Pictorial ~ UK ~ November 10, 1933

Twenty-five girl typists in the Paramount studios chose Buster Crabbe, the twenty-three-years-old swimmer and athlete, as Johnny Weissmuller's rival.

Can you decide whether their choice was justified, for Buster is "now showing" (very much!" at most of the cinemas, in King of the Jungle.

Scores of brawny young men were tested for the role of the Lion Man in the picture and it was left to these twenty-five girls to make the final selection. Georges Carpentier and Max Baer were two of the many other famous sporting figures who were also considered for the part; but Buster beat them all.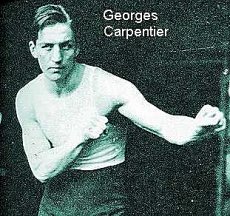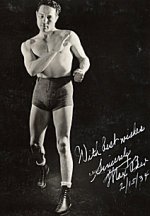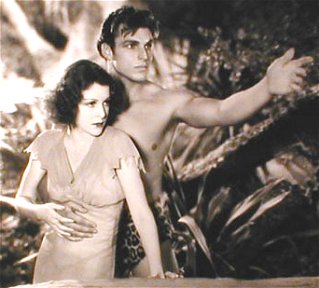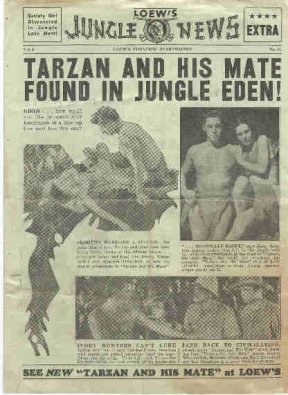 Buster Crabbe does not actually appear as Tarzan in this picture, though it is similar to a Tarzan role. In his next talkie, however you'll see him as Tarzan in Tarzan the Fearless.
Which of the Tarzans do you prefer?
Johnny Weissmuller gained immense popularity when he appeared in Tarzan the Ape Man. He became a favourite almost overnight. He will soon be seen again in yet another Tarzan talkie, Tarzan and His Mate.
Curiously enough, Buster Crabbe was actually tested for the role in Tarzan the Ape Man, but the honours fell to Weissmuller.
They're very similar, these two athletic young men. And though they are rivals on the screen they are great pals in real life. Even in looks, there are certain points of resemblance; in physique, Johnny Weissmuller is the taller. He is six feet three inches in his bare feet, compared with Buster Crabbe's six feet and one inch. But there is very little difference in their weight -- two pounds, in fact!
Both men are famous swimmers. Johnny has represented the United States in the Olympic Games and has captured scores of swimming records of all types. He was famous in this sphere long before he came to the movies; and he certainly had no thoughts whatever of acting.
He protested that he had never acted and had no idea how to do so, when he was approached by M.-G.-M. for a test for the Tarzan picture. But M.-G.-M. didn't mind.
"You have the looks and the physique and the personality," he was told. "Don't you worry about the acting side of it. We'll look after that."
Johnny's "fan" mail after his first picture shot up to regions approaching those of Ramon Novarro's, so apparently M.-G.-M. did look after the acting side!
As a matter of fact, Johnny had faced the movie camera many times before this Tarzan film was made. He was a popular subject with the news-reel experts and was photographed by them almost every time he entered a swimming contest.
---

Buster, too, had never thought about acting until the studios approached him because of his swimming exploits. He appeared in a picture (not a big role) for Columbia before getting his real chance as a film star in King of the Jungle. He is also the holder of records in the swimming world.

The only difference between the two is that Johnny Weissmuller turned "pro," and became a swimming coach. Buster Crabbe has always remained an amateur and has had to enter other fields for a living.

Buster, in fact, worked in the stock room of a big store for some time and took various other jobs to keep going; if he doesn't succeed as a screen star, he will study law with the money he has earned in the studios. But this depends entirely upon filmgoers.

The long chain of coincidence in the stories of Johnny Weissmuller and Buster Crabbe goes even farther.

When Johnny made Tarzan, he found that he had to learn a new language -- those strange vocal sounds heard on the screen when he first appeared. Maureen O'Sullivan, if you remember, had to teach him how to speak.

Exactly the same thing happened to Buster Crabbe when he arrived in the studios. He had to learn how to make himself understood in grunts and grimaces and then had to master the English language very slowly. For in this picture he appears as a savage who is brought up by lions -- and Tarzan, of course, was brought up by apes. Take your choice!

Buster didn't have an easy time with those lions. One of them set upon him during the shooting of a scene, but fortunately he was only slightly hurt.

Johnny, too, had trouble with an animal in his first talkie. This was a scene in which an elephant was supposed to pick up his "unconscious" body and carry him off.

Apparently the elephant misunderstood the order, and Johnny, lying still with his eyes closed, felt the beast's big foot pawing uncertainly over his body. There was a great shout from everyone in the studio and the animal's trainer gave sharp orders. The elephant heard them and obediently moved off. Then Johnny opened his eyes, wondering what all the trouble was about. He hadn't realized that he had been within an inch of being crushed!

It's not surprising, then, that these two players are confused by filmgoers. Their careers have been so amazingly similar and further links in the chain of coincidence seem to be forged every day.

Johnny even got back to the Buster Crabbe level the other week, when he deserted the single state again for marriage. Yes, in spite of the fact that he declared that having just been freed from one knot -- his former wife, Bobbe Arnst had just divorced him -- he would never get into further trouble. But Lupe Velez was irresistible. And, a few days later, they were husband and wife. Buster Crabbe is the husband of Virginia Held, also a swimming expert.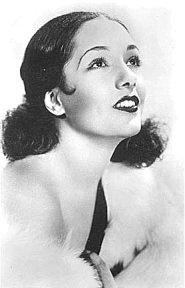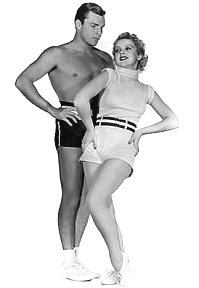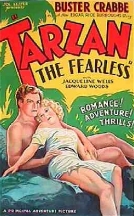 Now both Johnny and Buster are to launch out in "different" roles. Johnny is to do a spectacular underwater ballet with thirty girls, all beautiful of face and figure. And Buster is to take part in the Search for Beauty picture, in which the FILM PICTORIAL winners appear. In addition, Buster is to have Ida Lupino and Toby Wing with him in the film, too.

Yes there's no doubt about it, these he-men do seem to have the luck -- both on and off the screen!