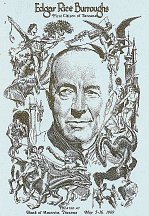 (September 1, 1875 - March 19, 1950)
Ed Burroughs, born to a well-to-do Chicago family, tried his hand at a multitude of occupations before turning his hand to writing at age 36. After receiving schooling at Michigan Military Academy he led a very adventurous life: Academy professor, cowboy, gold miner and photo shop owner in Idaho, railroad policeman in Salt Lake City, and US Cavalry Trooper in Arizona.
After marrying Emma Hulbert in 1900 they settled in Chicago where he headed a large mail order department at Sears, Roebuck & Company, and then worked as an accountant, salesman, businessman, and various other low paying jobs until 1911 when his first novel, Under the Moons of Mars was accepted by All-Story Magazine.
This launched an amazing writing career. He moved to Tarzana Ranch, California, in 1919 and from then on he was in the forefront of every facet of 20th century entertainment. In his twilight years he witnessed the Japanese attack on Pearl Harbor and worked as the Pacific Theatre's oldest war correspondent until 1945. He died near his beloved Tarzana in 1950.
The works of Edgar Rice Burroughs will endure as classic tales of adventure, romance and wonder. Tarzan has been swinging through the trees since 1912 and remains one of the best-known literary characters in the entire world. Edgar Rice Burroughs also wrote thrilling adventures set on other planets and in lost lands and
civilizations.

Ed Burroughs' life, and the family members he touched and inspired, have woven stories as fascinating and as incredible as the imaginative tales he created. With this in mind I have spent many years in an attempt to unravel the Burroughs family stories.
My research is ongoing and new chapters are presented each week in the many ERB Websites I have created. Much of the information I owe to the generous sharing of treasures from the actual Burroughs Family Archives by the late Danton Burroughs and other family members, as well as from the dedicated staff at Edgar Rice Burroughs, Inc. in Tarzana.