Official Edgar Rice Burroughs Tribute and Weekly Webzine Site for Over 25 Years
Since 1996 ~ Over 15,000 Webzines and Webpages In Archive

Master of Imaginative Fantasy Adventure
Creator of Tarzan® and "Grandfather of American Science Fiction"
A NEW EDITION EVERY FRIDAY
www.ERBzine.com/mag
March 10 - 16, 2023
As usual we start a new year with a revamping of our Weekly Webzine
This year. . . simplified a bit with info and reference material placed in a companion page:
www.ERBzine.com/mag/info
VIEW LAST WEEK'S ISSUE AT:
www.erbzine.com/mag/ez230303.html

FEATURE 1: ERBzine 7672
Tarzan: The Epic Adventures ~ III
Part 3: TARZAN AND THE LEOPARD QUEEN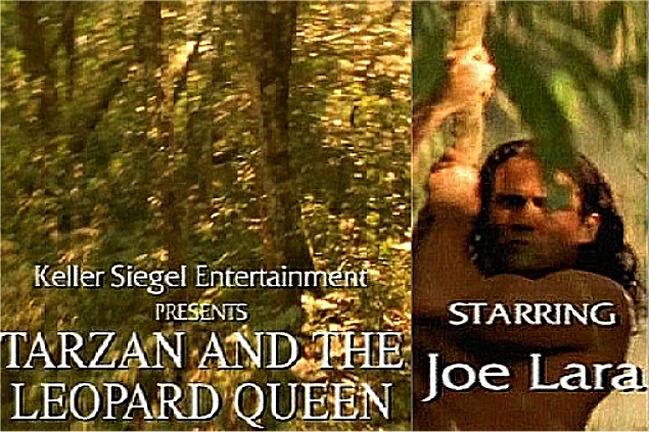 Click for full-size Promo Splash Bar HERE
Tarzan meets up with his old friend Temba
who returns from Europe to take his place as Chief of the Wogambi.
His people disappear and the Leopard Men attack the Waziri village.
In order to save Themba and the women of the Waziri,
Tarzan must face Sheeta The Leopard Woman.
Review by Charles Mento
https://www.erbzine.com/mag76/7672.html








---
MAJOR ERBzine UPDATES
LAST WEEK'S FEATURES
March 3, 2023


1. TARZANA RANCH IN THE NEWS IV
2. DC Tarzan Comic #246 Tarzan and the Jungle Murders II
3. ERBANIA 06 ~ January 1959 Part 2: Pages 14-28
4. Hogarth Tarzan Sunday Page: THE VILLAIN'S CHANCE 1939.10.08 ~ #448
5. WILLIAM STOUT: Featuring 50 Pieces of Stout Art and Photographs
ERB EVENTS UPDATES
6/7 May Week 2: 8-14
EVENTS Photos
8. All The Hal Foster Tarzan Sunday Page Reprints: 1931-1937
1931 and 1932 ~ 1933 and 1934 ~ 1935 and 1936 ~ 1936 to 1937
9. HOGARTH TARZAN SUNDAY REPRINT STRIPS IN ERBzine
1937 ~ 1938 ~ 1939 ~ 1947-1949 ~ 1949/1950
10. FOSTER TARZAN SUNDAY PAGE: THE SIGN OF THE SCARAB 1933.09.03
11. REX MAXON'S SUNDAY TARZAN STRIPS: TODAY: Page Three ~ March 29, 1931

---
LAST WEEK'S UPDATES
---
Features 12 - 23
Lex Barker Film Coverage in ERBzine
Tarzan's Magic Fountain
http://www.erbzine.com/mag6/0629.html
Tarzan and the Slave Girl
http://www.erbzine.com/mag19/1950.html
Tarzan's Peril
http://www.erbzine.com/mag19/1951.html
Tarzan's Savage Fury
http://www.erbzine.com/mag5/0580.html
Tarzan and the She-Devil
http://www.erbzine.com/mag19/1952.html
Lex Barker in View-Master
http://www.erbzine.com/mag41/4143.html
Lex Barker Dell Comics Covers
http://www.erbzine.com/mag23/2395.html
Barker Magazine Article
http://www.erbzine.com/mag16/1657.html
BOB ZEUSCHNER: A Photo Gallery
https://www.ERBzine.com/mag74/7480.html
A Photo Visit with Bob and Lindy Zeuschner
OPEN HOUSE FOR ERB FANS
ARRIVAL
https://www.erbzine.com/mag41/4187.html
ERB ART FOLIOS: JOHN CARTER and TARZAN
https://www.erbzine.com/mag41/4189.html
The Zeuschner ERB Bibliography information
is a major component of our ERB C.H.A.S.E.R. Project
http://www.ERBzine.com/chaser
Religious Themes in the Novels of ERB
by Robert B. Zeuschner, Ph.D
http://www.erbzine.com/mag11/1120.html

OUR WEEKLY SUPPLEMENTARY INFORMATION FEATURE
www.erbzine.com/mag/info
ERBzine Statistics for 2021: +18,614,055 Verified World Wide Hits



WEBJED: BILL HILLMAN


Visit our thousands of other sites at:
BILL AND SUE-ON HILLMAN ECLECTIC STUDIO
ERB Text, Images and Tarzan® are Copyright ERB, Inc.- All Rights Reserved.
All Original Work ©1996-2023 by Bill Hillman and/or Contributing Authors/Owners
No part of this web site may be reproduced without permission from the respective owners.
Opinions expressed in articles on this site do not necessarily represent the opinions
of Edgar Rice Burroughs, Inc. or the editors of ERBzine.
ERBzine Weekly Webzine was endorsed by Danton Burroughs of Tarzana, California
as the Official ERB, Inc. and Tarzan®Webzine Fan TributeSite