Official Edgar Rice Burroughs Tribute and Weekly Webzine Site for Over 25 Years
Since 1996 ~ Over 15,000 Webzines and Webpages In Archive

Master of Imaginative Fantasy Adventure
Creator of Tarzan® and "Grandfather of American Science Fiction"
A NEW EDITION EVERY FRIDAY
www.ERBzine.com/mag
Nov 11 - 17 2022
As usual we start a new year with a revamping of our Weekly Webzine
This year. . . simplified a bit with info and reference material placed in a companion page:
www.ERBzine.com/mag/info
VIEW LAST WEEK'S ISSUE AT:
www.erbzine.com/mag/ez221104.html

Feature 1: ERBzine 7640
ERB ON MURDOCH MYSTERIES CBC-TV
Episode 1603: THE WRITE STUFF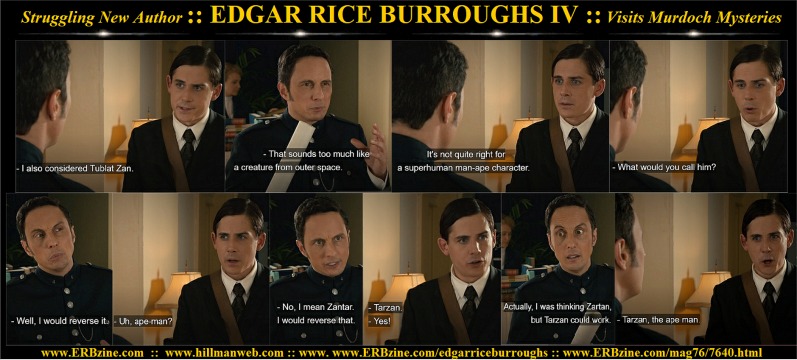 Click for fiull-size collage HERE
When a writer is murdered at a literary event,
Canada's First International Convention of Novelists,
Rudyard Kipling, Lucy Maud Montgomery and a struggling new author
Normal Bean (actually Edgar Rice Brroughs) played by Adam Butcher
come under Murdoch's scrutiny.
https://www.erbzine.com/mag76/7640.html








---
MAJOR ERBzine UPDATES
LAST WEEK'S FEATURES
November 4, 2022


1. MEMORIES OF MY DAD - ERB - AND TARZANA RANCH By Hulbert Burroughs
2. TARZAN TV SERIES ~ 1991-1994 ~ Reviews for Episodes 56-58
ERBzine FANZINE ARCHIVE REPRINTS Presents:
3. Peter Ogden's ERBANIA ISSUE 2: December 1956
ERBzine FANZINE ARCHIVE Presents
4. DESTINY Spring 1953: HISTORY OF TARZAN FILMS By Vern Coriell
5. HOGARTH TARZAN SUNDAY PAGE: CONQUERING AMAZON ~ 1939.06.11 ~ #431
ERB EVENTS UPDATES
6/7 January Week 1: Days 1-7
EVENTS Photos
8. All The Hal Foster Tarzan Sunday Page Reprints: 1931-1937
1931 and 1932 ~ 1933 and 1934 ~ 1935 and 1936 ~ 1936 to 1937
9. HOGARTH TARZAN SUNDAY REPRINT STRIPS IN ERBzine
1937 ~ 1938 ~ 1947-1949 ~ 1949/1950
10. HAL FOSTER TARZAN: GOD WALKS IN THE NIGHT 1933.05.07
11. GRAY MORROW TARZAN SUNDAY PAGES: Bigfoot
181: 3102-3113 (27 Jan. 1991-14 Apr. 1991)
CONTENTS
---
LAST WEEK'S UPDATES
Features 12-20
Emma Centennia Burroughs
Mother Died Today By Hulbert Burroughs
http://www.ERBzine.com/mag67/6750.html
PHOTO ALBUM I: The Early Years
http://www.ERBzine.com/mag67/6751.html
PHOTO ALBUM II: A Lifetime in Photos
http://www.ERBzine.com/mag67/6752.html
ERB's Bio Timeline for 1876
http://www.erbzine.com/bio/years75.html
Russ Manning Tribute: Bio and Art
http://www.ERBzine.com/manning
Manning's Unreleased John Carter Art: Collage
http://www.erbzine.com/cards/art/manningall.jpg
http://www.erbzine.com/cards/art/manning2all.jpg
Read all the Dell and Gold Key Tarzan Comics with Manning Tarzan Art
http://www.erbzine.com/mag25/2596.html
http://www.erbzine.com/manning/manninggk.jpg

OUR WEEKLY SUPPLEMENTARY INFORMATION FEATURE
www.erbzine.com/mag/info
ERBzine Statistics for 2021: +18,614,055 Verified World Wide Hits



WEBJED: BILL HILLMAN


Visit our thousands of other sites at:
BILL AND SUE-ON HILLMAN ECLECTIC STUDIO
ERB Text, Images and Tarzan® are Copyright ERB, Inc.- All Rights Reserved.
All Original Work ©1996-2022 by Bill Hillman and/or Contributing Authors/Owners
No part of this web site may be reproduced without permission from the respective owners.
Opinions expressed in articles on this site do not necessarily represent the opinions
of Edgar Rice Burroughs, Inc. or the editors of ERBzine.
ERBzine Weekly Webzine was endorsed by Danton Burroughs of Tarzana, California
as the Official ERB, Inc. and Tarzan®Webzine Fan TributeSite