The spirit of man can endure only so much and when it is broken only a miracle can mend it.
-- ERB / The Moon Men (1925)

Official Edgar Rice Burroughs Tribute & Weekly Webzine Site
Since 1996 ~ Over 4,000 Web Pages In Archive

Master of Imaginative Fantasy Adventure
Creator of Tarzan® and "Grandfather of American Science Fiction"
May 20 - 26, 2005
A NEW EDITION EVERY FRIDAY
Thousands of Back Issue Features in Archive: HERE
| | | | | |
| --- | --- | --- | --- | --- |
| | | | | |
.

THIS WEEK'S ERBzine CONTENTS

.
---
---
---
---
FEATURE 5 Update: ERBzine News Today
More on the recent release of Brother Men
A life-long correspondence between ERB and friend Bert Weston
plus
Star Wars III: Revenge of the Sith reviews
El Caballero news ~ Tarzan Broadway Musical ~ Cheetah and Michael Jackson
ERB & Spielberg in SF Hall of Fame ~ Human babies rescued by dogs and gorillas
Tarzan Pop-Art Exhibit ~ News Movies: Tarzan II ~ Land That Time Forgot ~ Adv. Tarzan serial
www.erbzine.com/news
---
FEATURE 6 Update: ERBzine ERB Bio
Read the events disclosed in Brother Men
and thousands more entries gleaned from the Danton Burroughs family archive
in our
ERB Timeline Bio for daily events in the life of ERB
www.ERBzine.com/bio
.
.

Feature Release from the John Coleman Burroughs Tribute Site

---
FEATURE 9
The latest edition of the Burroughs Bulletin is now available ~ 40 glossy pages
The lavishly illustrated Tarzan and the Forbidden City issue with articles by
Editor George McWhorter ~ David A. Adams ~ Robert R. Barrett ~ Stan Galloway ~
Paul Spencer ~ Michel Decuyper translated by Elaine Casella.
See the contents at: www.ERBzine.com/bb
The McWhorter Complete Index to the Burroughs Bulletin is at:
www.geocities.com/erbindex
The ERB C.H.A.S.E.R. Illustrated Bibliography entry for Tarzan and the Forbidden City:
http://www.erbzine.com/mag7/0729.html
To join the Burroughs Bibliophiles go HERE
---
---
---
AWARDS

Three Awards
Tarzan.com
March 9, 2005
ERBzine:
July 11, 2002
ERBzine.com/mag:
January 12, 2005


Lifetime Achievement Award
Louisville Dum-Dum 2003


Bill & Sue-On Hillman
Entertainers of the Year Award
For stage/TV/recording performances
in USA, England and Canada
.


LAST WEEK'S FEATURES
May 13 - 19, 2005, 2005
(if you missed it go to Archive)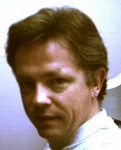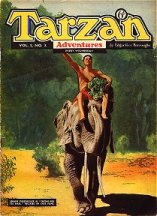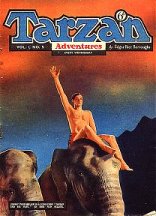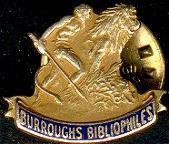 What ERB was reading in Chicago on August 9, 1908: Planets Inhabited?
Biblio-Pro-Phile Spotlight on ERB Fan: Mick Burwell
Zane Grey, Edgar Rice Burroughs: Anima And Animus by Warbaby & Polarion
UK Tarzan Adventures Comics from the '50s ~ Vol 5 Pt. 1
UK Tarzan Adventures Comics from the '50s ~ Vol 5 Pt. 2 with a Vernell Coriell reprint
Action Figure Gallery: Tarzan Disney Action Figures
BURROUGHS BIBLIO-PRO-PHILE SERIES
Burroughs Biblio-Pro-Phile Series: Introduction & Navigation Guide
Burroughs Bibliophile Site
www.ERBzine.com/bb
The Martian: ERB's A Princess of Mars
Installment 16a
Installment 16b
Fan Fic by Scott Dutton: RETURN TO BARSOOM
---
NEXT WEEK:
ERB/Press Connection
Motes and Quotes Newzine for May
Bob Hyde: Odyssey of a Tarzan FANatic 1993 Ch. LXI
Articles by R. E. Prindle and Terry Klasek
COMING SOON ~ IN THE WINGS
ERB/Press Connection: Chicago Tribune Articles
ERB/Press Connection: ERB in the LA Times
General Charles King Illustrated Bio and Biblio
Profile Tribute on Stan Vinson
A Princess of Mars: A Graphic Novel Adapted and Illustrated by James Spratt
Bomba the Jungle Boy: The Tarzan Connection Part II
Hal Foster: Mysterious Maiden II Comics Summary
ERB and Buffalo Bill at the Chicago 1893 Columbian Exposition
ERB Letters
Our FanFare section is always open as a showcase for ERB fan comments and creative work...
Send your submissions to
Bill Hillman
Tarzan@westman.wave.ca


!!! READERS PLEASE NOTE !!!
Tarzan® is the property of Edgar Rice Burroughs, Inc., Tarzana CA

These e-Fanzines have been posted as a non-profit bibliographic and biographic reference for ERB scholars, fans and collectors. Material not created by myself has been collated largely from other sites on the web -- and I believe it to be in Public Domain or to fall under the category of "product promotion" or "fair use". Everything has been collated into this on-line repository to promote interest in the works of Mr. Burroughs. If there is any objection to the way in which any of this material has been displayed, or if I have infringed unlawfully on any copyright, I will implement its immediate removal. Bill Hillman

---

WEBJED: BILL HILLMAN

Visit our thousands of other sites at:
BILL & SUE-ON HILLMAN ECLECTIC STUDIO
ERB Text, Images and Tarzan® are Copyright ERB, Inc.- All Rights Reserved.
All Original Work ©1996-2005 by Bill Hillman and/or Contributing Authors/Owners
No part of this web site may be reproduced without permission from the respective owners.
ERBzine Weekly Webzine is endorsed by Danton Burroughs of Tarzana, California
as the Official ERB, Inc. and Tarzan®Webzine Site