NEWS
---
Rodriguez Talks Mars: Director addresses DGA snafu.
April 20, 2004 - Entertainment Weekly has asked filmmaker Robert Rodriguez about his status as the director of Paramount/Alphaville's A Princess of Mars (a.k.a. John Carter of Mars). Rodriguez's recent decision to resign from the Directors Guild of America placed his ability to helm the big-screen adaptation of Edgar Rice Burroughs' classic sci-fi novel in doubt. As a DGA signatory, Paramount is not allowed to hire a non-union director. Rodriguez advised EW, however, that the situation is under control.
"I can still do that movie," claims Rodriguez, "because I was assigned to it before I left the DGA. I'll occupy that island of misfit directors like Quentin Tarantino and George Lucas. (Laughs) It's actually quite nice here."
---
For Disney, a spoonful of sugar helps the musical go down
http://www.timesstar.com/Stories/0,1413,125~1549~2087779,00.html
. . . Crowley will design and direct another musical still in the development stages: "Tarzan," another cartoon adaptation. This one features music by Phil Collins, who has augmented his original, Academy Award-winning score. Playwright David Henry Hwang ("M. Butterfly") is writing the book and rooting it strongly in the Edgar Rice Burroughs novels. . . .
---
Edgar Rice Burroughs Editions
Currently Available from Amereon Books
*Apache Devil $22.95
*Oakdale Affair $18.95
*Tarzan of the Apes $22.95
*Pellucidar $25.95
*War Chief $21.95
*Princess of Mars $20.95
*Efficiency Expert $23.95
*Deputy Sheriff of Commanche County $24.95
*Chessmen of Mars $29.95
*Master Mind of Mars $27.95
*Thuvia, Maid of Mars $27.95
Amereon Books ~ Amereon@aol.com
PO Box 1200 ? 4470 Wickham Avenue ? Mattituck, NY 11952-9500 ? 631/298-5100 ? 631/298-5631 FAX
See last week's Motes ? Quotes Newzine for more information
---
Watch For It!
TCM: Turner Classic Movies ~ June 3/4, 2004
"Tarzan the Ape Man"
followed by a documentary called "Tarzan: King of the Silver Screen"
"Tazan and His Mate"
"Tarzan Escapes!"
"Tarzan Finds a Son"
See the Tarzan the Ape Man trailer at the TCM site:
http://www.turnerclassicmovies.com/Multimedia/Popup/0,,58895,00.html
---
Rodriguez Status on the Paramount "Mars Princess" still in limbo
---
Now Available:
New Series of Tarzan Leatherbound Editions
From Easton Press
http://eastonpresscatalog.com/
---
June Release
Completely Remastered for DVD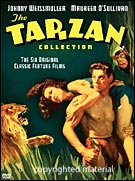 The Tarzan Collection ~ LIST: $59.92
Tarzan Boxed Set of 6 Films Starring Johnny Weissmuller
Tarzan, The Ape Man (1932) ~ Tarzan And His Mate (1934) ~ Tarzan Finds A Son! (1939) ~
Tarzan's Secret Treasure ~ Tarzan's New York Adventure ~ Tarzan Escapes ~ Tarzan Documentary
Also Being Remastered for DVD Release in June
Greystoke and Tarzan, The Ape Man (Bo)
---
Bradford M. Day, author of one of the first ERB bibliographies, died on February 25, 2004. He was 87.
Mr. Day's "Science Fiction and Fantasy Publications"published BEYOND THIRTY and THE MAN-EATER in 1957.
---
Check out the latest releases from ERBville Press
Tarzan of the Apes - Original Pulp Version - is now available
ECOF GATHERING, SACRAMENTO, CA ~ August 12-14, 2004 ~ Guests: Lupoff ~ J.E. Holmes ~ Yeates
Free T-Shirt Offer: See the Update at the Convention Dossier Page
DUM-DUM 2004: The date of the 2004 Dum-Dum at Fort Collins has been moved to June 25-27
Visit the Tarzana Community and Cultural Center: www.mytarzana.org