Official Edgar Rice Burroughs Tribute and Weekly Webzine Site
Since 1996 ~ Over 15,000 Webpages in Archive
Volume 6347

ERB'S LIFE and LEGACY :: DAILY EVENTS
A COLLATION OF THE DAILY EVENTS IN ERB-WORLD
FROM THE PAGES OF ERBzine CREATED BY BILL HILLMAN
Collated by John Martin and Bill Hillman
With Web Design, Added Events, Links,
Illustrations and Photo Collages by Bill Hillman
GO TO OUR FULL YEAR'S CONTENTS
www.ERBzine.com/events

OCTOBER CONTENTS: WEEK ONE
OCT 1 ~ OCT 2 ~ OCT 3
OCT 4 ~ OCT 5 ~ OCT 6 ~ OCT 7

VISIT THE OCTOBER WEEK 1 PHOTO ALBUM
www.ERBzine.com/mag63/6347pics.html
BACK TO SEPTEMBER WEEK 4
www.ERBzine.com/mag63/6346.html



Click for full-size images
---
OCTOBER 1
---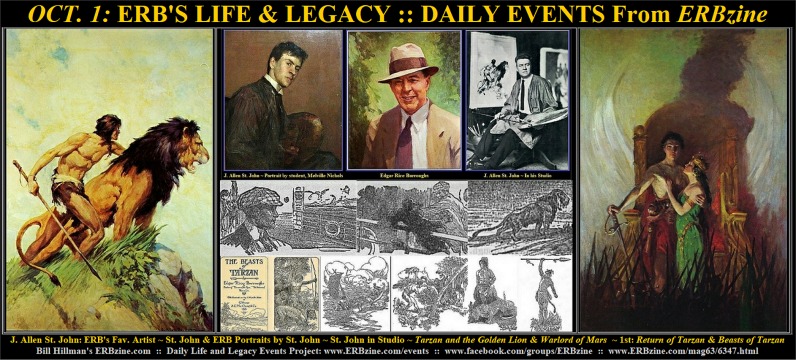 J. Allen St. John: ERB's Favourite Illustrator ~ St. John Portrait ~ ERB by St. John ~ St. John in Studio
Tarzan and the Golden Lion and Warlord of Mars Covers ~ First interiors: Return of Tarzan and Beasts of Tarzan
---
*** ERB wrote a prologue to "Tarzan Triumphant" which says "Time is the warp of the tapestry which is life, but "the woof is gathered together from the four corners of the earth...."
"A thread from here, a thread from there, another from out of the past that has waited years for the companion thread without which the picture must be incomplete."
ERB himself was a thread from here, and J. Allen St. John was a thread from there. At a certain time, in 1915, the two threads began interacting, with St. John's chapter heading illustrations for "The Return of Tarzan." That led to St. John doing a wraparound dust cover illustration for "The Beasts of Tarzan" in 1916, and author and illustrator were to collaborate memorably on book and pulp illustrations for over a quarter of a century
On this date, Oct. 1, in 1872, the St. Johns of Chicago had welcomed little J. Allen into this world.
When he was just one month shy of his third birthday, another boy was born in the same town. The boy's name was Edgar Rice Burroughs and the date was Sept. 1, 1875.
St. John had an artistic mother who introduced him to the world of art and artists and little St. John was "sketching and painting before I could read and write."
Ed Burroughs did not have novelists for parents and, as any ERB fan knows, tried a variety of occupations throughout his early life before creating Tarzan and John Carter. He did begin writing years before he was published, however, and especially loved poetry and writing fanciful tales for family members.
Though they shared a city, ERB and St. John grew up doing their own things, oblivious to each other's presence, never knowing of the tapestry of word and image that they would eventually create.
We can look back on it and think how great a collaboration it was. But, growing up in Chicago, most likely never meeting, neither knew just how the warp and the woof was going to align them with one another.
Bio of J. Allen St. John ~ Links to our other St. John Sites
http://www.erbzine.com/mag6/0602.html
ERBzine Series of St. John Art Starting at:
http://www.erbzine.com/mag63/6383.html
St. John / ERB Connection: Bios, Art, Links, Video
http://www.erbzine.com/mag20/2008.html
St. John Gallery: Rare Art and Links
http://www.erbzine.com/mag16/1642.html
St. John Colour Art
http://www.erbzine.com/mag23/2314.html
St. John Western Cover Art
http://www.ERBzine.com/mag64/6444.html

Off-Site Reference
St. John

---
OCTOBER 2
---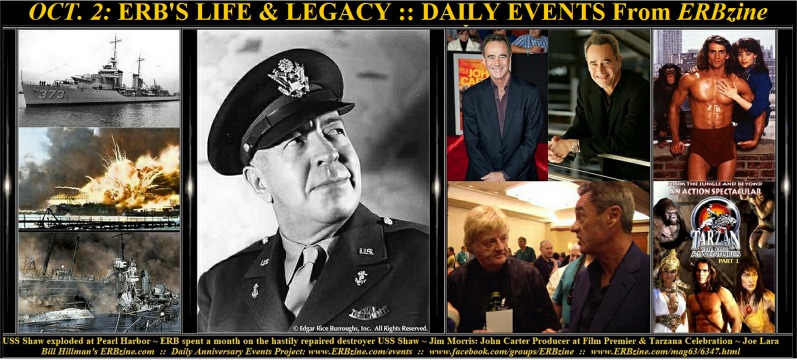 USS Shaw exploded at Pearl Harbor ~ ERB spent a month on the hastily repaired destroyer USS Shaw
Jim Morris: John Carter Producer at Film Premiere and Tarzana Celebration ~ Tarzan Actor Joe Lara
---
ERB Inc. had visitors this date, Oct. 2, in 2007. That Tuesday morning, the creative team from Pixar showed up to be shown around and shown through the archives in the ERB inc. office on Ventura Boulevard. Jim Morris, vice president of Pixar; Andrew Stanton, director of Pixar's John Carter of Mars project, and scriptwriter Mark Andrews, all met with Danton Burroughs, Sandra Galfas and Jim Sullos of ERB Inc.
ERBzine reported at the time: "All six members at the meeting expressed a deep commitment to the project, acknowledging that they had been inspired by Burroughs' creations from a very early age."
That was exciting news back then, and now, 11 years later, we know for a fact that "John Carter" made it to the big screen in March of 2012. And, of course, like most movies or television shows based on ERB characters, it has its admirers and it has its detractors.
In an interview about the time "John Carter" premiered, Morris revealed much inside information about the film, including how they had overcome "shortcomings of the novel." This link gives highlights of the interview with instructions to "hit the jump" to watch the interview itself. I couldn't find a "jump" to "hit" so I didn't watch the interview, but it was enough to just read that they had dealt with the "shortcomings" of ERB's writing.
Pixar Meeting at ERB, Inc. News
http://www.erbzine.com/news/news22.html
Our John Carter Movie Site: Interviews, News, Photos
http://www.cartermovie.com
Jim Morris GoH at JC Centennial Tarzana Dum-Dum
http://www.erbzine.com/mag41/4101.html

Off-Site Reference:
The Morris Carter Interview
---
*** The USS Shaw served her country in the Pacific during World War II and crossed paths with Edgar Rice Burroughs.
Foster Rash, whose father served aboard the Shaw, tells of the time when ERB was aboard the Shaw and of his popularity with the crewmen. That, and other information about the USS Shaw, which was finally decommissioned on Oct. 2, 1945, after having earned 11 battle stars as well as numerous battle scars as seen in ERBzine 0508 and 1712.
ERB and USS Shaw Connection
http://www.erbzine.com/mag5/0508.html
Pearl Harbor Attack in Full Colour
http://www.hillmanweb.com/war/2017/1712.html
ERB at Pearl Harbor
http://www.erbzine.com/mag10/1023.html
Off-Site Reference:
USS Shaw in Wikipedia
---
*** Joe Lara, who brought "Tarzan in Manhattan" and, later, "Tarzan: "The Epic Adventures" to the small screen, was born this date in 1962. Joe's last movie was in 2002. Since then, he's been a country music crooner.
Tarzan: Epic Adventures - Episode Summaries and Photos
http://www.erbzine.com/mag0/0014a.html
Tarzan in Manhattan starring Joe Lara
http://www.ERBzine.com/mag21/2151.html
Off-Site References:
Lara in Wikipedia
Tarzan/Manhattan in Wikipedia
Tarzan/Manhattan in IMDB
---
*** In today's non-ERB news, Groucho Marx was born this date in 1890 and Bud Abbott the same date in 1895. Good or bad news, you decide: Groucho never made a film titled "A Night at the Dum-Dum" (but former Tarzan actor and ERB's son-in-las James Pierce appeared in the Marx Brothers film, "Horse Feathers") and Abbott never made "Abbott and Costello Meet Tarzan" (but they came close with their "Africa Screams").
---
*** More ERB Bio Timeline and Calendar Notes:
1912: ERB Completed Gods of Mars and sent it to Metcalf
1929: ERB Started Jungle Girl with a combination Ediphone dictation and longhand approach.
1940: ERB started Savage Pellucidar Pt. 2
1944: ERB started Savage Pellucidar Pt 4. The dedication in the 1963 Savage Pellucidar 1st edition read: "To my first grandson - James Michael Pierce."
http://www.ERBzine.com/bio

---
OCTOBER 3
---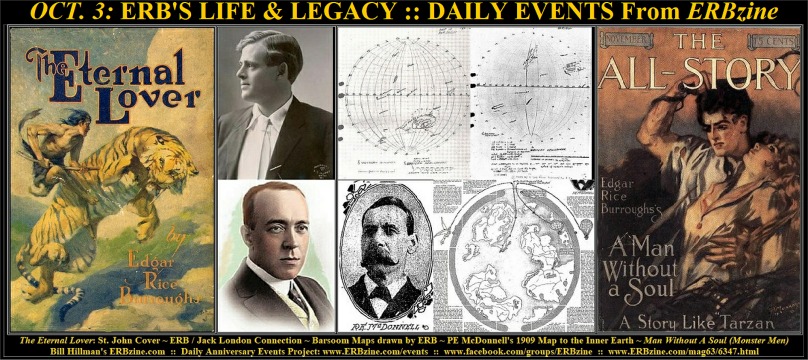 The Eternal Lover: St. John Cover ~ ERB / Jack London Connection ~ Barsoom Maps drawn by ERB
PE McDonnell's 1909 Map to the Inner Earth ~ Man Without A Soul (Monster Men)
---
*** "The Eternal Lover" was published by A.C. McClurg & Co. this date, Oct. 3, in 1925.
Heins listed it as T3 -- the third book in the Tarzan series -- because some of the events in it take place on the African estate of John Clayton, Lord Greystoke, who, the narrative tells us, had once been Tarzan of the Apes.
Of course, we modern day readers know that he never stopped being Tarzan, and went on to star in many more books.
Heins writes: "The sequence of events is best preserved, however, if the whole book is read before "Beasts," since it is in EL that we first meet Jack, the infant son of Lord and Lady Greystoke."
Now, for those who make the case that "Tarzan and the Forbidden City" belongs much earlier in the canon, right about here somewhere, would it be before -- or after -- "Beasts," or someplace else altogether?
The Eternal Lover: History, Covers, Art, Links
http://www.erbzine.com/mag7/0759.html
The Eternal Lover: Complete eText Edition
http://www.erbzine.com/craft/o7el.html
Eternal Lover: Sweetheart Primeval 5 Pulp Covers
http://www.erbzine.com/mag2/0222.html

---
*** Chicago resident Edgar Rice Burroughs was likely among the readers of the Chicago Tribune's Oct. 3, 1909, edition, which featured an article headed "Into the Heart of the World After Andree." The article centered on Patrick Enneas McDonnell, local pumping engineer, inventor and theorist, who was among those who believed that the North Pole contained an opening to a world inside the Earth. After Salomon Andree and two fellow adventurers had disappeared on a balloon trip to the Arctic, McDonnell speculated that they had survived, having flown their balloon through the polar opening and into the world at the Earth's core.
ERB, years later, discovered that the theory of an inner world was true, having direct contact with David Innes, who had traveled to the world inside the Earth via the Iron Mole digging machine invented by Abner Perry. Innes also eventually discovered the polar opening from the inside, and evidence that Andree may have, indeed, flown inside the Earth.
However, when the remains of Andree and his companions were eventually found on the outside of the Earth, the theory that they had safely journeyed to the interior was dashed. The balloon in which they traveled, though, did make it to the inside of the Earth, according to ERB. The exploits of Innes and others in the inner world of Pellucidar are chronicled in seven books, beginning with "At the Earth's Core."
Into the Heart of the World article
http://www.erbzine.com/mag14/1448.html
Polar Portal to Pellucidar by John Martin
http://www.erbzine.com/mag57/5796.html
Pilgrimage to Pellucidar: An 11-page report
http://www.erbzine.com/mag57/5787.html

Off-Site Reference
David Innes' Discovery
---

An essay on the character of Korak, Son of Tarzan, was written this date, Oct. 3, 2003, and published on the erblist.com website. In that essay, David A. Adams revealed the existence of words such as "bildungsroman." And if you wish to build your vocabulary by finding out what that means, do an internet search for it like I did.
Adams, who has written many in-depth article for both erblist and ERBzine, says such thought-provoking things as "I have always believed that ERB was using the model of Jack London's two famous dog stories. In The Call of the Wild, the tame dog, Buck, was raised in civilization and later heard the wild call, whereas his White Fang was a wild wolf-dog who later became a member of polite society. In this respect, Tarzan was the White Fang and his son would be the equivalent of Buck. ERB approached his characters in the opposite order, having written his wild creature story first."
Hillman's ERB/Jack London Connection: Pts. 1-8
http://www.erbzine.com/mag12/1271.html
Adams' London/Burroughs Connection I
http://www.erbzine.com/mag12/1298.html
Adams' London/Burroughs Connection II
http://www.erbzine.com/mag6/0670.html

Off-Site Reference
Essay on Korak
---
*** ERB Artist Paul Privitera was born on this date in 1953 ~ Paul contributed an amazing body of work to ERBzine through the years. Sadly, he passed away in 2017.
Paul Privitera ERB Art Galleries in ERBzine
http://www.erbzine.com/privitera
---
*** 1913: Metcalf wrote to Ed at 550A. Ave. Coronado predicting success for the November All-Story featuring the entire A Man Without a Soul (Monster Men)and the December issue that will start Warlord of Mars serial.
http://www.erbzine.com/mag2/0221.html
Evolution of ERB Titles
http://www.erbzine.com/mag16/1614.html
---
*** 1913: At Metcalf's request, Ed drew a map of Barsoom
http://www.erbzine.com/mag28/2807.html
---
1934: Ed's flying instructor, Jim Granger, was killed in a plane crash.
http://www.ERBzine.com/bio

---
OCTOBER 4
---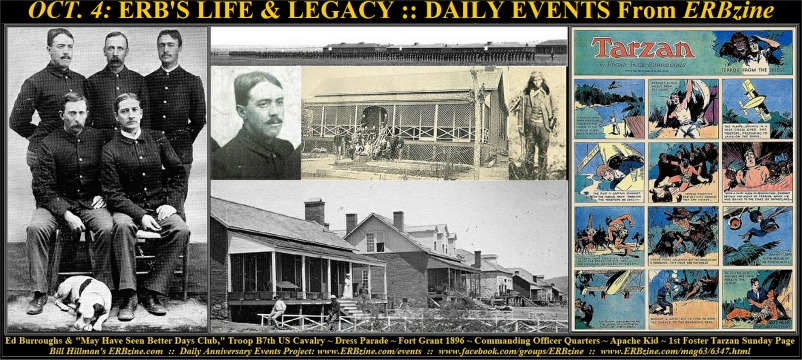 Ed Burroughs and the "May Have Seen Better Days Club" Troop B7th US Cavalry ~ Dress Parade
Fort Grant 1896 ~ Commanding Officer Quarters ~ Apache Kid ~ First Foster Tarzan Sunday Page
---
*** If your travel plans take you anywhere near southern Arizona, a good stop to make would be the vicinity of Fort Grant. The fort itself is now a prison and not exactly a tourist attraction, so one cannot find a sign above a bed that says "Edgar Rice Burroughs Slept Here."
But he did sleep there, and drilled, and rode horses in formations and on hunts for Indians in the late 1890s during his service for the 7th U.S. Cavalry.
The fort's last hurrah (as a fort) came on this date, Oct. 4, in 1905, when troops were marched across the parade ground for the last time.
ERB was later to write about this area in his Apache and Mars novels.
Arizona resident and ERB fan Frank Puncer is adding to the allure of the area by planning an ERB gathering in that neck of the woods in August of 2019.
"My current ERB-related plans include organizing a Burroughs gathering in Willcox, AZ in August of 2019. This would probably be a Dum Dum. Several ERB fans have been suggesting this to me for quite some time and, basically (for me anyway), it's boiling down to a 'now or never' scenario.
Willcox is situated about 60 miles east of Tucson International Airport along a scenic stretch of Interstate 10. This may make it a tad remote but I'm betting that some determined ERB fans would like to visit the town where ERB spent his first night in Arizona, see historic Fort Grant and the Pinaleno Mountains that ERB crossed with his troop, and enjoy the ERB and other interesting exhibits inside the Chiricahua Regional Museum."
ERB: US Cavalry ~ Fort Grant ~ 1896-1897 (10 ERBzine Pages)
http://www.erbzine.com/mag34/3469.html
Frank Puncer plans for an ERB gathering in Arizona
http://www.erbzine.com/mag62/6282.html
Frank Puncer's 2019 Willcox Arizona Dum-Dum
http://www.erbzine.com/dumdum/2019dd.jpg
Fort Grant, Then and Now, by Frank Puncer
http://www.erbzine.com/mag34/3471.html
Bob Hyde visited Fort Grand on his Odyssey:
http://www.erbzine.com/mag7/0704.html
---
*** 1923: Ed wrote to the Hollywood Athletic Club promoting the application of M. DeMond, a Jew. He had supported him before when he had applied for membership in Writer's Club
Hollywood Athletic Club
http://www.erbzine.com/mag11/Hollath3.jpg
---
*** 1929: Toronto Star complained that the story line in the Tarzan strips was "thinning out." This coincided with poor sales of the G&D Tarzan strip book
Foster Tarzan B/W strips reprinted by G&D
http://www.erbzine.com/mag16/1602.html
---
*** 1931: Appearance of the first Hal Foster Tarzan Sunday page "Terror From the Skies"
Terror From the Skies: Tarzan Sunday Page
http://www.erbzine.com/mag55/5502.html
All Hal Foster Reprints in ERBzine
http://www.ERBzine.com/foster

---
OCTOBER 5
---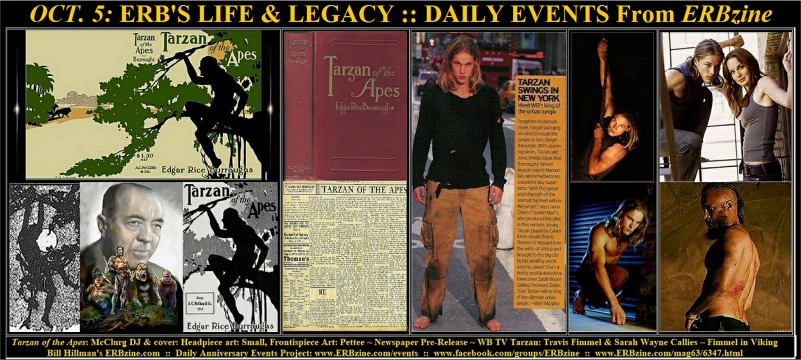 Tarzan of the Apes: McClurg DJ & cover: Headpiece art: Fred W. Small, Frontispiece Art: Clinton Pettee
Feb 1913Newspaper Pre-Release ~ WB TV Tarzan: Travis Fimmel and Sarah Wayne Callies ~ Fimmel in Viking
---
*** ERB did not believe in resting on his laurels. In 1912, his second story, "Tarzan of the Apes," had been published in The All-Story magazine in an issue which probably hit the newsstands in late August but bore the date of October 1912.
But by the time October arrived, ERB was already active trying to find new markets for his opus. On Oct. 5, 1912, he submitted it to A.C. McClurg and Company, hoping for book publication. But the company turned it down. Undaunted, he tried Bobbs-Merrill Co., Reilly & Britton, and then Dodd, Mead and Co. Meanwhile, the Evening World Daily Magazine did publish it, but that didn't convince Rand McNally that the story would sell in a book, because that company turned it down, too.
Then, on May 1, 1914, ERB was surprised to hear from McClurg again. After thinking it over for awhile, the firm's executives decided they just might be able to sell some copies of that book after all. When ERB agreed to sell them the first book publication rights, they didn't waste any time either, and the book was published that June.
ERB and McClurg's relationship was to last for a total of 29 books: volumes in the Tarzan, Mars and Inner World series as well as several stand-alone novels.
Tarzan of the Apes: History, Covers, Info
http://www.erbzine.com/mag4/0483.html
Tarzan of the Apes: Read the book in e-Text
http://www.erbzine.com/craft/t1ta.html
---
*** Tarzan entered the jungles of New York on this date, Oct. 5, in 2003, when Travis Fimmel took to the telephone poles and the skyscapers as Tarzan in a new Warner Bros. series.
Alas, it was canceled after only a few weeks. Even Xena the Warrior Princess could not rescue it, as she showed up in the cast in the person of her alter ego, Lucy Lawless, playing a Tarzan relative, Kathleen Clayton. Sarah Wayne Callies played the part of Jane Porter, a New York detective. This was a step up from the job Jane had as a cab driver when she was played on film a few years earlier in the movie, "Tarzan in Manhattan," by Kim Crosby.
Nine episodes were filmed but the series was quickly canceled, even though the show attracted a whopping 2.8 million viewers! Unfortunately, 2.8 million, in TV audience terms, was a drop in the bucket, placing Tarzan 112th among primetime programs!!
Fimmel, formerly a Calvin Klein model, did not have to go back to selling underwear, but was able to find work in other movies and TV series, some of which are still in production. It was the same for Callies. Fimmel's work in the 45 episodes of the popular TV series, The Vikings presented him with an entirely different look as a shaggy, bearded barbarian norseman.
Meanwhile, ERB fans wonder if Tarzan will ever appear again on TV again in his real jungle, as he did in Ron Ely's 1966-68 series. Oh wait...that wasn't Tarzan's jungle either. That was filmed in Mexico.
Tarzan TV Feature in ERBzine (Near page bottom)
http://www.erbzine.com/mag0/0014.html
http://www.erbzine.com/mag0/0014.html#Warner
Preview of new TV Tarzan: Bios of Fimmel and Callies:
http://www.erbzine.com/mag8/0846.html

Off-Site Reference
IMDB rundown
Fimmel in Wikipedia
---
*** 1912: Ed submitted a 3,500-word western: "For the Fool's Mother" to Story-Press Corporation. Unreleased until ERBzine 5369
For the Fool's Mother
http://www.erbzine.com/mag53/5359.html

---
OCTOBER 6
---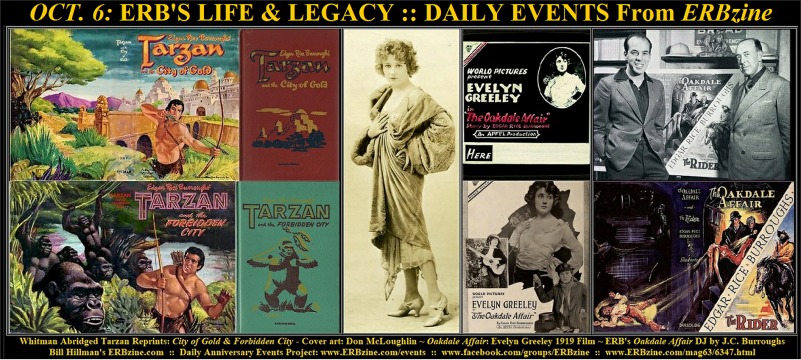 Whitman Abridged Tarzan Reprints: City of Gold and Forbidden City - Cover art: Don McLoughlin
Oakdale Affair: Evelyn Greeley 1919 Film ~ ERB's Oakdale Affair DJ by John Coleman Burroughs
---
*** Imagine the thrill... The year is 1952. You have been an ERB fan all of your life. You devoured ERB stories as they came out in the pulps, and you bought the ERB books in your local bookstore. You even bought some Tarzan toys, clipped out the comics from the newspaper, saw the movies, and you have a small stack of Dell Tarzan comics that you have been amassing, along with your older Sparklers, TipTops and oddball titles, like Hi-Spot.
You're sad that Edgar Rice Burroughs, the man who started it all, has been dead for a couple of years. You remember reading the small news item on one of the inside pages in your newspaper.
The only thing you really think you have to look forward to is the next Tarzan movie or next month's Dell comic.
Then, you walk into your local dime store and, as is your habit, you glance over the display of Whitman hardback books. What's this? "Tarzan and the City of Gold"! "Tarzan and the Forbidden City"!Both in bright, colorful dust jackets!
You reach into your pocket and happily discover you have just enough to buy the two books at 49 cents each. You walk on air all the way home.
The date is Oct. 6, 1952.
Oh, there will still be disappointments. You will assume that Whitman is going to publish other titles, and you go back to the dime store again and again, but no more Tarzan or other ERB books appear. Finally, the company does reissue the two "City" titles a couple of years later in printed covers, but don't publish any other titles until 1957 when a movie tie-in edition of "Tarzan and the Lost Safari" comes out. But that's written by someone other than ERB. Still, it is "something" and it's got Gordon Scott on the cover in a still from the Tarzan movie of the same name.
No more Whitman titles appear until the '60s Burroughs Boom is well under way. And then the company adds only "Apes" and an unfortunately truncated version of "The Return of Tarzan."
But that's okay. Oct. 6, 1952, in ERB history, was still a very happy day for you.
Tarzan and the City of Gold
http://www.erbzine.com/mag7/0725.html
City of Gold: Full book in eText
http://www.erbzine.com/craft/tzcitygold.html
Tarzan and the Forbidden City:
http://www.erbzine.com/mag7/0729.html
Forbidden City: Full book in eText
http://www.erbzine.com/craft/tzforbidden.html

Off-Site Reference
Charles Madison erbgraphics
---
*** When the moviemakers bought the rights to ERB's "The Oakdale Affair" on Aug. 9, 1918, they wasted no time getting a movie made. A year and about two months later the film was released, on Oct. 6, 1919. Alas, it's one of those "lost movies" so we don't know very much about it, although there's a plot summary and some pictures at ERBzine.
But we do know that the name of the lead character, played by Reginald Denny, was changed from Bridge to Stockbridge.
The Oakdale Affair: 1919 Film
http://www.erbzine.com/mag7/0765a.html
The Oakdale Affair: 1918 Book
http://www.erbzine.com/mag7/0765.html

---
*** 1940: ERB started "Men of the Bronze Age" Pt 3 of the new Pellucidar series
Men of the Bronze Age in Savage Pellucidar
http://www.erbzine.com/mag7/0747.html

---
OCTOBER 7
---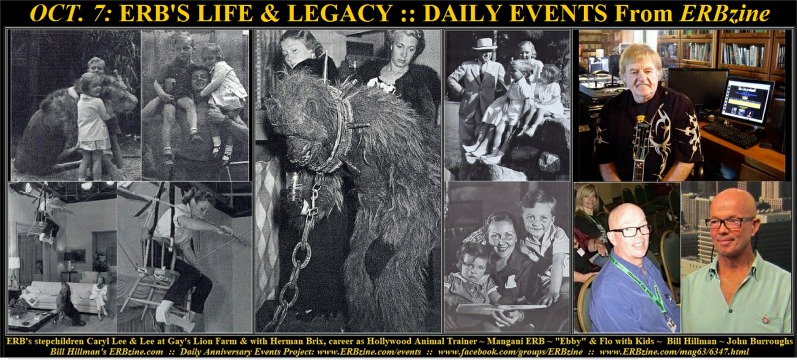 ERB's stepchildren Caryl Lee and Lee at Gay's Lion Farm and with Herman Brix, career as Hollywood Animal Trainer
Mangani ERB: cocktail through a straw ~ "Ebby" and Flo with Kids ~ Bill Hillman in ERBzine Office ~ John Burroughs
---
*** Of the many letters archived at Bill Hillman's ERBzine, some are from ERB to his stepdaugher, Caryl Lee. One such letter, dated Oct. 7, 1942, tells of ERB's opportunity to fire an anti-aircraft gun:
"The commanding officer of an anti-aircraft regiment has asked me to visit each of his batteries and give the men a fifteen- or twenty-minute talk. I am taken by an officer in a jeep or command car about noon, have luncheon with the officers of the battery, and then talk to the men. As I have an idea that they are bored stiff, I make it as short as possible. I am becoming very familiar with anti-aircraft guns. I have even fired one. I hit the sky right in the center."
"Ebby's" Letter to Stepdaughter Caryl Lee
http://www.erbzine.com/mag10/1024.html#Oct%207
---
*** Caryl Lee was the daughter of Ashton and Florence Dearholt, but it was ERB, or "Ebby," who she thought of as her father.
In an article about Caryl Lee, ERB fan Frank Puncer wrote:
"It would have warmed Burroughs' heart to know that this little girl he had loved as his own would, in her full adulthood, remember him so kindly as her father. In the many letters he wrote to her after their fateful separation he often expressed the hope that she would continue to love him. We can only wonder what ERB did with his love for Florence after their final goodbye. Perhaps he transferred a portion of it to Caryl Lee, not wanting those years of his second marriage to simply vanish in an ocean mist."
"Caryl Lee must have felt at the time that she didn't need another father. After all, it was 'Ebby' who had told her all of those funny 'Grandpa Kazink' bedtime stories; it was Ebby who had entertained her and Lee on family vacations, who had cavorted with them in swimming pools at Sunset Plaza, Palm Springs and Kailua. It was 'Ebby' who had donned a gorilla suit and pretended to be an escapee from the Los Angeles zoo, and who made for her a donkey out of coconuts at Lanakai. In a 1968 interview with Irwin and Cele Porges Caryl Lee said of her relationship with ERB: 'I felt part of him . . . I mean, they can say he didn't legally adopt you, he's not your father . . . it doesn't make any difference. He is my father, he was my father. This man raised me, gave me my childhood.' "
ERB's Stepdaughter Caryl Lee Tribute
http://www.erbzine.com/mag16/1637.html
---
*** Bill Hillman spoke up for ERB and his works in an interview for The Times of India. The article, dated Oct. 7, 2012, was based on an interview by correspondent Atul Sethi.
Bill put Sethi in touch with Dan's brother John Burroughs so he also interviewed John, grandson of ERB in a follow-up interview on Oct. 15.
Times of India Interviews with Hillman and Burroughs
http://www.erbzine.com/mag39/3913.html
---
*** In a promotion posted Oct. 7, 2014, the folks at ERB Inc. noted that "Edgar Rice Burroughs, the most influential Sci-Fi writer of all time, predicted the wide-spread use of wireless technology years before earthly adoption began." The example given was the traffic control as practiced in the city of Havatoo on the plant of Amtor, known to earthlings as Venus. The strip, "Carson of Venus," is one of many based on ERB's books and is part of a package offered for a monthly subscription of $1.99 at the Edgar Rice Burroughs, Inc., website:
Carson of Venus Strips from ERB, Inc.
https://www.edgarriceburroughs.com/?p=1543
Gaphic interpretations of ERB's books from ERB, Inc.
http://www.edgarriceburroughs.com/comics
---
*** 1935: Tarzan and the Immortal Men - (Tarzan's Quest in book form) started in Blue Book
Blue Book Pulp Biblio
http://www.erbzine.com/mag2/0228.html
Tarzan's Quest
http://www.erbzine.com/mag7/0727.html
---
*** 1938: The Italian magazine Unicum began the Carson of Venus serial
ERB Annotated/Illustrated Calendar of Events: October
http://www.erbzine.com/mag5/0570.html


VISIT OCTOBER WEEK 1 PHOTO ALBUM
www.ERBzine.com/mag63/6347pics.html



BACK TO SEPTEMBER WEEK 4
www.ERBzine.com/mag63/6346.html



BACK TO MONTHLY EVENTS INTRO and CONTENTS
www.ERBzine.com/events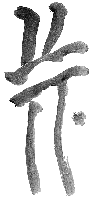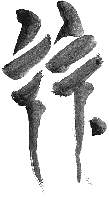 BILL HILLMAN
Visit our thousands of other sites at:
BILL AND SUE-ON HILLMAN ECLECTIC STUDIO
ERB Text, ERB Images and Tarzan® are ©Edgar Rice Burroughs, Inc.- All Rights Reserved.
All Original Work ©1996-2018 by Bill Hillman and/or Contributing Authors/Owners
No part of this web site may be reproduced without permission from the respective owners.