The First and Only Online Fanzine Devoted to the Life and Works of Edgar Rice Burroughs
Since 1996 ~ Over 15,000 Webpages in Archive
Volume 0210
ERB C.H.A.S.E.R ENCYCLOPEDIA
ERB C.H.A.S.E.R.: A Collector's Hypertexted and Annotated Storehouse of Encyclopedic Resources
by an Exhausted Scholar William G. Hillman
ILLUSTRATED BIBLIOGRAPHY and SILVER SCREEN Sections
Present
TARZAN AND THE VALLEY OF GOLD
By Fritz Leiber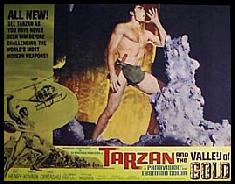 One of the few non-ERB Tarzan novels sanctioned by Edgar Rice Burroughs, Inc.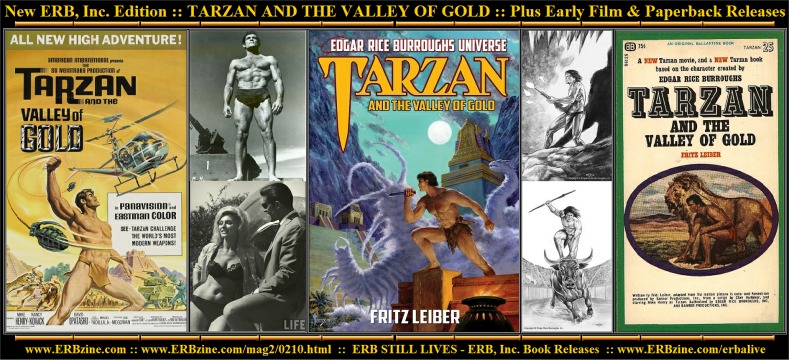 ---
Publishing History
---
A 317-page novel by Fritz Leiber based on the film script by Clair Hufaker
BALLANTINE BOOKS COVER BLURB:
It has been many years since the appearance of a truly original novel based on the world-famous character TARZAN—first created by Edgar Rice Burroughs. Now at last a magnificent tale of adventure, with the racing, thrilling action for which Burroughs was famous, has been created by Hugo Award winner Fritz Leiber, an adventure that is true to the real character of Tarzan, Lord Greystoke—who combined the wild savagery of his jungle background with the proud heritage of hundreds of years of civilization, who could hunt with the cunning patience of an animal and strike with the decisiveness of a man born to command. From the bullring of Mexico to the jungles of Brazil to the haunts of an ancient Incan city—here is a tale to set the heart drumming, the imagination soaring—a surperb perpetuation of the legendary figure first conceived in the mind of one of the world's greatest storytellers—EDGAR RICE BURROUGHS.
---
CHAPTER TITLES
1. The Gate of Fright
2. Aeródromo Meseta
3. South by V.A.R.I.G.
4. West by CRUZEIRO
5. "An Indolent People ..."
6. The Ticking of a Wristwatch
7. A Golden Child, a King of Hearts
8. "Die If Necessary ..."
9. The Importance of Discipline
10. The Sea of Trees and Jewels
11. The Two Armies
12. Paper Cuts Rock
13. Two-Thirds Feline
14. Jungle Jeito
15. In the Hoof Prints of Pizarro
16. The Religion of Death
17. The Frozen Princess
18. "Because It's There!"
19. The Glittering Daggers
20. The City of Gold
21. "... Matar Nunca!"
22. Pizarro Come Back
23. Karate Versus Tarzan
24. Electricity and Land Mines
25. To Kill a Panther
26. The Legend of Tucumai
Writing Comments by Fritz Leiber :: Review by John F. Roy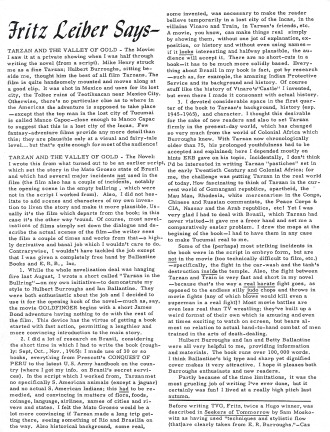 .

.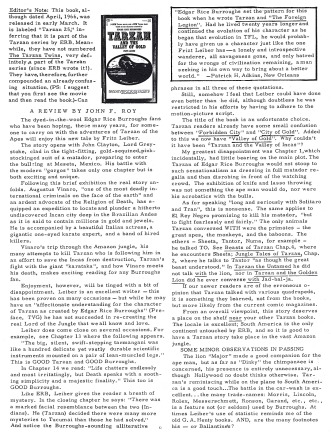 Open to full screen to read.
REFERENCES: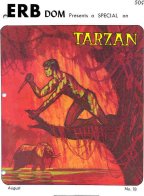 .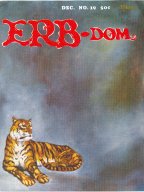 www.erbzine.com/mag1/0117.html
---

TARZAN AND THE VALLEY OF GOLD
Book Review contributed by Doc Hermes ERB Reviews

---


From April 1966, this is that rarity, a novelization of a screenplay (by Clair Hufaker) that is more detailed, credible and thoughtful than the movie itself. Fritz Leiber at first seems like an odd choice for this project--his later works dwelled increasingly on cute wordplay and baroque images-- but I have to admit that I had forgotten what a masterful wordsmith he really was. Leiber has stated many times how much he enjoyed the pulps and Edgar Rice Burroughs, and it shows here that hehas given a lot of thought to the Tarzan character.

Leiber's version of Tarzan is a good deal like Philip Jose Farmer's, only more virtuous and likeable. Well educated and sophisticated, he travels by jet with a letter of authority from Queen Elizabeth in his billfold, but he's more at home sharing at meal of raw peccary with the lion Major. We follow the Apeman's thoughts on many subjects, especially the nature of violence, and Leiber avoids the preachy little sermons Burroughs sometimes threw in.

It's interesting that when the Apeman strips off his light tweed suit and appears in loincloth, he suddenly becomes a bit frightening. "In putting off his clothes, he seemed to have become taller and at the same time brawnier and leaner, while his face had grown graver and harder..." His mannerisms change also as he beomes his truer self. One of his friends says, "You don't look like the same man at all."

The animal language that Burroughs devised (where 'numa' means lion) is described here as growls, grunts and rumblings rather than actual spoken words. The fact that a jaguar in Brazil responds to the African "vando sheeta" impresses Tarzan, who thinks, "Yes, it must be deeper than what human beings call language, as I've always thought.' There is also one very intriguing comment that "only a Neanderthal among men" would have understood this..there's something to think about.

The only real criticism I have of this book is that there is just too much travelogue and historical background about Brazil in the first half. Characters launch into detailed speeches with dates and names that read as if cut and pasted out of a textbook. At 316 pages, VALLEY OF GOLD would have benefitted from some judicious trimming.

Leiber goes to some lengths to explain exctly what kind of a megalomaniac Augustus Vinaro is. More than the standard James Bond-villain, Vinaro has an elaborate religion of Death worship that slowly reveals his increasing insanity. The precarious relationship with his captive girlfriend is believably ominous as she tries to cope with his touchy genius. The exploding jewelry (a simple visual gimmick in the movie) is given deep symbolic meaning here.

A touch I really enjoyed is that whenever Tarzan reflects on one of his past adventures, a footnote mentions the Burroughs book in which it happened. VALLEY OF GOLD doesn't go into the earlier stories in detail but the frequent (and accurate) references really help to convince that this is in fact Tarzan. And it is very satisfying that even TARZAN AND THE ANT MEN is mentioned as a past event, not dismissed as apocryphal. As when the Apeman casually says he has discovered living dinosaurs in Pal-Ul-Don, the statement simply stands for itself.

There are quite a few similarities between Tarzan and Doc Savage here, other than the constant references to "the bronzed giant". Although the Apeman is an expert shot and guns are one of his hobbies (!), he has a strong compulsion not to use a gun in a real fight and his reasoning is reminiscent of Doc's. "...he detested the way such guns made people rely on their machines and armies, not on the strength of their own bodies...and on the wit of their own minds." Far away, on the 86th floor, a voice says, "You've got that right."

There is much more in this book worth noting, including the idea that Tarzan himself is not certain why he has stayed young for so long, or how long it will continue to last. But the main point is that TARZAN AND THE VALLEY OF GOLD is well-crafted and thought out, thoroughly entertaining and deserving of more attention that it has gotten. I have only once actually seen a copy in a lifetime spent haunting used bookstores and local libraries, and it's a shame that this adventure is not kept in print.

---

THE SY WEINTRAUB TARZAN SERIES OF FILMS

---


This was one of the series of Tarzan films produced by Sy Weintraub:
Tarzan's Greatest Adventure (1959)
Tarzan the Magnificent (1960)
Tarzan Goes to India (1962)
Tarzan's Three Challenges (1963)
Tarzan and the Valley of Gold (1966)
Tarzan and the Great River (1967)
Tarzan and the Jungle Boy (1968).

Tarzan and the Valley of Gold was probably the best of the Weintraub series although at the time the main criticism of his production was that he was trying too hard to appeal to that more contemporary audience by turning Tarzan into a James Bond type hero. The action sequences are imaginatively thought out, the location shooting at Mexico's Aztec ruins is impressive, and the leads and villains are generally well cast. Former football star Mike Henry (Pittsburgh Steelers and the Los Angeles Rams) speaks in perfect English (American accent) and his well-muscled physique is well-suited to the role. He is perhaps though, too suave, sophisticated, and clean-cut to be a plausible Tarzan. Henry carried the role well, despite his limited acting experience (a few TV shows such as Cheyenne, and the film Spencer's Mountain).

---

FILM INFORMATION FROM IMDB

---

PLOT:
The international criminal Vinaro enjoys sending explosive wristwatches to his enemies. Here he kidnaps ten-year-old Ramel whom he thinks can lead him to the lost city of gold. Tarzan fights the evil Mr. Train, six-foot-six bodyguard of Vinaro, and rescues Sophia, who has been left to die with an explosive around her neck. Various animals help Tarzan locate Vinaro's tanks and helicopters, the city and the boy.~ Ed Stephan

CREDITS:
Director - Robert Day
Screenplay - Clair Huffaker,
Producer - Sy Weintraub
Photography - Irving Lippman
Music - Van Alexander
Effects - Ira Anderson Sr & Jr
Production Design - Jose Rodriguez
Granada. Production Company - AIP/Allfin.

CAST
Mike Henry ~ Tarzan
David Opatoshu ~ Augustus Vinero
Manuel Padilla Jr.~ Ramel
Nancy Kovack ~ Sophia Renault
Don Megowan ~ Mr. Train
Enrique Lucero ~ Perez
Eduardo Noriega ~ Insp. Talmadge (as Edwardo Noriega)
John Kelly ~ Captain Voss
Francisco Riquerio ~ Mango
Frank Brandstetter ~ Ruiz
Carlos Rivas ~ Romulo
Jorge Beirute ~ Rodriguez
Oswald Olvera ~ Antonio

Working Titles: Tarzan '65 and Tarzan '66 ~ 90 min

---

TRIVIA

---

By the time the film was released, Mike Henry had already shot all three of his other Weintraub films. Feeling he had been overworked, he sued the producers for "maltreatment, abuse, and working conditions detrimental to my health and welfare." This effectively put an end to their relationship.
Mike Henry starred in two other Weintraub Tarzan films: Tarzan and the Great River (1967 and Tarzan and the Jungle Boy (1968)
Taglines: All New High Adventure! ~ See Tarzan as you have never seen him before challenging the worlds most modern weapons!
Mike Henry was later offered the starring role in the Tarzan TV series. He turned it down and the role was given to Ron Ely.
Henry went on to appear in The Green Berets, Soylent Green, Rio Lobo, The Longest Yard and the Smokey And the Bandit series.
Nancy Kovack made an appearance in the original STAR TREK series where she played Nona, the wife of Tyree in the episode "A Private Little War."
Villain Don Megowan had played the creature in one of the Creature from the Black Lagoon films in 1956
Nancy Kovack's other 1966 film release was the Elvis Presley film, Frankie and Johnny
Fritz Leiber wrote the scripts for the Buck Rogers strip
Leiber won three Hugos during his lifetime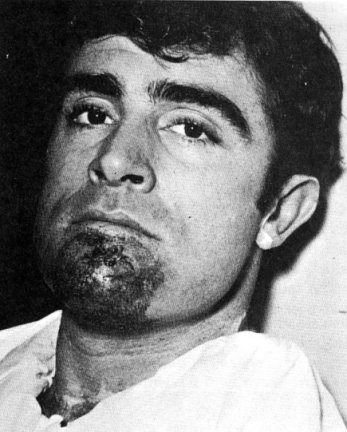 Mike Henry suffering from a chimp bite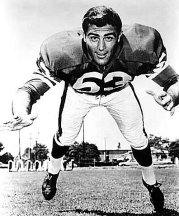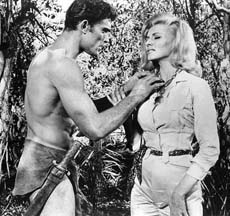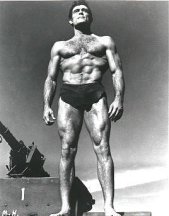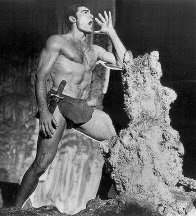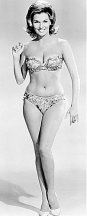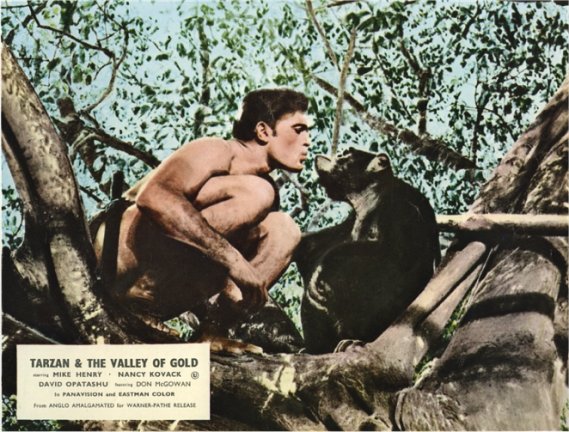 ---


Valley of Gold, Valley of the Vanished"
Review contributed by Doc Hermes ERB Reviews

---


Well. While re-reading the Doc Savage book THE GOLDEN PERIL recently, I was reminded strongly of the 1966 film TARZAN AND THE VALLEY OF GOLD and dusted off the tape for a viewing. The movie itself is enjoyable Saturday afternoon fun, if not a classic, but the similarities to Doc's mythology are worth noting.

Tarzan is called by the Mexican authorities to help a mysterious young boy find his lost city, and to prevent the vile mastermind Vinaro from slaughtering the primitive peoples of that city to loot their gold. (Sound familiar?) As the tanks and helicopters make their way toward Tucumai, Tarzan races to the rescue.

Now this movie was released in 1966. The Bantam reprints had been going strong for two years, and there was talk of making that Doc movie THE THOUSAND-HEADED MAN with Chuck Connors. So it is possible that Hollywood screenwriters and producers had the Man of Bronze in mind when they planned this film, but there's no way to tell.

A much bigger sensation at the time were the first three James Bond movies. Today, it's hard to realize just how popular 007 was then, but TV and movie theatres were packed full of Bond imitations. The beginning of VALLEY OF GOLD has Tarzan in a tan business suit, being flown into Mexico City in a helicopter to be briefed on his mission. Even the cheesy jazz music over the pop art credits had a Bond feel.

It certainly would have been possible to have produced this movie as a Doc Savage film. Mike Henry is as physically impressive as anyone could ask, muscular as a Bama painting. His acting is a bit stiff but not hopeless, and he would have been an okay choice to play Doc. The city (shot in the actual ruins of Teotihuacan) was presented as a surviving Incan civilization, not Mayan but the genuine setting was a real plus. And the movie's villain meets such a poetically fitting death, suffocated in a pile of the gold dust he coveted, that it would have fit right into a Doc story.

There is one very suggestive line, when the Incan leader Manco Cupac explains his speaking English is because of an explorer from the outside world who entered their valley in the chief's lifetime. Hmmm...was this outsider's name Clark Savage Sr and did he mention ambitious plans for raising a son? Guess we'll never know.

TARZAN AND THE VALLEY OF GOLD was also published in novel form by the great Fritz Leiber, the first time a writer other than Edgar rice Burroughs was allowed to do a book with the Ape Man. At 317 pages, the book deserves a thorough review someday. Leiber modifies his usual playful style, telling a headlong adventure tale that is more complex and sophisticated than the movie. I especially enjoyed the way Lieber sprinkled many references to Tarzan's classic ERB adventures, and the way he speculated on the Ape Man's longevity. It's too bad this book is so hard to find.
---

---

*** 1910: Fritz Reuter Leiber Jr. (1910.12.24-1992.09.05) was a Chicago-born writer of fantasy, horror, and science fiction. He was also a poet, actor in theatre and films, playwright and chess expert. With writers such as Robert E. Howard and Michael Moorcock, Leiber can be regarded as one of the fathers of sword and sorcery fantasy, having coined the term.

---

---

Fritz Leiber Obituary in the Times

---


Although often referred to as a science fiction author, Fritz Leiber lived in a world far more complex than that. He was the first to use the term 'Swords and Sorcery' to describe this particular SF sub-genre, and wrote of dark horrors of the commonplace: scratch the surface of urban life and there is something deeply sinister beneath. In this he could be compared to the director David Lynch

Ramsey Campbell. the highly regarded British horror author (whose own work touches Leiber territory) called him, "the greatest living writer of supernatural horror fiction". He certainly exerted an definitive influence on American fantastic fiction, drawing many of his own themes from Shakespeare, Edgar Allen Poe, H.P Lovecraft and the master of the English ghost story, M.R. James

Fritz Reuter Leiber Jr. was the son of a notable Shakespearean actor. Leiber Sr. had his own touring company and had starred in several silent films. Encouraged to join his father's company, Fritz Leiber toured with him in 1934, but left two years later when he married Jonquil Stephens. He decided to settle for a career as a writer, but during a brief spell as an actor he did manage to play a small part in Camille. Leiber was a graduate of the University of Chicago where he had majored in psychology and physiology, a grounding that helped the sub-structure of many of his stories

His interest in writing came from a long correspondence with a a close college friend, Harry Fischer. Together they developed alter ego characters: Nordic Fafhrd a tall gangly limbed individual from 'the North' - based on Leiber, and the effervescent Grey Mouser - based on Fischer. Leiber first featured the characters in a story, "Adepts Gambit", which featured a cast of creations in a world of mystic magic. The story was rejected, but the two character reappeared in his first published story "Two Sought Adventure", which was published in Unknown magazine

In these early days he was edited by John W Campbell, of Astounding Science Fiction (and author of The Thing From Another World). Although Leiber experimented with a variety of forms and sub-genres, the Fafhrd/Gray Mouser partnership was a series to which he remained faithful throughout his life. Many collections followed and one anthology, Ill Met in Lankhmar (1970), received the Hugo science fiction award.

Fritz Leiber's many awards included a Life Award for his contribution to his field, presented at the Second World Fantasy Convention. His writing career, though, underwent a roller-coaster progression, due mainly to chronic alcoholism, a condition about which he openly spoke and wrote. There were occasions when he appeared almost completely to disappear from public view, although he produced over 40 books.Leiber's first major work as an SF author came with his novel Gather, Darkness! (1943), concerning the overthrow of a religious dictatorship.

The most interesting side of Leiber's fiction is his pre-occupation with the threat of modern urban horror, city life and its web of terrors gradually corrupting the psyche: The Automatic Pistol (1940) featured a gun with a life of its own, and Smoke Ghost (1941) presented the tensions of a pressured metropolitan worker. For many followers of fantastic fiction the novels were a turning point in the field. In The Black Gondolier (1964), a darkly portrayed Death-figure becomes the emissary of oil, a metaphor for the pollution of the environment.

Leiber was also fascinated with the idea of the femme fatale. He used witchcraft as a metaphor for feminine cunning and realised this in one of his most famous novels, Conjure Wife (1953). The novel was filmed as Night of the Eagle in 1962, featuring Peter Wyngarde as a college professor. It was not much regarded at the time but has since become a cult movie.Leiber often referred to Shakespeare's dark lady but his pre-occupation culminated in the last and best of his later novels, Our Lady of Darkness. It is not only a homage to the horror genre, it is the natural resolution of his previous work.

Four months ago he married Margo Skinner, his partner for the past 20 years. He is also survived by his son Justin, from his marriage to jonquil Stephens (who died in 1969). Fritz Leiber was a gracious man, willing to give time to his many fans who would queue to speak to him at Fantasy and Science Fiction conventions. He regularly contributed a column to the SF trade magazine, Locus, and was most articulate when discussing the genre's pre-occupations. Of supernatural horror fiction, he said "What is the whole literature of supernatural horror, but an essay to make Death itself exiting - wonder and strangeness to life's very end?".

---


TURNER CLASSIC MOVIES SYNOPSIS:
In Central America, a little native boy, Ramel, is abducted by Vinaro, a madman who believes the child to be the sole link to a lost Aztec city of gold. Vinaro uses one of his diabolical explosive mechanisms to eliminate police and army officials; and the legendary Tarzan is flown in to help locate the jungle city. After trading his civilian clothes for a leather loincloth and a knife, Tarzan sets out on his mission, aided by a chimpanzee, a jaguar, and a lion. He rescues the boy, saves the life of Sophia Renault, Vinaro's former mistress, and finds the secret caves that lead to the lost city. Once there, however, Tarzan is unable to persuade the aged chieftain, Manco, that he must resort to violence if he is to protect his city from Vinar. Consequently, when the madman arrives with troops and armored tanks, Manco offers him a fortune in gold. The insatiable Vinaro demands more, and Manco leads him into a chamber where Vinaro pulls a lever and releases a shower of gold dust that entraps and suffocates him. Simultaneously, Tarzan engages the mercenaries in battle and successfully defeats them. As Manco observes sadly that violence is sometimes necessary to preserve one's way of life, Tarzan and Sophia leave the valley of gold and return to modern civilization.

---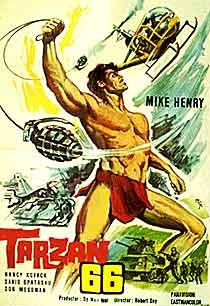 'SEE TARZAN AND JANE FINALLY MEET THEIR MATCH!':
The Archetypal Symbols and Erotic Sub-Texts of
Tarzan and His Mate and Tarzan and the Valley of Gold
by Eric Wilson
ERBzine 1753 | ERBzine 1753a

ENTER THE MIKE HENRY -
TARZAN AND THE VALLEY OF GOLD GALLERIES
Posters ~ Stills ~ Lobby Cards
.
WEB REFS
ERBzine Silver Screen Movie Illustrated Reference Guide
Mike Henry Wikipedia Bio
Movie Summary
Tarzan? Jane?
Jungle Brothers: Wold Universe
Triple Tarzan Triangle
Tarzan and the Jungle Boy
At-A-Glance Film Review
Mike Henry at Brian's Drive-In
Fritz Leiber Wikipedia Bio
ERBzine Silver Screen Presents
The Mike Henry Tarzan Films Tribute
From



Presents
The Fantastic Worlds of Edgar Rice Burroughs
ERB Companion Sites Created by Bill Hillman
| | | | |
| --- | --- | --- | --- |
| Tarzan.com | ERBzine.com | DantonBurroughs.com | Tarzan.org |
| BurroughsBibliophiles.com | JohnColemanBurroughs.com | Tarzan.com/tarzine | JohnCarterOfMars.ca |
| ERBzine.com/edgarriceburroughs | Weekly Webzine | Weekly Webzine | Pellucidar.org |
| John Carter Film | ERB, Inc. Corporate Site | ERB Centennial | tarzana.ca |
BACK TO ERB C.H.A.S.E.R. NAVIGATION CHART
BACK TO: ERBzine Silver Screen Movie Illustrated Reference Guide

. WEBJED: BILL HILLMAN .


Visit our thousands of other sites at:
BILL AND SUE-ON HILLMAN ECLECTIC STUDIO
Some ERB Images and Tarzan© are Copyright ERB, Inc.- All Rights Reserved.
All Original Work ©1996-2004/20189by Bill Hillman and/or Contributing Authors/Owners
No part of this web site may be reproduced without permission from the respective owners.