Official Edgar Rice Burroughs Tribute and Weekly Webzine Site
Since 1996 ~ Over 15,000 Webpages in Archive
Volume 6312

ERB'S LIFE and LEGACY :: DAILY EVENTS
A COLLATION OF THE DAILY EVENTS IN ERB-WORLD
FROM THE PAGES OF ERBzine CREATED BY BILL HILLMAN
Collated by John Martin and Bill Hillman
With Web Design, Added Events, Links,
Illustrations and Photo Collages by Bill Hillman
DAILY EVENTS CONTENTS

CONTENTS
JANUARY WEEK II
January 8 :: January 9 :: January 10
January 11 :: January 12 :: January 13 :: January 14
---
JANUARY 8
---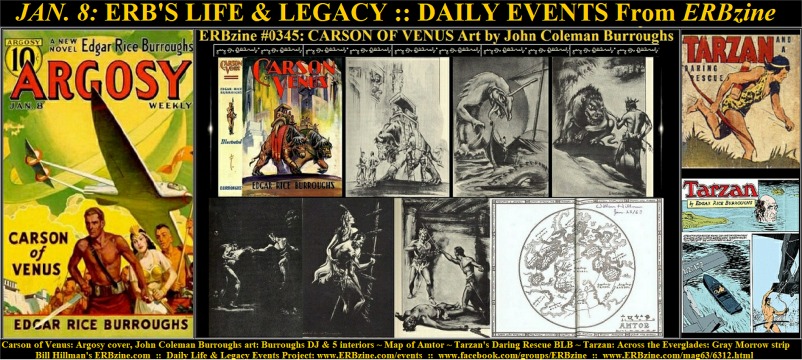 Carson of Venus: Argosy cover, John Coleman Burroughs art: Burroughs DJ and 5 interiors ~ Map of Amtor
Tarzan's Daring Rescue BLB ~ Tarzan: Across the Everglades: Gray Morrow strip
---
*** The serial of "Carson of Venus" began in "Argosy" on Jan. 8, 1938, and ran for a total of six installments.
The primary location of this story, the third book in ERB's Venus series, is the kingdom of Korva in the country of Anlap, centered around the cities of Sanara and Amlot. But there was a brief interlude at the start of the book where Carson and Duare played capture and escape with a tribe of people in which women dominated, and the weak men answered to names such as Lula and Ellie.
The Nazi-like Zanis controlled the city of Amlot and were besieging Sanara, but with Carson on the job the war was soon won by the guys with whom Carson was friendly, and he not only won the right for him and Duare to live in Sanara, but also became the adopted son of Taman, the new jong of Sanara.
ERB began writing "Carson" in 1937 and the rise of Adolf Hitler's Nazi Germany influenced him to bring a Nazi-like regime in as Carson's new foe. The story is a smorgasbord of satire, with ERB using his Zani characters to show that much of Nazi practice was ridiculous, while – at the same time – illustrating the horror of it all.
The Del-Rey paperback of the story shows the copyright date as 1930 – a neat trick for a book not written until 1937 and not published for the first time until 1938! Someone with only the Del-Rey paperback might incorrectly conclude that all of ERB's Nazi-Zani references were an amazing bit of prophetic writing!
Some of the things ERB parodies, such as the Nazi greeting, salute and marching style, were well-known when he wrote the story. However he is indeed prophetic, in Chapter 10, "The Prison of Death," in which he describes the horrors of Zani imprisonment and torture, and even includes a furnace where the bodies of the slain prisoners are cremated. Though the Nazi persecution of the Jews and others was well under way, in ever-escalating phases in the 30s, the death camps and furnaces were a thing yet in the future when ERB wrote this novel.
Assigned to prison staff duty, Carson was given a tour by a Zani guard who showed him an imprisoned doctor whose crime was that he had alleviated the agony of an Atorian who was dying of an incurable disease. "Can you imagine?" asked the guard.
Carson's reply was far over the head of the guard's discerning abilities: "I am afraid that my imagination is permanently incapacitated. There are things that transcend the limits of a normal imagination. Today you have shown me such things."
Carson of Venus: ERBzine Bibliography series
http://www.erbzine.com/mag7/0750.html
Carson of Venus: Pulp covers in the ERBzine Pulp Biblio
http://www.erbzine.com/mag2/0229.html
Articles on Amtor
http://www.erbzine.com/mag45/4510.html
Carson of Venus: Read the e-Text edition in ERBzine
http://www.erbzine.com/craft/v3cv.html

Off-Site Reference
ERB Summary Project
---
*** As the years passed, and more about the murderous Nazi regime became known, ERB took other shots at them, and in particular at Hitler. On Jan. 8, 1942, in a "Laugh It Off" column, ERB wrote:
"THE YANKS ARE COMING! That war cry brought hope to our embattled allies 24 years ago. As it rings out again today, it brings hope to the whole world of human beings -- which does not include Hitler and his stooges.
"It has been reported that when Adolf is thwarted he flies into a hysterical rage, throws himself on the floor and chews the edge of the rug. After he heard the President's promise of 60,000 planes, 45,000 tanks, and 8,000,000 tons of shipping this year and about twice as many next year, the nazis had to refurnish the room completely."
(Almost sounds like something he could have written about Mephis!)
The Laugh It Off columns:
http://www.erbzine.com/mag17/1754.html
---
*** "Tarzan and a Daring Rescue," a Whitman Big Little Book, is one of those items that is so rare you seldom see it, and when you do see it, it has a rather high price! It was copyrighted Jan. 8, 1938, the same date as the first "Carson" installment in "Argosy," and was a Pan-Am Motor Oil giveaway.
But if you don't have it, you can see the cover as well as the covers of many other Tarzan BLBs in ERBzine:
Big Little Book Cover Gallery
http://www.erbzine.com/mag0/0044b.html
...and the inside is 31 illustrations and story adapted from the Rex Maxon strip, "The Return of Tarzan," and you can see ALL the Maxon panels in ERBzine:
The Return of Tarzan: The Rex Maxon adaptation in daily strips
http://www.erbzine.com/mag20/2011.html
---
*** "Across the Everglades," by Gray Morrow and Don Kraar, began in newspapers Jan. 8, 1984, and ran for 12 weeks.
Across the Everglades: 12 Tarzan Sunday pages by Morrow and Kraar
http://www.erbzine.com/mag35/3506.html

---
JANUARY 9
---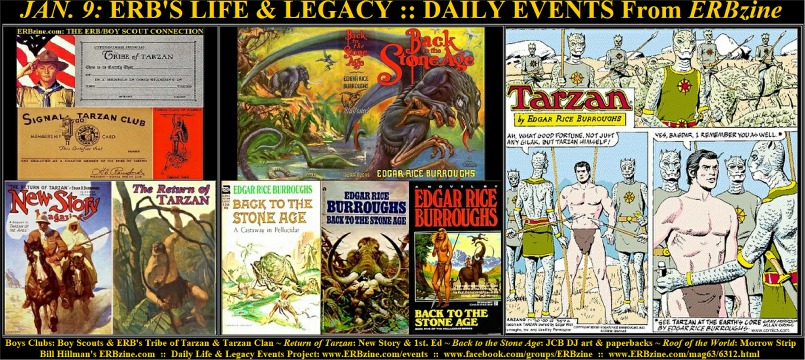 Boys Clubs: Boy Scouts and ERB's Tribe of Tarzan & Tarzan Clan ~ Return of Tarzan: New Story and 1st. Edition
Back to the Stone Age: JCB DJ art and paperbacks ~ Roof of the World: Gray Morrow Tarzan Strip
---
*** In the world of ERB, there's the BSA of Van and the BSA of Von.
The Van was the Van Nuys News in Southern California, which carried ERB's byline for several days in late August and early September of 1928, when it printed a series of articles he had written about the history of the BSA -- the Boy Scouts of America.
The Von was Willhelm Von Horst, hero of ERB's late 1930s BSA story -- "Back to the Stone Age."
When it first appeared in print on Jan. 9, 1937, the latter story was unknowable by the BSA initials, however, since its first title was "Seven Worlds to Conquer." That was the title used by "Argosy Weekly"
when it serialized the account over six issues of the pulp magazine. Emmett Watson did the colour cover for the first issue and Samuel Cahan provided a black and white interior for each installment.
Von Horst had been aboard the dirigible, the O-220, in which Tarzan and others had flown through the polar opening to the Earth's core, to rescue David Innes from a dungeon in Korsar. Much of the crew had become temporarily lost in Pellucidar in that story, "Tarzan at the Earth's Core," but all -- with the exception of Von Horst -- eventually found their way back to the ship.
BSA detailed the stranded Von Horst's adventures in fighting his way through peril after peril while winning the heart of the spunky La-Ja.
ERB had actually taken the name of the dirigible from his valley phone number.
The ERB / Boy Scouts Connection
http://www.erbzine.com/mag17/1795.html
Back to the Stone Age: ERBzine's C.H.A.S.E.R. info page on the story
http://www.erbzine.com/mag7/0745.html
Back to the Stone Age: Read the entire text in ERBzine
http://www.erbzine.com/craft/p5btsa.html

Off-Site Reference
A quick summary of the book
---
*** Thomas Metcalf was a lot harder to please than most ERB fans. When ERB submitted his manuscript for a story he titled "The Ape-Man" to Metcalf, the editor of "The All-Story" wrote back with a load of criticism, starting with the fact that he didn't like the way the story started! And it seems he didn't like much else either.
Fans, though, have always found much to like about the story, which was retitled as "The Return of Tarzan" when it was eventually published by Metcalf's rival, "New Story." One of the things I personally liked was the part where Tarzan and the Waziri follow the marauding Arabs and start picking the enemy off one by one. Metcalf, however, found that to be "tedious."
After ERB wrote his Jan. 9, 1913, cover letter to "My dear Mr. Metcalf," along with the manuscript, only to receive a wad of Metcalf's picky comments in return, ERB dropped the niceties and addressed his next letter, simply, "Dear Metcalf." And that should have proven to Metcalf that ERB was, indeed, a great writer, with the ability to get his point across even with the shortest of salutations!
The Return of Tarzan: History ~ Art ~ e-Text
http://www.erbzine.com/mag4/0484.html
The Burroughs / Metcalfe Letter Exchanges
www.erbzine.com/mag28/2836.html
---
*** "The Roof of the World," by Gray Morrow and Allan Gross, began in newspapers Jan. 9, 2000, and ran for 16 Sundays.
The Roof of the World: 16 Tarzan Sunday pages by Morrow and Gross:
http://www.erbzine.com/mag34/3485.html

---
JANUARY 10
---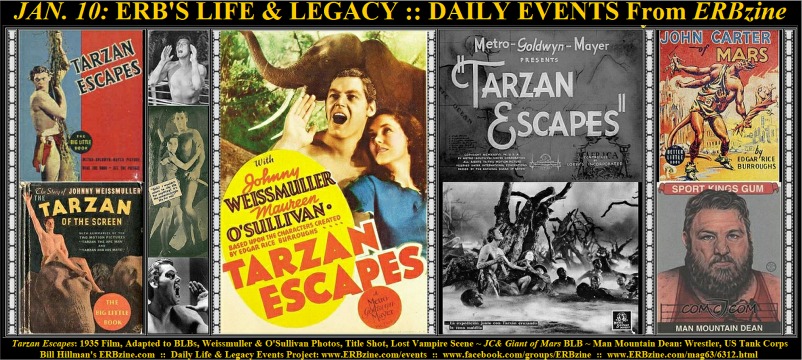 Tarzan Escapes: 1935 Film, Adapted to BLBs, Weissmuller and O'Sullivan Photos, Title Shot, Lost Vampire Scene
John Carter and the Giant of Mars BLB ~ Man Mountain Dean: Wrestler, US Tank Corps
---
*** Back on Nov. 6, 1935, the MGM film "Tarzan Escapes" was released. Two months later, on Jan. 10, 1936, The Big Little Book version of the story was copyrighted. Read the Big Little Book version
Tarzan Escapes: ERBzine Silver Screen
http://www.erbzine.com/mag6/0618.html
Tarzan Escapes: Adapted to a Big Little Book
http://www.erbzine.com/mag6/0648.html
---
*** Some of the Big Little Books, were abridged versions of ERB stories, and some, such as "Tarzan in the Land of Giant Apes" and "Tarzan and the Journey of Terror," were based on Dell comic stories. Five were based directly on movies. In addition to "Tarzan Escapes," there was "Tarzan the Fearless," "Tarzan of the Screen," "New Adventures of Tarzan" and "Tarzan's Revenge."
Tarzan the Fearless: Big Little Book adaptation keyed onto the web by Bill Hillman
http://www.erbzine.com/mag5/0596.html
Tarzan of the Screen: Big Little Book adaptation keyed onto the web by Bill Hillman
http://www.erbzine.com/mag6/0612.html
All about Tarzan (and John Carter) Big Little Books starting at:
http://www.erbzine.com/mag0/0044b.html

My how things have changed! Back then, after a film played for maybe three or four days at the local theater, you never saw it again. And after you and your friends had read all of your comics until the covers and middle pages were missing, it would have been nice to find a BLB that reprinted the comic story. Today, with old movies on TV and the internet and DVD copies we can watch just about any movie any time we want -- including "Tarzan Escapes." It's nice to be so spoiled!
---
*** For his Jan. 10, 1942, "Laugh It Off" column, ERB made a note about Man Mountain Dean: "Appropriate: Man Mountain Dean, the 280 pound wrestler, has enlisted in the tank corps. I have met a lot of chaps on Oahu who could qualify for the tank corps, though not necessarily on the strength of avoirdupois." Man Mountain Dean served both in World Wars I and II.
ERB's "Laugh It Off" columns:
http://www.erbzine.com/mag17/1754.html#10

Off-Site Reference:
Man Mountain Dean in Wikipedia

---
JANUARY 11
---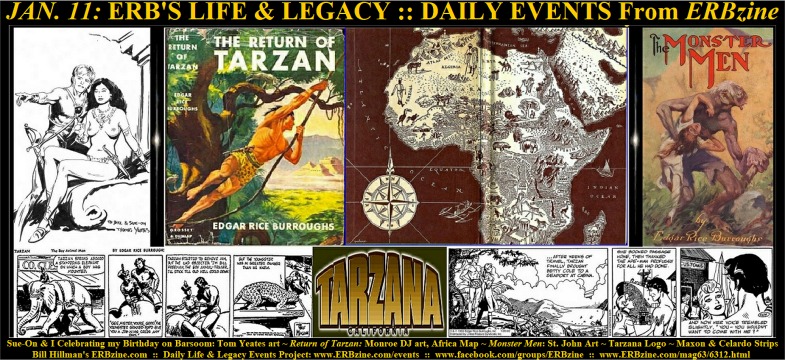 Sue-On (my Dejah) and I Celebrating my Birthday on Barsoom: Thomas Yeates art ~ Return of Tarzan:
Monroe DJ art, Africa Map ~ Monster Men: St. John Art ~ Tarzana Logo ~ Maxon and Celardo Tarzan Strips
---
*** Not everyone keeps track of exactly what day they acquired each ERB book, but Bill Hillman is one who did. "Until the ACE, Ballantine, and Canaveral editions flooded the market in the '60s, finding these titles was a major accomplishment for a kid," said Bill. "With blissful ignorance, I lovingly entered my name, address and date of purchase into each book as it fell into my hands."
Two of those dates are Jan. 11, for "The Return of Tarzan," the 1950s G&D edition, in 1955, and, for "The Monster Men," the old G&D, in 1958.
The books received on this date were very special -- they were both birthday presents. The '55 present was unforgetable as described in ERBzine 6263 We were going through a bit of a stressful time in January '55 since my grandfather, John Campbell, had just been hospitalized in serious condition. I sought solace in reading my birthday gift -- a really exciting Tarzan tale. Curled up on the chesterfield with our pet cat on my lap, I had reached Chapter XXV: "Through the Forest Primeval," when my mom answered the phone. The news was not good -- Grampa had just died. Mom screamed -- I leaped up and the cat fell from my lap. As the cat fell, her claws ripped a gash across a page in my new ERB book. I still have the book and every time I reach page 295 the memories of that day come rushing back.
List of ERB books in the order I found them (early years) - Bill Hillman
http://www.erbzine.com/mag0/0006.html
The Return of Tarzan: ERB C.H.A.S.E.R. Biblio
http://www.erbzine.com/mag4/0484.html
The Monster Men: ERB C.H.A.S.E.R. Biblio info
http://www.erbzine.com/mag7/0756.html
William G. Hillman: A Burroughs Biblio-Pro-Phile
http://www.erbzine.com/mag5/0573.html
My Return to Tarzan 1955
http://www.erbzine.com/mag62/6263.html
---
*** We all know that ERB tried a variety of occupations before he finally succeeded as a writer, but he also continued to explore and sometimes try various other occupations after he became a professional writer, as well. Once, ERB announced that he was ready to start his own transit system, to be known as The Tarzana Stage Line. It was on Jan. 11, 1923, when the L.A. Times ran the story about the "Laird of Tarzana" filing an application with the city.
"I have no desire to go into the stage line business," he said, "but I am interested in obtaining stage service across San Fernando Valley. The existing stage line buses go like h--l, are always crowded, and give no local service, so I thought I'd start a stage line myself."
Was ERB serious? He was no doubt serious about wanting stage service, but perhaps, in filing his application, he was not that serious about starting such a company himself, but more than likely was lighting a fire under the existing company by raising the specter of competition. The story states that he would withdraw his application if the existing company worked out some way of providing the service he desired.
We can imagine that something was worked out. And so, when ERB gatherings take place in the Tarzana neighborhood -- alas -- there will be no opportunities for ERB fans to pose for photos in front of a vintage motor coach with the name "Tarzana" on it.
LA Times Story on ERB
http://www.erbzine.com/mag14/1441.html
---
*** "The Revolt of the Beasts," by Rex Maxon and Don Garden, began Jan. 11, 1943, in daily newspapers and ran for 58 days.
The Revolt of the Beasts: 58 daily Tarzan strips by Maxon and Garden
http://www.erbzine.com/mag54/5413.html
---
*** "Tarzan and the Ghost" by John Celardo and Dick Van Buren, began Jan. 11, 1954, in daily newspapers and ran for 34 days.
Tarzan and the Ghost: 34 daily strips by Celardo and Van Buren:
http://www.erbzine.com/mag38/3802.html

---
JANUARY 12
---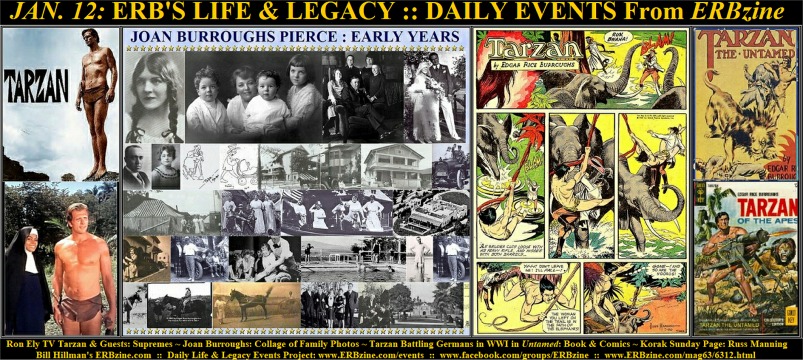 Ron Ely TV Tarzan and Guests: The Supremes ~ Joan Burroughs: Collage of Family Photos
Tarzan Battling Germans in WWI in Tarzan the Untamed: Book and Comics ~ Korak Sunday Page: Russ Manning
---
*** The Supremes didn't sing "Baby Love" and they didn't do the "Baby Elephant Walk" when they played three nuns on an episode of Ron Ely's TV "Tarzan" on Jan. 12 in 1968. As nuns, though, they paddled their canoe while singing "Michael, Row the Boat Ashore." That one didn't make it onto their album of "The Supremes Greatest Hits." They played three nuns who had come to a native village to set up a hospital and became unwitting pawns in a struggle between the village chief and a scheming land developer.
See the summary of this Episode and dates and summaries of the entire Ely Tarzan series at ERB-TV:
ERB-TV Tarzan Summaries
http://www.erbzine.com/mag0/0014.html
---
*** On Jan. 12, 1908, the history of Joan Burroughs (pronounced Jo-Anne by the Burroughs family) began as she was born to Ed and Emma at Chicago's Park Avenue Hospital. From the ERB Bio Timeline: "Ed dotes on new baby: Joan is a son-of-gun, she is THE BOSS of the ranch. She is spoiled, ruined curdled. But what do we care. We are proud of it."
Just what Joan thought the first time she got a glimpse of her father hasn't been recorded. However, on another Jan. 12, in 1942, ERB described himself in unflattering terms. Writing in his "Laugh It Off" column, he said, "I had my picture taken the other day for my press pass. If Chief Gabrielson or the FBI ever sees it, I'll be wearing horizontal stripes. They are all that it lacks."
Joan Burroughs Bio in ERBzine
http://www.erbzine.com/mag11/1102.html
ERB Bio Timeline
http://www.ERBzine.com/bio
---
*** In the same column, ERB wrote: "It is reported that Nazi morale is going -- probably to join their morals, which have always been gone."
Yes, ERB had reason to be a bit miffed at some Germans, and the onset of World War II didn't help matters. Many years earlier, he had written a brief article about his book-writing career and several newspapers had run it, including "The Tacoma News Tribune" on Jan. 12, 1934.
Among other things, ERB wrote in that article: "In Germany he (Tarzan) aroused the jealousy of a publisher because of his popularity, and this good sportsman dug up a story that I had written during the heat of anti-German propaganda in this country following the sinking of the Lusitania. He had a book written and published, telling all about the two horrible creatures, Tarzan of the apes and Edgar Rice Burroughs; and he distributed it so effectively that the German press made Tarzan an issue, lambasting him editorially and advising all good Germans to throw their Tarzan books into the garbage cans -- which they did."
The German issue cropped up periodically during ERB's career. On another Jan. 12, in 1928, he "...expresses bewilderment to his publisher that his name is not in Publishers' Weekly list of the ten most popular authors in America. By all reports, his book sales are among the three highest in the country. He attributes this rejection to the snobbishness of the literary intelligentsia and the German furor against some of his books."
The ERB/German Incident
http://www.erbzine.com/mag32/3294.html
The News Tribune Article:
www.erbzine.com/mag17/1788.html
---
*** "Korak and the Elephant Girls," by Russ Manning, began Jan. 12, 1969, and ran for 20 Sundays.
Korak and the Elephant Girls: 20 Weekly Sunday Pages
http://www.erbzine.com/mag17/1762.html

---
JANUARY 13
---
Edgar Rice Burroughs photos from WWII: Oldest WWII Press Correspondent ~ Painting by son John Coleman
Tennis with Burnsides and Hully ~ Canteen ~ Press Briefing ~ New Caledonia
---
*** ERB's "Laugh It Off" column would continue to run in the "Honolulu Star Bulletin" through Jan. 28, 1942. Here's some of what he wrote on Jan. 13:
"These," said a man finishing a midnight snack during blackout, "must be a new brand of sardines. They had a different flavor." His wife turned her flashlight on the empty can. "That was canned dog food, you sap," she said. "You have eaten Fifi's breakfast."
A young seaman was bending over his work below deck on the morning of December 7 when something hit him in the seat of his pants. He wheeled around and swung a haymaker for the chin of the fresh guy, only to find that there was no one there. Then he felt around and pulled a shell fragment out of his trousers. It had come in through an open porthole.
From a letter signed only "Sylvia": "The reason the war is 'running out' on you, is that you live at a hotel where there are flunkies to do the blackout and air raid shelter work." Sister, we ain't got any air raid shelters; and the flunkies are so busy laying out our evening clothes and putting studs in our dress shirts that they haven't had time to dig 'em.
Sylvia also says that some of us guys who have been released from guard duty and have nothing to do should volunteer to dig shelters for defense workers who are employed all day long. That is a sound suggestion, and I am sure that the proper authorities would receive generous response from men physically able to do this work.
Sylvia again: "I don't suppose that you resemble Tarzan: but if you can play tennis, you can dig." If you could see my tennis dear, you might change your mind. Furthermore, I dug my quota of ditches in Arizona for the commanding officer of the 7th cavalry, probably before Sylvia's father was born; and I ain't digging no more ditches. However, if anyone wants to dig a ditch, I'll loan him a shovel and help him grunt.
The Laugh It Off Columns:
http://www.erbzine.com/mag17/1754.html
---
*** Speaking of ERB's tennis, in a letter a few days before the Jan. 13 column, ERB had written to daughter Joan and said, "Hulbert and I manage to get in from three to five sets of tennis every day. It helps to keep us in condition.
"Our partners are usually Cecil Burnside, whose husband is a submarine commander, and 'Duke' Wylie (sic), a Mainland business man stranded here like myself."
The photo accompanying this post shows the foursome of, from left, Hulbert, Willey (Wylie), Deedee "Cecil" Burnside, and ERB. From the photos sent to me to share in ERBzine.
Rare Wartime Photos from the Deedee (Cecil) Burnside Collection
http://www.erbzine.com/mag41/4139.html

The World War II history book, "Silent Victory," by Clay Blair Jr., mentions Cecil's husband several times. Lt. Commander John L. "Johnny" Burnside was skipper of the USS Saury, SS-189, a Sargo-class submarine named for the long-beaked relative of the flying fish, found in the temperate regions of the Atlantic.
The Saury was in Manila when Pearl Harbor was attacked and immediately began the first of three patrols under Burnside. A patrol could last from one to two months, on average.
The Saury seemed to be out of luck in engaging the enemy, its orders taking it to areas where action may have been anticipated but didn't materialize. On a couple of occasions, when the Saury did have an opportunity to fire torpedoes at Japanese destroyers, it missed. That may not have been the Saury's fault. The book notes: "The war had shown some deficiencies in U.S. submarines. The most serious...were torpedo problems. It was now clear that the Mark XIV was running deeper than set and that the magnetic exploder was not always reliable. The H.O.B. engines had not borne the test of combat well; those boats with H.O.B engines would ultimately receive Wintons or Fairbanks-Morses as replacements." [Burnside's Saury was one of those with the less than efficient engines.]
The Saury under Burnside did have some close calls, when it had to dodge depth charges from Japanese destroyers.
Eventually Burnside was moved to surface ships and the Saury assigned to someone else. With its upgraded power, it went on to sink several ships and win seven battle stars.
Cecil was spared the loss of her husband in combat. Unfortunately, however, he contracted Hodgkin's disease, spent most of the rest of the war in hospitals, and passed away on Oct. 9, 1946, more than a year after the war ended.

---
JANUARY 14
---
ERB Poem, Article and Colourized Photo featured in ERBzine ~ Tarzan and the Golden Lion: James Pierce
Tarzan Radio Show: Starring Jim and Joan as Tarzan and Jane ~ Tarzan the Fearless: Film, Strips, BLB
---
*** James Pierce said his one outing as the ape-man in "Tarzan and the Golden Lion" helped to kill his film career, since he had been typecast. He almost got a chance to be in another Tarzan film, though. On Jan. 14, 1929, ERB inked a contract with two moviemakers -- G. Walter Shumway and Jack C. Nelson, for a new film to be titled "Tarzan the Fearless." ERB made sure that the contract specified that Pierce, who had become his son-in-law, would get the title role.
However, along came Sol Lessor in 1932. Lessor bought out the contract and gained the right to cast whomever he wanted. Pierce had apparently put on a few pounds and had less-toned muscles, so Lessor wasn't anxious to use him. He gave him a perfunctory screen test, though, and then said to Pierce, "Don't call us. We'll call you. And by the way, don't call yourself Tarzan." (or something like that...)
But, like John Carter, Pierce could say "I still live," as he lived on... playing Tarzan on many radio episodes.
*** Through the years I've collected thousands of radio shows from '20s-'60s. My first acquisition were 77 episodes of their 1932 Tarzan series. In 1972, when Sue-On and I met the Pierces in Tarzana they said that they hadn't heard these shows for decades. When we returned home to Canada I sent them tape reel copies of the shows. Some time later I was surprised to receive a huge box of Burroughs edition books and dust jackets from Tarzana. They've become favourite items in my ERB collection.
Listen to my 77 Tarzan Radio Shows starring Jim Pierce and Joan Burroughs.
http://www.erbzine.com/mag27/2728.html
Tarzan and the Golden Lion: Silent film starring James Pierce
http://www.erbzine.com/mag5/0591.html
Tarzan the Fearless: ERBzine Silver Screen entry
http://www.erbzine.com/mag5/0595.html
---
*** "Tarzan the Fearless" isn't near the top of many fans' lists of favorite Tarzan stories, but it has had a remarkable number of encores in various formats. It was originally a 12-chapter serial, released in 1933, but the first four episodes were edited into a movie with the same title.
Read the serial's Chapter One script that I've keyed into my ERBzine pages to share with readers. "Tarzan the Fearless" has also been available as a Big Little Book by Whitman, featuring stills from the film; a magazine-size paperback by L.W. Currey, Inc., and VHS and DVDs by any number of companies with a variety of sleeve and clamshell art.
The Maxon comic story in the Currey book includes Dr. Brooks and his daughter Mary, characters from the movie-serial, but also uses characters with other names and different settings.
Tarzan the Fearless: Serial
http://www.erbzine.com/mag5/0599.html
Tarzan the Fearless: Serial Script for Ch. One
http://www.erbzine.com/mag51/5123.html
Tarzan the Fearless: Big Little Book
http://www.erbzine.com/mag0/0044b.html
Tarzan the Fearless: 96 Daily comic strip adaptation by Rex Maxon
http://www.erbzine.com/mag40/4064.html
---
*** At least one of Tarzan's adventures was never printed in the official canon, but found its way into print, instead, via "Rob Wagner's Script," the magazine for which ERB is well-known for having written several short detective mysteries.
But Tarzan himself made his appearance in "Script" on Jan. 14, 1939, in a story titled "Even Apes Fight For It." The story was not identified as a Tarzan story, but began with a peaceful jungle scene featuring an ape tribe and such other Tarzan novel characters as Tantor, Numa and Usha. The head ape, Um-Gah, goes on a rampage and a "jungle lord" arrives to stop him. Near the end of the story it is revealed that this jungle man is Tarzan himself. And then there's another surprise revelation -- which explains why the story was written in the first place!
"Even Apes Fight For It" in Script Magazine
http://www.erbzine.com/mag0/0080.html
---
*** With a few books already under his belt, ERB broke into new territory on Jan. 14, 1914, when he finally saw some of his poetry published. "The Chicago Tribune" did the honors with "Nay, It Hath Not Gone" which carried the byline of Normal Bean.
Nay, It Hath Not Gone: Poem by ERB
http://www.erbzine.com/mag0/0003.html#10. NAY, IT HATH NOT
Poems by ERB
http://www.erbzine.com/mag0/0003.html
This and other poems from ERBzine's 1996 ERB Poetry collation were reprinted in the book ERB Tells All (without Danton Burroughs' approval)
ERB Tells All
http://www.erbzine.com/mag51/5123.html


VISIT THE PHOTO ALBUM FOR JANUARY WEEK TWO
http://www.ERBzine.com/mag63/6312pics.html



DAILY EVENTS CONTENTS
www.ERBzine.com/events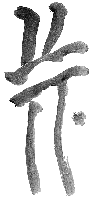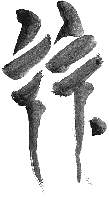 BILL HILLMAN
Visit our thousands of other sites at:
BILL AND SUE-ON HILLMAN ECLECTIC STUDIO
ERB Text, ERB Images and Tarzan® are ©Edgar Rice Burroughs, Inc.- All Rights Reserved.
All Original Work ©1996-2018 by Bill Hillman and/or Contributing Authors/Owners
No part of this web site may be reproduced without permission from the respective owners.