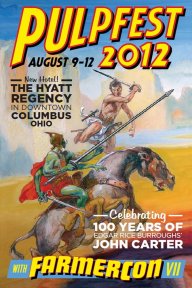 2012 marks the 100th anniversary of two of Edgar Rice Burroughs' most famous creations:
Tarzan of the Apes and John Carter of Mars.
While Tarzan is the better known of the two, John Carter came first, appearing in the novel, "Under the Moons of Mars," published in the February 1912 issue of THE ALL-STORY, a pulp magazine published by the Munsey Company.
In August of this year, PulpFest will celebrate "100 Years of John Carter" with panels, presentations, and more. Please visit www.pulpfest.com for further details.
And don't forget, Disney's major motion picture, JOHN CARTER, will be premiering in movie theaters on March 9th.
http://www.pulpfest.com/