Official Edgar Rice Burroughs Tribute and Weekly Webzine Site
Since 1996 ~ Over 15,000 Webpages in Archive
www.ERBzine.com/spratt
ALT: Volume 1301

www.ERBzine.com/spratt/article.html
Fellow ERB fan -- Dan Nadel -- has shared a PDF file of excerpts from an article published by the European art magazine BLAU discussing the A Princess of Mars art by our longtime (from 2000-2015) contributor James Killian Spratt. I had worked with James for many years and spent countless hours doing ERBzine features on his JETAN (ERB's Martian Chess) sculptures and serializing his graphic adaptation of ERB's A Princess of Mars in ERBzine.com. Since Internet speeds and storage costs were more restrictive in those early days the first images I displayed were smaller, but as we progressed I increased the size and resolution of this online artwork.

Along the way I had contacted numerous publishers with hopes of raising interest in print publications of James' work, since I really believed in it. Such efforts, to our disappointment, were without success. The stumbling block seemed to be the excessive and exaggerated nudity in the images of this copyrighted material. Facebook and other Web sources also had policies that restricted the display of such nudity but fortunately they must have recognized the artistic quality of what we were doing and ERBzine received no complaints from readers or the Internet hosts.

Near the end of his life James' submissions slowed down. Shortly before he passed away he had called to indicate that he had finished another PRINCESS chapter and was hoping to complete the final 4 chapters. Sadly, I never received it and I lost all contact with his family. James' work had developed an avid following, but I was unable to fulfill their requests for more of his art. One ERB/Spratt fan was Dan Nadel who was able to make contact with the Spratt family. In the summer of 2022 he sent the following letter with a PDF attachment:

Hi Bill,
Following our previous correspondence about James Killian Spratt's John Carter artwork, I got in touch with his son, Aaron. We worked together to get a little more out in the world. Attached is a PDF of a Spratt feature in Blau International, an art magazine based in Berlin. The Blau images in the PDF are from two-page spreads, so the designer intentionally cut off images so that we could run as much as possible at the size it was drawn. The notebooks are safe with his son, Aaron. We've had them completely photographed so everything is recorded.
I'd love for ERB fans to know about this pretty luscious printing of the work.
Best,
Dan


Blau acknowledges our ERBzine --
the source for the only publication of the Spratt PRINCESS adaptation -
with a single passing reference.
The revue article excerpts from Blau magazine are featured below: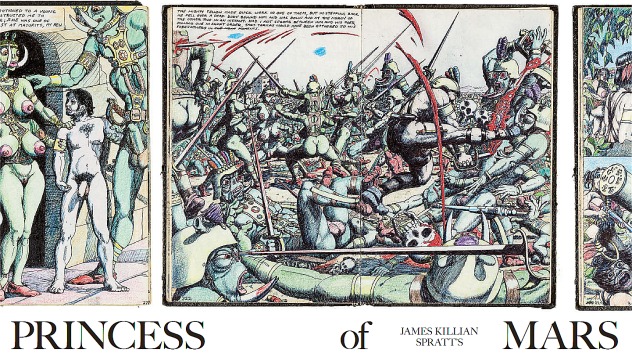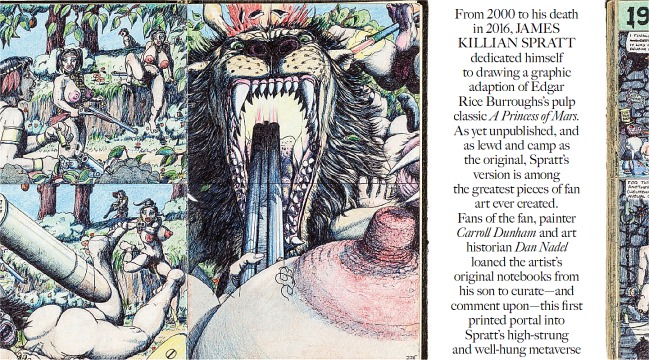 By DAN NADEL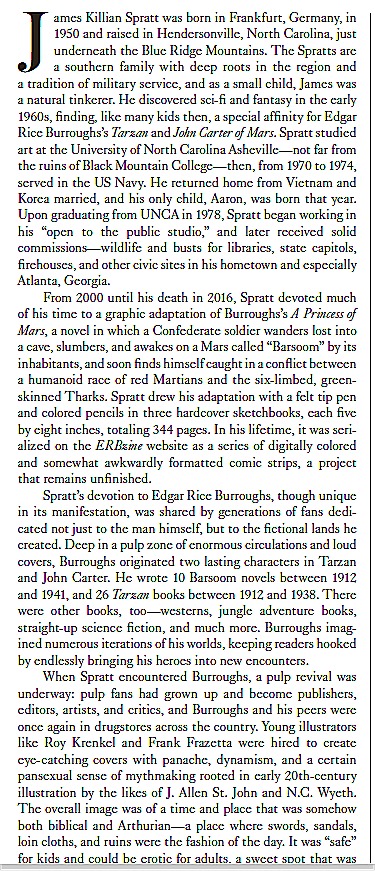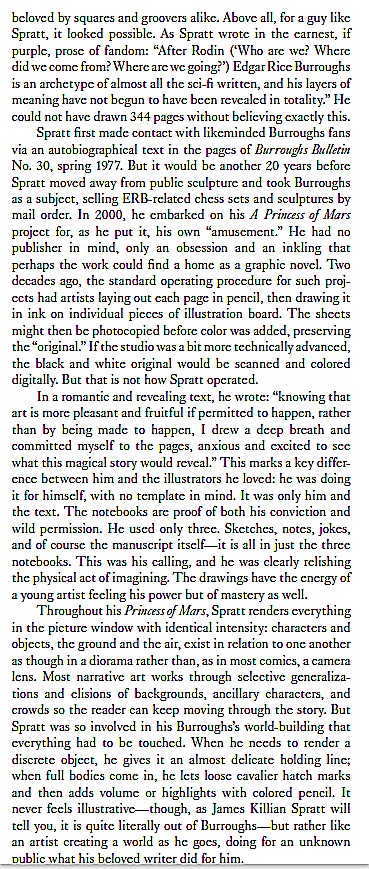 By CARROLL DUNHAM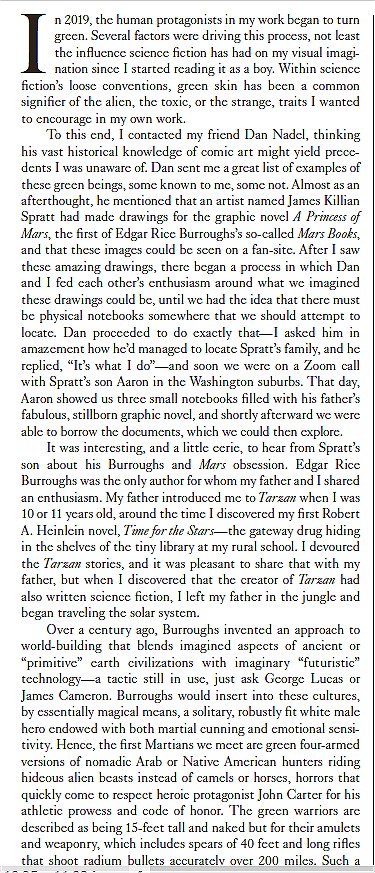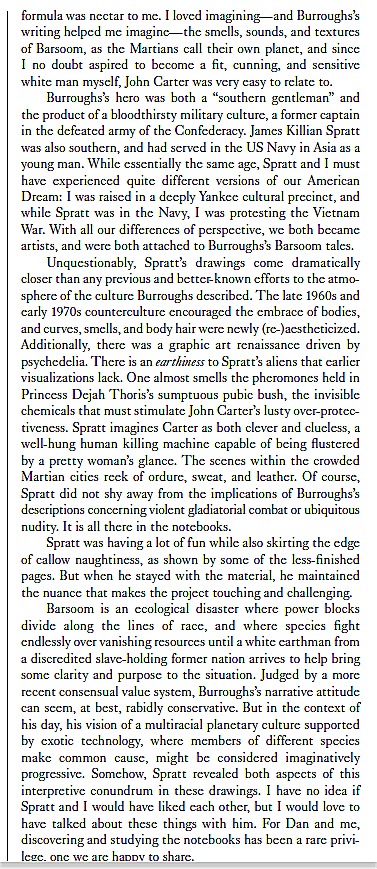 THE PRINCESS OF MARS
GRAPHIC ADAPTATION BY JAMES SPRATT
CHAPTERS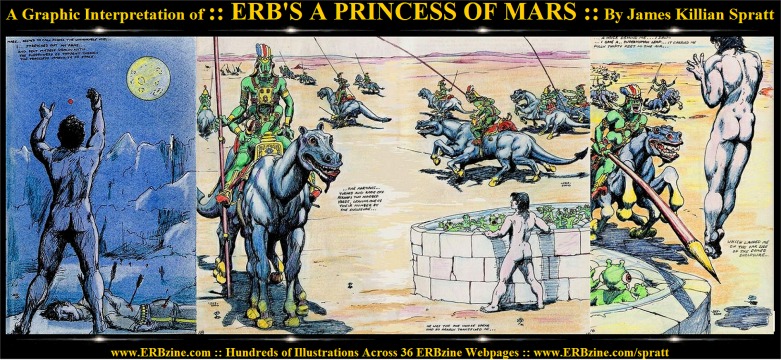 Click for full-size promo splash bar
BACK TO THE SPRATT TRIBUTE PAGE
www.ERBzine.com/spratt




Send all correspondence to
WEBMASTER: BILL HILLMAN


ERB Text, ERB Images and Tarzan® are ©Edgar Rice Burroughs, Inc.- All Rights Reserved.
Trademarks JOHN CARTER, WARLORD OF MARS ~ BARSOOM ~ TARZAN
and all associated characters and their distinctive likenesses are owned by ERB, Inc.
All original material is copyrighted by James Killian Spratt
No part of this Web site may be reproduced without permission.