---
PUBLISHING HISTORY (USA)
---
PULP
Argosy All-Story Weekly: October 8, 15, 22, 29, 1921
Stockton Mulford cover in first issue ~ Roger B. Morrison one interior B/W headpiece in each installment
FIRST EDITION
House of Greystoke: May 6, 1966 ~ photographic reprint of the All-Story version ~ 84 pages ~ Estimated word count 47,000
Frank Frazetta front cover with same frontispiece ~ Roger B. Morrison four B/W interiors
REPRINT EDITIONS
House of Greystoke - Burroughs Bulletin #57-58: 1976 ~
Reworking of First Edition version ~ condensed to 40 pages
Charter paperback: June 1979 ~ 211 pages
John Rush cover art
For detailed information, see Robert B. Zeuschner's
Edgar Rice Burroughs: The Bibliography (ERB, Inc., 2016).
Click on www.erbbooks.com or call 214-405-6741 to order a copy.
---
The Efficiency Expert

Jimmy Torrance was a hero in college. A champion boxer, star of the baseball team and one of the most popular guys on campus. On graduating Jimmy refuses the help of his wealthy father, determined to be his own man. Unable to find a "respectable" job he barely scratches out a living as a waiter, rubbing shoulders with Chicago's underworld. When the right job does come along the shady characters from his past return to haunt him ... and Jimmy finds himself being framed for a murder charge. It was 10:30 when Jimmy reached the plant. He entered with his own latch key, pressed the button which lighted the stairway and the landing above, and, asending, went straight to Mr. Compton's office, turned the knob, and opened the door, to find that the interior was dark. "Strange" he thought, "that after sending for me, the fellow didn't wait" As these thoughts passed through his mind hefumbled on the wallfor the switch, and, finding it, flooded the office with light. As he turned again towards the room he voiced a sudden exclamation oftorror, for on thefloor, beside his desk lay the body of Mason Compton!
---
BIBLIOGRAPHIC NOTES
from the Greystoke Edition


---
Edgar Rice Burroughs wrote THE EFFICIENCY EXPERT in thirty-one days from September 22 through October 22, 1919. According to the author's working note book, it was his thirty-sixth novel. The first North American serial rights only were sold to the Frank A. Munsey Company and the story appeared as a four part serial in ARGOSY ALL-STORY WEEKLY from October 8 through October 29, 1921. Stockton Mulford did a cover painting for the October 8 issue illustrating a scene from chapter 26 (reproduced below) visualizing the Lizard as he alights from a taxi and observes "Little Eva" in another taxi. The illustration correlates with the text on page 73 (of the Greystoke edition): "A man stepped out and peered through the glass of her machine. It was the Lizard."

The first edition of THE EFFICIENCY EXPERT was authorized by Edgar Rice Burroughs, Inc. and published by House of Greystoke in 1966. It has 84 pages and paper covers. The frontispiece is original art by Frank Frazetta. The four interior illustrations by Roger B. Morrison are reprints of the chapter headings for the ARGOSY ALL-STORY serial. The decorations on the contents page are the work of J. Allen St. John, as are the drawing and lettering on the inside cover and the decoration on the back cover.

---

I. JIMMY TORRENCE, JR.
II. JIMMY WILL ACCEPT A POSITION
III. THE LIZARD
IV. JIMMY HUNTS A JOB
V. JIMMY LANDS ONE
VI. HAROLD PLAYS THE RAVEN
VII. JOBLESS AGAIN
VIII. BREAD FROM THE WATERS
IX. HAROLD SITS IN A GAME
X. AT FEINHEIMER'S
XI. CHRISTMAS EVE
XII. UP OR DOWN
XIII. HARRIET PHILOSOPHIZES
XIV. IN AGAIN -- OUT AGAIN
XV. LITTLE EVA
XVI. JIMMY THROWS A BLUFF
XVII. JIMMY ON THE JOB
XVIII. THE EFFICIENCY EXPERT
XIX. PLOTTING
XX. AN INVITATION TO DINE
XXI. JIMMY TELLS THE TRUTH
XXII. A LETTER FROM MURRAY
XXIII. LAID UP
XXIV. IN THE TOILS
XXV. CIRCUMSTANTIAL EVIDENCE
XXVI. "THE ONLY FRIENDS HE HAS"
XXVII. THE TRIAL
XXVIII. THE VERDICT


Pulp Chapter Heading Illustrations by Roger Morrison


---
COVER GALLERY
---
click for full-size images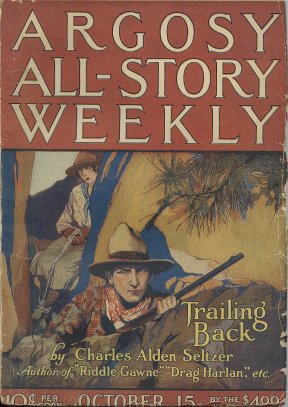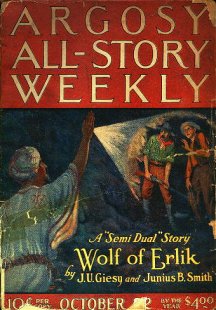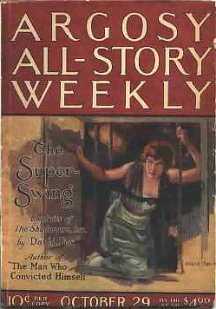 From our ERB Illustrated Pulp Bibliography
INTERIOR HEADPIECES BY ROGER B. MORRISON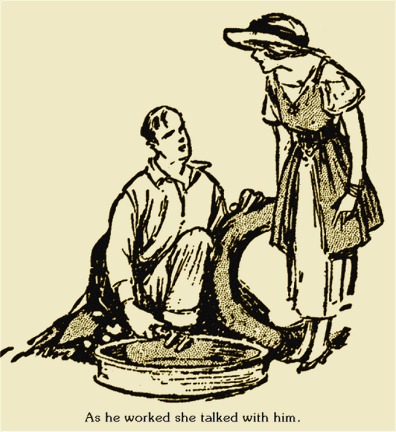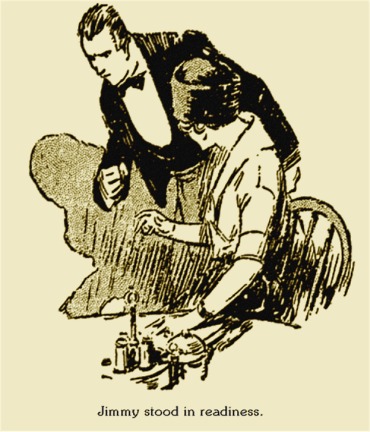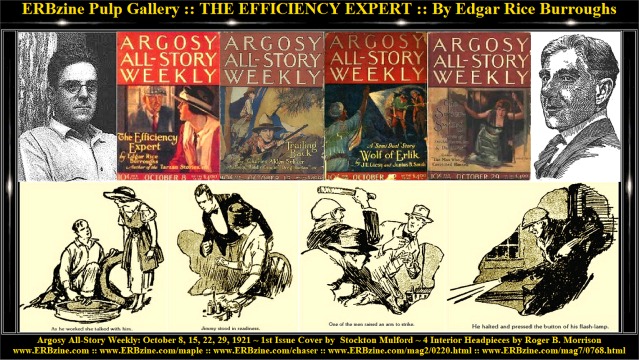 Click for full-size promo splash bar

---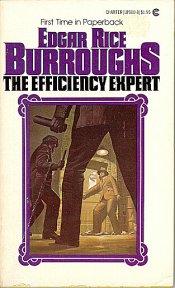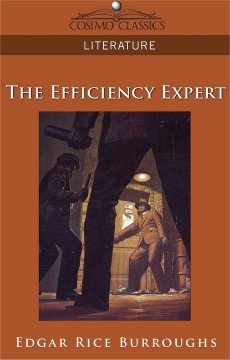 Charter Edition :: Cosimo Edition


EFFICIENCY EXPERT
REVIEW BY R.E. PRINDLE
www.erbzine.com/mag14/1455.html
LITTLE EVA
The Life and Times of a Good Little Girl
By Laurence Dunn
www.erbzine.com/mag64/6461.html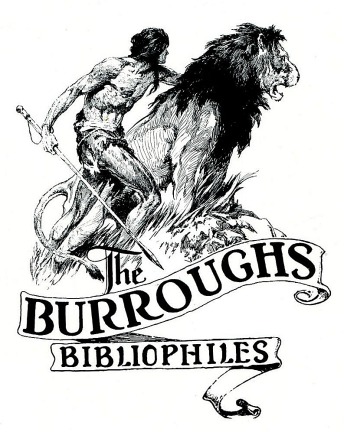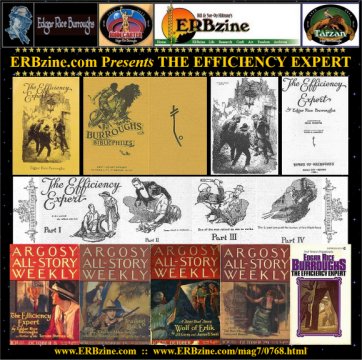 Poster | Web | 5" | Card | Thumbnail
---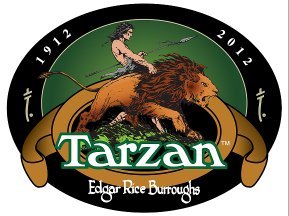 ERB, Inc. Corporate Site

Armada of ERB Web Sites
Over 15,000 Webpages
The Fantastic Worlds of Edgar Rice Burroughs
| | | | |
| --- | --- | --- | --- |
| Tarzan.com | ERBzine.com | DantonBurroughs.com | Tarzan.org |
| BurroughsBibliophiles.com | JohnColemanBurroughs.com | Tarzan.com/tarzine | JohnCarterOfMars.ca |
| www.erbzine.com/edgarriceburroughs | Weekly Webzine | Weekly Webzine | Pellucidar.org |
| John Carter Film | ERB, Inc. Corporate Site | ERB Centennial | tarzana.ca |