The First and Only Weekly Online Fanzine Devoted to the Life and Works of Edgar Rice Burroughs
Since 1996 ~ Over 15,000 Webpages and Webzines in Archive
Volume 0761
and
ERB C.H.A.S.E.R ENCYCLOPEDIA
A Collector's Hypertexted and Annotated Storehouse of Encyclopedic Resources
Present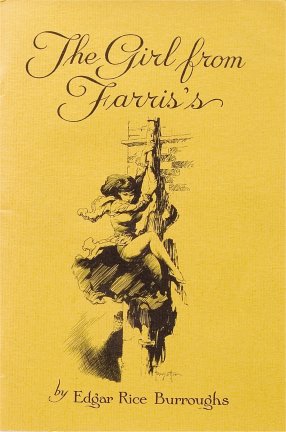 THE GIRL FROM FARRIS'S
Original title "The Girl From Harris's" written from July 14, 1913 through March 19, 1914
Read the eText
---
PUBLISHING HISTORY (USA)
---
PULP
All-Story Weekly: September 23, 30 and October 7, 14, 1916
C.D. Williams cover art on first installment ~ no interiors
Tacoma Tribune newspaper: February 24, 1920 ~ 26-part serial
Sam Armstrong two illustrations in first installment
FIRST EDITION
Wilma Co.: 1959 ~ limited fan edition of 250 copies ~ 47 pages
House of Greystoke: August 1965 ~ First "authorized" edition ~ from the Burroughs Bibliophiles ~ 76 pages ~ Approximate word count: 40,000
Frank Frazetta cover art and same frontispiece ~ Pictorial bibliography with two drawings by Sam Armstrong from Tacoma Tribune 1920
ERBville Press ~ Jerry Schneider: December 2002 - First Hardcover Edition ~ 188 pages
C.D. Williams frontispiece (colour art from the All-Story cover) ~ Sam Armstrong: Interior Illustrations
REPRINT EDITIONS
House of Greystoke: 1976 ~ Burroughs Bulletin #59-60 ~ 39 pages
Frank Frazetta cover and frontispiece art ~ Roger B. Morrison four B/W interiors ~ Sam Armstrong art in Pictorial Bibliography
Charter paperback: June 1979 ~ 150 pages
John Rush cover art duplicated on back ~ no interiors
For detailed information, see Robert B. Zeuschner's
Edgar Rice Burroughs: The Bibliography (ERB, Inc., 2016).
Click on www.erbbooks.com or call 214-405-6741 to order a copy.
---
The Girl from Farris's

A one-time resident of Chicago's notorious Red light district, Maggie Lynch sets out determinedly to end her life of sin and find a decent job. But on entering the respectable world Maggie finds that deceit and greed are as rampant in corporate offices as on the streets she so desperately wants to escape.

.
Editor's Introduction from All-Story Weekly pulp magazine

Few authors, not even with the exception of Rudyard Kipling, have covered so wide a field in their fiction as has Mr. Burroughs. His maiden effort, which was published in the old All-Story in 1912, dealt with the adventures of an American who made a trip to Mars, and the things he saw there. Then he took a flier into the African jungle in his Tarzan tales, wrote some red-hot romance around a Central European kingdom, and turned his attention to a hero who was the brutalized product of a Chicago slum. Him he regenerated to such an extent that every reader we have, seemingly, voiced a raging demand for a sequel to "The Mucker" that should make that gentleman happy! And in this splendid novel, "The Girl from Farris's," Mr. Burroughs has found yet another and really serious field, though he has given you as remarkable a heroine as you might expect. For the Girl was a member of "the oldest profession in the world," and the hero was foreman of the grand jury. Now go on with the story!
-- The Editor
---
COVER GALLERY
---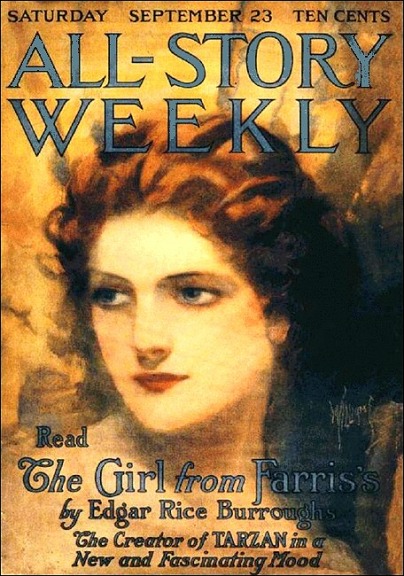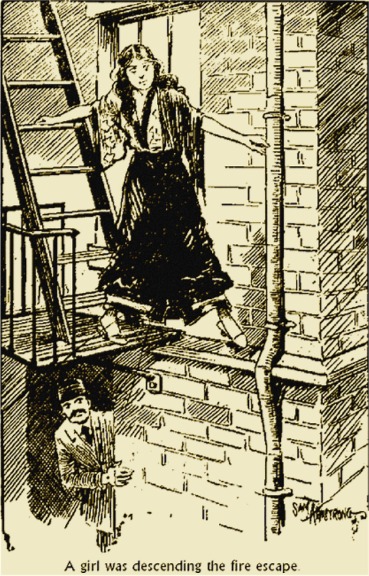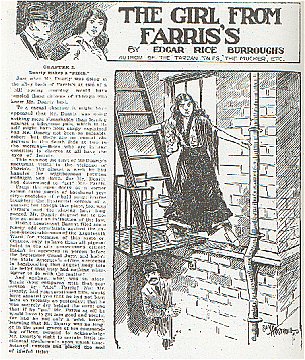 "... a huge paw of a hand reached out and grasped her shoulder."
"At the first floor the ladder ended. . . but the stand pipe continued on to the ground."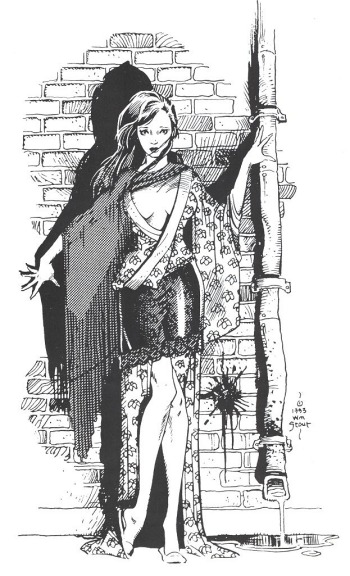 ". . . she came down the stand pipe with the ease of a cat
and at the bottom, turned, horrified . . ."
---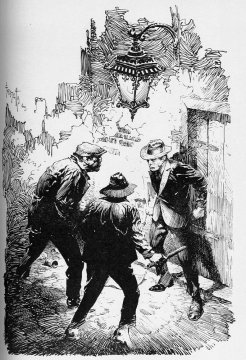 1. Larger Interior art by Frazetta
2. Largest Interior art by Frazetta
---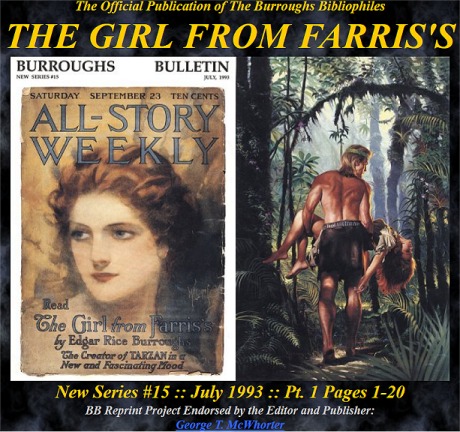 READ ISSUE #15 HERE
www.erbzine.com/mag52/5215.html'=

Bibliographic History of The Girl from Farris's
by George McWhorter
www.erbzine.com/mag52/bb1537.jpg
---
Review by R.E. Prindle
ERBzine 1456
---
Laurence Dunn's Research on The Everleigh Club
A high-class brothel which operated in Chicago, Illinois
from February 1900 until October 1911
www.erbzine.com/mag64/6461.html
---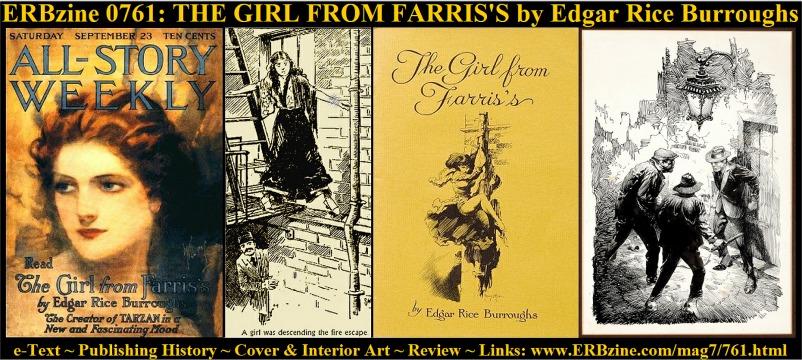 ---

Armada of ERB Web Sites
Over 15,000 Webpages
The Fantastic Worlds of Edgar Rice Burroughs
ERB Companion Sites Created by Bill Hillman
| | | | |
| --- | --- | --- | --- |
| Tarzan.com | ERBzine.com | DantonBurroughs.com | Tarzan.org |
| BurroughsBibliophiles.com | JohnColemanBurroughs.com | Tarzan.com/tarzine | JohnCarterOfMars.ca |
| ERBzine.com/edgarriceburroughs | Weekly Webzine | Weekly Webzine | Pellucidar.org |
| John Carter Film | ERB, Inc. Corporate Site | ERB Centennial | tarzana.ca |