---
PUBLISHING HISTORY (USA)
---
PULP
Blue Book Magazine: April - September, 1930
Laurence Herndon: cover art for installments 1-4 and 6 ~ Frank Hoban: seven illustrations per installment
FIRST EDITION
Metropolitan: May 15, 1931 ~ 319 pages ~ Heins word count: 73,000
Hugh Hutton: wraparound DJ and frontispiece
REPRINT EDITIONS
Metropolitan and Grosset & Dunlap mixed edition: 1932
Grosset & Dunlap: 1932
Grosset & Dunlap: 1940 ~ no interiors
ERB, Inc. Tarzana: March 26, 1948 ~ first edition DJ and frontispiece
Canaveral Press: May 17, 1962 ~ 249 pages
Mahlon Blaine: DJ and seven interiors
Ace paperback: March 1963 ~ 253 pages
Roy G. Krenkel cover and title drawing ~ Frank Frazetta assisted Krenkel
Ballantine: January 1964 ~ 192 pages
Robert Abbett cover
Dover Publications: May 1964 ~ Two Martian Novels with A Princess of Mars ~ 356 pages
Frank E. Schoonover: cover design and four interiors ~ Hugh Hutton: one interior
Doubleday Science-Fiction Book Club: January 1974 ~ with "The Mastermind of Mars" ~ 348 pages
Frank Frazetta: DJ and six interiors
Ballantine paperback: October 1973 ~ 192 pages
Gino D'Achille cover
Ballantine - Del Rey paperback: April 1979 ~ 239 pages
Michael Whelan cover
For detailed information, see Robert B. Zeuschner's
Edgar Rice Burroughs: The Bibliography (ERB, Inc., 2016).
Click on www.erbbooks.com or call 214-405-6741 to order a copy.
A Fighting Man of Mars

Hadron of Hastor, Padwar in the service of the Warlord of Mars, goes alone in search of the beautiful Sanoma Tora when she is abducted by Tul Axtar of Jahar. But before Hadron manages to reach Jahar he is deflected from his purpose in an effort to rescue a slave girl of his own race from the ferocious green men of mars. Tavia, for that is the lovely girl's name, leads Hadron to her home city Tjanath from which she had been stolen as a very small girl.

Instead of receiving a warm welcome, both are immediately imprisoned. Hadron learns from a fellow prisoner in the pits that the Tjanathians must have must have mistaken him for a Jaharian spy and that all Tjanath is deathly afraid of Tul Axtar of Jahar for he has been breeding his race for 200 years to make a warrior army large enough to conquer all Barsoom.Moreover, Tul Axtar has a new weapon which will disintegrate metal. And Hadron already knows that a huge fleet of airships from Helium, headed by John Carter himself, will by now be on its way to Jahar in support of his search for Sanoma Tora- a fleet that is doomed to destruction!
---
PULP ART GALLERY
---
See Larger Pulp Cover Images In Our ERBzine Pulp Encyclopedia
https://www.erbzine.com/mag2/0227.html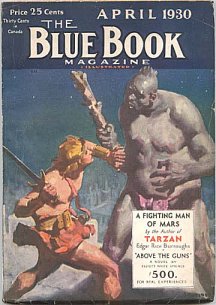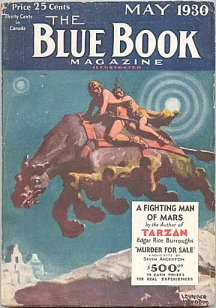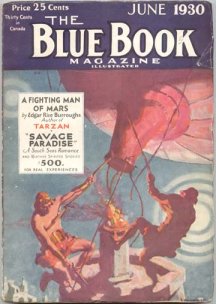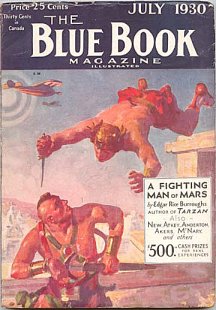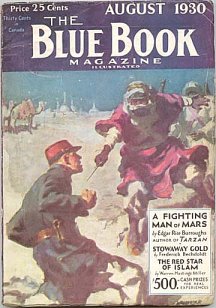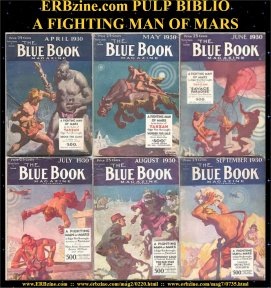 ---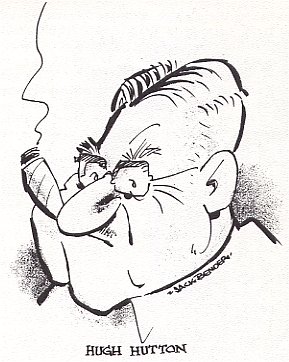 https://www.erbzine.com/mag20/2035.html
Hugh Hutton, distinguished editorial cartoonist for the Philadelphia Inquirer since 1934,
is the only artist who handled both the art on a Burroughs book and the Tarzan comic strip.
HIs beautiful full-colour dust jacket -- as well as a frontispiece -- for A Fighting Man of Mars,
published in 1931, are well known to Burroughs collectors.
But few know of his role, though brief, with the Tarzan comic strip in 1929 (episodes 1-6)
during the transition between Hal Foster and Rex Maxon.
More Hugh Hutton Info in ERBzine 2035
.
---


From the Dale Broadhurst Collection
Promos, Sample Pages and Rex Maxon Art
for the 1933 Newspaper Serialization
ERBzine 3728
.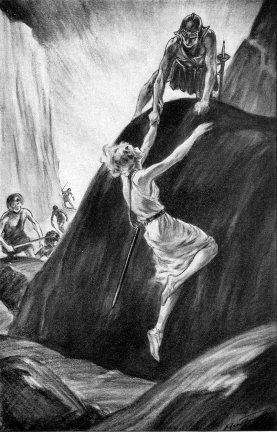 Frontispiece by Hutton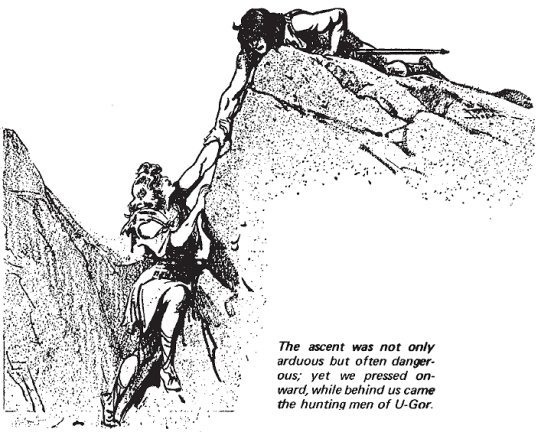 The Blue Book illustration by Hoban that Hutton based his frontispiece on.
Originally there were some plans for the fp illo to be adapted to the dust jacket illustration.
See Phil Normand's article.
See all the Hoban Blue Book art at ERBzine 0860 and ERBzine 0861

---
COVER GALLERY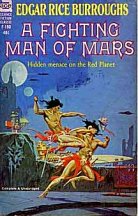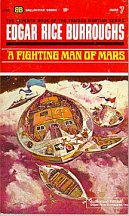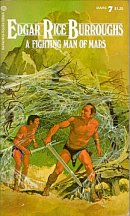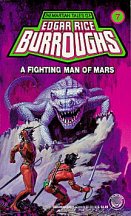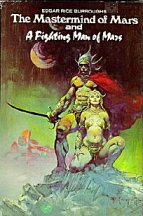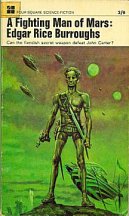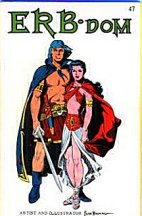 ---

Ballantine 1964:
Robert Abbett art


New English Library UK edition
Art by Richard Clifton Dey
---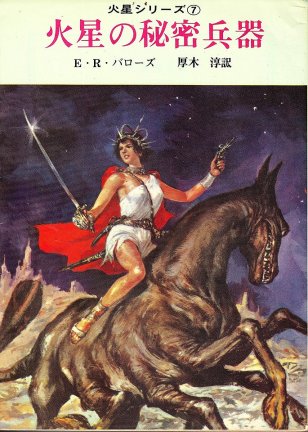 .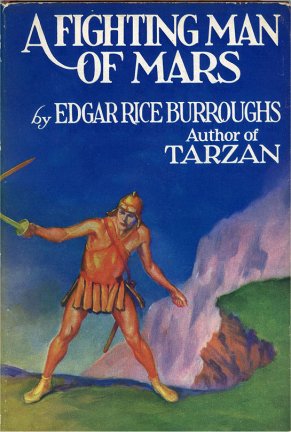 Motoichiru Takebe cover for Japanese edition ~ Metropolitan Books, 1931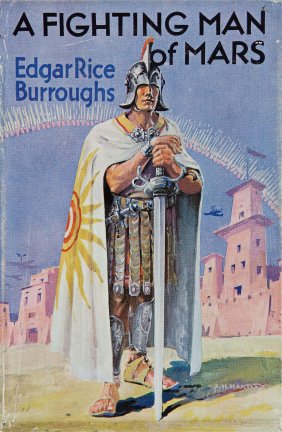 .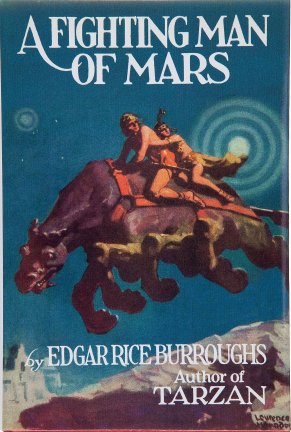 J. H. Hartley cover ~ Laurence Herndon cover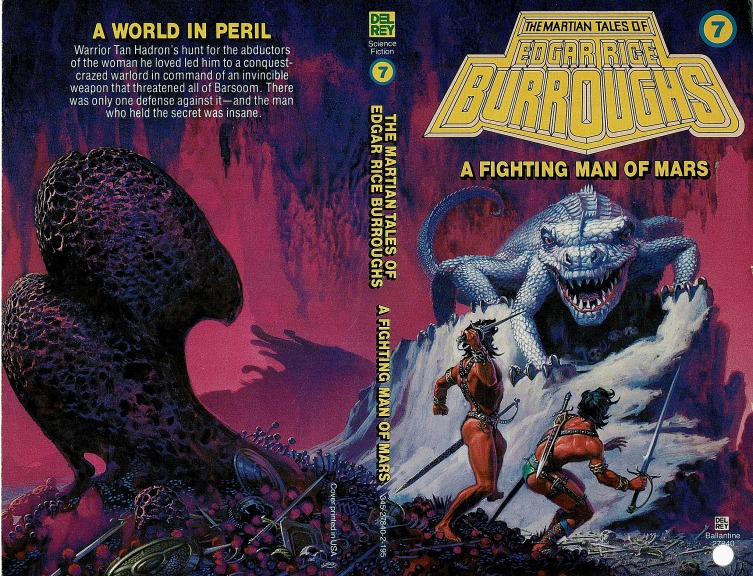 Michael Whelan Del Rey Cover from the Laurence Dunn collection
---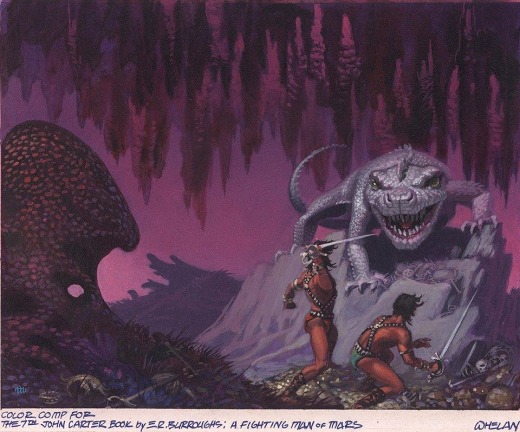 Fighting Man of Mars ACE cover painting (click)
(Frazetta assisting Roy Krenkel)

---
BURROUGHS FAMILY COPY
Ed's dedication to daughter Joan and her husband James Pierce
---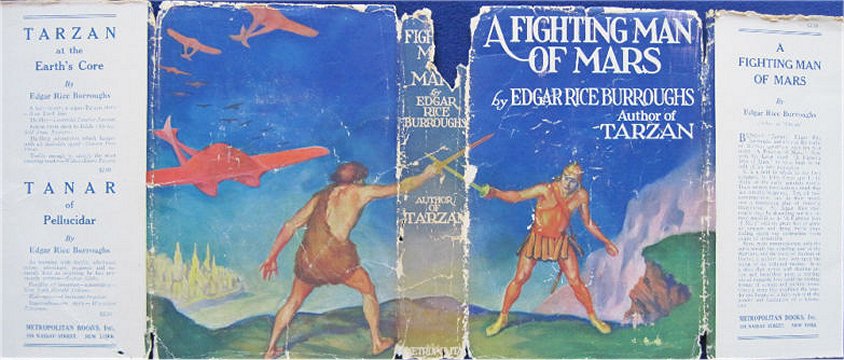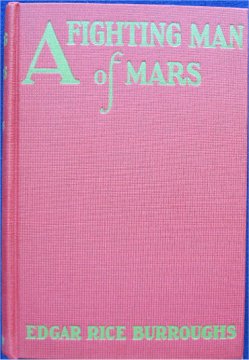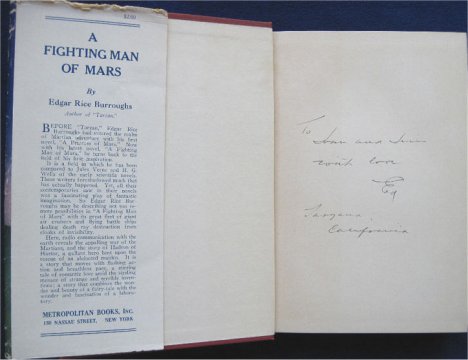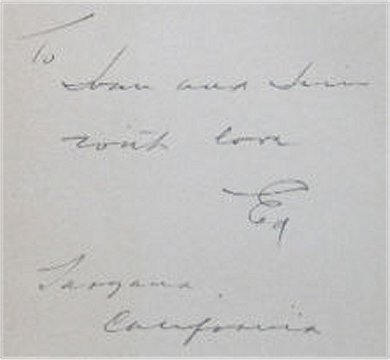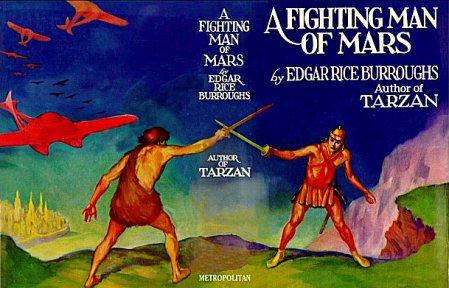 ---
ROY G. KRENKEL ACE GALLERY
---
| | | |
| --- | --- | --- |
| ACE F-190 | 1963 | Frontispiece | Original |
---
Fighting Man of Mars Art by Joe Jusko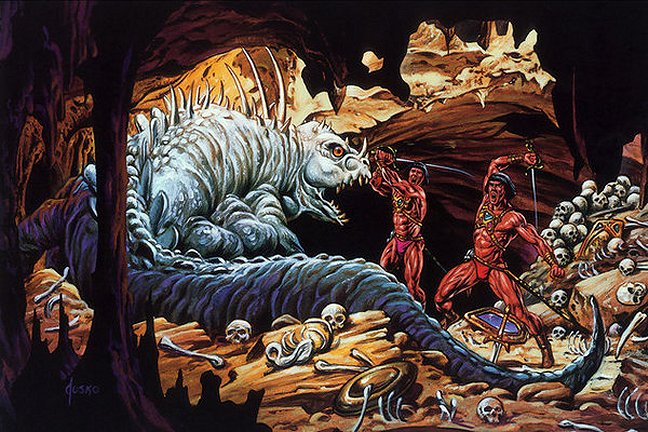 The White Death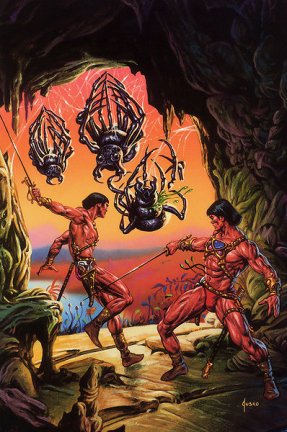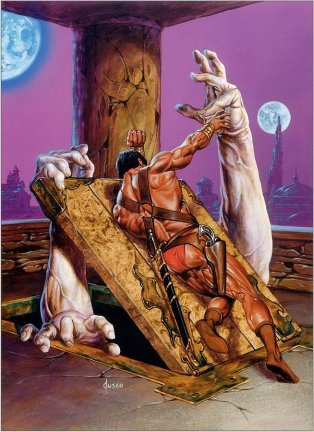 Venomous Assault ~ Barricade
---
| | | |
| --- | --- | --- |
| UK John Lane the Bodley Head Edition ~ 1932 | UK John Lane the Bodley Head Edition ~ 1932 | Josh Kirby Art: Oct. 1966 Four Square Edition |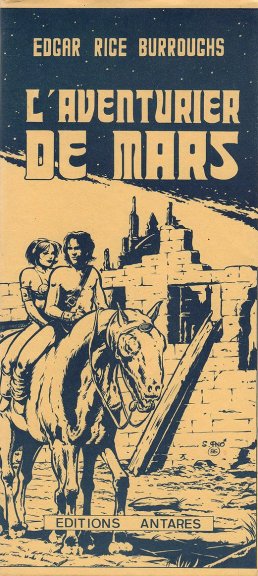 French Edition
Translated by Martine Blond. Illustrations by Serge Fino.

---
FRANK HOBAN GALLERY OF PULP ART
http://www.erbzine.com/mag8/0860.html
http://www.erbzine.com/mag8/0861.html
---
MAHLON BLAINE GALLERY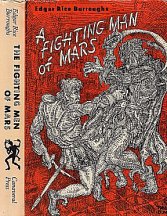 ERBzine 0877
http://www.erbzine.com/mag8/0877.html
---
FRANK FRAZETTA GALLERY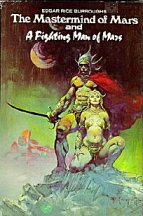 ERBzine 876
http://www.erbzine.com/mag8/0876.html
---
A Fighting Man of Mars by Reed Crandall for a new edition of A Fighting Man of Mars, to have been published by Canaveral Press. An earlier edition had been illustrated by Mahlon Blaine, but Blaine wasn't very popular with the readers, and a new set of illustrations was commissioned; however, Canaveral went out of business before they could be used. This piece was only published once, in Wally Wood's Witzend #2, as part of an ERB Portfolio series by Crandall that ran in issues #1-5.

---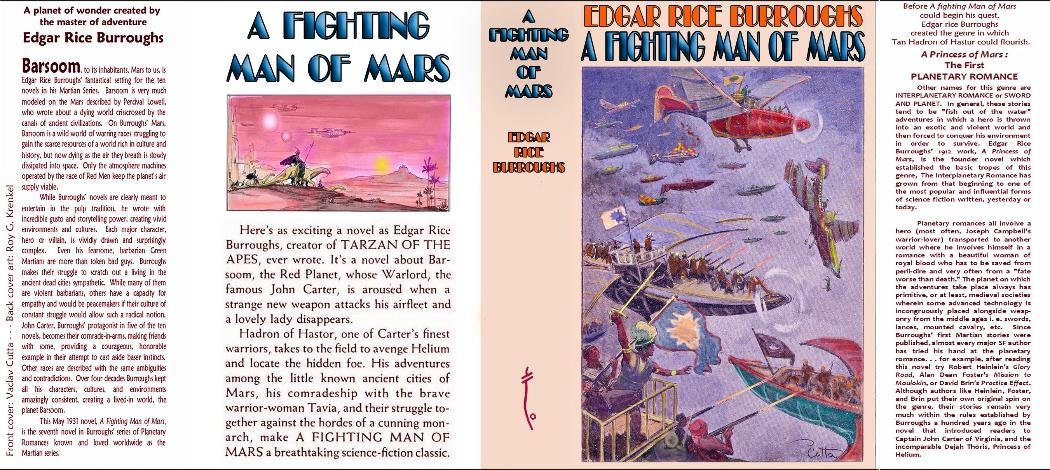 Vaclav Cutta Art ~ New cover design by Charlie Madison ERBgraphics.com
---
Click for full-size Promo Splash Bars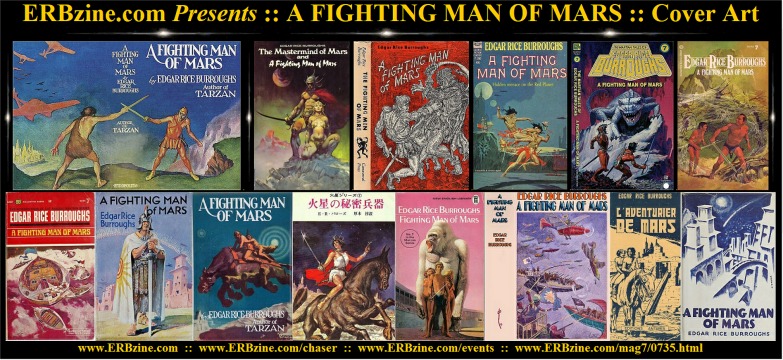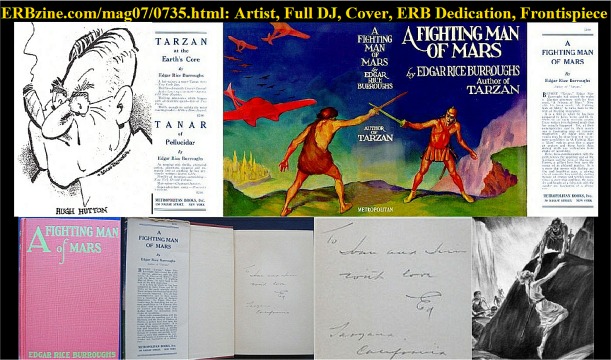 Click for full-size collages

---
---

Presents
Armada of ERB Web Sites
Over 15,000 Webpages

The Fantastic Worlds of Edgar Rice Burroughs
ERB Companion Sites Created by Bill Hillman
| | | | |
| --- | --- | --- | --- |
| Tarzan.com | ERBzine.com | DantonBurroughs.com | Tarzan.org |
| BurroughsBibliophiles.com | JohnColemanBurroughs.com | Tarzan.com/tarzine | JohnCarterOfMars.ca |
| ERBzine.com/edgarriceburroughs | Weekly Webzine | Weekly Webzine | Pellucidar.org |
| John Carter Film | ERB, Inc. Corporate Site | ERB Centennial | tarzana.ca |