Volume 6896


ERBzine Takes A Unique Look at the Evolution of
JOE JUSKO'S ERB COVER ART
ERB Authorized Volumes 9-12

Click for full-size splash bars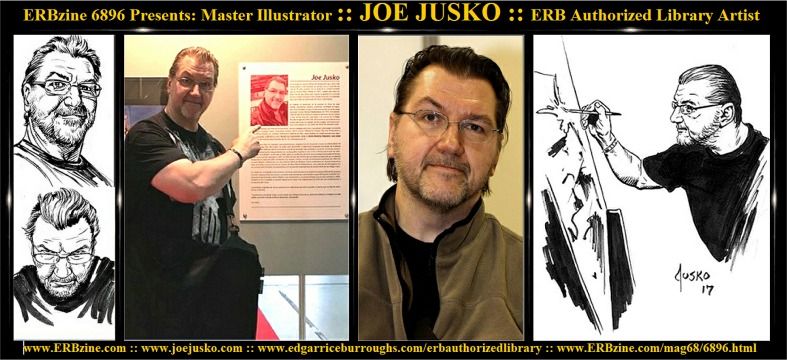 While Joe worked on his art for ERB Volumes 9-12
he regularly shared his progress on these creations
from the first sketches -- all the way through to his final cover masterpieces.
To give some idea of his marvelous technique
we've presented this progress in a series of illustrations collated in the splash bars below.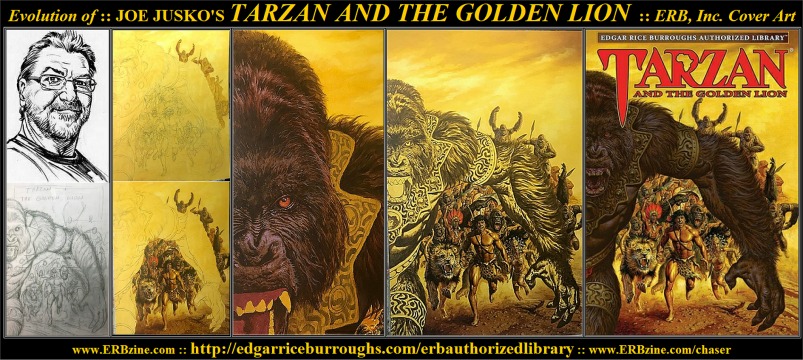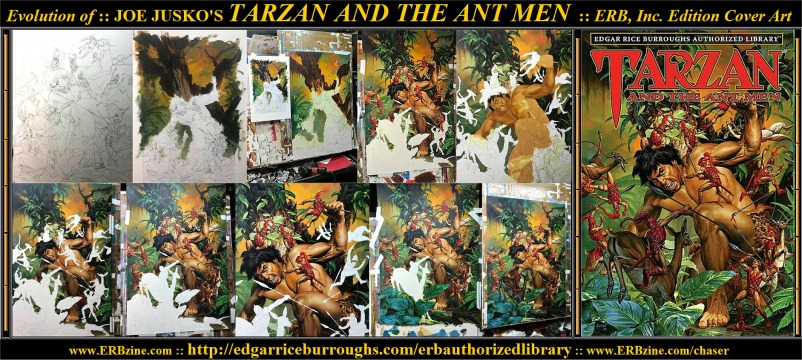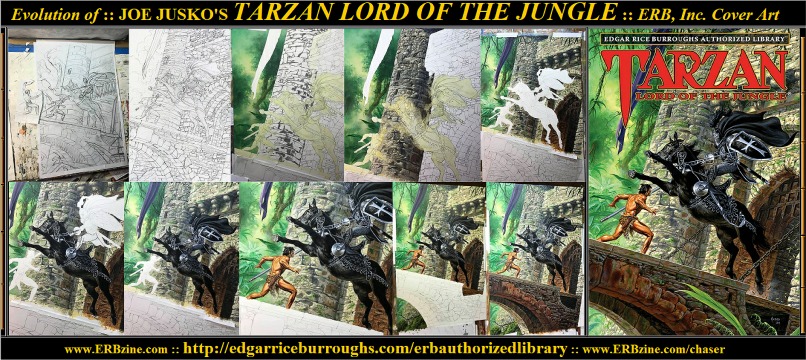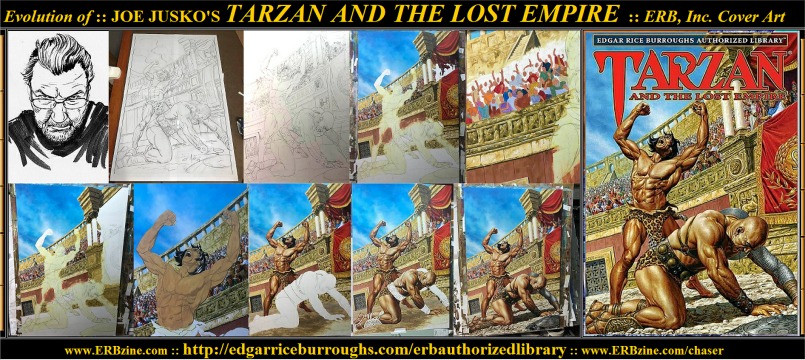 JOE JUSKO: VISIONARY ARTIST
Joe Jusko is among today's most acclaimed fantasy, pin-up, and comic artists.
His work has been featured on book and comic posters,
and on the much-praised 1992 Marvel Masterpieces trading cards.
Jusko is a recipient of myriad industry honours,
including a Certificate of Merit from the Society of Illustrators and a 2001 Chesley Award nomination.
Fittingly, he was born on September 1, sharing his birthday with Edgar Rice Burroughs.
Jusko's longtime love of Burroughs' work continues to inspire him in
illustrating the Authorized Library and bringing the author's creative vision to life.
MORE
www.joejusko.com




For the first time, the Edgar Rice Burroughs Authorized Library presents
the complete literary works of the Master of Adventure in uniform hardcover editions.
Published by the company founded by Mr. Burroughs in 1923, each volume of the Authorized Library
is packed with extras and rarities not to be found in any other edition.
From cover art and frontispieces by legendary artist Joe Jusko to forewords and afterwords by today's authorities and luminaries
to a treasure trove of bonus materials mined from the company's extensive archives in Tarzana, California,
the Edgar Rice Burroughs Authorized Library will take you on a journey of wonder and imagination you will never forget.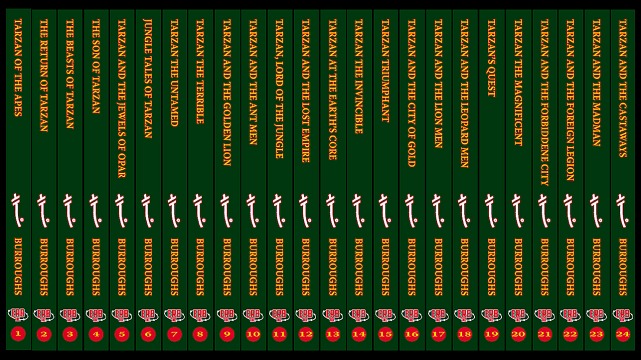 THESE EDITIONS ARE AVAILABLE AT:
edgarriceburroughs.com/erbauthorizedlibrary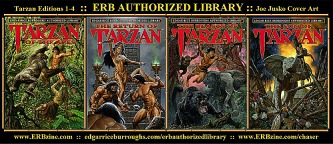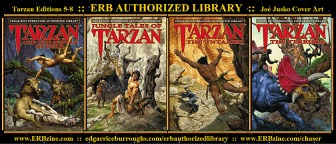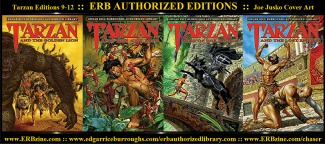 ERB AUTHORIZED LIBRARY: Jusko Covers
Tarzans 1-4 :: Tarzans 5-8 ~ Tarzans 9-12


PRESENTED BELOW IS JOE'S COVER ART
FOR THE PREVIOUS VOLUMES 1-8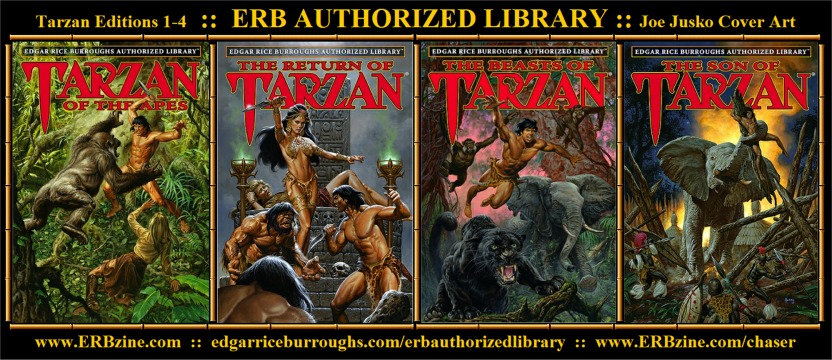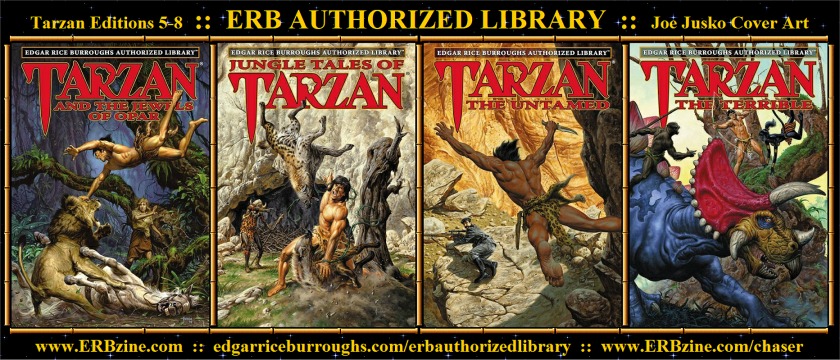 A FEW MORE OF
JOE'S MEMORABLE TARZAN PAINTINGS
(To View Many More Go To ERBzine 6897)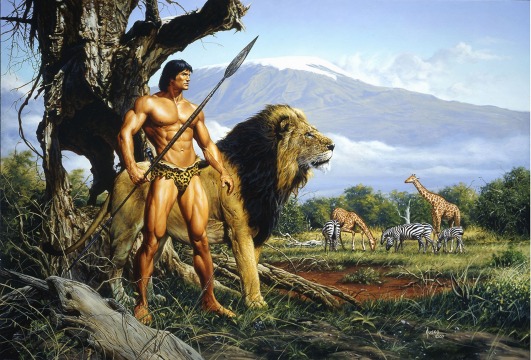 Click for full size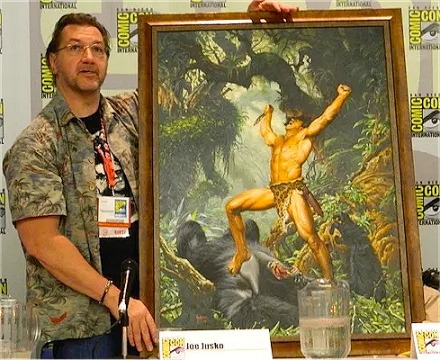 Joe Jusko Celebrates Tarzan's 100th Birthday at Comic Con


JOE'S COVER ART FOR 1-12 HAS BEEN ADDED TO
OUR ERBzine ONLINE BIBLIOGRAPHY



Tarzan of the Apes
The Return of Tarzan
The Beasts of Tarzan
The Son of Tarzan
Tarzan and the Jewels of Opar
Jungle Tales of Tarzan
Tarzan the Untamed
Tarzan the Terrible
Tarzan and the Golden Lion
Tarzan and the Ant Men
Tarzan, Lord of the Jungle
Tarzan and the Lost Empire
Tarzan at the Earth's Core
Tarzan the Invincible
Tarzan Triuphant
Tarzan and the City of Gold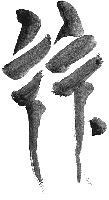 BILL HILLMAN
Visit our thousands of other sites at:
BILL AND SUE-ON HILLMAN ECLECTIC STUDIO
ERB Text, ERB Images and Tarzan® are ©Edgar Rice Burroughs, Inc.- All Rights Reserved.
All Original Work ©1996-2021/2022 by Bill Hillman and/or Contributing Authors/Owners
No part of this web site may be reproduced without permission from the respective owners.