Official Edgar Rice Burroughs Tribute Site
Since 1996 ~ Over 15,000 Webpages in Archive
Volume 0499
and
ERB C.H.A.S.E.R ONLINE ENCYCLOPEDIA
Present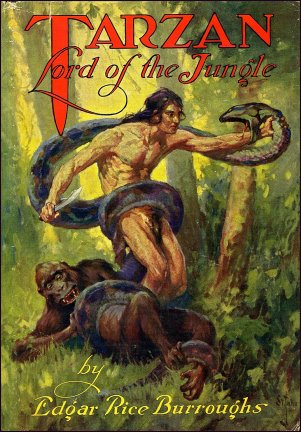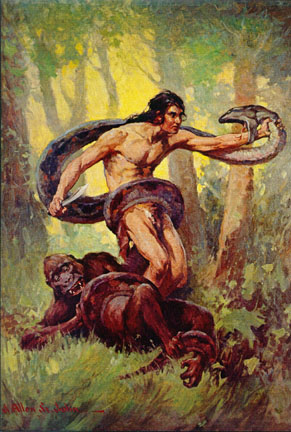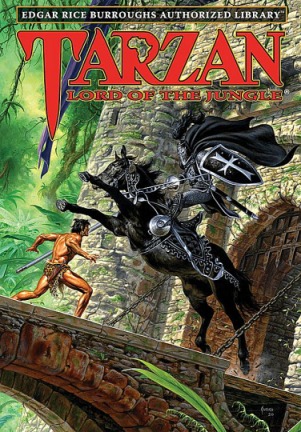 DJ Image
Large Cover Image
Large Cover Art by St. John
ERB, Inc. Authorized Edition
TARZAN, LORD OF THE JUNGLE
J. Allen St. John Art ~ Covers ~ Summary
Publishing History ~ Cast ~ Chapter Titles
Lord Greystokes Gallery of Cover Art
---
PUBLISHING HISTORY (USA)
Written May to July 1927
Read the eText HERE (Temporarily On-Hold)
---
PULP
Blue Book Magazine: 1927 December ~ 1928 January - May
J. Allen St. John: Jan. 1928 cover (first for ERB) ~ Dec. 1927 cover artist unknown
Frank Hoban: Many interiors
FIRST EDITION
A. C. McClurg: September 15, 1928 ~ (377 pages 7,500 copies 1st Ed.) ~ Total: 122,777 ~ Heins word count: 70,000
J. Allen St. John: DJ, title page and five interior sepia plates
Edgar Rice Burroughs: Map art of the Valley of the Sepulcher
REPRINTS
A. C. McClurg (many after September 1928)
Grosset and Dunlap: 1929
J. Allen St. John DJ and only four interiors
Grosset and Dunlap: 1939
J. Allen St. John DJ and only three interiors
Grosset and Dunlap: 1940
J. Allen St. John DJ and title page drawing - no interiors ~ ERB map
Grosset and Dunlap: 1943 (Madison Square wartime - 309 pages)
Better Little Book: Whitman Publishing (352 pages)
Rex Maxon: 173 illustrations from 1931 strip (cover by Maxon imitator)
Grosset ? Dunlap: April 1948 (309 pages)
C. Edmund Monroe: DJ ~ Rafael Palacios: end paper Africa map and title page decoration
PAPERBACK REPRINTS
Ballantine Books: September 1963 (191 pages)
Richard Powers cover
Grosset ? Dunlap: 1967 (309 pages)
Ballantine Books: October 1969
Robert Abbett cover
Ballantine Books: November 1976
Boris Vallejo cover
For detailed information, see Robert B. Zeuschner's
Edgar Rice Burroughs: The Bibliography (ERB, Inc., 2016).
Click on www.erbbooks.com or call 214-405-6741 to order a copy.
---
Tarzan, Lord of the Jungle

Tarzan finds an outpost of European knights and crusaders from a "forbidden valley" hidden in the mountains. His lion ally Jad-bal-ja puts in an appearance late in the book. Tarzan, Lord of the Jungle marks an important transition in the plot-type presented in the Tarzan series, presaged by the earlier Tarzan the Untamed. Previous novels dealt primarily with the ape-man's own affairs and family; beginning with this novel, he becomes an apparently rootless adventurer serving as a savior and enabler of a cast of secondary characters which changes in each book. While a few previously established and new characters continue to appear, notably the lion Jad-bal-Ja, the monkey Nkima, and Muviro, sub-chief of Tarzan's Waziri tribe, along with his warriors, most formerly major characters are dropped aside from an occasional token appearance. The novel also continues the trend, first seen in The Return of Tarzan and established definitively in Tarzan the Untamed, of taking Tarzan to a new lost civilization or tribe in almost every book.

.

CAST (in order of appearance)
---
TARZAN, Lord of the Jungle ~ John Clayton, Viscount Greystoke
Fahd ~ Arab of the tribe el-Harb
Motlog~ Arab of the tribe el-Harb
Fejjuan, aka Ulala ~ Galla native, slave of Arabs
Ibn Jad ~ Sheik of the fendy el-Guad
Tollog ~ brother of Ibn Had
Zeyd ~ Beduin in love with Ateja, rival of Fahd
Ateja ~ daughter of Ibn Jad
Hirfa ~ wife of Ibn Jad
Toyat ~ head of Tarzan's old tribe of great apes
W'walat, Gayat, Zutho ~ apes of Toyat'ss tribe
James Hunter Blake ~ rich, young American hunter
Wilbur Stimbol ~ NY stockbroker, head of Blake's safari
Peter Wiggs, Paul Bodkin ~ outer guard of Nimmer
Richard Montmorency ~ Knight of Nimmer, befriends James
Michel ~ boy, squire to Sir Richard
Malud ~ Knight of Nimmr, suitor for Guinalda
Prince Gobred ~ Ruler of Nimmr
Princess Brynilda ~ wife of Gobred
Guinalda ~ daughter of Gobred
Tabo ~ brother of Ulala
Batando ~ Chief of the Gallas
King Bohun ~ Ruler of the Knights of the Sepulcher
Edward ~ boy, squire to James
Sir Guy ~ first to joust with James
Wildred ~ second to joust with James
Bertram ~ Nimmr Knight, Tarzan's tourney escort
Abd el-Aziz ~ companion to Ibn Jad
Goyad ~ Toyat's rival for Guinalda
Cast List Ref: Clark A. Brady's Burroughs Cyclopedia and Ed Stephan's Tarzan of the Internet
Book Blurb Summary
from Ballantine Books

Cruel slave traders had invaded the jungle of Tarzan of the Apes. Now they were headed toward a fabled empire of riches which no outsider had ever seen, intent on looting. And toward the same legendary land was stumbling the lost James Blake, an American whom Tarzan had vowed to rescue.

Following their spoors, the ape-man came upon the lost Valley of the Sepulcher, where Knights Templar still fought to resume their Holy Crusade to free Jerusalem.

Soon Tarzan, true Lord of their ancient mother-land, was armed with lance and shield, mixed into their jousting and ancient combat. It was then that the slavers struck!

Chapters
1. Tantor the Elephant
2. Comrades of the Wild
3. The Apes of Toyat
4. Bolgani the Gorilla
5. The Tarmangani
6. Ara the Lightning
7. The Cross
8. The Snake Strikes
9. Sir Richard
10. The Return of Ulala
11. Sir James
12. "Tomorrow Thou Diest!"
13. In the Beyt of Zeyd
14. Sword and Buckler
15. The Lonely Grove
16. The Great Tourney
17. "The Saracens!"
18. The Black Knight
19. Lord Tarzan
20. "I Love You!"
21. "For Every Jewel a Drop of Blood!"
22. Bride of the Ape
23. Jad-bal-ja
24. Where Trails Met

From Lord Greystoke's Library
See all the Blue Book Pulp Covers at
www.erbzine.com/mag2/0226.html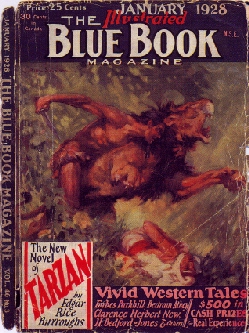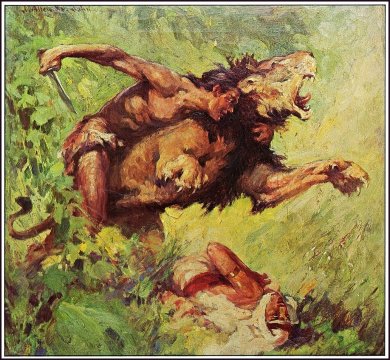 Click for large image of St. John's cover art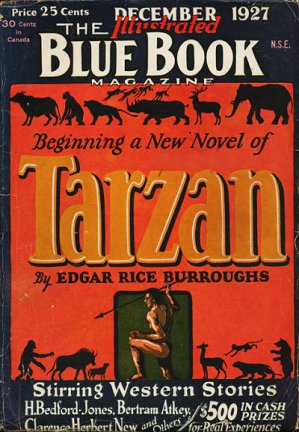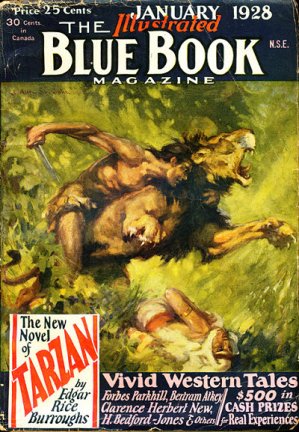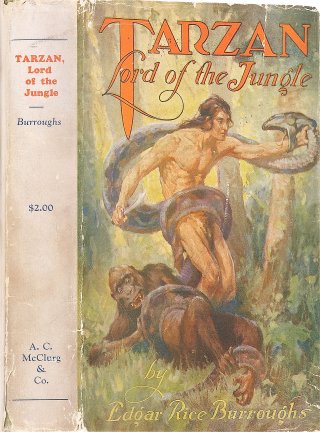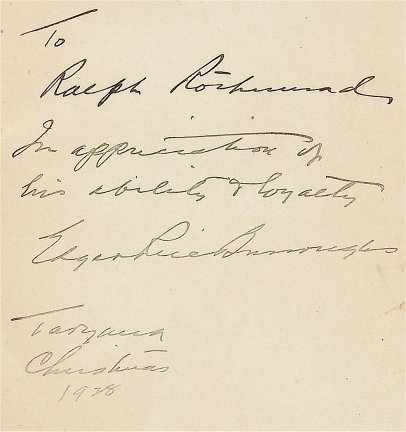 First Edition inscribed by ERB to ERB, Inc. secretary, Ralph Rothmund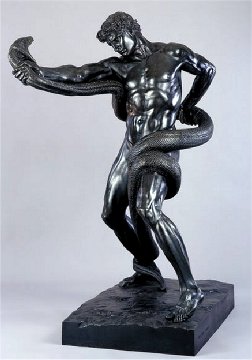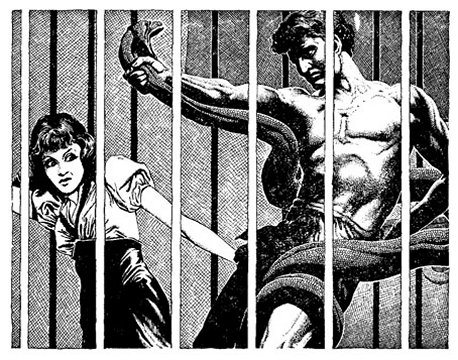 St. John's cover art was probably Inspired by Frederic Leighton's bronze sculpture: An Athlete Wrestling with a Python (1877)
See also Virgil Finlay's interior art for "The Quest of Tarzan" in Argosy Weekly.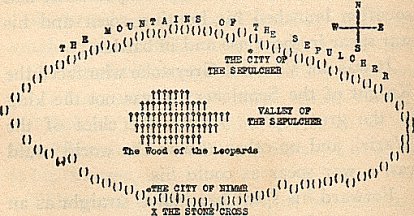 MAP OF THE VALLEY OF THE SEPULCHER
FROM SKETCH MADE BY TARZAN FOR
EDGAR RICE BURROUGHS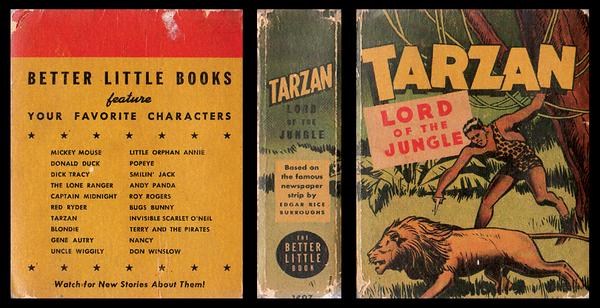 96 Daily 1931 Tarzan strips by Rex Maxon
Starting at ERBzine 3072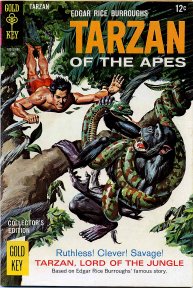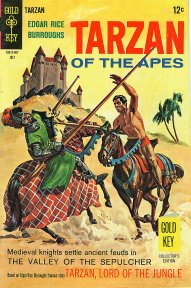 Read the Gold Key version
ERBzine 2576 and ERBzine 2577

---
UK Paperback Covers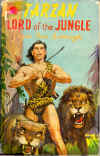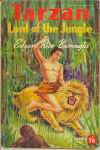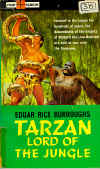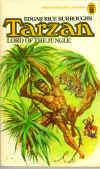 UK EDITIONS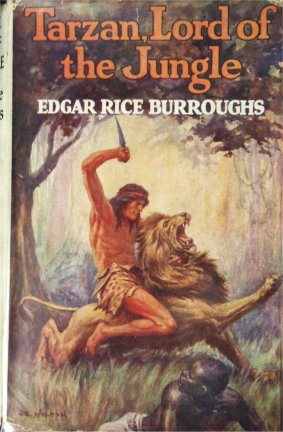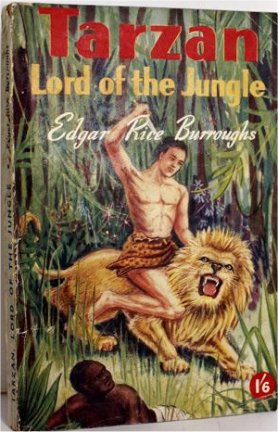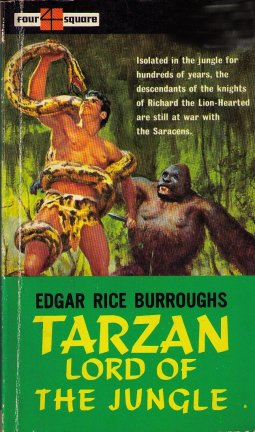 UK Cassell (1928) and WK Allen (1950) and Four Square Editions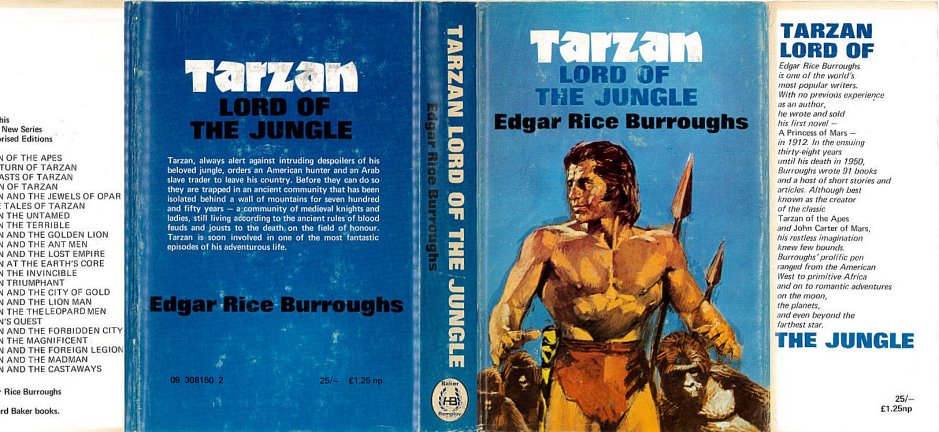 JAPANESE EDITION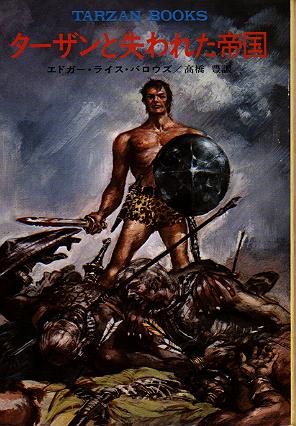 Art by Motoichiro Takebe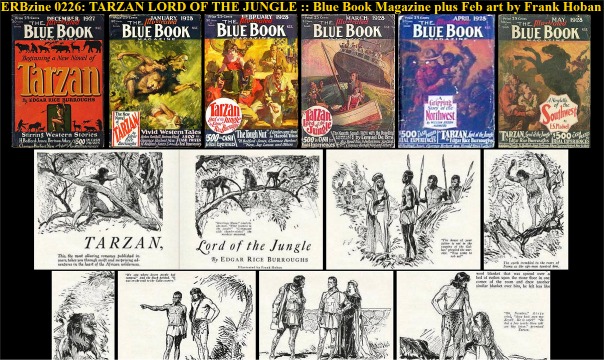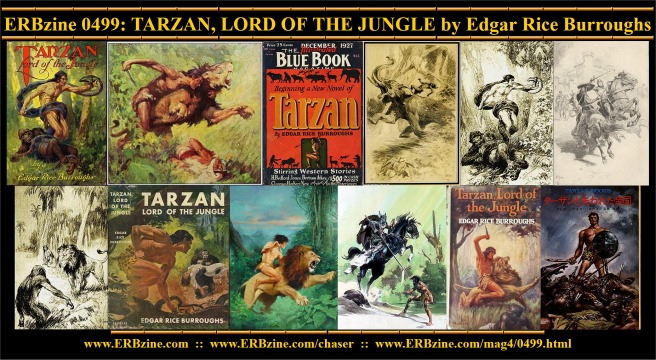 Click for full-size preview collages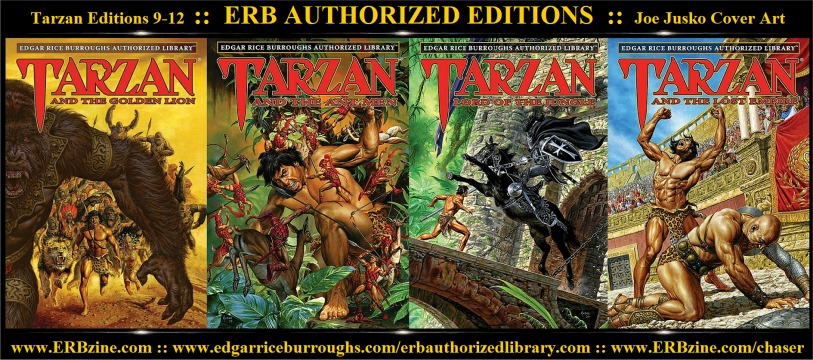 Click for full-size Collage

---
.

BACK TO ERB C.H.A.S.E.R. NAVIGATION CHART



Volume 0499


BILL HILLMAN
Visit our thousands of other sites at:
BILL AND SUE-ON HILLMAN ECLECTIC STUDIO
All ERB Images© and Tarzan® are Copyright ERB, Inc.- All Rights Reserved.
All Original Work © 1996-2002/2020 by Bill Hillman and/or Contributing Authors/Owners
No part of this web site may be reproduced without permission from the respective owners.
The Fantastic Worlds of Edgar Rice Burroughs
ERB Companion Sites Created by Bill Hillman
| | | | |
| --- | --- | --- | --- |
| Tarzan.com | ERBzine.com | DantonBurroughs.com | Tarzan.org |
| BurroughsBibliophiles.com | JohnColemanBurroughs.com | Tarzan.com/tarzine | JohnCarterOfMars.ca |
| www.erbzine.com/edgarriceburroughs | Weekly Webzine | Weekly Webzine | Pellucidar.org |
| John Carter Film | ERB, Inc. Corporate Site | ERB Centennial | tarzana.ca |