First and Only Weekly Online Fanzine Devoted to the Life and Works of Edgar Rice Burroughs
Since 1996 ~ Over 15,000 Webpages and Webzines in Archive
Volume 6890
JOHNNY WEISSMULLER AND ELEANOR HOLM
Stars of
Billy Rose's AQUACADE
1939 NY World's Fair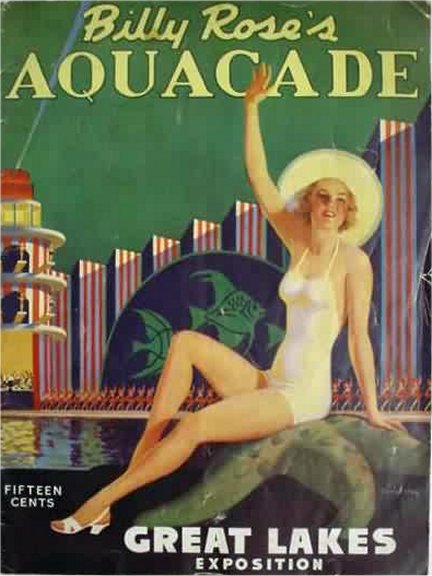 A program from Billy Rose's AQUACADE at the Great Lakes Exposition 1937.
34 pages, large format. It features an article with two photos of Johnny Weissmuller
as well as a centerfold with him and Eleanor Holm wearing her Olympic Swim suit.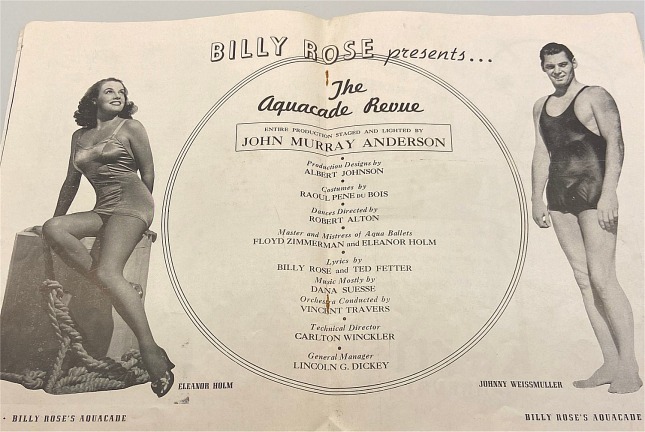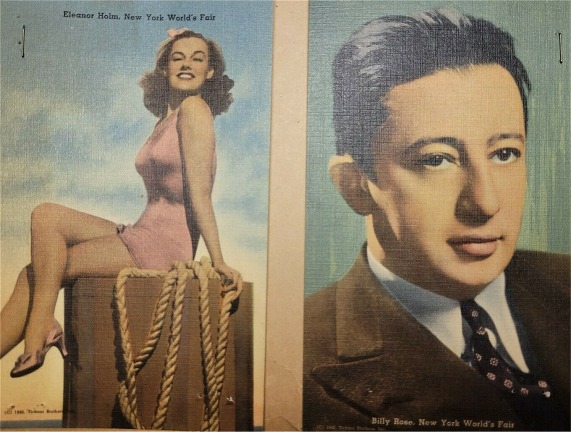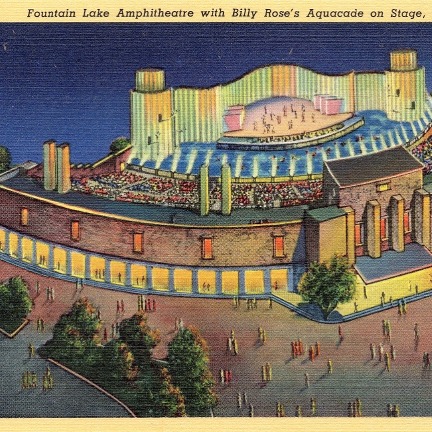 Official postcard from the fair.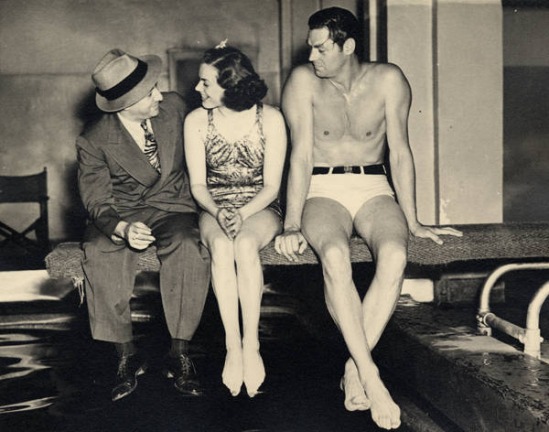 Billy Rose with Olympic swimmers Eleanor Holm and Johnny Weissmuller
on a diving board at Billy Rose's Aquacade

Eleanor Holm and Johnny Weissmuller, the stars of the 1939 Aquacade.
Billy Rose checking out the the auditioning "girls."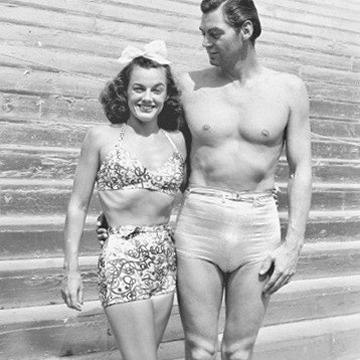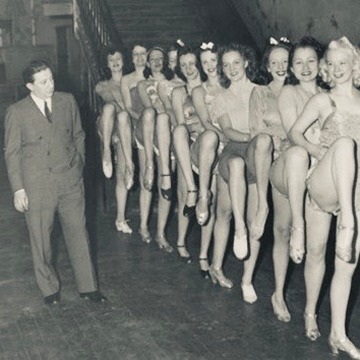 Eleanor Holm swam for gold in the '32 summer Olympics, but was kicked off the '36 team when she was accused of being drunk at a party aboard the SS Manhattan en route to Berlin. (Read more about that scandal in Elise Hooper's book Fast Girls, about the '36 Olympic track team.) She and Billy Rose married in 1939 upon his divorce from Fanny Brice. Weissmuller won five Olympic golds in the '20s, went on to play Tarzan in 12 films, and is the most famous of all who played Tarzan, partly because of his iconic yell.
Billy Rose's "million-dollar Aquacade"
starring his wife, Olympic swimming star Eleanor Holm.

To build the 11,000-seat amphitheater, a stage was constructed 60 feet off shore in Fountain Lake, in the amusement area of the 1939 World's Fair at Flushing Meadows Park. It contained three smaller revolving stages and a steel swimming pool with a diving tower 75 feet high. Holm co-starred with Johnny Weissmuller in 1939 and Buster Crabbe in 1940. Their shows were a major attraction in the amusement area.

On a cold March morning before the fair opened, Grover Whalen, the exposition's president, beamed his approval as Holm smashed a bottle of champagne to dedicate the Aquacade. A troupe of chorus girls from Rose's Diamond Horseshoe Night Club were on hand to provide a seductive background for publicity.

When the fair closed, the Aquacade was one of the few exhibits saved from destruction. It later became The Flushing Amphitheater, where Elliot Murphy hosted yet more aquashows. The structure also served as a much- needed swimming pool for the residents of central Queens in the 1950s and was enjoyed by many. It was later refitted for water shows for the 1964-65 fair.

But sadly, officials let the building fall into disrepair and chose to demolish it instead of restoring it. It was torn down in April 1996 at a cost of $798,000, plus $500,000 to restore and grade the area, and is still sorely missed by many residents.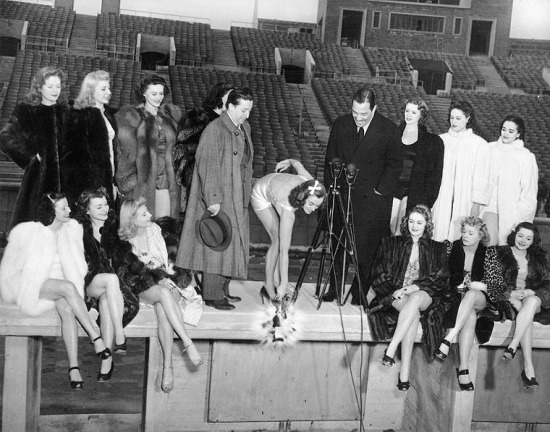 Eleanor Holm, the "real" female lead of the Aquacade dedicates the pool in February 1939, 3 months before the Fair opening.
She must have been freezing in that swimsuit—check out the others in fur coats!
Billy Rose is on her left. Grover Whalen, Fair President, on her right.
Three bottles of champagne were smashed against a concrete catwalk
(an unexpected result of the ceremony was that Holm and several of the dancers were cut on their legs by flying splinters of glass from the bottles).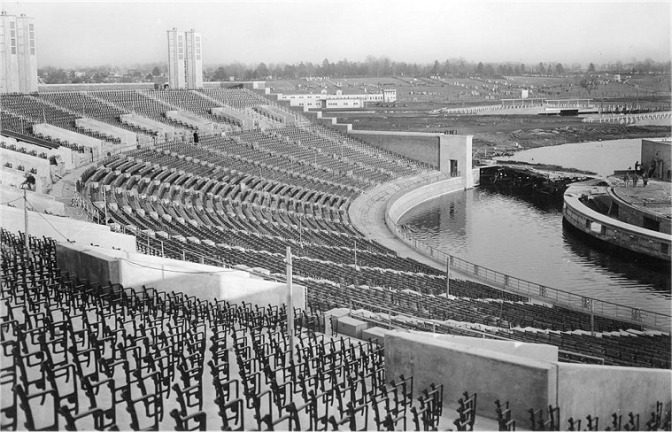 The Amphitheatre as it neared completion in February 1939

The Aquacade pool was 275' long and the stands held 10,000 people.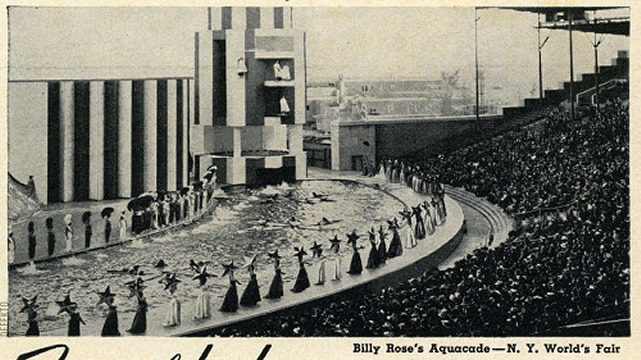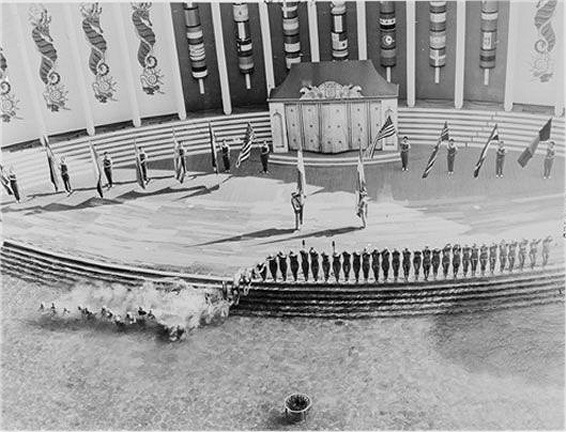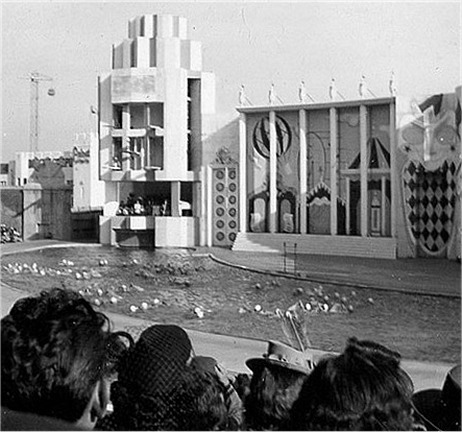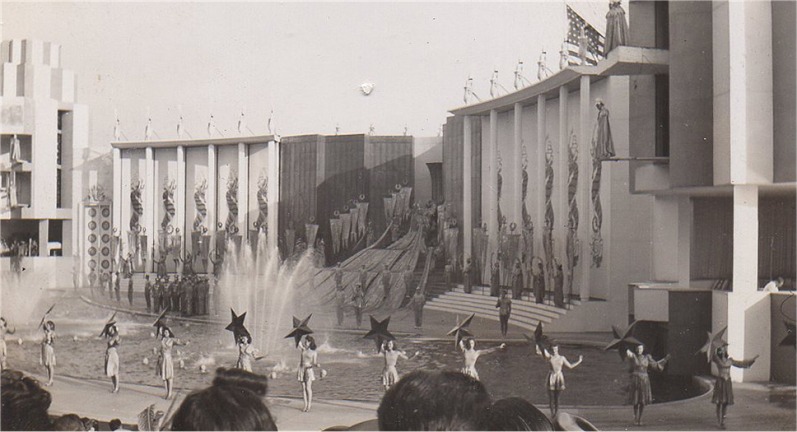 Billy Rose's Aquacade ~ NY Worlds Fair 39-40

The stadium opened on March 22, 1939 with a ceremony starring Holm and Tarzan actor / Olympic swimming champ Johnny Weissmüller. The cast comprised of 500 performers that included Olympic swimmer Gertrude Ederle, a resident of Flushing. The venue had its shortcomings. "My hair turned green from the chlorine, and swimming on those cold October and November nights in New York was awful," Holm told the authors of Tales of Gold.

Weissmuller's appalling habit of exposing himself to them underwater and on dry land was written about by Esther in her autobiography and confirmed by Maureen. The man truly believed he was irresistible to the opposite sex and seemingly at liberty to sexually harass them whenever he felt the inclination, which seemed to be most of the time. When Esther asked Maureen if she had experienced Weissmuller's obsession with waving his genitals in her face and, if so, what had she done about it, her reply was accompanied by a shrug of her shoulders: 'I let him', she said rather matter-of-factly.

Esther was far less forgiving and could not wait to end her professional commitments with Weissmuller at an aquatic revue. 'Under the stage, he'd whip off his trunks…he'd try to get my suit off', she wrote. 'He would hold me and grope me and let me know that he had this lovely erection. Chasing me totally in the nude, he would splash and grunt like a lion…He was always right behind me, that big smile on his face, those groping hands – three shows a day (four on Saturday and Sunday), six days a week.' Needless to say, Miss Williams was never in a Tarzan picture with him or anyone else. She was too big a star for that anyway.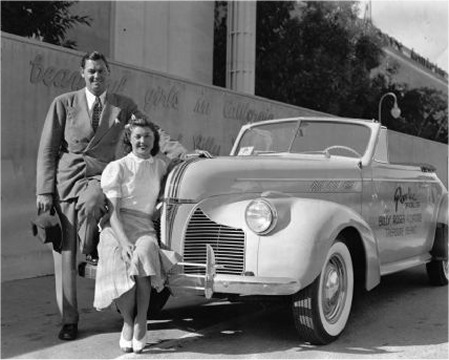 Esther Williams and Johnny Weissmuller outside the Billy Rose Aquacade in 1939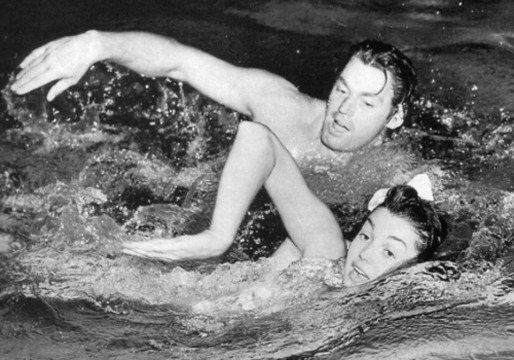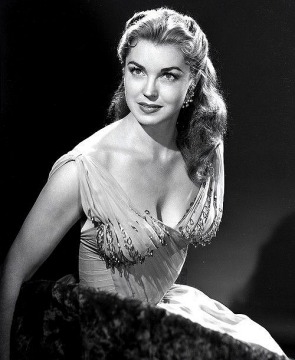 Johnny Weissmuller and Esther Williams

After the Fair
Ref: hiddenwatersblog

When the World's Fair ended, most of its exhibition structures were demolished, with the exception of those that became legacy projects for Flushing Meadows-Corona Park, such as the Meadow Lake Boathouse, the future Queens Museum, and the Aquacade. Other artifacts such as the Parachute Jump, the King Jagiello Monument, which were removed from the park and reinstalled elsewhere. Billy Rose took his show on the road playing at other prominent fairs in the coming years. The stadium reopened as a public swimming pool.

For the 1964-1965 New York World's Fair, the stadium was again used as a stage for the Wonder World show, but it failed to attract the sizable crowds that billy Rose had drawn. It hung on as a public pool until 1978 when the financially strapped city could not afford to maintain it. Ironically a year earlier, Borough President Donald Manes had it renamed after Gertrude Ederle. The discovery of asbestos contamination closed it permanently in 1982 and from that point, it became a magnet for arsonists and vandals. Shortly before its demolition, art critic Robert Hughes visited it as part of his American art history documentary American Visions.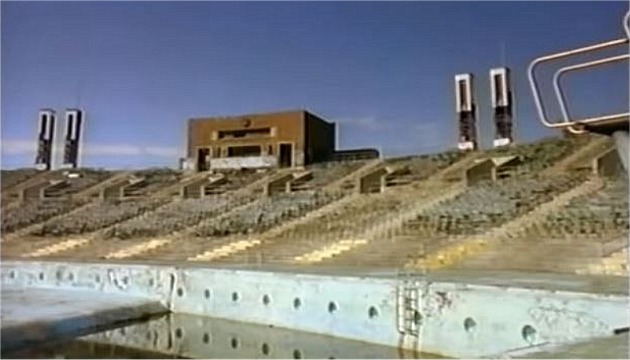 Stadium Before Demolition
Demolition
Although there were many proposals for reviving the stadium, neighborhood concerns over noisy concerts and the cost of asbestos abatement torpedoed these plans. According to then-Borough President Caire Shulman, abatement would have cost $20 million, compared with $2 million for demolition. Even author E. L. Doctorow couldn't save this stadium.

What's there now
Where the Aquacade stood there is now a traffic circle and shoreline promenade with a snack bar that includes architectural elements that hearken to the demolished amphitheater. From the promenade, one has a clear view of Meadow Lake looking south towards the Head of the Vleigh. From here, one also has a good view of the Hong Kong Dragon Boat Festival that takes place at Meadow Lake every August.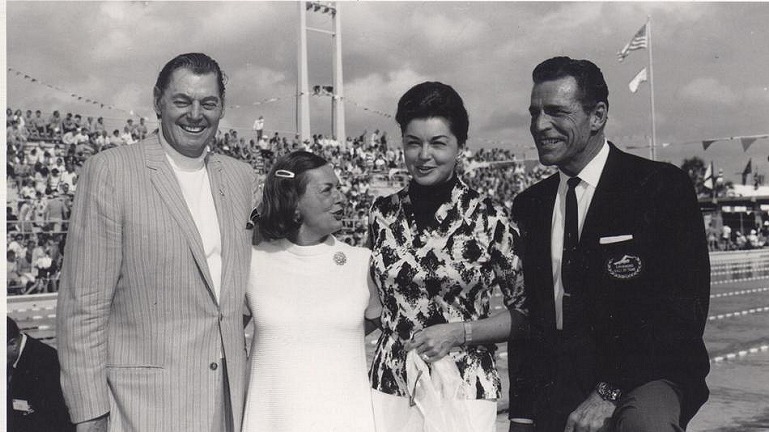 Johnny Weissmuller, Eleanor Holm, Esther Williams and Buster Crabbe
at the Hall of Fame pool grand opening in 1965. (Bruce Wigo)

ERBzine References:
Johnny Weissmuller Scrapbook
Tarzan's Revenge with Co-Star Eleanor Holm
Tarzan the Fearless starring Buster Crabbe
ERBzine Silver Screen: Featuring All the ERB Films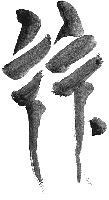 BILL HILLMAN
Visit our thousands of other sites at:
BILL and SUE-ON HILLMAN ECLECTIC STUDIO
ERB Text, ERB Images and Tarzan® are ©Edgar Rice Burroughs, Inc.- All Rights Reserved.
All Original Work ©1996-2021 by Bill Hillman and/or Contributing Authors/Owners
No part of this web site may be reproduced without permission from the respective owners.