First and Only Weekly Online Fanzine Devoted to the Life and Works of Edgar Rice Burroughs
Since 1996 ~ Over 15,000 Webpages and Webzines in Archive
Volume 3598
.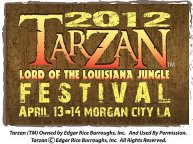 2012 TARZAN FESTIVAL

HOMEWARD BOUND

On our trip back home to Manitoba we captured hundreds of photos along the way.
Through the years we've attended many ERB Conventions
and have found that getting there and back is half the fun.
We've shared some of these past adventures in our ERBzine feature:
A FUNNY THING HAPPENED ON THE WAY TO . . .
We now have another chapter to add to that series.
Many more photos will be featured in our personal Website
HILLMAN ECLECTIC STUDIO
but we have shared a few of our favourites on this ERBzine page.






www.edgarriceburroughs.com
www.hillmanweb.com
FAREWELL TO MORGAN CITY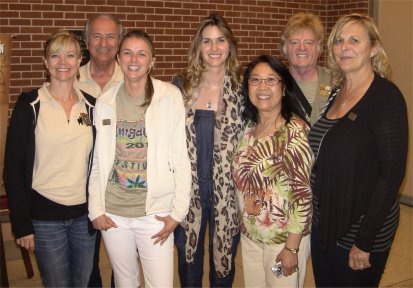 Cathy Wilbanks ~ Jim Sullos ~ Dejah, Llana Jane, and Linda Burroughs ~ Sue-On and Bill
The gang heads west (Tarzana) and north (Brandon)




www.preservationhall.com/hall
www.neworleansmusicallegends.com
NEW ORLEANS' FRENCH QUARTER FESTIVAL
A view of downtown New Orleans
from the roof of the Hilton.

A stop at historic Preservation Hall
to enjoy some New Orleans jazz.
.
Sue-On entering Musical Legends Park

The French Quarter teeming with tourists
. . . and the odd scruffy local dumpster diver.



www.hillmanweb.com/elvis/hayride/elvis1all.html
SHREVEPORT
HOME OF THE LOUISIANA HAYRIDE ~ MUNICIPAL AUDITORIUM
Bill entering the Shreveport Municipal Auditorium
(home of the Louisana Hayride) on Elvis Presley Avenue
to pay homage to his two major musical influences...
While in the Aud we took photos of the wall portraits of
some of the stars who have performed on this stage.
They are featured in the collage above and on the Webpage HERE
Plans to meet with James Burton were quashed
sadly James was out of town
on the only day we could visit.

Elvis was a regular here
on the Louisiana Hayride 1954-1956
www.hillmanweb.com/elvis

Unplugged in Elvis's dressing room!
Backstage at the Hayride.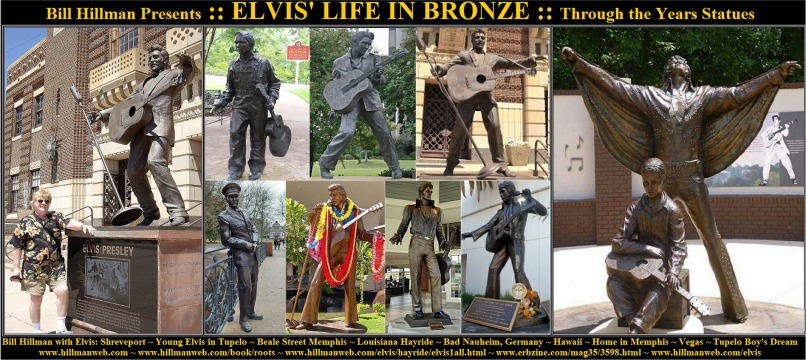 Click for full size





www.sciport.org
VISITING AL BOHL AT SHREVEPORT'S SCI-PORT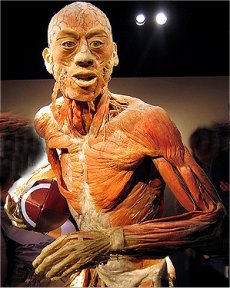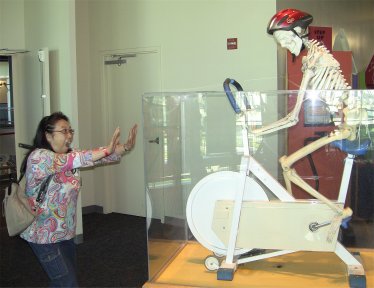 Visits to Al Bohl's workplace at Shreveport's Sci-Port Centre are not without hazard.
Security is tough.
RIVERFRONT ADVENTURES
Sue-On picking roses along the Red River

John Carter wannabe . . .
(the giant white ape is lurking under the bridge)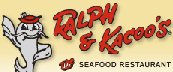 www.ralphandkacoos.com
MORE CAJUN FOOD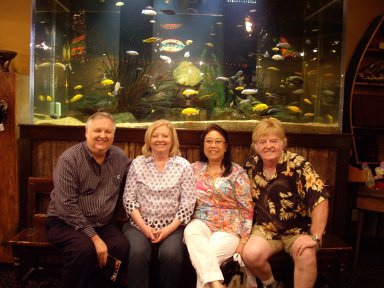 Our last supper with Al and Doris at Ralph and Kacoo's.




www.clintonlibrary.gov
THE CLINTON PRESIDENTIAL CENTER ~ LITTLE ROCK
Bill signs documents in the Cabinet Room.
Filling in for President Clinton.

Sue-On helps Hillary set the White House table
for the evening's dignitary banquet.


www.hillmanweb.com/sun
MEMPHIS, TENNESSEE
SUN STUDIOS ~ LEGENDARY HOME OF ROCK 'N' ROLL
A Sun Studios stop to pay homage to the R&R greats
and to pick up a few mementos for the guys back home.

Bill travels nowhere without his guitar
. . . always ready for a gig or jam.
Our previous visits to Sun Studios and the Sun Museum are documented at:
www.hillmanweb.com/sun




www.ERBzine.com/mcwhorter
A Visit With The Greatest Living Authority On All Things ERB
PROF. GEORGE T. McWHORTER ~ ERB MEMORIAL COLLECTION
UNIVERSITY OF LOUISVILLE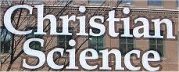 cslouisville.com
GEORGE'S SPIRITUAL SIDE
George on the steps of
the marvelous Louisville church that
he has attended and soloed at for 40 years.

Seated at the massive church organ with music
opened to the song that George will sing on Sunday:
"In My Father's House Are Many Mansions"
.
The church interior
with its massive columns and skylight.

George in his personal office at the church.
Our previous visits with George at the U of L Ekstrom Library are documented at:
www.erbzine.com/mag30/3001.html




spacealiens.com/
www.erbzine.com/mag35/3550.html
FARGO, ND ~ HOME OF THE SIGMUNDS
Lunch guests of ERB Boosters Extraordinaire: Rudy and Jill Sigmund.
We all dazzled the aliens in attendance with our ERB Memorabilia : )
Rudy and Jill: Thark T-shirt, Tarzan Festival pin and T-shirt, and BB pin.
Bill: ERB T-Shirt from Rudy's recent Minneapolis ECOF Festival
Sue-On: A unique gift from Rudy - The rare Official Greystoke vest from the film's producer/director, Hugh Hudson.



CONTENTS
FESTIVAL 1 : 2 : 3 : 4 : 5 : 6 : 7 : 8 : 9 : 10 : 11 : Songbook : Doc Stories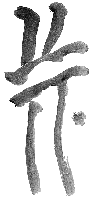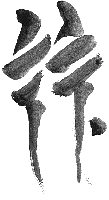 BILL HILLMAN
Visit our thousands of other sites at:
BILL AND SUE-ON HILLMAN ECLECTIC STUDIO
ERB Text, ERB Images and Tarzan® are ©Edgar Rice Burroughs, Inc.- All Rights Reserved.
All Original Work ©1996-2012/2022 by Bill Hillman and/or Contributing Authors/Owners
No part of this web site may be reproduced without permission from the respective owners.