First and Only Weekly Online Fanzine Devoted to the Life and Works of Edgar Rice Burroughs
Since 1996 ~ Over 15,000 Webpages and Webzines in Archive
Volume 0360


The Many Worlds of

"The master of imaginative fantasy adventure...
...the creator of Tarzan and...
...the 'grandfather of science-fiction'"





ERB ECLECTICA 2000.05.05
MOTES & QUOTES No. 18
Part of the ERBzine Eclectica Series

Note: The Links shared here were posted in May 2000
Some of the off-site, non-ERBzine links may be no longer active.
NOTE:
Before Social Media There Was ERBzine Eclectica that we debuted in January 2000.
Our ERB Motes & Quotes Eclectica was a weekly showcase for all.
This was one of many Webpages that were featured in each week's ERBzine Webzine
-- an online fanzine that we have published every week since 1996.
the latest ERB news, releases, readers letters, and a boundless collection of items
of interest to Burroughs and SF/Adventure Fans.
Images were smaller then as the Internet and computer systems were slower
-- also server storage was much more expensive.
Sadly, some of the off-site non-ERBzine links we've shared are no longer active
- that, we have no control over but they are left here as a curiosity or reference.


---
Our May ERB Art Festival starts this week with an informal chat with
Burne Hogarth in ERBzine 0298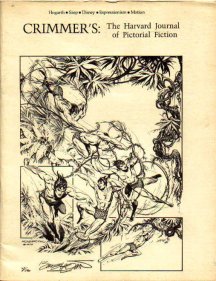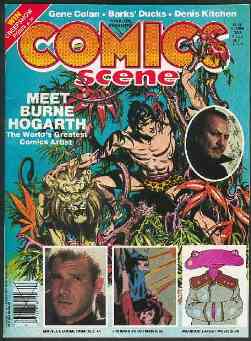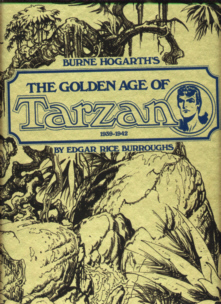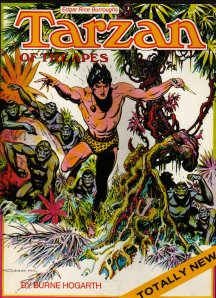 ---
Our fan art feature is Memoirs of Mars by Frank X. Blisard
with commentary by David "Nkima" Adams in ERBzine 0359.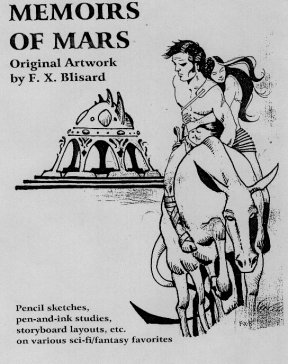 ---
3. More ERB Fan Art
ERBzine ERB Artists Encyclopedia
https://www.erbzine.com/art/
John Carter and Dejah Thoris by Louis Paradis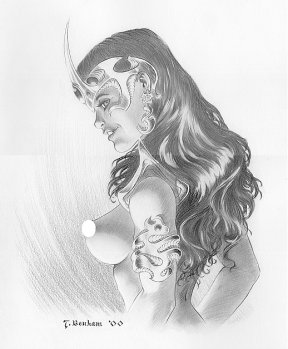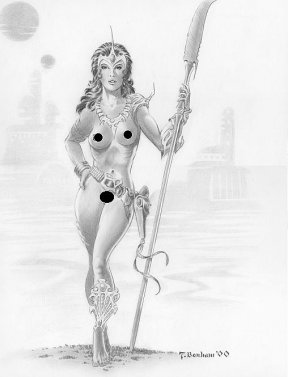 ~ Dejah Thoris by T. Benham
---
4. COMPILATIONS OF GREAT ERB ART
Roy G. Krenkel Tribute
https://www.erbzine.com/krenkel/
ERBzine Frank Frazetta Tribute
https://www.erbzine.com/ff/
ERBzine's ERB Pulp Encyclopedia
https://www.erbzine.com/mag2/0220.html
Amazing Cover Art of J. Allen St. John
https://www.erbzine.com/mag21/2118.html
Ballantine Cover Art of Neal Adams
https://www.erbzine.com/mag36/3610.html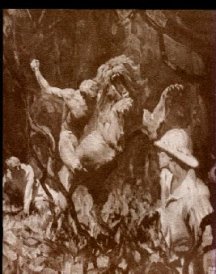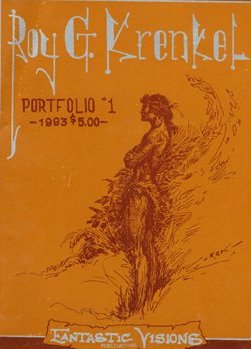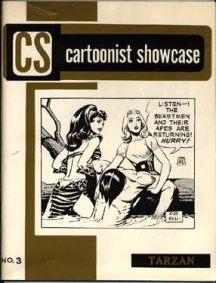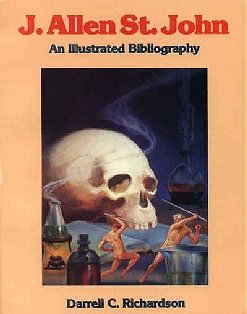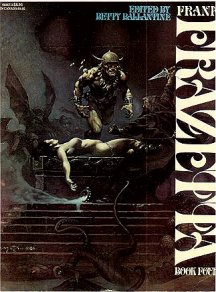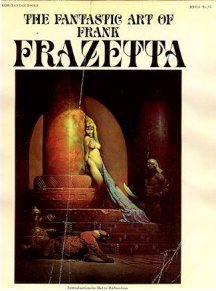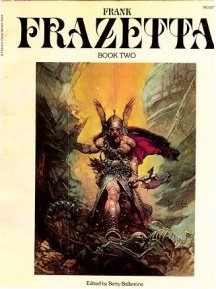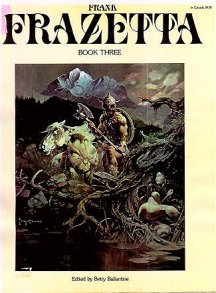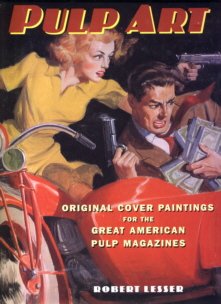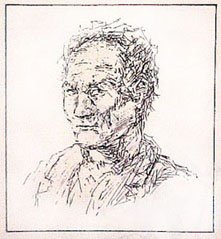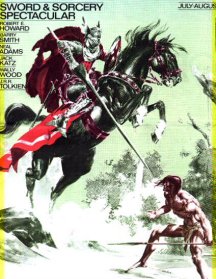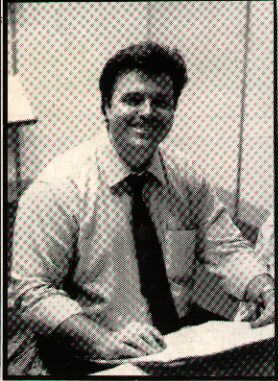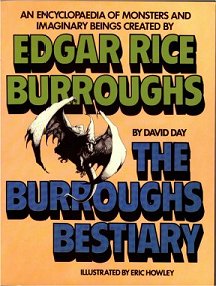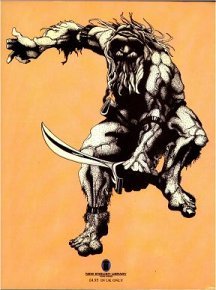 "The worlds of Edgar Rice Burroughs, Tolkien, Milne, Conan Doyle -- More than 100 marvel-filled maps from the fanciful realms of literature and legend" fill this amazing, out-of-print cartography of the imagination -- AN ATLAS OF FANTASY! From the cover: "A captivating compilation of improbable places and spellbound lands...Over 100 marvelous maps to the Never-Never lands of fiction and folklore! From the Garden of Eden to Middle-earth, this entrancing collection includes classic and 'cult' charts, whimsical amateur sketches, and author-drawn blueprints of their own fabulous dominions. AN ATLAS OF FANTASY leads you on a journey to phantasmagoria -- where the most enchanting non-people and non-places are waiting to be discovered."
AN ATLAS OF FANTASY includes maps, drawings and descriptions of these literary Never-Never Lands: Worlds of Edgar Rice Burroughs ~ L. Frank Baum's Oz ~ Swift's Voyages of Lemuel Gulliver ~ The World of Sherlock Holmes ~ Treasure Island ~ A.A. Milne's Pooh's Turf ~ Robert E. Howard's Hyboria ~ Kenneth Grahame's Environs of Toad Hall ~ Worlds of J.R.R. Tolkien ~ Narnia ~ The Witch World ~ Earthsea ~ Lemuria ~ Frank Herbert's Dune ~ The Worlds of H.P. Lovecraft ~ and more. Format: 11 x 8.5" softcover with protective clear cover, 210 pages, over 100 maps with descriptions and index of artists.
Visit our huge collection of comics, memorabilia and trading card art in our
ERB Comics & Collectibles Emporium
| | |
| --- | --- |
| This card was issued in the UK by Victoria Gallery in 1992. It is card number 17 from a set of 20 cards entitled "Partners". The front of the card shows an artist drawn picture of JOHNNY WEISSMULLER AND MAUREEN O'SULLIVAN, while the back of the card has the set title, card number and a brief description of the front. The size of this card is approx. 2.5 X 3.1 inches. | |
| | |
| --- | --- |
| Tarzan Jungle Map and Treasure Hunt which came free with the purchase of Weston's English Quality Biscuits in 1933. The map measures 20" x 14" and is in full color. Copyright on the envelope is 1933 by Weston-Biscuit. On the back of the envelope is the treasure hunt game which could be played by four people. | |
---
6. BOOKSHELF


Movie-A-Minute have taken several classic and contemporary movies and extracted the important stuff, cutting out all the filler.
With their ultra-condensed versions of your favorite films, you can experience whole movies in just one minute.
Here is just one example:
The Tarzan Movies 1918-Present
Ultra-Condensed by Samuel Stoddard
Tarzan: "OHHHHH-AA-ahhhhhhh-AAOOAAOO-ahhhhhhhh!!!!!"
(A safari of pillagers get run over by a herd of elephants.)
THE END

| | |
| --- | --- |
| | Love Stories selected by Martin Levin. Is a hard cover book with dust jacket released in 1975. It contains 28 tales of love from famous authors including Edgar Rice Burroughs (Tarzan's First Love). HG Wells, F. Scott Fitzgerald, Kurt Vonnegut, Jr. and many more. |
THE OFFICAL GUIDE TO FANTASTIC LITERATURE
is a 1976 book by MICHAEL RESNICK.

This 212-page book has many cover reproductions in color and black & white of pulps, rare fanzines, digests, hardcovers, paperbacks, Star Trek and Edgar Rice Burroughs material. It also covers radio premiums and original art by SF greats. There is also bibliographical info on many obscure publishers & commentary on various type of collectibles & relative rarity.
SPACEWAY SCIENCE FICTION Magazine,
June 1970, Vol. 5 No. 1
contains the article,
THE MANY WORLDS OF EDGAR RICE BURROUGHS
(pp. 42-49)
and a short story by
Andre Norton: Garan of Yu-Lac, Pt. II.

This Easton Press edition is bound in dark blue genuine leather, with gilt edges on the individual pages, and a satin ribbon bookmark.
The introduction is written by L. Sprague de Camp a
nd the artwork is by Ron Miller.
It features two ERB Stories in one book: At The Earths Core and A Princess of Mars.
Illustrations by Ron Miller. 1996 Easton Press Collectors Edition.


BURROUGHS BIBLIOPHILES BULLETIN BOARD
https://www.erbzine.com/dumdum/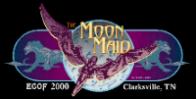 EDGAR RICE BURROUGHS CHAIN OF FRIENDSHIP
Hosted by Jim Thompson




Guests: Barry Stubbersfield & Mary Burroughs
CLARKSVILLE, TENNESSEE
MAY 18 - 21, 2000
https://www.erbzine.com/mag3/0371.html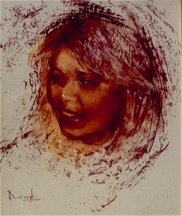 Mary Burroughs
CLARKSVILLE, TENNESSEE
MAY 18 - 21, 2000
MEET MARY BURROUGHS
https://www.erbzine.com/mag36/3699.html
A LOVE STORY
https://www.erbzine.com/mag36/3699a.html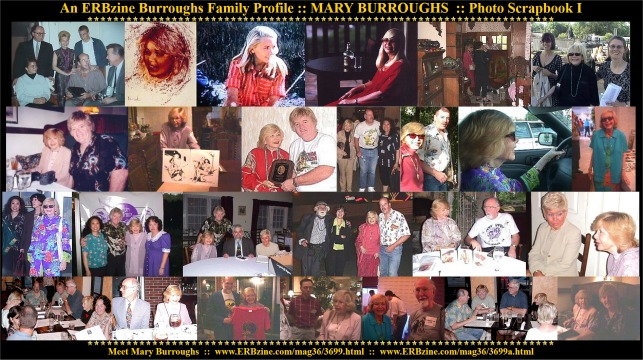 STARTING MAY 5, 2000
A Month-Long
ERBzin-e SPRING ART FESTIVAL 2000
Spotlighting some of the all-time great ERB artists
Burne Hogarth ~ Dave Hoover ~ John Coleman Burroughs ~ Nicolai Fechin ~ Fortunino Matania
~ J. Allen St. John ~ Frank Frazetta ~ Edgar Rice Burroughs ~
~ Comic Artists: Maxon, Foster, Hogarth, Rubimor, Celardo, Manning, et al ~
and much great fan art.
All fan art is welcome ~ Please send your submissions to
DUM-DUM 2000
~ The Annual Convention of the Burroughs Bibliophiles ~
Dum-Dum 2000 on July 13-16 2000


Special guest will be Johnny Sheffield

---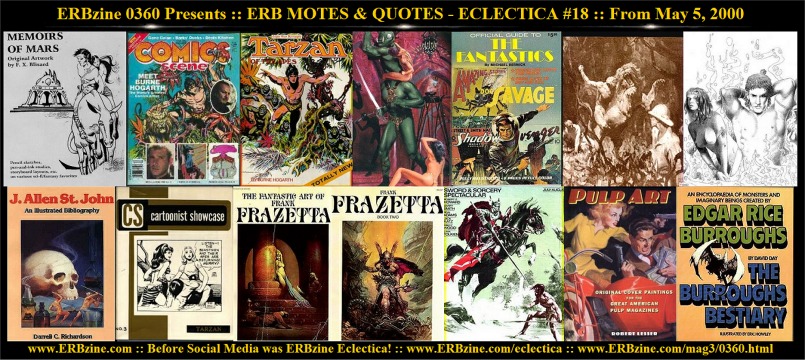 Click for full-size promo splash bar



Volume 0360

BILL HILLMAN
Visit our thousands of other sites at:
BILL and SUE-ON HILLMAN ECLECTIC STUDIO
ERB Text, ERB Images and Tarzan® are ©Edgar Rice Burroughs, Inc.- All Rights Reserved.
All Original Work ©1996-2006/2020 by Bill Hillman and/or Contributing Authors/Owners
No part of this web site may be reproduced without permission from the respective owners.