The First and Only Weekly Online Fanzine Devoted to the Life and Works of Edgar Rice Burroughs
Since 1996 ~ Over 15,000 Webpages in Archive
Volume 2164
Presents
ECLECTICA: MOTES & QUOTES
ERB Newsmagazine 2008.05.09

---
MASTER OF FANTASY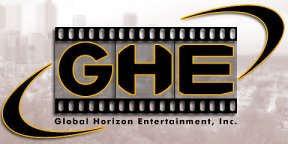 Our projects for Year 2007
The Fantasy Writers Of Our Time
Episode 1: Burroughs, Master of Fantasy
Written by Patrice Bonneyrat
http://www.ghentertainment.com/ghe_projects_03.html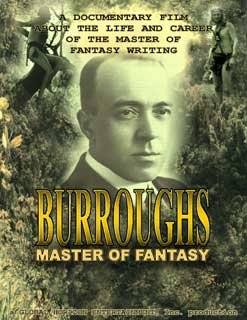 To date nothing significant has ever been produced about Edgar Rice Burroughs and no documentary focusing on his life and career has ever been made. We feel it is time to put him on the level of H.G. Wells and Jules Verne. The purpose of Burroughs: Master of Fantasy is to tell the life story of the father of adventure and fantasy, ERB. This piece will inspire a sense of pride in the legacy that Burroughs brought to the art of adventure writing as a genre and a deeper appreciation for the importance of preserving its history for future generations.

Global Horizon Entertainment, Inc. is proud to present Burroughs: Master of Fantasy, the true story of the man. This documentary will follow the life of the Burroughs family after the Civil War. An introduction on the kind of society in which ERB grew up is going to be essential to understand his state of mind. The industrial revolution brought incertitude to the population regarding the new technologies and their use. A free mind like that of ERB was shut down and his professional misfortune ended when he could finally express himself through writing. At last, his mind could go where it wanted to: inside the imaginary world.

We will also follow ERB's personal life and career through his books and the different characters that he created. Following in parallel will be a description of the society in which Burrough's writing evolved: the motion picture as a new art form, WWI, the pulp fiction magazines, the 1929 Wall Street crash, the first comic books etc.

We hope you will come and join us as we explore the life and times of Edgar Rice Burroughs - the man and the writer.

Trailer
http://www.ghentertainment.com/videos/trailer-big.wmv
---
Director Of Production
Patrice Bonneyrat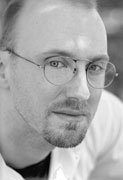 Patrice Bonneyrat studied movie production and set design in his native country of France where he worked as assistant producer for various TV movies and independent productions. There, he also produced and directed documentaries and worked on different short movies. During that period he also started his acting career in theater and playing in local TV and video productions.

Patrice came to the United States thirteen years ago to improve his knowledge in the entertainment industry. He began at the Denver Theater Company working on different plays in the set design department. Following that he worked for the PBS local station, KRMA-TV Channel 6, in the graphics and production department building sets for several shows. He alsodesigned sets for shows like Our Town, Laughter on the 23rd Floor, Company, Sweet Charity, Smokey Joe's Café, Pygmalion and Beyond Reasonablein Colorado and California. He then accomplished a long time dream; becoming an American citizen.

Patrice worked for different TV series in the Denver area in the production design department and also in Hollywood as miniatures supervisor and special effects producer for different action movies. Patrice runs his own office being the Founder/Manager/President of a film and video production company in Denver, Global Horizon Entertainment, Inc. He is currently working on different projects including among others, a documentary biography, Bruce Bennett, an Amazing Life, a reality show on haunted places, Spirit P.I., and a Sci-fi TV movie, Shadow Hunter, to name a few

Patrice has been teaching acting and television/broadcasting for several schools in France and the Denver area for years.

copyright © Global Horizon Entertainment, Inc. 2005
---
DANTON'S LAST INTERVIEW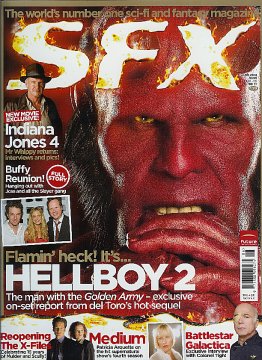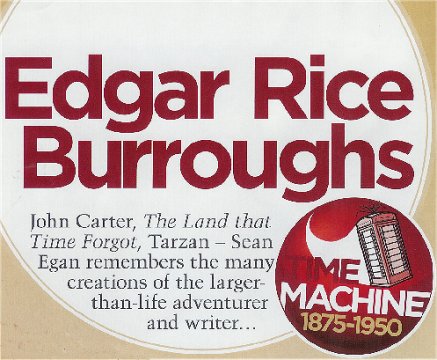 From England
The World's Number One Sci-Fi and Fantasy Magazine
SFX
June 2008 Edition
A few weeks back Danton and I did a two-hour, long-distance telephone interviews for Sean Egen between London, England ~ Tarzana, California ~ and Brandon, Manitoba. We also supplied many scans of ERB photos, posters, and covers. The result was a colourful, fully-illustrated, and in-depth article on Edgar Rice Burroughs in which Sean remembers "the many creations of the larger-than-life adventurer and writer."

Danton died before he saw the results of our interviews and before Sean's complimentary copies reached us. He would have been very pleased with the feature. This very collectible June issue is now on newsstands worldwide.

Read it HERE at:
www.erbzine.com/mag21/2197.html
www.erbzine.com/mag21/2198.html


---
SEE THE DANTON BURROUGHS MEMORIAL TRIBUTES
www.erbzine.com/dantonburroughs
---
Hi-Performance CARS Magazine
feature on Danton Burroughs' high performance car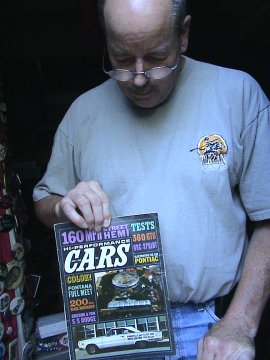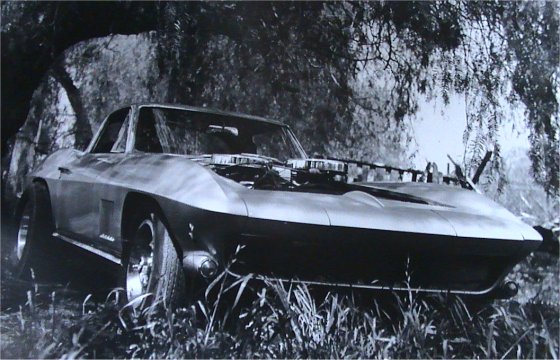 ---
ERB IN THE WILD WEST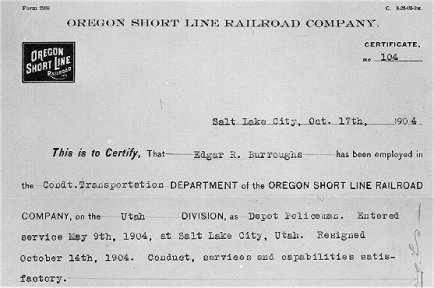 ---
Video of the Week
THE TARZAN YELL
Interesting controversy over the "Tarzan Yell"
http://www.videosift.com/video/The-Tarzan-Yell
Including a feature interview with Tracy Griffin
---
A TESLA STAINED-GLASS WINDOW IN PRAGUE
A small but vocal group of American physicists are waging an ongoing campaign to restore Nikola Tesla to his proper place in the history of electricity. In the US, he is a relative unknown compared to names like Thomas Edison and George Westinghouse, yet arguably none of what those two did would have been possible without Tesla.

See our ERB/Tesla Connection Feature
Part of the Chicago Columbian Exposition 1893 Series
ERB's Remarkable Summer of '93

---


Mego Tarzan doll

---
A Princess of Mars
Edgar Rice Burroughs
Illustrator: Joel Rothberg
1965 ~ Limited Edition of 500
Pratt Adlib Press ~ Pratt Institute ~ New York, NY
"Printed from hand-etched zinc plates in an edition of 500 numbered and signed copies
as one of the publications of the Pratt Adlib Press under the direction of Fritz Eichenberg."
Click for larger images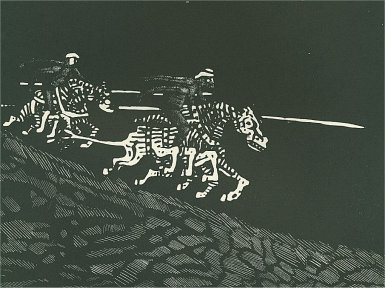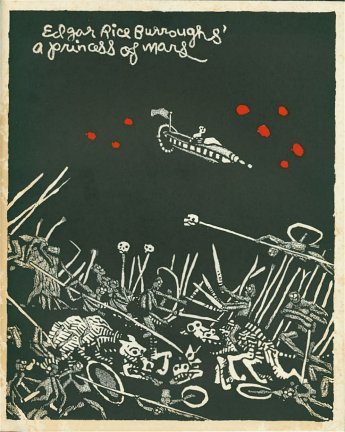 .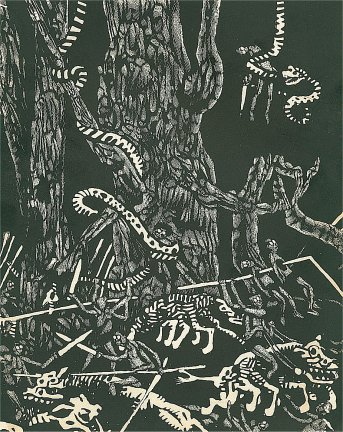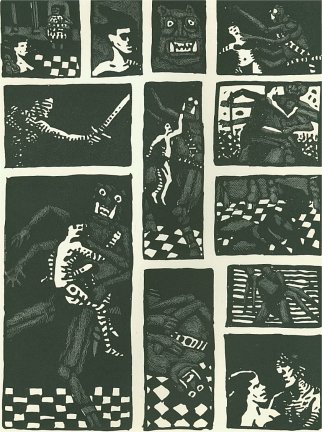 .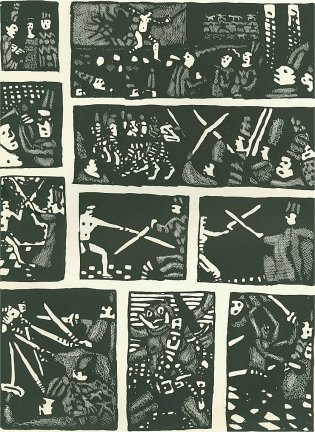 ---
The Chicago Muckers
visit the Windy City Pulp and Paper Convention
just outside Chicago, in Lombard, IL on Saturday April 26
Submitted by Jim Hadac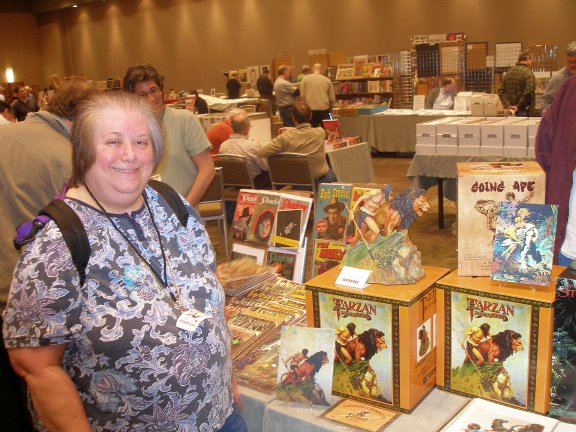 Joan (J the V) Bledig with much of the con behind her with ERB items in the foreground.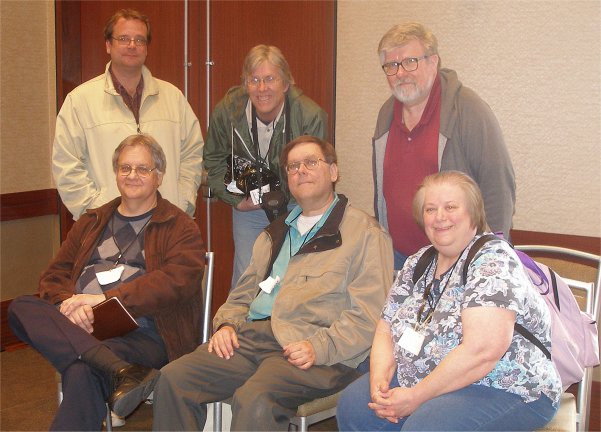 Muckers (front) Dave Gorecki, Ken Manson, Joan Bledig
(back) Jeff (Elmo) Long, Jim (The Red Hawk) Hadac, Greg Phillips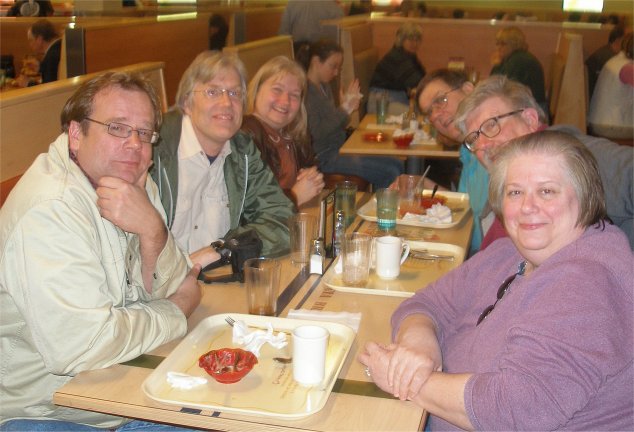 The Muckers at the nearby Italian restaurant, Sweet Tomatoes, after the Con
Jeff, Jim, Debbie Lipinski, Ken, Greg, and Joan.
From

The Fantastic Worlds of Edgar Rice Burroughs
| | | | |
| --- | --- | --- | --- |
| Tarzan.com | ERBzine.com | DantonBurroughs.com | Tarzan.org |
| BurroughsBibliophiles.com | JohnColemanBurroughs.com | Tarzan.com/tarzine | JohnCarterOfMars.ca |
| www.erbzine.com/edgarriceburroughs | Weekly Webzine | Weekly Webzine | Pellucidar.org |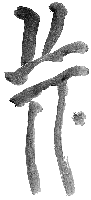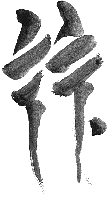 BILL HILLMAN
Visit our thousands of other sites at:
BILL and SUE-ON HILLMAN ECLECTIC STUDIO
ERB Text, ERB Images and Tarzan® are ©Edgar Rice Burroughs, Inc.- All Rights Reserved.
All Original Work ©1996-2008/2017/2021 by Bill Hillman and/or Contributing Authors/Owners
No part of this web site may be reproduced without permission from the respective owners.