First and Only Weekly Online Fanzine Devoted to the Life and Works of Edgar Rice Burroughs
Since 1996 ~ Over 15,000 Webpages in Archive
Volume 2117

ERBzine Silver Screen Series
The Land That Time Forgot ~ 1975
See Part II in ERBzine 2348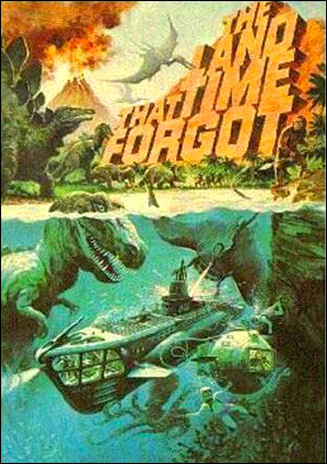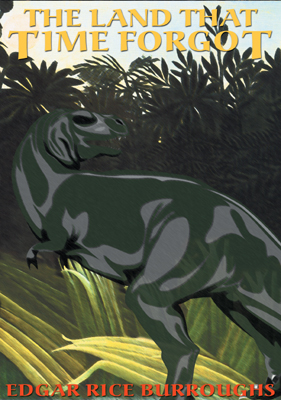 Journey to a savage world where time is extinct!
The Adventure You Will Never Forget!
"For several minutes no one spoke; I think they must each have been as overcome by awe as was I.
All about us was a flora and fauna as strange and wonderful to us as might have been those upon a distant planet had we suddenly been miraculously transported through ether to an unknown world. But the life! It teemed. The tall, fernlike trees were alive with monkeys, snakes, and lizards. Huge insects hummed and buzzed hither and thither. Mighty forms could be seen moving upon the ground in the thick forest, while the bosom of the river wriggled with living things, and above flapped the wings of gigantic creatures such as we are taught have been extinct throughout countless ages."
-- Bowen Tyler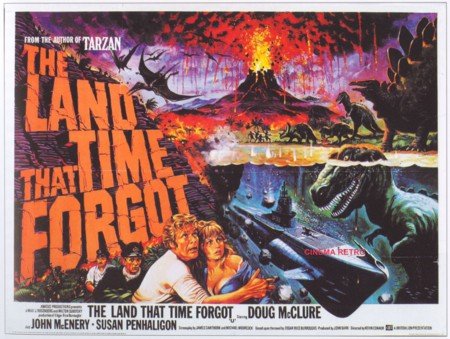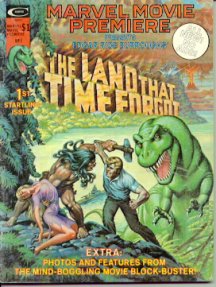 CREDITS
American International Pictures (AIP)
Director: Kevin Connor
Writers: Edgar Rice Burroughs (novel) ~ James Cawthorn ~ Michael Moorcock

CAST
Doug McClure: Bowen Tyler
John McEnery: Captain Von Schoenvorts
Susan Penhaligon: Lisa Clayton (Lys LaRue)
Keith Barron: Bradley
Anthony Ainley: Dietz
Godfrey James: Borg
Bobby Parr: Ahm
Declan Mulholland: Olson
Colin Farrell: Whiteley
Ben Howard: Benson
Roy Holder: Plesser
Andrew McCulloch: Sinclair
Ron Pember: Jones
Grahame Mallard: Deusett
Andrew Lodge: Reuther
90 min / Japan:102 min ~ Technicolor
Aspect Ratio: 1.85 : 1 more
| | | | | | |
| --- | --- | --- | --- | --- | --- |
| Doug McClure | John McEnery | Susan Penhaligon | Keith Barron | Anthony Ainley | Bobby Parr |
.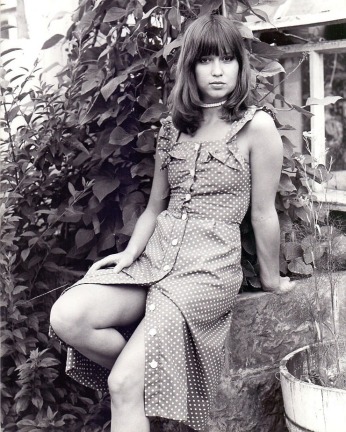 Susan Penhaligon
FILMING LOCATIONS
La Palma, Canary Islands, Spain (prehistoric dinosaur world)
Santa Cruz de Tenerife, Tenerife, Canary Islands, Spain
Santa Cruz de la Palma, La Palma, Canary Islands, Spain
Shepperton Studios, Shepperton, Surrey, England, UK
Skye, Highlands, Scotland, UK

PLOT SUMMARY
In this low budget fantasy adventure from Britain, based on Edgar Rice Burroughs' 1918 science fiction novel, a German submarine holding American prisoners of war during World War I, veers off course. Lost at sea, the submarine empties its fuel supply and runs aground on an uncharted island in the Antarctic. Caprona is isolated from the rest of the world by its towering barrier cliffs and can be entered only through a submerged passage. The crew discovers that in this land that time forgot all stages of evolution seem to have merged, from dinosaurs to various evolutionary stages of cavemen. The females of Caprona/Caspak perform ritual bathing in a continent-long river that sweeps their eggs to the southern end of the island -- all except for the Galu, who have attained the status of live-bearing humans. Not every individual reaches "the top," some are destined to remain, and die, at intermediate stages. Thanks to a caveman named Ahm that the crew captured and befriended, they locate a large pool of crude oil, which they are able to refine into fuel for their submarine. Unfortunately, in their efforts to secure the fuel they need to get back home, they have to deal with dinosaurs, attacks by cavemen, and even strife among their own people. The Land That Time Forgot was enough of a success to spawn a 1976 sequel called The People That Time Forgot.

TRIVIA
German actor Anton Diffring dubbed John McEnery's voice as Captain Von Schoenvorts, allegedly because the producers felt McEnery had used a silly voice for the part.
Doug McClure replaced Stuart Whitman. Amicus cast Stuart Whitman in the lead. AIP refused to finance the film if Whitman starred, so he was fired.
Bradley was offered to Patrick Mower.
The real U-33 of World War One served in the Mediterranean and survived the war.
The prehistoric animals were created through stuntmen in dinosaur suits and oversized models
The sequel to this film is The People That Time Forgot
---
PHOTO GALLERY
---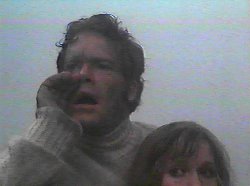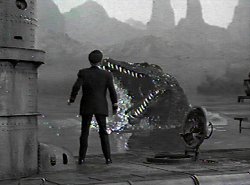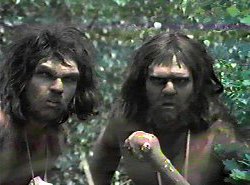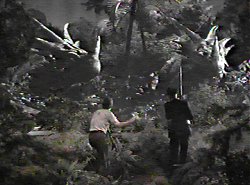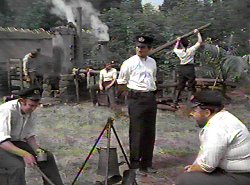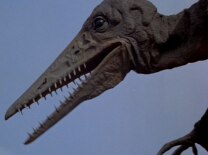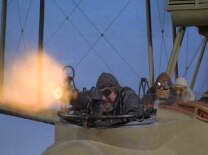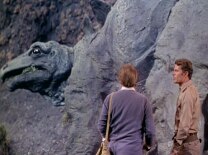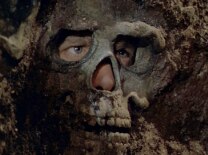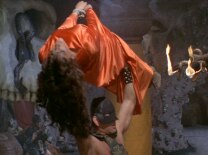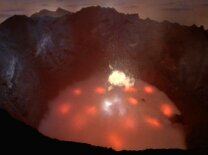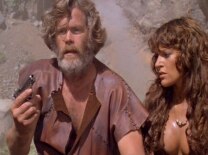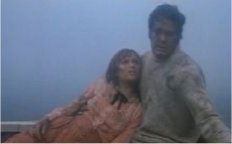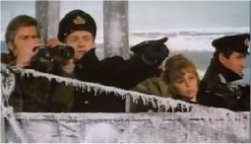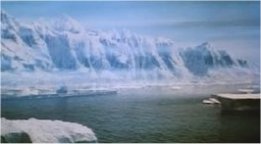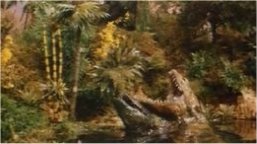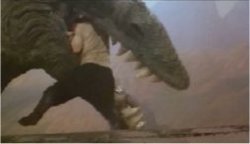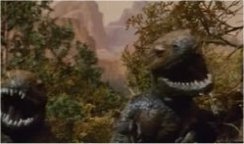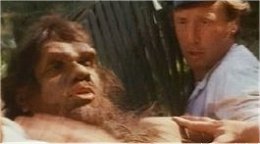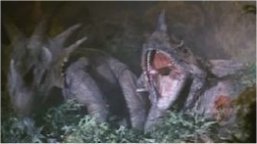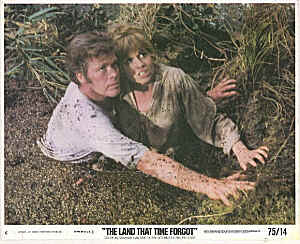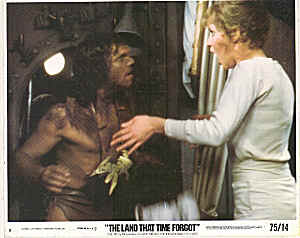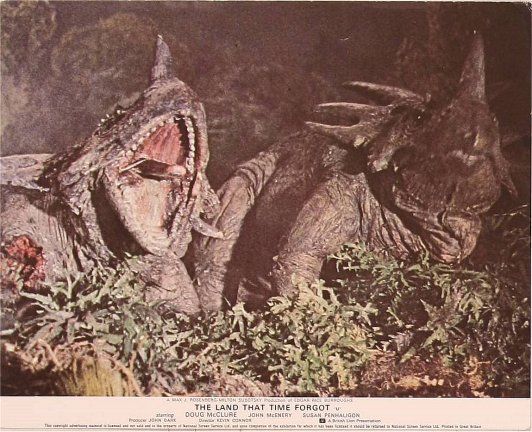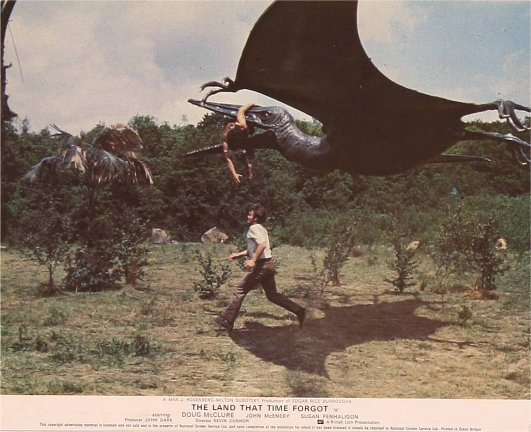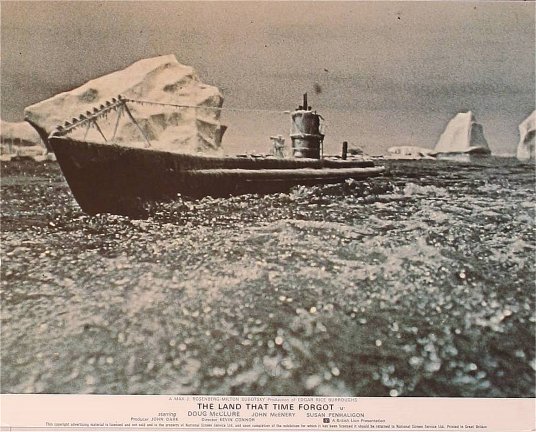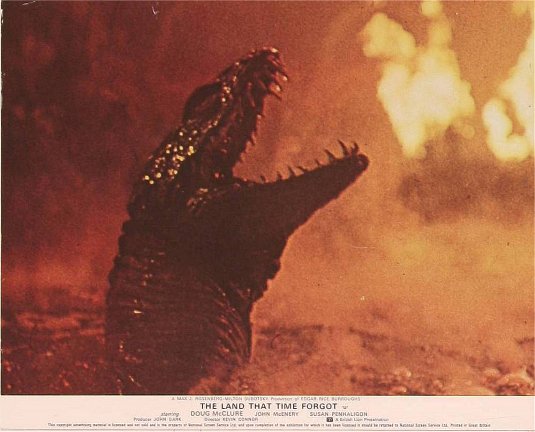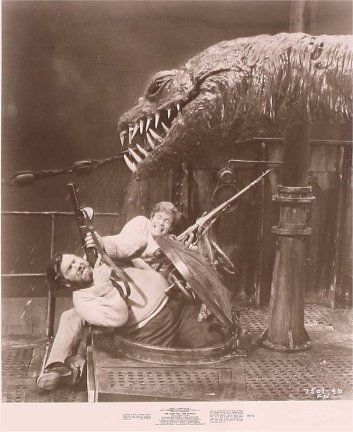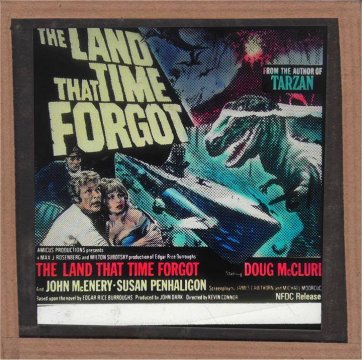 EXTERNAL LINKS
B Movie Central
Zeppelin vs. Pterodactyls: Serial Chapter
IMDB Entry
www.horror-wood.com/lttf.htm
YouTube Videos
Film HiLites
Alternate Trailer
Spoof: A TIME THAT THE LOST LAND FORGOT TO REMEMBER



Presents
The Fantastic Worlds of Edgar Rice Burroughs
ERB Companion Site Created by Bill Hillman
| | | | |
| --- | --- | --- | --- |
| Tarzan.com | ERBzine.com | DantonBurroughs.com | Tarzan.org |
| BurroughsBibliophiles.com | JohnColemanBurroughs.com | Tarzan.com/tarzine | JohnCarterOfMars.ca |
| www.erbzine.com/edgarriceburroughs | Weekly Webzine | Weekly Webzine | Pellucidar.org |
| John Carter Film | ERB, Inc. Corporate Site | ERB Centennial | tarzana.ca |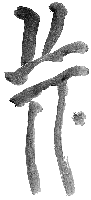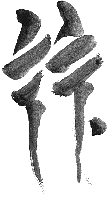 BILL HILLMAN
Visit our thousands of other sites at:
BILL & SUE-ON HILLMAN ECLECTIC STUDIO
ERB Text, ERB Images and Tarzan® are ©Edgar Rice Burroughs, Inc.- All Rights Reserved.
All Original Work ©1996-2009/2016/2021 by Bill Hillman and/or Contributing Authors/Owners
No part of this web site may be reproduced without permission from the respective owners.